Treat yourself to a nutritious and delicious avocado spinach smoothie. This green smoothie packs a nutrient-rich punch while still tasting great.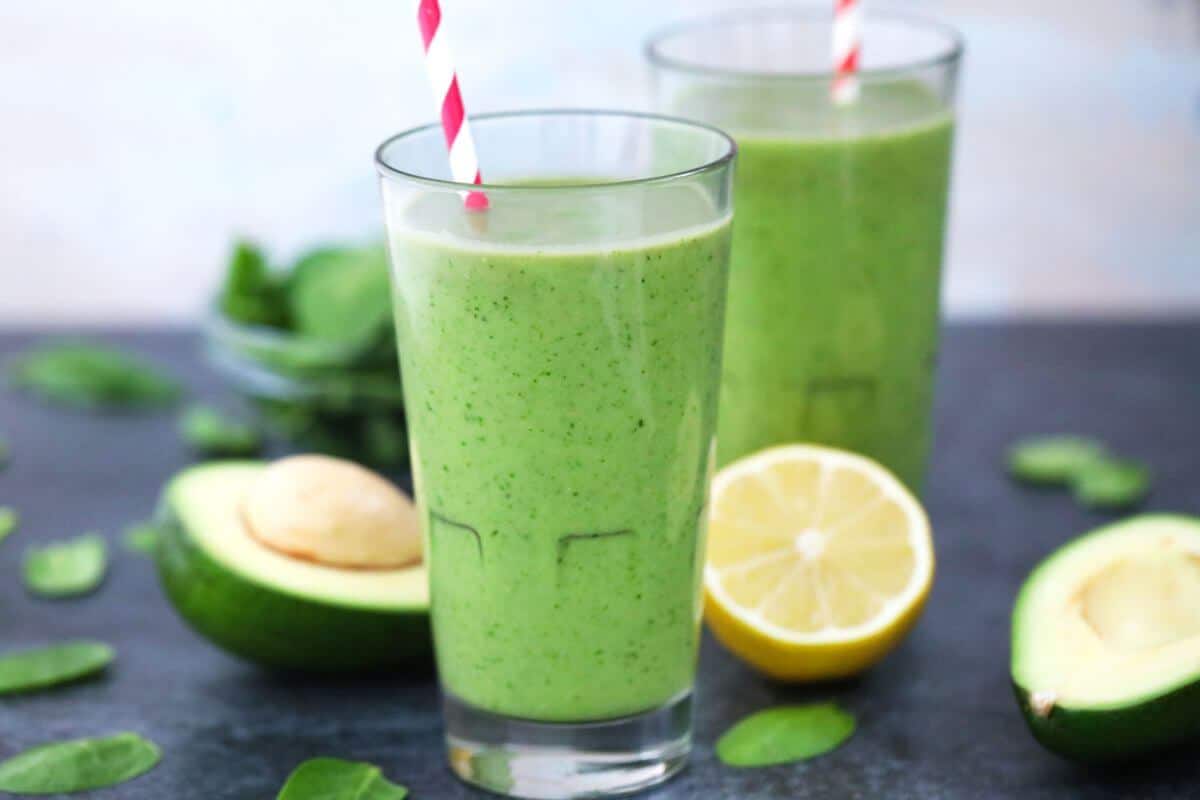 Jump to:
Smoothies are an excellent choice for those seeking to incorporate more leafy greens into their diet without sacrificing taste. Whether you are a fan of a spinach strawberry smoothie or the tropical flavors of a pineapple banana smoothie, there's a recipe out there for everyone.
The best part is that these tasty beverages are incredibly easy to make. You'll have a refreshing and satisfying drink in minutes with just a few simple ingredients and a high-speed blender.
So say goodbye to boring breakfasts and hello to the energizing power of a spinach smoothie. You'll kickstart your day with a burst of flavor and nutrients that will leave you feeling refreshed and ready to take on the world.
Reasons to Love
Quick and easy breakfast option. With just a few simple ingredients and a blender, you can whip up a nutritious and delicious smoothie in no time.
Endless customizations. You can get creative with your ingredients and customize your smoothie according to your taste preferences or dietary needs.
An energy boost without the crash. Packed with vitamins, minerals, and fiber from spinach, this green concoction provides sustained energy throughout the day.
Sneak in more veggies. With this spinach smoothie recipe, you can effortlessly increase your veggie intake without even realizing it
Ingredients
Combining a few simple ingredients creates a delicious and nutritious green smoothie in minutes.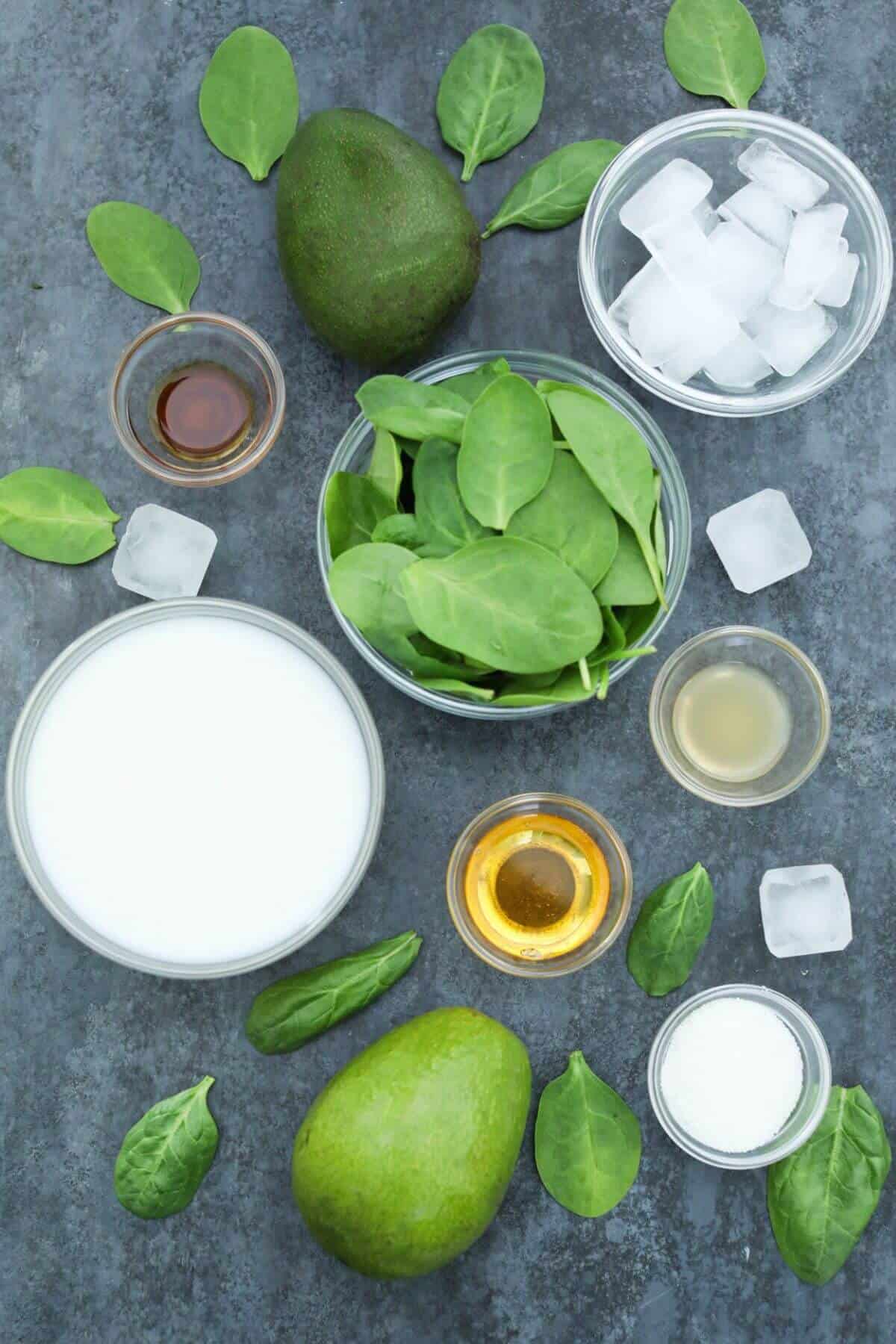 Here are the items you'll need for the recipe:
avocado
baby spinach leaves (or frozen spinach)
unsweetened almond milk
ice
lemon juice
honey or other sweetener
vanilla extract
Scroll down to the recipe card for quantities used.
Instructions
Gather your ingredients and a high-speed blender to start making this healthy smoothie recipe. You'll also need a knife and cutting board.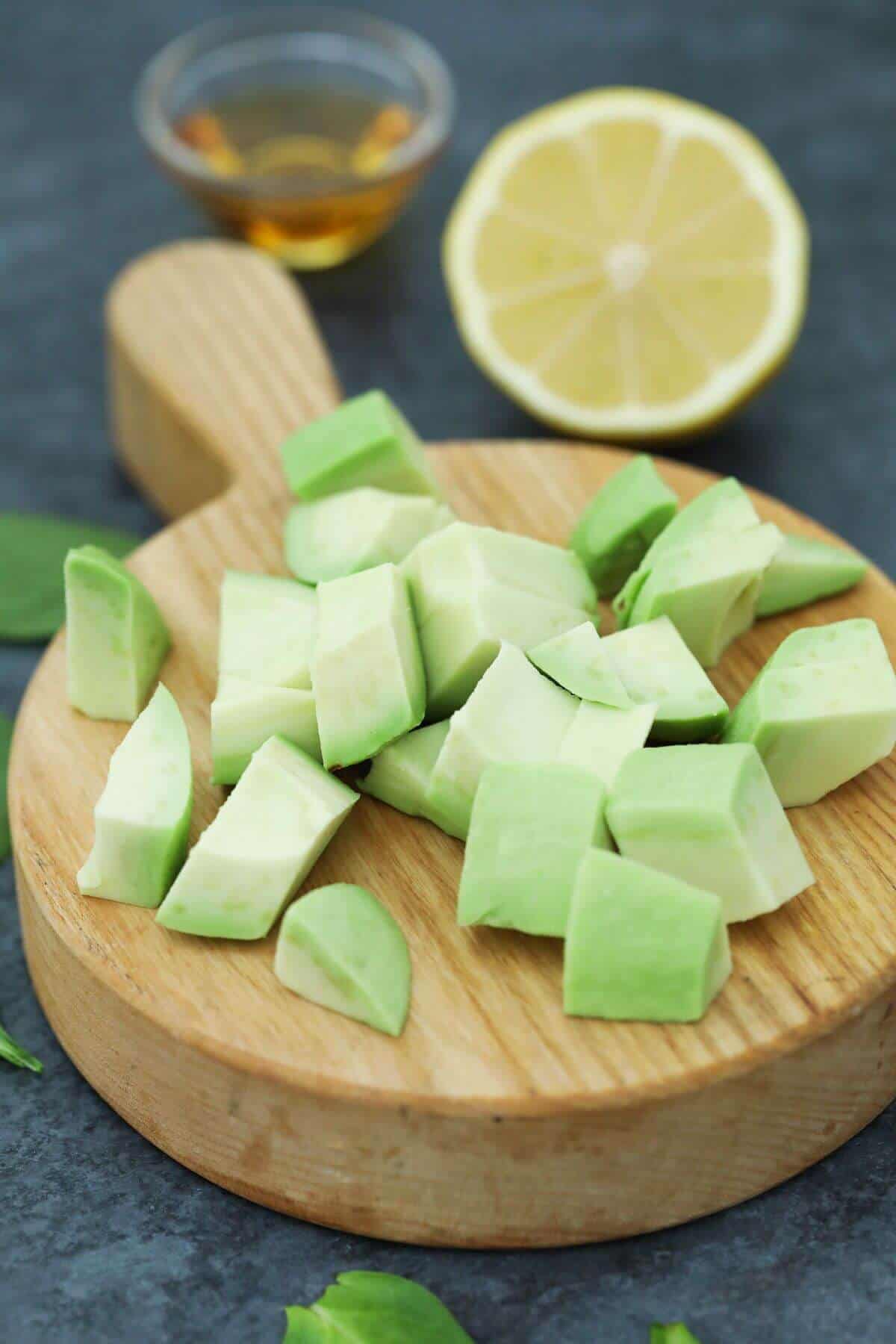 Pit and skin half an avocado and cut it into chunks.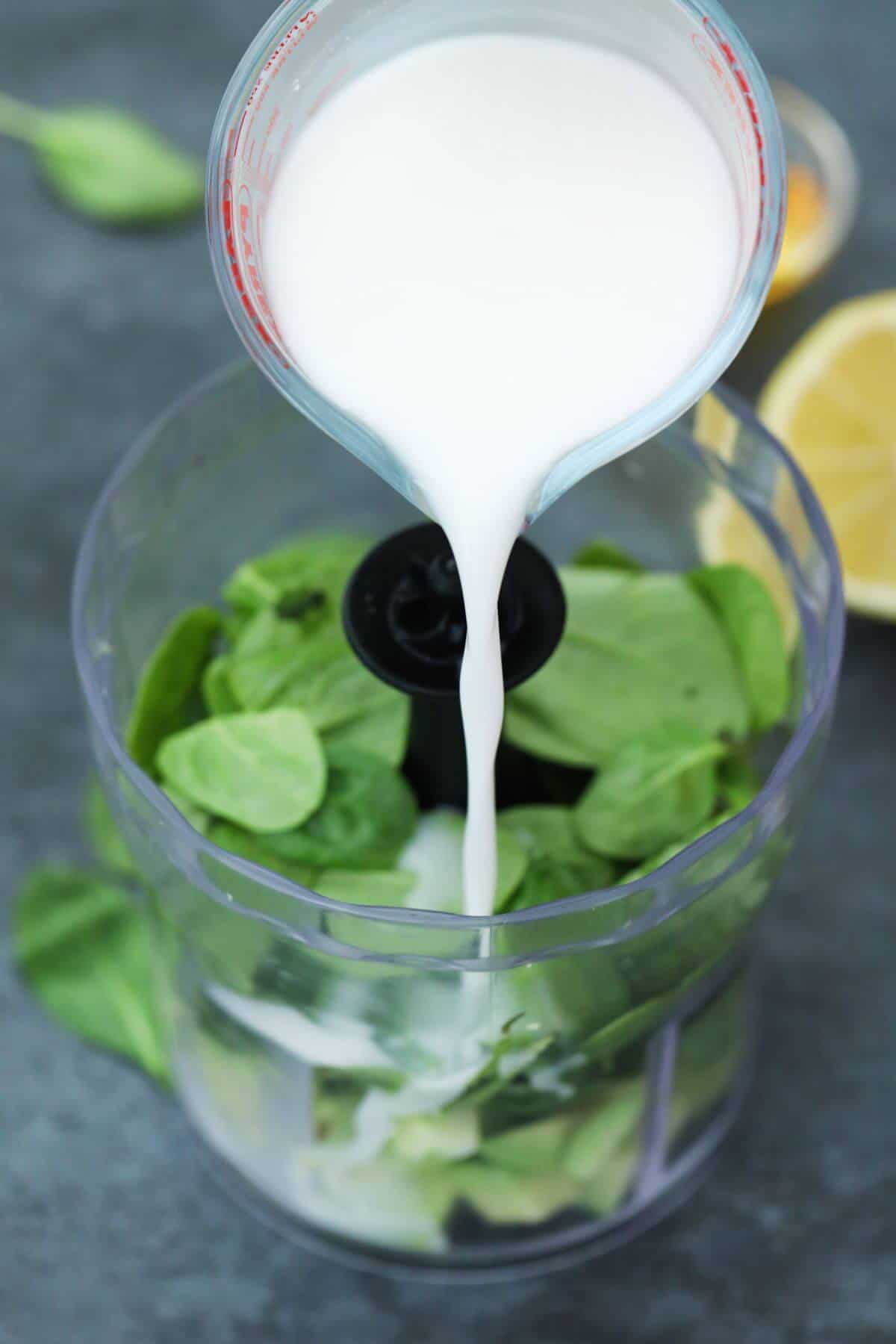 Add avocado, fresh spinach, and almond milk to a blender container.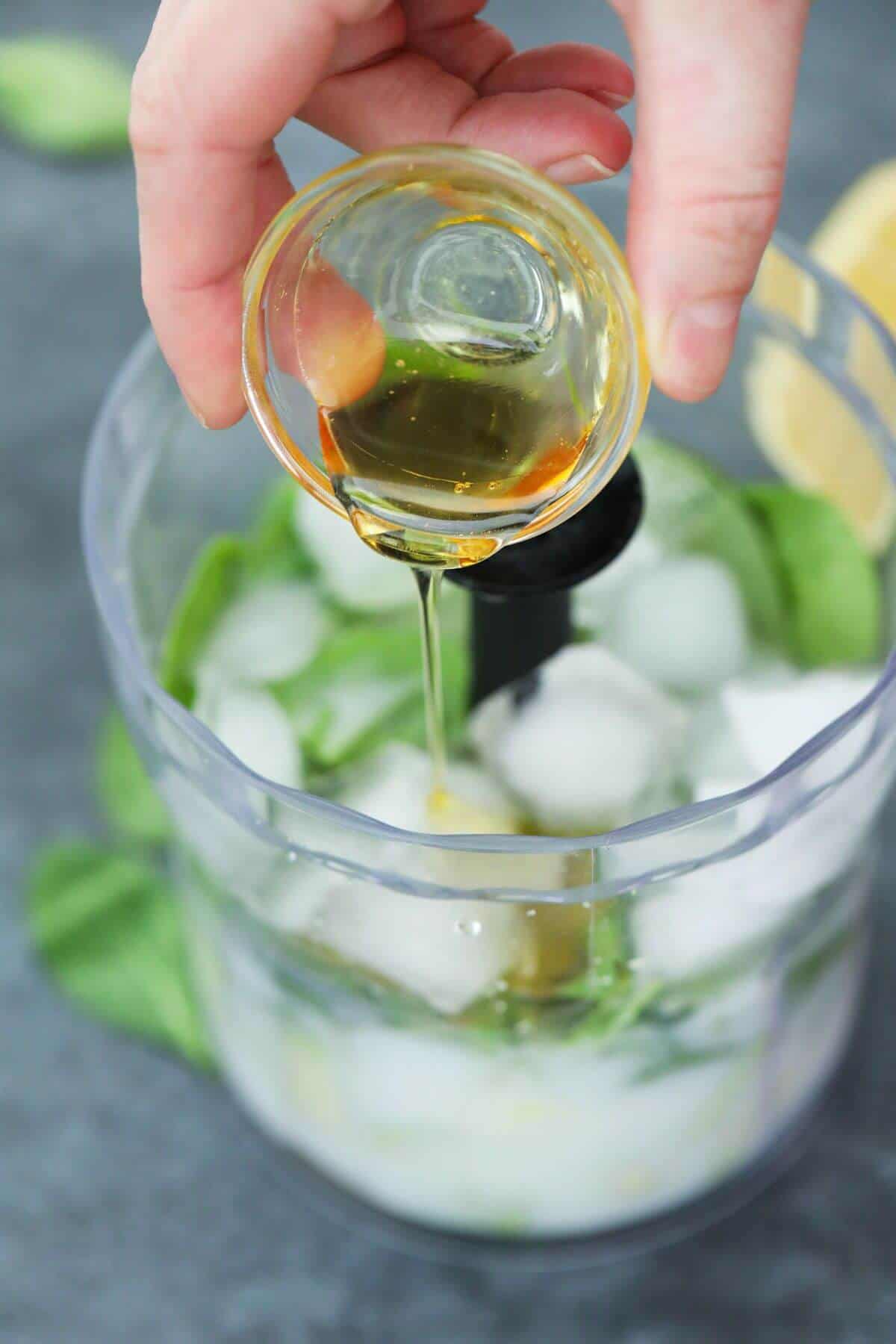 Continue to add ice, lemon juice, honey, and vanilla extract to the blender container.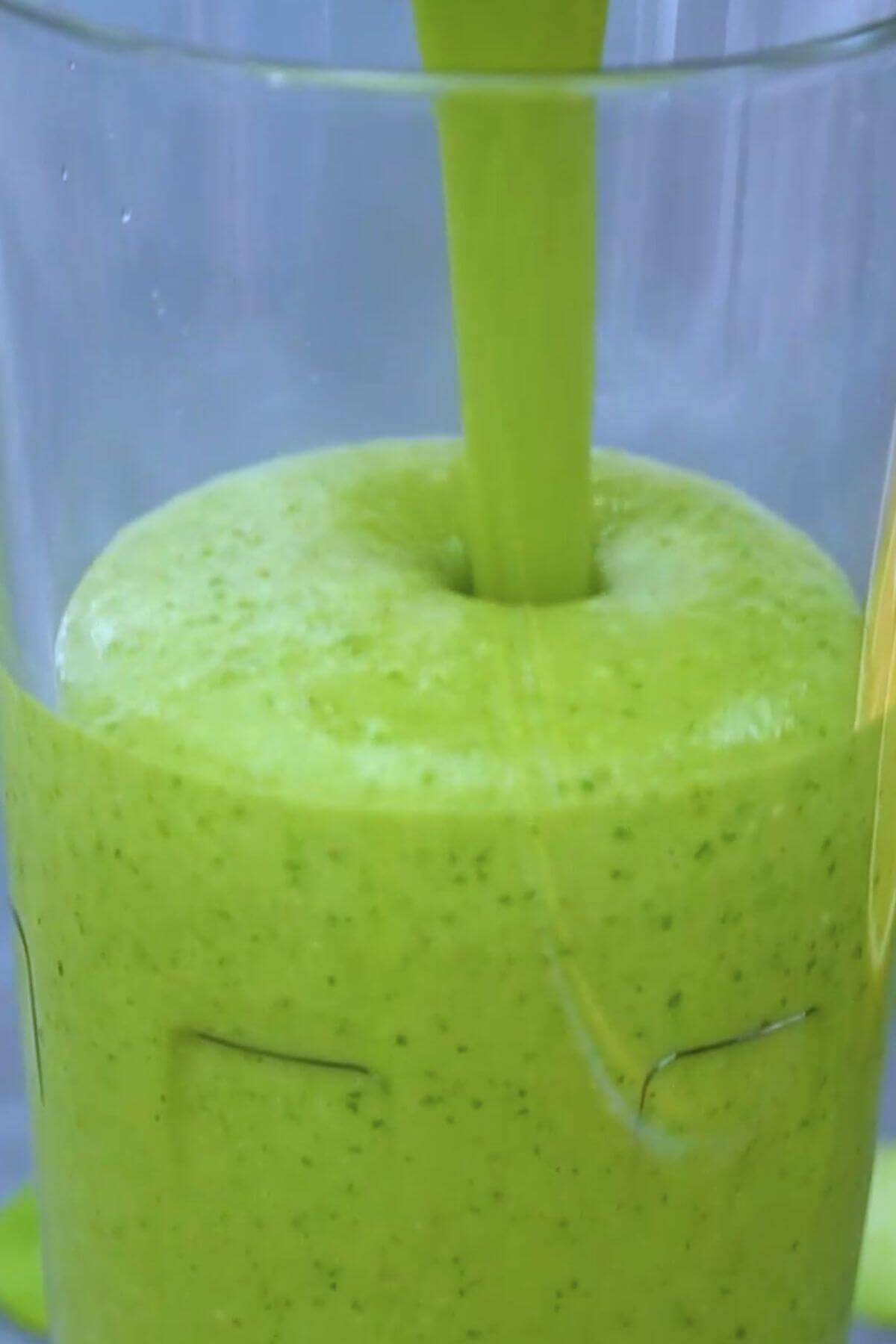 Puree everything together and divide it between two drinking glasses.
Variations
You can easily customize the recipe by adding other ingredients, such as fruit or protein powder, depending on your preferences.
Add chia seeds. Chia seeds add a nutty flavor and provide numerous health benefits, such as high amounts of fiber, protein, and omega-3 fatty acids.
Use coconut water. Coconut water adds natural sweetness without adding extra sugar or calories. It also contains electrolytes, making it a great post-workout drink.
Add ginger and turmeric. Ginger has anti-inflammatory properties that can ease digestion and reduce muscle soreness after exercise. Turmeric contains curcumin, which has also been shown to have anti-inflammatory effects in the body.
Mix in your favorite fruit. Toss in some fresh or frozen fruit to enhance the taste of spinach and add vitamin C. Try making a strawberry spinach smoothie or a blueberry spinach smoothie by adding a handful of berries.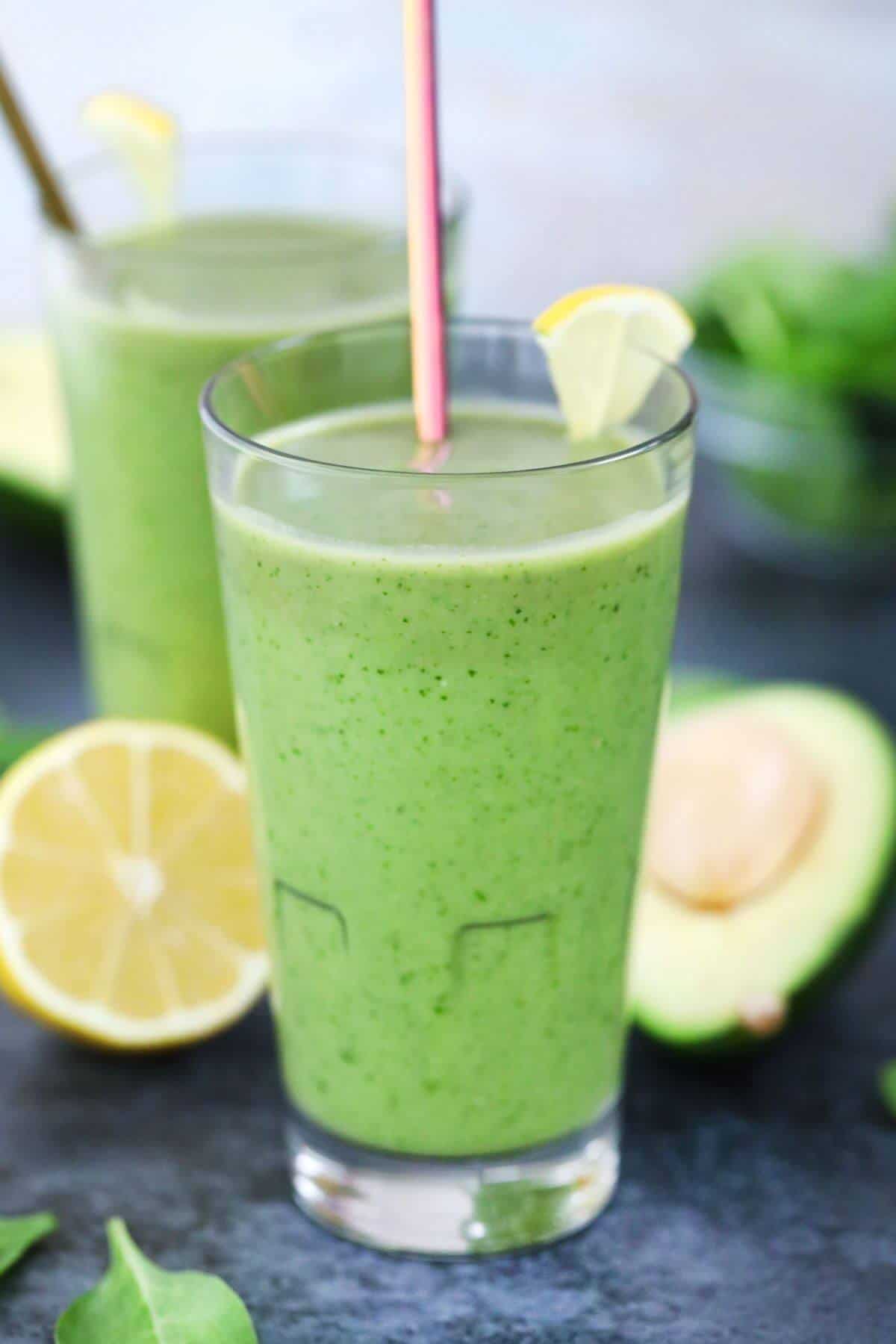 Tips
Top tip: Share something here that you think is key to making this recipe well, such as: Don't overcook the burgers! Sear the outside and cook to a minimum internal temperature, but they should still be juicy for best results.
Add enough liquid. To ensure everything blends smoothly, you need adequate liquid. If needed, add a little more almond milk or water.
Blend in stages and shake the container if needed. Stopping the blender and giving it a quick shake will ensure the ingredients are blended evenly.
Always clean your blender immediately after use by adding warm water and a drop of dish soap then blend for 30 seconds before rinsing with cool water.
Use frozen avocado. Learn how to freeze avocado so you always have it on hand to make smoothies.
Serving suggestions
An avocado spinach smoothie is a great way to start your day with a healthy dose of nutrients. Try pairing it with some whole wheat toast or a piece of fruit for added fiber and energy. Alternatively, you can enjoy it as part of a balanced breakfast alongside protein-rich foods such as sheet pan eggs or Greek yogurt.
For a light snack or lunch, try serving your smoothie with a side salad or veggie wrap. This will help balance out the sweetness of the drink and provide more of a meal to keep you feeling full and satisfied throughout the day.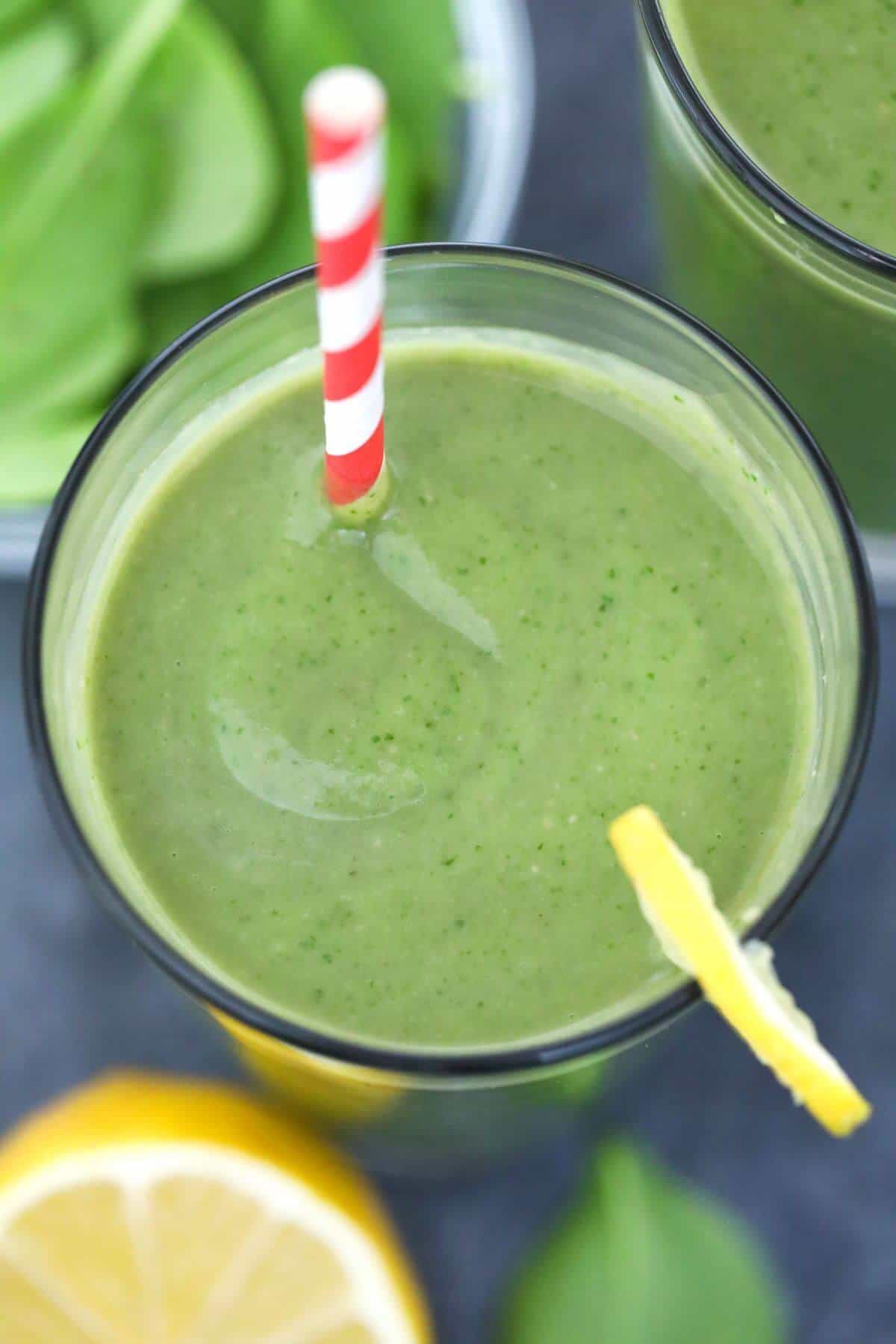 Storage
To store any remaining spinach smoothie for later consumption, transfer it to an airtight container and refrigerate it. It is best consumed within 24-48 hours to maintain freshness and quality.
Related Recipes
Here are a few more cool and refreshing drinks you may want to try:
Follow us on Facebook, Instagram, and Pinterest to see more recipes.
Recipe
Avocado Spinach Smoothie
Start your day with an avocado spinach smoothie. Bursting with flavor, this smoothie is sure to help you power through your morning.
Ingredients
½

avocado

peeled and diced (about 3 to 4 ounces)

1-

ounce

baby spinach

about 1 cup

1

cup

unsweetened almond milk

1

cup

crushed ice

2

teaspoons

lemon juice

1

tablespoon

honey

or sugar

¼

teaspoon

vanilla extract
Instructions
Puree everything together in a blender.

Divide into two drinking glasses.
Notes
A handful of frozen berries can be blended in after the spinach and avocado have been well mixed into the liquid. If adding frozen berries, some of the ice can be omitted.
The smoothie can be stored in the refrigerator for up to 2 days. Just give it a quick shake to blend everything again before drinking.
Nutrition
Calories:
136
kcal
|
Carbohydrates:
14
g
|
Protein:
2
g
|
Fat:
9
g
|
Saturated Fat:
1
g
|
Polyunsaturated Fat:
2
g
|
Monounsaturated Fat:
6
g
|
Sodium:
184
mg
|
Potassium:
334
mg
|
Fiber:
4
g
|
Sugar:
9
g
|
Vitamin A:
1403
IU
|
Vitamin C:
11
mg
|
Calcium:
175
mg
|
Iron:
1
mg
Equipment
© LittleBitRecipes.com - All content and photographs are copyright protected by us. We appreciate sharing our recipes; but copying, pasting, or duplicating full recipes to any social media, website, or electronic/printed media is strictly prohibited and a violation of our copyrights. Single photos may be used, provided that full credit is given to us along with a link back to the original content.