You will be pleasantly surprised if you've never made oven-baked pork steaks! They are simple to prepare, and the meat comes out juicy and flavorful.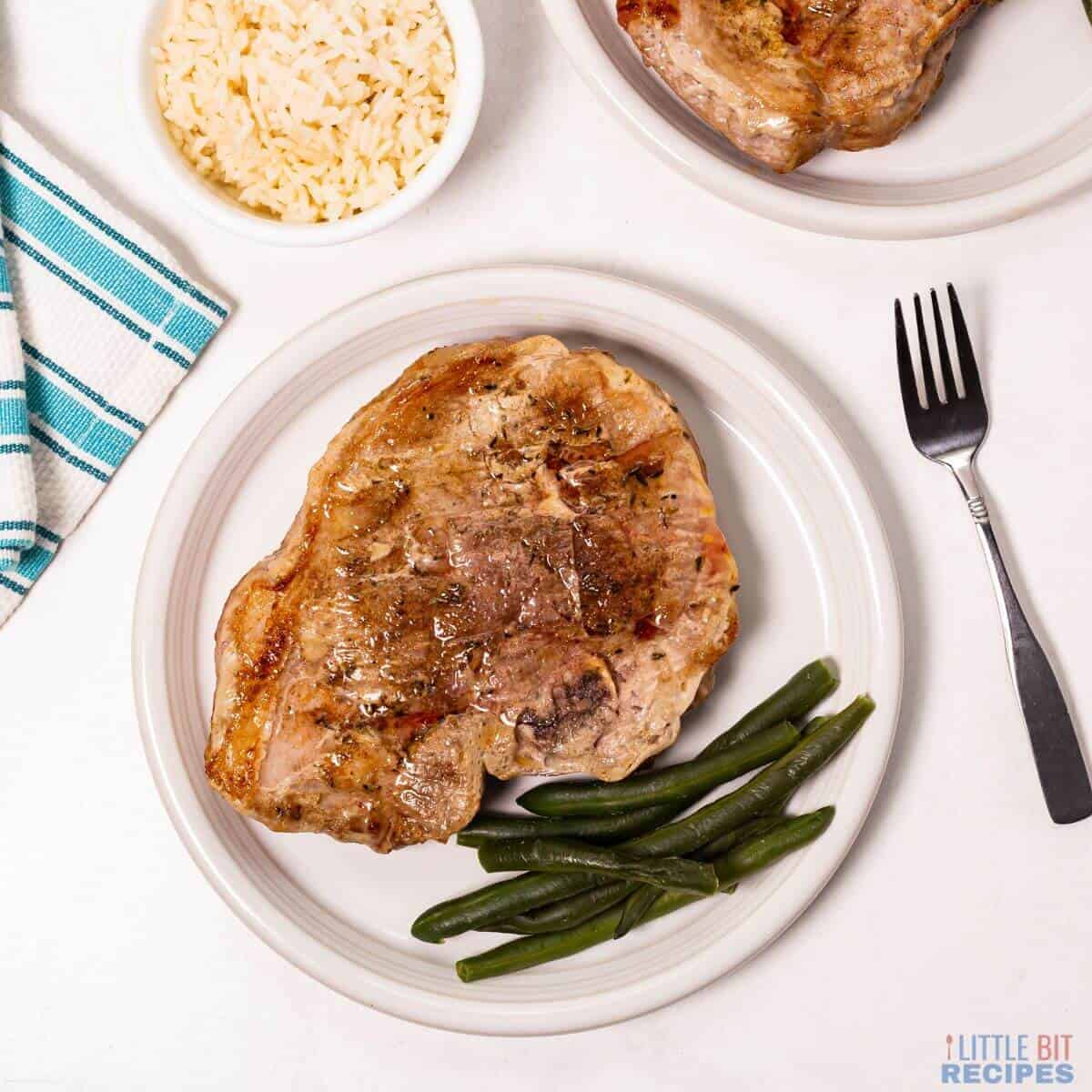 Pork is often overlooked. But it's a delicious, easy-to-cook meat that can be enjoyed any night of the week.
Need help with cooking pork steak? We find that baking it in the oven is simple and results in juicy and flavorful meat every time.
This easy recipe is perfect for a quick and easy weeknight dinner or a more sophisticated meal with someone special.
Jump to:
Ingredients
You only need a few ingredients to make this delicious baked pork steaks recipe.
First, start with good-quality steaks. Look for ones that are evenly thick, so they will cook evenly. If your butcher doesn't have any pre-cut pork steaks, you can ask them to cut some for you from a pork loin roast.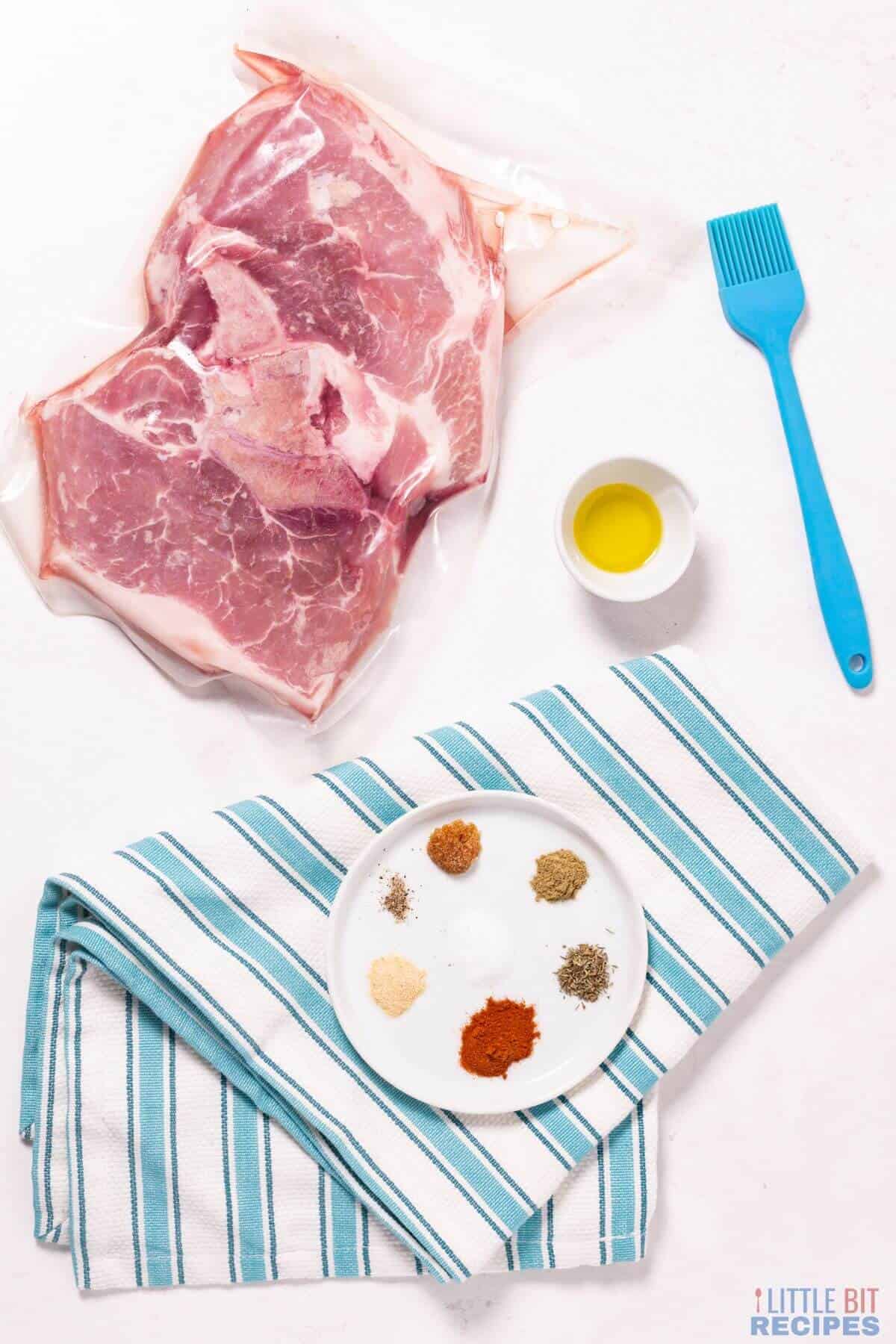 Next, season your pork steaks with your favorite spices. We suggest the following:
Garlic powder is a must. This will add a nice depth of flavor to the pork.
Paprika will give the pork a nice smoky flavor that is perfect for grilling.
Thyme adds a savory and slightly sweet flavor
Sage adds a savory, earthy flavor.
Brown sugar helps to balance out the savory flavors of the seasoning blend and adds a hint of sweetness.
Don't forget to season with salt and pepper! This will help to bring out the natural flavors of the pork.
Scroll down to see the amounts used in the recipe card.
Instructions
Oven-baked pork steaks come out perfectly cooked every time. All you need to do is season the meat and then bake. That's it!
You'll find more detailed instructions below.
Prep and bake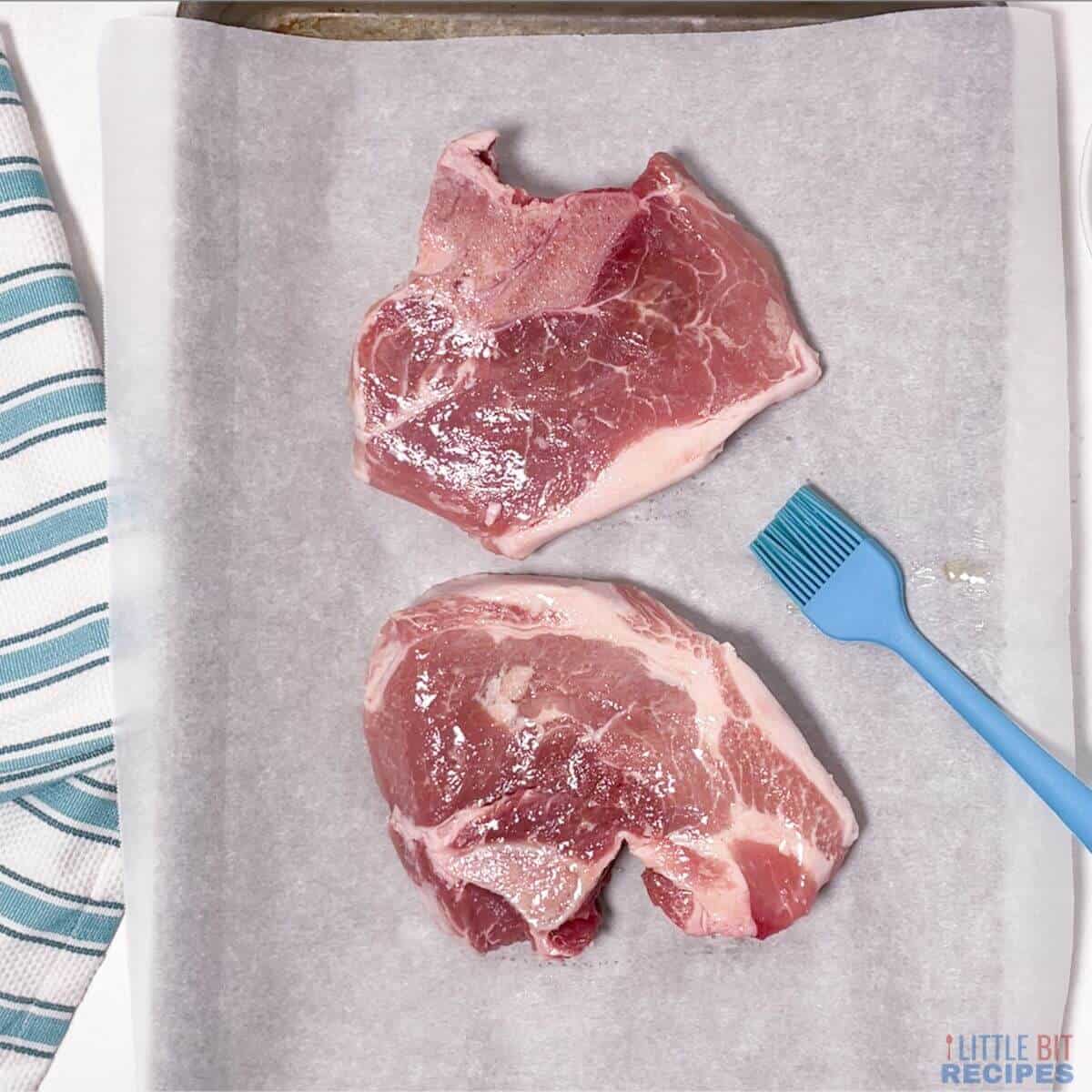 The first step is to preheat the oven to 400°F. Then oil the steaks on both sides.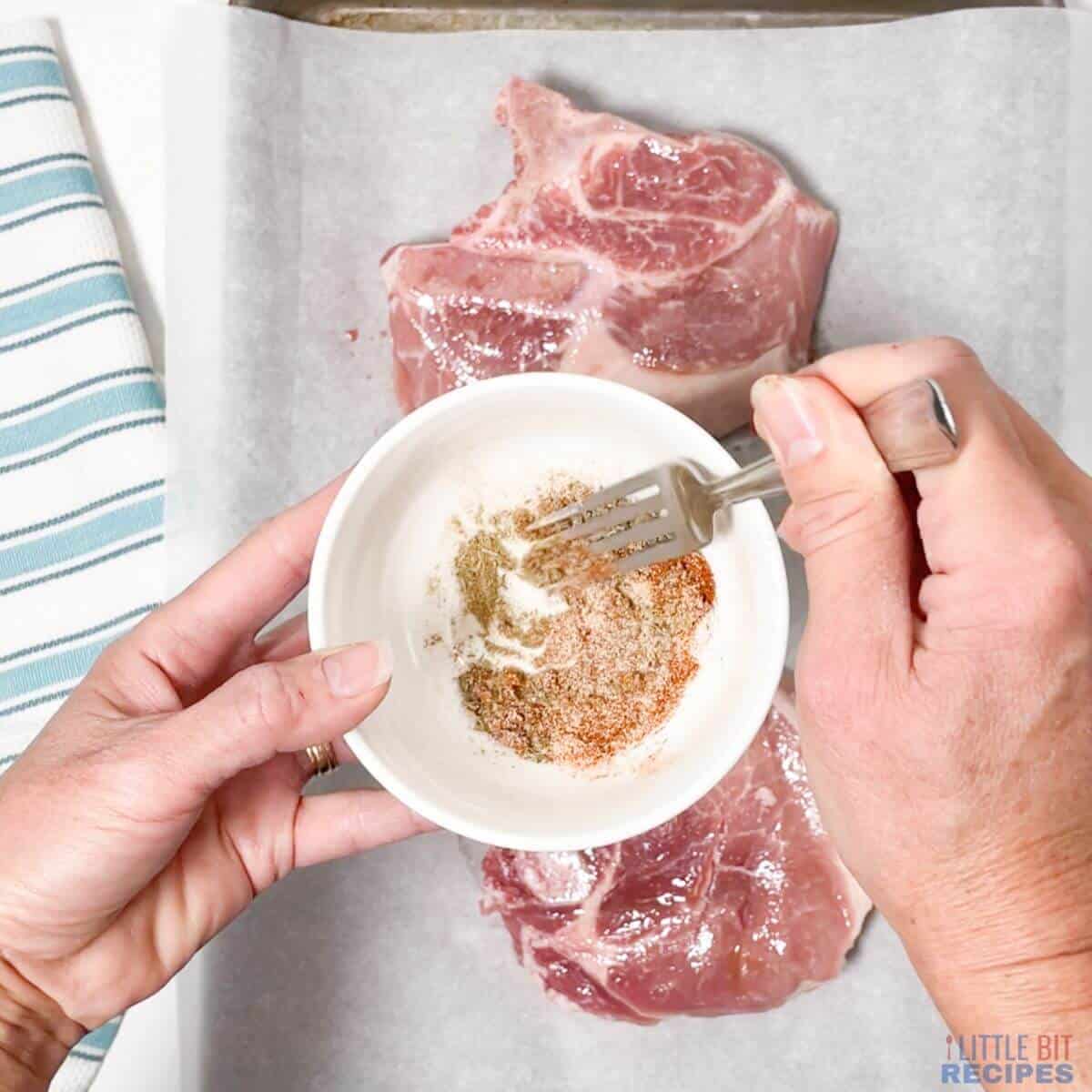 Combine the seasonings in a small mixing bowl with a fork.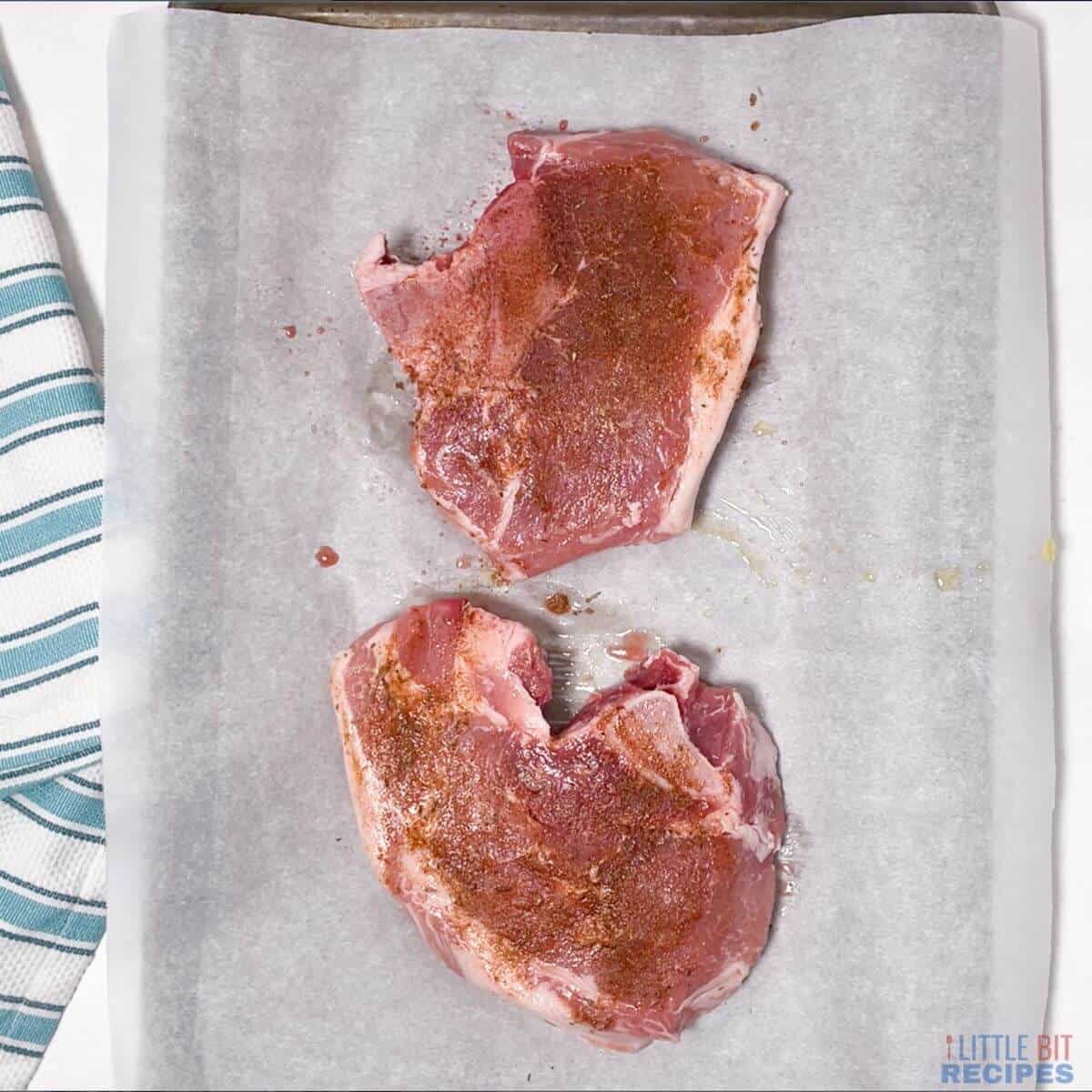 Rub seasoning blend on both sides of each steak.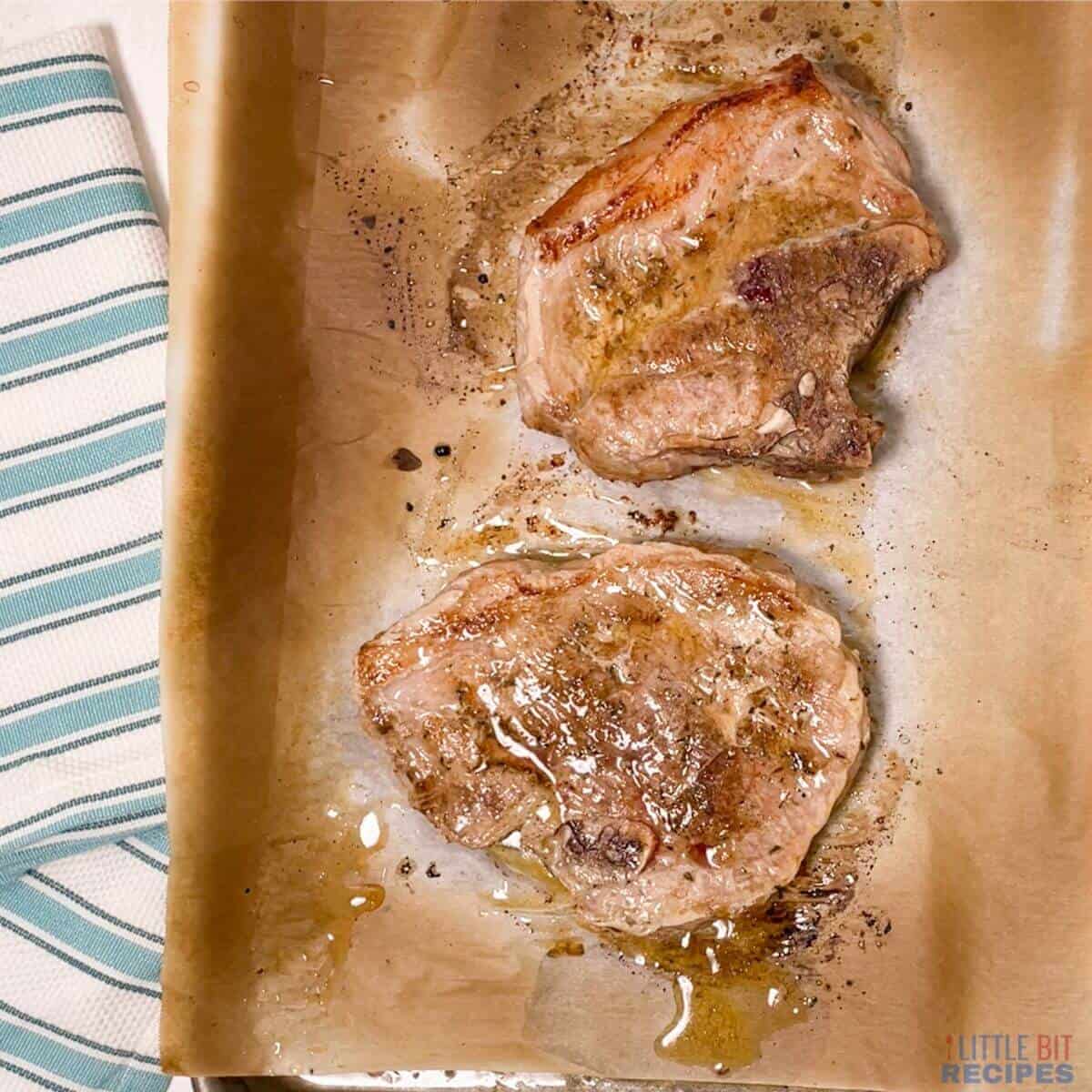 Cook pork steaks in oven until meat has an internal temperature of 145°F.
Rest
Letting the meat rest before serving can actually make it tastier and juicier.
When you cook pork steaks, the juices inside each steak start to flow out. If you cut into the meat right away, those juices will all spill out and your steak will be dry.
If you let it rest for a few minutes, the juices will have a chance to redistribute themselves throughout the meat, making for a juicier and more flavorful steak.
So next time you're tempted to dive right in, resist the urge and let your pork steak rest for a bit first. Your taste buds will thank you!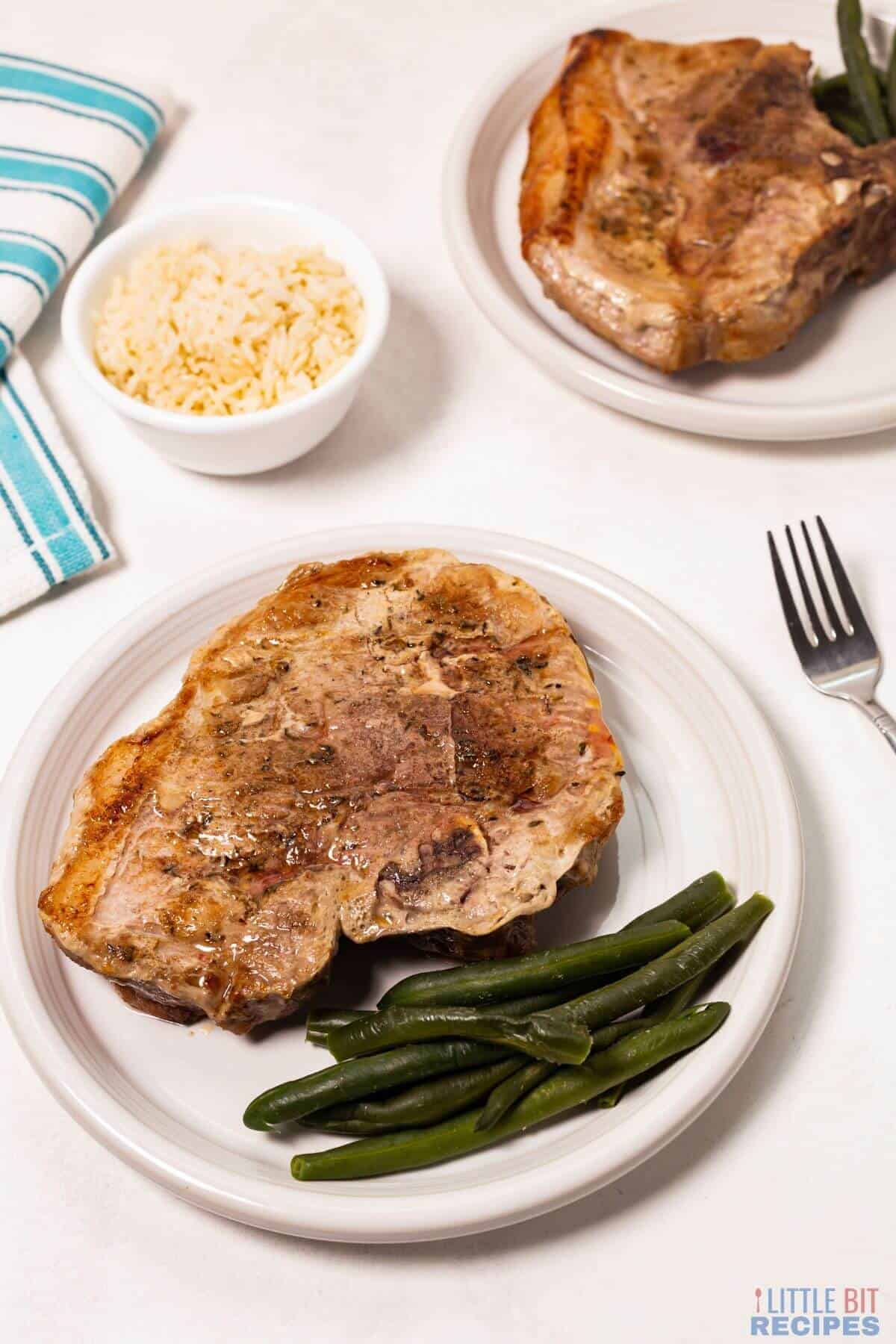 Variations
Oven-baked pork steak is a versatile dish that can be cooked in a variety of ways. Seasonings can be changed up to suit your taste, and cooking methods can be varied to create different textures and flavors. Here are some ideas for how to cook pork steak:
For juicy and flavorful pork steaks, try marinating the meat in a mixture of soy sauce, honey, and garlic before cooking. This will give the pork steak a delicious glaze when it is grilled or roasted.
If you are looking for a more savory flavor, try rubbing the pork steak with a spice blend before cooking. A combination of smoked paprika, cumin, and chili powder makes an excellent rub for pork. Just make sure not to overcook the meat, as it can become tough if it is cooked for too long.
Tips
Top tip: Let your pork steak rest for a few minutes after cooking. This allows the juices to have a chance to redistribute themselves throughout the meat, making for a juicier and more flavorful steak.
Season the meat with a rub or pork steak marinade. This adds flavor and helps to tenderize the meat. You can even use your favorite BBQ sauce.
Preheat the oven. For proper cooking, the oven needs to be at the correct temperature before starting.
Line the pan. Use parchment paper, aluminum foil, or a silicone baking mat. A liner helps prevent the steaks from sticking to the pan and makes cleanup easier.
Use a meat thermometer to check for doneness. Pork should be cooked to an internal temperature of 145°F.
Provide space between the meat. Leave at least 2 inches of space between each steak on the pan.
Serving suggestions
This recipe for pork steaks in oven is perfect for a simple weeknight dinner. For a complete meal, add scalloped potatoes and a green salad.
For a classic pork steak dinner, serve the steaks with mashed potatoes and baked cabbage wedges. The potatoes can be flavored with garlic and butter, and the cabbage can be cooked with some bacon for extra flavor.
If you want something different, try serving pork steaks with a smoked mac and cheese recipe or an air fryer Yorkshire pudding. A side of small-batch buttermilk biscuits is always a welcome addition too.
No matter what you serve with your pork steaks, be sure to include a delicious gravy or sauce to top it all off.
Storage
Pork steaks can be stored in the refrigerator for up to three days before cooking, and will last for up to four days after cooking. When storing pork steaks, be sure to wrap them tightly in plastic wrap or foil to prevent them from drying out.
FAQ
What temperature should pork steaks be cooked to?
Pork should be cooked to an internal temperature of 145°F.
How long does it take to bake pork steaks at 400°F?
Pork steaks are done in about 20-30 minutes at 400 F.
How do you prevent pork steaks from drying out when baking?
To get juicy pork steaks, be sure not to overcook them. Use a meat thermometer to ensure they reach 145°F and then remove them from the heat.
How do you know when pork steaks are done?
Pork steak is done when it's no longer pink in the middle. Use a meat thermometer to be sure they reach an internal temperature of 145°F
What is the difference between pork chops and pork steaks?
Pork chops are cut from the rib or loin section of the pig, while pork steaks are cut from the shoulder. Pork chops are usually tender and leaner than pork steaks, which can be tougher and have more fat.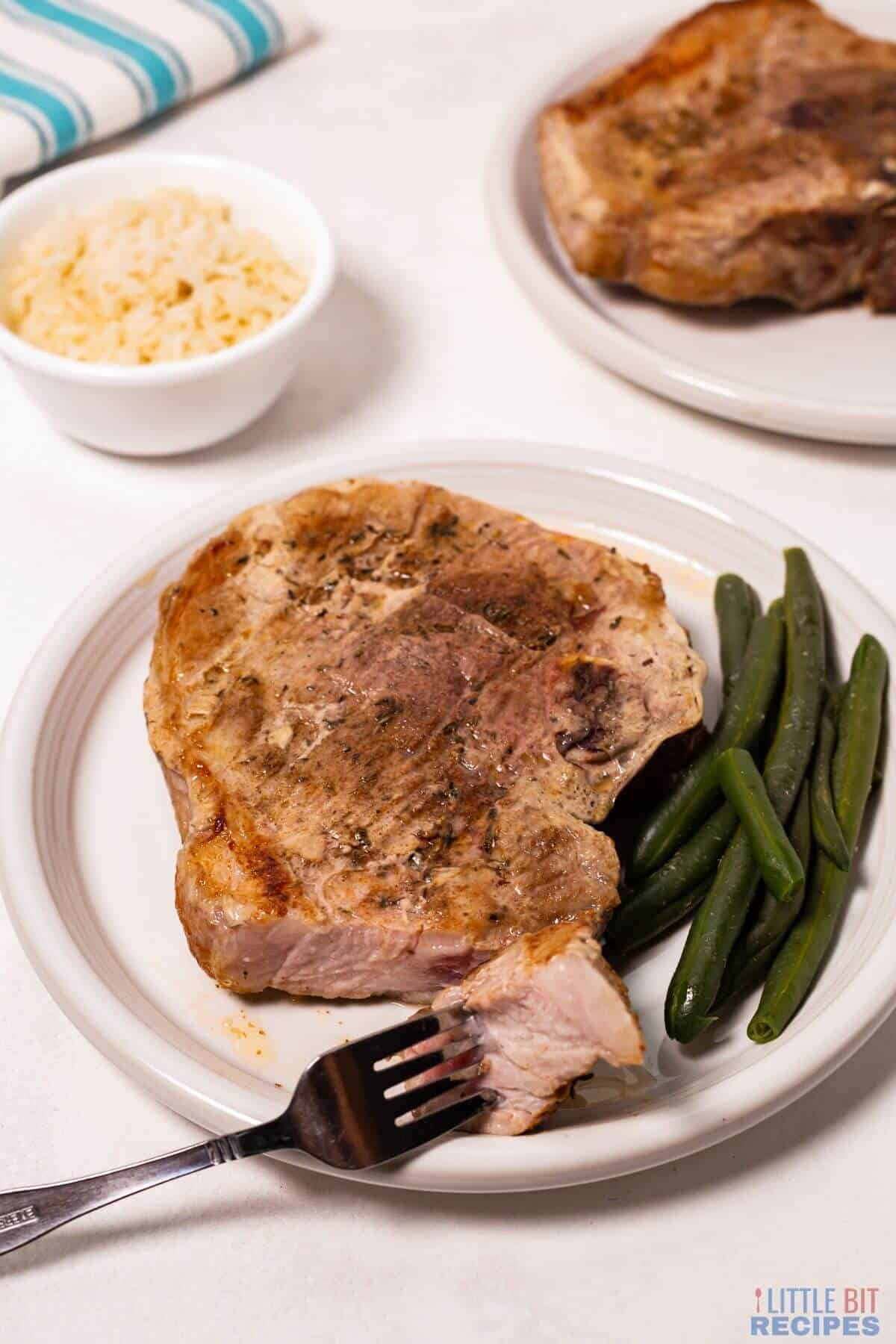 Related Recipes
If you love this baked pork steak recipe, you may want to try one of these other dinner ideas for two.
Follow us on Facebook, Instagram, and Pinterest to see more recipes.
Recipe
Oven Baked Pork Steaks
For a simple dinner, try baked pork steaks in the oven. It is so easy to prepare, and the meat comes out so juicy and flavorful every time.
Ingredients
½

teaspoon

salt

¼

teaspoon

brown sugar

optional

¼

teaspoon

paprika

⅛

teaspoon

garlic powder

⅛

teaspoon

dried rubbed sage

⅛

teaspoon

dried thyme

1

pinch

ground black pepper

1

tablespoon

olive oil

2

pork steaks
Instructions
Preheat oven to 400°F and line a baking sheet with parchment paper or silicone mat.

Add all seasonings in a small bowls and stir to combine with a spoon.

Place pork steaks onto prepared baking sheet and brush olive oil onto all sides.

Sprinkle seasoning over the oiled meat.

Bake for 18 to 20 minutes, or until internal temperature reaches 145°F. Remove from oven and allow to rest for 3 to 5 minutes.
Notes
Baking time is based on

½

inch thick pork steaks. Thinner steaks will cook faster and thicker ones will need more time.
The steaks can be broiled on high for the last 2 minutes to sear the outside.
Nutrition
Calories:
234
kcal
|
Carbohydrates:
1
g
|
Protein:
32
g
|
Fat:
10
g
|
Saturated Fat:
3
g
|
Polyunsaturated Fat:
1
g
|
Monounsaturated Fat:
5
g
|
Trans Fat:
0.1
g
|
Cholesterol:
102
mg
|
Sodium:
755
mg
|
Potassium:
588
mg
|
Fiber:
0.3
g
|
Sugar:
1
g
|
Vitamin A:
142
IU
|
Vitamin C:
0.03
mg
|
Calcium:
28
mg
|
Iron:
2
mg
Equipment
© LittleBitRecipes.com - All content and photographs are copyright protected by us. We appreciate sharing our recipes; but copying, pasting, or duplicating full recipes to any social media, website, or electronic/printed media is strictly prohibited and a violation of our copyrights. Single photos may be used, provided that full credit is given to us along with a link back to the original content.