Want to learn how to cook carne asada in the oven? This cooking method results in the same delicious flavor without grilling it outside the traditional Mexican way.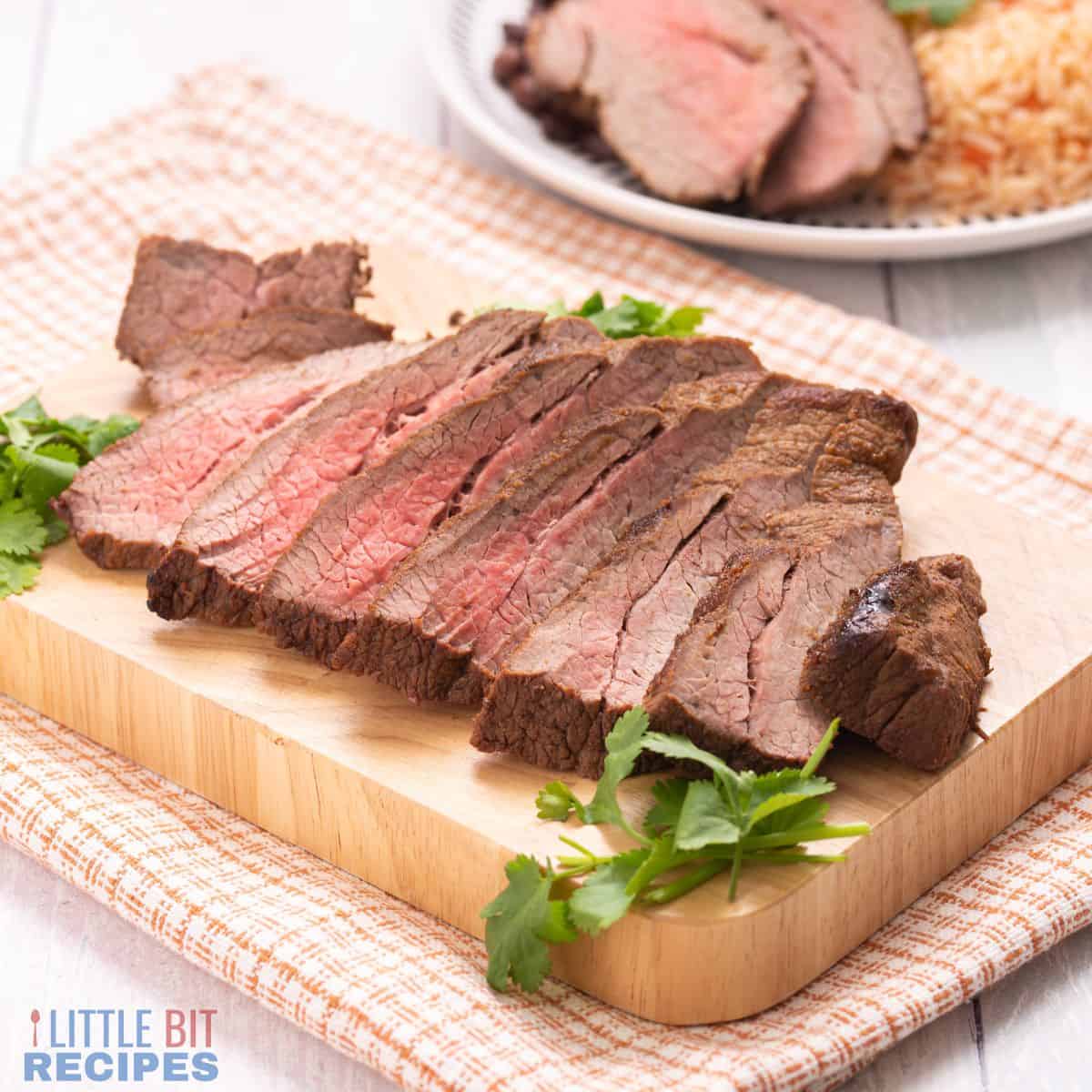 Although the name "carne asada" means "grilled meat" in Spanish, this classic Mexican dish can be prepared in other ways. If it's not good grilling weather, you can cook this dish in the oven or on your stove.
When made the traditional way, the meat is marinated and seasoned first. Then it is cooked over an open flame. But you can get the same flavor by baking or frying the meat.
This recipe marinates a beef steak for four to twelve hours and then adds additional seasoning before baking. Once cooked in the oven at high heat, the steak will take on its signature charred exterior while still remaining juicy and tender inside.
Jump to:
Ingredients
Marinating is an important step to carne asada recipes. Not only does it add flavor and tenderize the meat, but it also gives the dish a unique taste that sets it apart from other Mexican staples.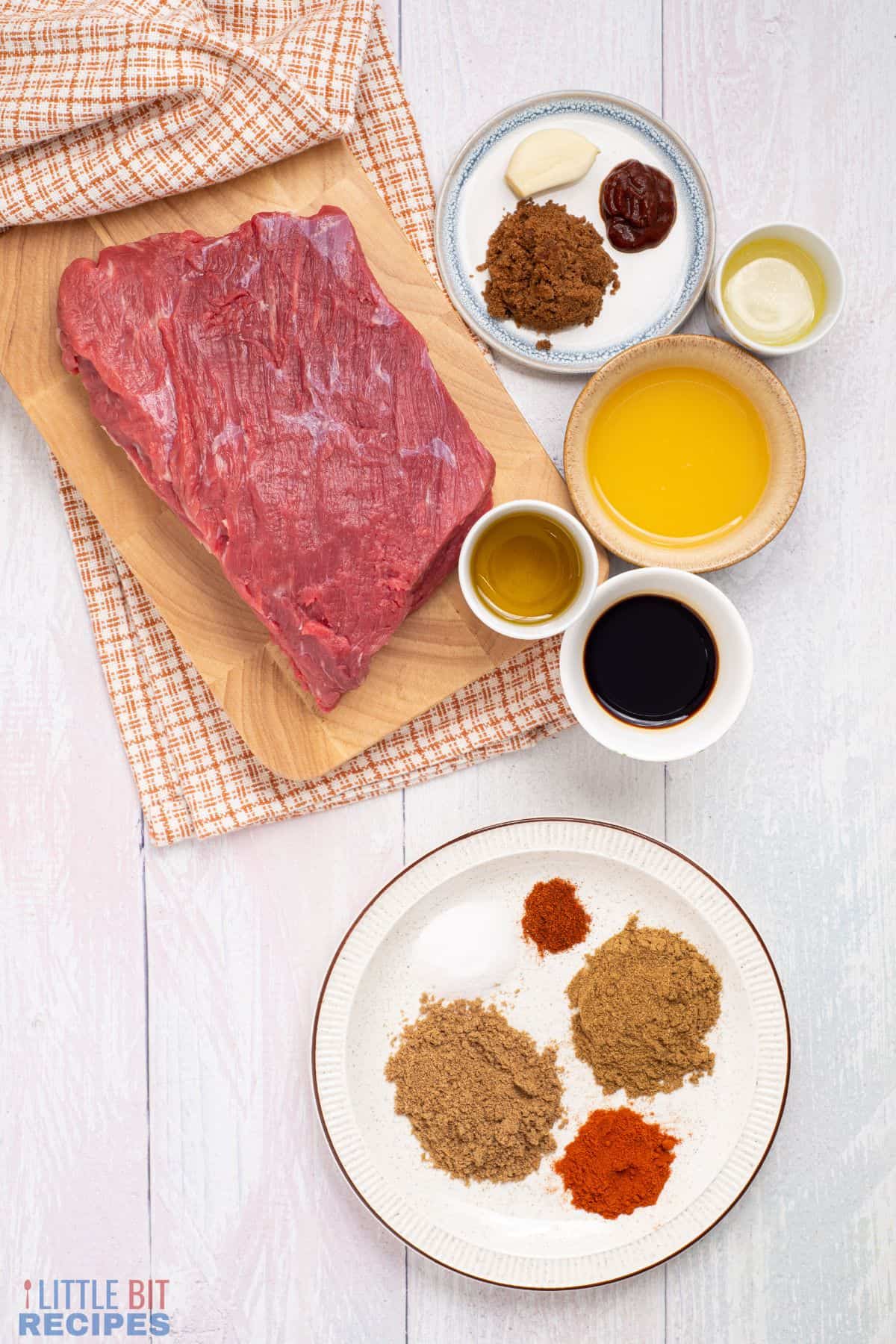 Here's what you'll need to prepare the recipe, including ingredients for the marinade and the dry spice blend.
Steak: Carne asada meat is usually a flank steak. But a similar cuts, like round steak or skirt steak, is also acceptable.
Olive oil: Marinades include oil to help the other ingredients adhere to the meat. Oil also helps to lock in moisture and flavor, as well as add a bit of richness.
Soy sauce: In addition to adding a salty, umani flavor, soy sauce also tenderizes the meat.
Juice: Orange and lime juice adds an extra layer of flavor that complements the spices. They also add acidity which helps break down the tough fibers in the meat, resulting in a more tender texture.
Garlic: A clove of garlic adds a punch of flavor to the marinade.
Chipolte paste: Using chipotle paste is a great way to elevate the taste of carne asada with a smoky, spicy flavor.
Seasonings: A blend of cumin, cilantro seeds, smoked paprika, salt, and cayenne pepper are used to spice up the taste.
See recipe card for quantities.
Instructions
The process of making carne asada in an oven is straightforward. Start by marinating and seasoning the meat. Then it's ready to be baked at a high temperature.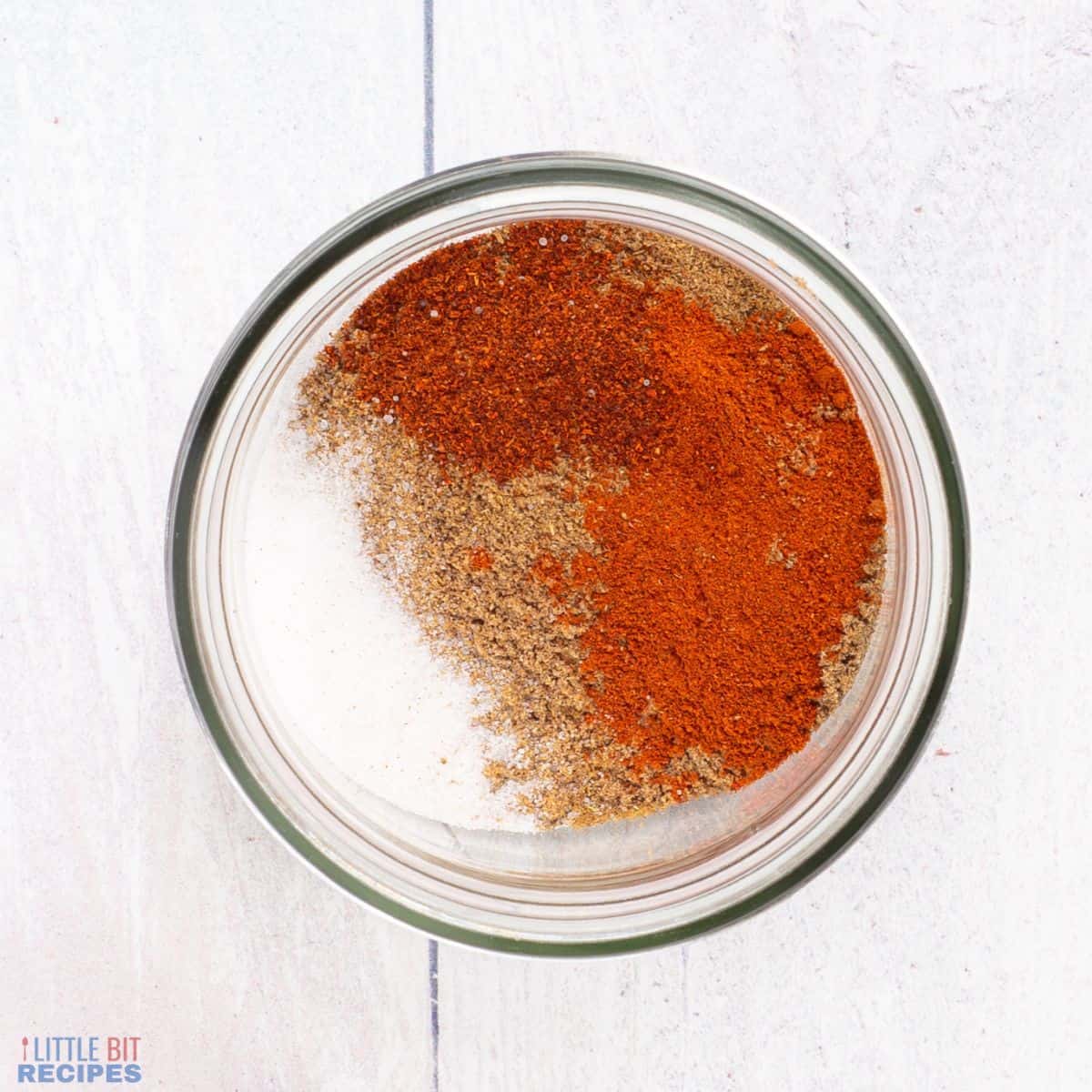 Combine all the dry spices in a small mixing bowl.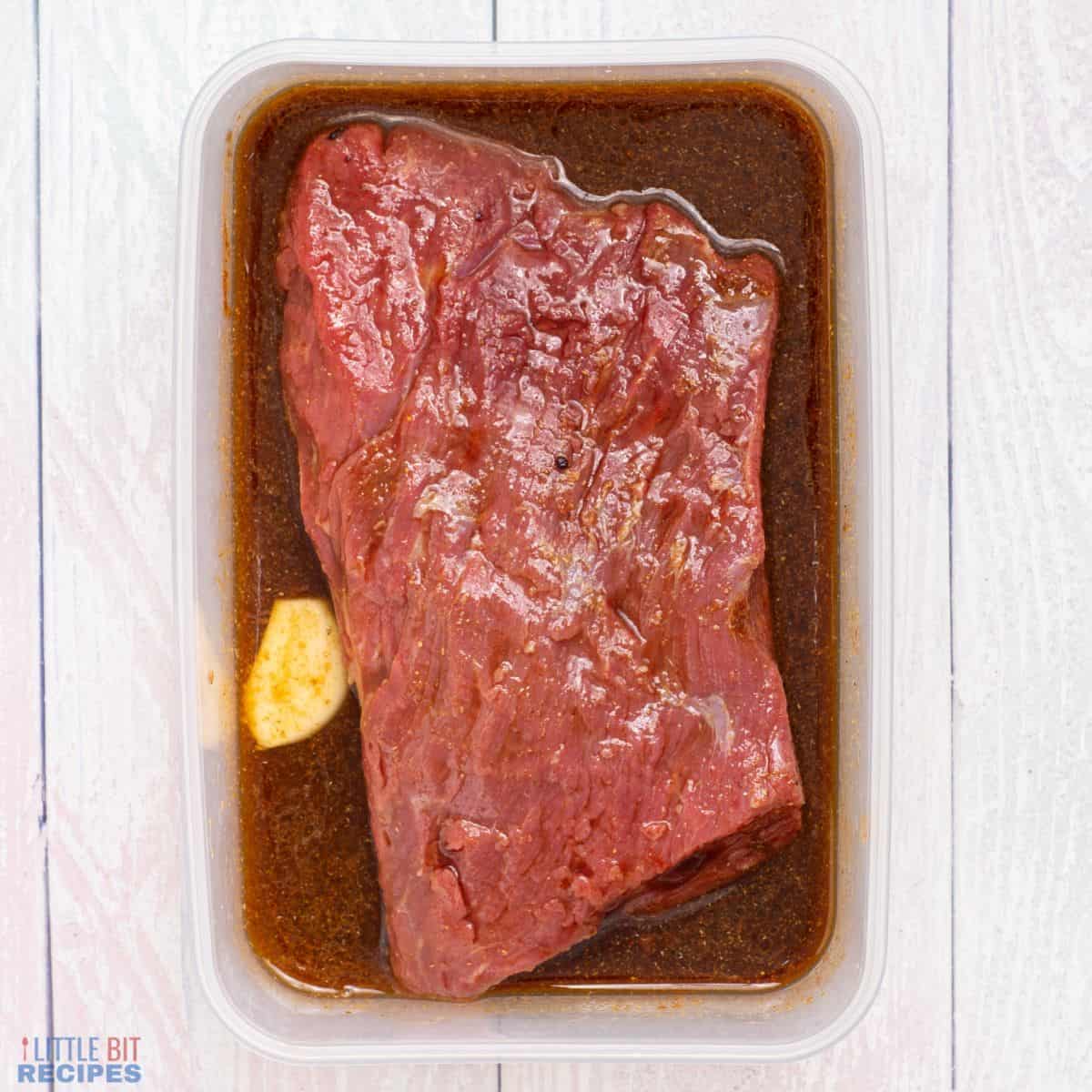 Prepare the carne asada marinade and marinate the flank steak for 4 to 12 hours.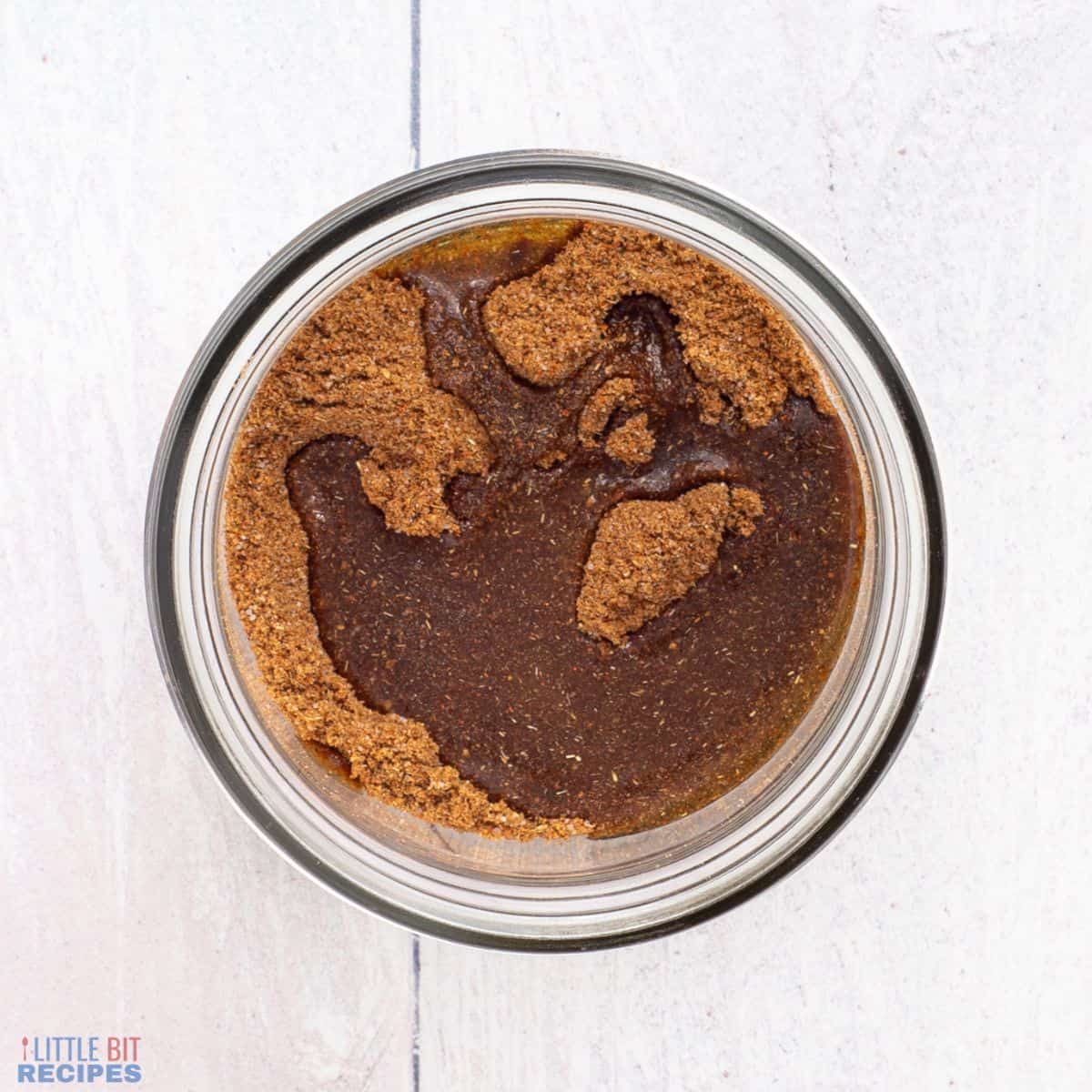 Add oil to the dry spice mix and stir into a seasoning paste.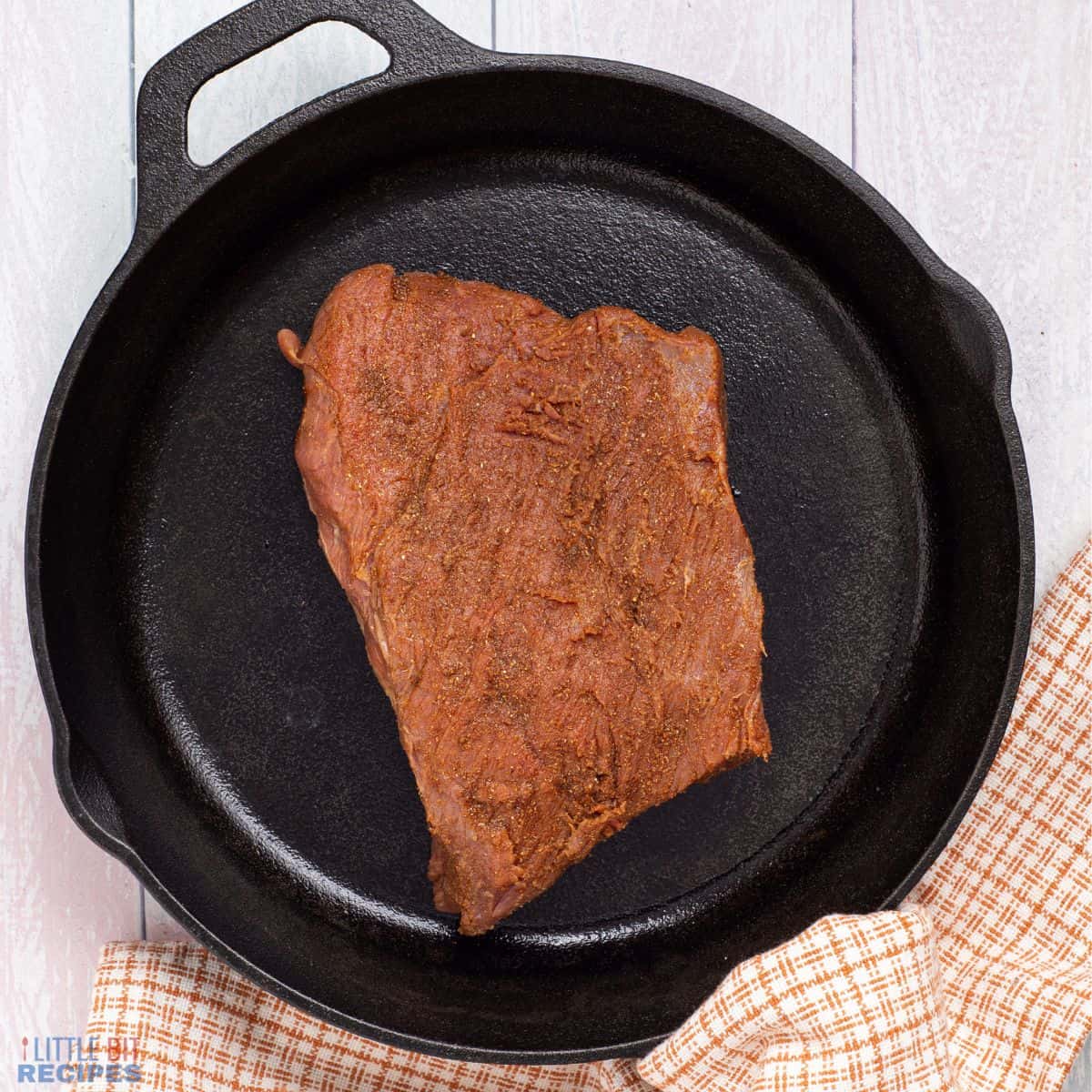 Rub the seasoning mixture over the marinated carne asada steak.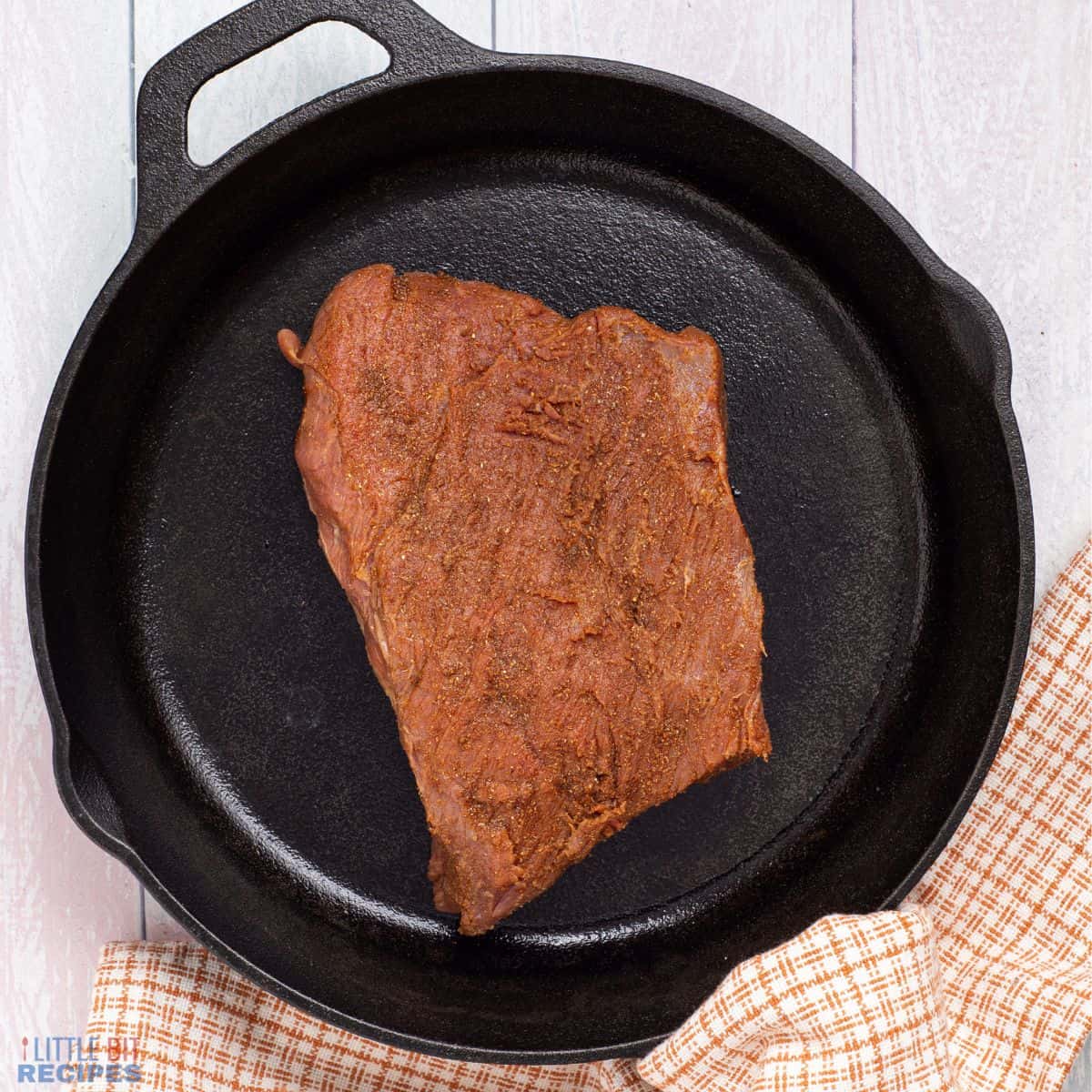 Once the steak has sat for a half hour at room temperature, it's ready to cook. Bake the steak in a preheated oven, flipping once, until the temperature reaches the desired doneness.
Variations
If you want to change up this easy carne asada recipe, there are simple ways to switch up the flavors and ingredients. Here are a few suggestions:
Change up the oil. Switching from olive oil to sesame oil will add a nutty flavor.
Modify the spice blend. Try adding things like oregano, cilantro, or chili powder for a bolder taste.
Kick up the heat. Try using a hot sauce in your marinade for a more spicy take on carne asada. You can also use cayenne or crushed red pepper to impart flavor and a bit of heat to your dish.
Tips
When it comes to baked meat recipes, oven temperature and timing are important. An overcooked cut of beef can become dry, tough, and chewy - not at all what the recipe intended!
To ensure the carne asada in oven is perfect every time, keep an eye on the steak while it's cooking and test for doneness often near the end. This will ensure the meat turns out juicy, tender, and full of flavor with each bite!
It's also important to marinate the steak for at least four hours and let it sit at room temperature for a half hour after. This allows the marinade and seasonings time to set into the meat before cooking.
Serving suggestions
Marinated steak is an easy main dish for one or two people. Add black beans, Mexican rice, avocado slices, and tomato slices for a simple meal. Or try it with a side of yuca mash.
Carne asada tacos are another idea. Start by serving it with warm tortillas and all of your favorite toppings like diced onions and tomatoes, salsa, lettuce, sour cream and guacamole.
Baked tortilla strips with fresh homemade salsa are great additions too. You can also top off each plate with freshly cut limes for an extra burst of color and flavor!
For a decadent dessert, we recommend this dark chocolate bourbon pecan pie cheesecake with a cup of Mexican coffee.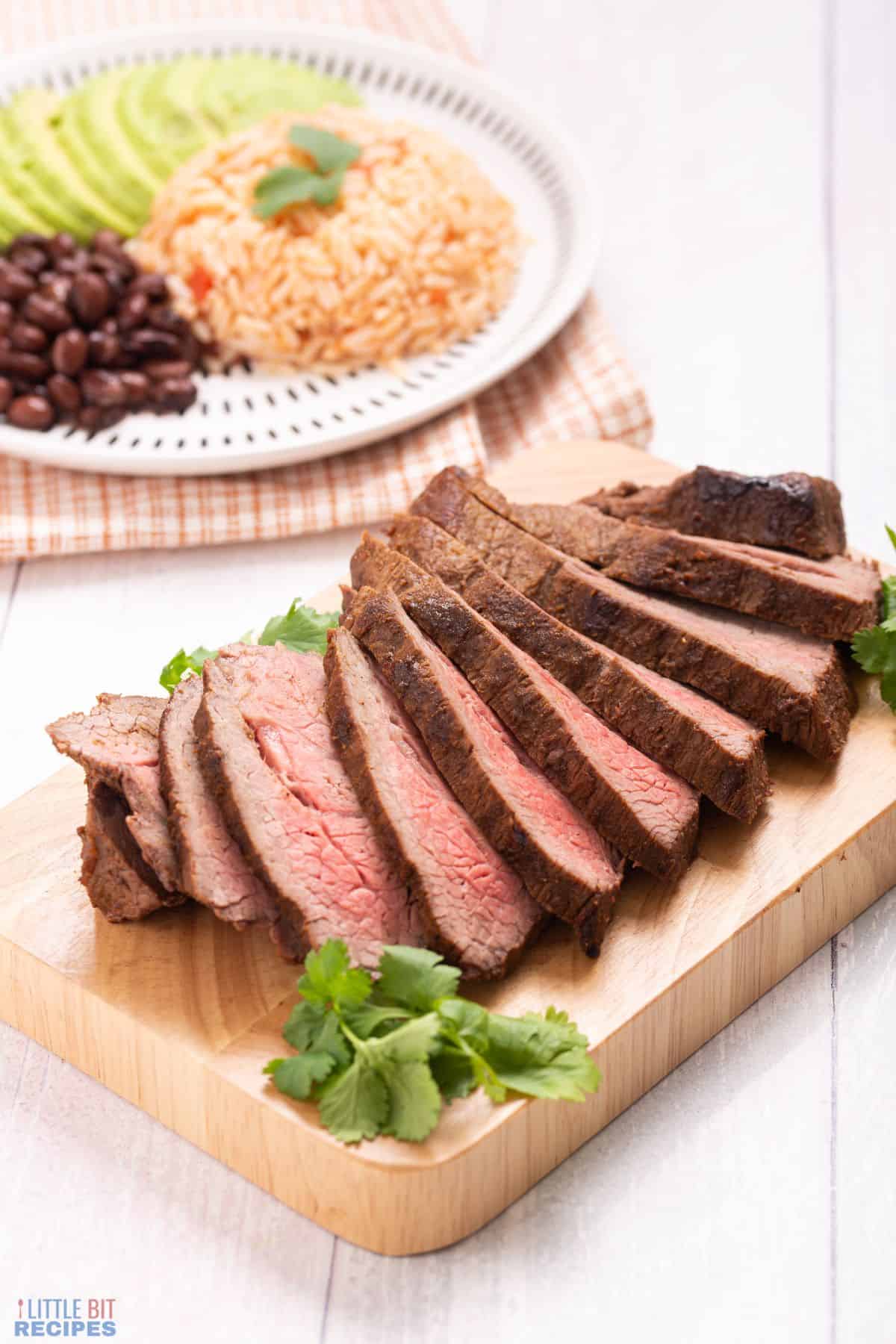 Storage
Leftovers should be stored in an airtight container and kept in the refrigerator. For best results, use within 3-4 days. Cook carne asada on a baking sheet in the oven at 350°F for 10-12 minutes to reheat.
FAQ
What temperature is needed for cooking carne asada?
It is typically cooked at a high temperature of 400-450°F. The best way to ensure the meat is cooked properly is to use a meat thermometer and check the internal temperature for doneness.
Can I cook Trader Joe's carne asada in the oven?
Trader Joe's carne asada can be cooked in the oven the same way as the marinated steak in this recipe.
How long does it take to cook skirt steak in the oven?
Depending on the size and thickness of the meat, cooking times can vary from about 10 to 20 minutes.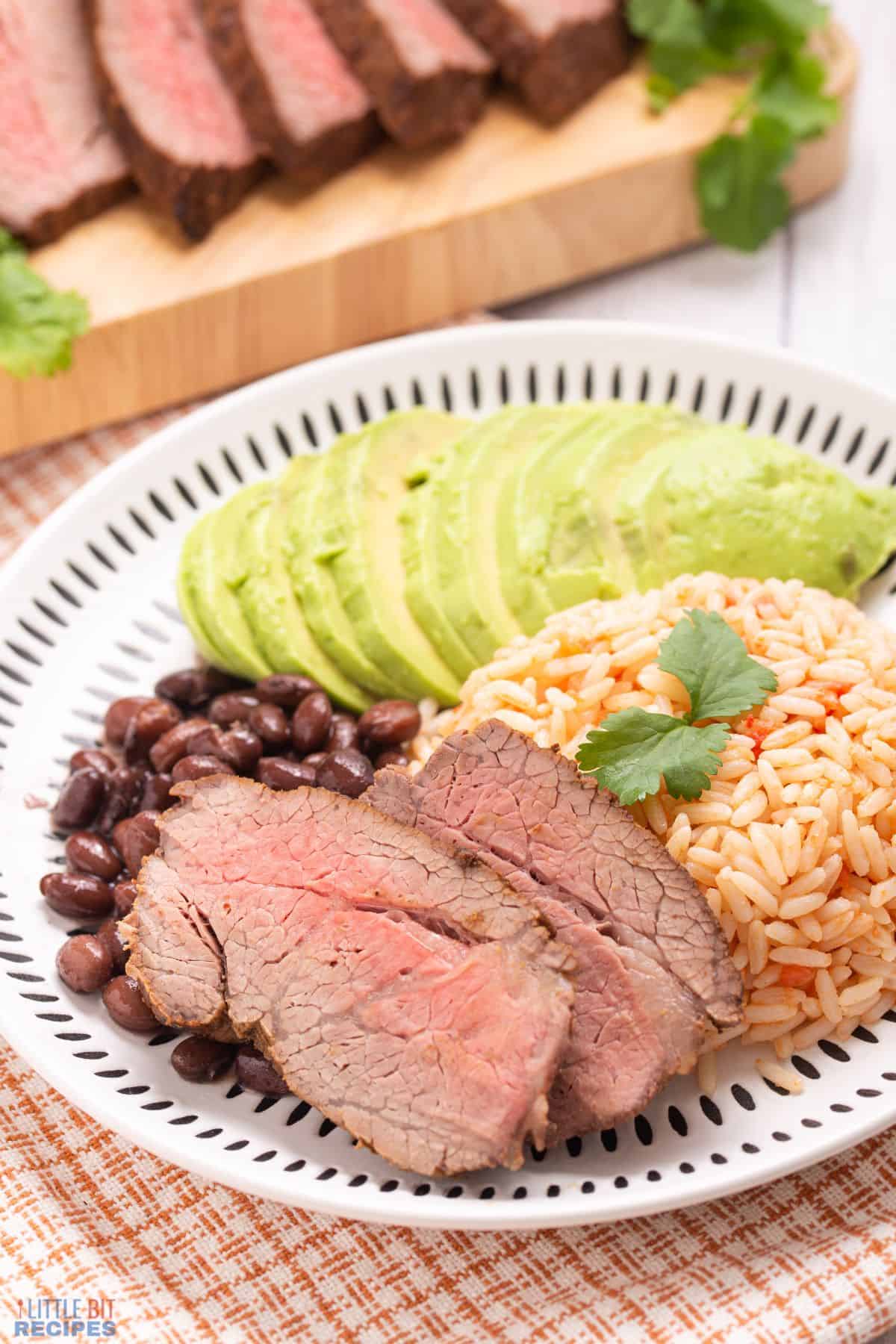 Related Recipes
If you would like more easy dinner ideas for one or two, take a look at these recipes.
Follow us on Facebook, Instagram, and Pinterest to see more recipes.
Recipe
Carne Asada in Oven
It's so easy to make Mexican carne asada in your oven. This method gives you the same delicious flavor without going outside to grill.
Ingredients
1

pound

flank steak

or similar cut of meat
For the marinade
2

tablespoons

extra virgin olive oil

¼

cup

reduced-sodium soy sauce

¼

cup

orange juice

2

tablespoons

lime juice

1

tablespoon

brown sugar

1

garlic clove

1

teaspoon

chipotle paste
For the Dry Spice Mix
1

tablespoon

ground cumin

1

tablespoon

ground cilantro seeds

1

teaspoon

smoked paprika

1

teaspoon

salt

¼

teaspoon

cayenne pepper
For serving
Black beans

Mexican rice

Avocado slices

Tomato slices
Instructions
Mix all ingredients of dry Spice mix in a small pot with a lid. Reserve.

Add the meat to a ziplock bag or sealable pot with the marinade ingredients. Add 1 tablespoon of the Spice Mix to the marinade bag, stir well and seal the bag. Marinate in the fridge for at least 4 hours, up to 12 hours.

When ready to broil, add 2 tablespoons of olive oil to the remaining Dry Spice Mix and mix well to form a paste.

Remove the meat from the marinade and pat the steak dry with a paper towel to remove excess liquids. Rub the steak with the Dry Spice Mix paste and leave it to rest at room temperature for a further 30 minutes.

Preheat the oven to 425°F with a cast-iron pan or grill inside.

When ready to grill, remove with oven mitts carefully and place the flank steak inside, which should sizzle when touching the grill. Cook the steak for 8-14 minutes, flipping the steak halfway through until the internal temperature reads 130°F for medium rare or 140°F for medium. The time will vary on the thickness of the steak and desired doneness.

Remove the steak from the oven and let it rest for 10 minutes before slicing diagonally against the grain.

Serve with your desired sides, we suggest black beans, Mexican rice, avocado and tomato.
Notes
Keep an eye on the steak while it's cooking and test for doneness often near the end.
For more spice, you can use hot sauce, cayenne, or crushed red pepper in the marinade.
Nutrition
Calories:
210
kcal
|
Carbohydrates:
15
g
|
Protein:
4
g
|
Fat:
15
g
|
Saturated Fat:
2
g
|
Polyunsaturated Fat:
2
g
|
Monounsaturated Fat:
11
g
|
Sodium:
2319
mg
|
Potassium:
324
mg
|
Fiber:
1
g
|
Sugar:
9
g
|
Vitamin A:
763
IU
|
Vitamin C:
27
mg
|
Calcium:
62
mg
|
Iron:
3
mg
© LittleBitRecipes.com - All content and photographs are copyright protected by us. We appreciate sharing our recipes; but copying, pasting, or duplicating full recipes to any social media, website, or electronic/printed media is strictly prohibited and a violation of our copyrights. Single photos may be used, provided that full credit is given to us along with a link back to the original content.