Do you love lasagna but hate having to make an entire dish just for yourself? Well, now you can make a smaller batch of single serve individual lasagna easily! This recipe is perfect for anyone who wants a delicious and hearty meal without all the leftovers.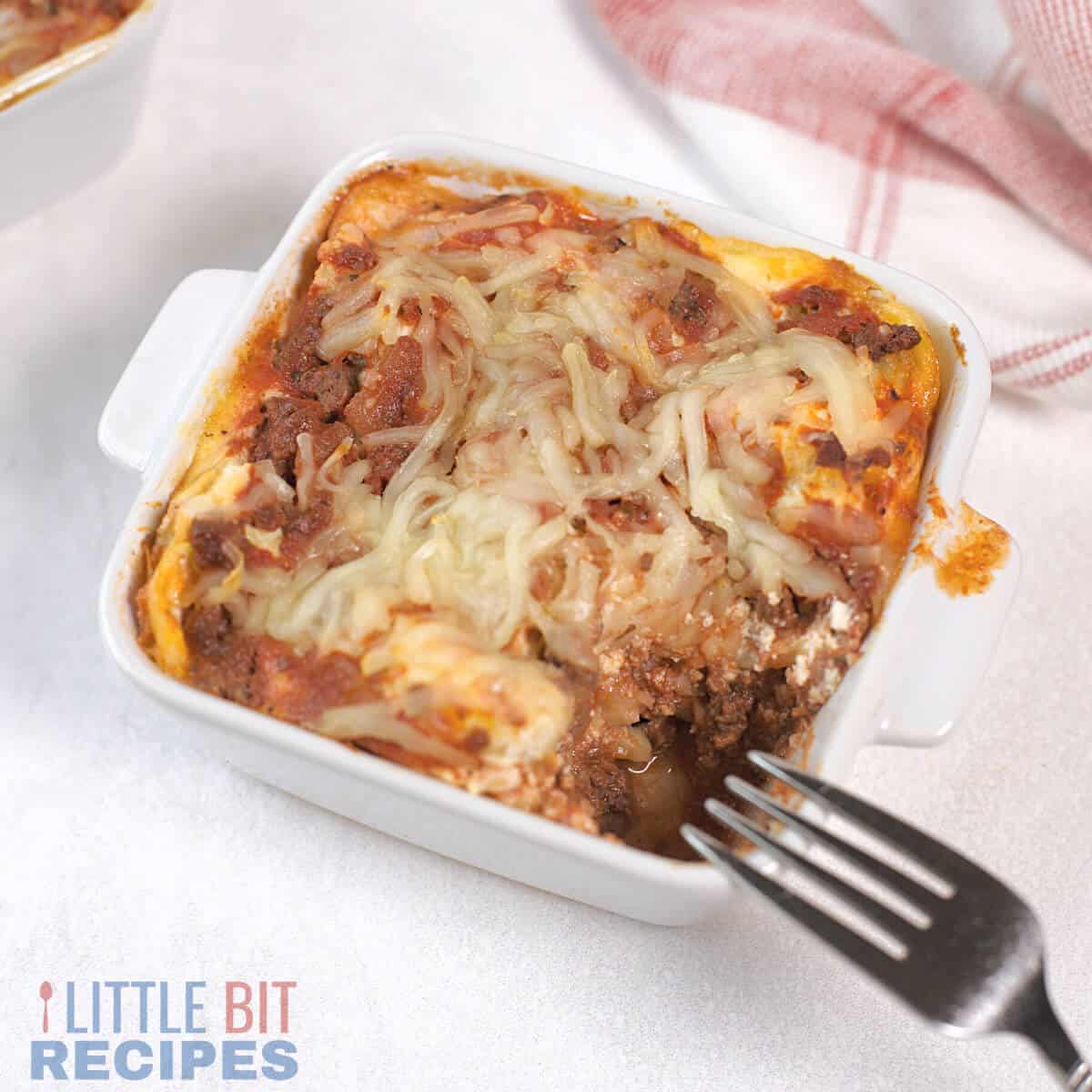 Lasagna is a classic dish that is usually made for a large group of people. However, lasagna can also be made for just one or two people.
Making a smaller batch of the dish helps with portion control. When you make lasagna for a large group, there are often leftovers.
Single serve lasagna eliminates the temptation of overeating because there are little or no leftovers. It's also quick and easy to make individual lasagna for two, especially when you use no-boil lasagna noodles.
Jump to:
Ingredients
Any good lasagna recipe has layers of sheet pasta with a meaty, slightly acidic tomato sauce and ooey-gooey cheese. This recipe just uses less ingredients but you can always double or triple the recipe to make more.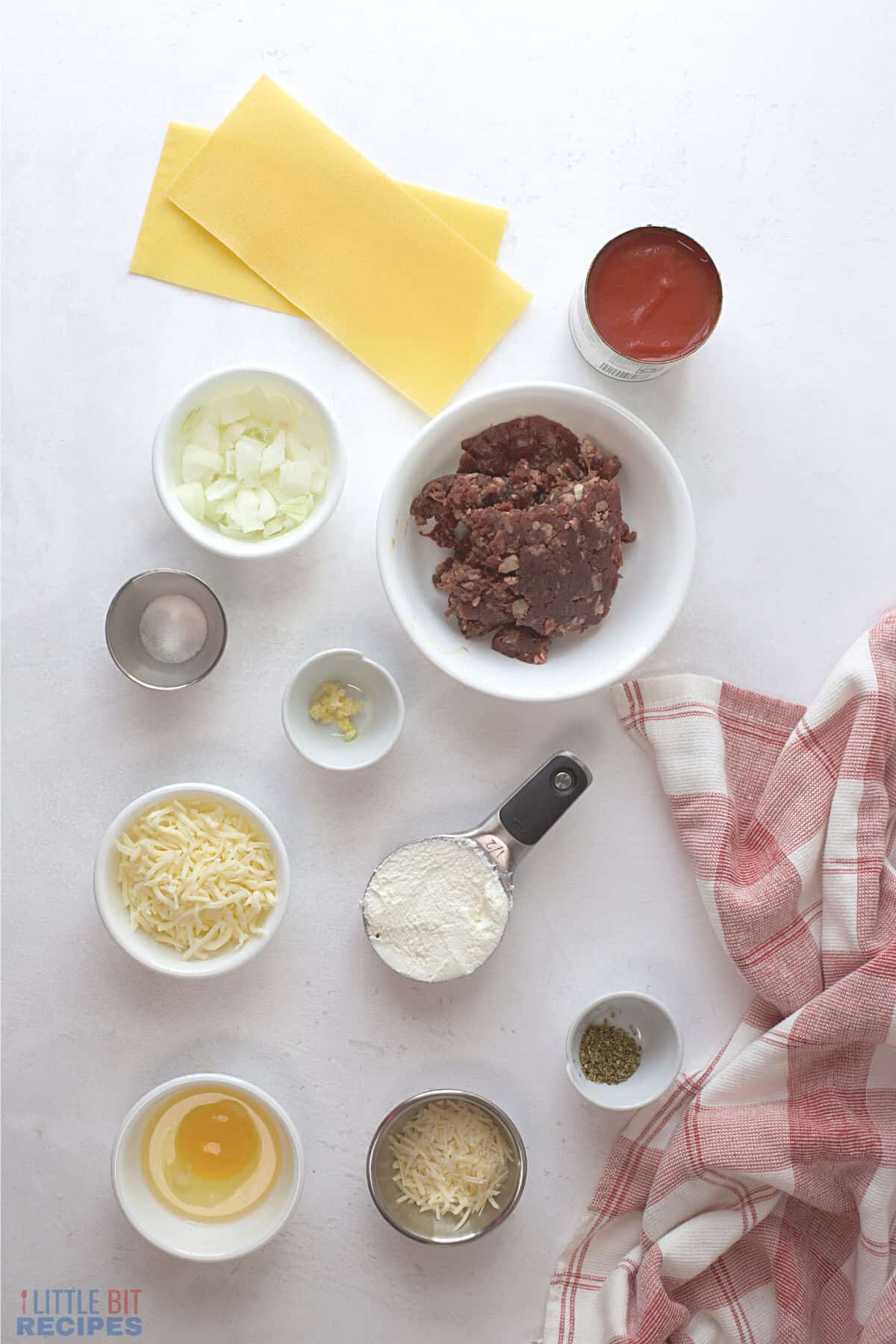 Here's what you'll need:
Lasagna noodles
Onion
Ground beef or sausage
Garlic
Tomato sauce with seasonings or marinara sauce
Ricotta cheese or cottage cheese
Egg
Parmesan cheese
Mozzarella cheese
See recipe card for quantities.
Instructions
The key to this individual mini lasagna recipe is to use mini sized baking dishes. This gives you perfectly sized single servings in each dish!
To start, you'll want to preheat your oven to 350°F. You can use a smaller toaster oven or even an air fryer if your baking dishes fit.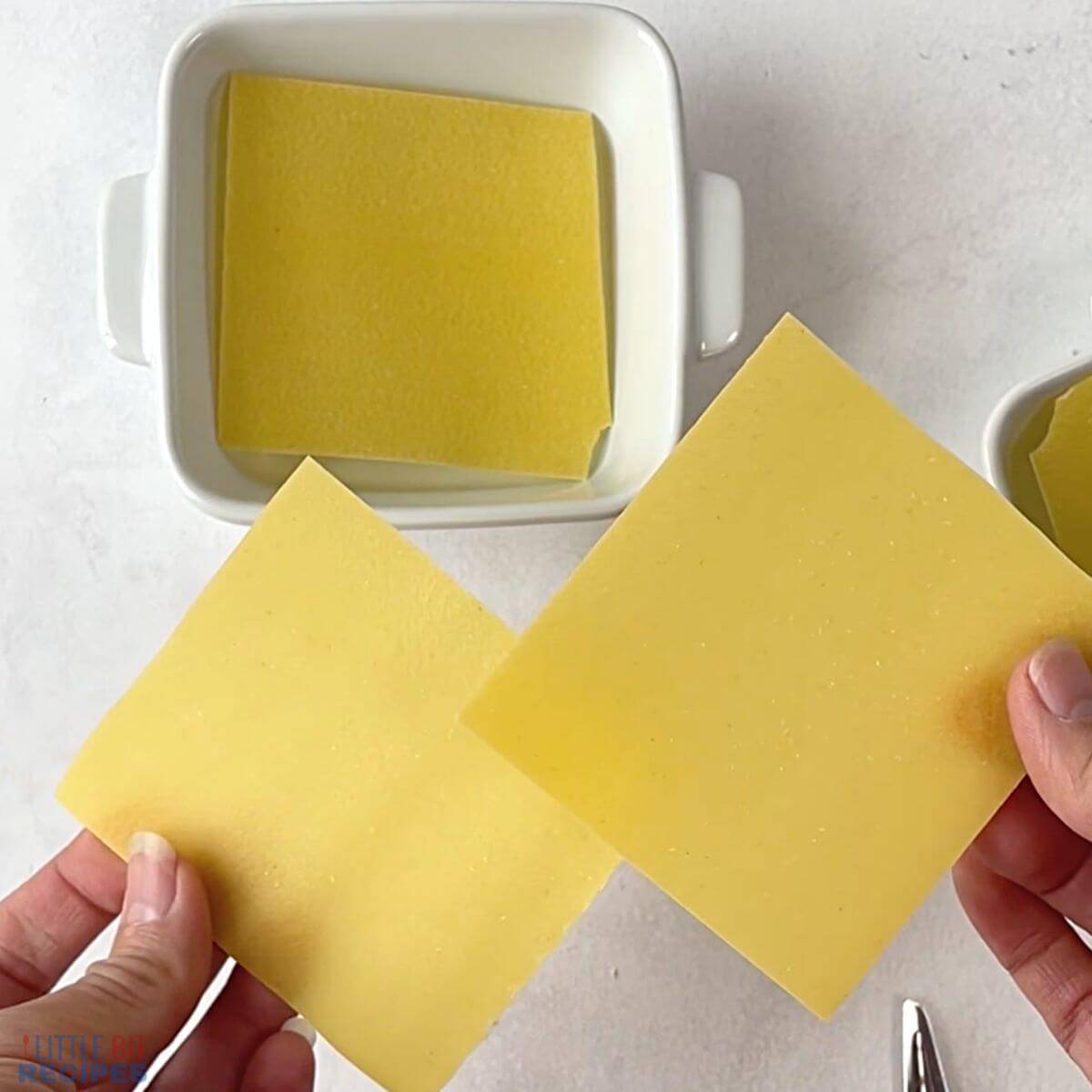 Break each no-boil noodle in half so the pieces fit inside each 10-ounce square dish.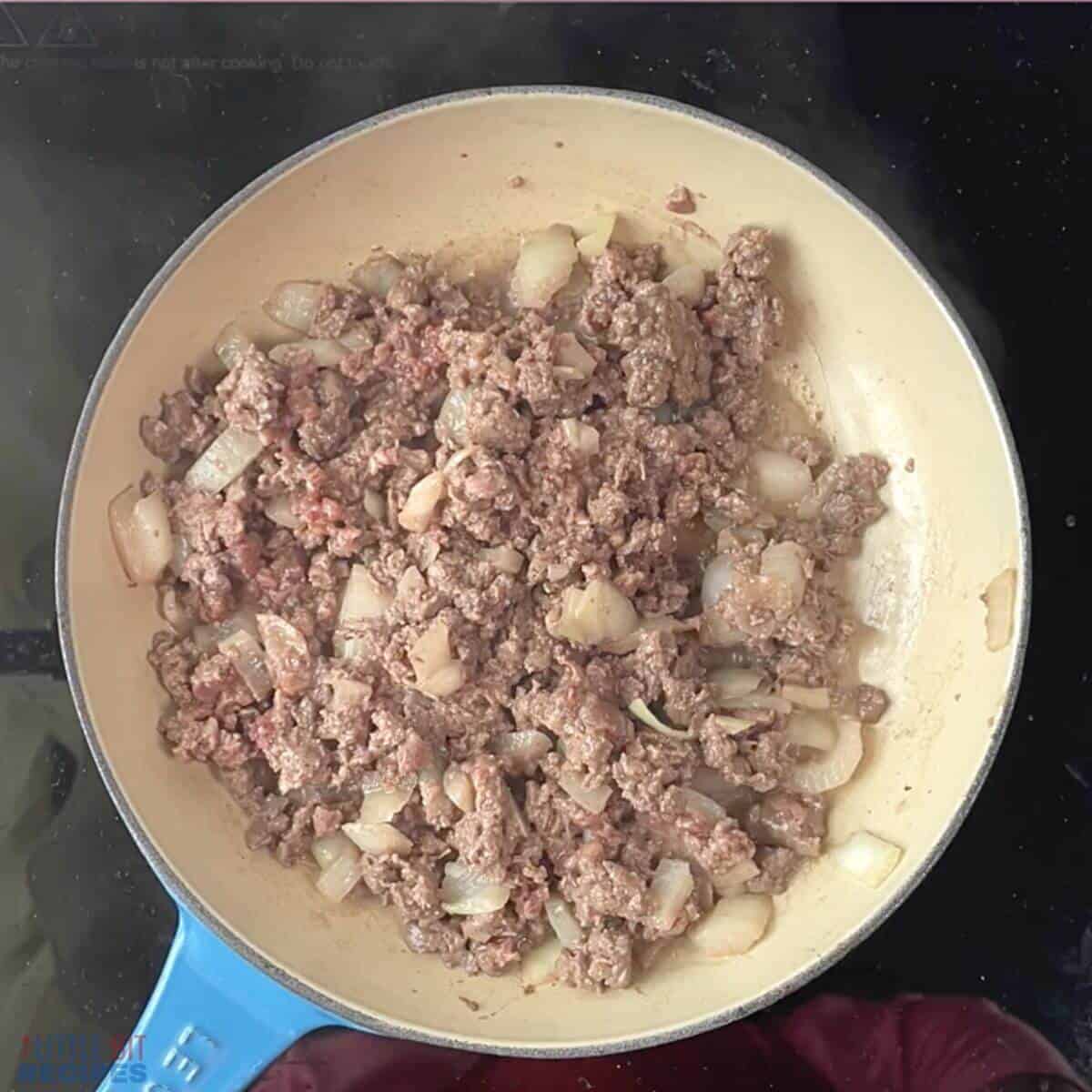 Cook the ground meat and onion in a small skillet until the meat is broken up and browned.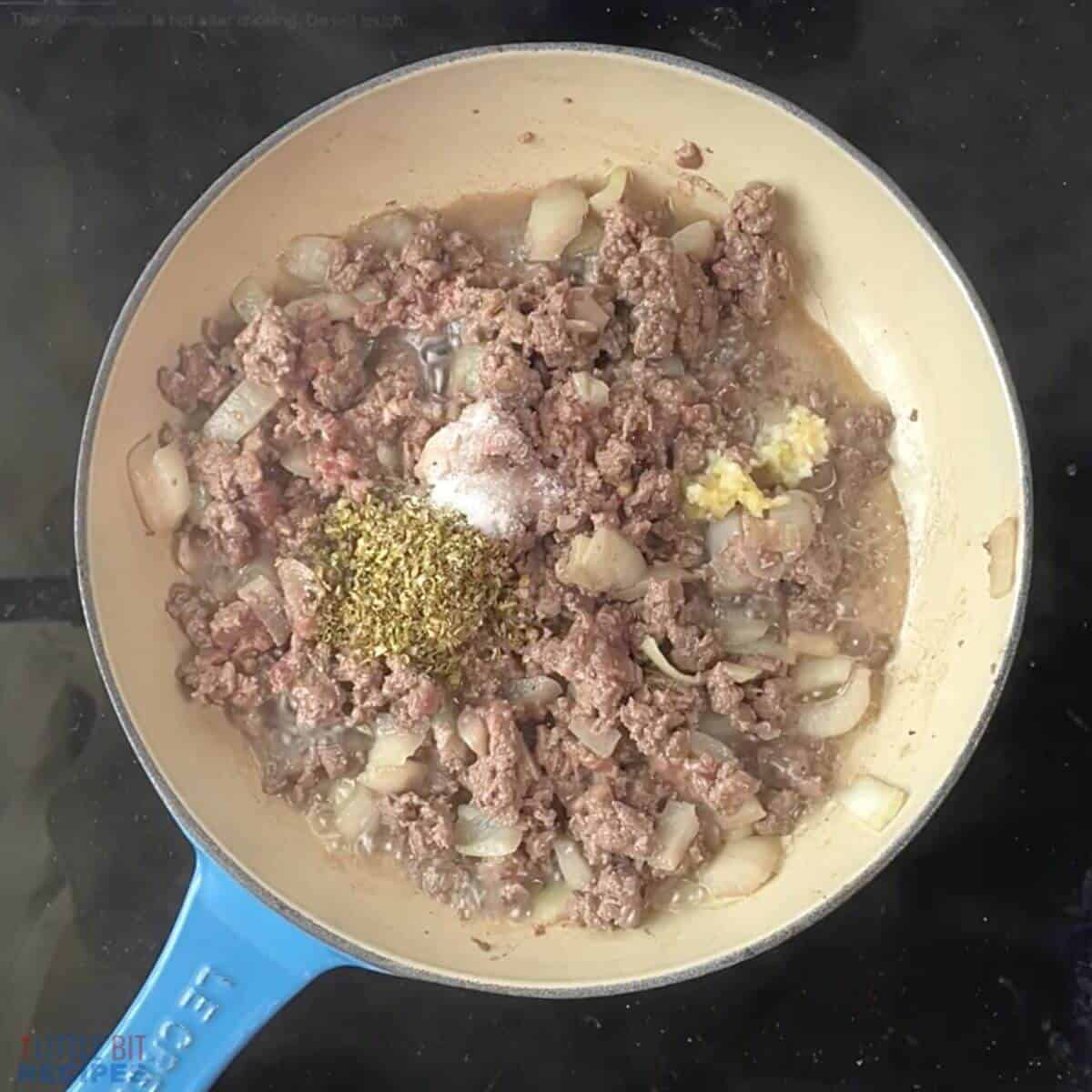 Drain the meat if needed then add in garlic and seasoning.
Stir in the tomato sauce and simmer for about five minutes.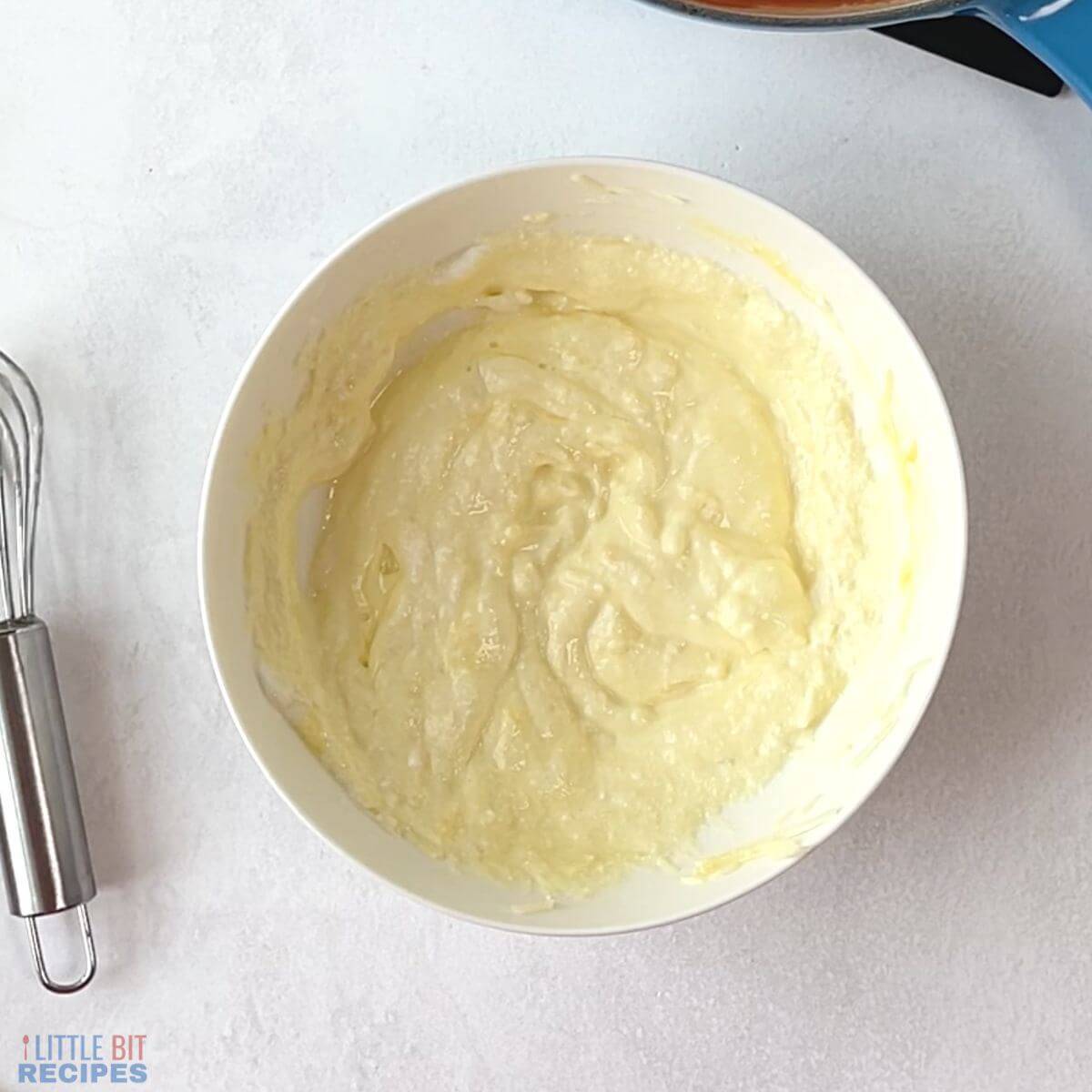 Combine the egg, ricotta, and parmesan in a small bowl.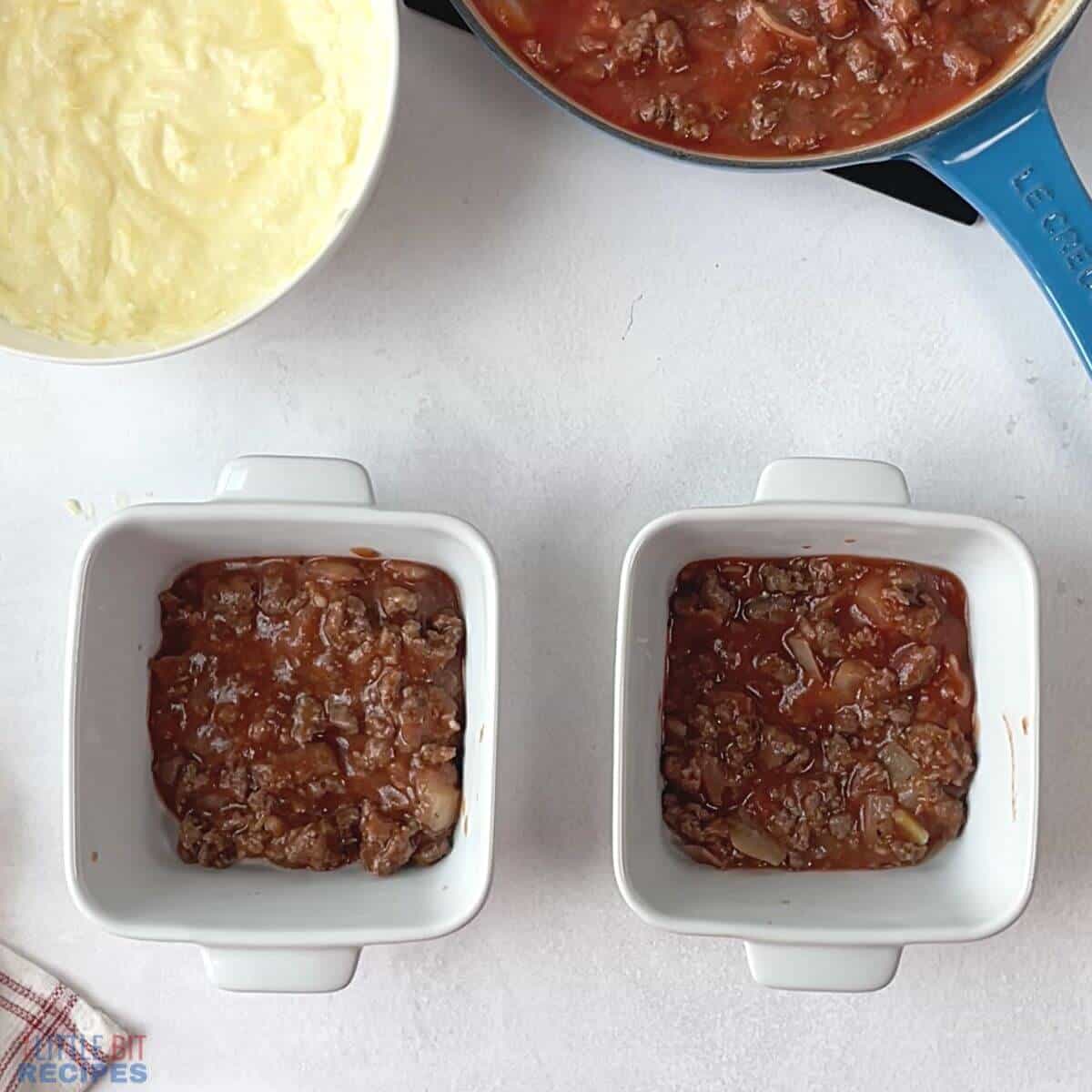 Place a little bit of meat sauce into the bottom of each baking pan.
Place oven ready noodles over the sauce.
Divide half the ricotta mixture and spread over each noodle.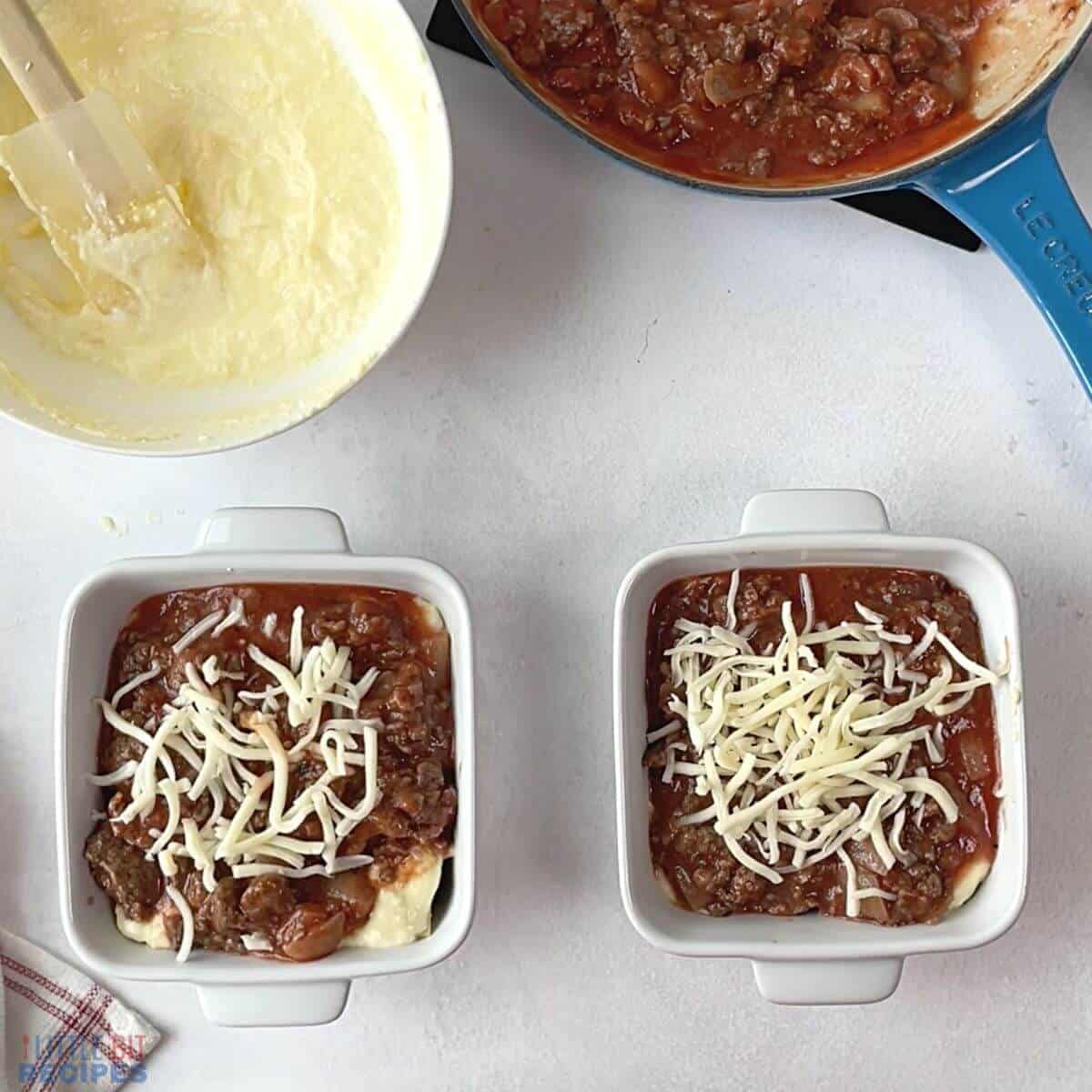 Top with sauce and sprinkle on a small amount of the shredded mozzarella cheese.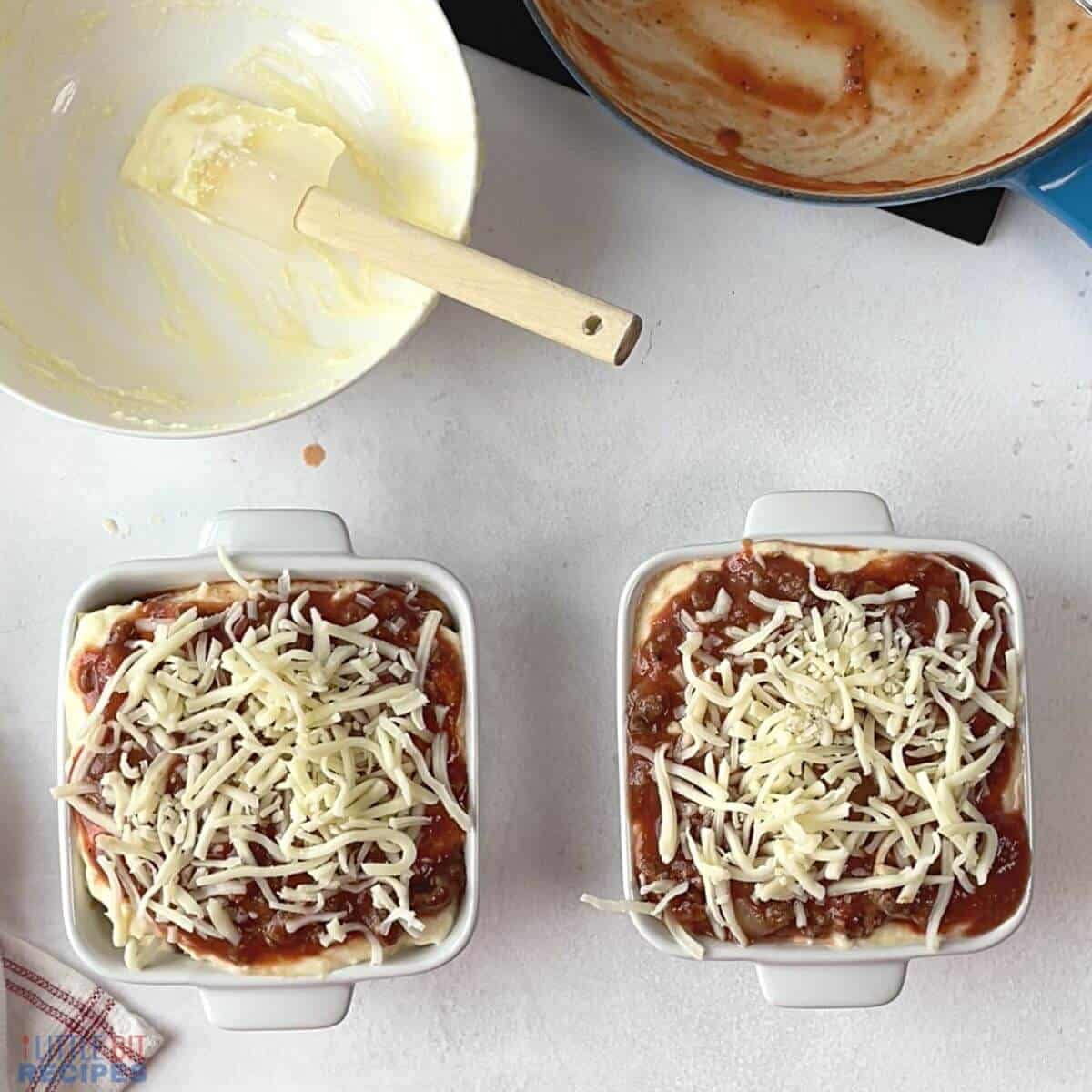 Repeat the remaining layers ending with a topping of mozzarella cheese.
Cover with foil then bake. Remove foil and bake for an additional ten minutes.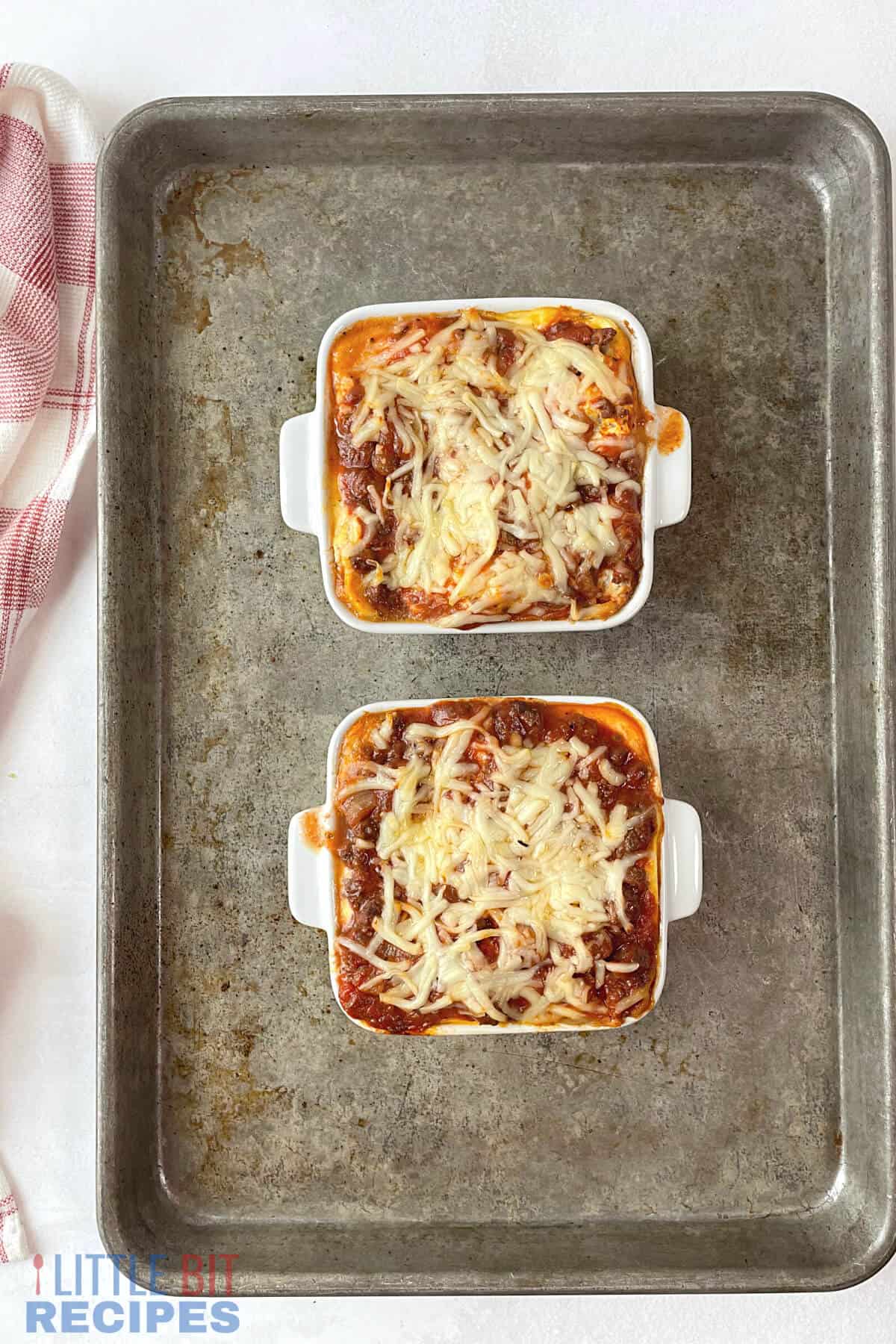 Variations
There are many variations of single serve lasagna that are just as delicious as the original. For example, you can try a meatless version with lots of veggies, or a more traditional meaty lasagna. You can even use gluten-free noodles for those with dietary restrictions.
No matter what your preference, there's a version that is sure to satisfy your craving. So the next time you're in the mood for this comfort food favorite, give one of these modifications a try!
Tips
It's fairly simple to make this downsized version of the traditional layered dish. But if you're new to making it, these tips will have you cooking homemade lasagna like a pro in no time:
Use good quality ingredients. Good quality pasta, tomato sauce and cheese will make all the difference in the final product.
Assemble the lasagna in a baking dish with high sides. If your dis is too small you can have spillage or bubbling over while baking.
Make your own tomato sauce. You can use prepared marinara sauce, but homemade allows you to customize to your liking.
Cover until the end of baking. Covering will allow a slower and even cooking process. This results in a tender, soft cooked through lasagna.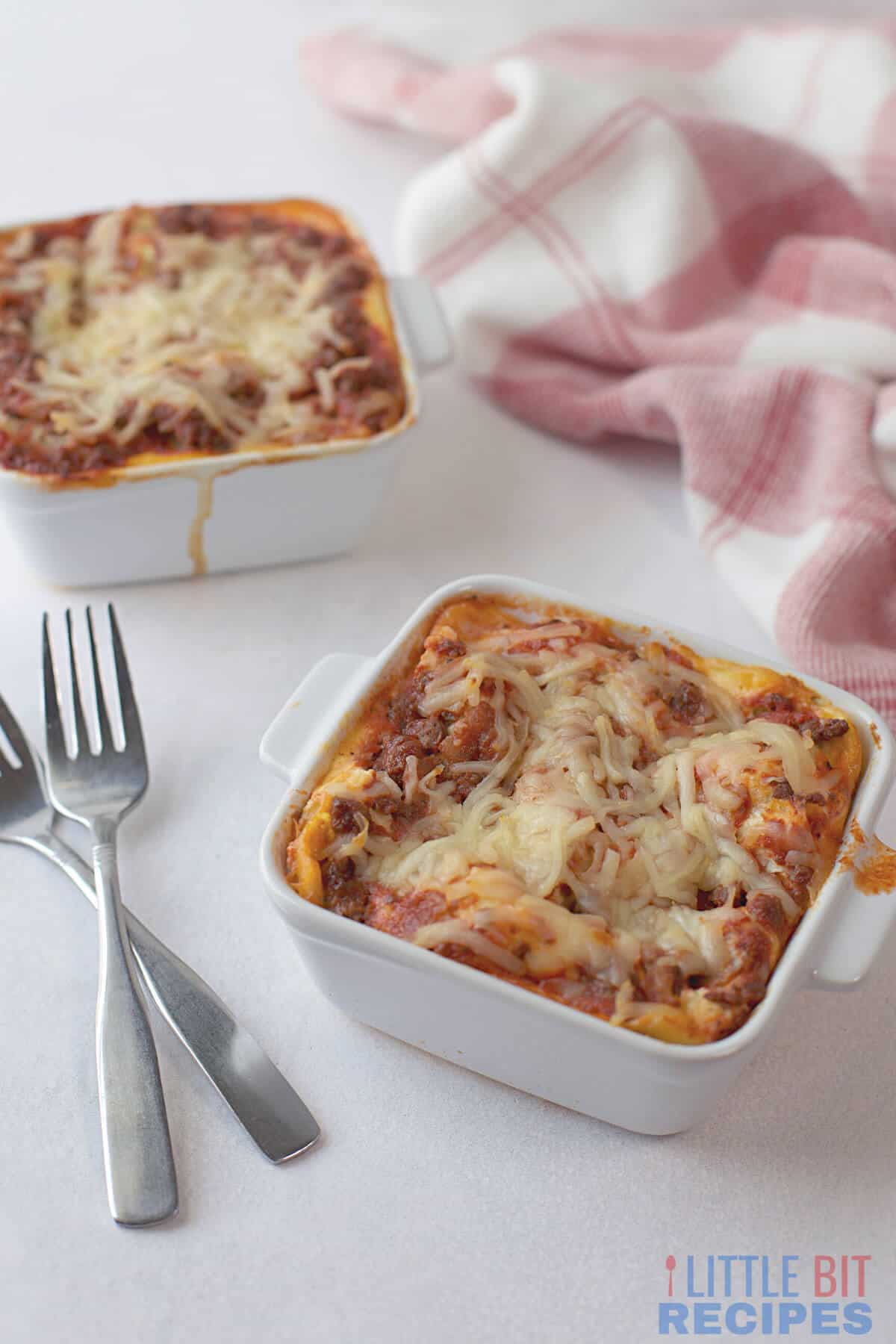 Serving suggestions
Lasagna is one of those dishes that's perfect for dinner any night of the week. It pairs well with a side salad and garlic bread. A glass of red wine is a great on the side too!
You can also dress up the dish with a sprinkling of fresh parsley and a sprinkling of fresh grated parmesan cheese. And if you are really hungry, start off with a soup like this simple Pastina Soup Recipe.
Storage
The lasagna can be stored either cooked or uncooked so it stays fresh and delicious.
To store uncooked lasagna, tightly wrap the pan in plastic wrap or aluminum foil. Then refrigerate for up to 3 days or freeze for up to 2 months.
Cooked lasagna will keep in the fridge for 3-4 days or in the freezer for 2-3 months. To store cooked lasagna, let it cool completely, then wrap each single serving tightly in plastic wrap or aluminum foil.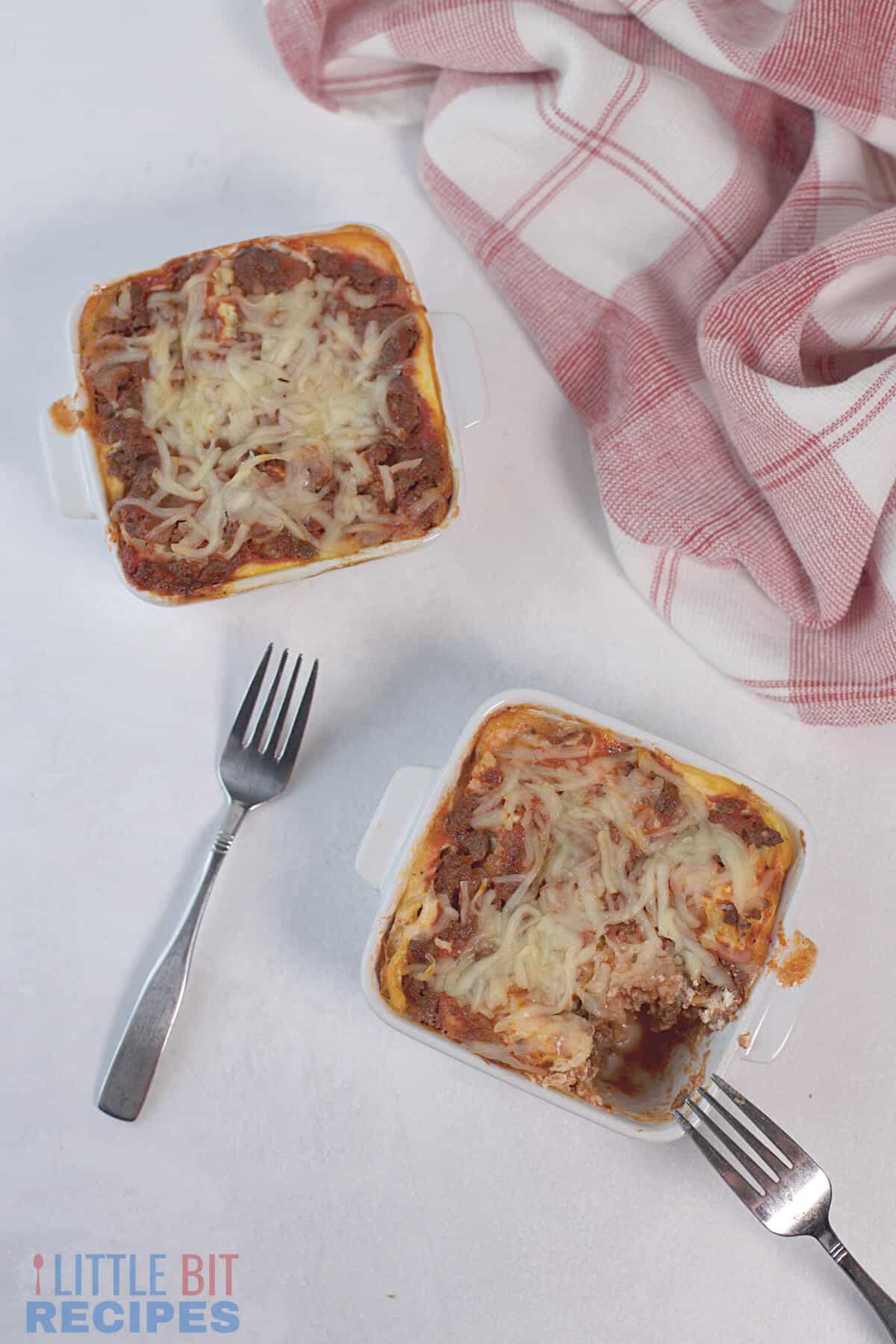 FAQ
What size baking dish should be used to make individual lasagna?
A ten ounce baking dish is a good size for a single serving individual lasagna. A square shape is best for fitting in the noodles.
How do you get lasagna noodles to fit in a smaller baking dish?
To get no boil noodles to fit in a smaller baking dish, you can break them up into smaller pieces. You can also cook regular noodles and cut them to fit.
What's the best way to freeze individual lasagna?
The best way to freeze individual lasagna is to wrap each piece in foil or plastic wrap, then place them in a freezer bag. Label the bag with the date and contents, then freeze for up to 3 months. When you're ready to eat, thaw the lasagna in the refrigerator overnight, then bake according to your recipe's instructions.
Related Recipes
Want some more easy meal ideas for one or two? Check out these simple dishes.
Follow us on Facebook, Instagram, and Pinterest to see more recipes.
Recipe
Mini Lasagna
Love lasagna but hate having to make an entire dish? You can enjoy single serve individual lasagna instead!
Ingredients
2

no boil oven ready lasagna noodles

½

small onion

½

pound

lean ground beef

1

garlic clove

minced

1

teaspoon

Italian seasoning

¼

teaspoon

salt

8

oz

can tomato sauce

½

cup

ricotta cheese

1

egg

2

tablespoons

freshly grated parmesan cheese

½

cup

shredded mozzarella cheese

or fresh sliced mozzarella
Instructions
Preheat the oven to 350°F.

Carefully break each noodle in half and dice the onion.

Fry the onion and ground beef in a medium skillet for a few minutes until beef is browned, breaking up any clumped meat. Drain and return to the pan.

Add in the garlic, Italian seasoning, and salt. Stir in the tomato sauce and simmer over low heat for 5 minutes.

At the same time, in a small bowl, whisk together the egg, ricotta and parmesan.

In the bottom of two individual 10 ounce square oven safe baking dishes, place about 1 tablespoon of the meat sauce across the bottoms of each pan.

Top the sauce with one half noodle in each dish.

Spread the ricotta mixture over the noodles in each dish, divided evenly.

Then top with ½ of the remaining meat sauce mixture, divided evenly.

Add another half noodle to each dish.

Spread remaining ricotta mixture over each noodle

Layer on the remaining sauce, divided evenly.

Top each with the shredded mozzarella, divided evenly between each dish.

Loosely tent the dishes with foil and bake for 40 minutes.

Remove foil and bake another 10 minutes, allowing cheese to brown.

Let cool for about 15 minutes before serving.
Notes
After baking and cooling, remove the extra individual lasagna from pan. Wrap in plastic then put back in pan and freeze. Remove from pan and place in zipper freezer bag.
To reheat in toaster oven, take plastic wrap off, place in same baking dish. Bake 350 for 15 minutes or until hot.
Nutrition
Calories:
474
kcal
|
Carbohydrates:
26
g
|
Protein:
43
g
|
Fat:
22
g
|
Saturated Fat:
12
g
|
Polyunsaturated Fat:
1
g
|
Monounsaturated Fat:
7
g
|
Trans Fat:
0.4
g
|
Cholesterol:
136
mg
|
Sodium:
1212
mg
|
Potassium:
923
mg
|
Fiber:
3
g
|
Sugar:
6
g
|
Vitamin A:
1012
IU
|
Vitamin C:
10
mg
|
Calcium:
380
mg
|
Iron:
5
mg
© LittleBitRecipes.com - All content and photographs are copyright protected by us. We appreciate sharing our recipes; but copying, pasting, or duplicating full recipes to any social media, website, or electronic/printed media is strictly prohibited and a violation of our copyrights. Single photos may be used, provided that full credit is given to us along with a link back to the original content.