If you're in the mood for something savory and comforting, bake this savory seafood pot pie recipe. Made with a creamy sauce and a variety of seafood, this tasty pie is sure to please. And, it's easy to make!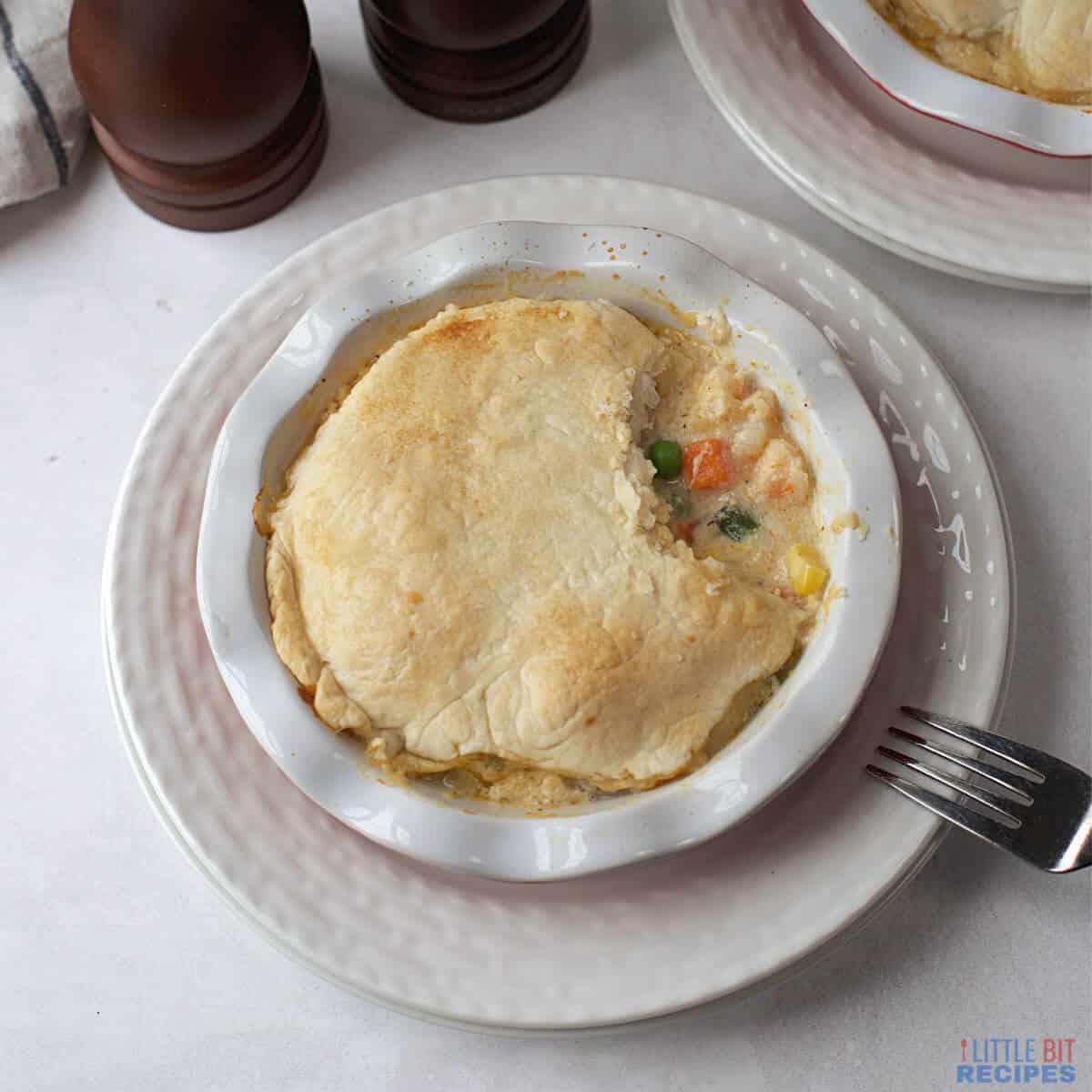 When you're craving something comforting and delicious on a winter evening, pot pies may come to mind. They are packed with hearty meat and vegetables in a creamy sauce topped with a flaky pastry crust.
The most popular meat for the filling is poultry. But you don't have to settle for a chicken or turkey pie.
Seafood is often an afterthought. This is a shame because a seafood pot pie can be just as delicious as its meaty counterpart. And it is just as easy to make!
So if you're looking for a hearty comfort dish for your next meal, try individual pot pies with your favorite mix of seafood! You can even make them ahead of time and freeze them for later.
Jump to:
Ingredients
When it comes to the filling, you'll need a good amount of seafood. This can include any combination of fish, shellfish, and lobster.
You'll also need some vegetables, like potatoes, carrots, and peas. Then, you'll need a creamy sauce to bind everything together. Finally, you will add a mini pie crust to top it off.
Our recipe includes the following items.
Butter
Onion
Fresh or frozen mixed vegetables
All-purpose flour
Seafood seasoning
Sherry (or lemon juice)
Parmesan cheese
Half and half
Mixed seafood
Prepared pie crust dough
See recipe card for quantities.
Instructions
It's really easy to make your savory pie. Just cook the vegetables in a skillet and add in a cream sauce. Then toss in your seafood, divide the mixture into individual pie pans, then top each pie with a puff pastry lid.
Need more details? You'll find the step-by-step directions below.
Prep vegetables and sauce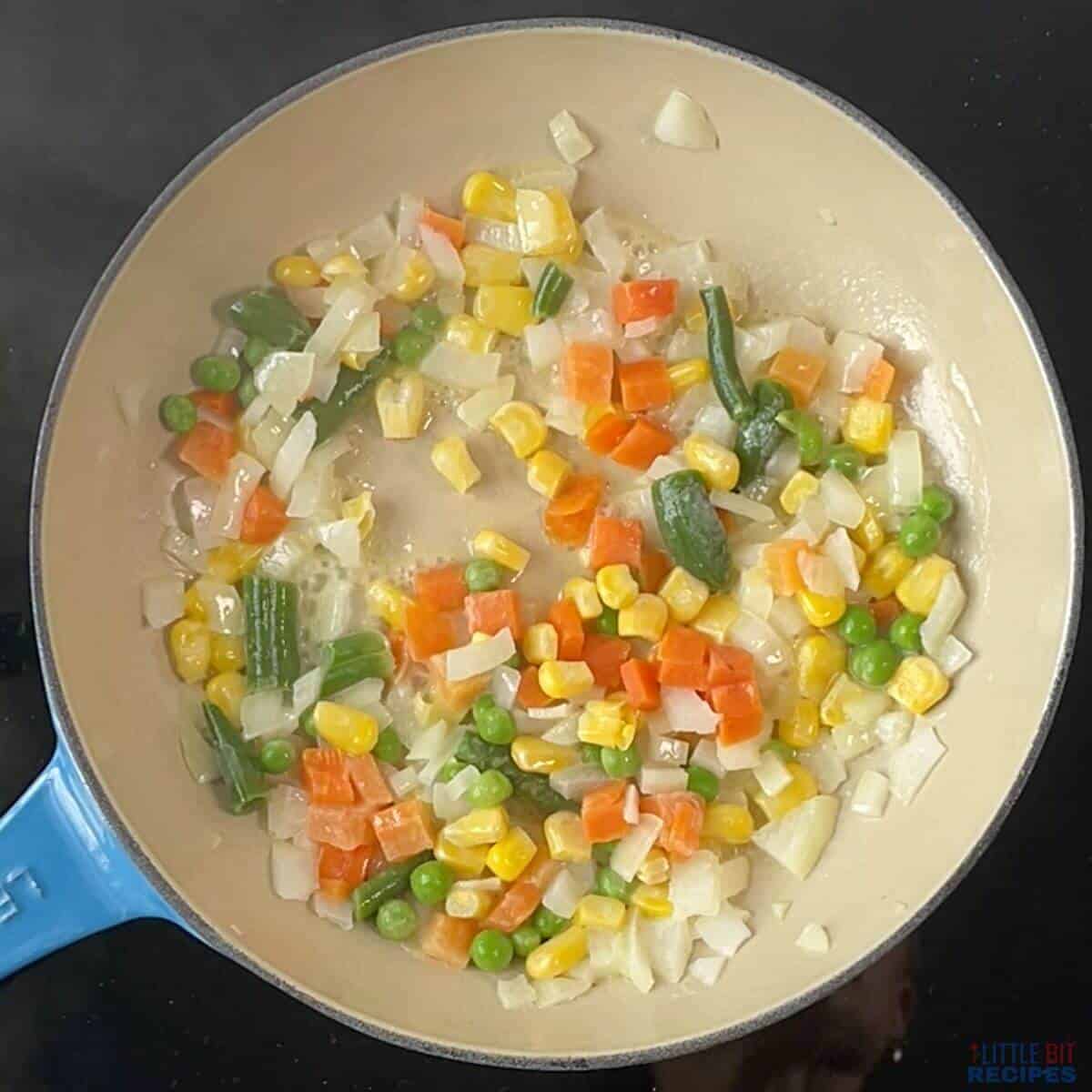 Add onion and vegetables in melted butter over medium heat. Cook until tender.
Add flour to the cooking pan. Cook for a minute or two, stirring constantly.
Stir in seasoning, sherry and cheese.
Stir in cream, and cook 5 minutes, or until mixture thickens.
Add seafood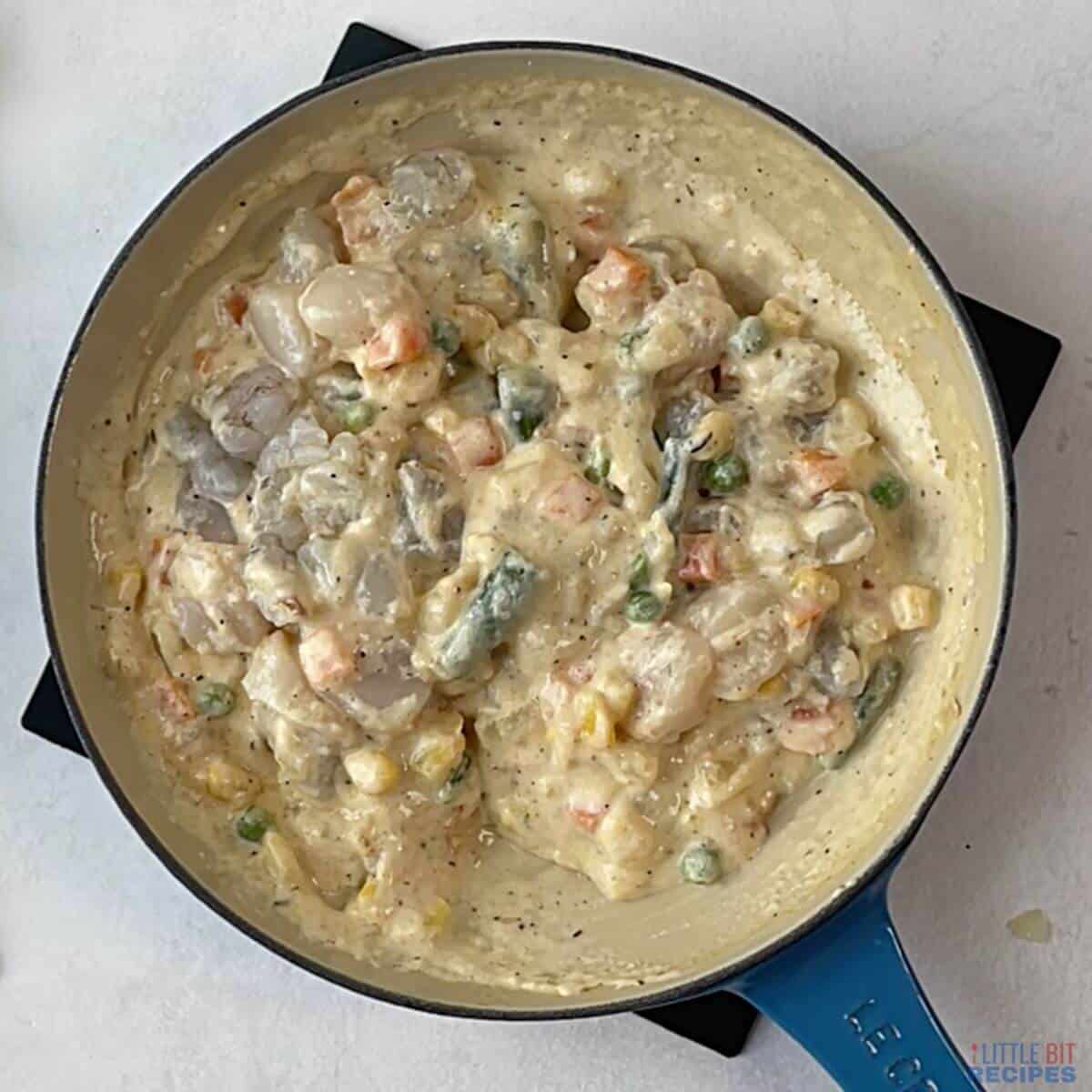 Remove from heat and add the seafood. It can be added raw as the seafood cooks during baking.
Add pastry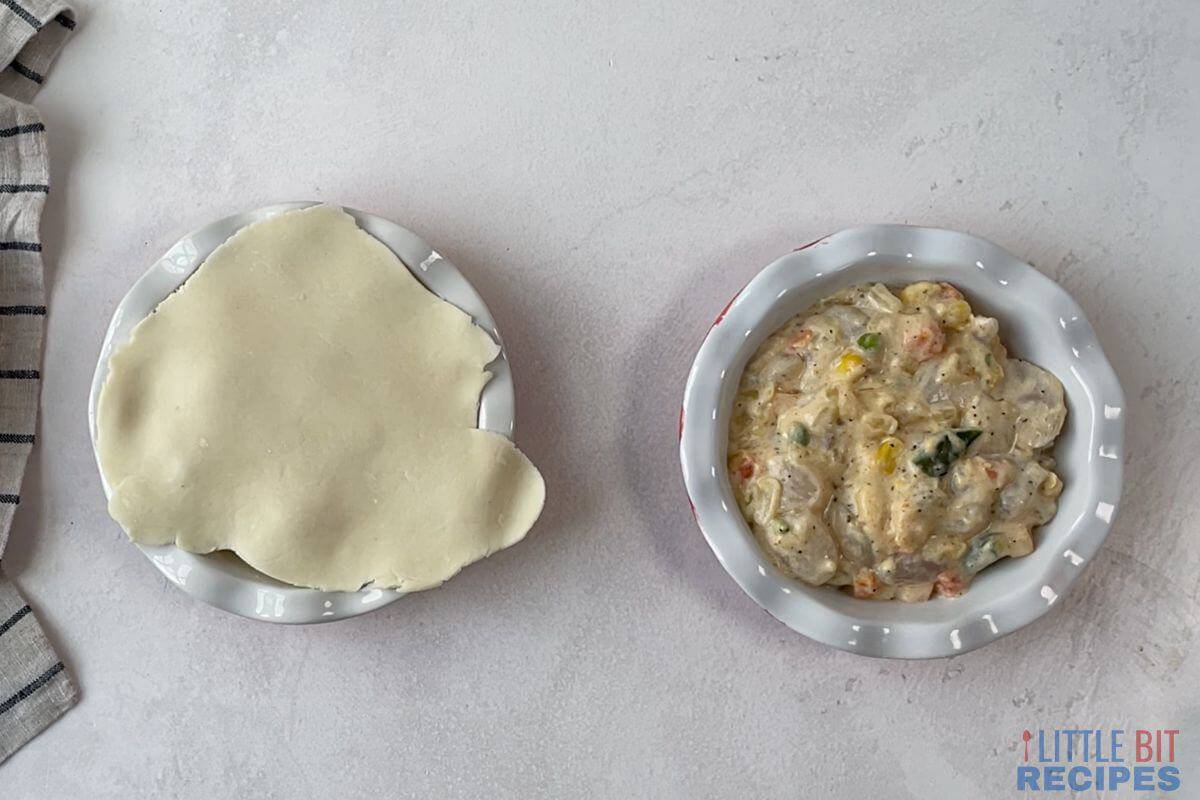 Spoon filling into one larger baking dish or two smaller ones. Top the filling with a pie crust to size.
Trim off the edges of the crust to fit the baking dish. Then brush melted butter on top
Bake
Bake for 20 minutes or until the top crust is golden.
Variations
A seafood pot pie is a delectable dish that can be enjoyed all year long.
It can be easily customized by changing the seafood used. This makes it a versatile dish that is perfect for any occasion.
Here are some favorites to include in the pot pie:
Lobster: For a truly decadent seafood pot pie, add lobster meat to the mix. This luxurious ingredient will take your pie to the next level. Smoked lobster tails would add even more flavor!
Shrimp: Shrimp is another excellent addition to a seafood pot pie. Its delicate flavor pairs well with the other ingredients in the dish.
Crab: Lump crab meat is another delicious option. Its sweet flavor contrast nicely with the savory flavors of the other ingredients. You can even use budget-friendly imitation crab.
If you enjoy pie crust, you can add a bottom crust too. Or double up on the filling if you want more seafood. You can even make a big batch to bake in a casserole dish to have enough for company.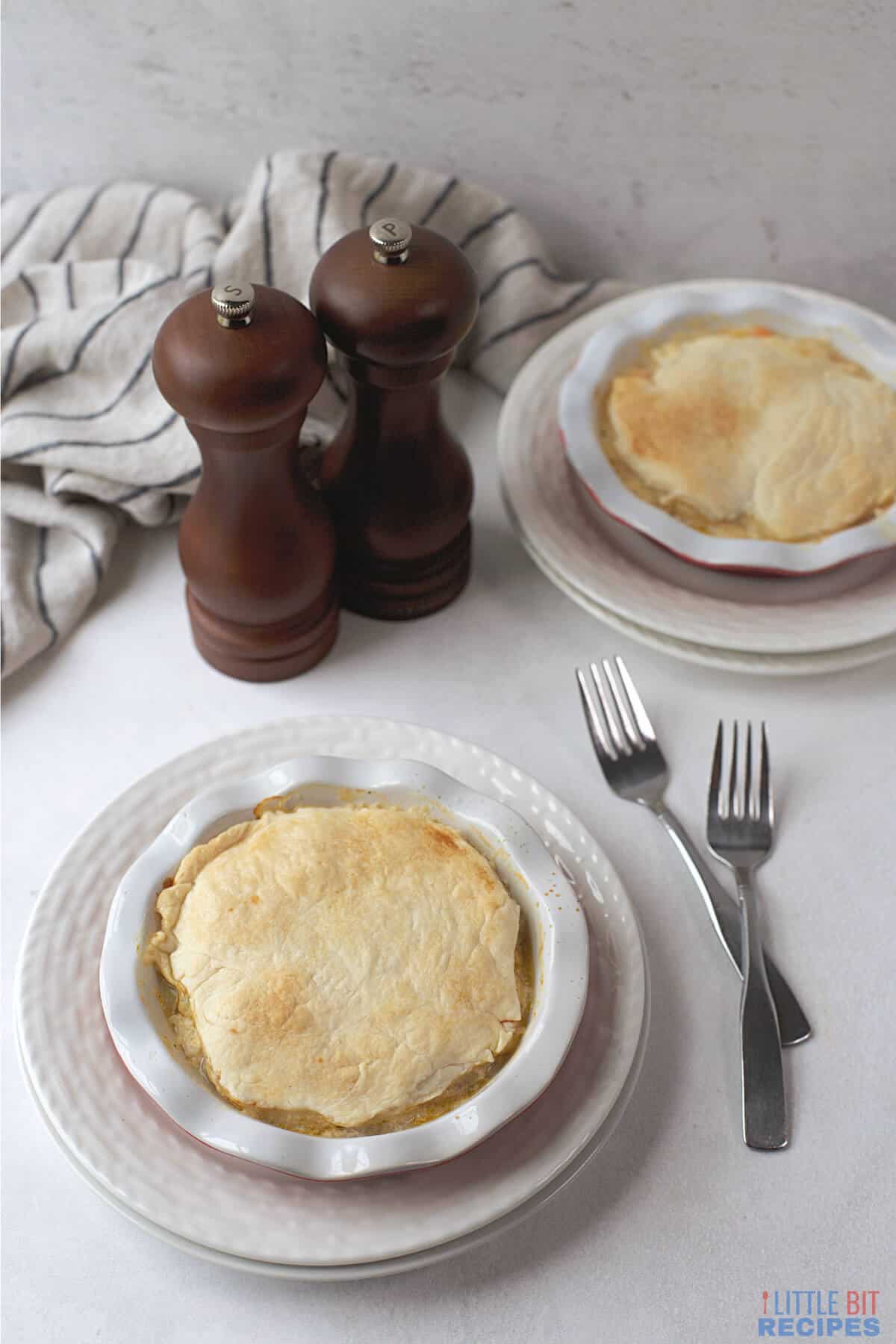 Tips
Check out these tips to make a seafood pot pie that will have your family and friends begging for seconds.
Choose the right type of seafood. While you can use any type of seafood you like, shrimp, crab, and lobster are all good choices. You'll want to avoid fish that is too delicate, such as Tilapia or Cod, as they will fall apart during cooking.
Do not precook the seafood. It's best to use raw seafood because it will cook completely during baking. Otherwise, it can become tough from overcooking.
Use a pre-made pie crust. Save time by buying your dough already rolled out. You'll just need to cut it to fit the baking dish.
Serving suggestions
You'll make any day special when you serve up a decadent seafood pot pie. It can be paired with a simple salad and crusty bread for a complete meal. For something a little different, try it with a sweet roll or Buchteln on the side.
You can also serve it with a side of roasted vegetables or try it with a creamy potato salad. For a classic dessert, you can make our easy single serve apple pie.
Storage
If you're not planning on eating your pie right away, you'll want to store it properly. Here are a few tips on how to keep it fresh, whether it's baked or unbaked.
Baked seafood pot pies can be stored in the fridge for up to four days. Make sure to wrap them tightly in plastic wrap or aluminum foil so they don't dry out.
Unbaked pot pies can be stored in the freezer for up to two months. Again, make sure they're well-wrapped so they don't get freezer burn.
To reheat a baked seafood pot pie, simply remove it from the fridge and pop it in the oven at 350 degrees Fahrenheit until it's warmed through.
FAQ
What kind of seafood goes well in a seafood pot pie?
There are many different types of seafood that can be used in a seafood pot pie. Some popular options include shrimp, lobster, and crab. You can also use a variety of fish, such as cod or halibut. The key is to use a variety of seafood so that you get a nice mix of flavors and textures in your pot pie.
How do you make a seafood pot pie?
In a skillet, sauté onions and garlic in butter until softened. Add mixed vegetables and sauté for a few more minutes. Add a homemade cream sauce with seafood seasoning. Remove from heat and stir in a mix of uncooked seafood. Pour mixture into a 9-inch pie plate. Top with a store-bought or homemade pie crust. Bake or freeze it to bake later.
How do you prepare a frozen unbaked pot pie?
To prepare a frozen unbaked pot pie, first preheat your oven to the temperature specified on the pot pie packaging. Next, remove the pot pie from its packaging and place it on a baking sheet. Bake the pot pie for the amount of time specified on the packaging. Once the pot pie is finished baking, let it cool for a few minutes before serving.
Related Recipes
Looking for more dinner recipes for one or two? Try our crock pot chili for two.
Follow us on Facebook, Instagram, and Pinterest to see more recipes.
Recipe
Seafood Pot Pie
This comforting pot pie recipe is sure to please. It's made with a creamy sauce and a variety of seafood.
Ingredients
2

tablespoons

butter

divided

¼

cup

onion

chopped

2.5

ounces

frozen mixed vegetables

½

tablespoon

all-purpose flour

1

teaspoon

seafood seasoning

½

tablespoon

dry sherry

2

tablespoons

grated Parmesan cheese

½

cup

half and half

¾

pound

mixed seafood

cut into smaller pieces, see note
Instructions
Preheat oven to 350°F. Lightly grease 2 mini pie pans. Place bowls on a sheet pan.

In a large skillet, melt 2 tablespoons butter over medium heat. Add frozen vegetables and cook until they are tender, stirring occasionally. Stir in flour and cook 2 minutes, stirring constantly. Stir in Old Bay seasoning, sherry and cheese. Stir in half and half, and cook 5 minutes, or until thickened. Remove from heat and add shrimp, scallops and crab. Spoon into prepared dish.

Cover each crust evenly over each casserole. Top with melted butter. Bake for 20 minutes or until biscuits are golden.
Notes
Any combination of seafood can be used. We like to use any of the following:
shrimp, shelled and deveined
scallops
lump crabmeat,

picked free of shell

lobster, shelled and deveined
fish fillet
clams
It's best to use raw seafood because it will cook completely during baking. Otherwise, it can become tough from overcooking.
Nutrition
Calories:
441
kcal
|
Carbohydrates:
29
g
|
Protein:
32
g
|
Fat:
22
g
|
Saturated Fat:
11
g
|
Polyunsaturated Fat:
2
g
|
Monounsaturated Fat:
6
g
|
Trans Fat:
1
g
|
Cholesterol:
43
mg
|
Sodium:
1869
mg
|
Potassium:
265
mg
|
Fiber:
3
g
|
Sugar:
4
g
|
Vitamin A:
2320
IU
|
Vitamin C:
6
mg
|
Calcium:
131
mg
|
Iron:
2
mg
© LittleBitRecipes.com - All content and photographs are copyright protected by us. We appreciate sharing our recipes; but copying, pasting, or duplicating full recipes to any social media, website, or electronic/printed media is strictly prohibited and a violation of our copyrights. Single photos may be used, provided that full credit is given to us along with a link back to the original content.