Want the perfect drink for quenching your thirst on a hot summer day? This easy strawberry lemonade recipe combines the sweet taste of strawberries with the tanginess of lemon.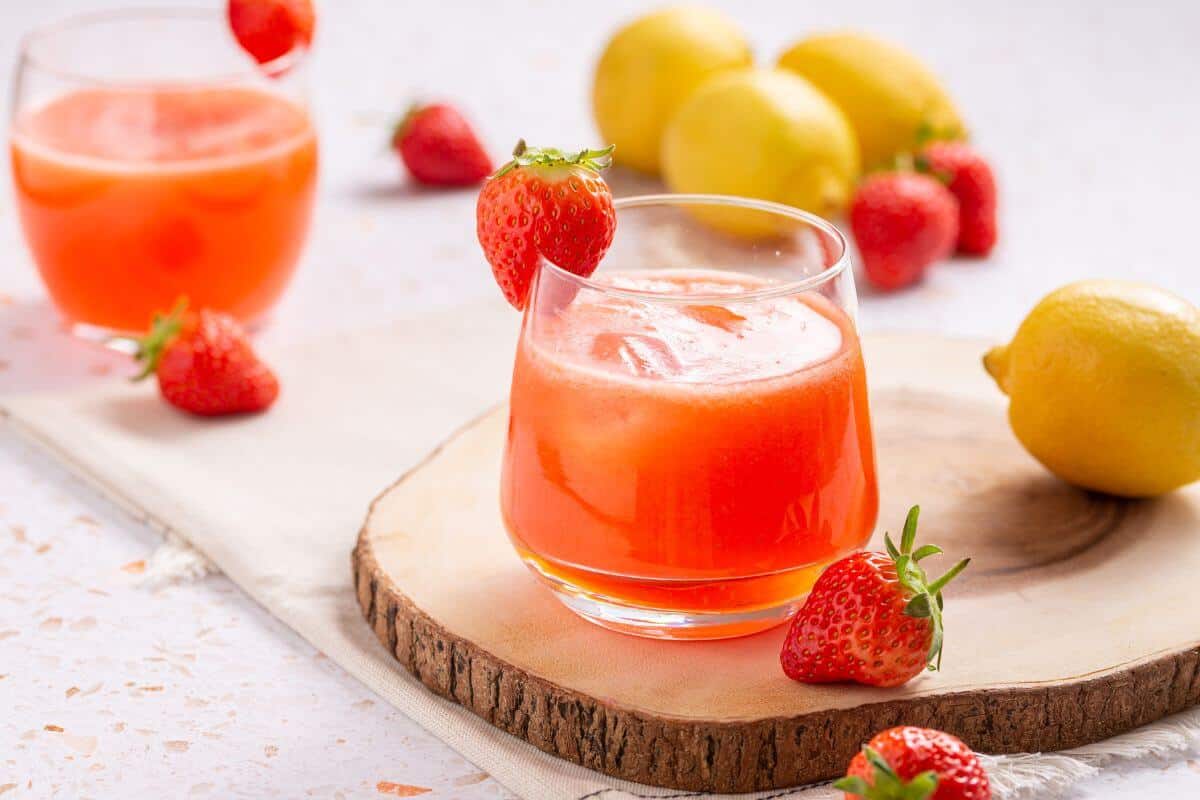 Jump to:
This summer drink is perfect for quenching your thirst and satisfying your sweet tooth. The blend of sweet and sour flavors is sure to please.
The sweetness comes from fresh strawberries, while the sourness comes from the lemon juice added to the drink. This fruity combination creates a unique taste that is hard to resist.
Reasons to Love
The perfect blend of sweet and sour flavors. This combination of flavors creates a unique taste that is hard to resist.
Strawberry lemonade is an ideal summer beverage. It's fruity, tangy, and perfectly chilled, making it ideal for hot days.
The recipe is easy to make. All you need to do is blend simple ingredients.
It's refreshing and tastes delicious. It's made with fresh ingredients full of flavor.
Ingredients
To make strawberry lemonade, you'll need a few simple ingredients that are easy to find at any grocery store.
strawberries
water
freshly squeezed lemon juice
sugar or sweetener of choice
Scroll down to the recipe card for quantities used.
Instructions
This homemade strawberry lemonade is quick and easy to make. Strawberries are pureed with lemon juice, water and sugar in a high speed blender or food processor.
Add strawberries, water, lemon juice and sugar to a high-speed blender.
Blend the ingredients on medium-high speed until a smooth and well-combined mixture is achieved.
If desired, you can pour the mixture through a fine mesh strainer into a large pitcher. But it's not necessary as the strawberry puree enhances the flavor. The drink is best served chilled or over ice.
Variations
There are countless ways to change up this simple beverage. Here are a few ideas you can try.
Add fresh mint leaves. The mint will give your drink a refreshing twist, perfect for hot summer days.
Use sparkling water. It will add fizz for those who like a bubbly texture.
Experiment with different types of sweeteners. There are plenty of sugar alternatives that can add unique flavor to your drink like honey or agave syrup.
Turn it into a frozen slushie. Blend ice with the strawberry lemonade mixture for a cool treat on hot days. You can also use frozen strawberries.
Make an adult version. Add a splash of liqueur to the mix, like vodka or tequila. This transforms the drink into an adult version perfect for parties or gatherings.
Tips
Keep these things in mind when making the homemade strawberry lemonade recipe.
Use ripe strawberries. Fresh sweet strawberries is key to having the perfect balance of sweet and tart in homemade strawberry lemonade.
Adjust sweetness and tartness to taste. To achieve your desired taste, add more sugar or lemon juice accordingly. Keep tasting as you go until you find the perfect balance for you.
Use freshly squeezed lemon juice. The fresh juice from lemons adds more flavor than store-bought lemon juice in a bottle.
Garnish with fresh fruit. Adding a cut strawberry or lemon slice on the rim of the glass adds color and extra flavor.
Serve cold. Serve your homemade creation chilled or over ice for maximum refreshment.
Serving suggestions
Consider pairing strawberry lemonade with light snacks such as cucumber sandwiches or homemade tortilla strips. These foods complement the drink's sweetness without overpowering its delicate flavors.
The drink goes well with light meals like a salmon salad or seafood pasta salad. But it can be enjoyed with full dinners too.
Storage
The best way to store this pink lemonade is in an airtight container in the refrigerator. It will last for up to five days.
If you want to keep your drink longer, you can freeze it. Freeze it in ice cube trays or freezer-safe containers and use it as needed.
Related Recipes
Looking for more drink recipes? Here are a few more you can try.
Follow us on Facebook, Instagram, and Pinterest to see more recipes.
Recipe
Strawberry Lemonade
Learn how to make a delicious homemade strawberry lemonade with only a few easy ingredients. With this recipe, you'll make the perfect summer beverage in no time.
Ingredients
1

cup

strawberries

sliced

3

cups

water

5

medium

lemons

juiced

¼

cup

sugar

or sweetener. Adjust to taste
Instructions
Add strawberries, water, lemon juice and sugar to a high-speed blender, starting with the least amount of sweetener or sugar.

Blend the ingredients on medium-high speed until a smooth and well-combined mixture is achieved.

Taste the lemonade and adjust the flavors as needed. If you desire more sweetness, add additional sugar/sweetener. If you want a more tart flavor, incorporate more lemon juice. For a stronger strawberry taste, add extra strawberries.

If desired, you can strain the liquid. Serve as is or over ice.
Notes
You can strain the liquid through a fine mesh strainer if you prefer a smoother lemonade without strawberry seeds. However, this step is not necessary.
If desired, chill the lemonade by transferring it to a large mason jar or pitcher and place it in the refrigerator for at least 6 hours or overnight. This will enhance the flavors and create a refreshing cold beverage.
This lemonade can also be used as a mixer for alcoholic beverages. For a delicious cocktail, consider combining it with tequila, gin, or vodka.
If there are any leftovers, store the lemonade in a sealed container in the refrigerator for up to 5 days. Alternatively, you can freeze the lemonade in popsicle molds for a sweet and cold treat. You can also freeze the lemonade into ice cubes and add them to your favorite summer beverages for an extra burst of flavor.
Nutrition
Calories:
99
kcal
|
Carbohydrates:
28
g
|
Protein:
2
g
|
Fat:
1
g
|
Saturated Fat:
0.1
g
|
Polyunsaturated Fat:
0.2
g
|
Monounsaturated Fat:
0.03
g
|
Sodium:
12
mg
|
Potassium:
242
mg
|
Fiber:
5
g
|
Sugar:
18
g
|
Vitamin A:
34
IU
|
Vitamin C:
93
mg
|
Calcium:
46
mg
|
Iron:
1
mg
Equipment
© LittleBitRecipes.com - All content and photographs are copyright protected by us. We appreciate sharing our recipes; but copying, pasting, or duplicating full recipes to any social media, website, or electronic/printed media is strictly prohibited and a violation of our copyrights. Single photos may be used, provided that full credit is given to us along with a link back to the original content.