Cool off with the refreshingly sweet iced blackberry tea. A perfect blend of blackberries and tea, this flavorful drink is sure to satisfy your thirst.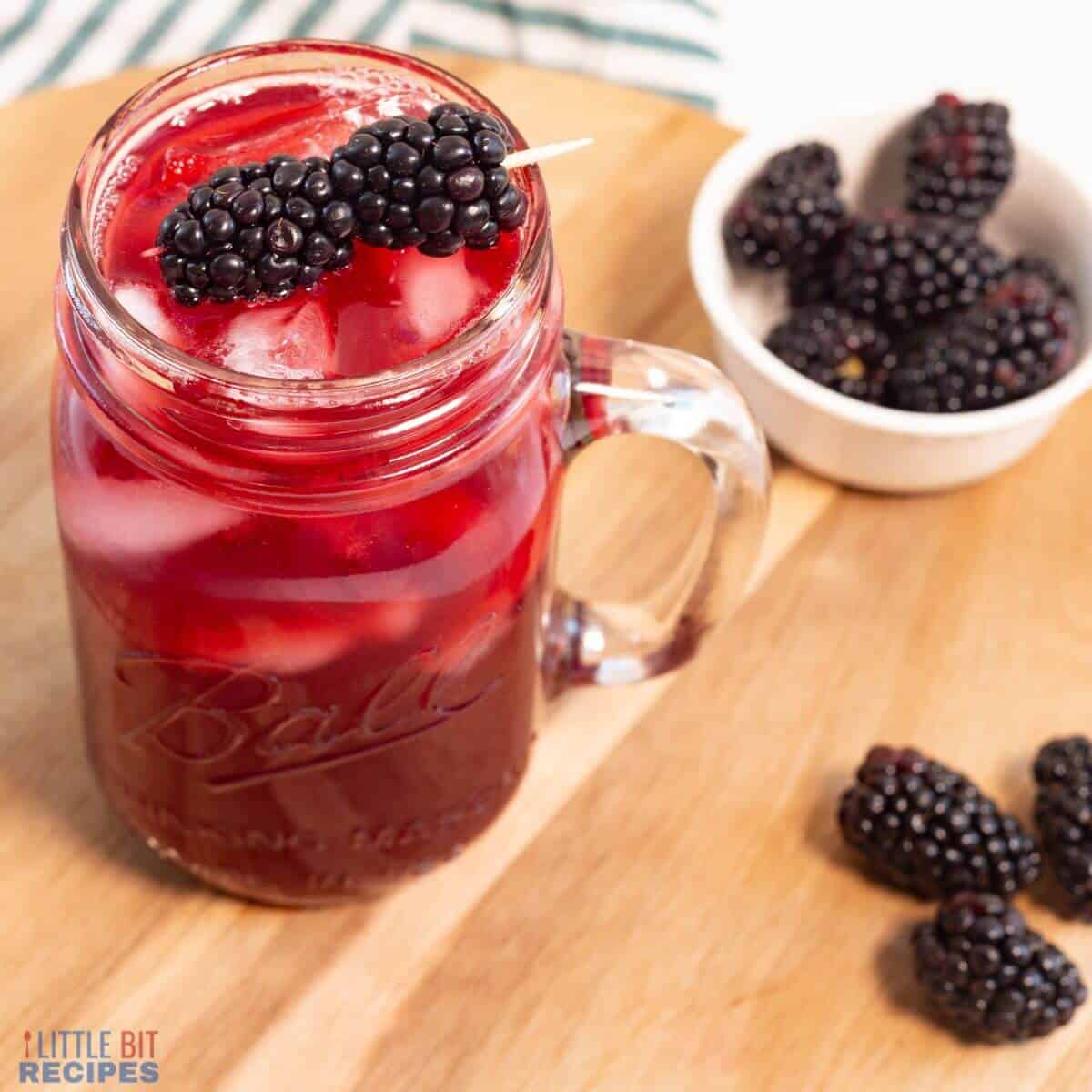 This unique iced tea is so delicious and refreshing! Not only does this beverage provide a burst of flavor, but it also offers multiple health benefits.
Rich in antioxidants, blackberry tea can help reduce inflammation and improve overall immunity. Combined with its rejuvenating aroma and taste, this drink recipe is perfect anytime you need an extra energy boost throughout the day.
The deep purple-blue color of blackberries indicates their high concentration of flavonoids, which are known to have anti-inflammatory properties. Drinking fresh brewed blackberry iced tea may help your body fight off illnesses such as the common cold and flu while providing essential nutrients like vitamin C and manganese.
Jump to:
Ingredients
Iced sweet blackberry tea is easy to make and only needs a few ingredients. All you need is black tea, blackberries, sugar, lemon juice, and ice cubes to whip up this delicious beverage.
Scroll down to the recipe card for the amount of each ingredient used.
Instructions
Just follow these easy step-by-step directions to make this delicious flavored blackberry tea.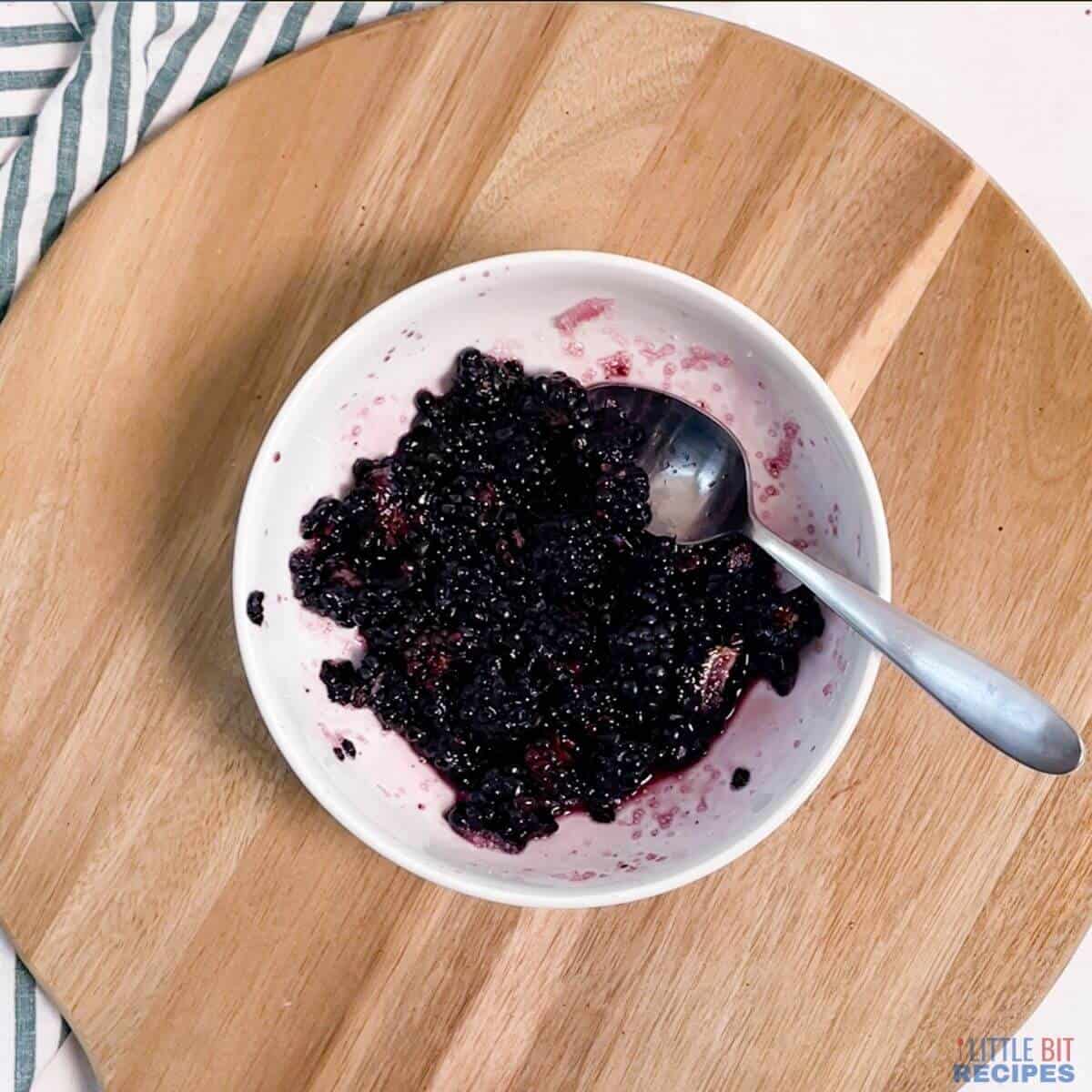 The first step is to make a blackberry simple syrup. Just smash fresh blackberries into sugar and lemon juice.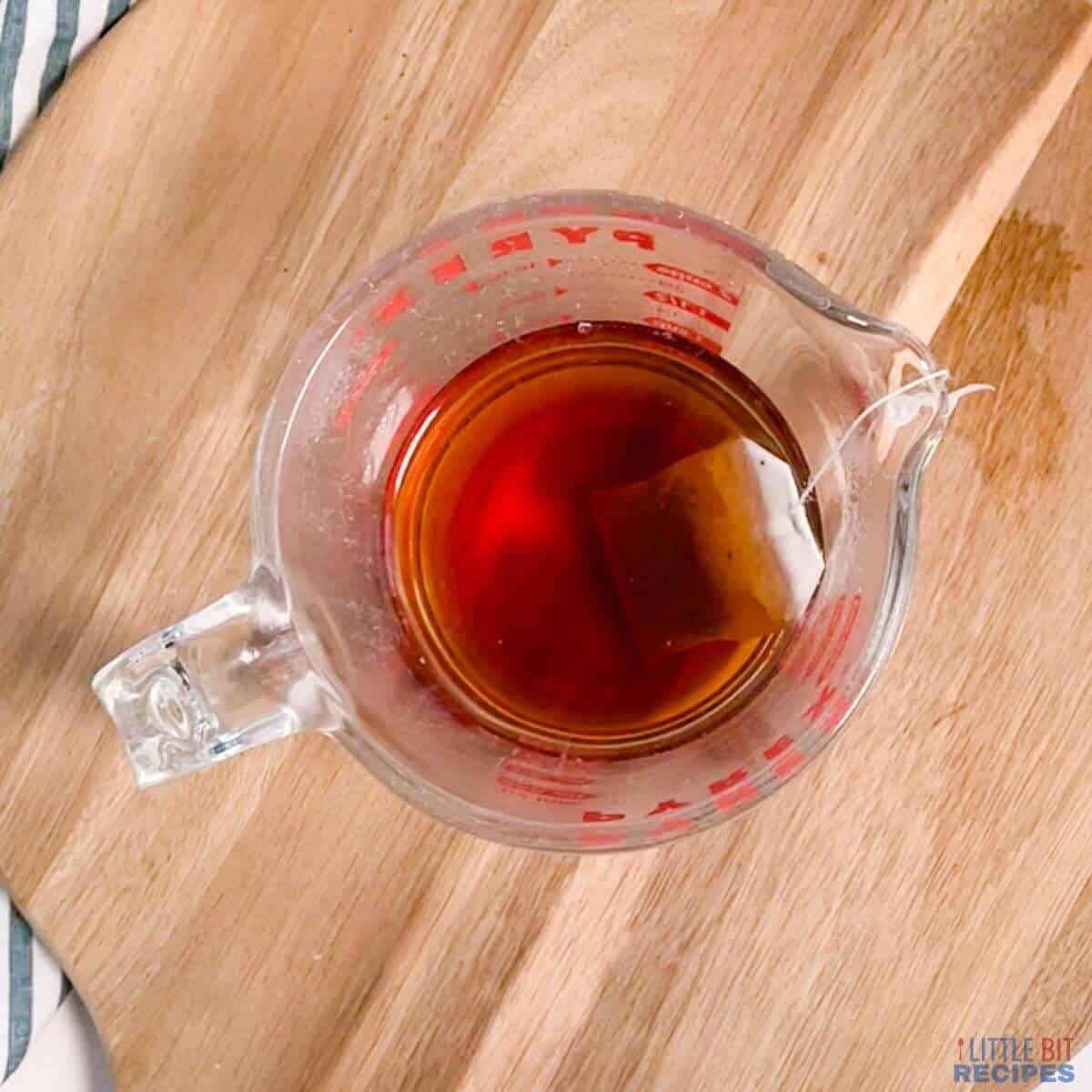 Next, make hot tea with your favorite tea bags. After steeping for five minutes discard tea bags. You only need 1 bag for a single serving.
Add the blackberry syrup to the brewed tea and allow it to sit for at least an hour.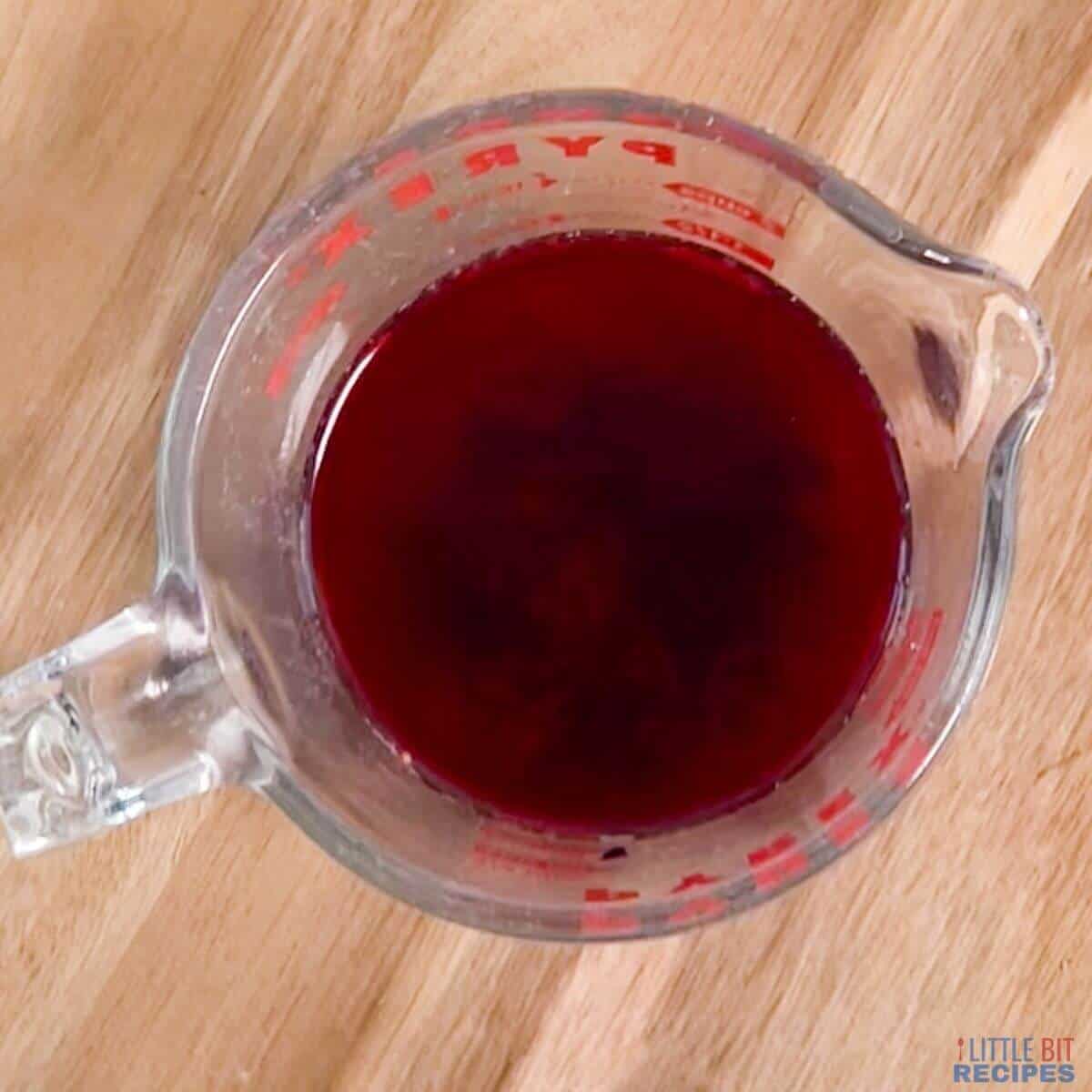 Stir the blackberry mixture into the hot tea. Let stand at room temperature for an hour.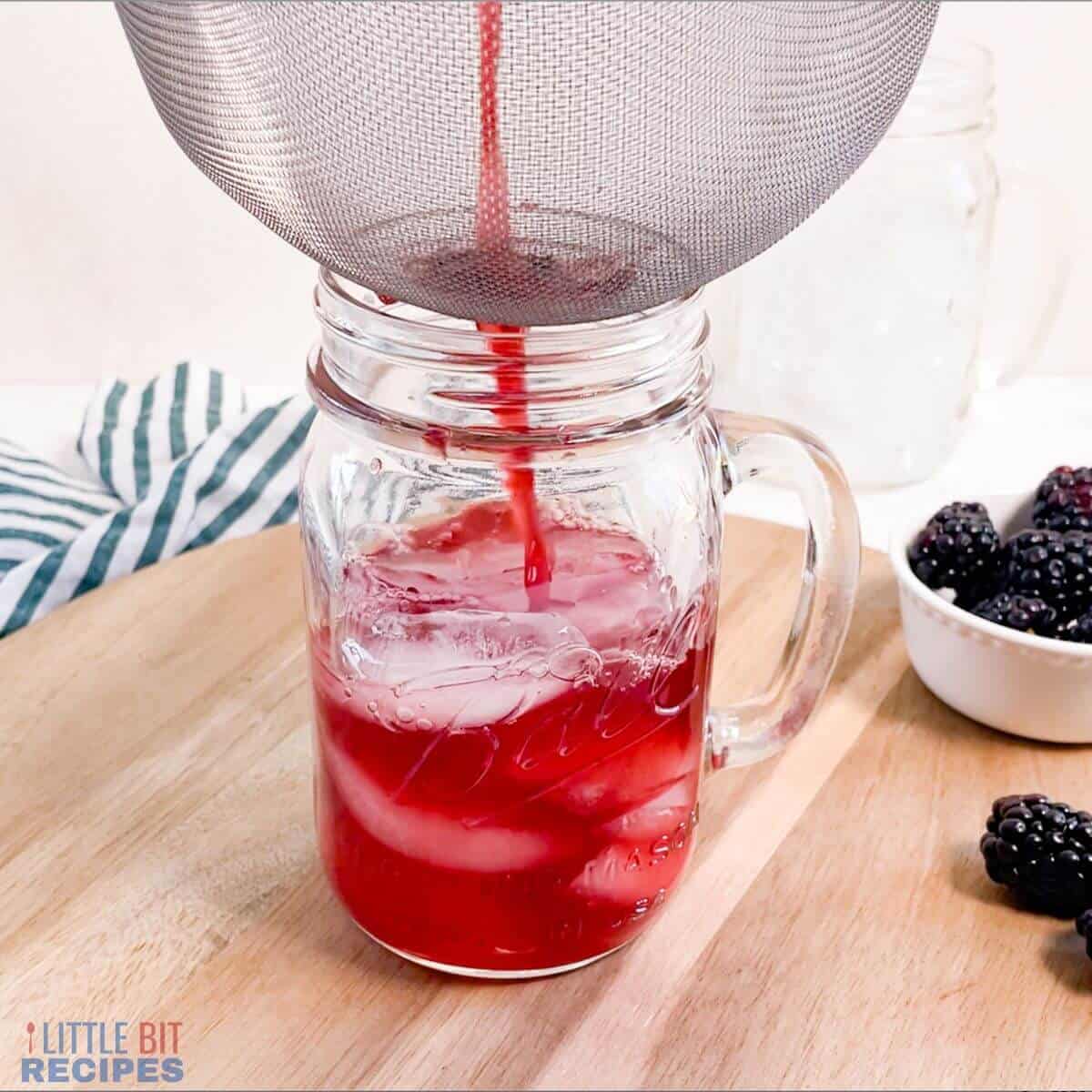 Pour the tea through a fine mesh strainer into a glass with ice. Garnish with fresh blackberries, lemon, and or fresh mint leaves.
Variations
There are many ways that you can vary a sweet blackberry iced tea recipe. Here are a few ideas:
Experiment with different types of tea such as green tea, white tea, or earl grey tea.
Use an alternative sweetener. Instead of white sugar, try using honey, agave nectar, stevia, or monk fruit.
Mix in other fruit flavors. Other berries such as strawberry, raspberry, and blueberries will create a fruitier iced tea.
Add a touch of spices. Cinnamon or ginger will give the iced tea a warm and spicy kick.
Spike it with alcohol. Add a small amount of vodka or gin for a refreshing adult beverage.
Make it a cold buster. Add a garlic shot to boost immunity when you are feeling under the weather. It will work just like the Medicine Ball Tea on the Starbucks Secret Menu.
Tips
These tips will ensure your iced blackberry tea tastes amazing!
Mash the fresh blackberries (or thawed frozen blackberries) in a bowl using a fork or potato masher to bring out the juice.
Cook the blackberries into a blackberry syrup. Place the mashed blackberries in a saucepan and add a little water. Bring the mixture to a boil, then reduce the heat and simmer for 10-15 minutes. Cooking will release even more flavor from the berries.
Strain the blackberry mixture through a fine-mesh sieve to remove the blackberry seeds and solids.
Make a large batch. Pour cooled blackberry syrup into a pitcher and add a pot of cooled brewed black tea, your desired amount of sweetener, and ice for a larger batch of iced tea.
Adjust the amount of berries. If you prefer a stronger blackberry flavor, you can add more mashed blackberries. If you prefer a weaker flavor, you can use fewer blackberries or dilute with more water.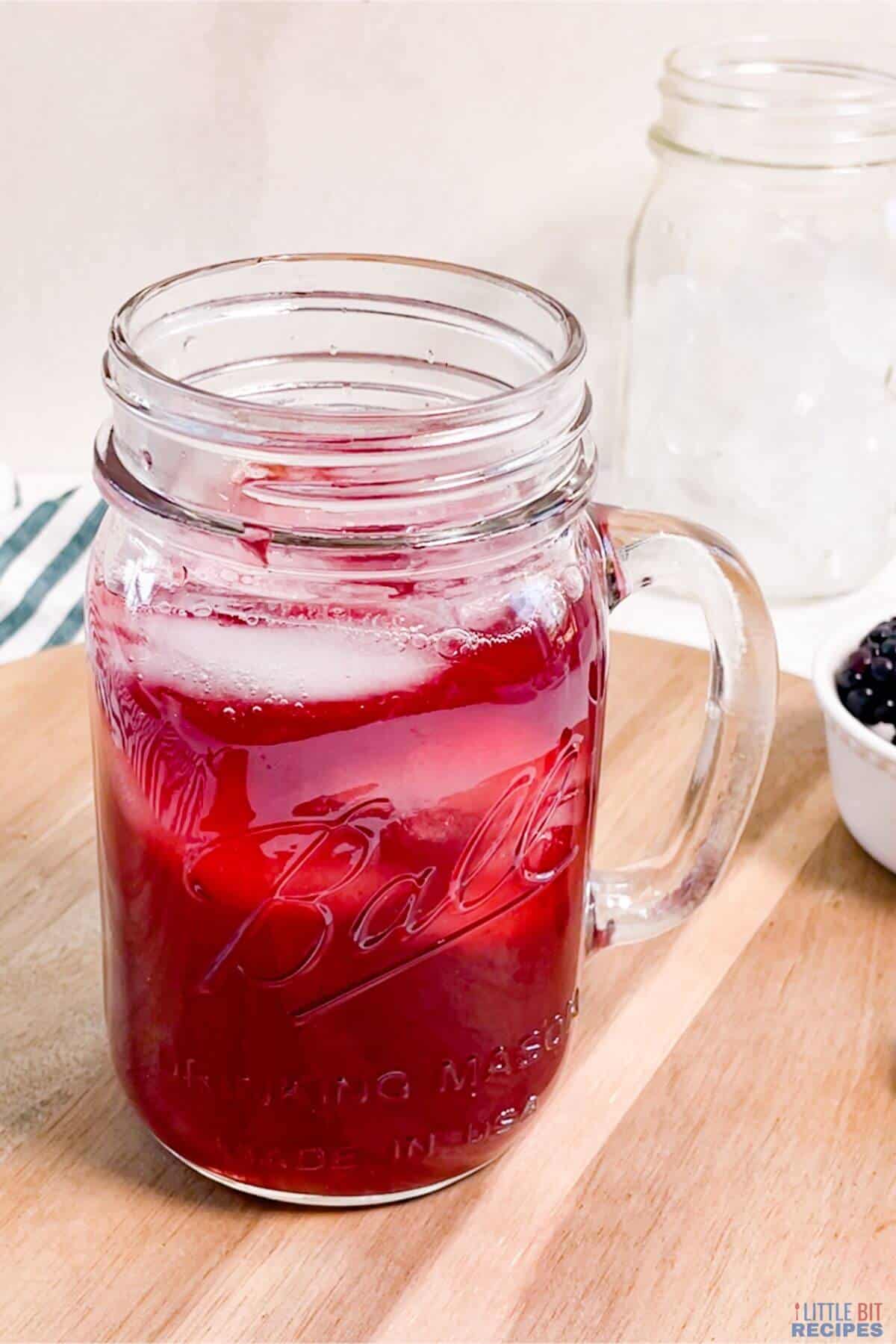 Serving suggestions
Serve the blackberry iced tea over ice, with a slice of lemon or a sprig of mint as a garnish. Or, for a refreshing summer drink, mix equal parts iced tea and lemonade for an " Arnold Palmer" style beverage.
Add a splash of sparkling water or club soda to give the iced tea a little fizz. For a festive touch, add a splash of vodka or gin to the iced tea to create a refreshing adult beverage. Or, try making it a drink to shrink by adding some apple cider vinegar.
Serve the iced tea in a tall glass with a straw, and add a few fresh blackberries or raspberries as a colorful garnish. For a fun twist, freeze some of the iced tea in ice cube trays, then use the blackberry tea ice cubes to keep your drink cold without watering it down.
Consider serving the iced tea as part of a summer brunch or BBQ, alongside dishes such as grilled chicken, potato salad, and marshmallow fruit salad. Or, serve with strawberry shortcake cookies for a summery afternoon snack.
Storage
Store leftover sweet blackberry iced tea in an airtight container in the refrigerator. Make sure to use it within 3-4 days for the best quality and taste. It's also a good idea to label the container with the date so you know when it was made.
FAQ
What does blackberry tea taste like?
Blackberry tea has a sweet and tart flavor. It's slightly fruity, with a hint of herbal notes. It's not overly sweet, but it does have a pleasant berry-like taste. Overall, it's a light and refreshing drink that can be enjoyed both hot and cold.
What syrup does Chili's use for blackberry tea?
Chili's uses a Monin blackberry syrup to make their blackberry tea. It is a simple syrup that contains natural blackberry flavor and can be used to sweeten both hot and cold drinks. It is also vegan friendly, gluten-free, and has no artificial ingredients. Torani is a similar syrup that is generally less expensive.
How do you make hot tea from blackberry?
To make hot tea from blackberries, start by bringing 1 cup of water to a boil. Once boiling, add ¼ cup of fresh or frozen blackberries and reduce the heat to low. Simmer for 10 minutes, stirring occasionally. Strain the liquid through a fine mesh strainer into a mug and add honey or sugar to sweeten if desired.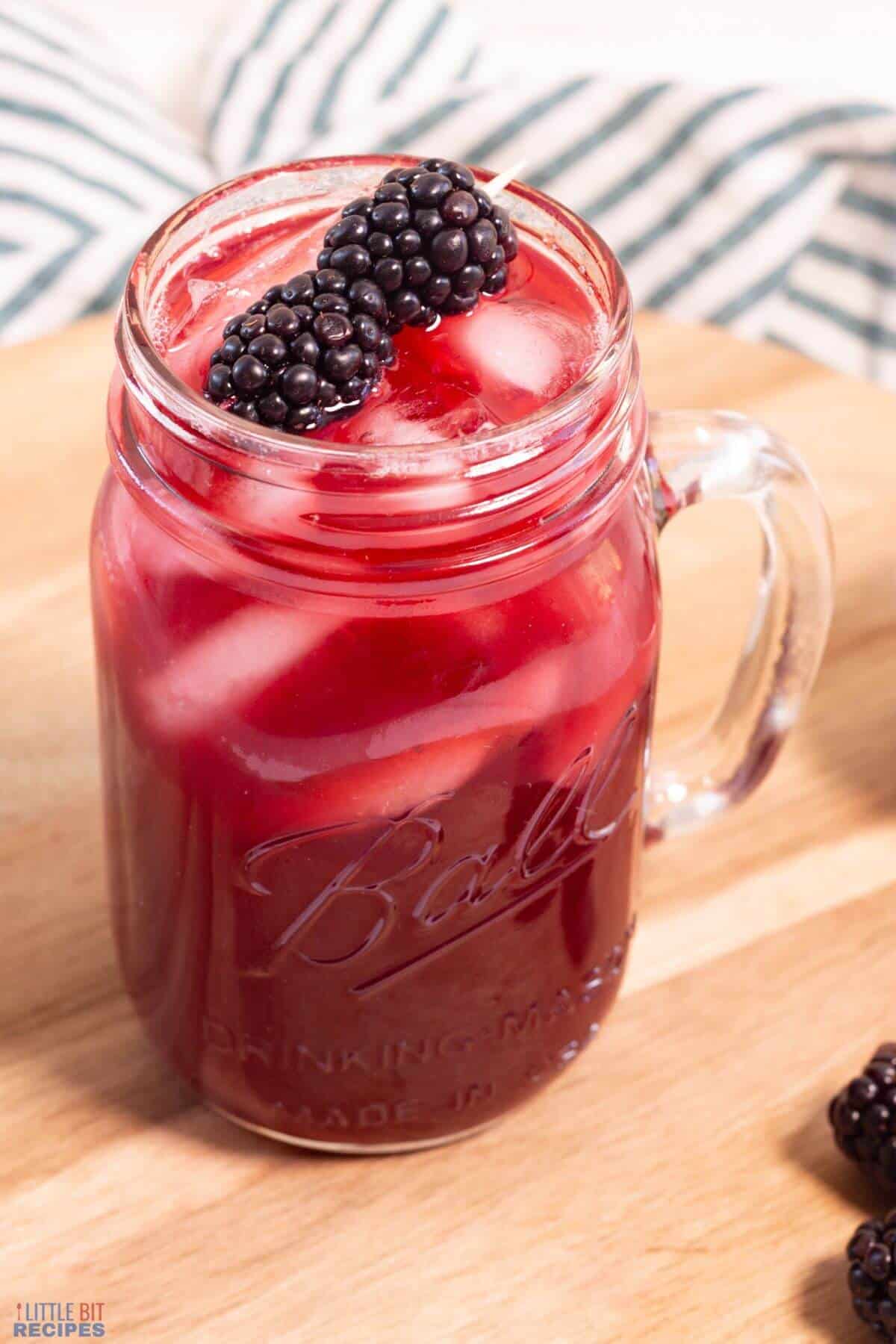 Related Recipes
Looking for more easy drink recipes to make at home? Give one of these ideas a try!
Follow us on Facebook, Instagram, and Pinterest to see more recipes.
Recipe
Blackberry Sweet Tea
Cool off with a sweet iced blackberry tea. A perfect blend of blackberries and tea, this flavorful drink is sure to satisfy your thirst.
Ingredients
1

tea bag

½

cup

blackberries

1

cup

boiling water

2 ½

teaspoons

sugar

½

teaspoon

lemon juice
Instructions
Add blackberries, sugar, and lemon juice to a small bowl. Crush berries with a spoon and stir into sugar.

Place the tea bag in Pyrex measuring cup. Pour boiling water over and let steep for five minutes. Remove bag.

Stir the blackberry mixture into the hot tea. Let stand at room temperature for an hour.

Pour tea through wire-mesh strainer into a large glass with ice. Garnish with additional berries, if desired.
Nutrition
Calories:
79
kcal
|
Carbohydrates:
19
g
|
Protein:
1
g
|
Fat:
0.4
g
|
Saturated Fat:
0.01
g
|
Polyunsaturated Fat:
0.2
g
|
Monounsaturated Fat:
0.03
g
|
Sodium:
1
mg
|
Potassium:
119
mg
|
Fiber:
4
g
|
Sugar:
16
g
|
Vitamin A:
154
IU
|
Vitamin C:
16
mg
|
Calcium:
21
mg
|
Iron:
0.5
mg
© LittleBitRecipes.com - All content and photographs are copyright protected by us. We appreciate sharing our recipes; but copying, pasting, or duplicating full recipes to any social media, website, or electronic/printed media is strictly prohibited and a violation of our copyrights. Single photos may be used, provided that full credit is given to us along with a link back to the original content.