Making and enjoying a refreshing and delicious iced Americano is an absolute delight. This simple yet satisfying drink can instantly uplift your mood and boost much-needed energy on a hot summer day.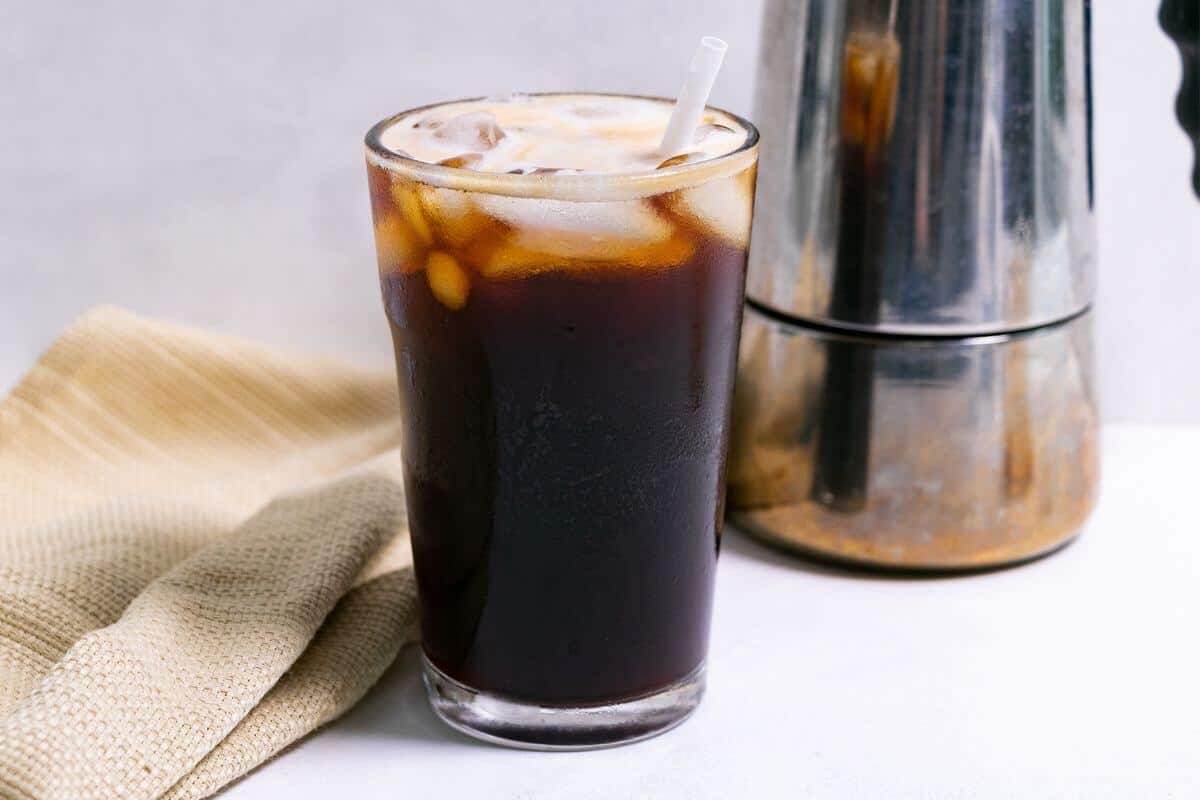 Jump to:
Iced coffee with espresso can provide a strong caffeine kick that will help keep you alert and focused when you need an energy boost. This makes it a great alternative to hot coffee during the summer when you want to stay awake but don't want a warm coffee drink.
One of the great things about this coffee beverage is its versatility. You can customize it according to your taste preferences by adjusting the ratio of espresso to water or adding sweeteners like sugar or flavored syrups. Additionally, you can experiment with different types of coffee beans to achieve various flavors and strengths in your drink.
The Starbucks iced Americano is a popular drink in summer but you can make it at home with just a few simple steps. So skip the line and try whipping up this deliciously satisfying beverage yourself.
Reasons to Love
A refreshing and invigorating taste that helps beat the heat. The combination of espresso shots and chilled water creates a smooth and balanced flavor, making it an ideal choice to cool down on hot summer days.
Boosts energy. The coffee is made with espresso for a kick of caffeine. You can use one shot of espresso or two, depending on how much caffeine content you need.
Incredibly versatile and customizable. Whether you like it stronger or milder, sweeter or less sweet, there are numerous possibilities to experiment with different variations of this classic drink. If desired, you can add flavored syrups or milk to the coffee recipe, making it a versatile option that caters to everyone's taste buds.
Ingredients
You only will need a few key ingredients to make this refreshing and invigorating iced Americano recipe.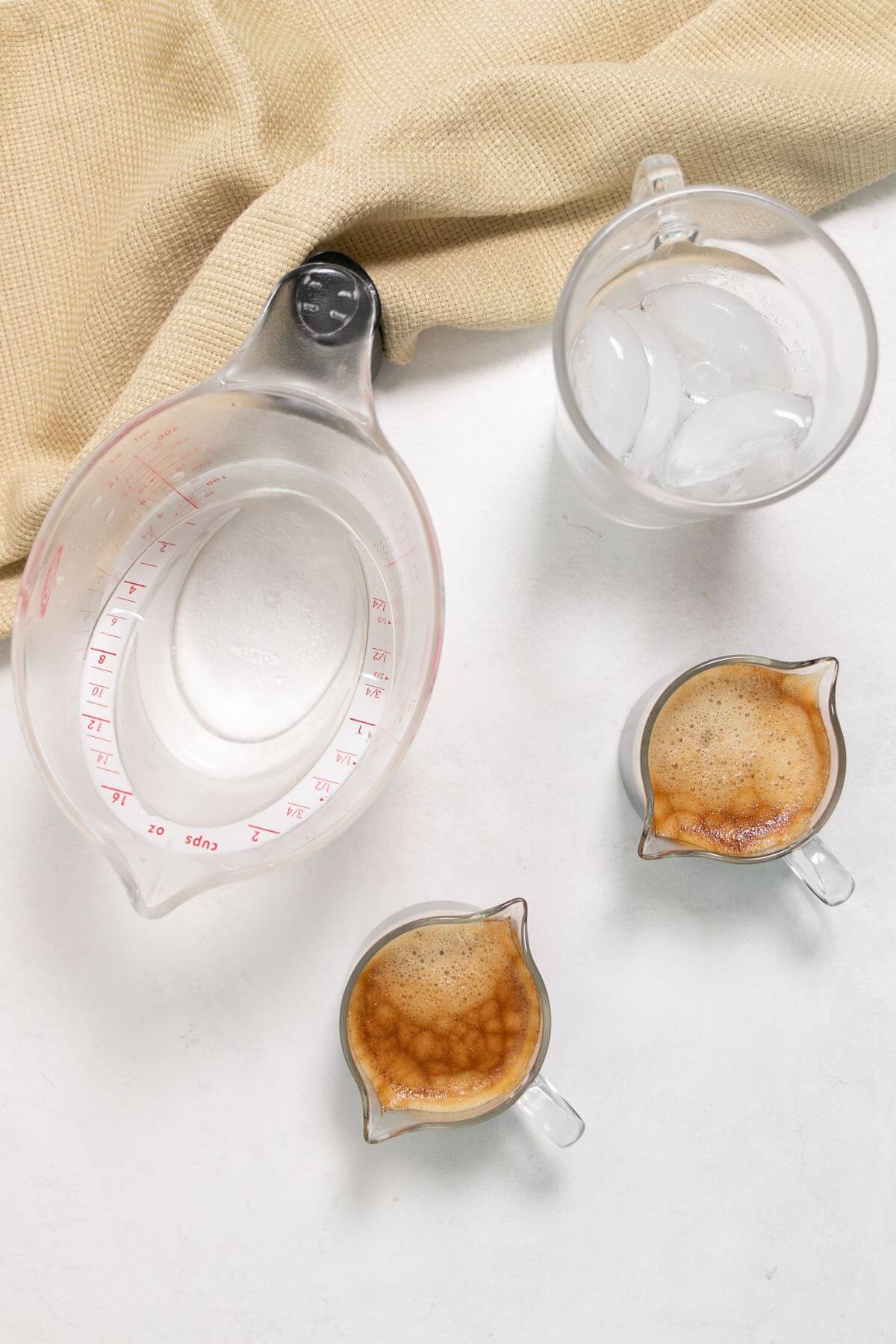 Here's what you'll need for the recipe:
Scroll down to the recipe card for quantities used.
Instructions
To make an iced Americano at home, start by brewing one or two espresso shots. If you don't have an espresso machine or Moka pot, you can make espresso in a French press or use an instant espresso powder. Fill a tall glass with ice cubes while the espresso is brewing.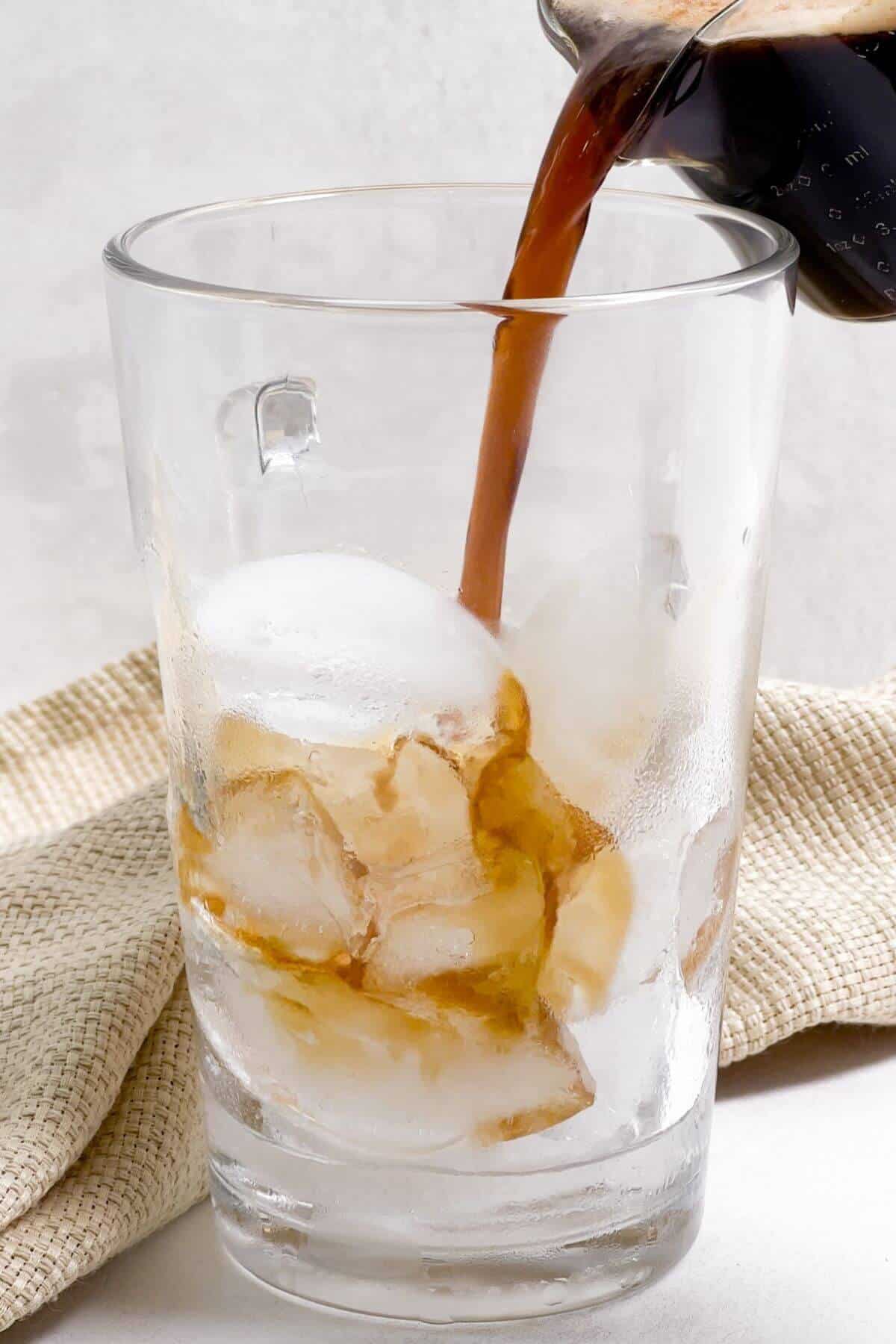 Once the espresso shots are ready, pour them directly over the ice in the glass.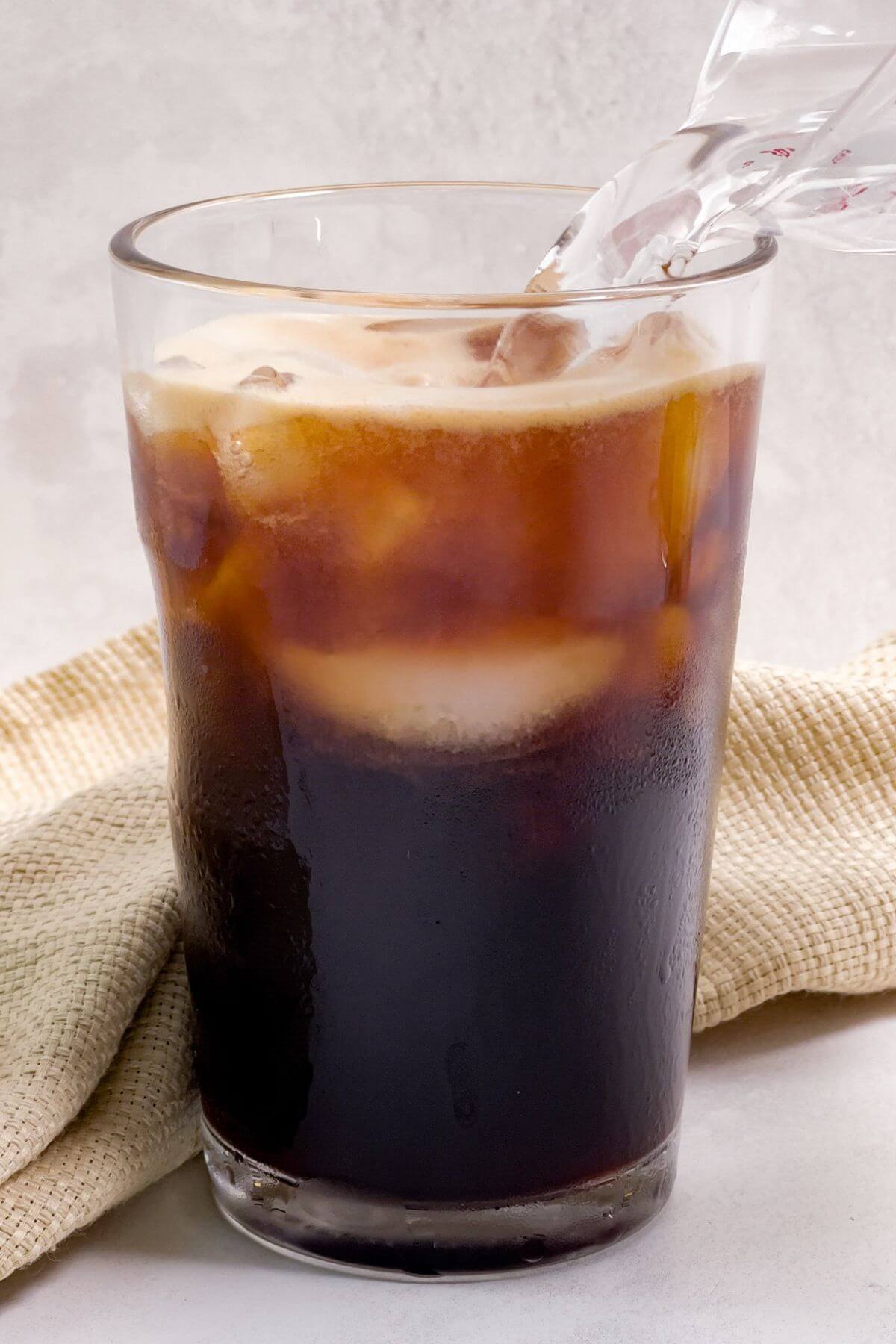 Next, slowly add cold water to the glass until it reaches your desired strength and taste preference. You can adjust the amount of water according to how strong or diluted you want your drink to be.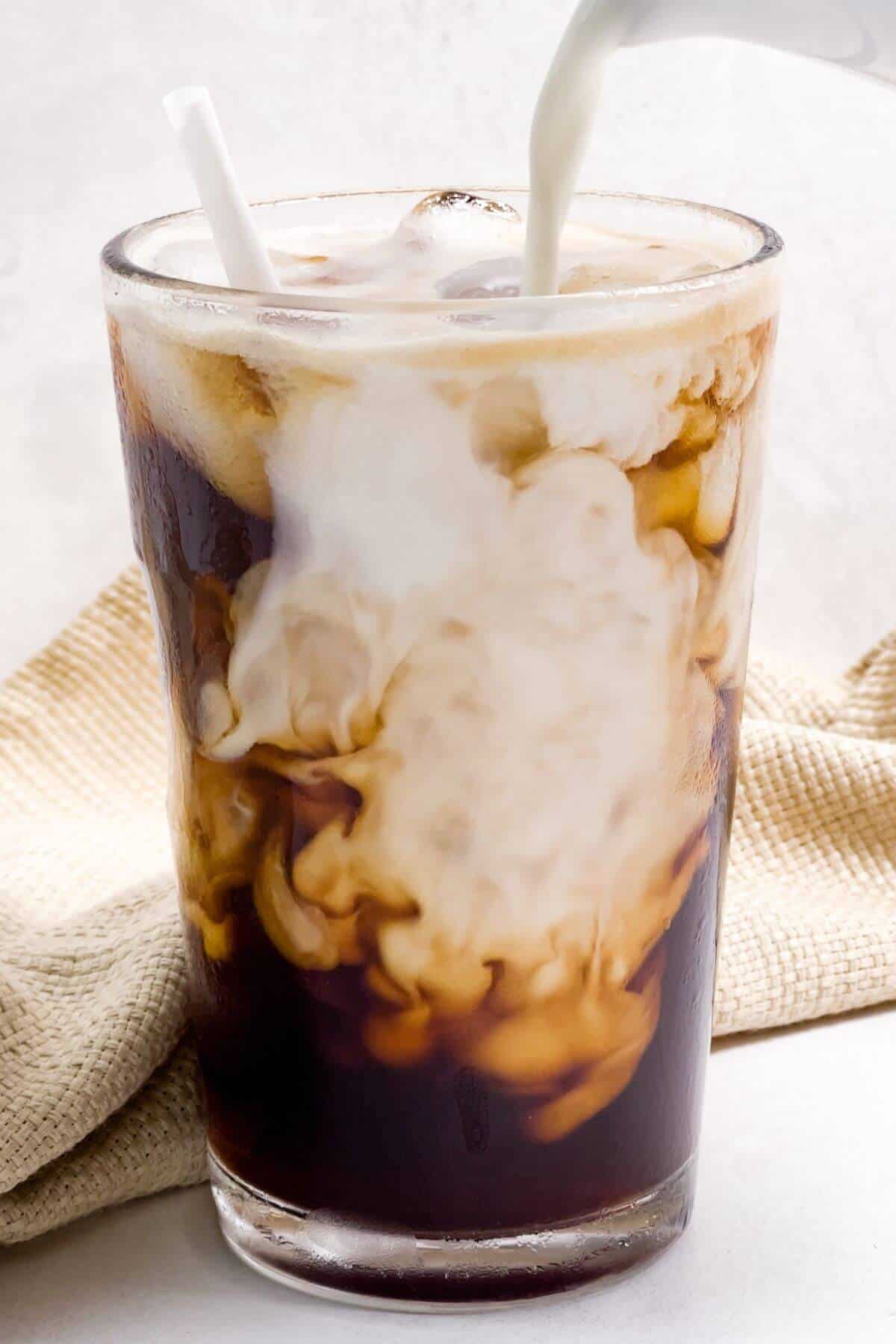 You can customize this beverage by adding milk (such as almond milk or oat milk) for a creamier texture or sweetening it with syrup if desired.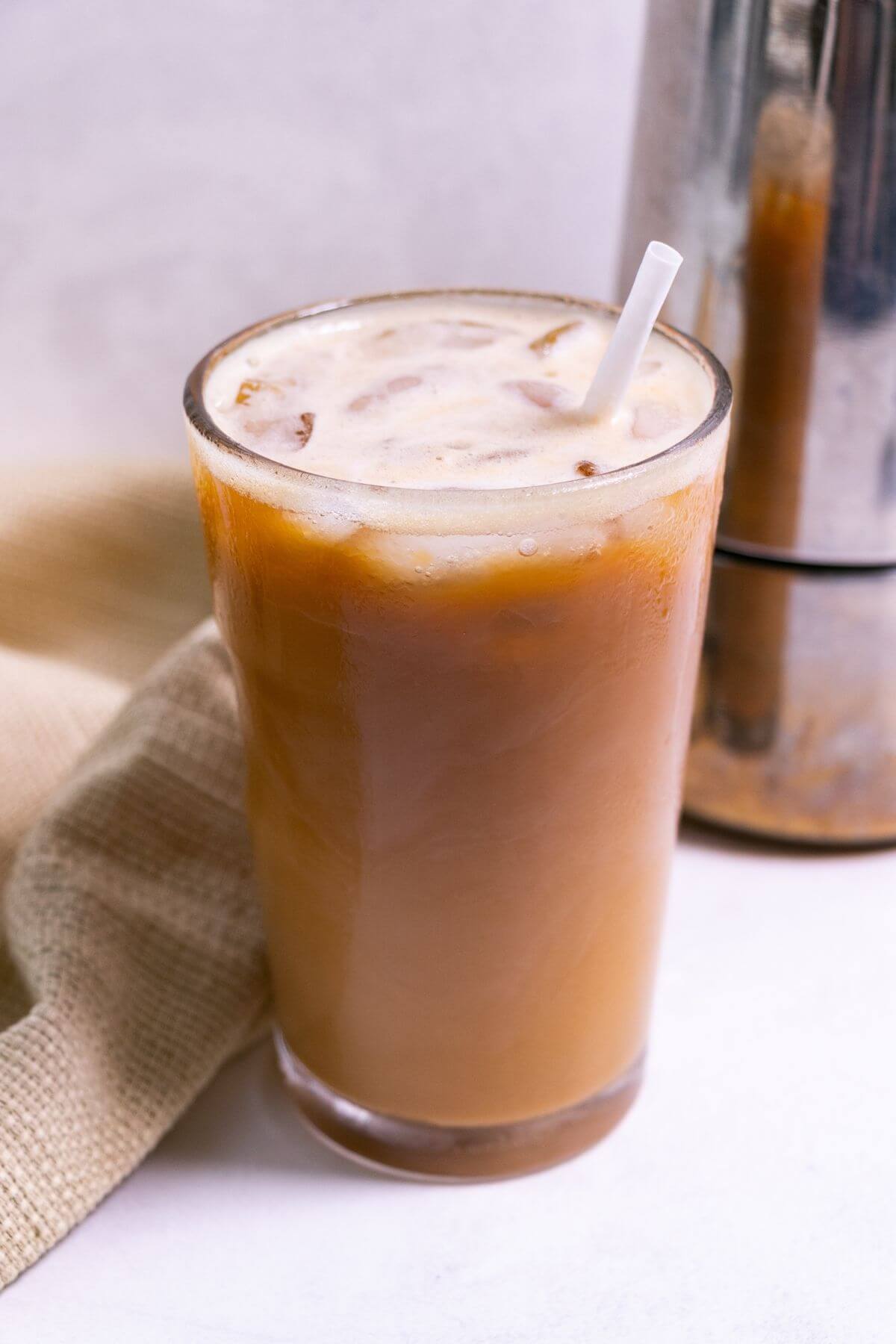 Stir it with a straw to blend the ingredients.
Variations
One of the great things about an iced Americano is its versatility. You can easily customize it according to your taste preferences.
Different Beans: Each variety offers a distinct flavor profile, allowing you to explore a range of taste sensations. From earthy and chocolatey notes to fruity and floral undertones, a bean out there will cater to your preferences. Don't be afraid to try something new and discover your favorite blend.
Syrup Additions: Coffee syrups come in various options like vanilla, caramel, or hazelnut. You can even use seasonal flavors like pumpkin spice. The subtle sweetness from the syrup perfectly complements the bold and robust flavor of the coffee, creating a delightful combination.
Cold Brew Twist: For those who enjoy the smoothness of cold brew coffee but still crave the classic taste of an Americano, consider cold brewing your espresso instead of using traditional hot brewed coffee. Cold brew offers a less acidic and mellower flavor than hot brewed coffee since it is steeped slowly over time using cold water rather than quickly being exposed to high temperatures.
Creamy Texture: For those who enjoy a creamier texture in their iced Americano, consider adding a dash of cream or milk. You can also use dairy-free alternatives like almond milk or oat milk. This simple addition can transform your beverage into a luscious treat.
Customized Toppings: Get creative and indulge in whipped cream, chocolate shavings, or even sprinkles for an extra touch of decadence. These delightful additions enhance the visual appeal and provide additional flavor layers that make each sip more enjoyable.
Decaf: If you don't want the energy boost, use decaffeinated espresso or decaf coffee grounds in your homemade iced Americano.
Tips
Top tip: Try experimenting with different ratios of water to espresso shots until you find your preferred strength. Some people prefer a stronger taste with more espresso shots, while others prefer a milder flavor with less intensity. Don't be afraid to adjust the proportions according to your taste preferences.
Freshly ground coffee will yield the best flavor, so consider investing in a good coffee grinder.
Opt for a dark roast coffee. Dark roasts have bolder flavors that hold up well when diluted with water.
Double or triple the recipe to make multiple iced Americanos.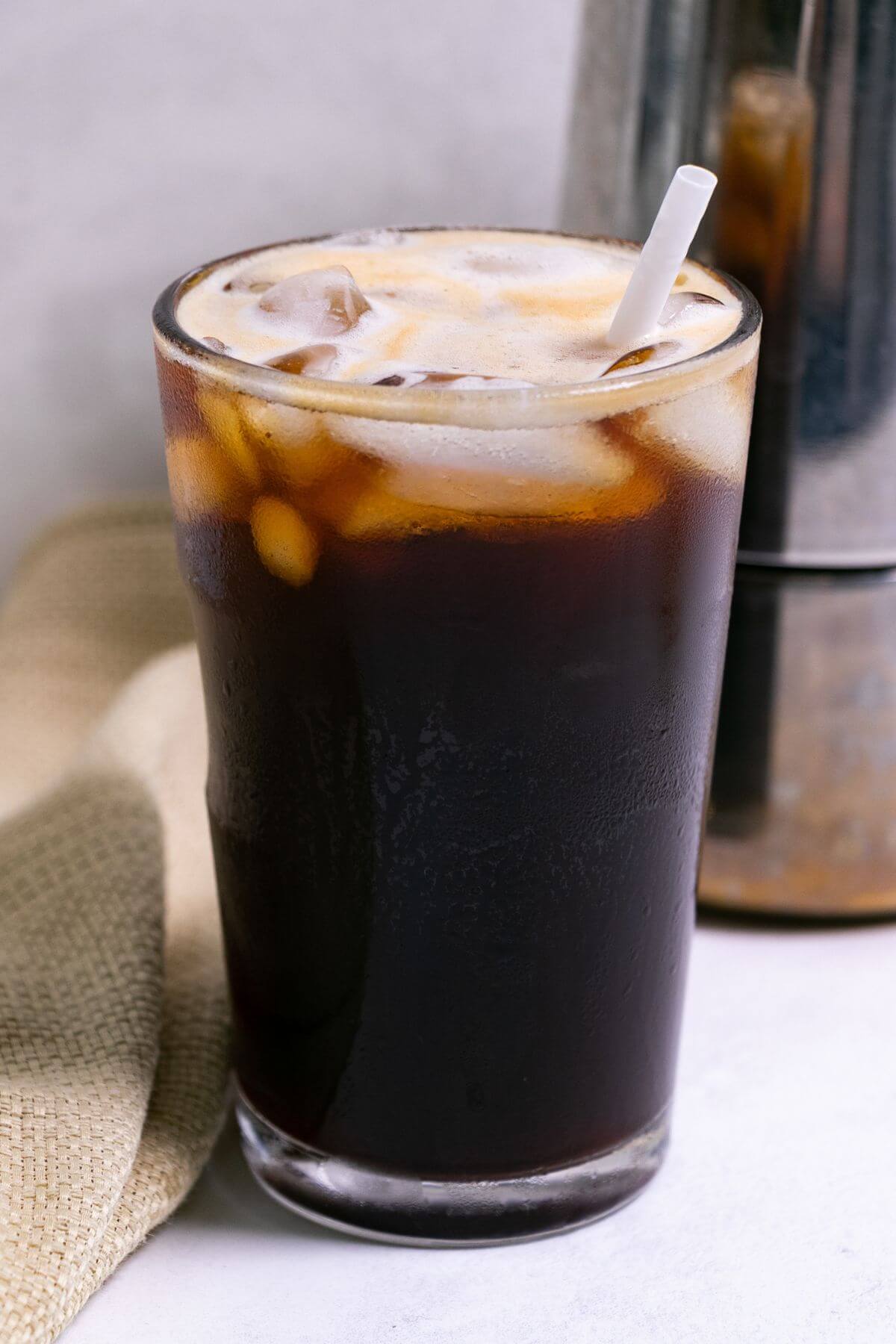 Serving suggestions
Serve your iced Americano in a tall glass for an elegant presentation. This will make it visually appealing and give you more room to add ice and other garnishes.
Garnish with a slice of lemon or orange peel for added aroma and visual appeal. The citrusy scent will complement the rich flavors of the coffee, enhancing your overall drinking experience.
The drink goes well with light pastry, such as biscotti or croissants. Or, pair it with something savory like a charcuterie board or bacon-wrapped smokies. You can enjoy it with breakfast dishes like sheet pan eggs Benedict too.
Storage
An iced coffee drink is best enjoyed immediately after preparation for optimal taste. However, if stored properly in a sealed container in the refrigerator, it can stay fresh for up to 24 hours. Just make sure to give it a quick stir before drinking.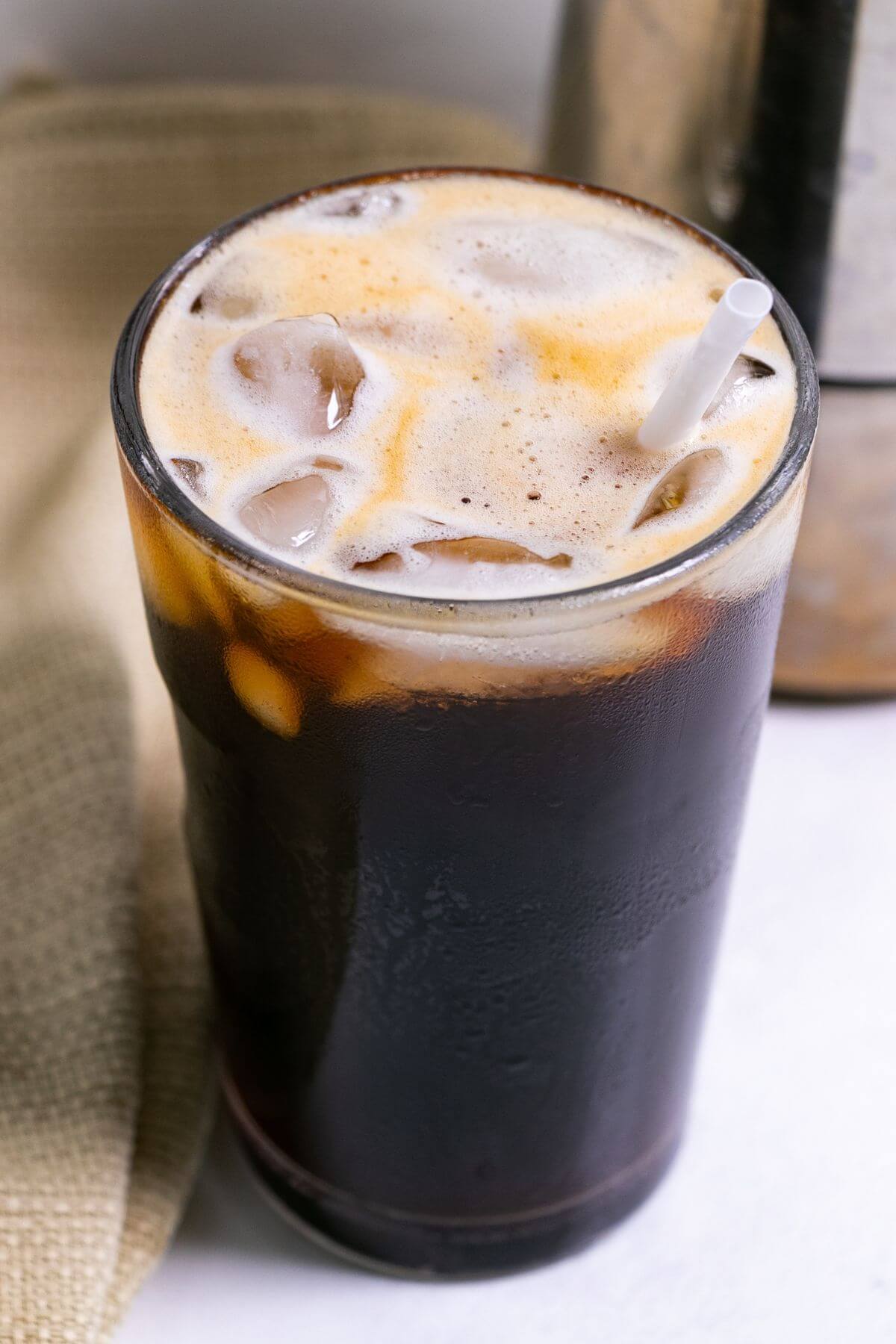 Related Recipes
For more single-serve drink recipes to enjoy over summer, check out some of these favorites.
Follow us on Facebook, Instagram, and Pinterest to see more recipes.
Recipe
Iced Americano
Experience the intense flavor of an iced Americano! This bold coffee is the perfect way to cool off on a hot day.
Ingredients
1-2

shots

espresso

1

cup

ice

¾

cup

cold water

cream

optional

sweetener

optional
Instructions
Place ice into tall glass.

Add espresso shots.

Pour cold water into glass. Stir with straw and sip.

Add sweetener and cream, if desired.
Notes
Try experimenting with different ratios of water to espresso shots until you find your preferred strength. Some people prefer a stronger taste with more espresso shots, while others prefer a milder flavor with less intensity. Don't be afraid to adjust the proportions according to your taste preferences
Nutrition
Calories:
3
kcal
|
Carbohydrates:
1
g
|
Protein:
0.04
g
|
Fat:
0.1
g
|
Saturated Fat:
0.03
g
|
Polyunsaturated Fat:
0.03
g
|
Sodium:
16
mg
|
Potassium:
35
mg
|
Vitamin C:
0.1
mg
|
Calcium:
8
mg
|
Iron:
0.04
mg
© LittleBitRecipes.com - All content and photographs are copyright protected by us. We appreciate sharing our recipes; but copying, pasting, or duplicating full recipes to any social media, website, or electronic/printed media is strictly prohibited and a violation of our copyrights. Single photos may be used, provided that full credit is given to us along with a link back to the original content.