Did you know that slow cooker pork chops are easy to make and incredibly delicious? It's true! By utilizing the convenience of a crock pot or instant pot, you can effortlessly prepare tender and flavorful pork chops without spending hours in the kitchen.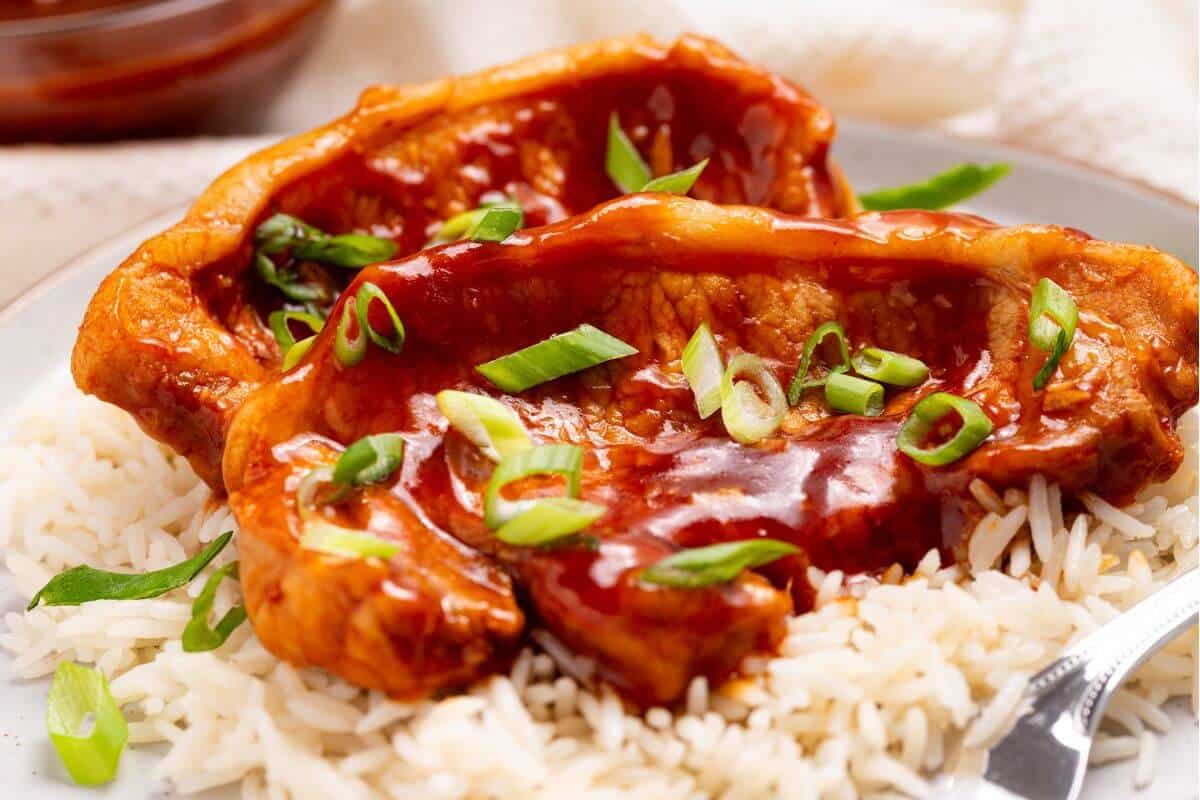 Jump to:
This recipe for pork chops and gravy is a game-changer for busy individuals seeking a hassle-free meal option. Simply add the meat and homemade sauce to your Crock Pot. Set it on low heat and cook for several hours until the meat is fork-tender.
The slow cooking method allows the flavors to develop and the meat to become incredibly tender, resulting in a mouthwatering dish full of flavor. The best part? You can go about your day while dinner practically cooks itself!
Reasons to Love
Tender and juicy pork. Low and slow cooking infuses the flavors into the meat, resulting in moist and tender pork chops.
Time-saving convenience. Set it and forget it! The crock pot does all the work for you throughout your day.
Endless possibilities. You can experiment with various seasonings, sauces, and marinades to create your own unique taste. From tangy barbecue sauce to savory garlic herb rubs, the options are endless. Plus, you can add vegetables like onions, carrots, or potatoes into the mix for an even more flavorful meal.
Ingredients
You only need a handful of simple ingredients to make this recipe.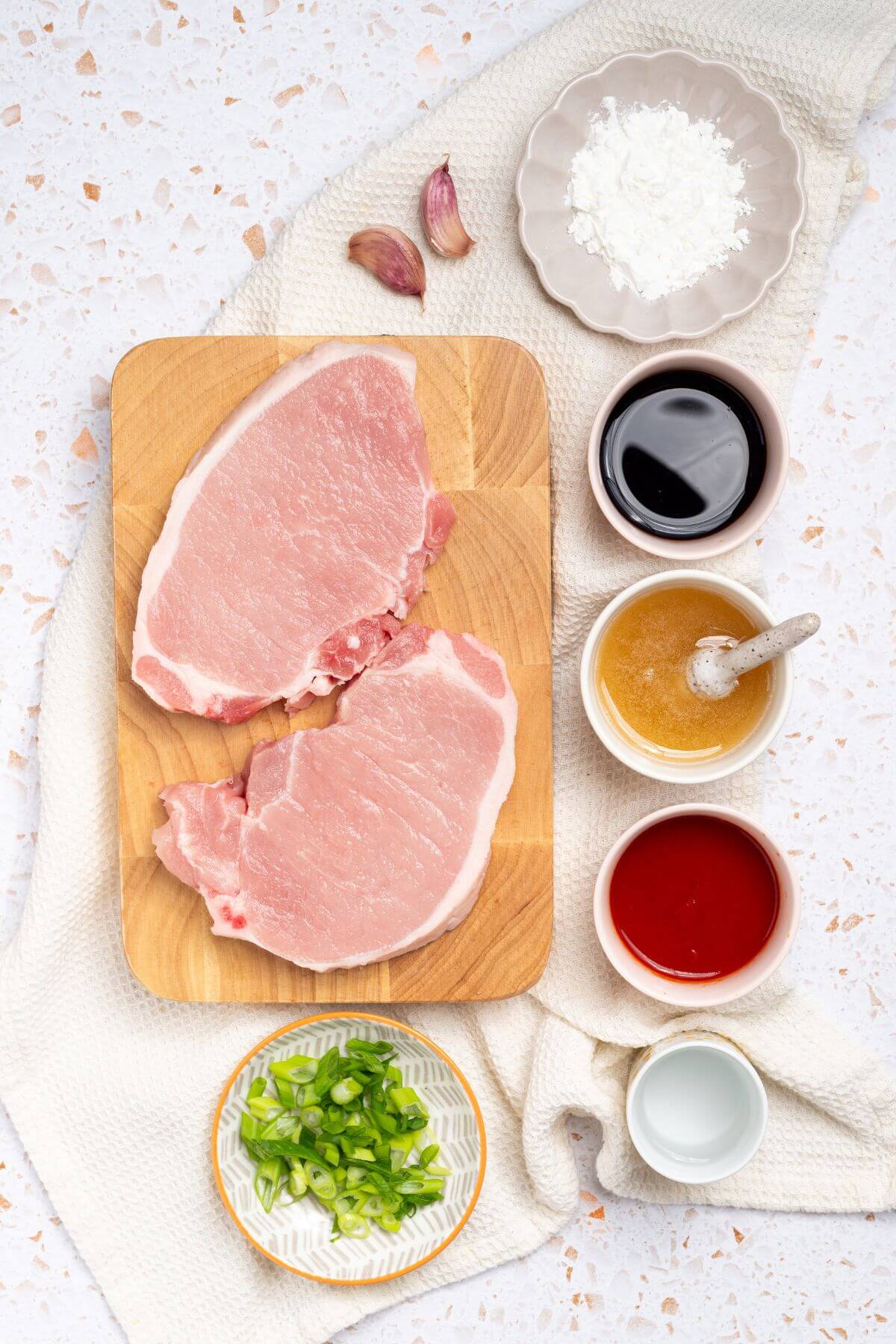 Here are the items needed:
boneless pork chops (bone-in pork chops work too)
garlic clovers
honey
tomato paste
soy sauce
salt and pepper
green onion, for garnish
cornstarch, for thickening the sauce
Scroll down to the recipe card for quantities used.
Instructions
Ready to try this recipe? Preparation should take about ten minutes following these simple directions. However, you must let the meat cook for about 6 hours on low or 4 hours on high.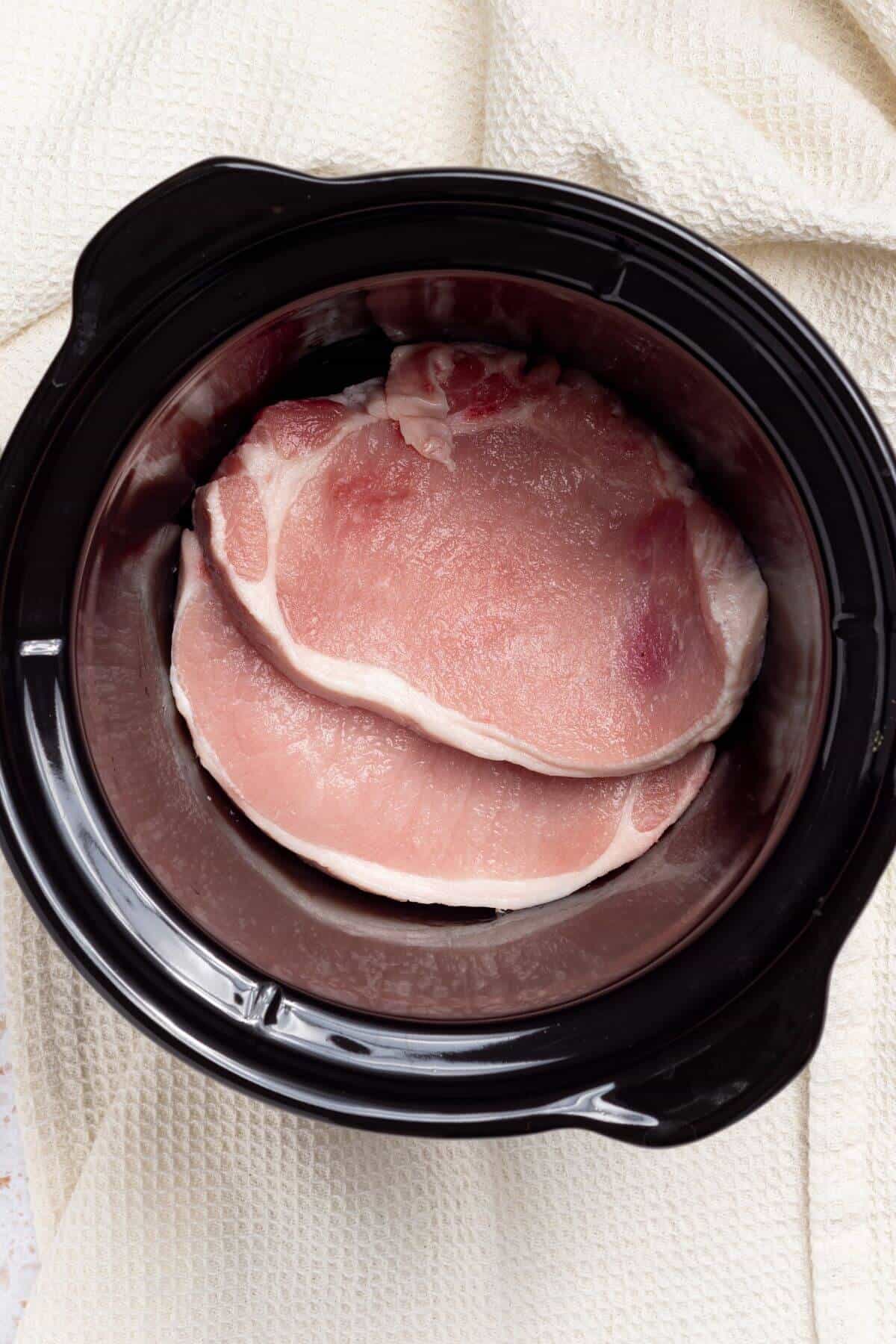 Place the pork chops in your slow cooker.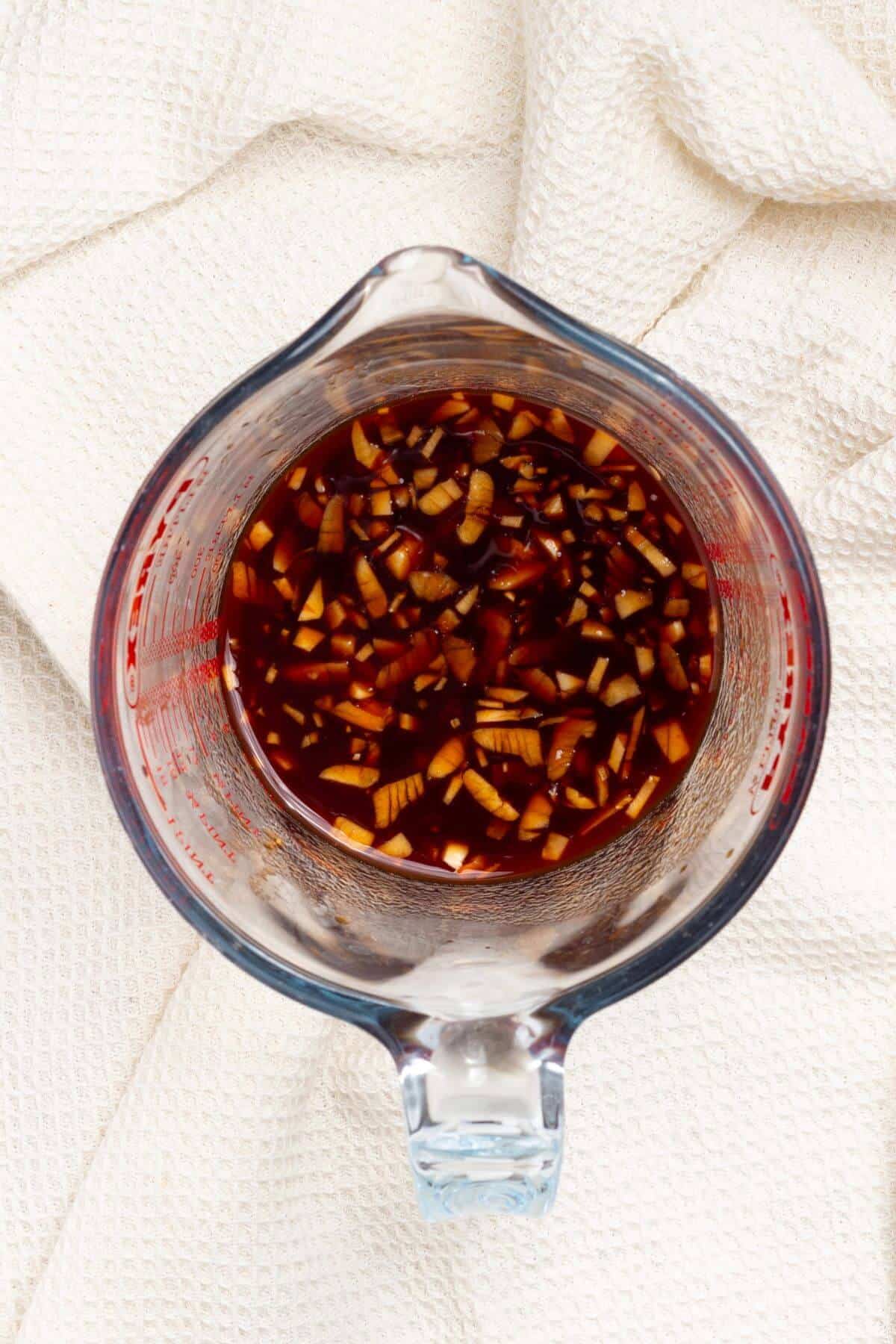 In a liquid measuring cup, mix together the garlic, honey, tomato paste, water, soy sauce, salt and pepper.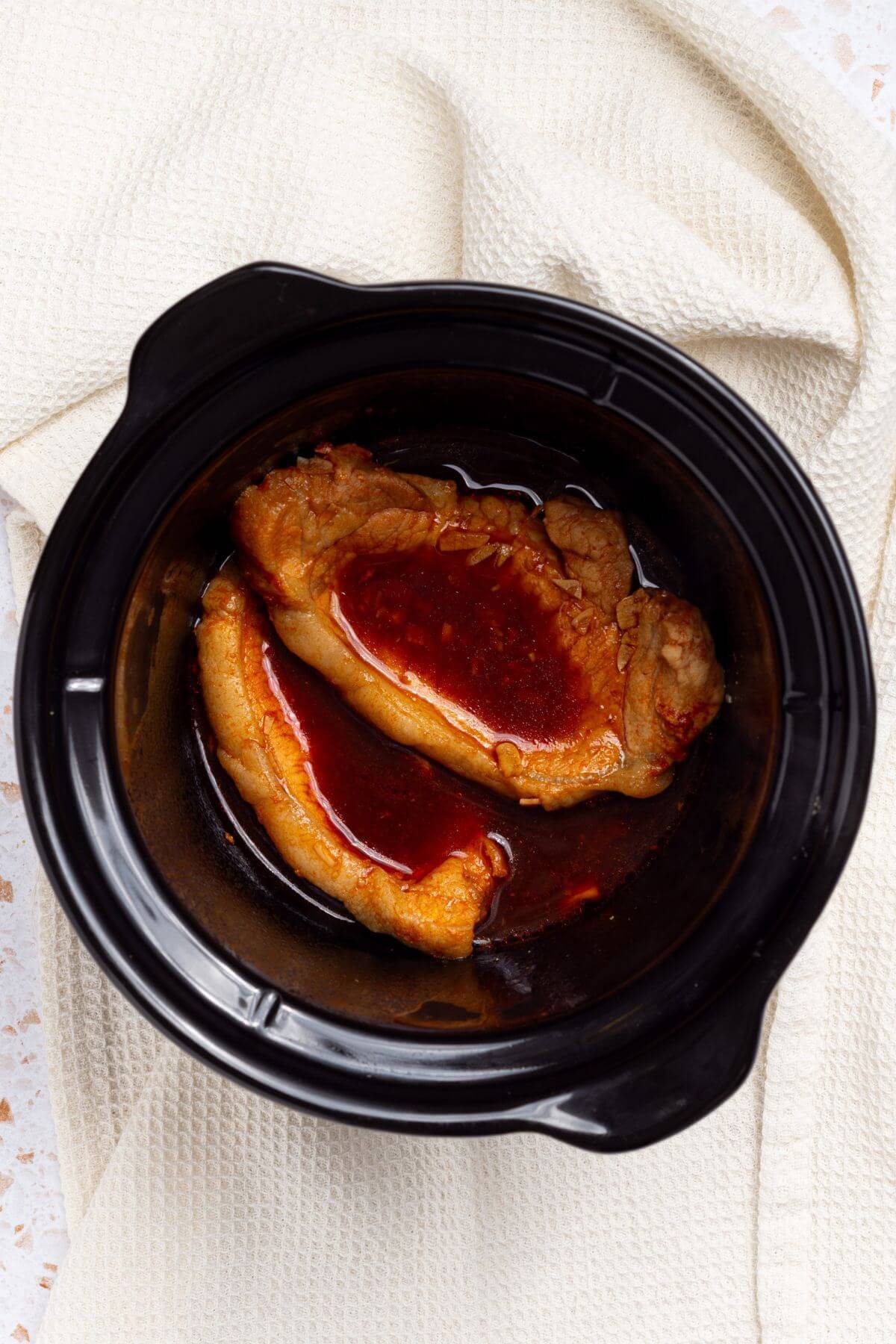 Pour the sauce over the chops.
Cover and cook on low for 6 hours (or high for 4).
Hint: Resist the temptation to lift the lid during cooking as it can release valuable heat and extend cooking time.
Variations
There are so many ways to change up this pork chop recipe.
Add vegetables - Make your dish even more satisfying by adding vegetables like carrots or potatoes. These veggies will soak up the delicious flavors of the pork and become tender and tasty. Just chop them into bite-sized pieces and place them in the slow cooker along with the pork chops. This way, you'll have a complete meal ready to enjoy without any extra effort.
Try different seasonings - Get creative with your seasonings to add an extra punch of flavor to the crock pot pork chops. Try using garlic, herbs like thyme or rosemary, or a mix of spices such as paprika, cumin, or chili powder. You can even use a premade ranch seasoning. Sprinkle the seasonings over the pork chops before placing them in the crock pot.
Experiment with different liquids - The liquid you choose can make a big difference in the taste of your slow cooker pork chops. Instead of sticking to water, experiment with other options like chicken broth. If you prefer something tangy and savory, barbecue sauce can be an excellent choice. Or try using cream of chicken soup or mushroom soup. The liquid will not only keep your pork chops moist but also contribute to their overall flavor profile.
If you are in a rush, you can air fry your pork like our air fryer ribs recipe. The meat will cook faster but it won't be as juicy and tender.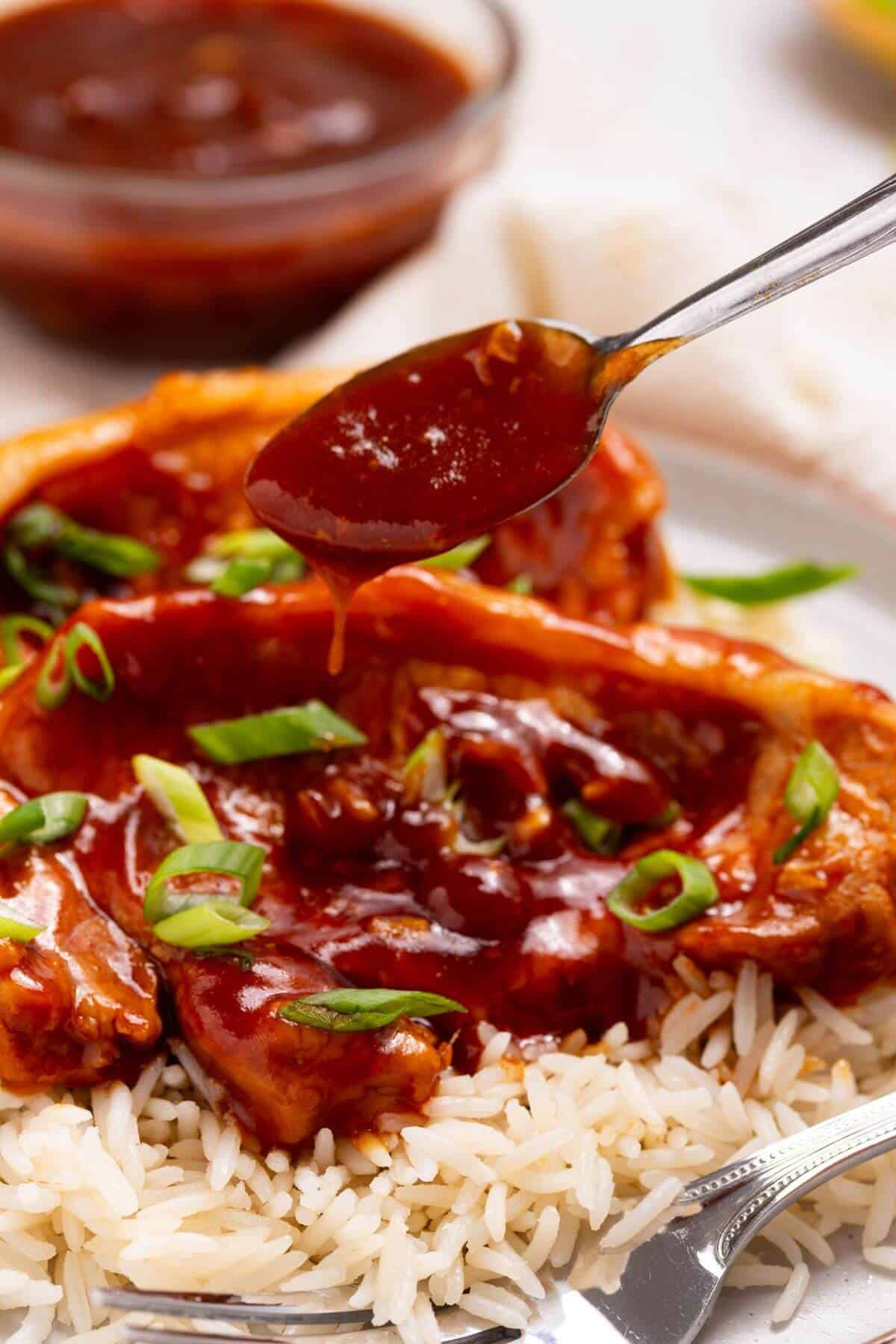 Tips
Top tip: Before placing your pork chops in the slow cooker, brown them in a skillet for a few extra minutes. This step adds a delicious caramelized crust and enhances the overall flavor of the meat. It's worth the effort!
Choose thick-cut pork chops. Thicker cuts retain moisture better than thinner ones, preventing them from drying out during the long cooking process.
Let the meat rest. Resist the temptation to dive right in after cooking. Allow the pork to rest for a few minutes before serving. This resting period allows the juices to redistribute throughout the meat, resulting in maximum juiciness and tenderness.
Serving suggestions
Once your slow cooker has worked its magic, it's time to serve up those delicious pork chops. Pair them with your favorite sides for a complete and satisfying meal. Whether it's creamy scalloped potatoes, roasted cabbage steaks, or buttery cornbread, there are endless possibilities to complement this tasty dish. You can also serve them over rice or mashed potatoes to soak up the gravy.
Storage
Once cooled, transfer the leftover pork chops into an airtight container or wrap them tightly in aluminum foil or plastic wrap. Place the container or covered pork chops in the refrigerator. They can be stored in the fridge for up to four days.
If you want to store them for a longer period, consider freezing them. To freeze, place the cooled pork chops in a freezer-safe bag or container and make sure to remove as much air as possible before sealing. Properly frozen slow cooker pork chops can last for up to three months without losing quality.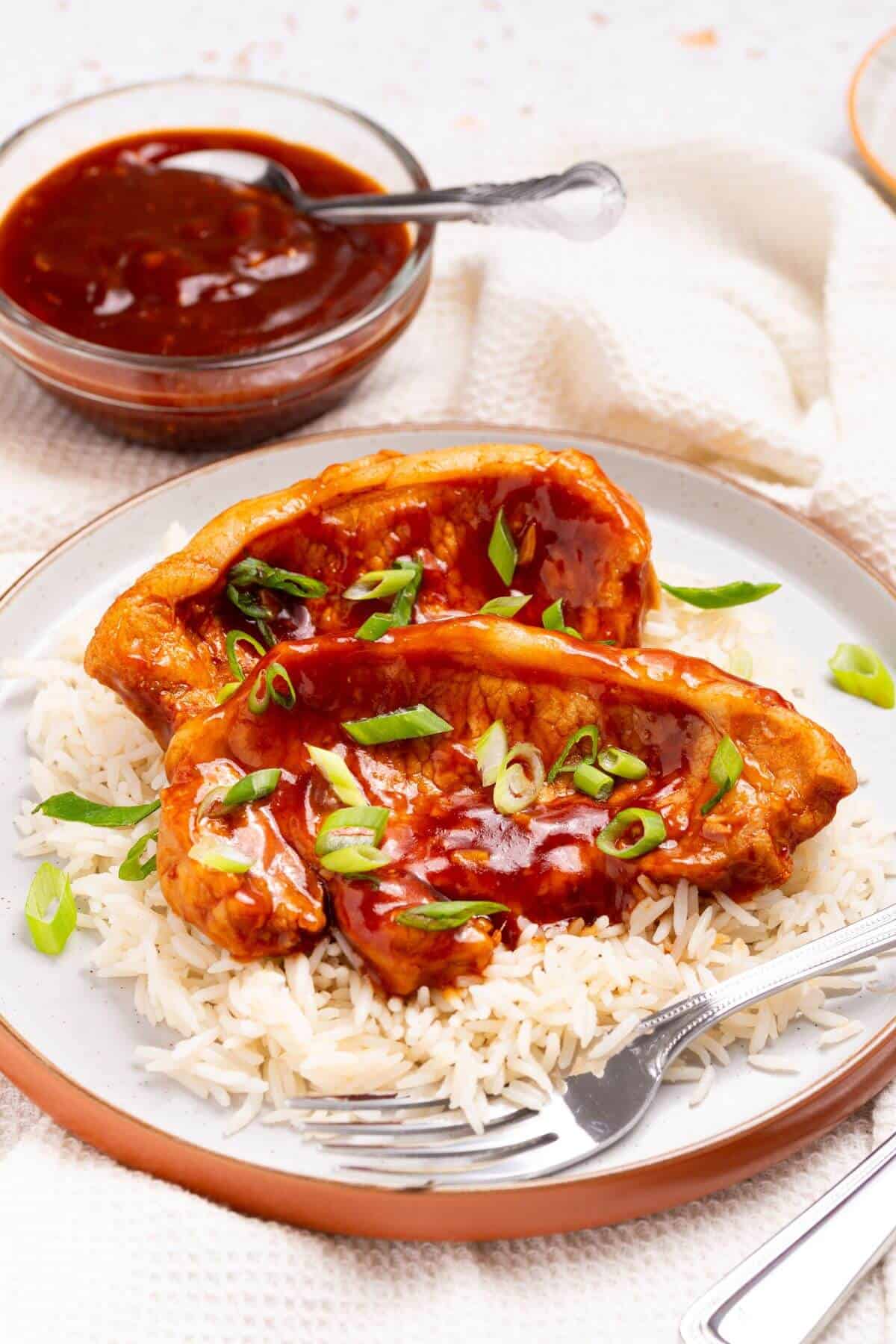 Related Recipes
Want more slow cooker small-batch recipes? Here are some of our favorites:
Follow us on Facebook, Instagram, and Pinterest to see more recipes.
Recipe
Slow Cooker Pork Chops
Mouthwatering slow cooker pork chops are a simple and tasty dinner option. Prepare them in the morning and come home to a satisfying meal.
Ingredients
2

pork chops

boneless

2

garlic cloves

chopped

¼

cup

honey

¼

cup

tomato paste

⅓

cup

warm water

¼

cup

soy sauce

Salt

to taste

Pepper

to taste

1

tablespoon

green onion

chopped

2

tablespoons

cornstarch
Instructions
Place the pork chops in your slow cooker. (Follow notes to a searing option)

In a liquid measuring cup, mix together the garlic, honey, tomato paste, water, soy sauce, salt and pepper. Pour the sauce over the chops.

Cook on high for 4 hours (or low for 6).

If the sauce needs thickening, take the cooked pork chops out of the slow cooker and place them on a plate.

In a small bowl, whisk 2 tablespoons of cornstarch with enough water to make a thick paste, and then whisk it into the sauce.

Cook with the lid off for 15 minutes to thicken up.

Once the sauce is thickened to your liking, place the pork chops back in the slow cooker to reheat.

Serve the honey-glazed pork chops with chopped green onion.
Notes
To sear the pork: Heat a large skillet over medium-high heat. Add a small amount of oil to the skillet. Season the pork loins with salt and pepper. Sear the pork loins in the hot skillet until browned on both sides then place in the slow cooker. This step is optional but adds extra flavor and texture to the dish.
For an extra burst of flavor, marinate the pork loins in the sauce for 30 minutes to 1 hour before placing them in the slow cooker.
If you prefer a sweeter glaze, you can increase the amount of honey.
Adjust the cooking time based on your slow cooker's settings and the thickness of the pork loins. They should be cooked until tender and easily shredded with a fork.
Feel free to customize the recipe by adding your favorite spices or seasonings to the sauce.
Serve the honey-glazed pork chops with steamed rice or roasted vegetables for a complete meal
Nutrition
Calories:
417
kcal
|
Carbohydrates:
51
g
|
Protein:
34
g
|
Fat:
10
g
|
Saturated Fat:
3
g
|
Polyunsaturated Fat:
1
g
|
Monounsaturated Fat:
4
g
|
Trans Fat:
0.1
g
|
Cholesterol:
90
mg
|
Sodium:
1966
mg
|
Potassium:
936
mg
|
Fiber:
2
g
|
Sugar:
39
g
|
Vitamin A:
535
IU
|
Vitamin C:
9
mg
|
Calcium:
37
mg
|
Iron:
3
mg
© LittleBitRecipes.com - All content and photographs are copyright protected by us. We appreciate sharing our recipes; but copying, pasting, or duplicating full recipes to any social media, website, or electronic/printed media is strictly prohibited and a violation of our copyrights. Single photos may be used, provided that full credit is given to us along with a link back to the original content.