Warm and comforting, these Roasted Cabbage Steaks are sure to become a favorite side dish! Topped with your favorite seasoning, this healthy recipe is simple yet flavorful.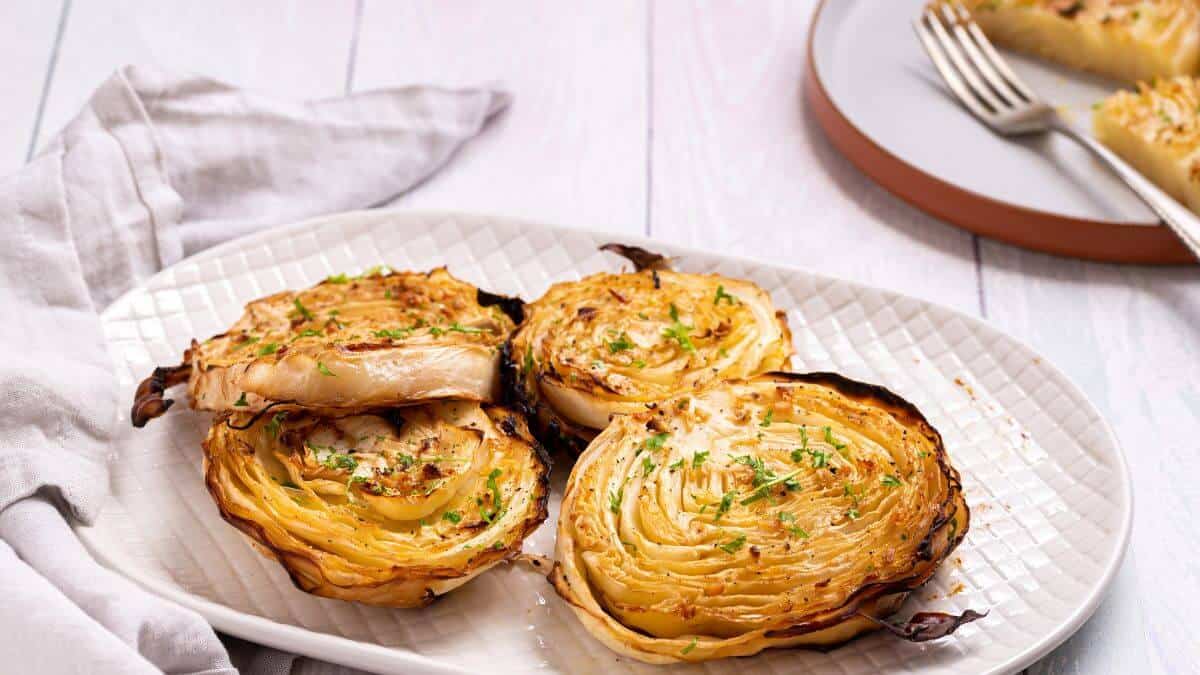 Oven baked cabbage steak is a delicious and easy-to-make vegetable side dish that's perfect for any meal. To make the dish, simply roast this cabbage slices in the oven until they're tender with crispy edges. This easy and delicious recipe is the perfect side to a marinated steak dinner.
One of the best things about green cabbage is its versatility. You can season it with just about anything you like, from garlic and herbs to spicy chili flakes or tangy lemon juice.
Roasting it brings out the natural sweetness of cabbage while giving it a satisfying crunch that makes it an excellent alternative to traditional potato dishes. You'll love this roasted cabbage steak recipe as a healthy and tasty addition to your dinner menu.
Jump to:
Ingredients
Roasting is an excellent method for turning bland vegetables into deliciously crispy ones by caramelizing their natural sugars. When it comes to roasted cabbage recipe, the ingredients are simple.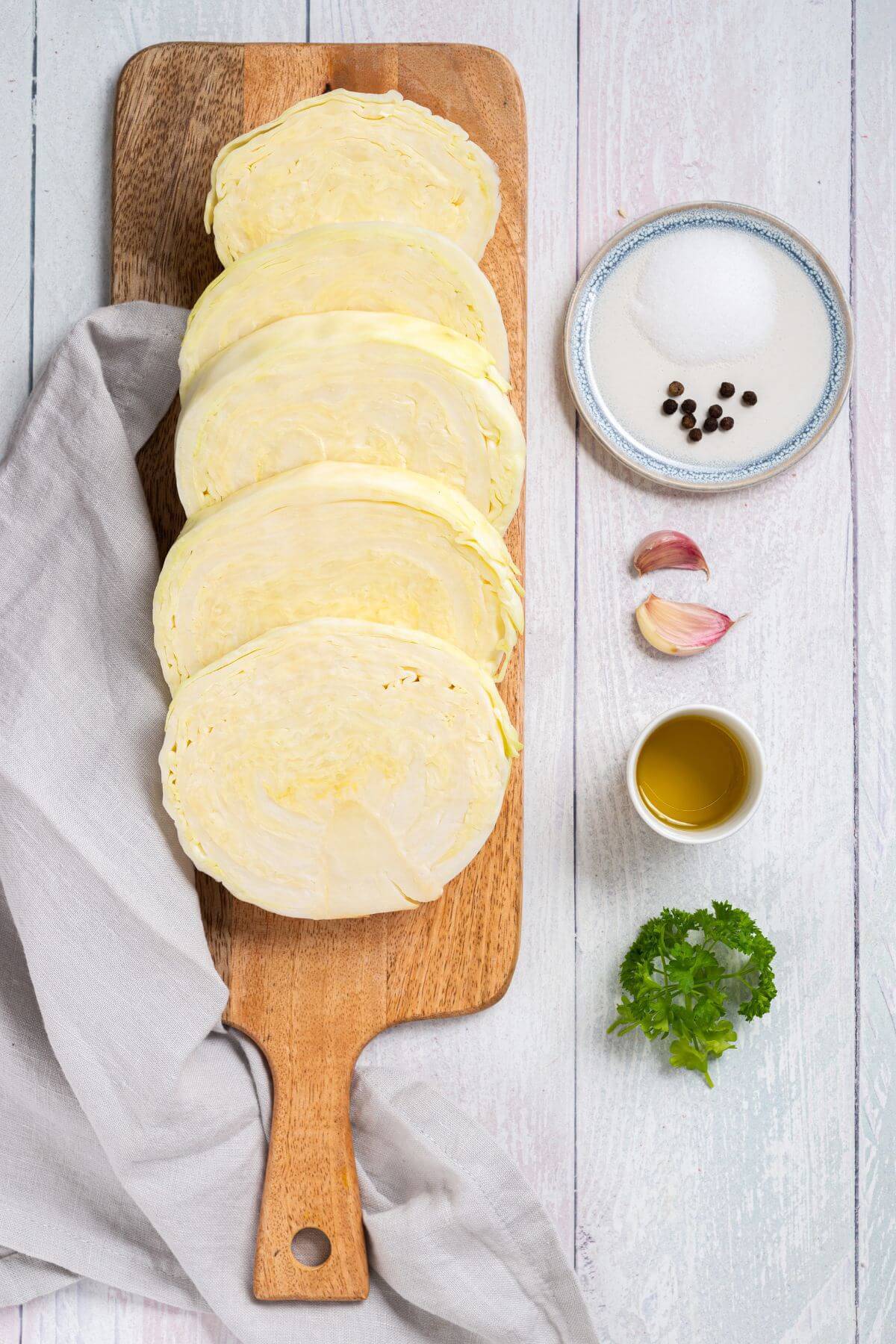 Here is a list of what you'll need for this recipe:
small cabbage head
extra virgin olive oil
garlic
salt and pepper
optional parsley, for garnish
See recipe card for quantities.
Instructions
Roasting cabbage steaks is a simple, yet flavorful way to prepare this cruciferous vegetable. Before you start prepping your ingredients, the first step is to preheat your oven. This will ensure that your oven reaches the right temperature before you place your cabbage steaks inside.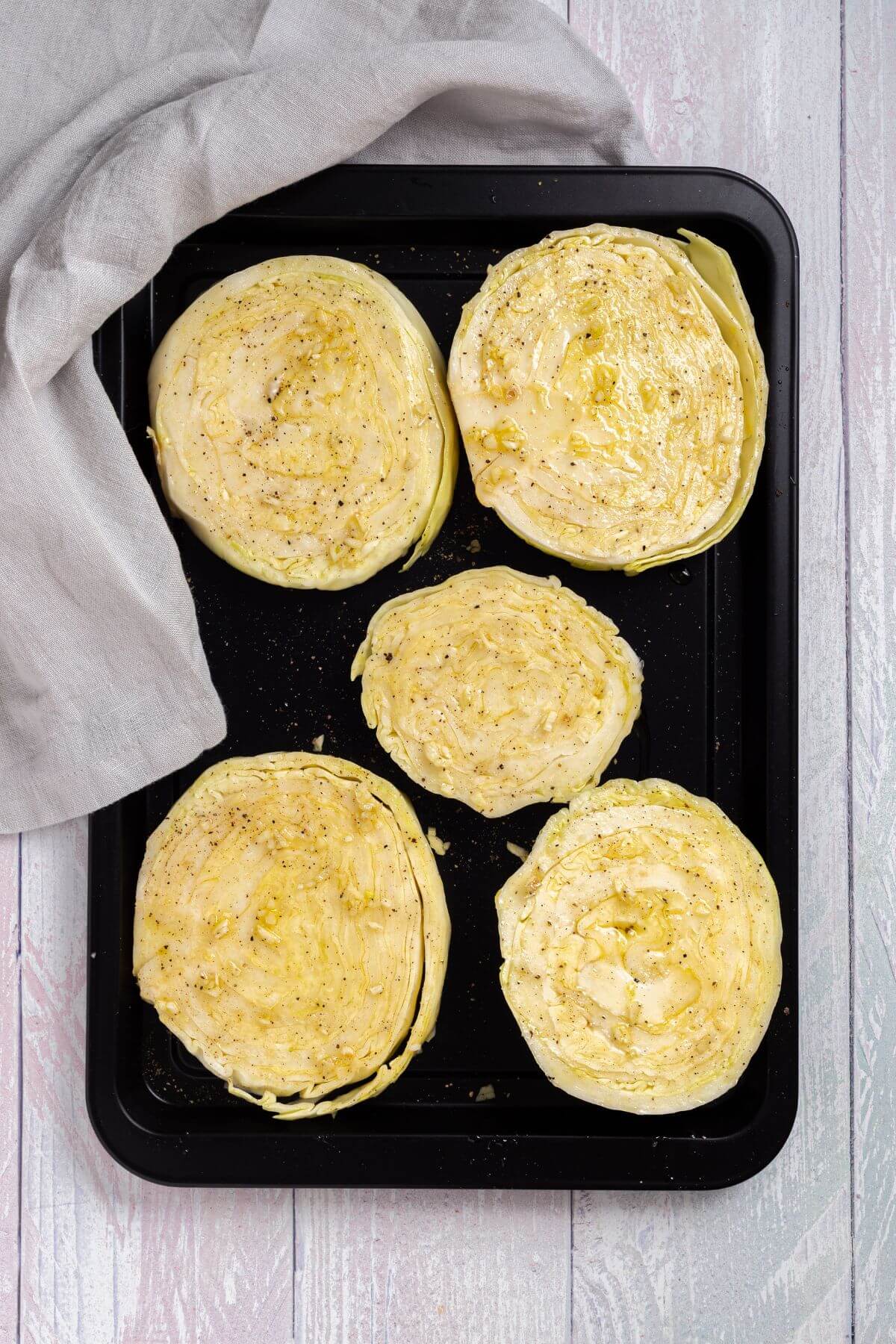 Slice the cabbage into thick slices and arrange them on a baking sheet. Brush with olive oil and minced garlic using a brush. Sprinkle salt and black pepper on top.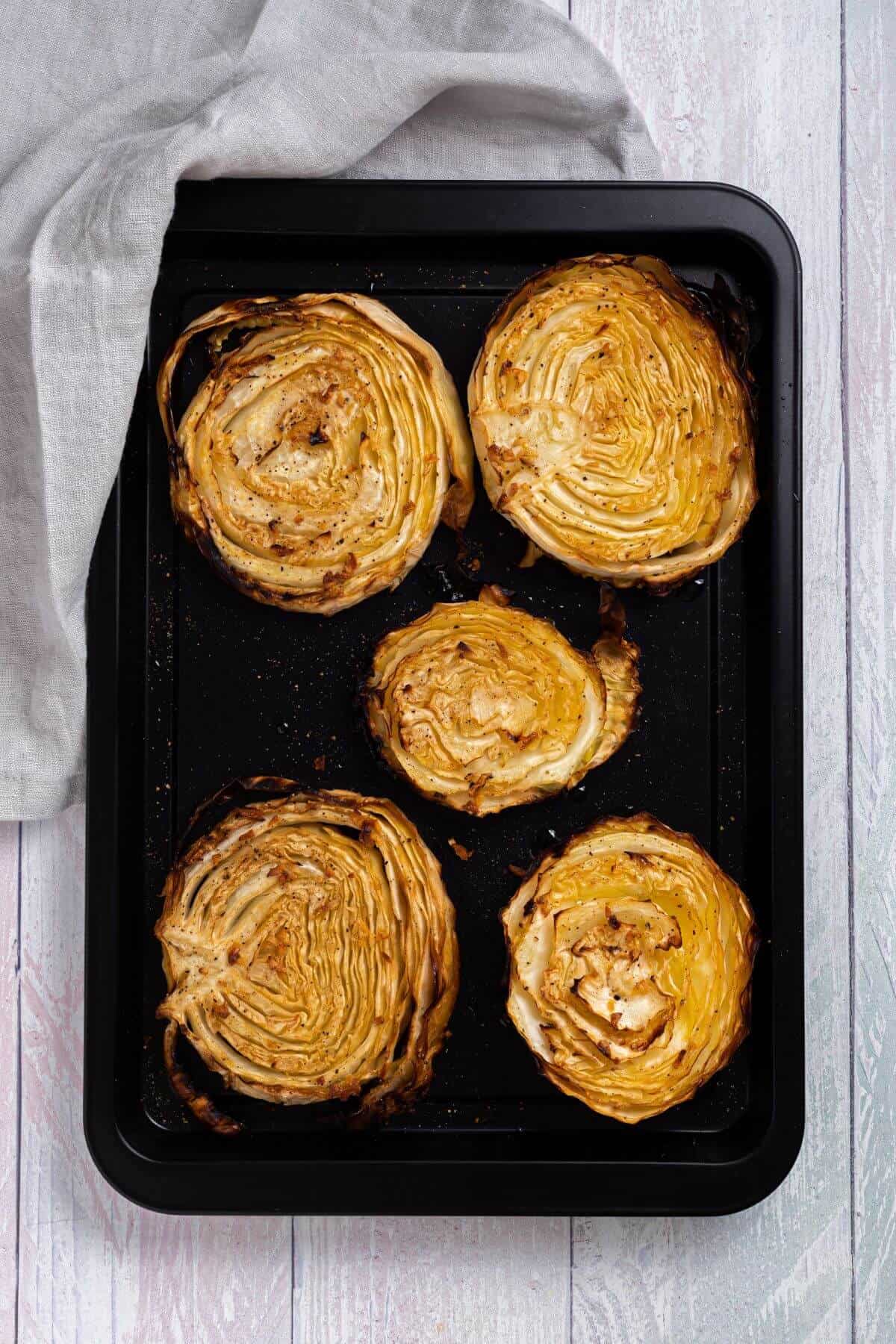 Bake for 30 minutes. Turn the cabbage over gently and continue baking for an additional 10-15 minutes until tender. Add fresh parsley on top and serve hot.
Variations
Garnishing is the step that easily elevates this dish from ordinary to extraordinary. For crispy roasted cabbage steaks, there are endless garnish options to choose from.
One simple and delicious choice is to sprinkle freshly grated Parmesan cheese on top of the steaks while they're still warm. This adds a salty, savory flavor that perfectly complements the slightly sweet and nutty taste of roasted cabbage.
Another popular option for garnishing cabbage steaks is to drizzle them with balsamic glaze or vinegar reduction. The tanginess of balsamic enhances the flavors of any vegetable dish.
You can also try adding some chopped fresh herbs, such as parsley or thyme, for an extra pop of color and flavor.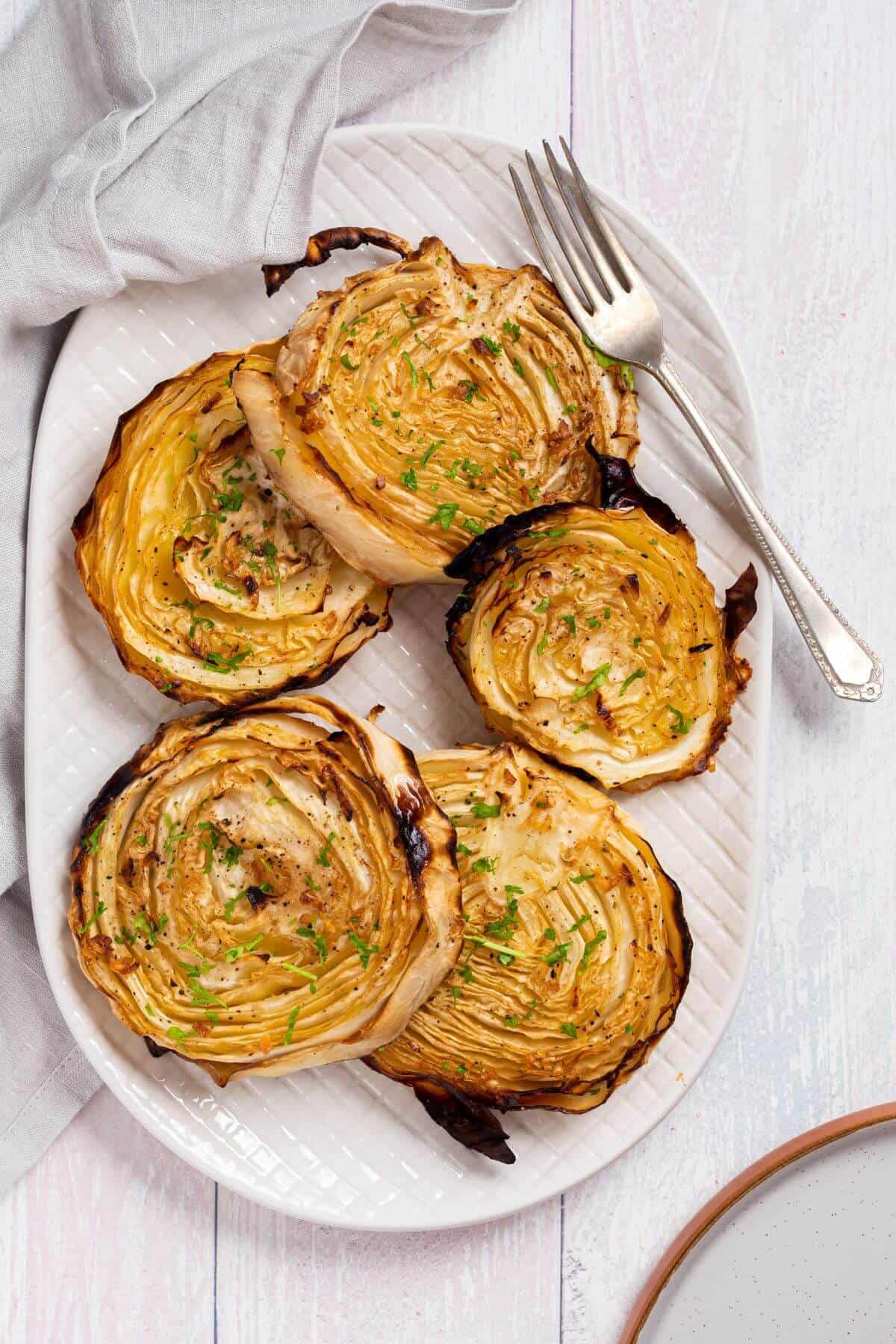 Tips
Roasting cabbage steaks can be a bit tricky. Here are some tips to make them come out perfect every time:
Cut the cabbage into thick slices of about 1 inch so that they roast perfectly without getting too mushy or burnt.
Use olive oil and salt sparingly when seasoning the steaks to avoid overpowering their natural flavors. Additionally, try experimenting with different herbs like thyme or rosemary for added taste and aroma.
Preheat your oven to 400°F before placing your seasoned cabbage steaks on a baking sheet lined with parchment paper. It's essential to use parchment paper as it helps prevent sticking and makes cleaning up much easier.
Roast until the slices turn golden brown with slightly charred edges.
Let them rest for a few minutes after roasting. This will help retain their firmness and texture when serving.
Serving suggestions
You can serve these delicious roasted cabbage steaks alongside protein-rich dishes like chicken or baked fish for a well-balanced meal that will satisfy your taste buds! They make a great side dish for any meal but can also be enjoyed as a light lunch or snack on their own.
The dish pairs well with a variety of other foods, such as roasted potatoes or carrots, grilled chicken or steak, or even tofu for a vegetarian option. You can even serve it with fancier dishes like pork with cherry sauce.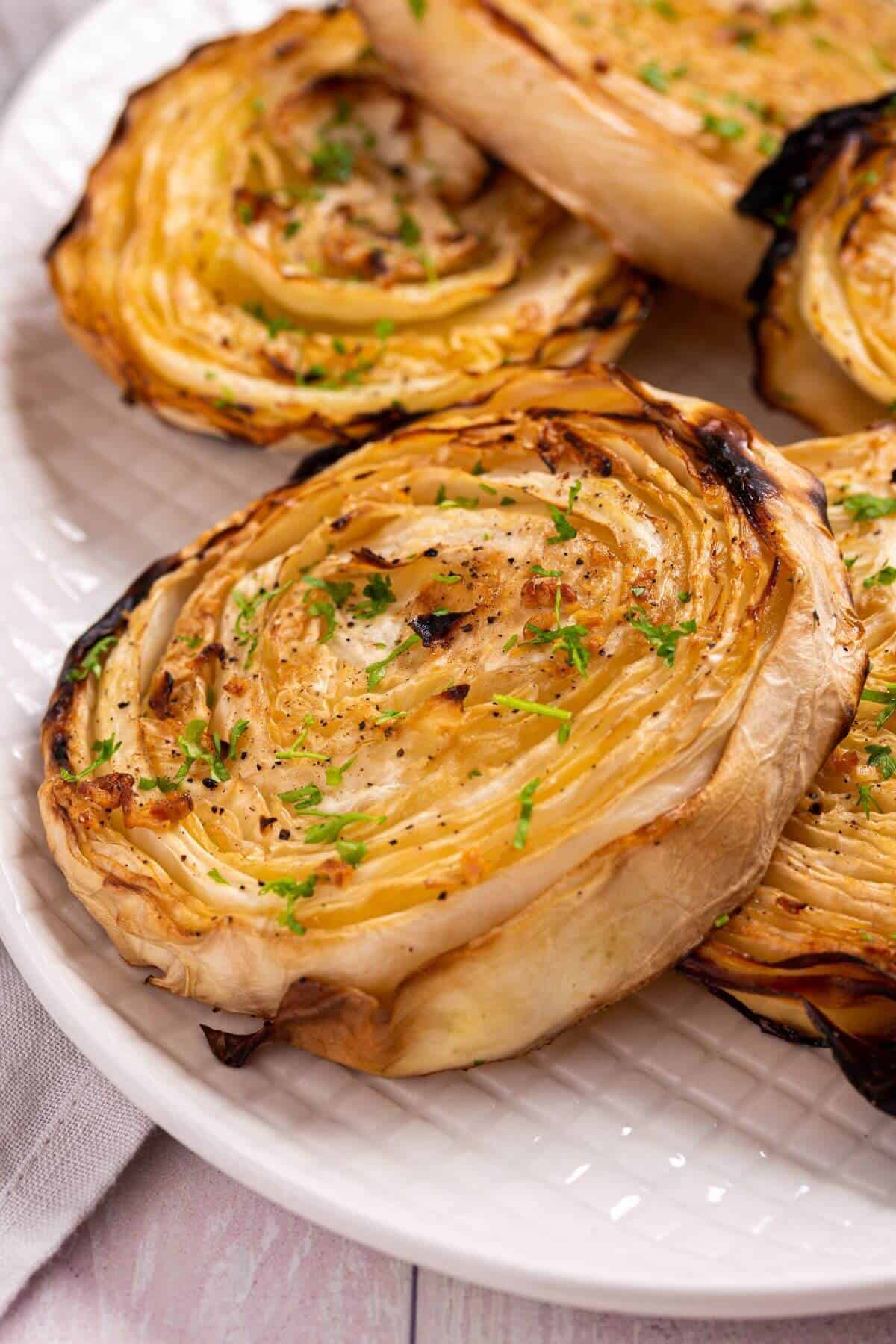 Storage
Make sure the cabbage steaks are completely cooled before storing them. Place the steaks in an airtight container or wrap them in plastic wrap and store them in the refrigerator for up to four days.
When you're ready to reheat the cabbage steaks, remove them from the container and place them on a baking sheet lined with aluminum foil. Bake at 350°F for 10-15 minutes until they are heated through.
FAQ
How long do you roast cabbage steaks?
Generally, you should roast them at 400°F for 15-20 minutes. If you prefer your cabbage steaks more well done, you can increase the roasting time to 25-30 minutes.
Can you cut cabbage into thick slices ahead of time?
Yes, you can cut the cabbage ahead of time. This is a great way to save time when cooking with cabbage. You can store the slices in an airtight container for up to three days.
How do you grill cabbage steaks instead?
Brush each side of the steaks with oil and season with salt and pepper. Place on a heated grill. Grill for 4-5 minutes per side until charred and tender.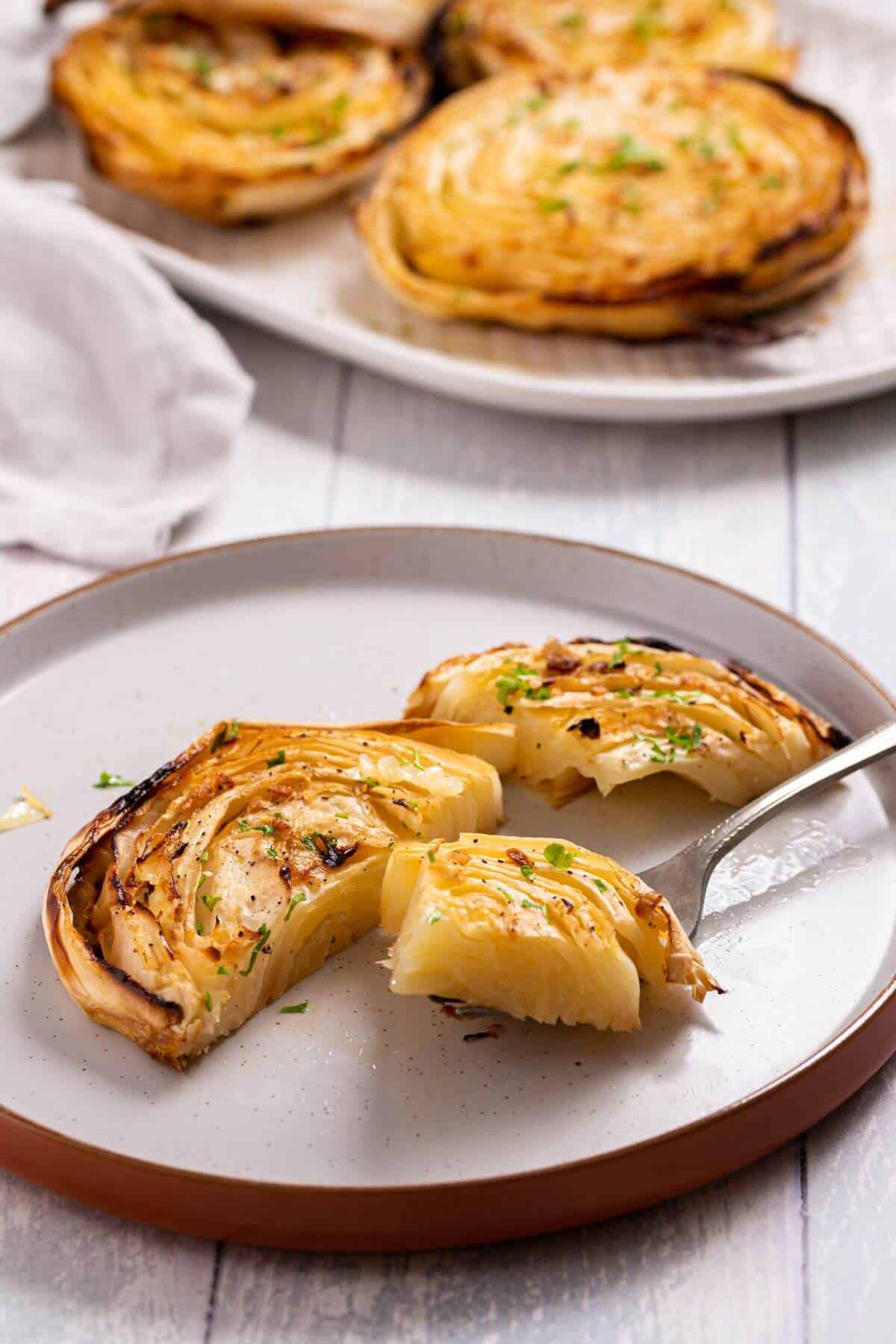 Related Recipes
Need a few more easy side dish ideas? Here's a few of our small-batch favorites.
Follow us on Facebook, Instagram, and Pinterest to see more recipes.
Recipe
Roasted Cabbage Steaks
Try something new with this roasted cabbage steak recipe. It's full of flavor and easy to make, making it an ideal side dish for any meal.
Ingredients
1

small head of cabbage cut into 1-inch slices

3

tablespoons

extra virgin olive oil

2

garlic cloves

minced

Salt and pepper

to taste

Fresh parsley

chopped (optional)
Instructions
Set your oven to 400°F.

Cut the cabbage into 1-inch slices and arrange them on a baking sheet. Coat the slices with olive oil and minced garlic using a brush.

Sprinkle salt and black pepper on top of the cabbage.

Bake for 30 minutes. Turn the cabbage over gently and continue baking for an additional 10-15 minutes until tender. Add fresh parsley on top. Serve hot.
Nutrition
Calories:
138
kcal
|
Carbohydrates:
10
g
|
Protein:
2
g
|
Fat:
11
g
|
Saturated Fat:
2
g
|
Polyunsaturated Fat:
1
g
|
Monounsaturated Fat:
8
g
|
Sodium:
31
mg
|
Potassium:
295
mg
|
Fiber:
4
g
|
Sugar:
5
g
|
Vitamin A:
167
IU
|
Vitamin C:
63
mg
|
Calcium:
71
mg
|
Iron:
1
mg
© LittleBitRecipes.com - All content and photographs are copyright protected by us. We appreciate sharing our recipes; but copying, pasting, or duplicating full recipes to any social media, website, or electronic/printed media is strictly prohibited and a violation of our copyrights. Single photos may be used, provided that full credit is given to us along with a link back to the original content.