Get ready to elevate your tomato game with these irresistibly flavorful air fryer roasted Roma tomatoes! With just a handful of ingredients and a few minutes of prep, you'll have perfectly caramelized and tender tomatoes bursting with rich, concentrated flavors.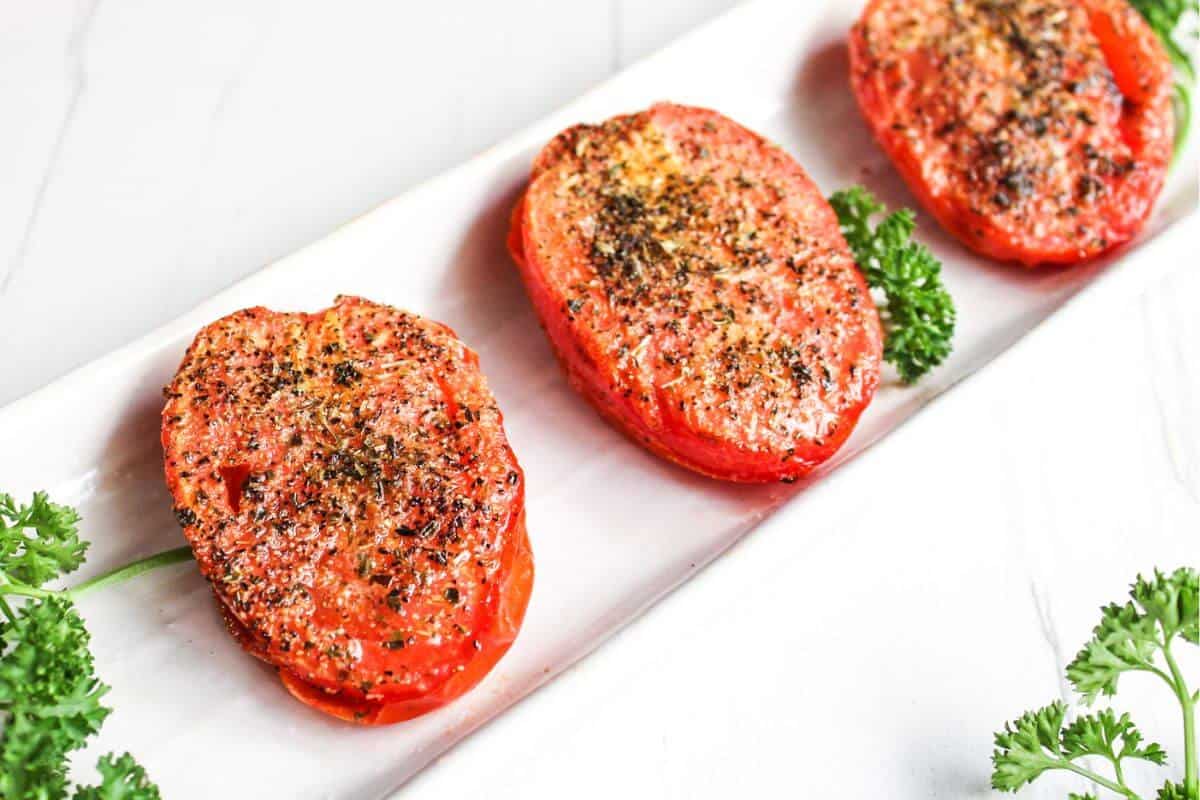 Jump to:
Looking to add some excitement to your tomato dishes like single-serve pizza and individual lasagna? With the help of an air fryer, you can discover a whole new world of deliciousness.
Imagine sinking your teeth into perfectly roasted tomatoes that are bursting with flavor. The air fryer takes this humble fruit to new heights by creating a crispy exterior while keeping the juicy goodness intact.
As someone who loves experimenting in the kitchen, I recently stumbled upon the wonders of air frying tomatoes. Let me tell you, it's a game-changer! Not only does this tomato recipe save time and energy, but it also produces mouthwatering results every time.
Reasons to Love
Crispy and Caramelized Texture: Air frying transforms ordinary cherry tomatoes into irresistible bites with a delightful crunch. The hot circulating air ensures they turn golden brown, creating a satisfying caramelized exterior.
Enhanced Taste: Air fryer tomatoes bring out the best in their flavor profile. The intense heat concentrates their natural sweetness, resulting in a burst of deliciousness with every bite.
Versatile Usage: These air-fried gems can be enjoyed in various ways. The tomatoes make a tasty addition to tomato soup or use them as a delicious appetizer, paired with fresh basil and garlic for a tantalizing combination.
Ingredients
If you have a few fresh tomatoes, you likely have the rest of the items needed to make this easy recipe. You also need your favorite seasonings as well as a little bit of oil.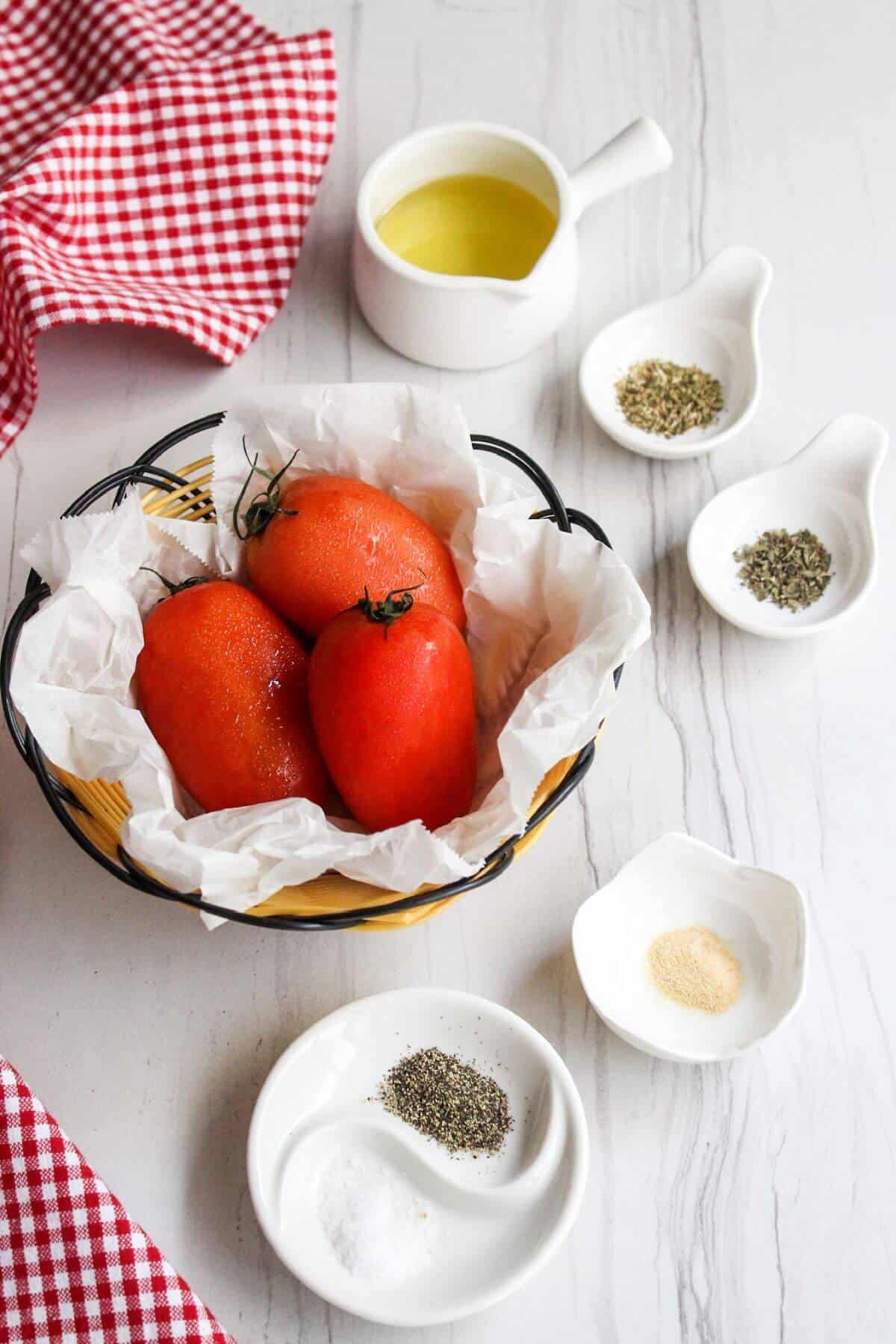 Here are the ingredients used in our recipe:
Roma tomatoes
garlic powder
dried basil
dried whole oregano
salt and pepper
olive oil
Scroll down to the recipe card for quantities used.
Instructions
To begin, you'll want to preheat the air fryer to 370°F. If your model has a "roast" button, you'll want to use that mode. The cooking time should be set to 8 minutes.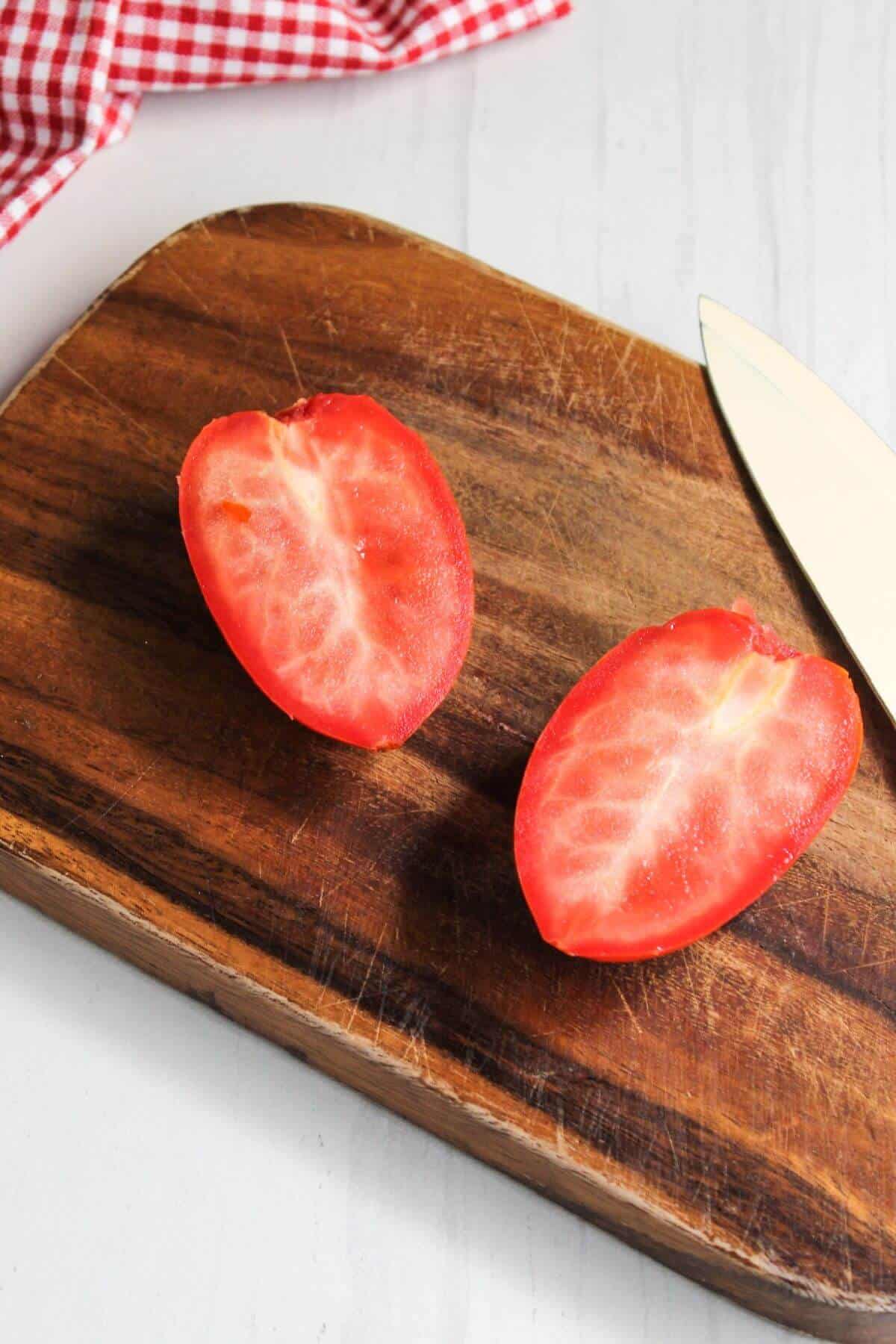 Remove any stem and then cut the tomatoes in half, lengthwise.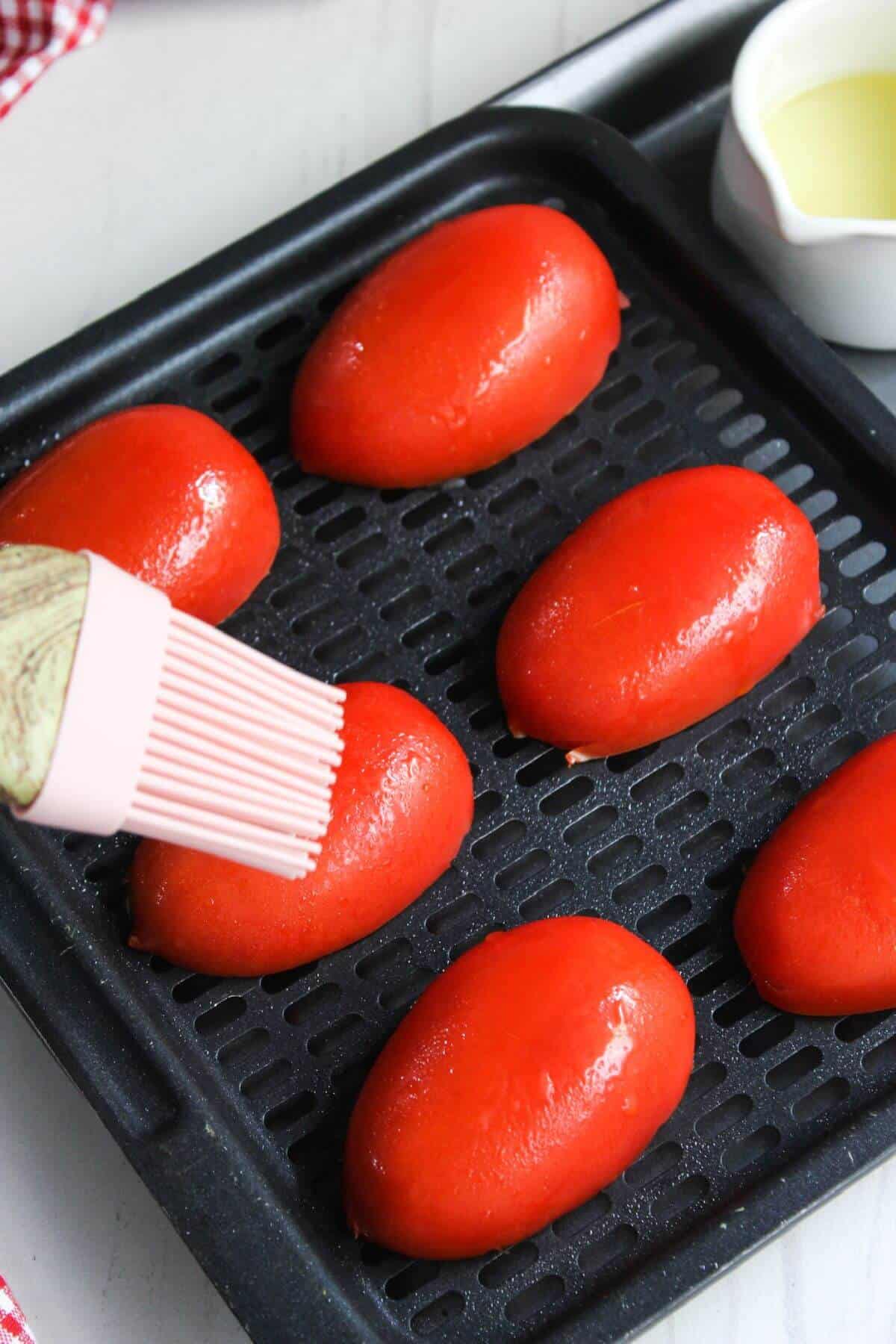 Transfer the tomato halves skin side up in an air fryer basket or tray. Lightly brush with oil (or spray, if using).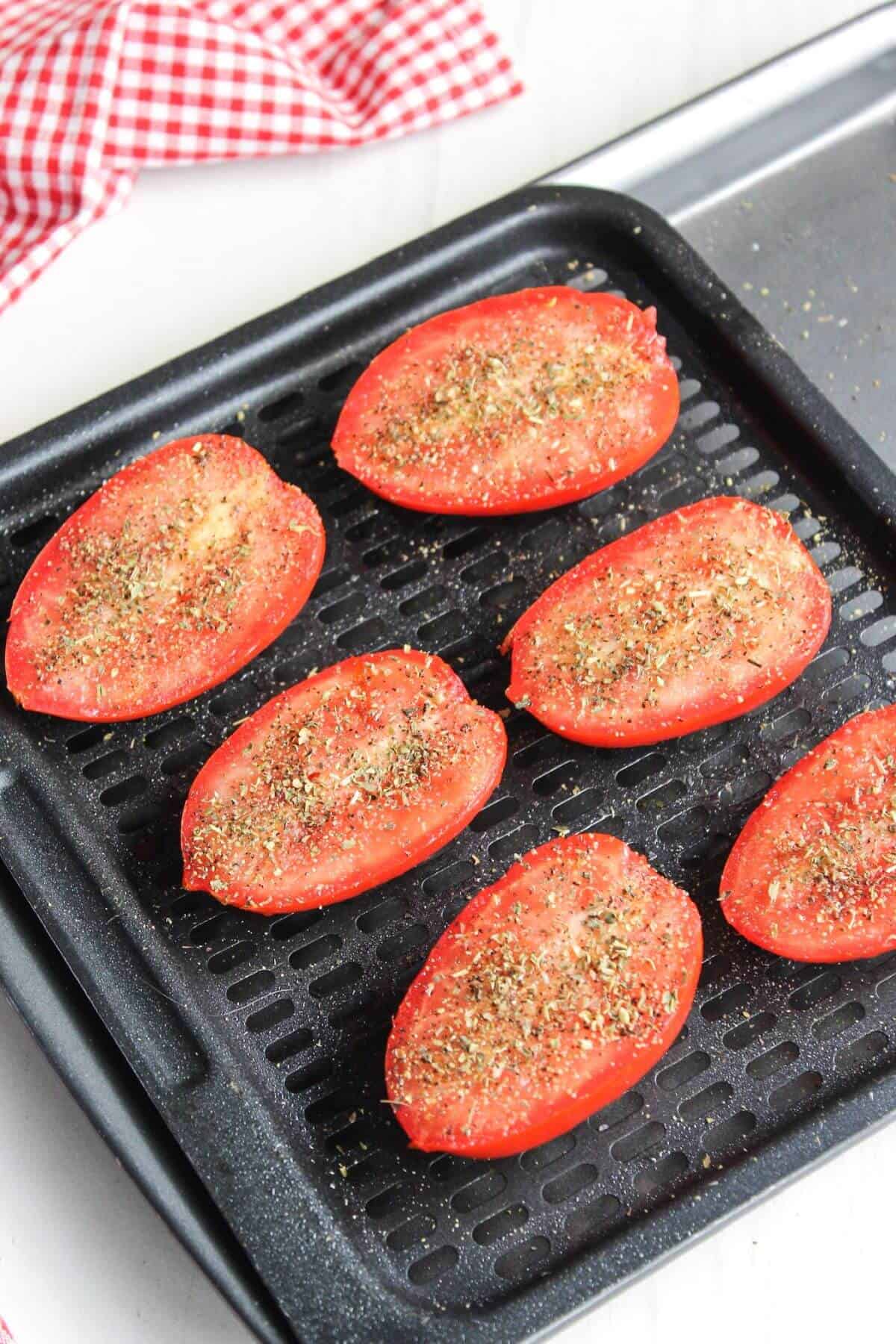 Turn each tomato over, skin side down. Then lightly brush (or spray) with oil. Season with salt, ground black pepper, garlic powder, dried basil, and dried whole oregano. Place tomatoes in the air fryer.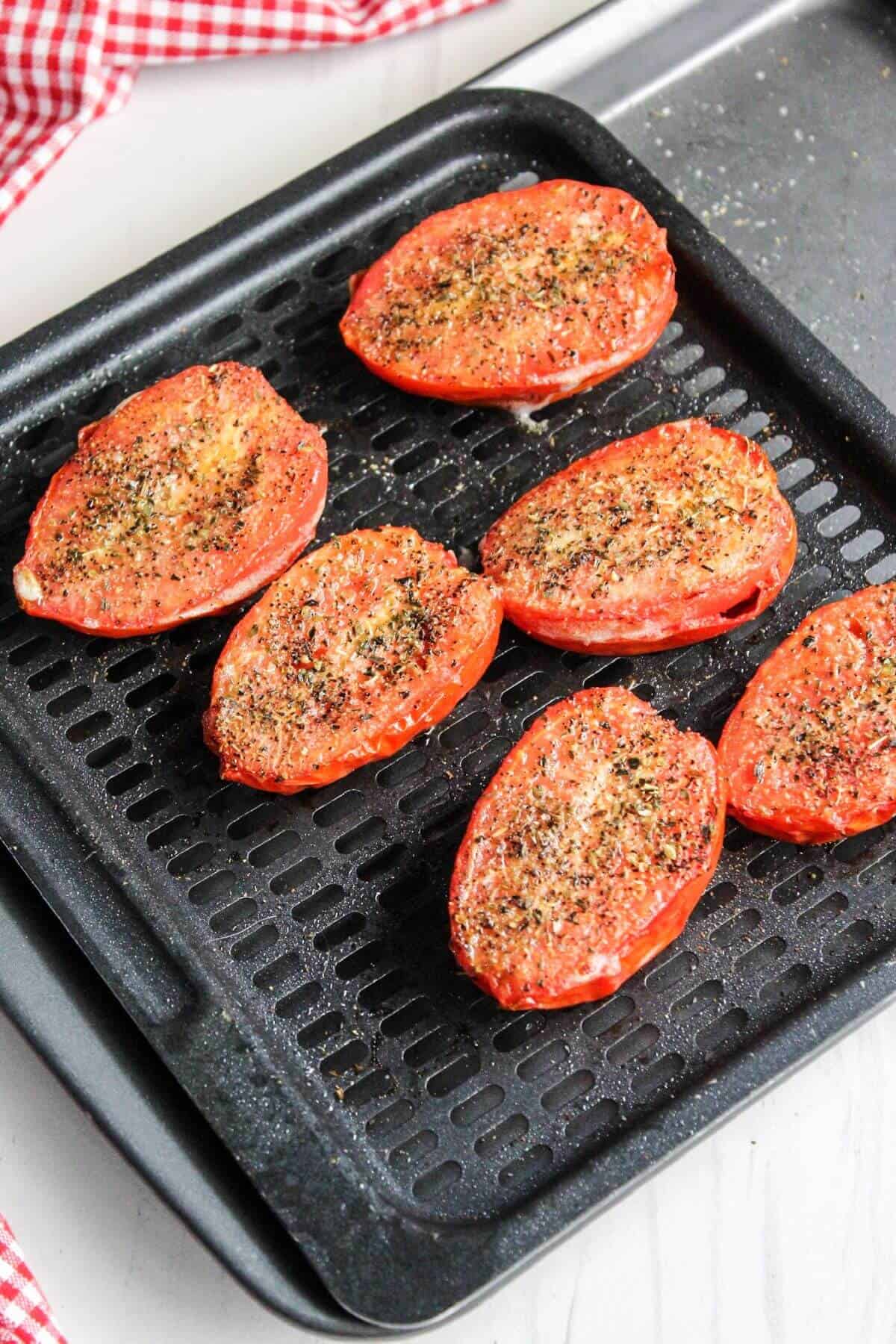 Roast tomatoes until they are done to your liking or once skin are blistered and the tomatoes are soft and squishy. Drizzle with extra virgin olive oil before serving.
Variations
These easy air fryer tomatoes can be done in various ways. Here are a few suggestions if you want to change things up.
Experiment with different seasonings and herbs. Try combining basil, oregano, and thyme for classic Italian seasoning. For a spicy kick, sprinkle cayenne pepper or chili flakes over the tomatoes before roasting. Drizzle olive oil and sprinkle dried rosemary over the tomatoes to add Mediterranean flavors.
Use different tomatoes. I like to use Roma tomatoes because of their meatier texture. But you can opt for sweet cherry tomatoes or grape tomatoes for juicier bursts of flavor. Or try larger tomatoes like plum tomatoes.
Add garlic. Garlic lovers can finely chop fresh garlic cloves and mix them with the tomatoes before roasting.
Add depth. Drizzle balsamic vinegar over the tomatoes before placing them in the air fryer.
Use cheese. For cheese enthusiasts, sprinkle grated Parmesan or crumbled feta on top of the air fryer roast tomatoes after cooking.
See this spicy version of this recipe on my website! (placeholder for in-content link)
Tips
Top tip: Sprinkle them with salt before placing them in the air fryer – this draws out some of their natural juices, making for a more concentrated tomato taste.
To make the most out of this cooking method, here are some additional tips to take your air fryer roasted roma tomatoes to new heights.
Slice the tomatoes into thick rounds. They will retain their shape and won't become too soft or mushy.
Don't forget the oil! A light oil coating adds richness and depth to their flavor profile while helping them achieve a delicious crispy texture in the air fryer.
Place a foil-lined tray on the bottom of the air fryer to catch any drippings. This will make for easier cleanup afterward.
Balance is key: Strike a harmonious flavor balance by using just the right amount of salt, pepper, and other spices. Avoid overpowering the delicate taste of the tomatoes while still enhancing their natural flavors.
Serving suggestions
For a delightful side dish, there are several ways to serve air fryer tomatoes. One option is to pair these crispy delights with fresh basil leaves and creamy mozzarella cheese, creating a classic Caprese salad. The combination of the tangy tomatoes, fragrant basil, and smooth cheese makes for a refreshing and satisfying dish.
Another fantastic serving suggestion is to use the warm roasted tomatoes as a topping for grilled chicken or fish. The juicy sweetness of the tomatoes provides an extra burst of flavor that perfectly complements the savory protein.
If you're looking to create an appetizing antipasto platter, consider including marinated vegetables, cured meats, and slices of air-fried tomatoes. The vibrant colors and diverse flavors will make this dish visually appealing and tantalizing to the taste buds.
To enhance the presentation and taste of dishes with pasta sauce, garnishing them with roasted tomato halves is an excellent choice.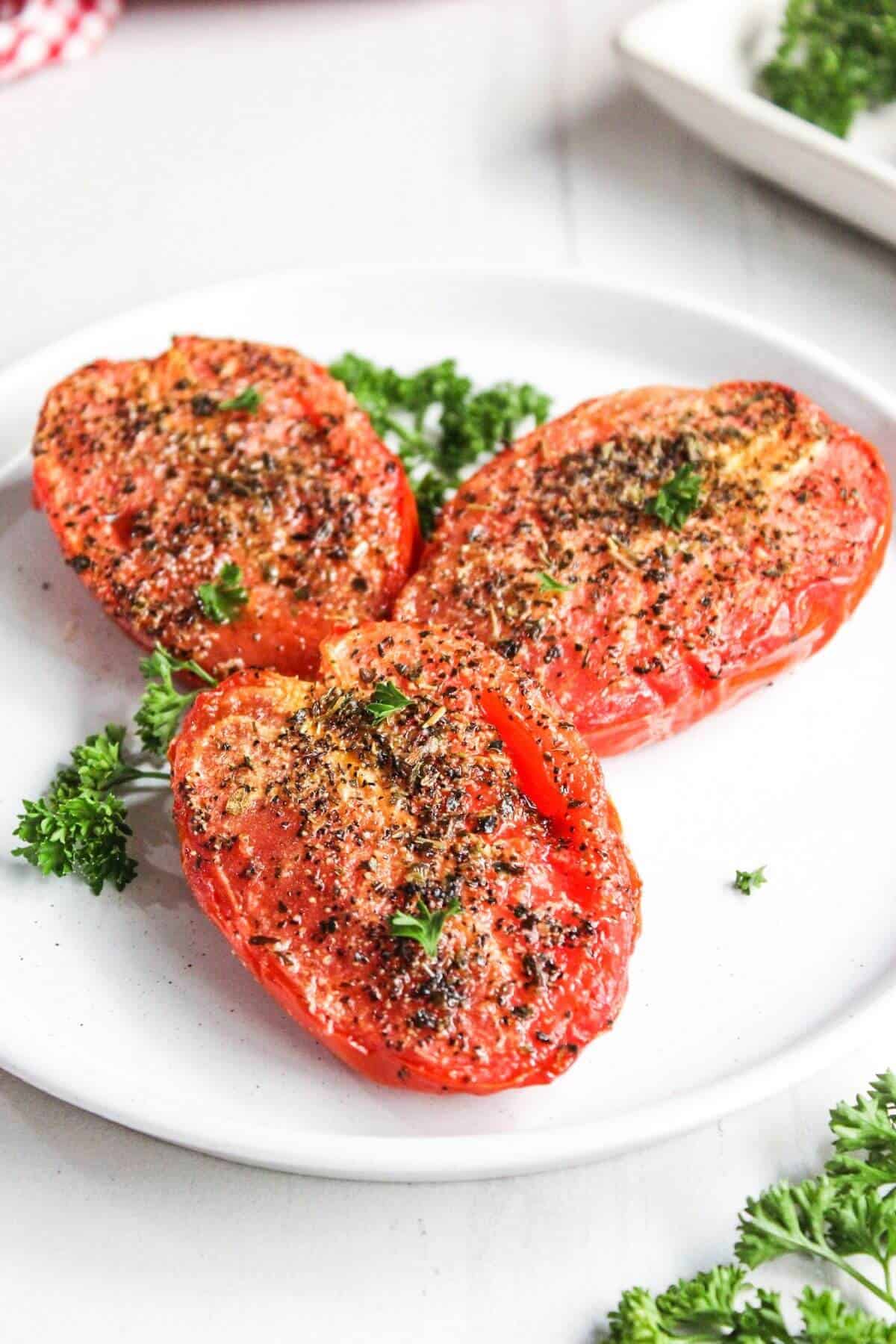 Storage
Once cooled, you can transfer them to an airtight container or a resealable plastic bag. It is advisable to place a layer of parchment paper or plastic wrap between the tomatoes to prevent them from sticking together.
When storing in the refrigerator, these roasted tomatoes can last up to 5-7 days. If you want to extend their shelf life further, you can freeze them. Simply place the roasted tomatoes in a freezer-safe container or bag and label it with the date. They can be kept frozen for up to 3 months. When ready to use, thaw them in the refrigerator overnight and enjoy their delicious flavor in your favorite recipes!
Related Recipes
Want to try more simple air fryer recipes? Check out a couple of these tasty:
Follow us on Facebook, Instagram, and Pinterest to see more recipes.
Recipe
Air Fryer Roasted Roma Tomatoes
Transform ordinary Roma tomatoes into tasty bites of goodness with our air fryer recipe. Get ready for a burst of flavor in every bite!
Ingredients
3

roma tomatoes

about 100 grams each

¼

teaspoon

garlic powder

¼

teaspoon

dried basil

¼

teaspoon

dried whole oregano

kosher salt

to taste

ground black pepper

to taste

extra virgin olive oil

for brushing or spraying
Instructions
Pre-heat Air Fryer, using the "roast" button at 370°F (188°C). Set at 8 minutes.

Thoroughly wash and dry Roma tomatoes. Remove the stem, if any. Cut each piece in half, lengthwise.

Gently place sliced Roma tomatoes skin side up onto the Air Fryer tray. Lightly brush with oil (or spray, if using).

Turn each Roma tomato over, skin side down. Then lightly brush (or spray) with oil.

Season with salt, ground black pepper, garlic powder, dried basil, and dried whole oregano.

Slowly insert tray into the middle cooking chamber, near the rotisserie catch.

Roast Roma tomatoes until they are done to your liking or once skin are blistered and the tomatoes are soft and squishy.

Drizzle with extra virgin olive oil before serving.

Serve as is, cut up in bite-sized pieces and added to your salad or on top of a crusty bread, or make a tomato-based sauce.
Notes
This Air Fryer recipe uses an Instant Vortex Plus Air Fryer Oven. Not all Air Fryers cook the same way. It's best to keep watch during your initial tests after purchasing.
Watch the last 2 to 3 minutes closely to avoid tomatoes from being overly charred.
Nutrition
Calories:
19
kcal
|
Carbohydrates:
4
g
|
Protein:
1
g
|
Fat:
0.2
g
|
Saturated Fat:
0.04
g
|
Polyunsaturated Fat:
0.1
g
|
Monounsaturated Fat:
0.03
g
|
Sodium:
5
mg
|
Potassium:
231
mg
|
Fiber:
1
g
|
Sugar:
2
g
|
Vitamin A:
780
IU
|
Vitamin C:
13
mg
|
Calcium:
16
mg
|
Iron:
0.5
mg
Equipment
© LittleBitRecipes.com - All content and photographs are copyright protected by us. We appreciate sharing our recipes; but copying, pasting, or duplicating full recipes to any social media, website, or electronic/printed media is strictly prohibited and a violation of our copyrights. Single photos may be used, provided that full credit is given to us along with a link back to the original content.