One of the easiest ways to make French toast is in an air fryer. This recipe makes the perfect single serving of brioche French toast quickly.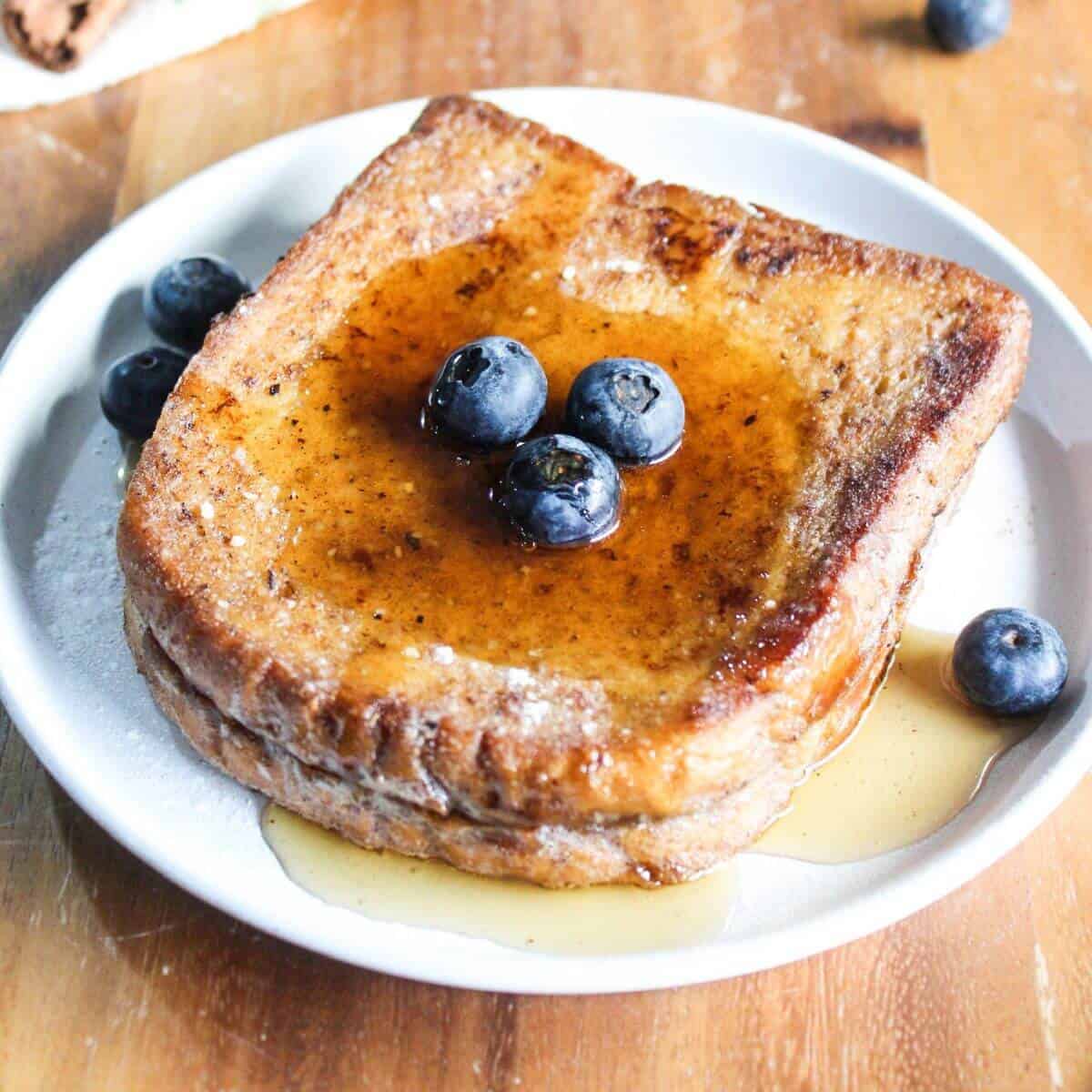 One of the best things about using an air fryer for French toast recipes is that it takes minimal effort. Within minutes, you'll have a delicious, golden-brown breakfast that you can enjoy at home.
The benefit of air frying is that you don't need to use a lot of oil because the hot air generated by the cooking cycle browns the outside. Since this method requires less oil than a skillet or griddle, you get all the deliciousness with less fat and calories!
No matter what type of bread you choose - whether it's brioche bread or Texas toast - there's no doubt that French toast cooked in an air fryer will be a hit.
Jump to:
Ingredients
Ingredients will vary slightly depending on the French toast recipe you use. Typically, you'll need sliced bread, eggs, milk, oil of choice, vanilla extract, and cinnamon.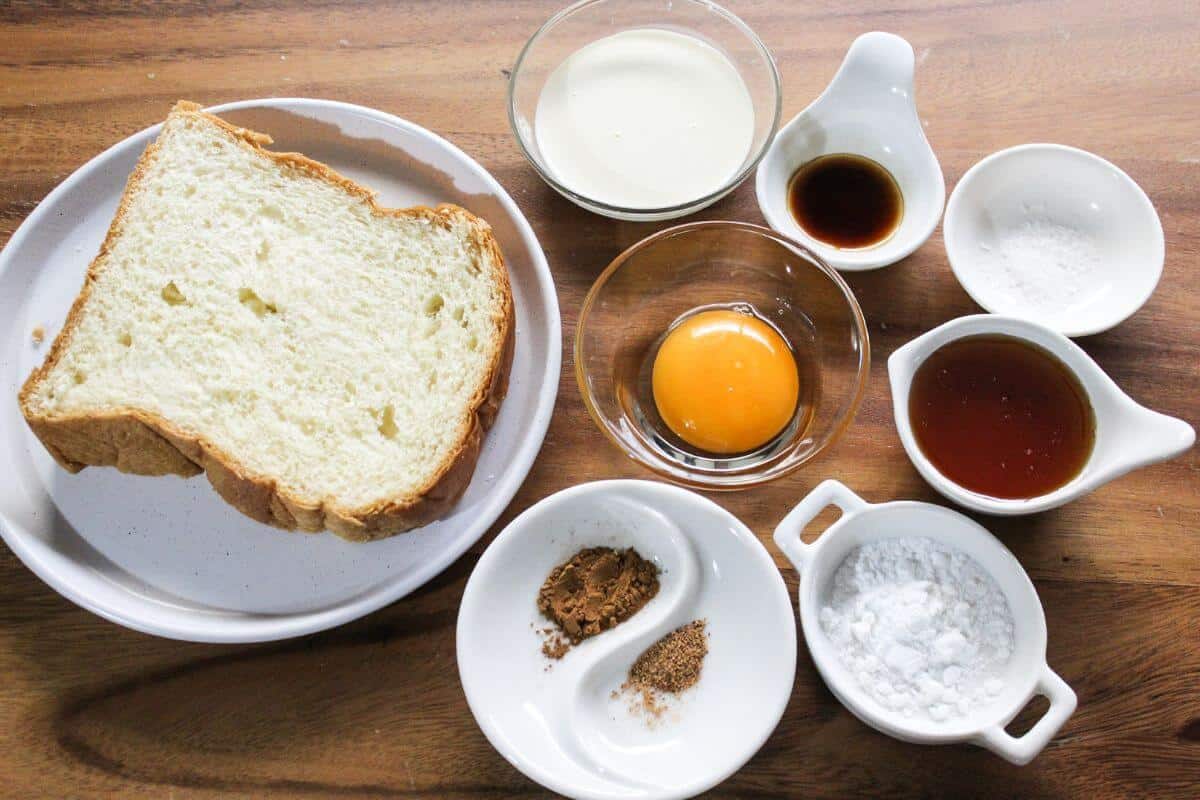 For this brioche french toast, you'll need the following:
thick slice of brioche loaf
egg yolk
heavy cream
ground cinnamon
ground nutmeg
vanilla extract
kosher salt
Scroll down to the recipe card for quantities and optional ingredients.
Instructions
To begin making French toast in an air fryer, gather all the ingredients and equipment you will need. Once you have everything ready to go, heat up the air fryer to 300°F.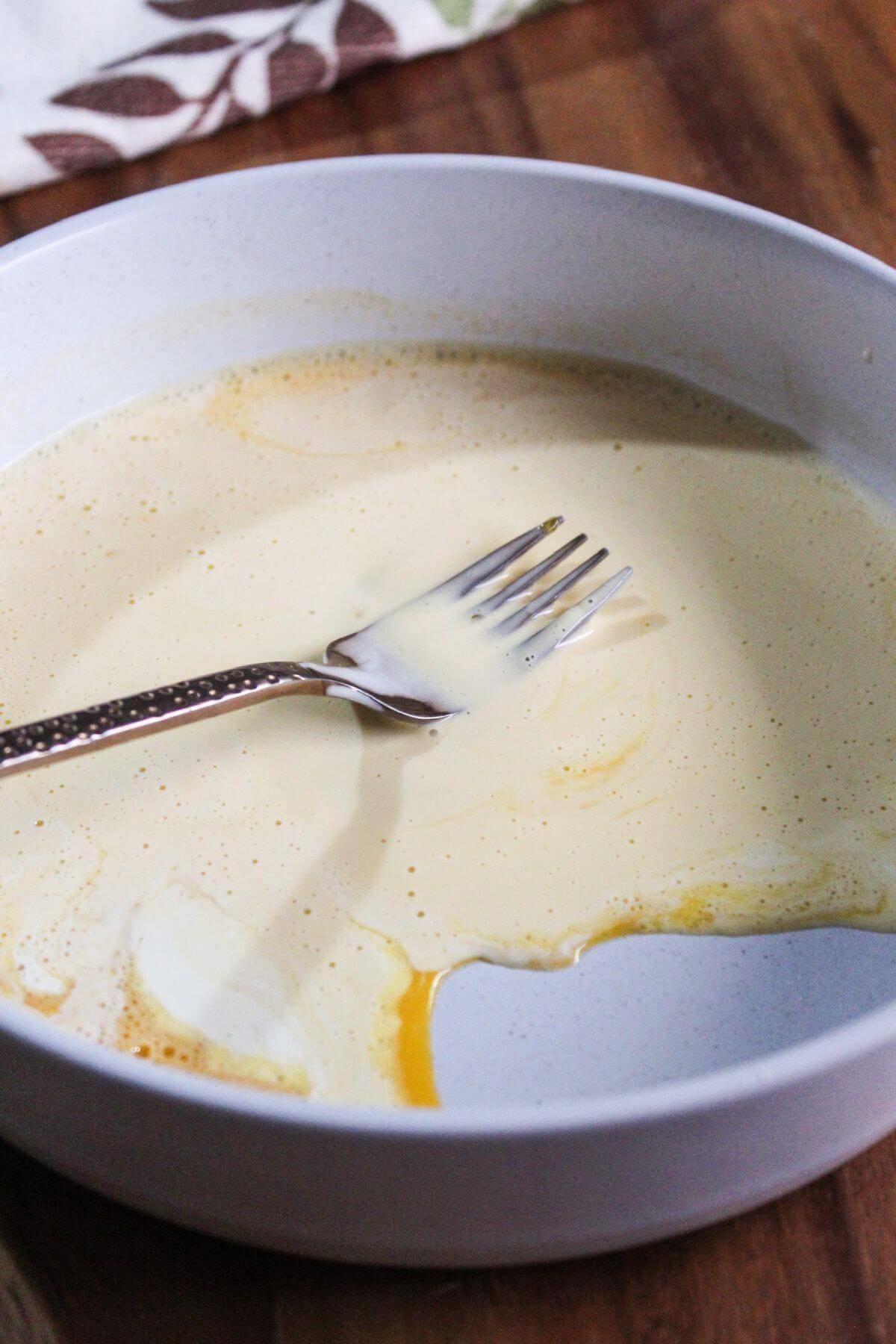 In a large shallow bowl, vigorously beat egg yolk until smooth. Then, mix in heavy cream.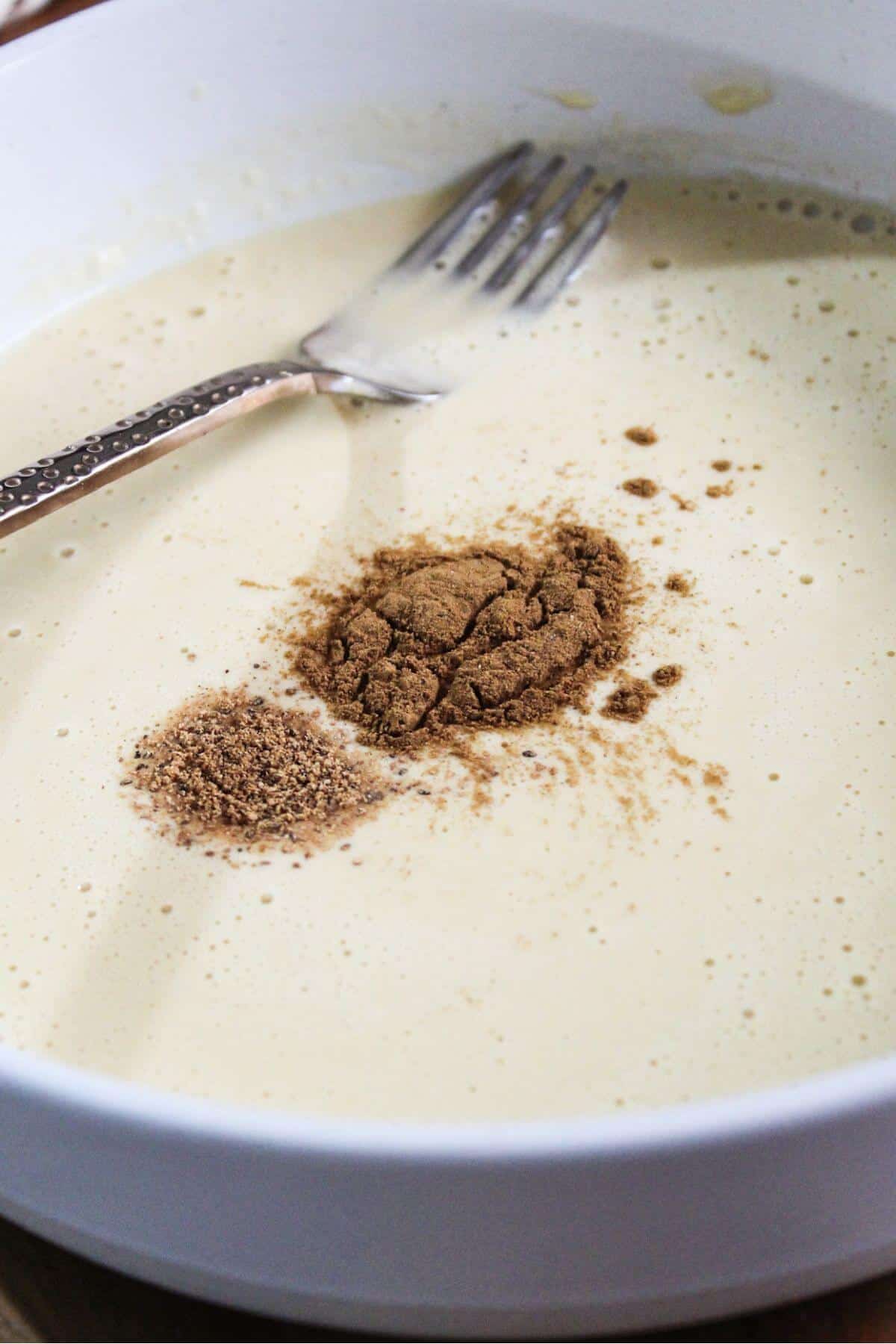 Add vanilla, cinnamon, and nutmeg. Continue to blend the ingredients until well-combined.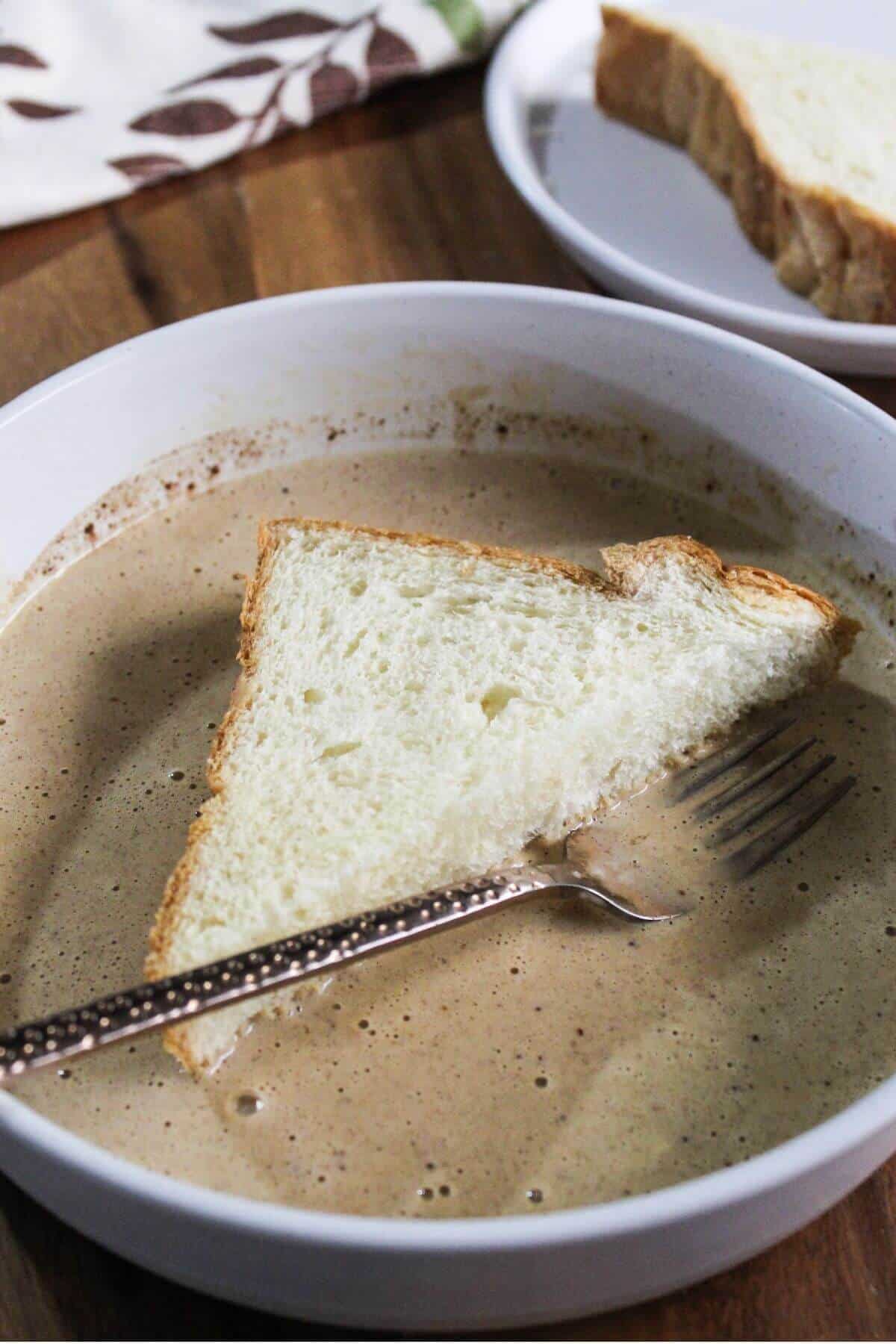 Gently place each half slice of brioche bread into the mixture. Soak for about 5 to 8 seconds.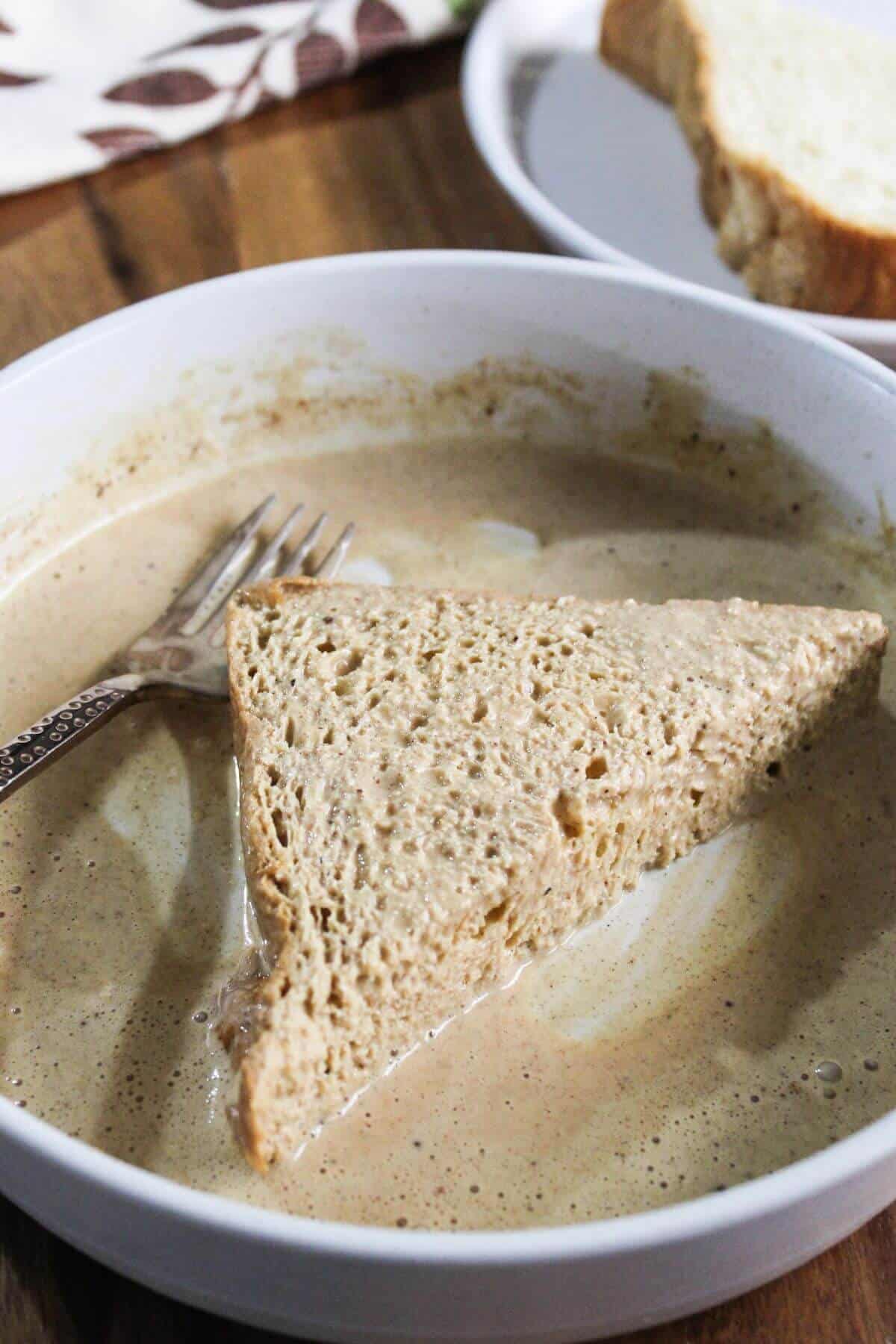 Flip each slice and soak the other side for about 5 to 8 seconds.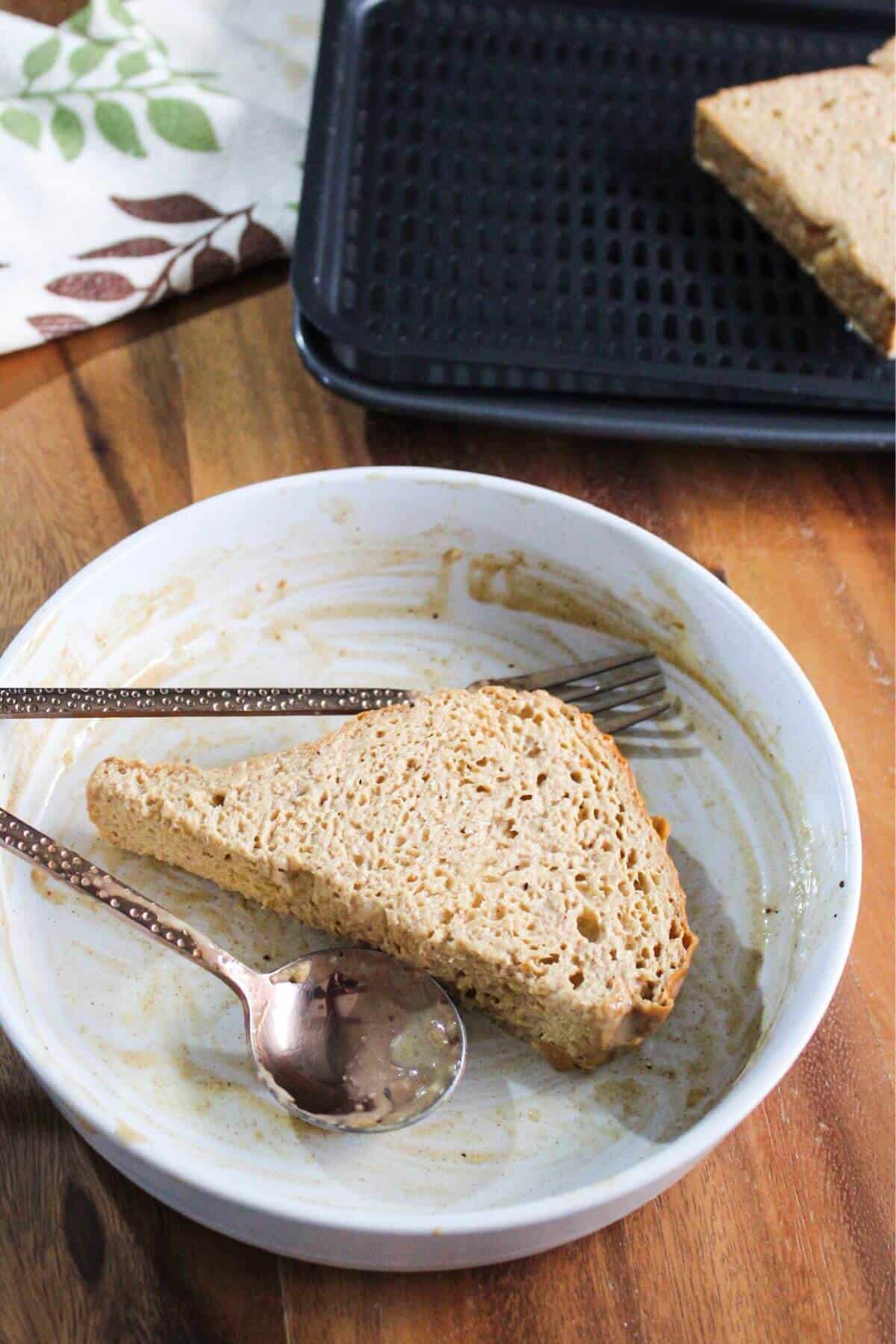 There should be enough French toast batter to soak two half slices.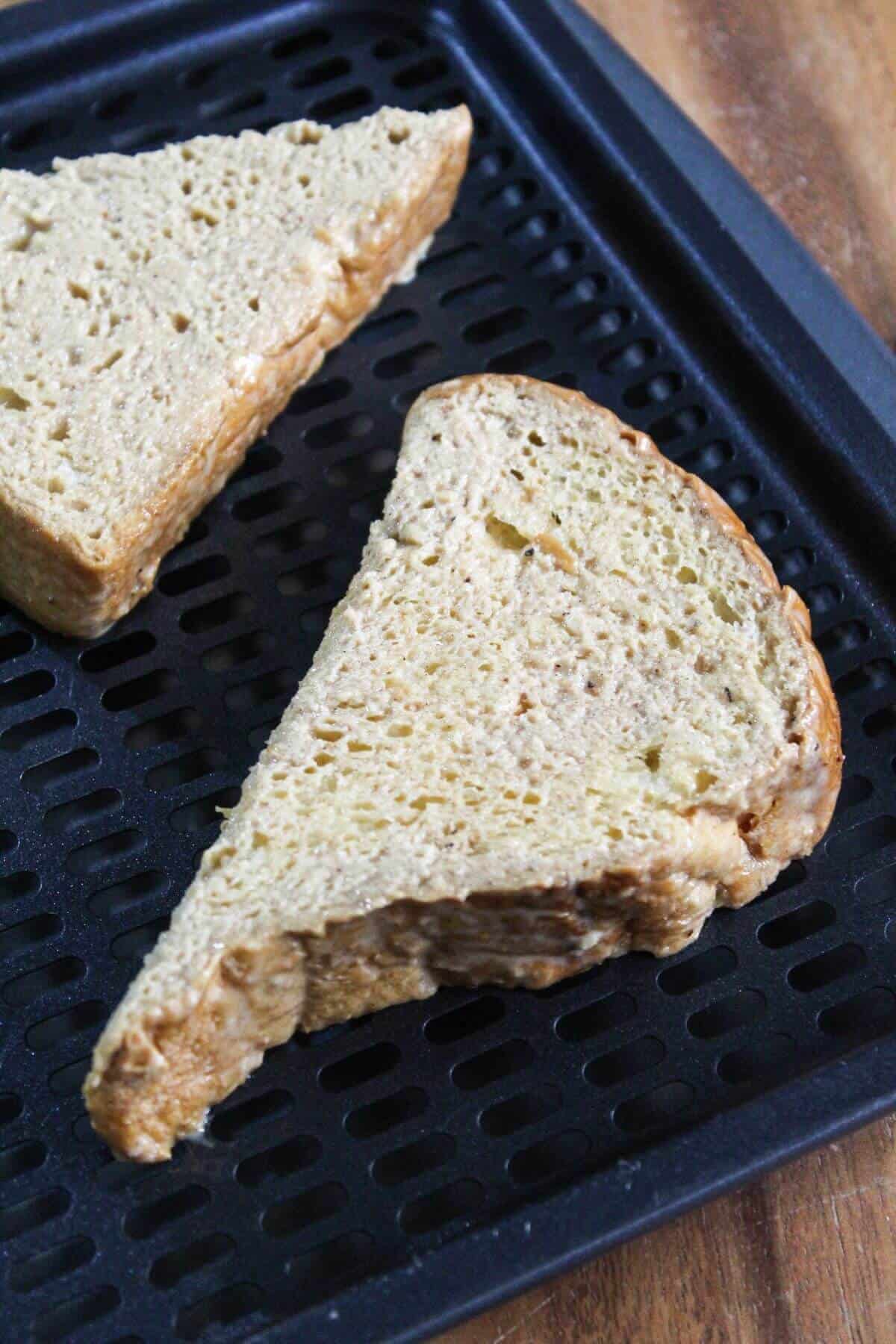 Transfer each half slice of brioche to the air fryer basket or tray.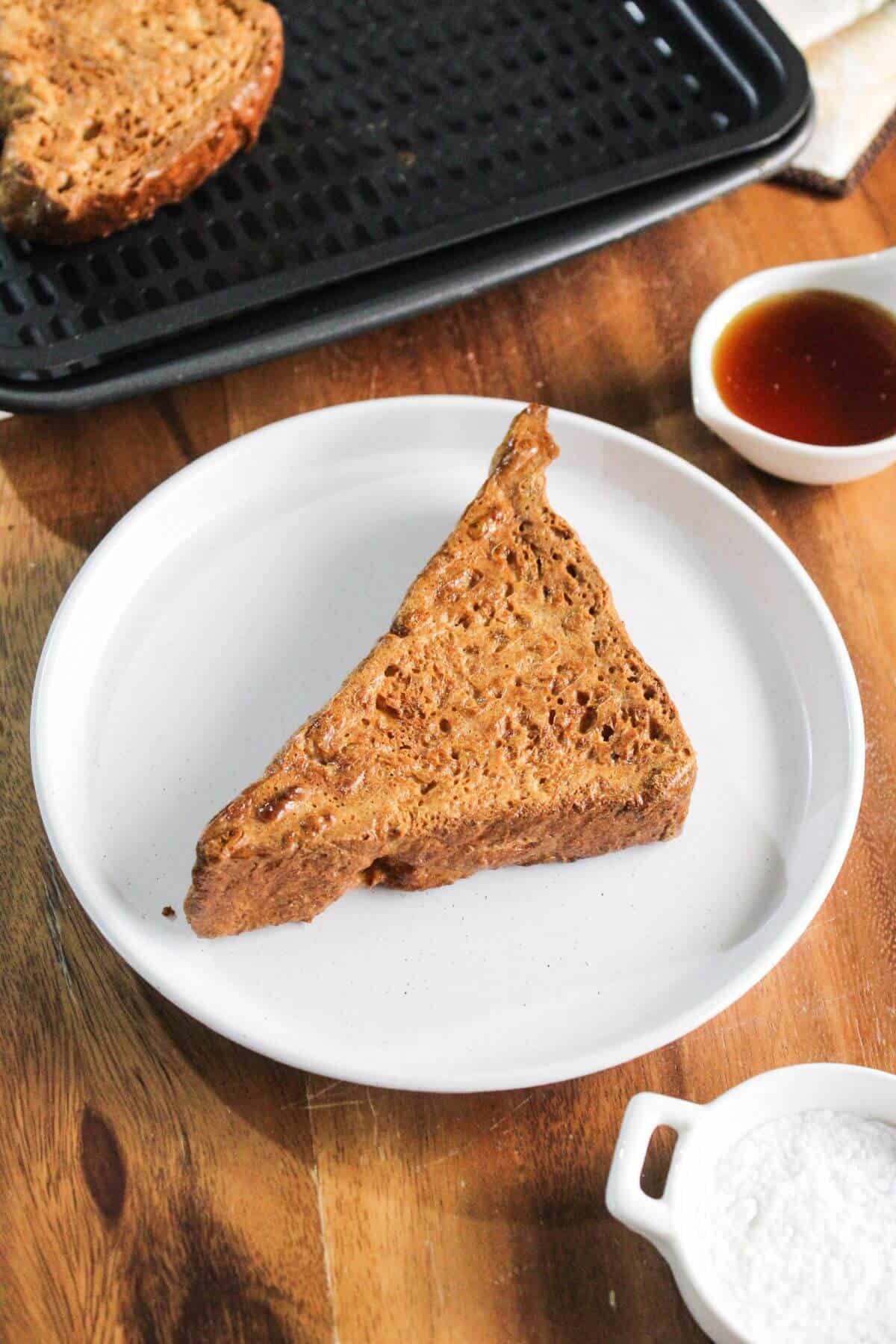 Air fry for 8 minutes or until browned, flipping each slice halfway during the cook time.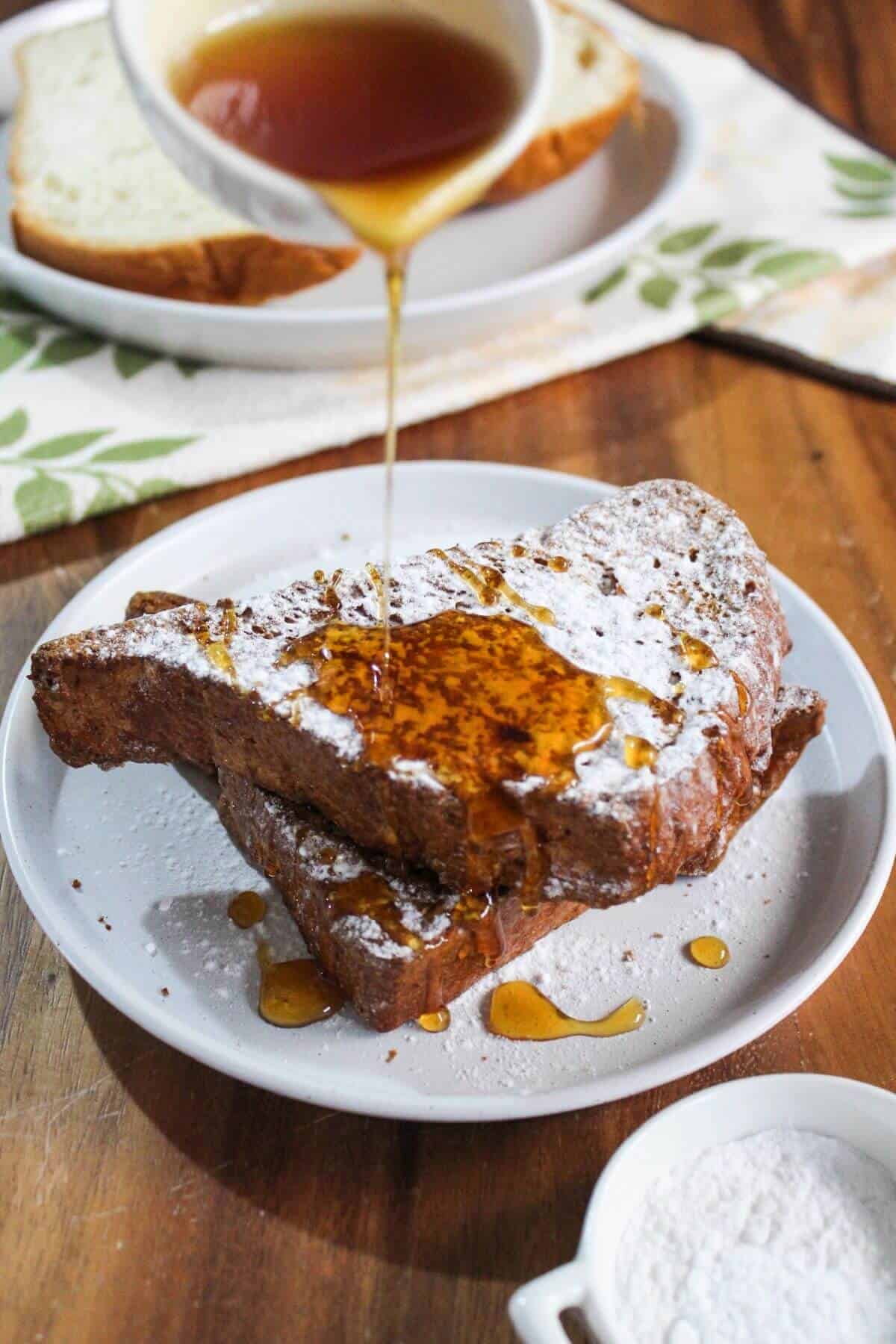 Transfer cooked French toast to a plate. Dust with powdered sugar and drizzle on maple syrup.
Variations
There are endless ways to vary an air fryer French toast recipe.
For a nuttier flavor, you can use whole-wheat or spelt brioche instead of white. Or, add finely ground walnuts or pecans to the egg mixture.
If you prefer something sweeter, top your toast with a scoop of ice cream for an indulgent breakfast! Or, add brown sugar to the egg yolk mixture.
You can also experiment with a more savory french toast by adding garlic powder and herbs to the egg mixture before cooking.
Tips
Flip the pieces of bread halfway through so both sides are fully cooked.
Spray some oil on your French toast before putting it in the air fryer if you want an extra crispy result,. You can also leave them in a few minutes longer or turn up the cooking temperature.
Check every couple of minutes to ensure each piece comes out just right. They should be crunchy and golden brown on the outside and soft on the inside. Depending on how thick your slices of bread are, they can take anywhere from 5 to 10 minutes.
Spray or brush oil on the basket or tray before adding slices of bread to prevent the cooked French toast from sticking.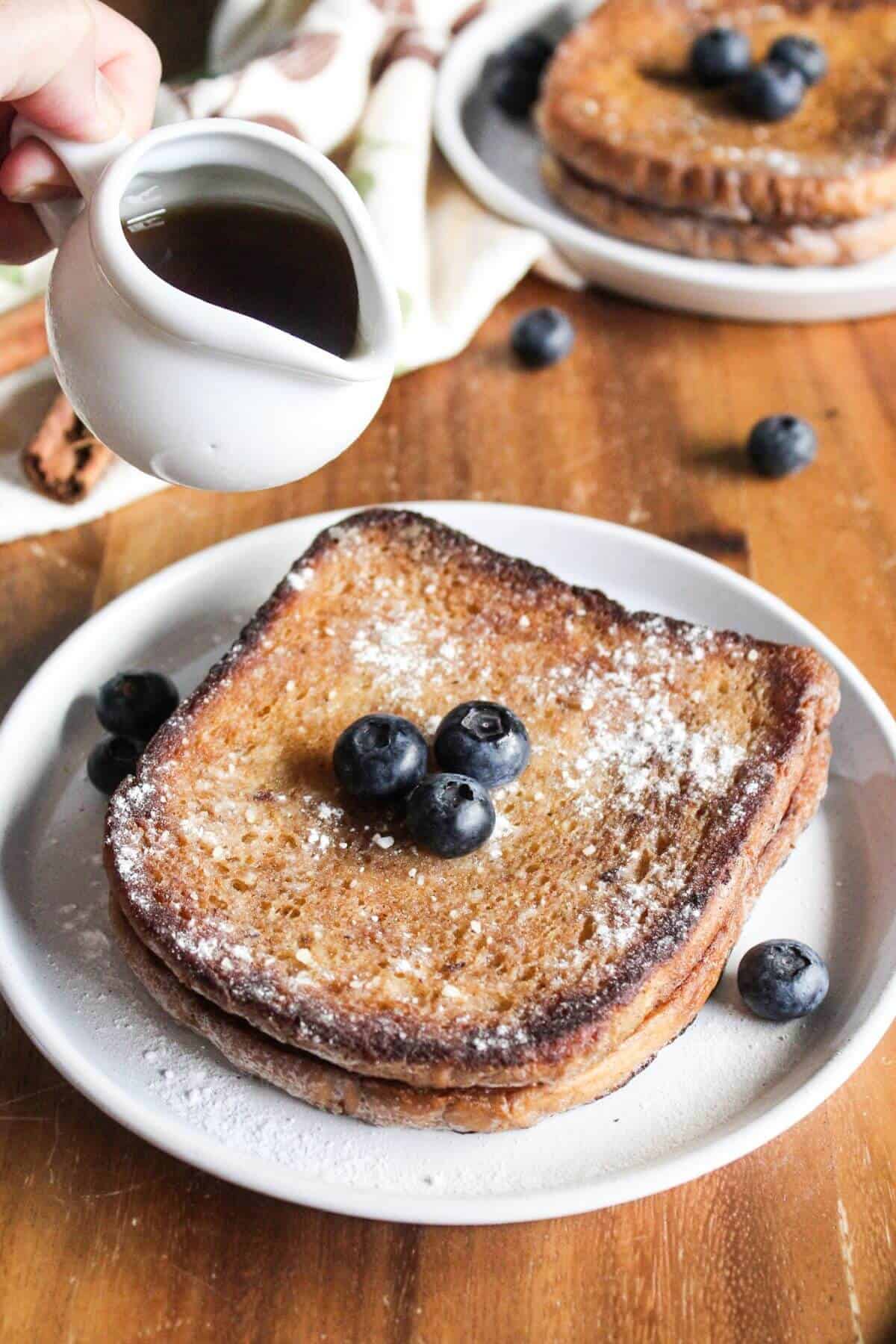 Serving suggestions
There's no right or wrong way to serve this tasty breakfast dish. You can go with a classic French toast taste by spreading on softened butter and drizzling with maple syrup.
For an extra special treat, top your slices with fresh berries and whipped cream. Strawberries and blueberries are great choices. Or, get creative with nut butter, jam, honey, or even a sprinkle of cinnamon sugar.
Try adding chopped nuts like almonds or walnuts to give your French toast an extra crunch. To make your French toast a little more indulgent, add some melted chocolate chips or drizzle with caramel sauce for a decadent treat.
Accompaniments are also a great way to elevate your air fryer French toast into something special. Try serving it up with some crispy bacon or oven-baked sausage, yogurt parfaits topped with granola and diced fruits, or scrambled eggs infused with herbs and spices. Don't forget the sides either – creamy grits is a classic pairing that will bring out the sweetness in your air fryer French toast!
Storage
Before storing, let the toast cool completely. Once cooled, you can place it in an airtight container or zip-top bag and store it in the refrigerator for up to three days. To reheat, place the toast back in the air fryer for a few minutes until it's warmed. Alternatively, you can reheat it in the microwave for about 30 seconds.
If you want to store your leftover French toast for longer than three days, you can freeze it. Place each piece of toast on a parchment-lined baking sheet and freeze until solid. Once frozen, transfer them to a freezer-safe container or bag and store them in the freezer for up to two months. When ready to eat, thaw overnight in the refrigerator then reheat as desired.
FAQ
Why doesn't my French toast get crispy?
Make sure the air fryer is hot before placing the prepared slices of bread in it. This will help them cook faster and get crispier. You can also spray a little oil over the slices before air frying.
How do you reheat French toast in an air fryer?
To begin, preheat your air fryer to 350°F. Cook for 3 to 4 minutes until heated. Remove from the air fryer and enjoy!
What type of bread is best for French toast?
Brioche is an ideal option since it has an eggy, buttery flavor that pairs well with sweet toppings like syrup or berries. It also holds up well to soaking in the egg mixture without becoming too soggy.

Challah bread is another great choice since it's slightly sweet and has a light yet dense texture that holds up nicely when fried.

If you're looking for something slightly healthier, whole wheat or oat bread are both excellent options. They have a mild flavor that won't overpower the other ingredients and they provide some extra fiber and nutrition compared to white bread.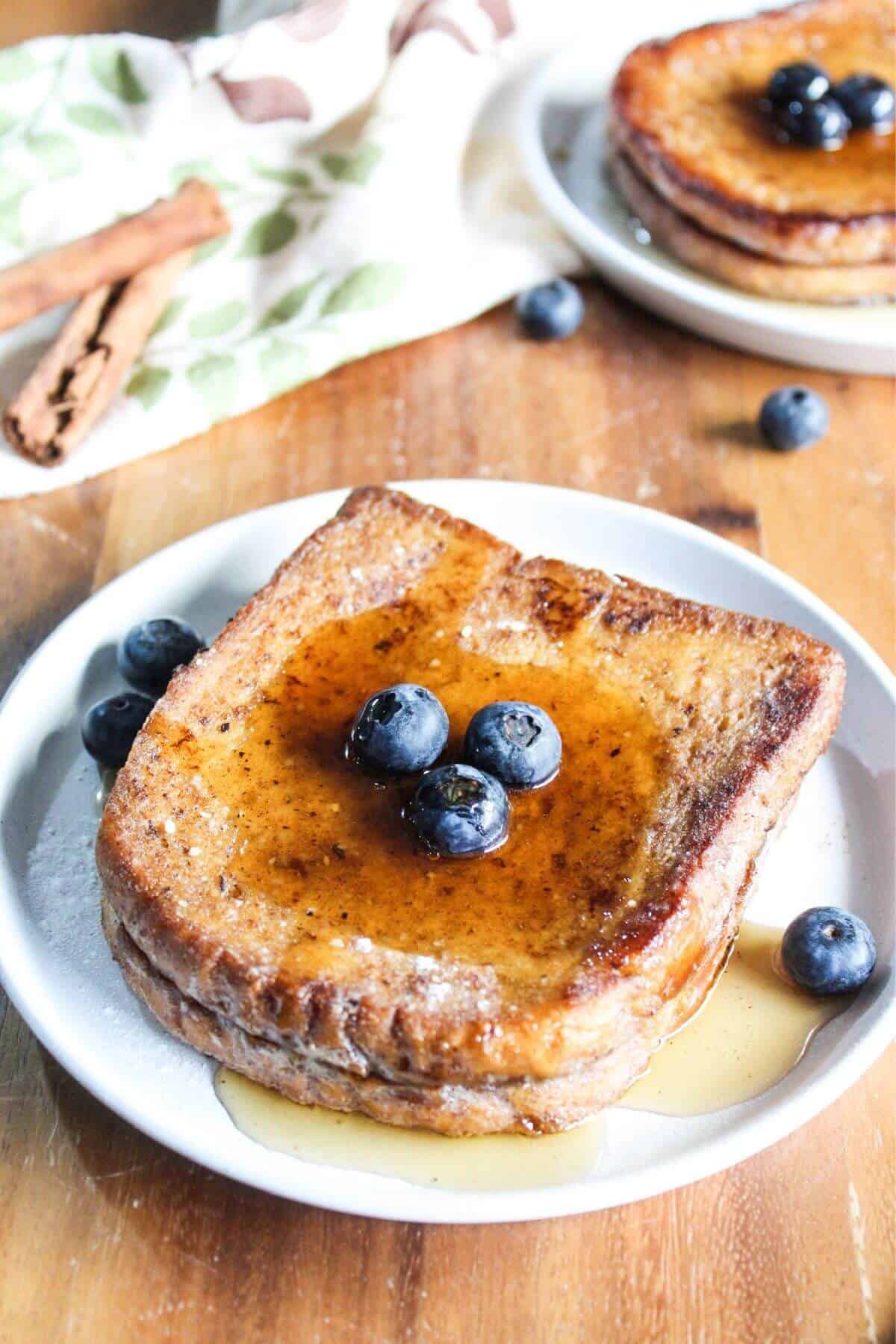 Related Recipes
Want a few more easy breakfast ideas for one person? Here are a few more recipes to try:
Follow us on Facebook, Instagram, and Pinterest to see more recipes.
Recipe
Air Fryer French Toast for One
Try this delicious air fryer french toast! You'll love the crispy outside and soft, fluffy inside without the need to stand over a hot stove.
Ingredients
1

thick slice

brioche loaf

1 inch thick, cut in half

1

large

egg yolk

⅛

cup

heavy cream

¼

teaspoon

ground cinnamon

⅛

teaspoon

ground nutmeg

½

teaspoon

vanilla extract

pinch

of kosher salt
Garnish as desired:
confectioner's sugar

maple syrup

fresh berries
STOVETOP OPTION:
1-2

tablespoons

olive oil

1-2

tablespoons

butter

2

slices

pre-cut white bread
Instructions
Pre-heat Air Fryer at 300F. Set to 8 minutes.

In a shallow large bowl, vigorously beat egg yolk until smooth. Simply use a fork, a whisk, or an egg beater.

Pour heavy cream. Mix well until creamy.

Add vanilla, cinnamon, and nutmeg. Continue to blend the ingredients until well-combined.

Gently place half slice of brioche into the mixture. Soak each side of the bread for about 5 to 8 seconds.

Transfer each half slice of brioche to the Air Fryer tray. When you're using an Air Fryer tray, always prepare another tray at the bottom to avoid any mess.

Insert Air Fryer tray into the Air Fryer. Use the middle cooking chamber, near the rotisserie catch.

Turn slices of bread at the last 3 or 4 minutes.

Carefully remove Air Fryer tray when the timer ends.

Allow to cool for a minute then transfer to a serving plate.

Dust with confectioner's sugar and drizzle with maple syrup. Add some fresh berries, if desired.

Serve immediately and enjoy every forkful.
STOVETOP OPTION:
Follow steps for combining ingredients and soaking bread.

Add oil and butter in heated non-stick pan.

Gently place each slice of bread on pan. Cook for 3 to 4 minutes on each side over low heat.

Follow the steps for serving French Toast.
Notes
Not all Air Fryers are the same. This Air Fryer recipe was tested on an Instant Vortex Plus Air Fryer Oven.
TIPS:
Thick Brioche slices are perfect when making French toast; they are soft inside yet sturdy enough to hold the creamy mixture. If Brioche bread is unavailable and you don't have an Air Fryer, a pre-sliced white bread cooked in the stovetop will do just fine.
If you don't have heavy cream, alternatives are half and half, whipping, or double cream. Note that double cream contains more fat than heavy cream, making the former richer than the latter.
Do not oversoak but do not under soak the slices of bread into the creamy mixture. The creamy mixture is measured to cover one thick Brioche slice, divided in half.
Pair with some berries, if desired. Fresh berries will not only brighten up your plate but counters the sweetness of the French Toast.
The recipe is set at 8 minutes, but if you prefer a crispier crust, add 1 or 2 more minutes to the timer.
Nutrition
Calories:
314
kcal
|
Carbohydrates:
18
g
|
Protein:
8
g
|
Fat:
23
g
|
Saturated Fat:
13
g
|
Polyunsaturated Fat:
1
g
|
Monounsaturated Fat:
5
g
|
Cholesterol:
277
mg
|
Sodium:
176
mg
|
Potassium:
53
mg
|
Fiber:
0.3
g
|
Sugar:
1
g
|
Vitamin A:
984
IU
|
Vitamin C:
0.2
mg
|
Calcium:
67
mg
|
Iron:
1
mg
© LittleBitRecipes.com - All content and photographs are copyright protected by us. We appreciate sharing our recipes; but copying, pasting, or duplicating full recipes to any social media, website, or electronic/printed media is strictly prohibited and a violation of our copyrights. Single photos may be used, provided that full credit is given to us along with a link back to the original content.