Give this Polish radish salad a try for a fresh and crunchy side dish that is easy to prepare. Combined with dill, cottage cheese, and sour cream, the tart little root vegetables transform into a tasty treat.
This simple yet delicious recipe combines freshly grated radishes with an array of flavor-packed ingredients. The result is a colorful and flavorful dish that's sure to please. It's an excellent choice for a cookout and goes well with grilled BBQ boneless chicken.
The key to this salad recipe is combining the right ingredients in perfect proportions, starting with the main star: fresh radishes! These root veggies are available year-round, making them easy to find at your local grocery store or farmers market.
Radishes boast an unmistakable crunchy texture and slightly peppery flavor that makes them ideal for salads. Grating them ensures maximum flavor and texture in each bite!
Jump to:
Ingredients
You only need seven simple ingredients to make this easy radish salad recipe.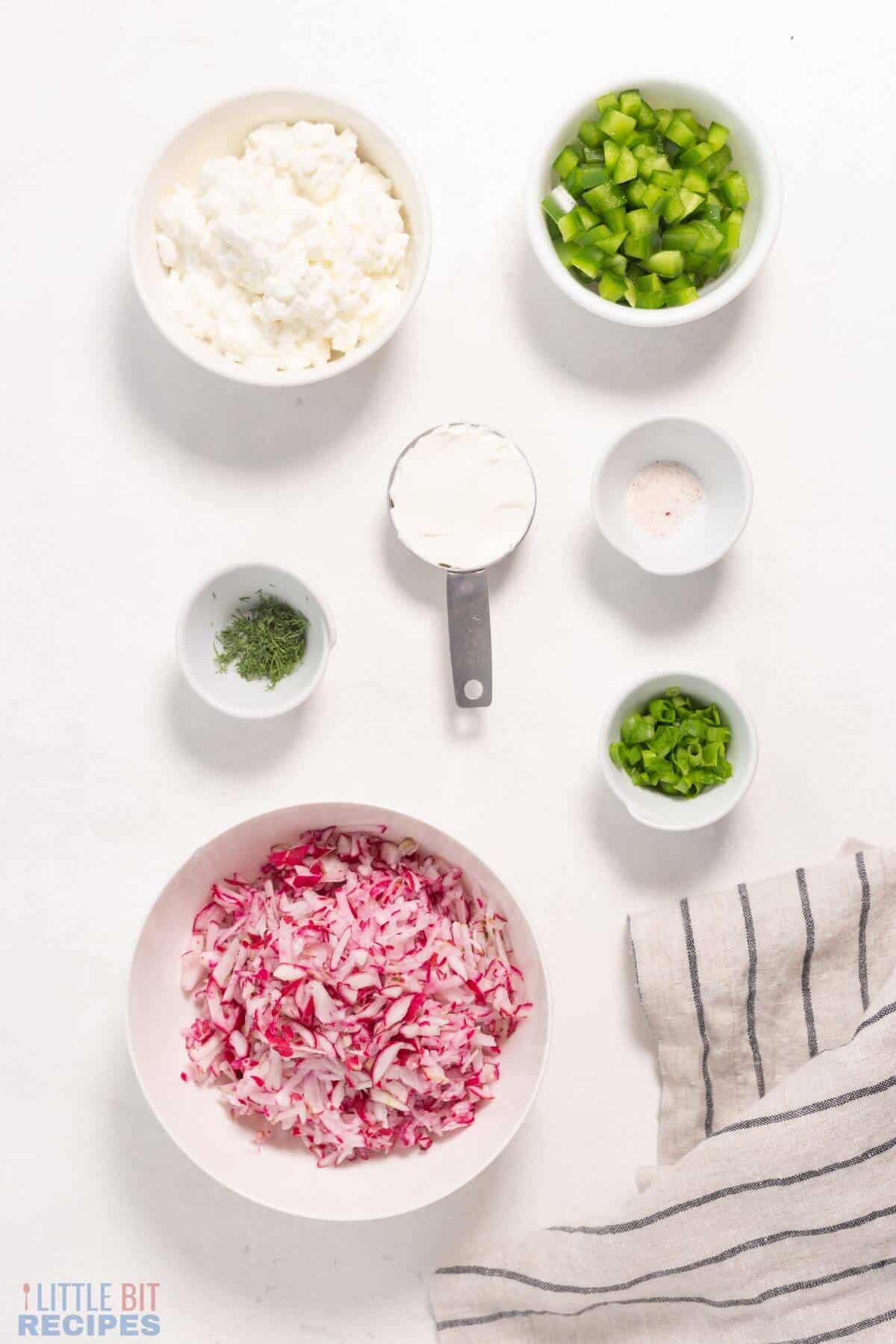 Here's what you'll need to make the creamy salad:
Radishes
Cottage cheese
Green bell pepper
Sour cream
Green onions
Fresh dill
Salt & pepper
Scroll down to the recipe card for the amounts used.
Instructions
The preparation of this fresh radish salad requires only a few simple steps. Just shred the radishes, chop the green peppers, measure the remaining ingredients, and mix everything together. That's it!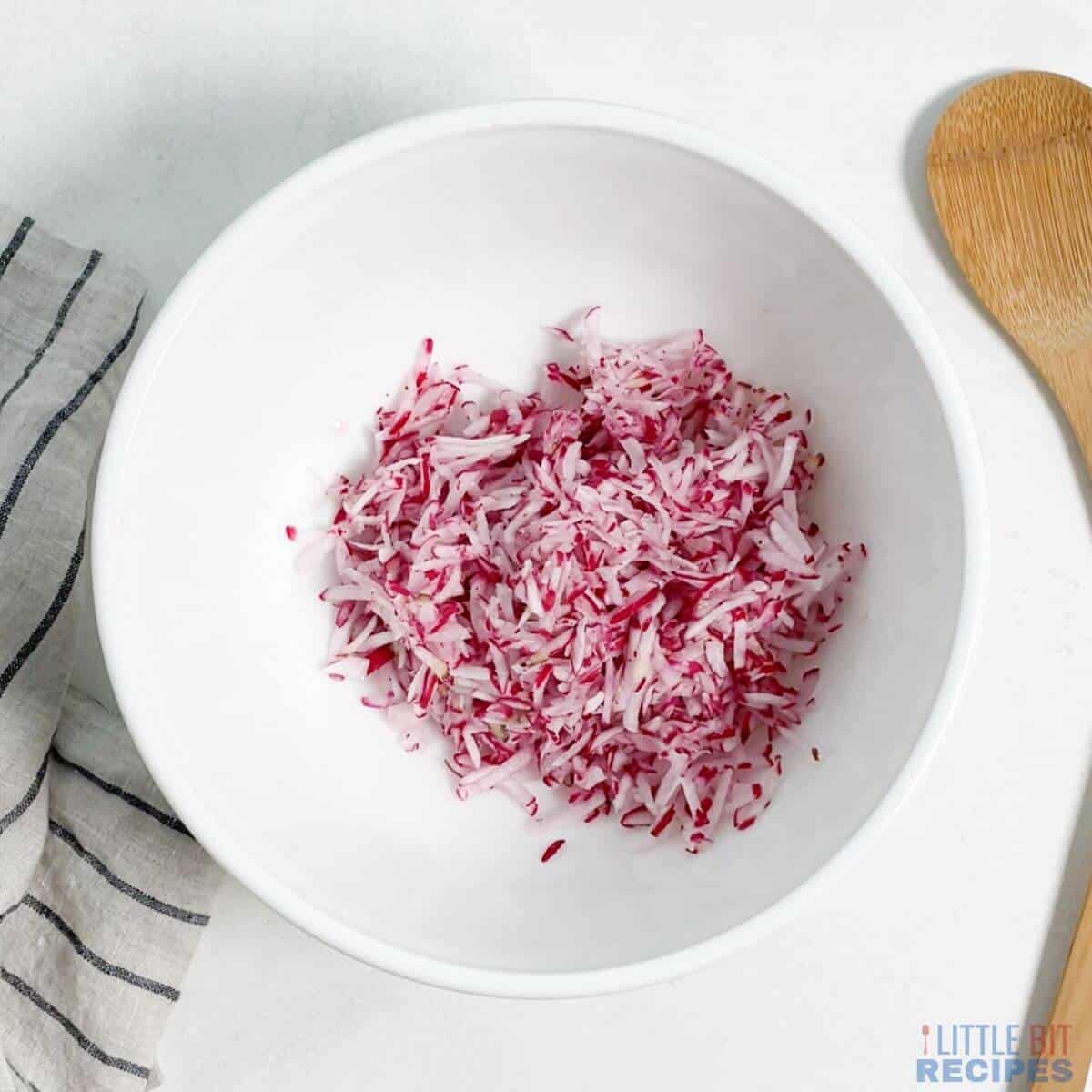 Place the grated radishes in a medium mixing bowl.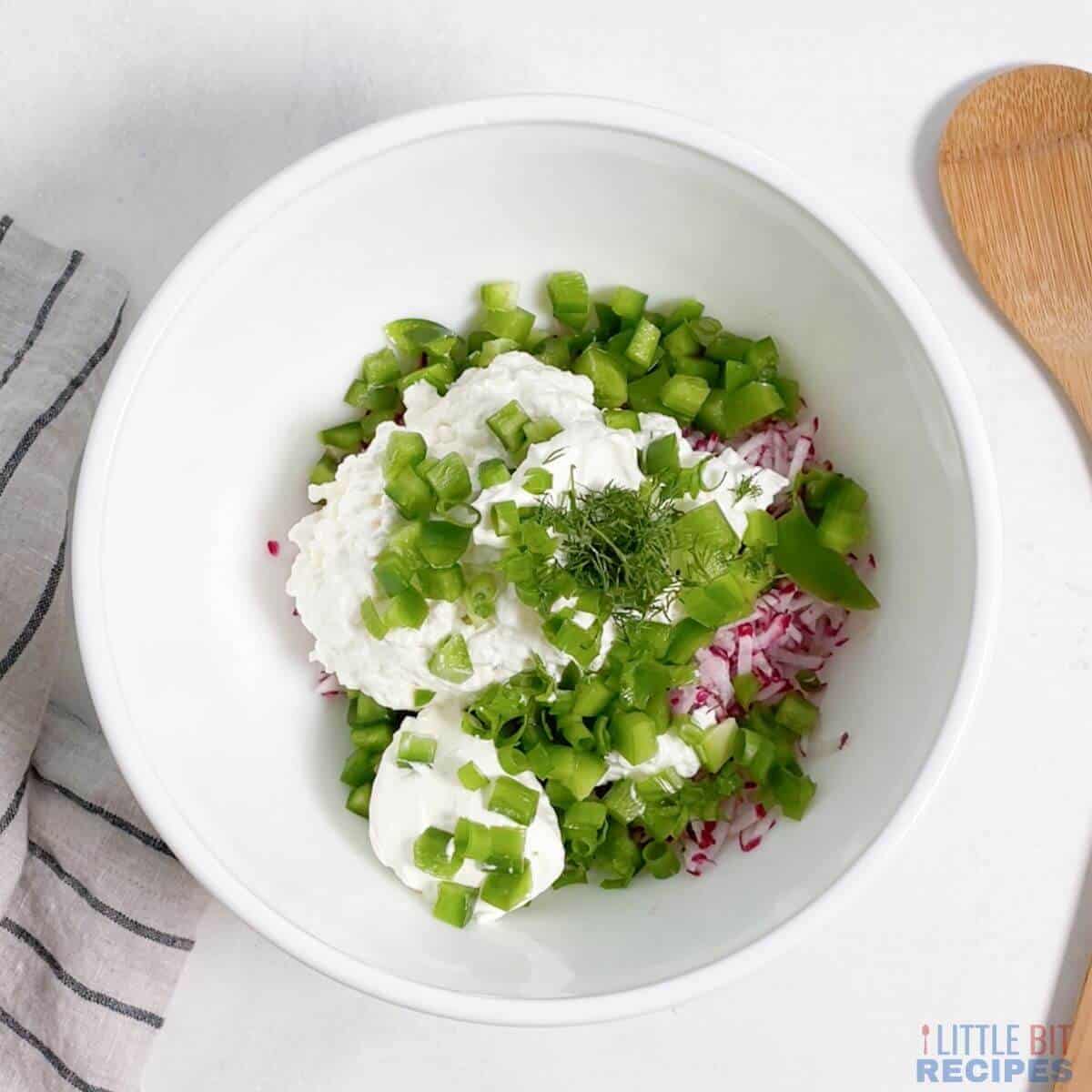 Add the cottage cheese, green peppers, sour cream, green onion, fresh dill, salt, and pepper.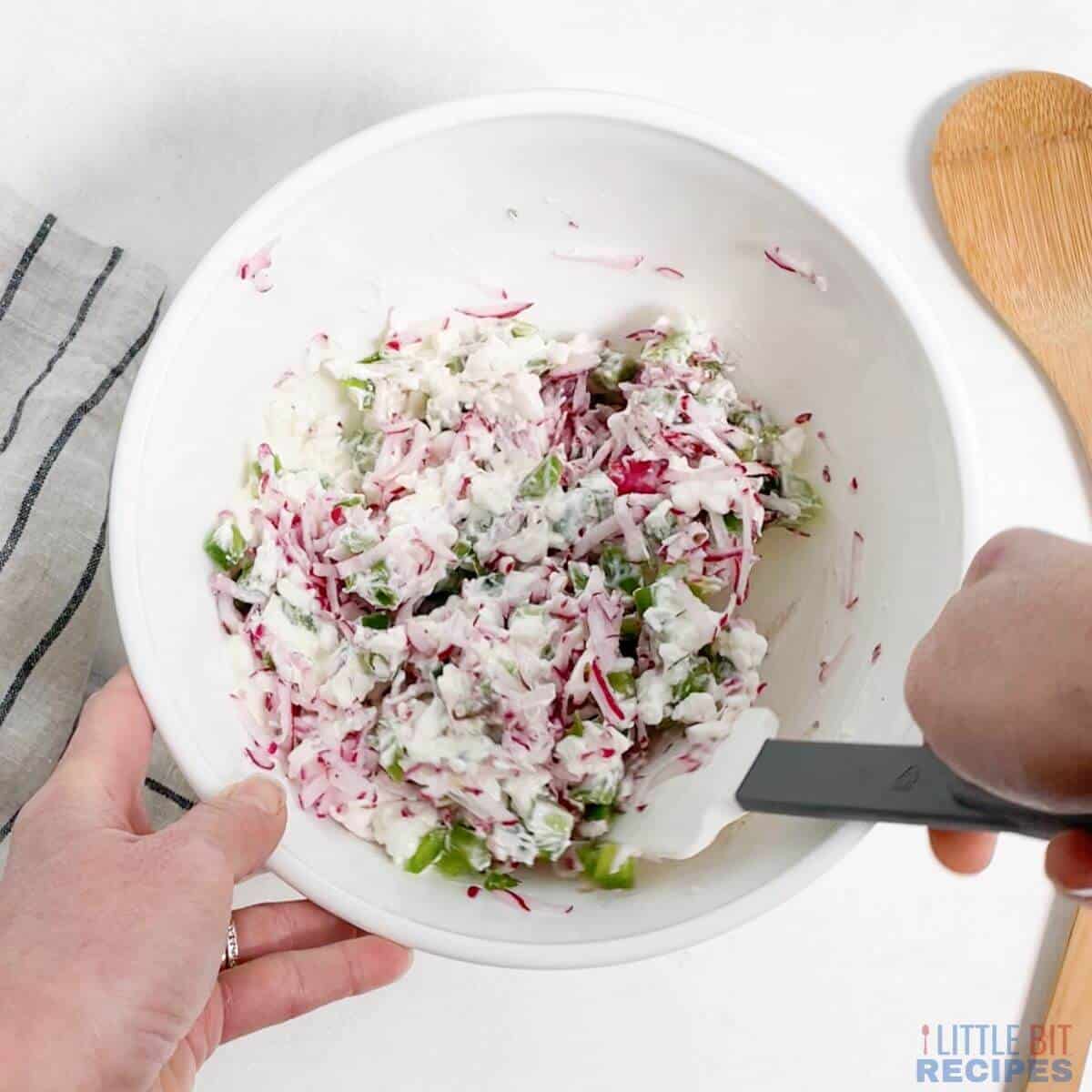 Stir everything together.
Chill in the refrigerator for at least 30 minutes.
It's best to let the salad sit for at least a half an hour to allow the flavors to meld before serving.
Variations
The beauty of this salad lies in its versatility. There are countless variations you can add or substitute to make it your own. You'll find a few ideas below.
Make it a cucumber radish salad recipe. Replace the green peppers with thinly sliced cucumber.
Use feta cheese. A great alternative to cottage cheese is crumbled feta cheese.
Add some honey. Just a touch of honey will add some extra sweetness.
Up the flavor with fresh garlic and red onion. Diced red onion and minced garlic will enhance the taste.
Make it tangy. A little bit of apple cider vinegar or lemon juice will add some tartness.
Experiment with different types of radishes. There's no need to use the standard red. Other great options include daikon and watermelon.
Try different fresh herbs. If you don't like dill, use fresh parsley, fresh chives, or fresh mint instead.
There are so many different ways to customize this refreshing salad!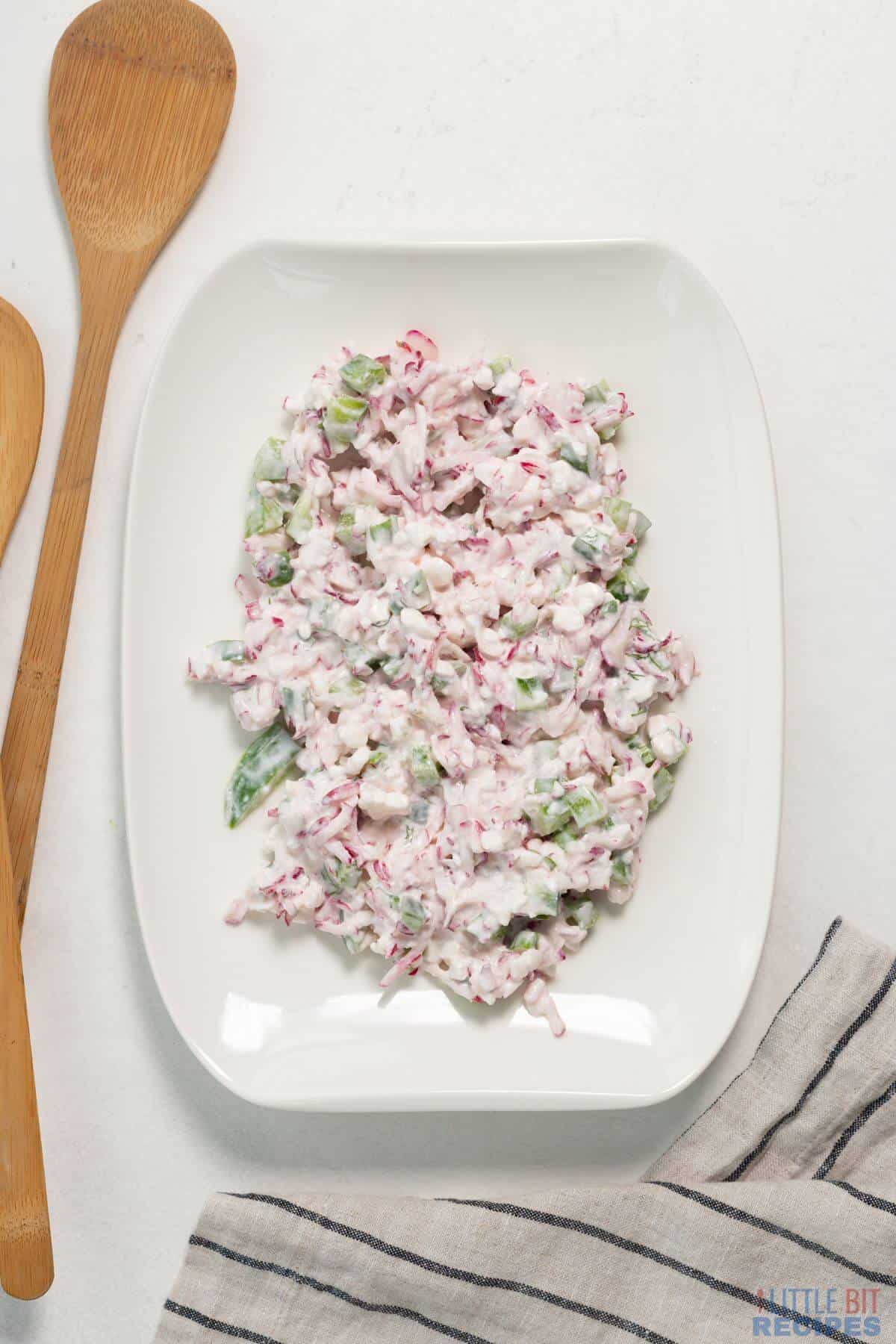 Tips
Choose firm radishes. To pick the best ones, gently squeeze them. You should pass on any that are soft.
Grate the radishes finely. Grated is preferred over thinly sliced radishes as it brings out more flavor.
Mix in a small amount of olive oil to help the flavors meld together better.
Serving suggestions
Radish salad pairs well with a main dish that has rich flavors. Try serving it with traditional Polish dishes like pierogi or kielbasa. It also goes well with a gefilte fish recipe.
For an added crunchy texture, top the salad with freshly roasted sunflower seeds or walnuts. These nutty flavors will contrast nicely with the crispness of the radishes while adding eye appeal to the plate.
As a side dish, you can serve the salad with grilled meats such as marinated steak or pork tenderloin for a complete meal. Alternatively, do it as an appetizer alongside light snacks like tortilla strips and dip.
Storage
Store in an airtight container in the refrigerator. To keep the salad fresh, place a piece of plastic wrap directly onto the surface of the salad before putting the lid on. This will help prevent any air from getting inside and spoiling your leftovers.
Radish salad should last up to five days when stored properly in the refrigerator.
FAQ
Why make a salad with radishes?
Radishes are a great addition to salads because they provide a crunchy texture and a slightly spicy flavor. They are also low in calories, so they can help a salad more filling without adding too many extra calories.
What goes well with radishes?
The crunchy texture pairs well with leafy greens like spinach and kale, as well as creamy dressings made with yogurt or sour cream.
Are radishes better cooked or raw?
If you like the sharp flavor of radishes, then eating them raw in a salad is probably the best way to go. When cooked, radishes become soft and tender, with a milder flavor. So those who don't care for their strong flavor may prefer to enjoy them cooked.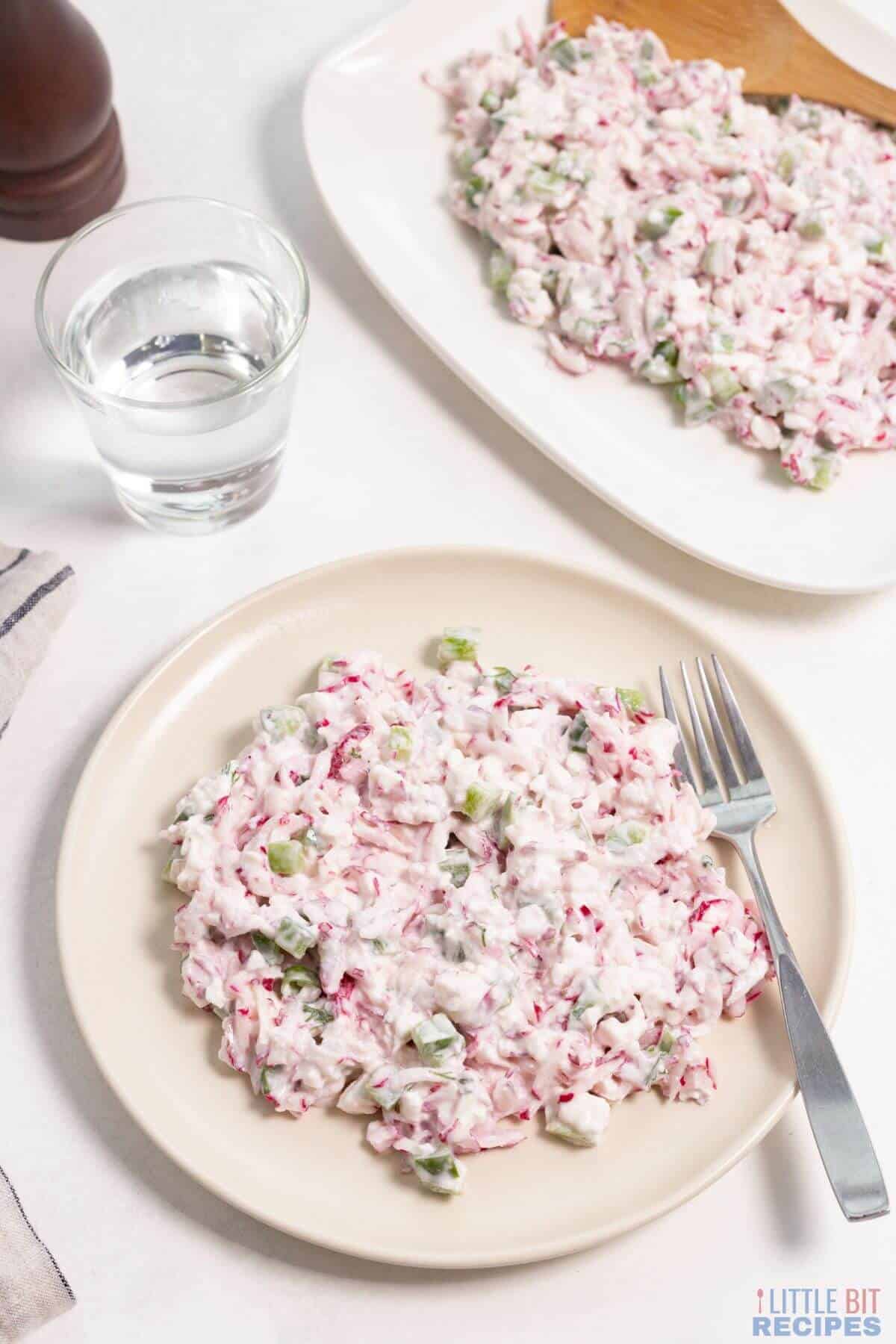 Related Recipes
Be sure to check out some of our other easy salads. Here are just a few of our favorites.
Follow us on Facebook, Instagram, and Pinterest to see more recipes.
Recipe
Radish Salad
Give this radish salad a try for a fresh side that is easy to prepare. The creamy dish turns the root vegetable into a tasty treat.
Ingredients
8

ounces

cottage cheese

6

ounces

radishes

grated

1

green onion

thinly sliced

¼

cup

sour cream

½

teaspoon

chopped fresh dill

1

small green bell pepper

chopped

¼

teaspoon

salt

Black pepper

optional
Instructions
Place the cottage cheese in a fine mesh strainer over a bowl and let sit for about 15 minutes to remove any excess liquid.

In a new bowl, mix the cottage cheese with the radishes, onions, sour cream, dill, green pepper, salt, and pepper (if desired), and chill for at least 30 minutes.
Notes
Add chopped red peppers, cucumber, or celery to the salad.
If desired, the radishes can be sliced instead of grated.
Nutrition
Calories:
95
kcal
|
Carbohydrates:
5
g
|
Protein:
7
g
|
Fat:
5
g
|
Saturated Fat:
2
g
|
Polyunsaturated Fat:
0.2
g
|
Monounsaturated Fat:
1
g
|
Cholesterol:
18
mg
|
Sodium:
346
mg
|
Potassium:
210
mg
|
Fiber:
1
g
|
Sugar:
3
g
|
Vitamin A:
258
IU
|
Vitamin C:
19
mg
|
Calcium:
76
mg
|
Iron:
0.3
mg
© LittleBitRecipes.com - All content and photographs are copyright protected by us. We appreciate sharing our recipes; but copying, pasting, or duplicating full recipes to any social media, website, or electronic/printed media is strictly prohibited and a violation of our copyrights. Single photos may be used, provided that full credit is given to us along with a link back to the original content.