The smell of freshly cooked Italian minestrone soup is enough to make anyone's mouth water. With just a few simple ingredients, you can make this hearty and delicious soup in no time at all.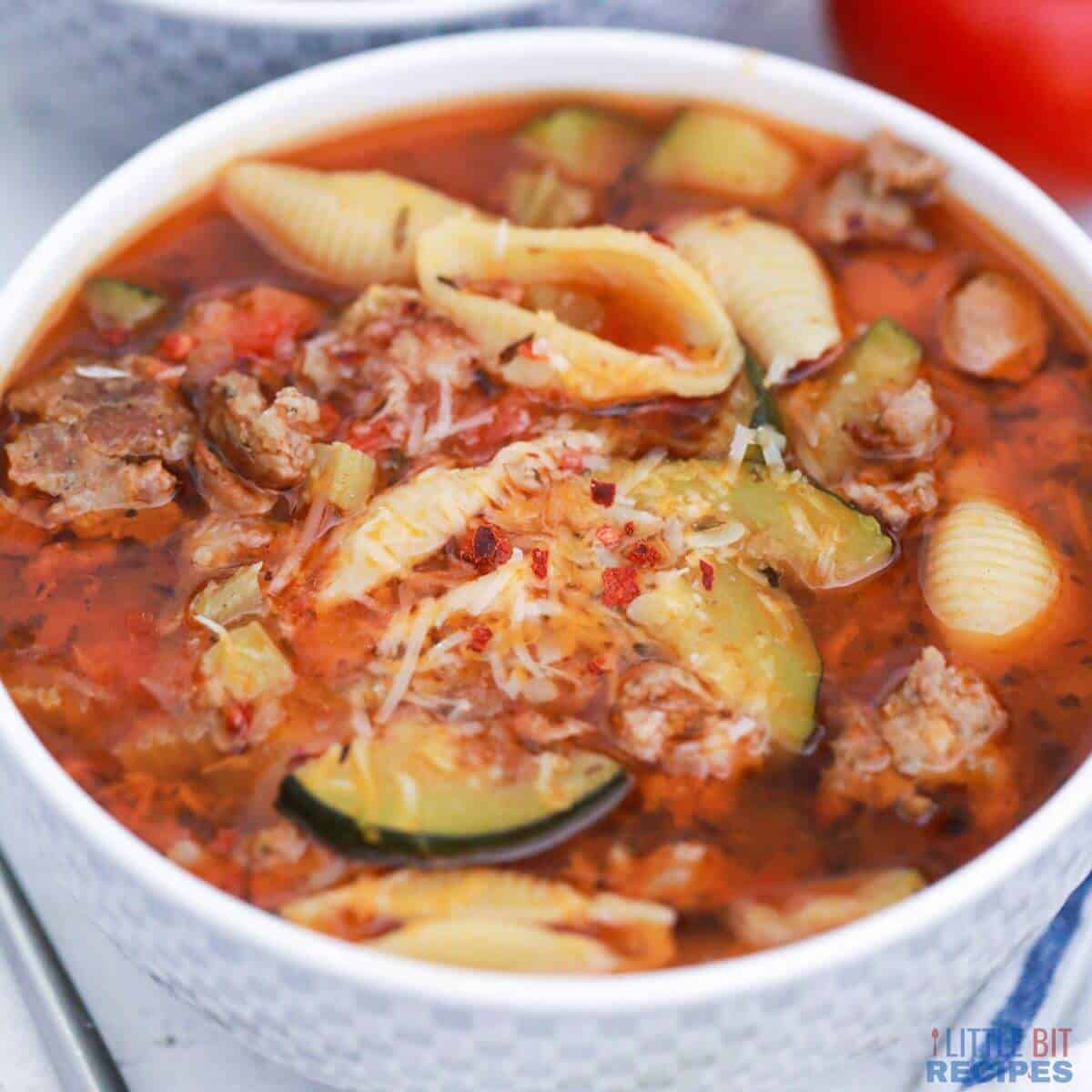 Nothing warms up a winter night like a hearty bowl of soup. If you're looking for something delicious and easy to make, try out this take on a classic recipe!
Loaded with flavor, it's a perfect dish for busy weeknights or when you want something comforting and warm. Not only is it full of flavor but it's also packed with healthy ingredients like tomato, zucchini, celery, and more!
The secret to this classic Italian favorite lies in its simplicity. Everyday ingredients combine together perfectly. The vegetables and pasta provide a nice presentation as well as bulk up the dish for additional servings.
Jump to:
Ingredients
Ready to make a delicious and nutritious Italian Minestrone Soup? All you need is some basic ingredients, and you'll be well on your way to creating a satisfying meal.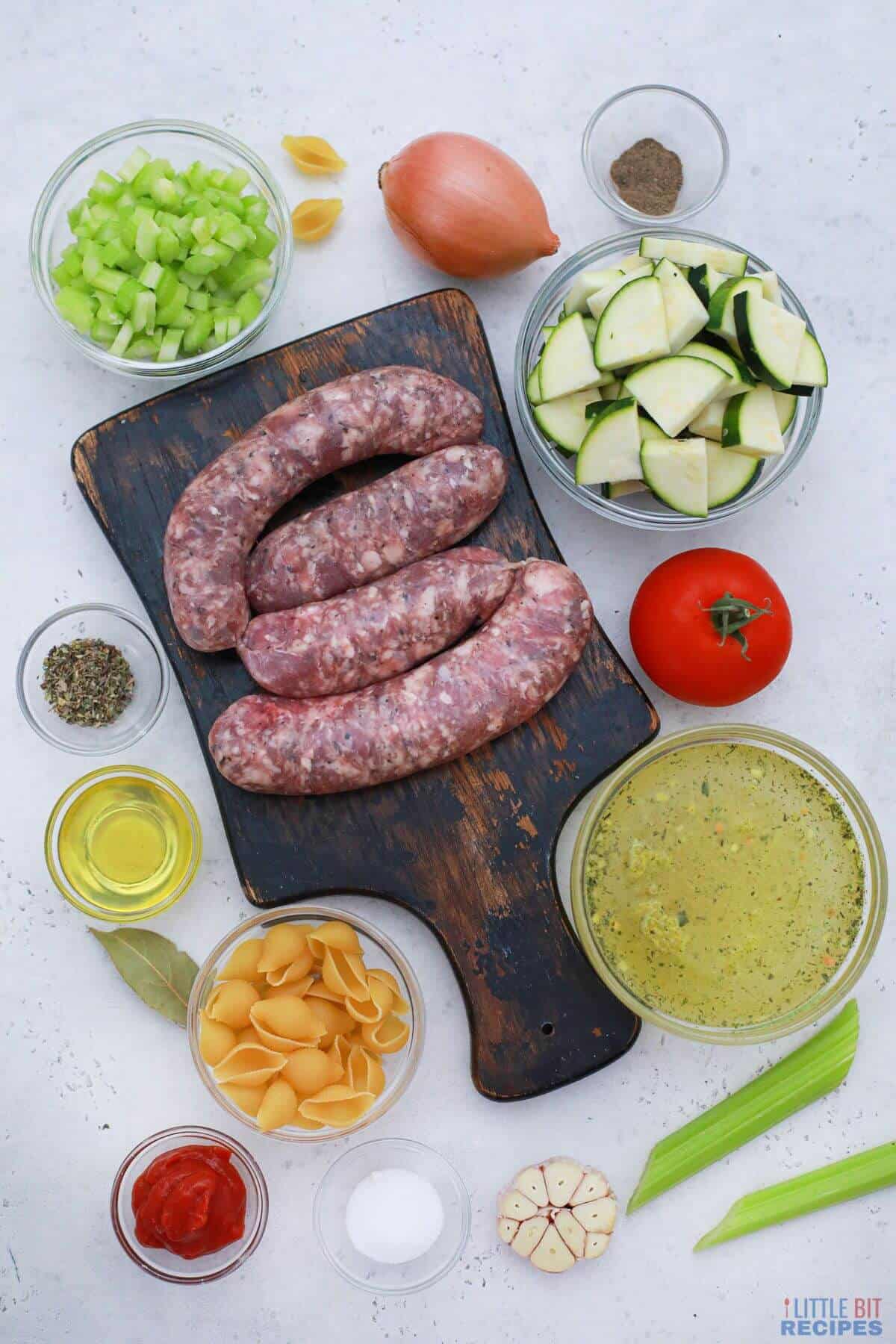 Here's what you'll need to get started:
Cooking oil - Olive oil is preferred.
Meat - We love sausage but ground beef and shredded chick work too. Omit for a vegetarian minestrone soup.
Vegetables - Diced tomatoes, tomato paste, celery, and zucchini are used. But you can add carrots, yellow squash, sweet potatoes, and green beans to the mix.
Aromatics - Onion and garlic are essential for the best flavor.
Broth - The recipe calls for chicken broth but beef or vegetarian will work too.
Pasta - Any small pasta is perfect for soup.
Seasonings - Bay leaf and Italian seasonings are all you need. Fresh herbs are best but not necessary.
Scroll down to the recipe card to see the amount of each ingredient used.
Instructions
This Italian soup recipe can be made in one pot and ready to serve in about 30 minutes. All you need to do is follow these easy step-by-step directions.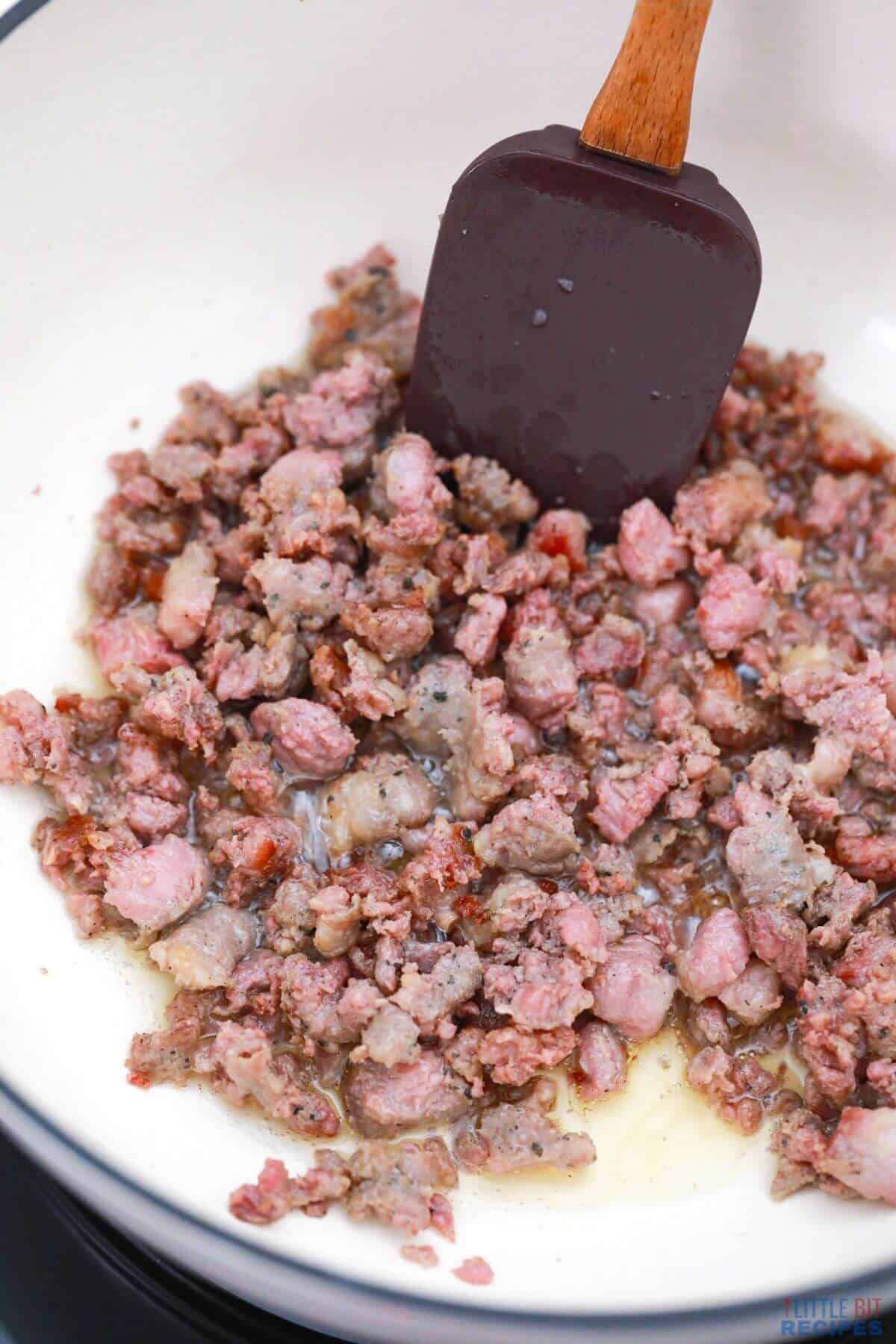 Brown meat in hot oil in a large saucepan over medium heat.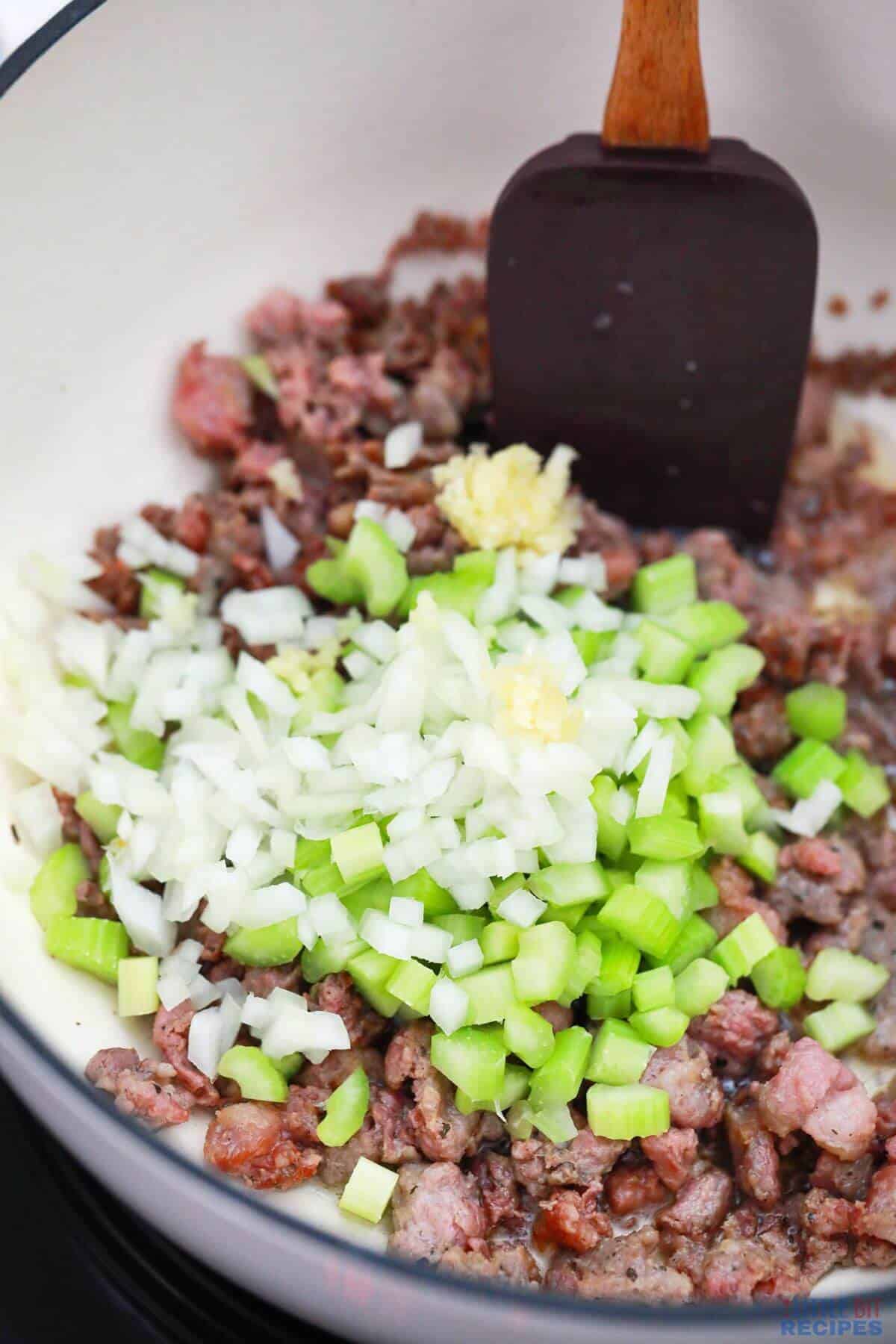 Add celery, onion, and garlic and cook until tender, about 5 minutes.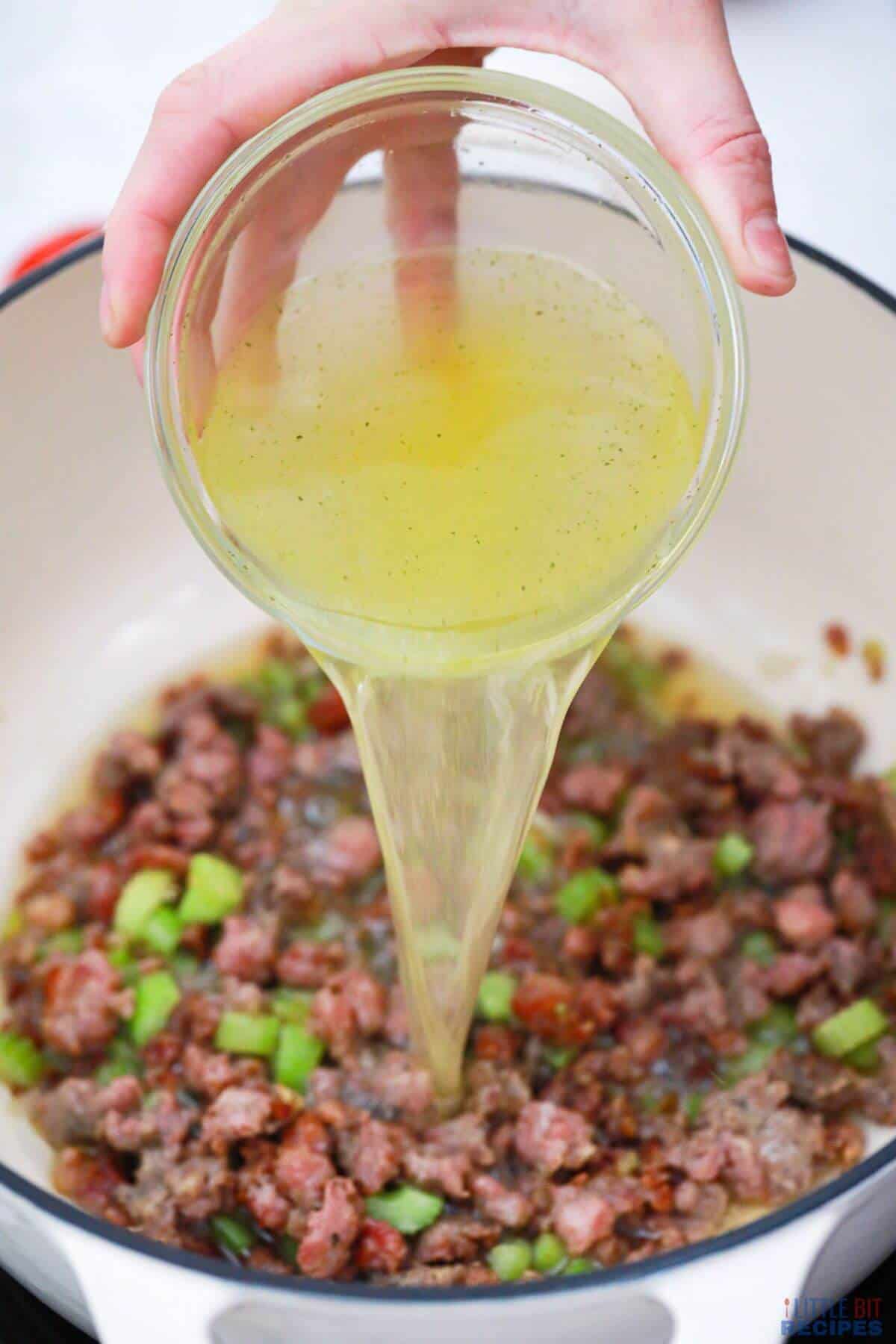 Pour in broth.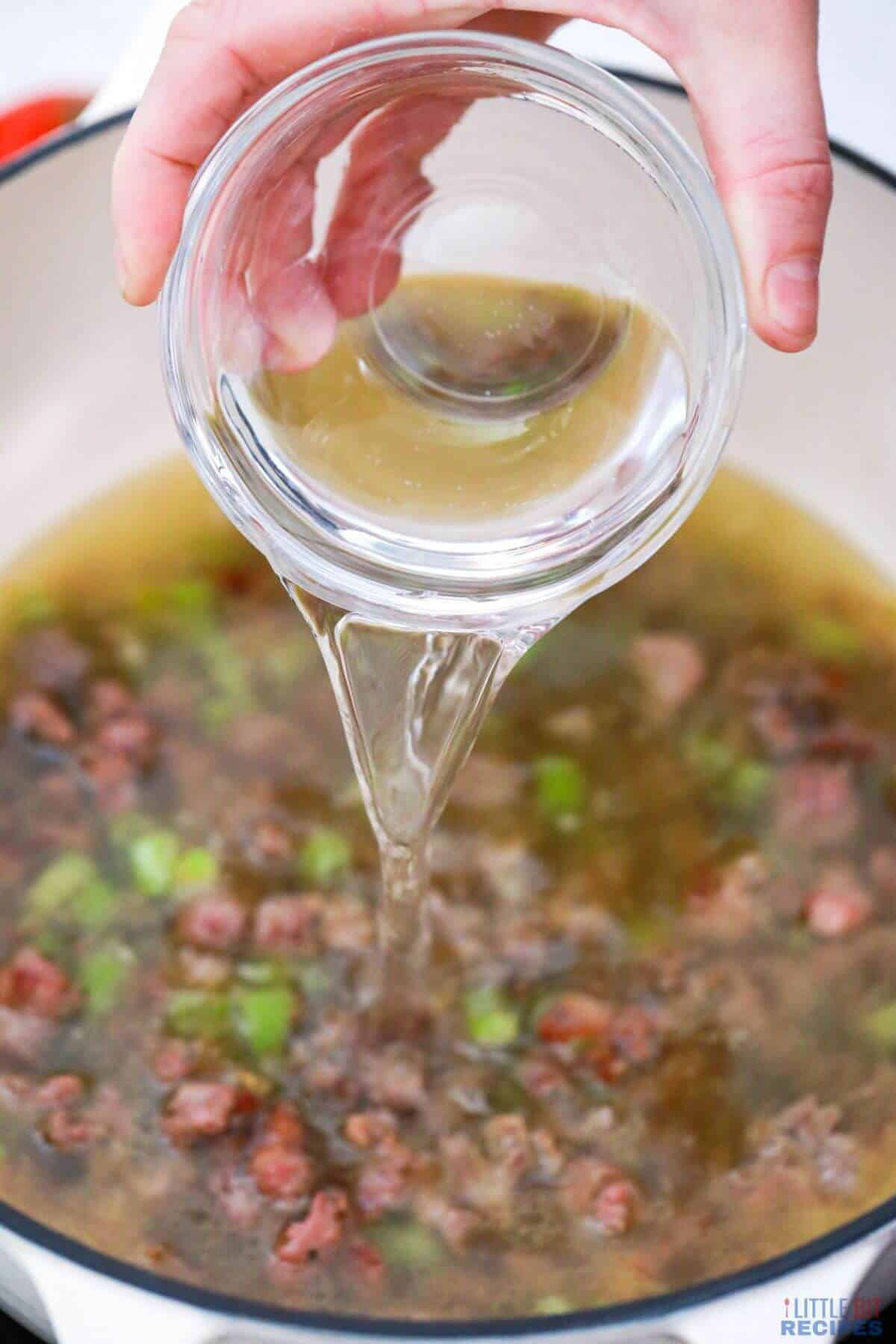 Add water.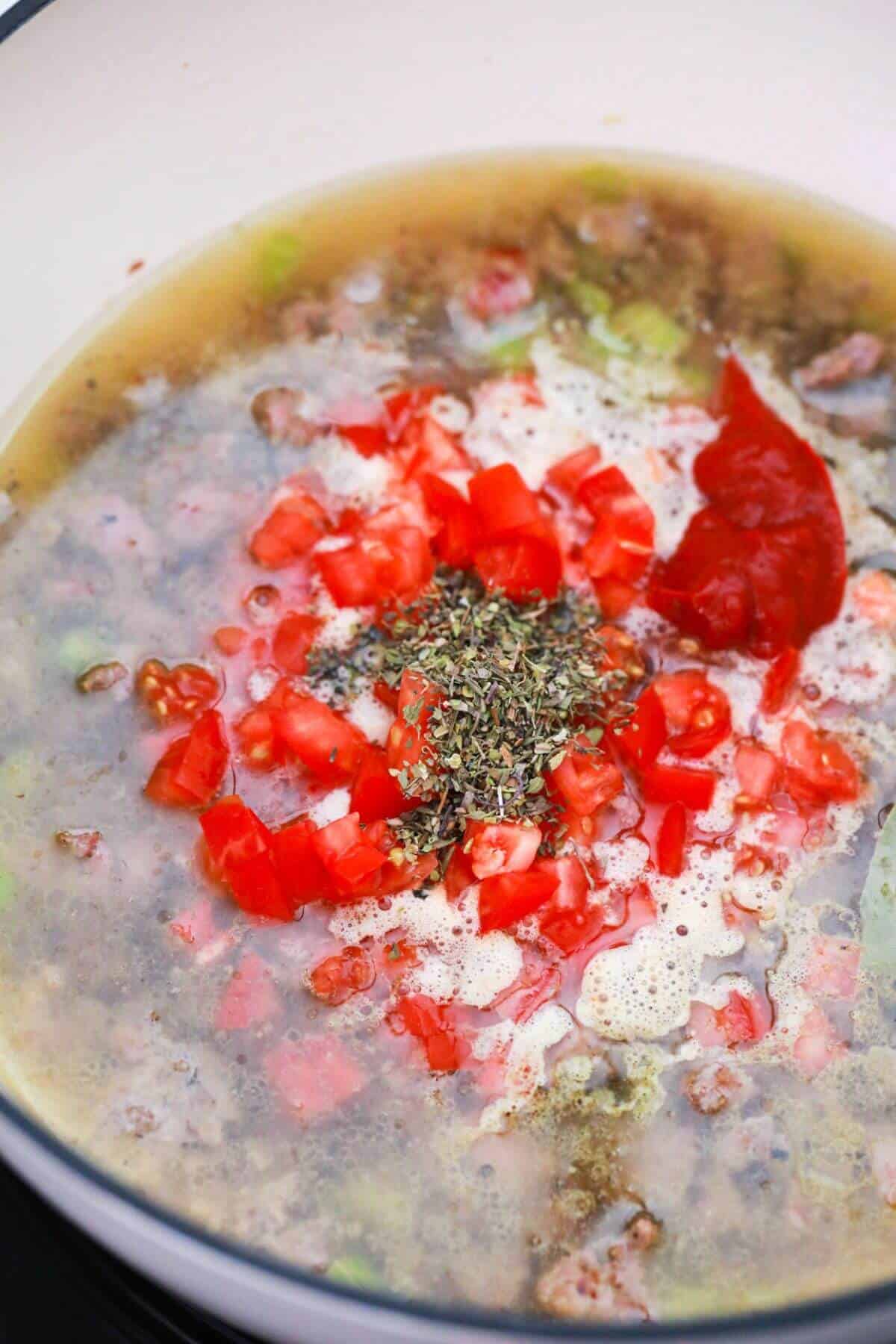 Stir in tomato, seasonings, and tomato paste. Then simmer.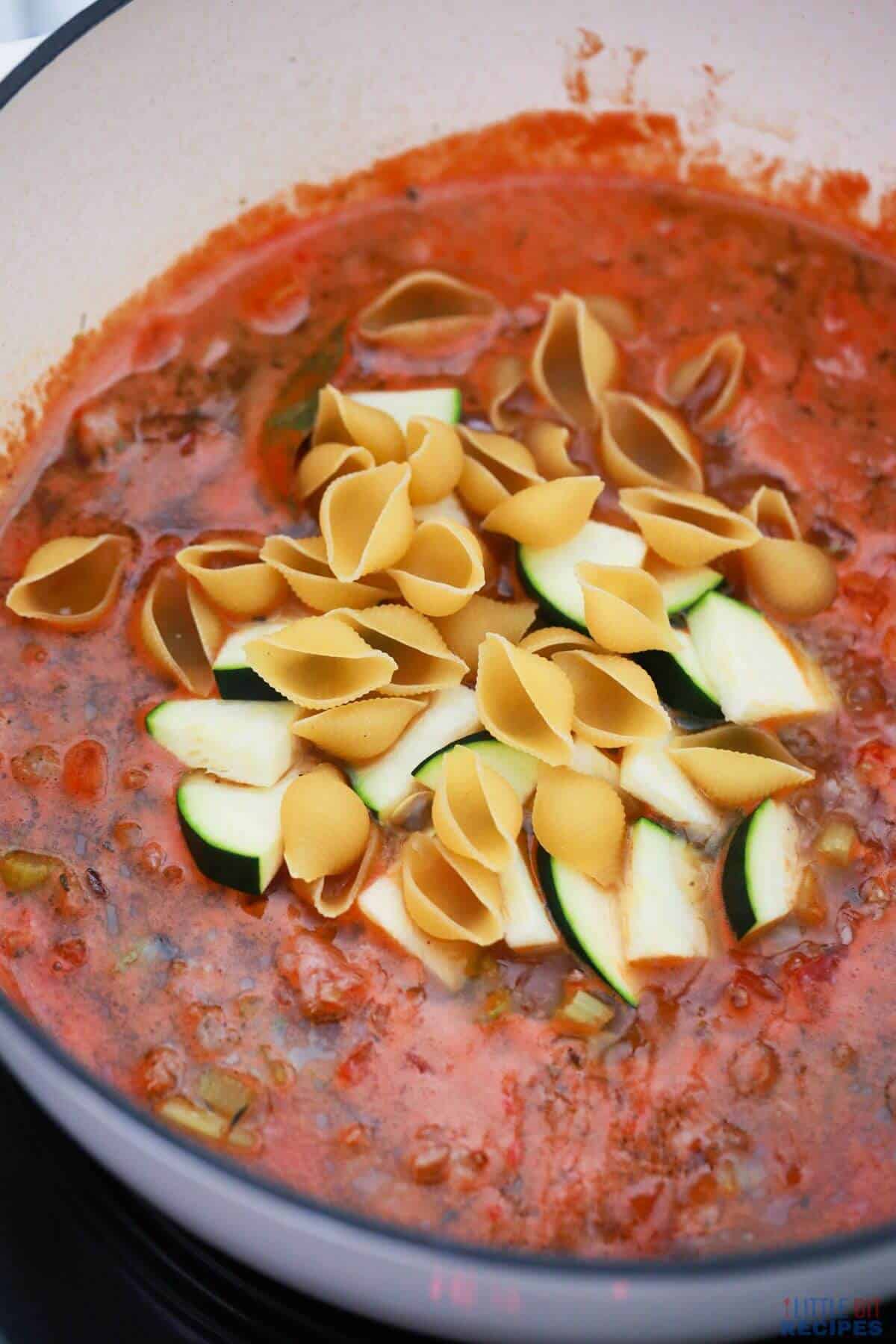 Add the zucchini and pasta and cook another 7 to 10 minutes.
Variations
Giving the visitor ideas on how they can change this recipe to better suit their dinner guests, or their cultural cuisine, is a great way to increase the chances they make the recipe
Beans - The addition of canned or dried beans adds an extra punch of protein without being overpowering.
Meat - If you don't like sausage, use ground beef for a beef minestrone soup or shredded chicken for a chicken version.
Vegetables - Diced carrots, cut green beans, and spinach are great additions.
Pasta - Change up the pasta! Macaroni, Farfalline, and Ditalini are other good choices that work well in soup.
Parmesan - Add some extra flavor by including a Parmesan cheese rind while simmering the soup. This will give your minestrone an even more robust flavor profile! Or, add freshly ground Parmesan when serving.
Whether you choose to follow the traditional recipe or add your own personal touches, this easy Italian minestrone soup will certainly hit the spot!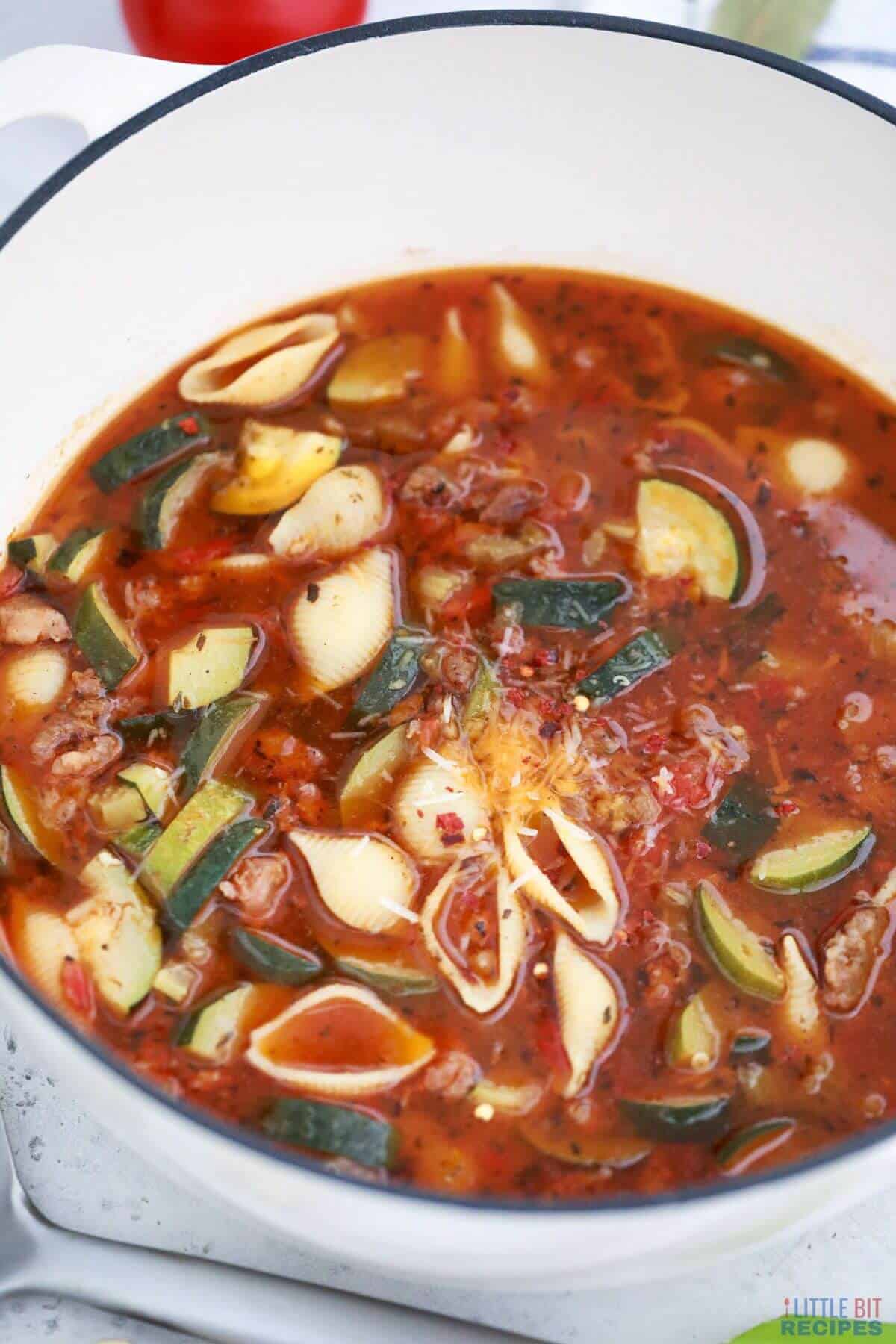 Tips
Cook the pasta al dente. The pasta should still be a little firm at the end of cooking.
Do not overcook the zucchini or it can become mushy.
Serving suggestions
This versatile soup tastes great just as it comes out of the pot. But adding some tasty accompaniments can really bring out its flavors.
Toasted crusty bread or croutons are a great way to add texture. For an extra touch of richness, top each bowl with a dollop of freshly grated Parmesan cheese or a drizzle of olive oil.
Serve with buttermilk biscuits and zucchini bruschetta. A grilled cheese sandwich or personal pizza goes well on the side too.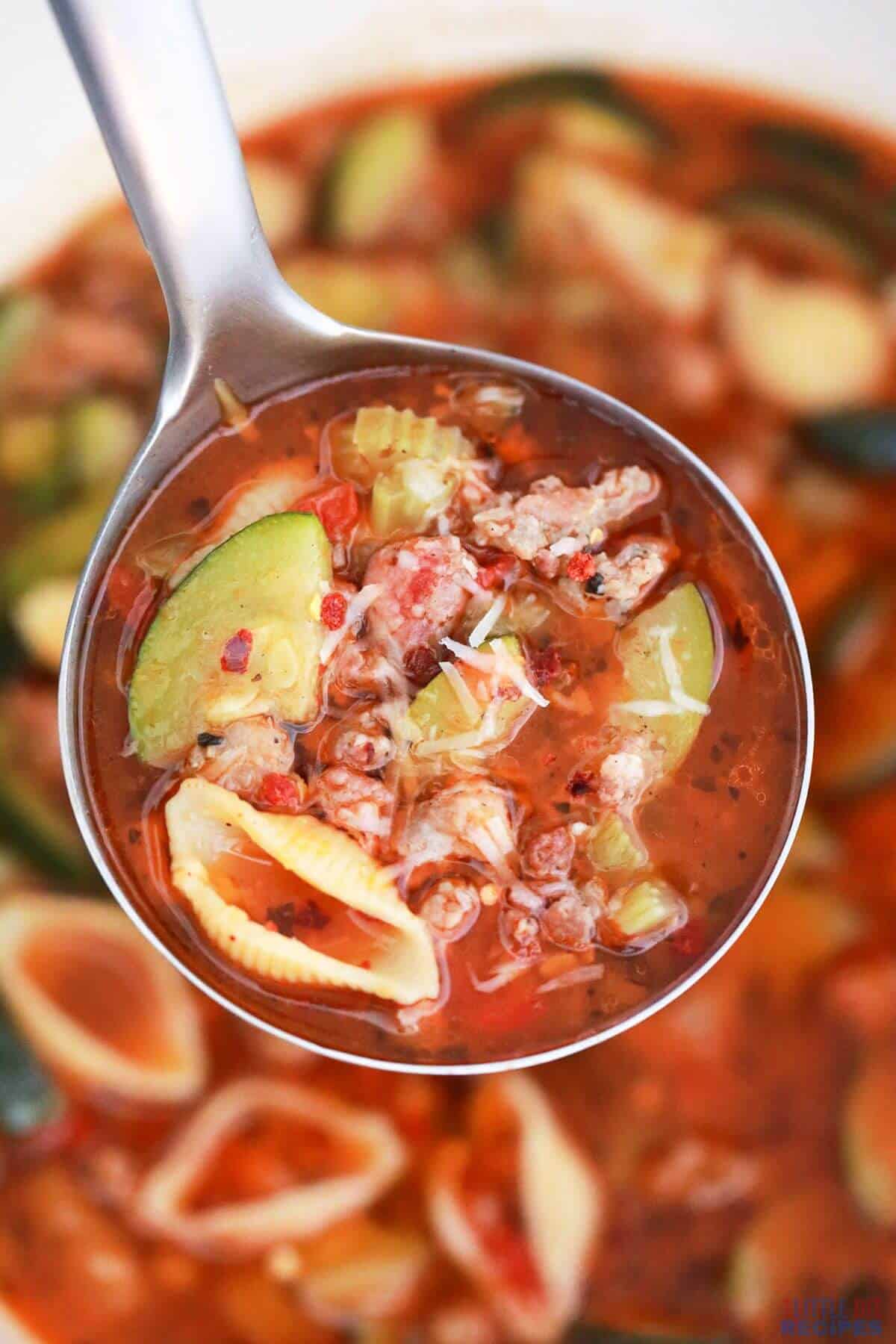 Storage
Leftover minestrone soup should be stored in an airtight container in the refrigerator. It will keep for up to five days.
To reheat, place the soup in a saucepan and warm over low heat until heated through. Alternatively, you can heat individual portions in the microwave for 1-2 minutes.
FAQ

What is Italian minestrone?
Italian minestrone is a delicious vegetable soup that is packed with flavor! It typically includes onions, celery, carrots, tomatoes, and beans. It can also include potatoes, zucchini, spinach, and other vegetables.
What are the ingredients in Italian minestrone soup?
The soup typically contains a mix of vegetables in a tomato base. It can also have beans like kidney or cannellini beans. Other ingredients may include pasta, garlic, olive oil, herbs like oregano or basil, and a small amount of Parmesan cheese. Some recipes also call for a small amount of meat such as bacon or sausage.
Does minestrone soup usually have meat?
Minestrone soup is traditionally a vegetarian dish. However, some versions of the soup may include meat such as bacon or pancetta to add flavor.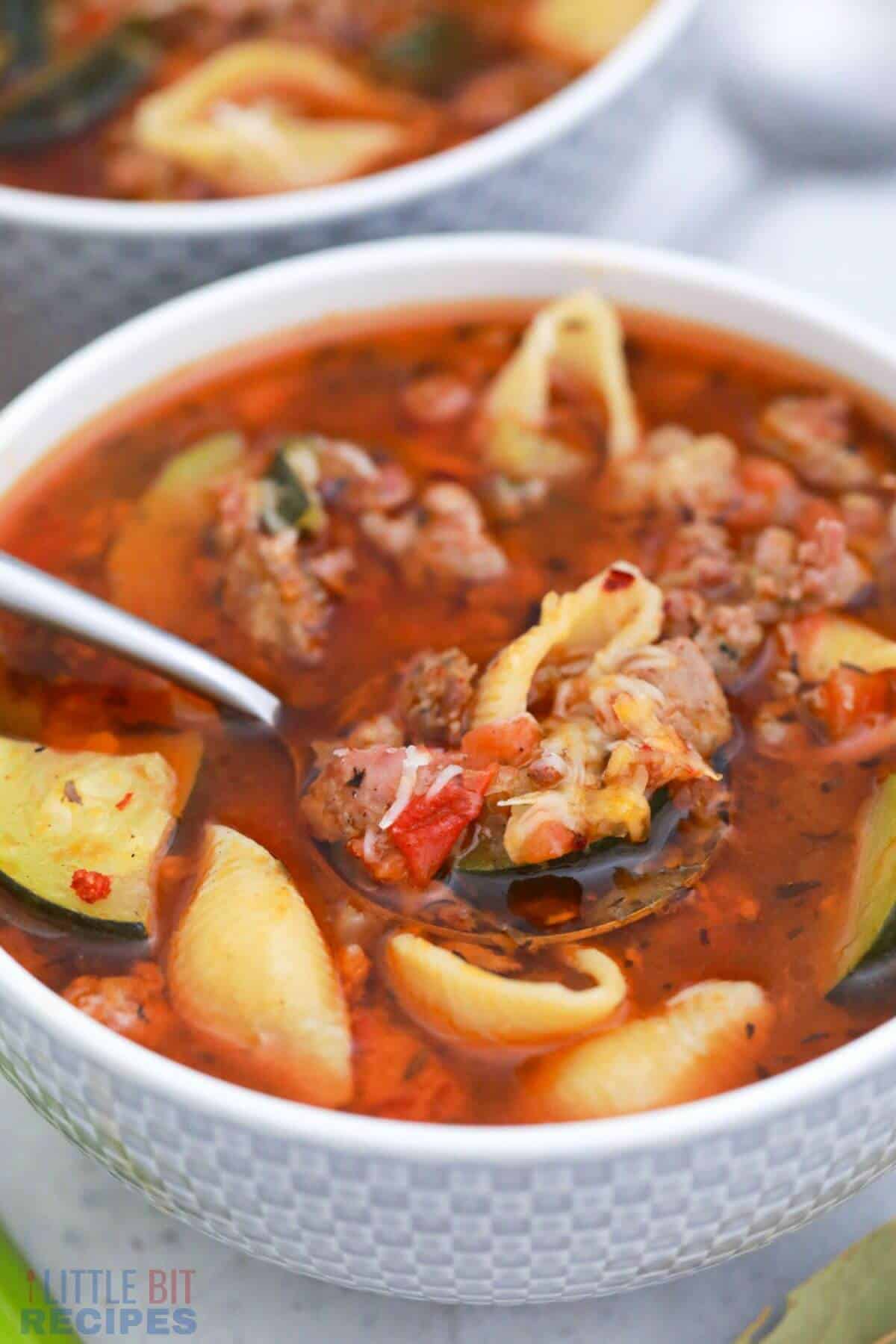 Related Recipes
Here are a few more lunch ideas for one or two people.
Follow us on Facebook, Instagram, and Pinterest to see more recipes.
Recipe
Minestrone Soup with Sausage
This classic Italian soup gets an extra boost of flavor from the ground sausage. It's so delicious, you can even leave out the pasta!
Ingredients
2

tablespoons

extra-virgin olive oil

½

pound

bulk sausage

or ground beef

¼

cup

chopped celery

2

tablespoons

finely chopped onion

1

garlic clove

minced

2

cups

chicken broth

½

cup

water

1

medium tomato

diced

1

bay leaf

¾

teaspoon

Italian seasoning

1

teaspoon

tomato paste

1

small zucchini

diced

¼

cup

dry pasta

shells or elbows

Salt and freshly ground black pepper
Instructions
Heat the olive oil in a large saucepan over medium heat. Add the sausage and cook about 5 minutes, until no longer pink.

Add the celery, onion, and garlic and sauté 3 to 5 minutes, or until tender. Stir in the broth, ½ cup of water, tomato, bay leaf, Italian seasoning, and tomato paste. Bring to a boil. Reduce the heat to a simmer.

Stir in the zucchini and pasta, cook uncovered, for 7 to 10 minutes, or until the pasta is al dente. Discard the bay leaf. Season with salt and pepper to taste.
Notes
For a heartier soup, add additional vegetables. Diced carrots, cut green beans, and spinach are great additions.
Spice up the flavor by sprinkling on some red pepper flakes. You can also top off with some freshly grated Parmesan cheese.
Nutrition
Calories:
272
kcal
|
Carbohydrates:
7
g
|
Protein:
11
g
|
Fat:
23
g
|
Saturated Fat:
6
g
|
Polyunsaturated Fat:
3
g
|
Monounsaturated Fat:
12
g
|
Trans Fat:
0.1
g
|
Cholesterol:
43
mg
|
Sodium:
820
mg
|
Potassium:
367
mg
|
Fiber:
1
g
|
Sugar:
3
g
|
Vitamin A:
419
IU
|
Vitamin C:
11
mg
|
Calcium:
31
mg
|
Iron:
1
mg
© LittleBitRecipes.com - All content and photographs are copyright protected by us. We appreciate sharing our recipes; but copying, pasting, or duplicating full recipes to any social media, website, or electronic/printed media is strictly prohibited and a violation of our copyrights. Single photos may be used, provided that full credit is given to us along with a link back to the original content.