Experience the ultimate comfort food with this chicken and Stove Top stuffing casserole recipe. It's a delicious blend of flavors that will bring the taste of Thanksgiving to your table.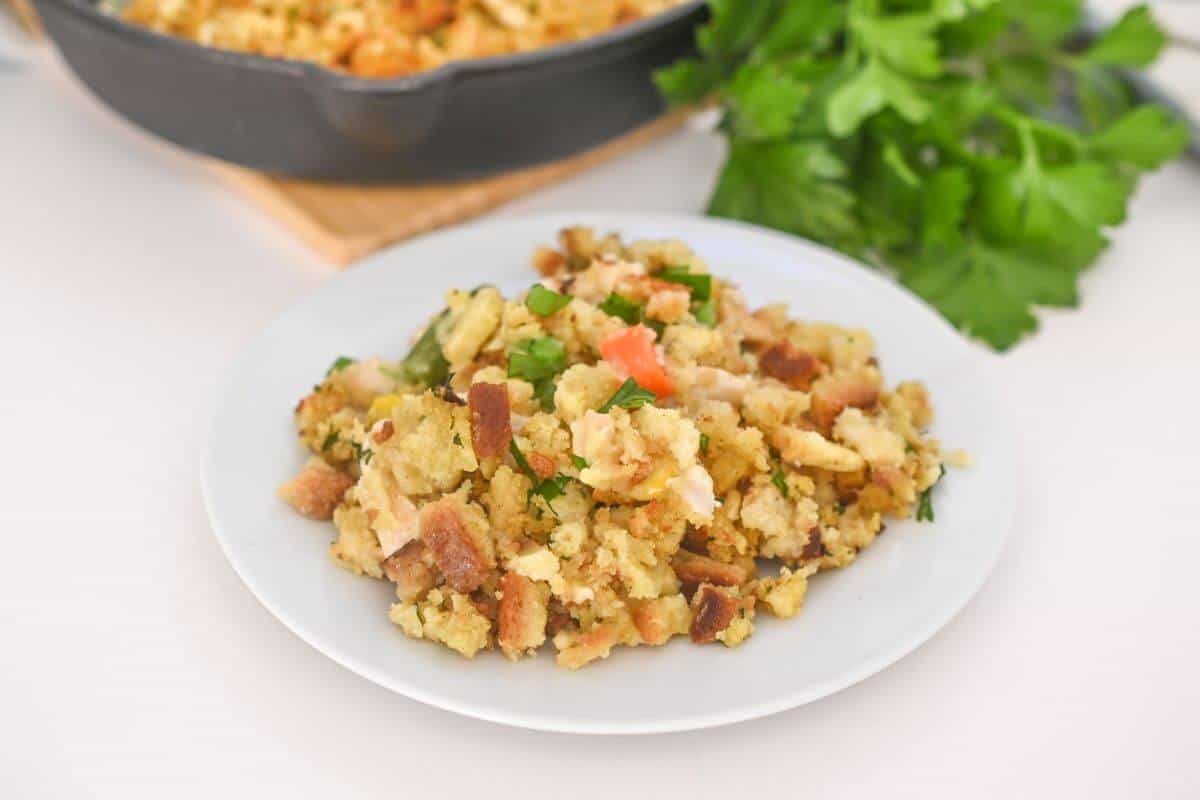 Jump to:
This classic comfort food takes traditional stuffing to new heights by combining it with tender chicken pieces in a flavorful chicken broth base. Whether you're enjoying an intimate dinner at home or hosting a small family dinner, this dish is guaranteed to please.
Mixing moist chicken, savory stuffing, and vegetables creates a delightful texture and an explosion of flavors in every bite. It's the perfect side dish or main course that will satisfy everyone at the table.
Whether you're looking for an easy dinner option or simply craving some comfort food, this chicken stuffing casserole will not disappoint. With its delicious flavors and simple preparation, it's sure to become one of your go-to recipes whenever cravings strike.
Reasons to Love
Stuffing mix adds flavor and convenience. The combination of herbs, spices, and breadcrumbs in the stuffing mix adds incredible flavor to the dish.
A delicious comfort food. Tender chicken and savory stuffing create a warm and comforting dish perfect for cold or rainy days.
It's an affordable and time-saving option. Not only is the boxed stuffing affordable, but it also saves you precious minutes in the kitchen.
Ingredients
This chicken casserole recipe uses convenient ingredients like boxed stuffing, canned chicken soup, and frozen vegetables. You can even use rotisserie chicken for the meat.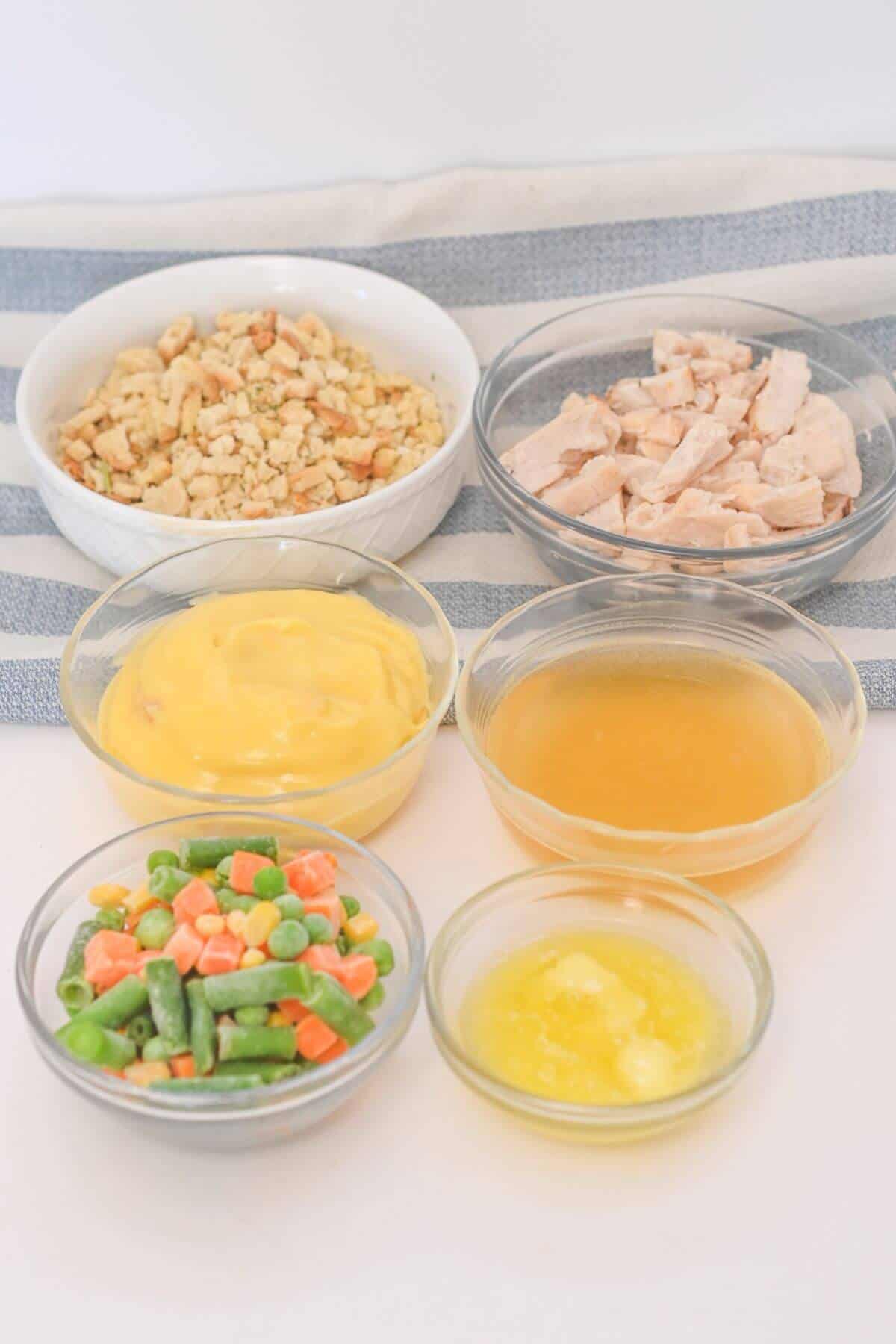 Here's what you'll need to make the simple casserole:
cooked chicken breast or thigh meat
frozen mixed vegetables
condensed cream of chicken soup
chicken broth
butter
store-bought stuffing mix
Scroll down to the recipe card for quantities used.
Instructions
Preheat the oven to 400°F.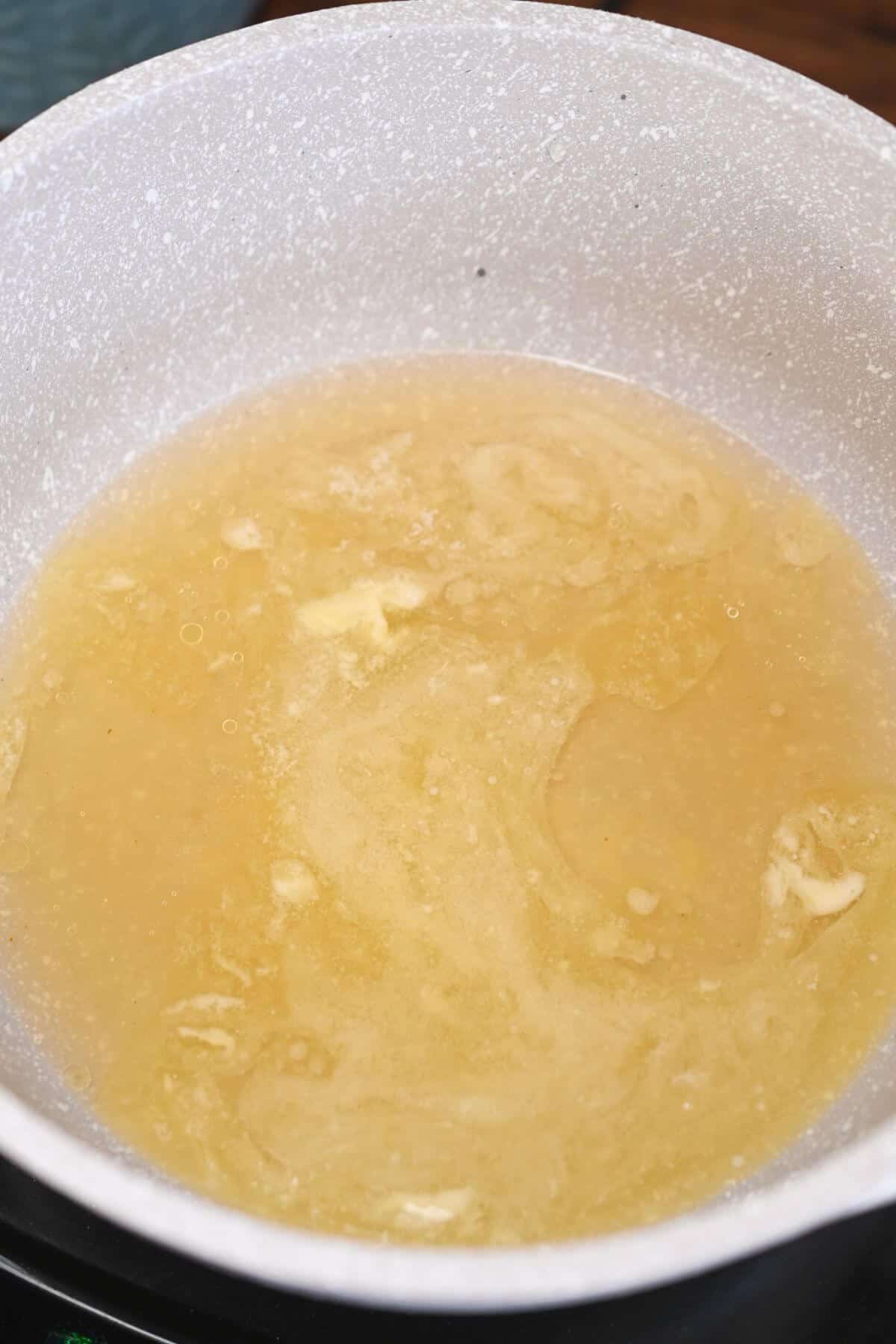 Add the chicken broth and butter to a pot over medium heat. Bring the mixture to a light boil.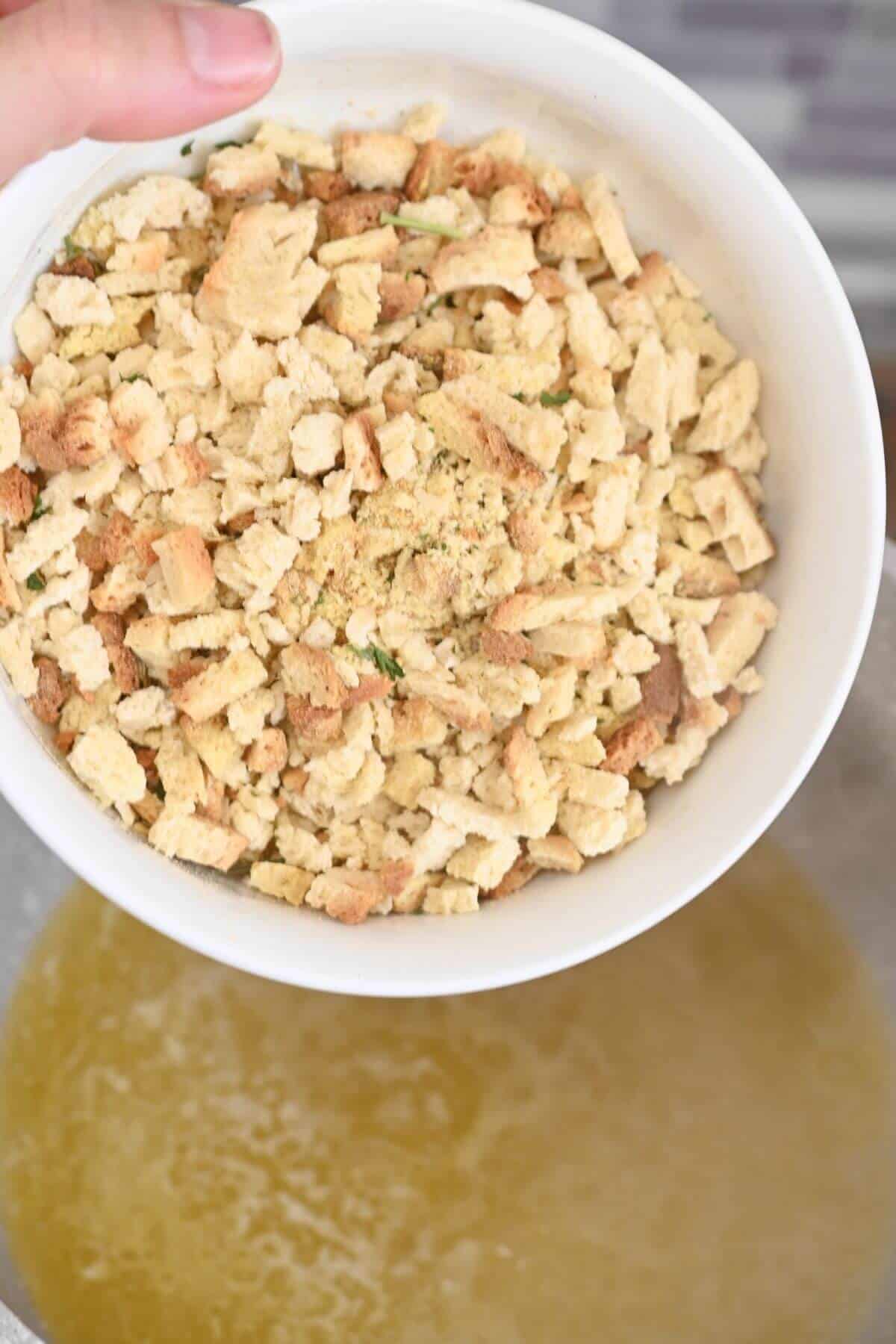 Pour in the stuffing mix and stir to combine. Remove from the heat, allow to sit for 5 minutes, and then fluff with a fork.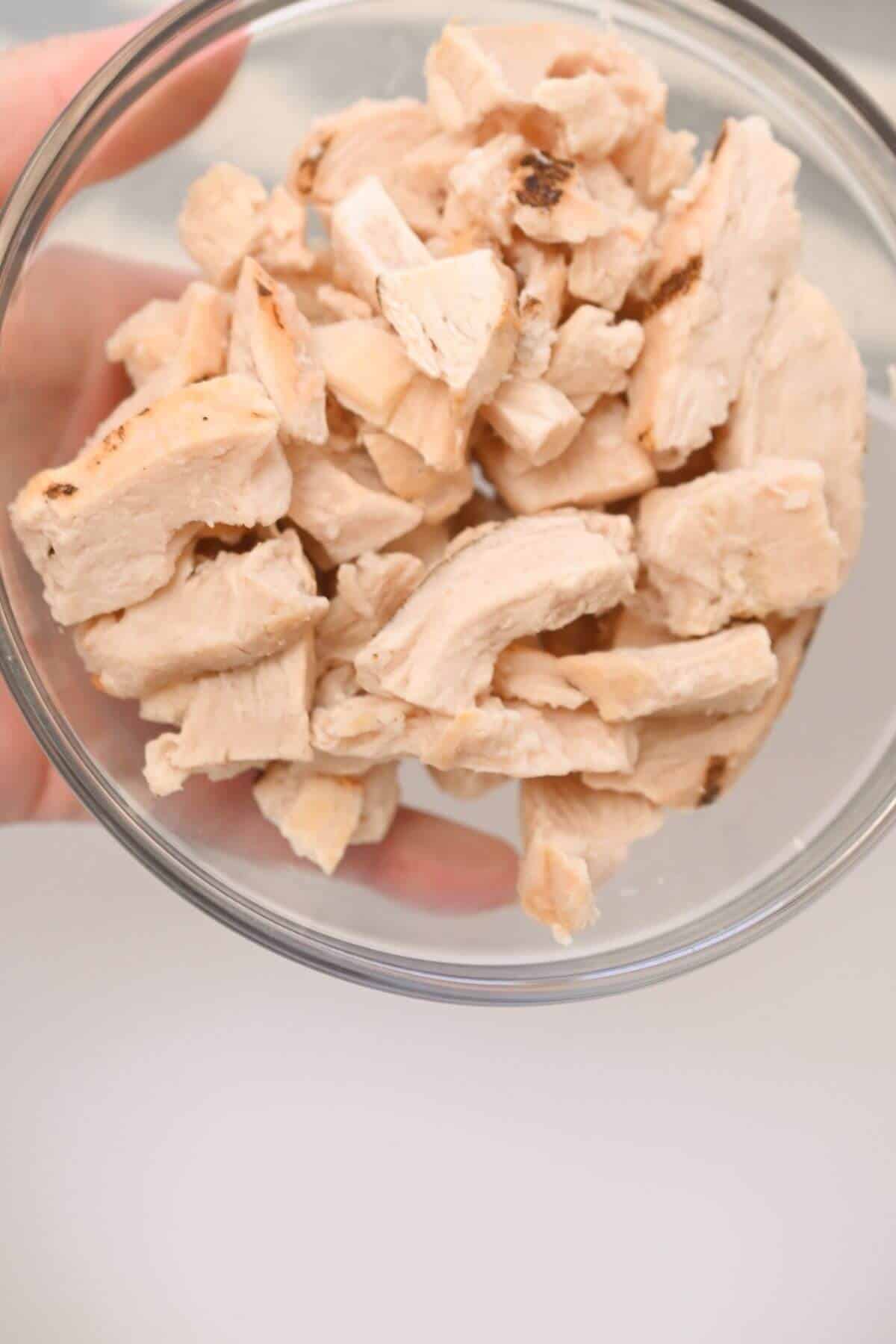 Place cooked chicken pieces in a mixing bowl.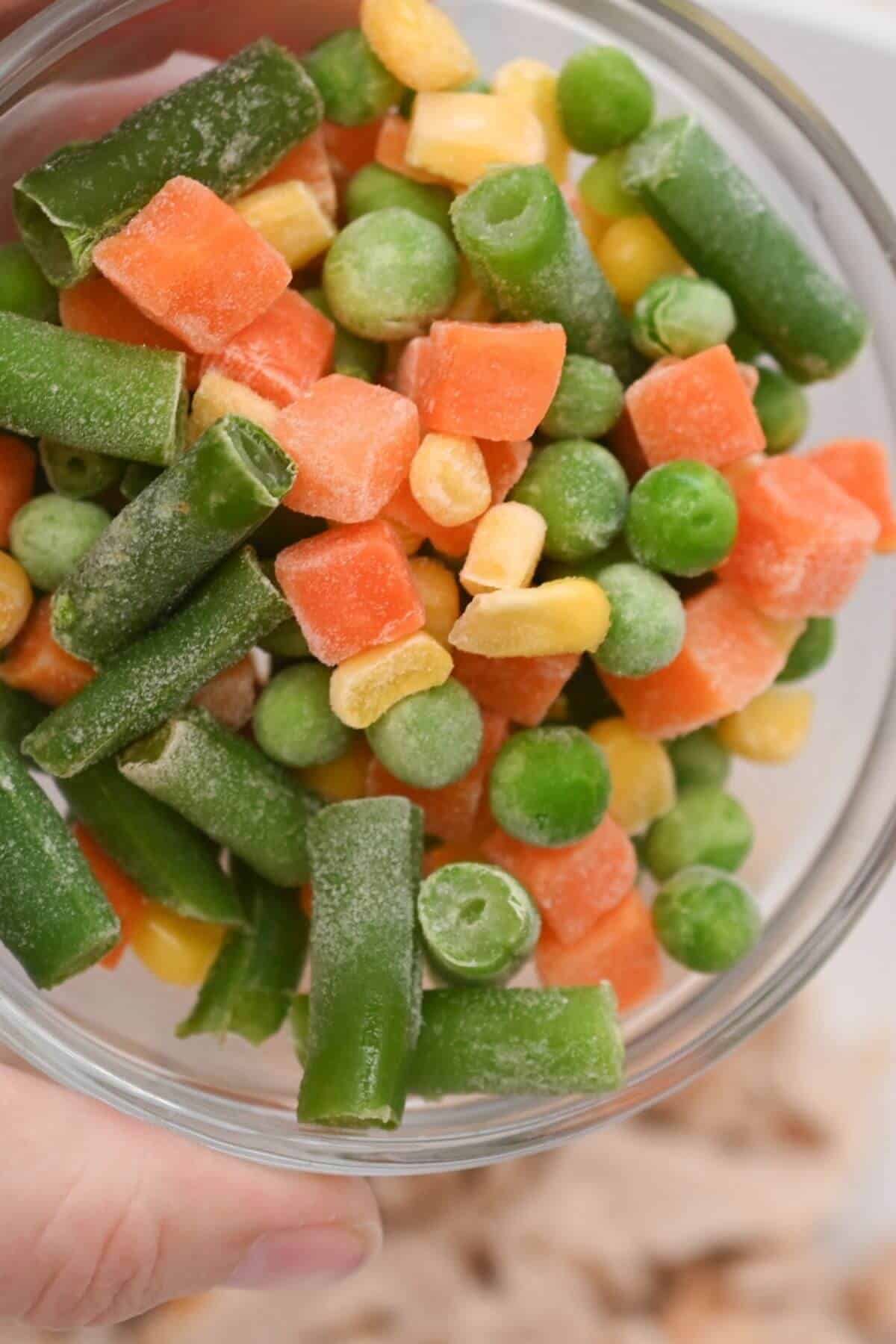 Add frozen vegetables to the chicken.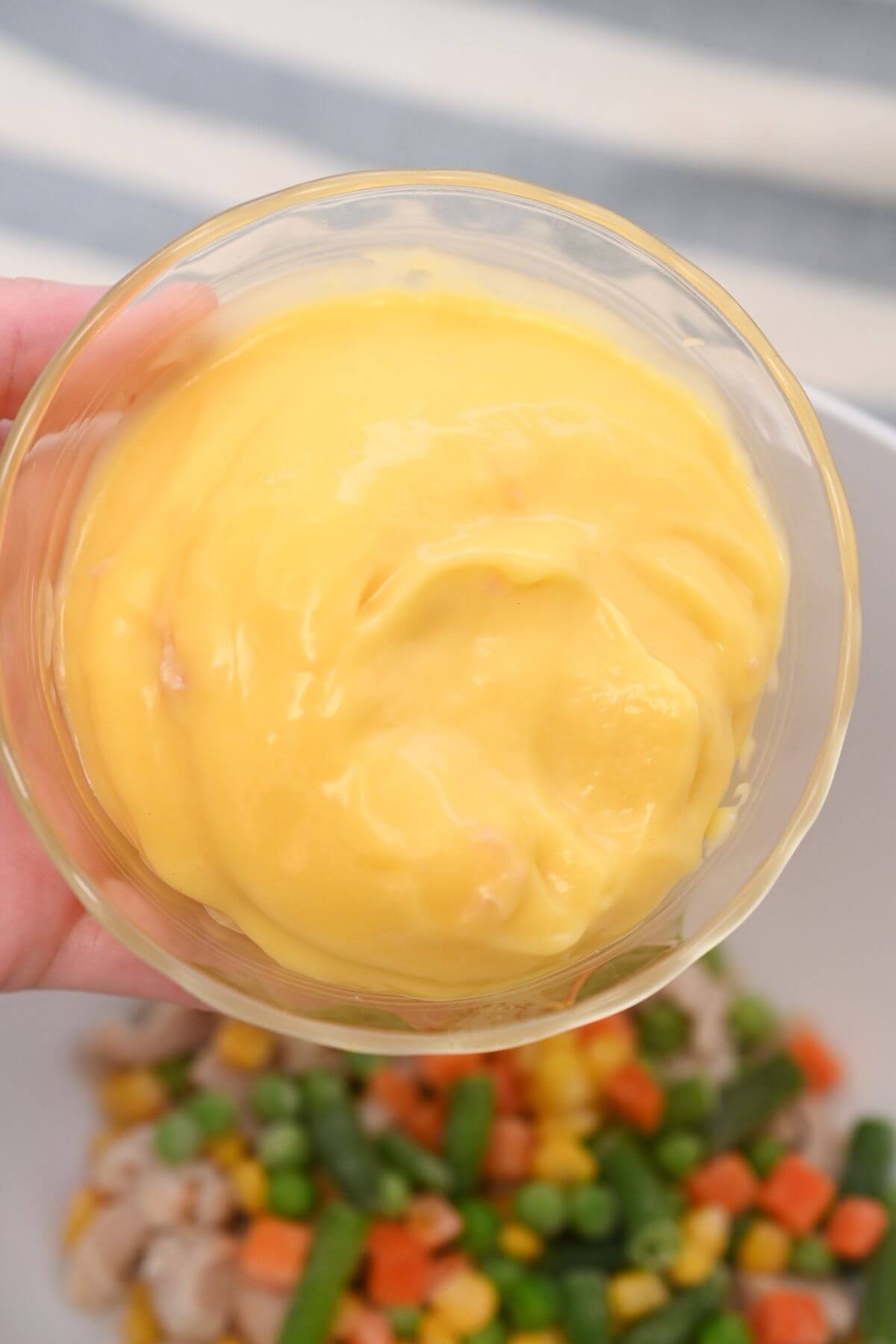 Add condensed cream of chicken soup to the mixing bowl.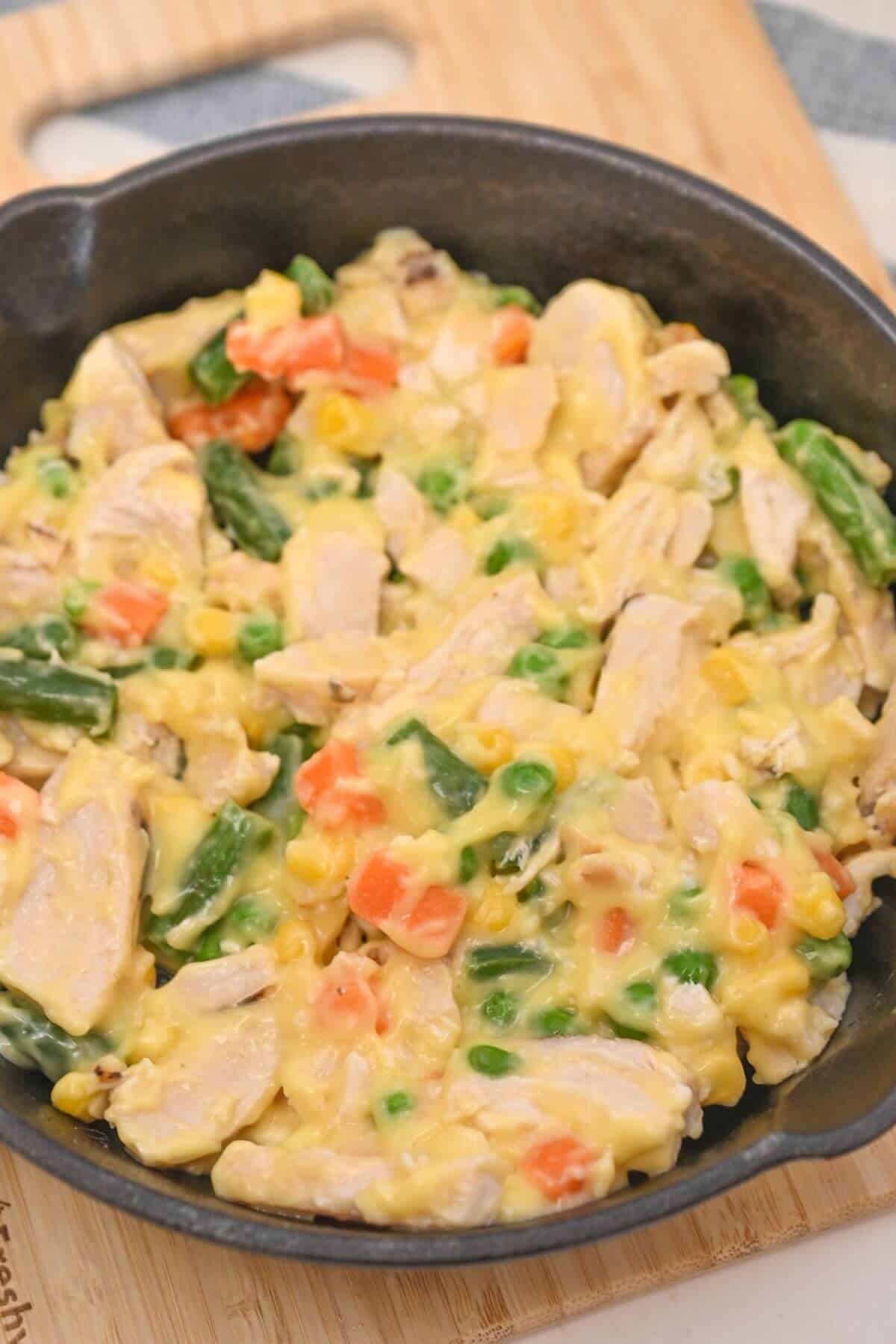 Spread the chicken mixture into a small oven safe skillet or casserole dish.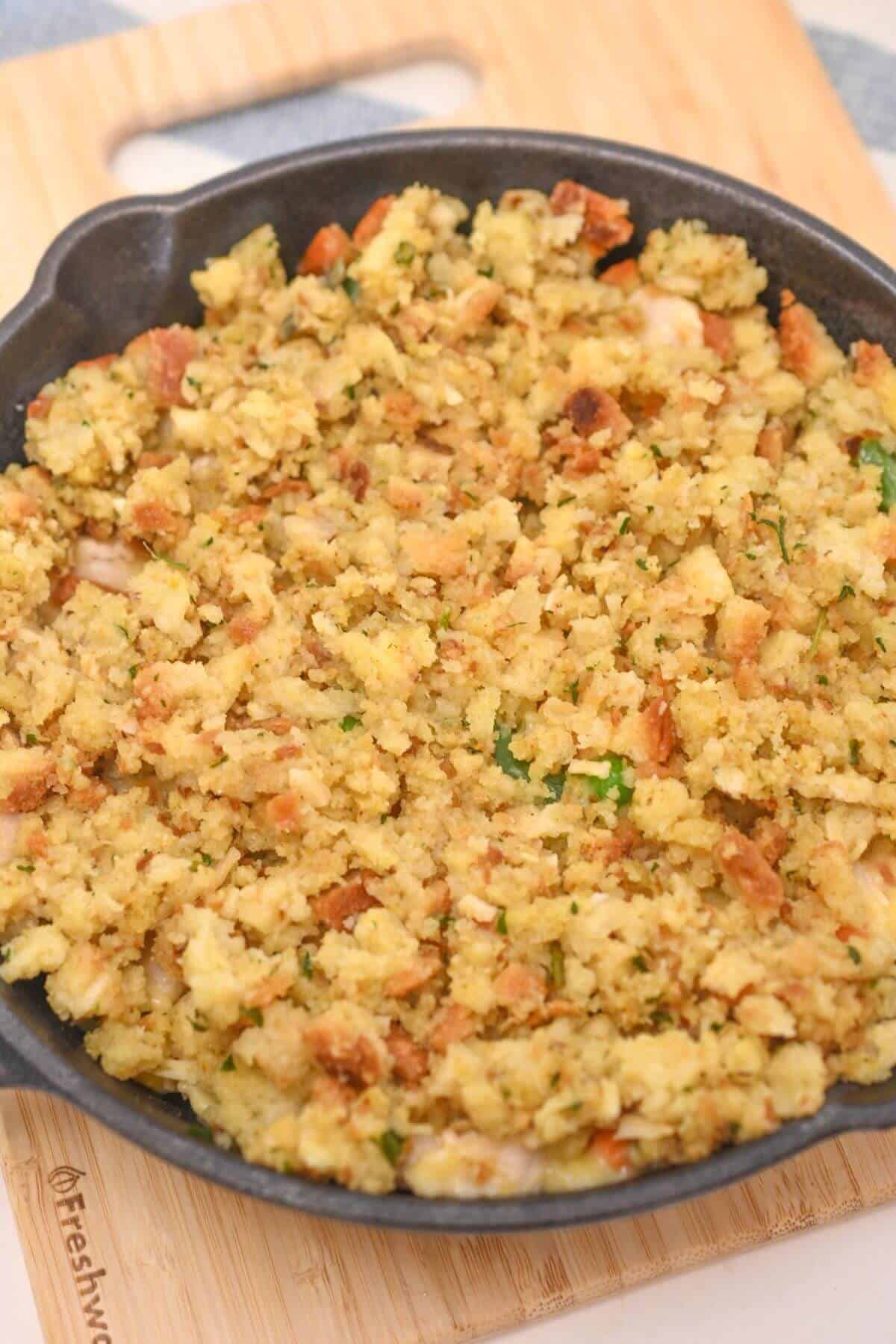 Add stuffing on top of the chicken mixture and bake for 20-25 minutes.
Hint: Depending on the brand of stuffing mix and your personal preference, you may need more or less chicken broth. Add additional broth if the stuffing appears too dry, or if you prefer a moister casserole. Alternatively, if it's already quite moist, you can skip adding more broth.
Variations
There are countless ways you can customize the chicken and stuffing casserole with Stove Top stuffing to suit your taste preferences or dietary needs. Here are a few ideas you can try
Vegetable - add sautéed onions and peppers to the chicken and stuffing mixture.
Mushrooms - sautéed mushrooms can add flavor and texture. Or try using cream of mushroom soup instead of cream of chicken.
Herbs and spices - A pinch of smoked paprika or garlic powder can add depth of flavor, while dried herbs like rosemary or thyme can bring out the savory notes in the dish.
See this sweet potato casserole with canned yams for another great recipe for fall comfort food made with convenient canned food.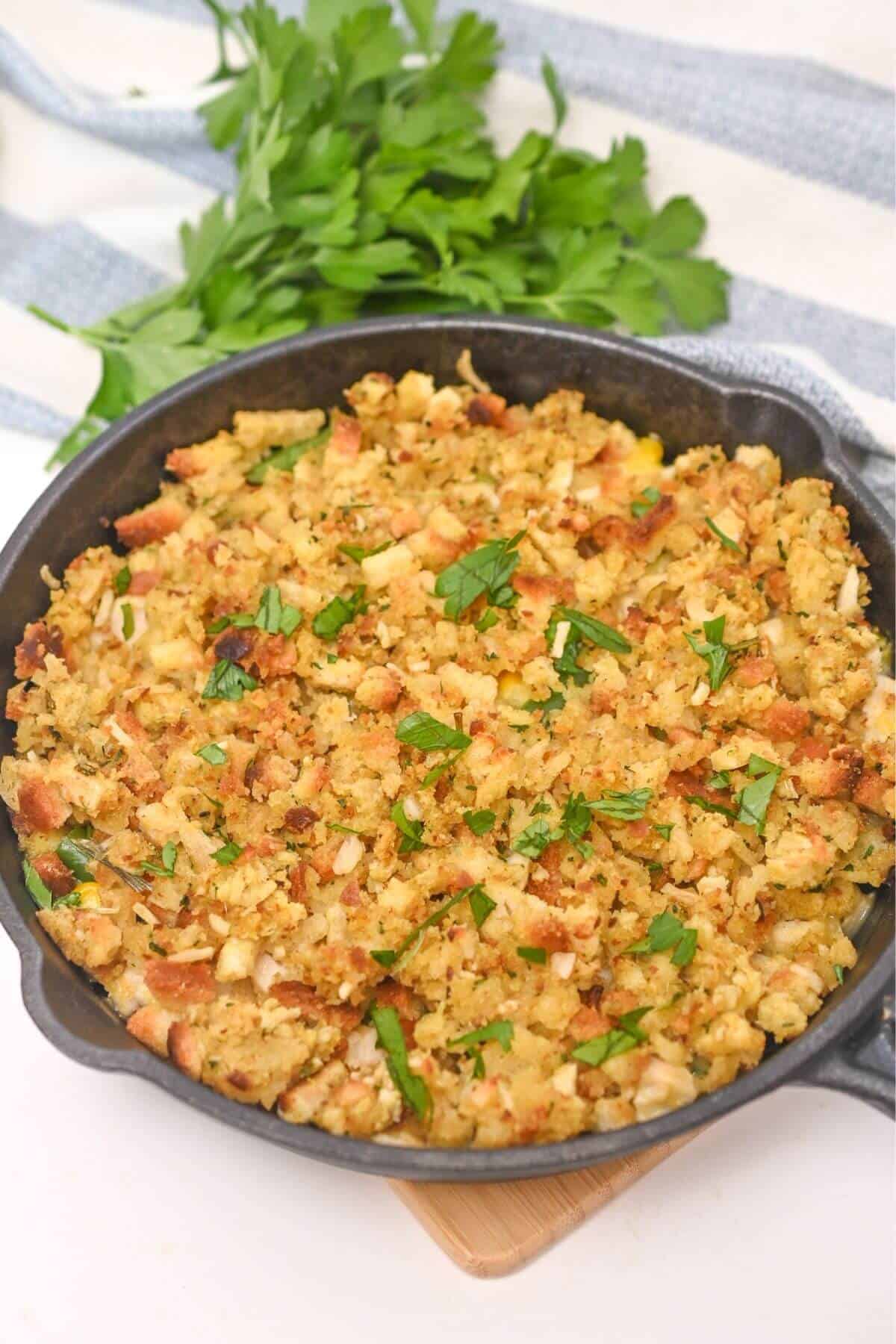 Tips
Top tip: When mixing the stuffing, veggies, chicken, soup, and broth, do so gently to avoid breaking apart the stuffing. Use a large bowl for easy mixing.
Use Precooked Chicken: To save time, consider using precooked chicken. You can use rotisserie chicken, leftover roasted chicken, or even canned chicken. If using raw chicken, be sure to cook it thoroughly before adding it to the casserole.
Sauté the Veggies: If you have the time, sauté the frozen mixed vegetables in a little butter or oil for a few minutes. This can enhance their flavor and texture before mixing them into the casserole.
Cover and Bake: Cover the casserole with foil or a lid before baking to keep the moisture in and prevent the top from drying out. In the last 10-15 minutes of baking, uncover the casserole to allow the top to brown and become slightly crispy.
Serving suggestions
To balance the richness of the casserole, consider pairing it with a side salad, garlic butter green beans, or a dollop of cranberry sauce for a sweet and tangy contrast. You can also drizzle it with gravy, serve it with warm yeast rolls or homemade buttermilk biscuits, or enjoy it with creamy mashed potatoes for a classic comfort food combination.
For a refreshing touch, include coleslaw or fruit salad, and garnish the casserole with fresh herbs for added flavor and visual appeal. Your choice of sides can transform your chicken and stuffing casserole into a well-rounded, satisfying meal that suits your taste and the dining occasion.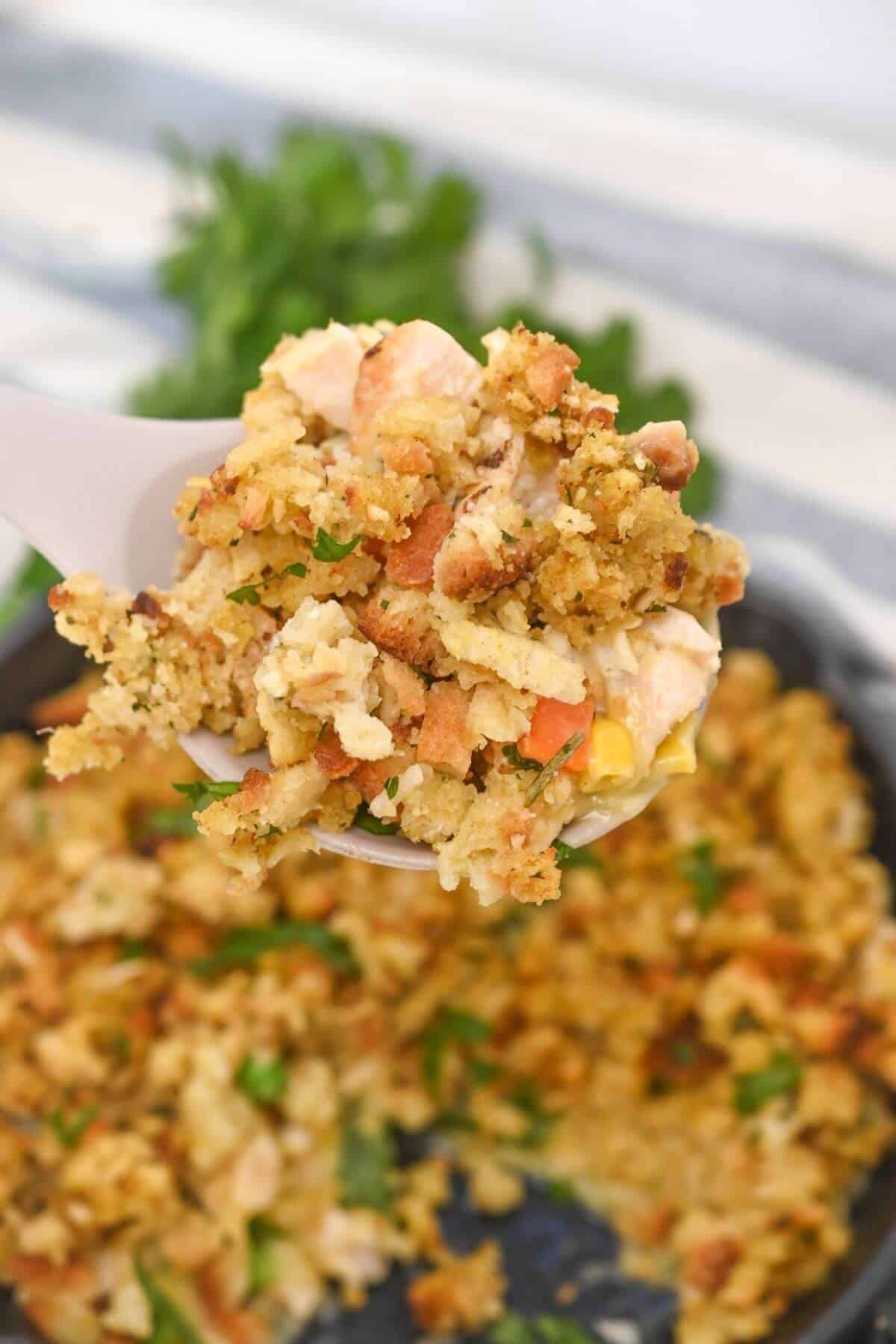 Storage
If you plan on consuming the leftovers within a few days, refrigeration is the best option. Transfer the casserole into an airtight container or cover it tightly with plastic wrap or aluminum foil. Make sure to label the container with the date for reference. Leftover chicken and stuffing casserole can be safely stored in the refrigerator for up to 3-4 days.
If you wish to store the leftovers for a longer period, freezing is recommended. Place the cooled casserole in a freezer-safe container or resealable freezer bags, removing as much air as possible before sealing. Label with the date and freeze promptly. The frozen casserole can be stored for up to 3 months. When ready to enjoy, thaw it overnight in the refrigerator before reheating thoroughly in the oven or microwave.
FAQs
Will homemade stuffing work instead of Stove Top?
Absolutely! Feel free to experiment with different types of bread, herbs, and seasonings to create your own signature stuffing for the casserole.
Can I make this dish ahead of time?
Yes! Simply assemble the casserole as instructed but hold off on baking it until you're ready to serve. Store it in the refrigerator overnight or freeze it for future use.
Can I substitute chicken with turkey?
Definitely! If you prefer turkey over chicken or have leftover Thanksgiving turkey on hand, go ahead and use it in this recipe.
Is gluten-free stuffing okay to use?
You can easily make this dish gluten-free by using gluten-free bread or stuffing mix. There are many options available in stores or you can make your own gluten-free breadcrumbs for the perfect texture and taste.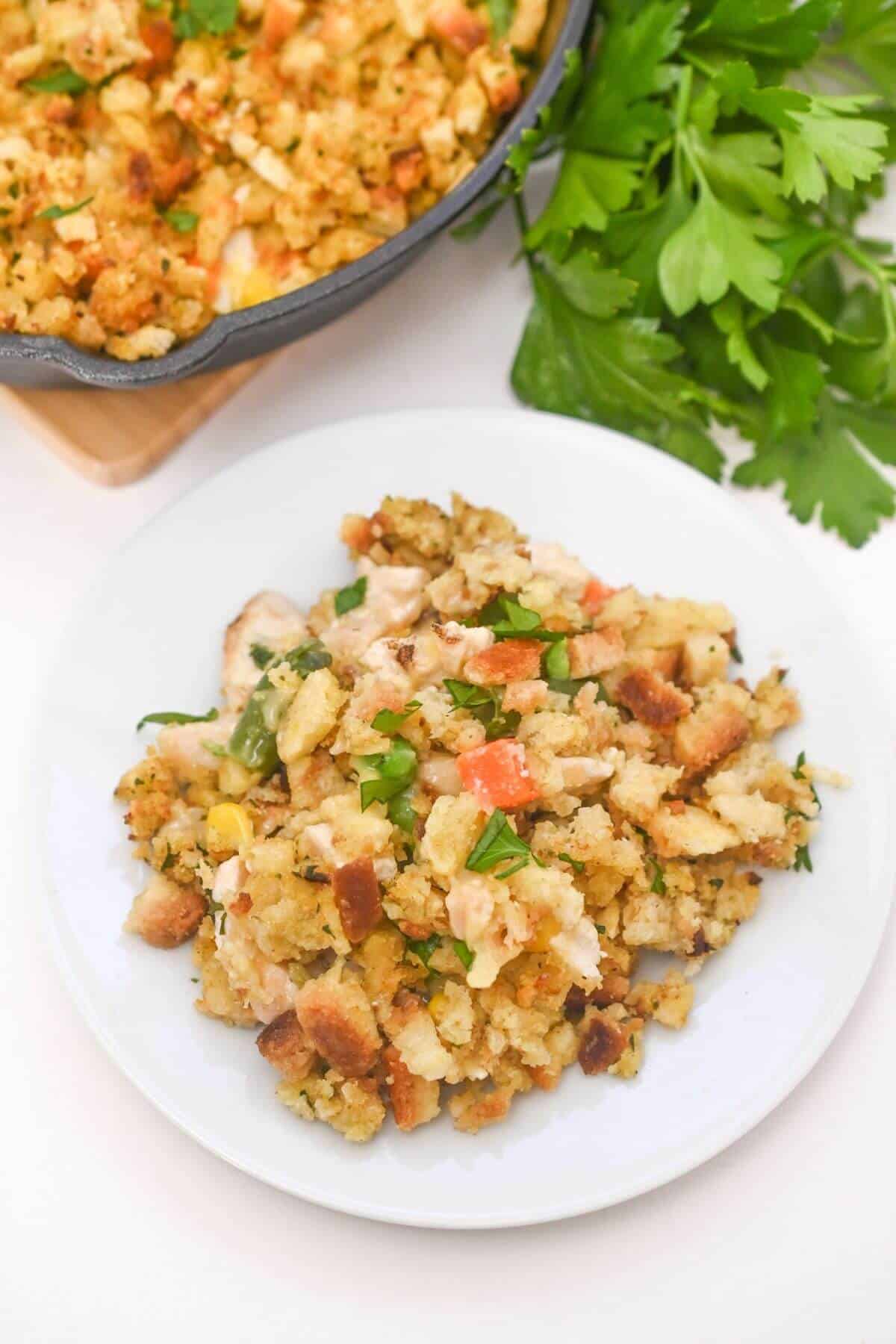 Related Recipes
Looking for more easy casserole recipes for two? Take a look at these dishes, too:
Follow us on Facebook, Instagram, and Pinterest to see more recipes.
Recipe
Chicken and Stuffing Casserole
Indulge in a hearty chicken and stuffing casserole dish. It's the perfect combination of savory poultry, vegetables, and Stove Top stuffing.
Ingredients
1 ½

cups

cooked chicken cubed

1

cup

frozen mixed vegetables

5 ¼

ounces

canned condensed cream of chicken soup

half of a 10.5 oz can

⅔

cup

chicken broth

2

tablespoons

melted butter

½

package of Stove Top chicken stuffing
Instructions
Preheat the oven to 400°F.

Add the chicken broth and butter to a pot over medium heat.

Bring the mixture to a light boil, pour the stuffing mix, and stir to combine.

Remove from the heat, allow to sit for 5 minutes, and then fluff with a fork.

Stir together the chicken, vegetables and soup in a mixing bowl.

Spread the chicken mixture into a small oven safe skillet or casserole dish.

Top with the stuffing.

Bake for 20-25 minutes.
Nutrition
Calories:
347
kcal
|
Carbohydrates:
13
g
|
Protein:
19
g
|
Fat:
25
g
|
Saturated Fat:
11
g
|
Polyunsaturated Fat:
3
g
|
Monounsaturated Fat:
8
g
|
Trans Fat:
1
g
|
Cholesterol:
95
mg
|
Sodium:
488
mg
|
Potassium:
371
mg
|
Fiber:
4
g
|
Sugar:
0.4
g
|
Vitamin A:
5092
IU
|
Vitamin C:
11
mg
|
Calcium:
39
mg
|
Iron:
2
mg
© LittleBitRecipes.com - All content and photographs are copyright protected by us. We appreciate sharing our recipes; but copying, pasting, or duplicating full recipes to any social media, website, or electronic/printed media is strictly prohibited and a violation of our copyrights. Single photos may be used, provided that full credit is given to us along with a link back to the original content.