If you have a sweet tooth, you are going to love the flavor combination of an Oreo mousse cake. Sweet, creamy and chocolaty, this cake has all of the elements that make a perfect dessert.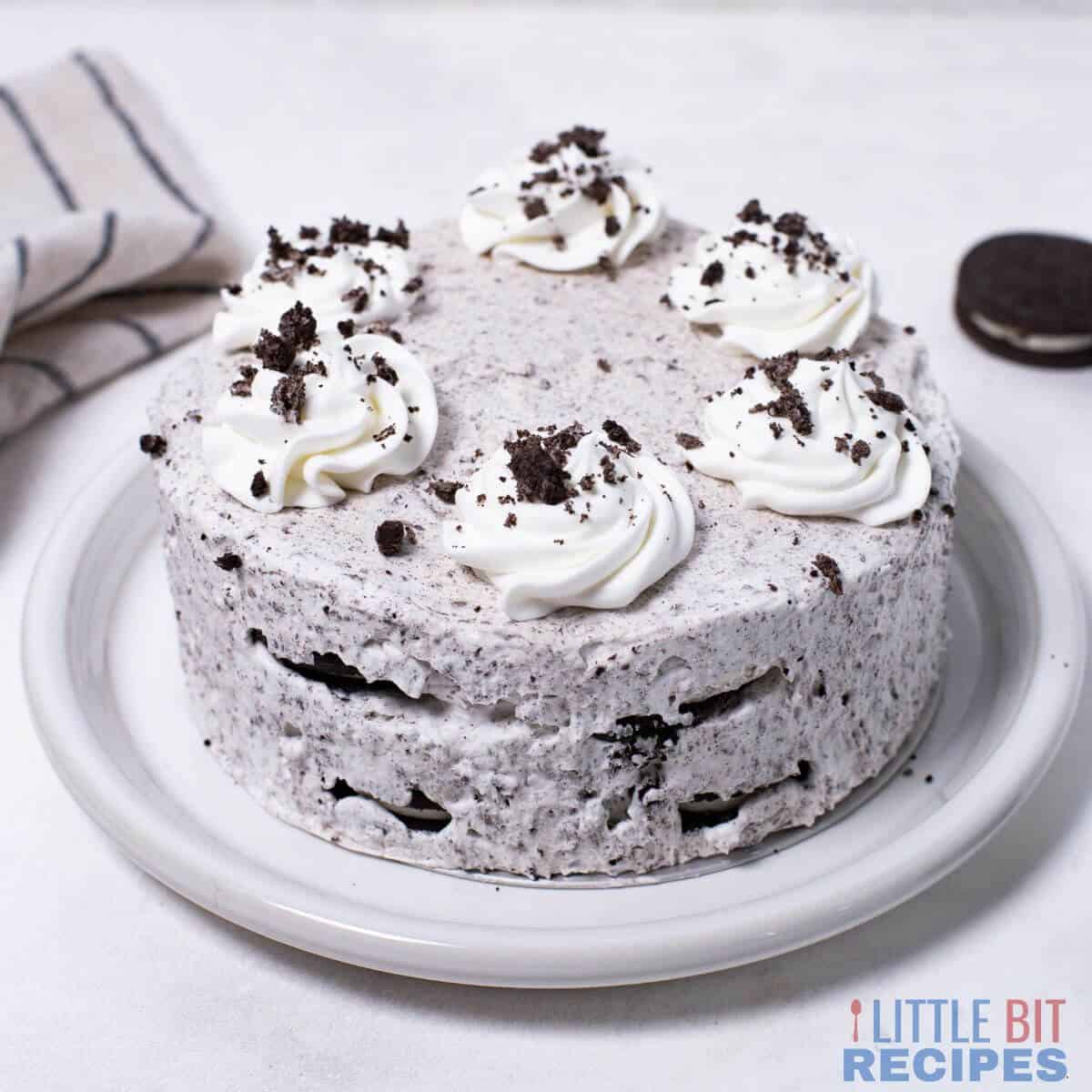 Cookies and cream mousse cake is an easy-to-make, decadent dessert that will impress your family and friends. This three-ingredient recipe is sure to have everyone asking for seconds! You only need Oreos, mousse, and milk to whip up this delicious treat.
Because this cake recipe requires no oven, it's great for summertime barbecues or even an afternoon snack on a hot day. The combination of rich chocolatey cookies and light creamy topping makes this recipe one of our favorites - especially with kids!
The best part is that it comes together quickly and can easily be customized with different flavors. It's also a great way to use up leftover Oreos. Make this simple yet delicious dessert today; you won't regret it!
Jump to:
Ingredients
Oreo cookies softened with milk provide chocolatey cake layers between creamy mousse. With only three simple ingredients, making the cake is unbelievably easy, and there's no baking needed.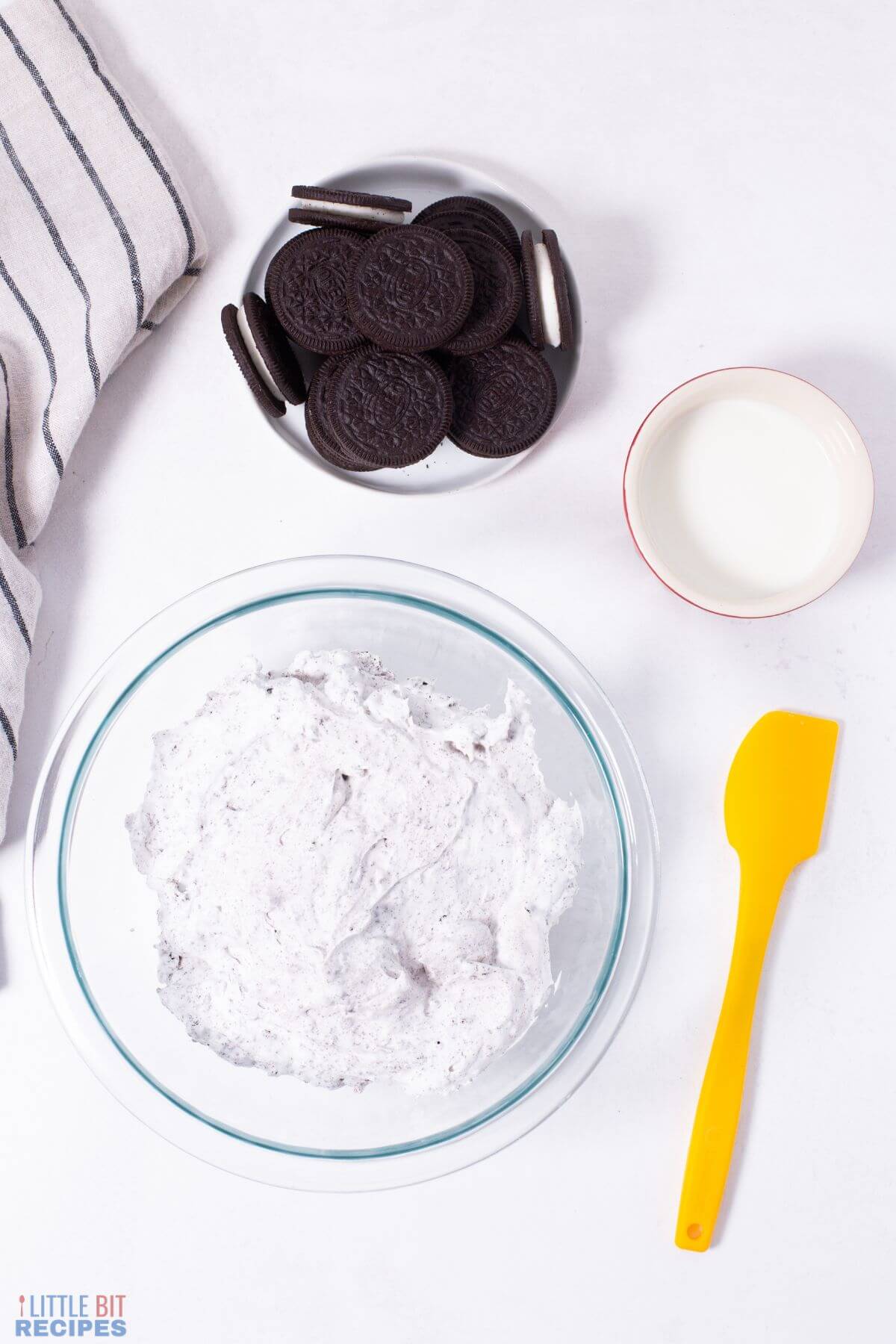 Here's what you'll need to make the cake.
Oreos: Sandwich cookies provide the chocolate cake layers.
Mousse: We use our 2-ingredient cookies and cream mousse made with crushed cookies. But you can use another mousse recipe.
Milk: Dipping the cookies in milk will make the Oreos soften into a cake-like texture.
Scroll down to the recipe card for amounts used.
Instructions
The first step in making this mousse cake is to line the bottom of a small push-up pan or springform pan with parchment paper. After that, simply alternate layers of mousse and milk-dipped Oreos. Then let the dessert sit in the refrigerator overnight or a for a couple of hours in the freezer to set.
You'll find more detailed directions below.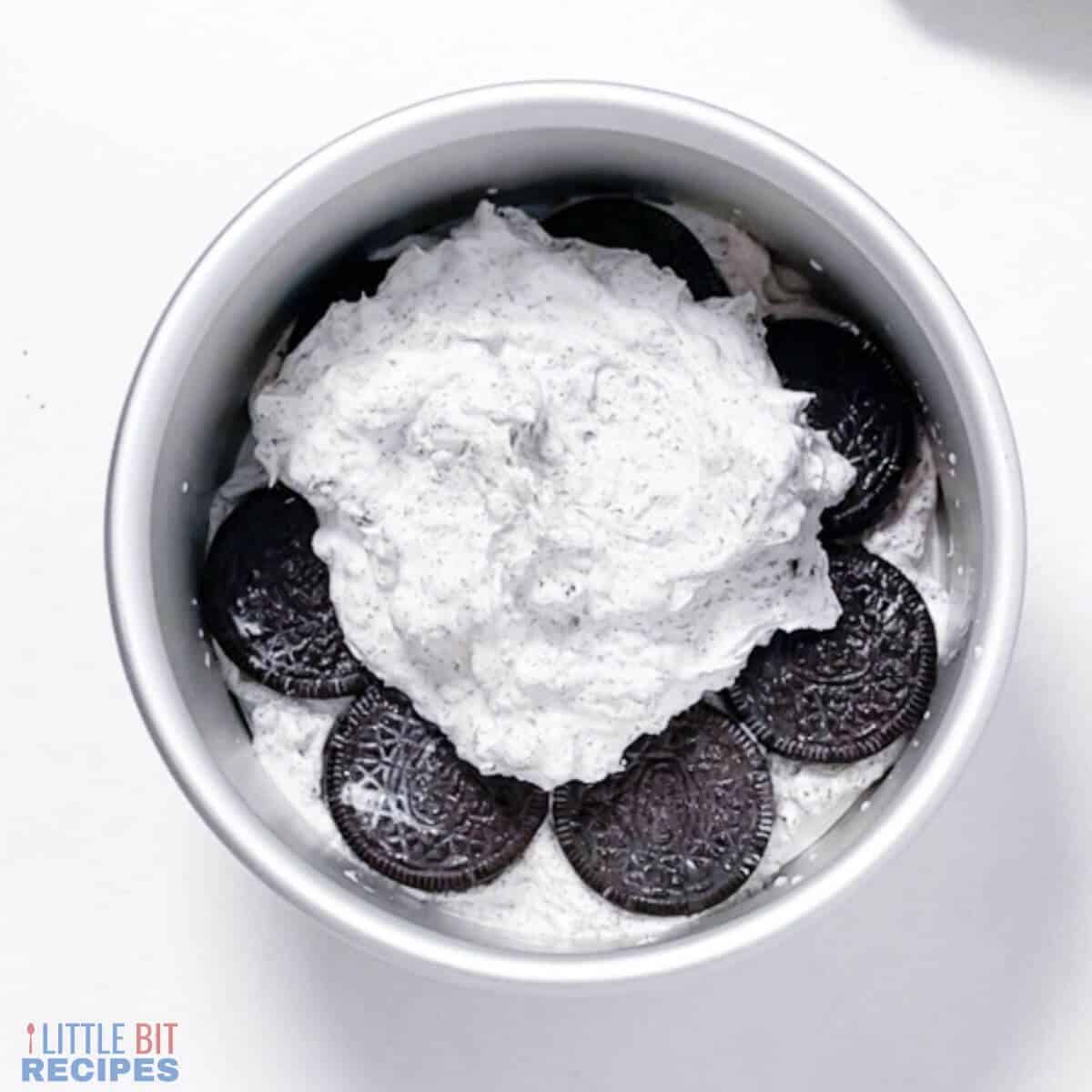 Spread a thin layer of mousse in the pan and top with a layer of milk-drenched sandwich cookies.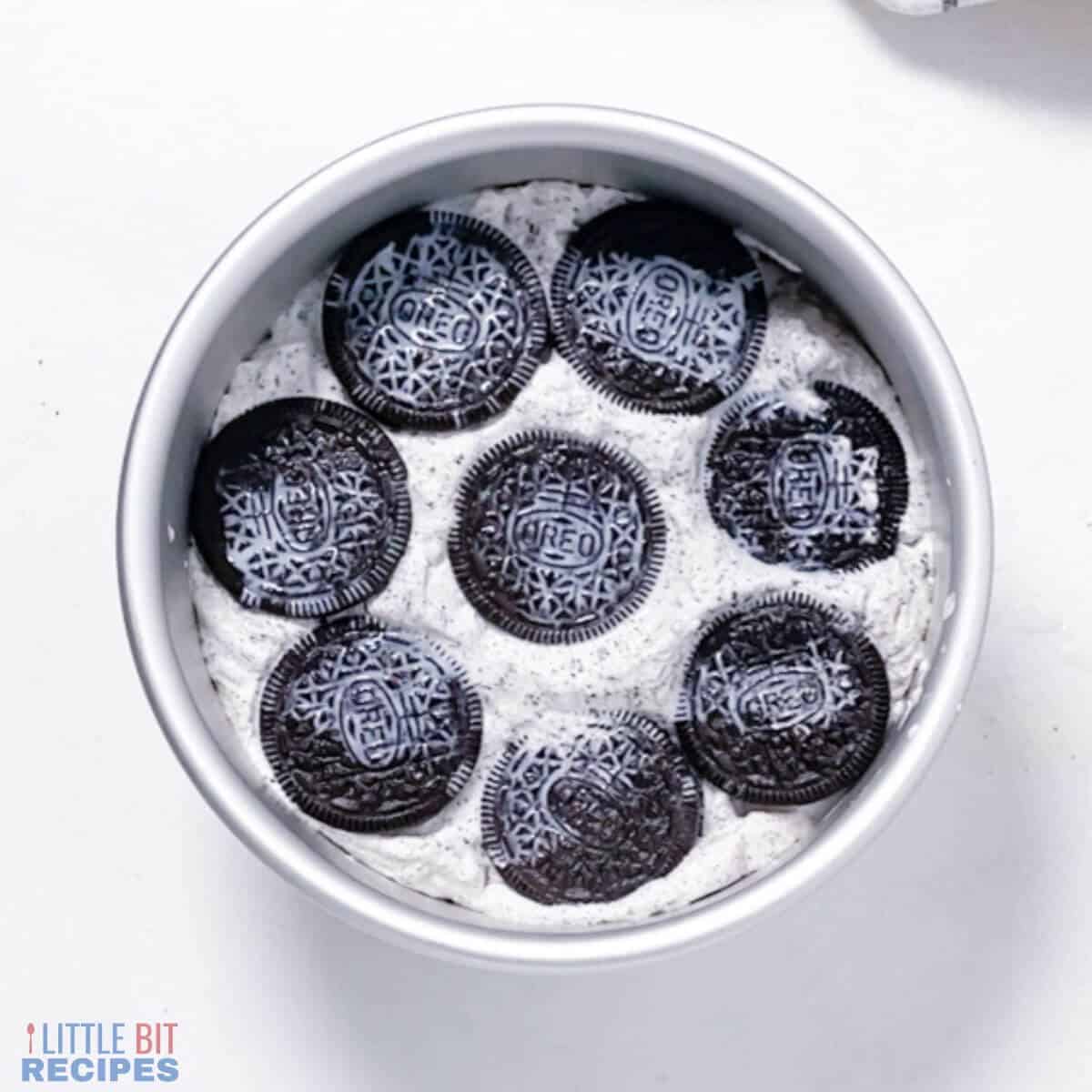 Repeat the layers by adding a thicker layer of mousse topped with cookies.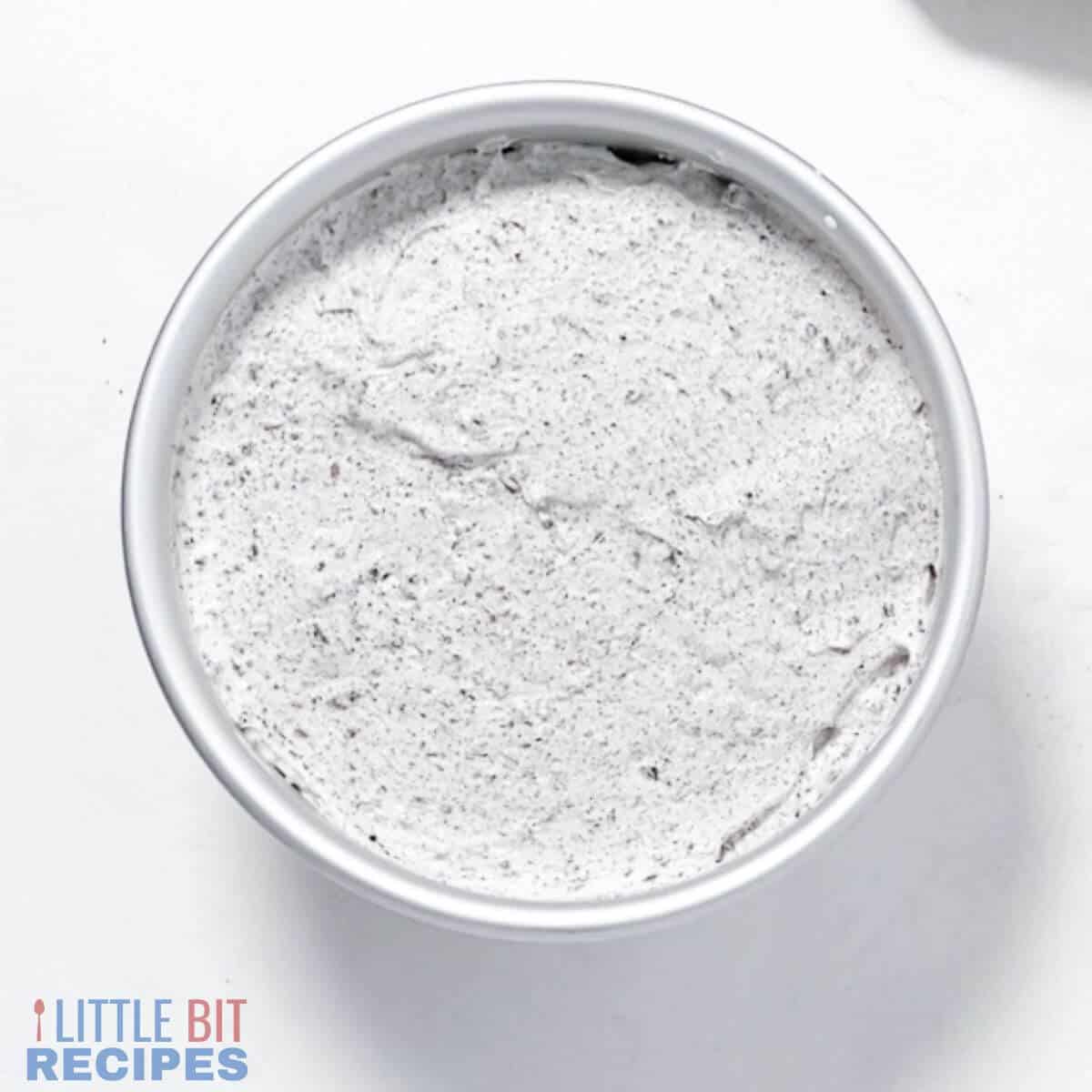 Add the remaining mousse and spread evenly on top. Cover with plastic wrap and chill to set.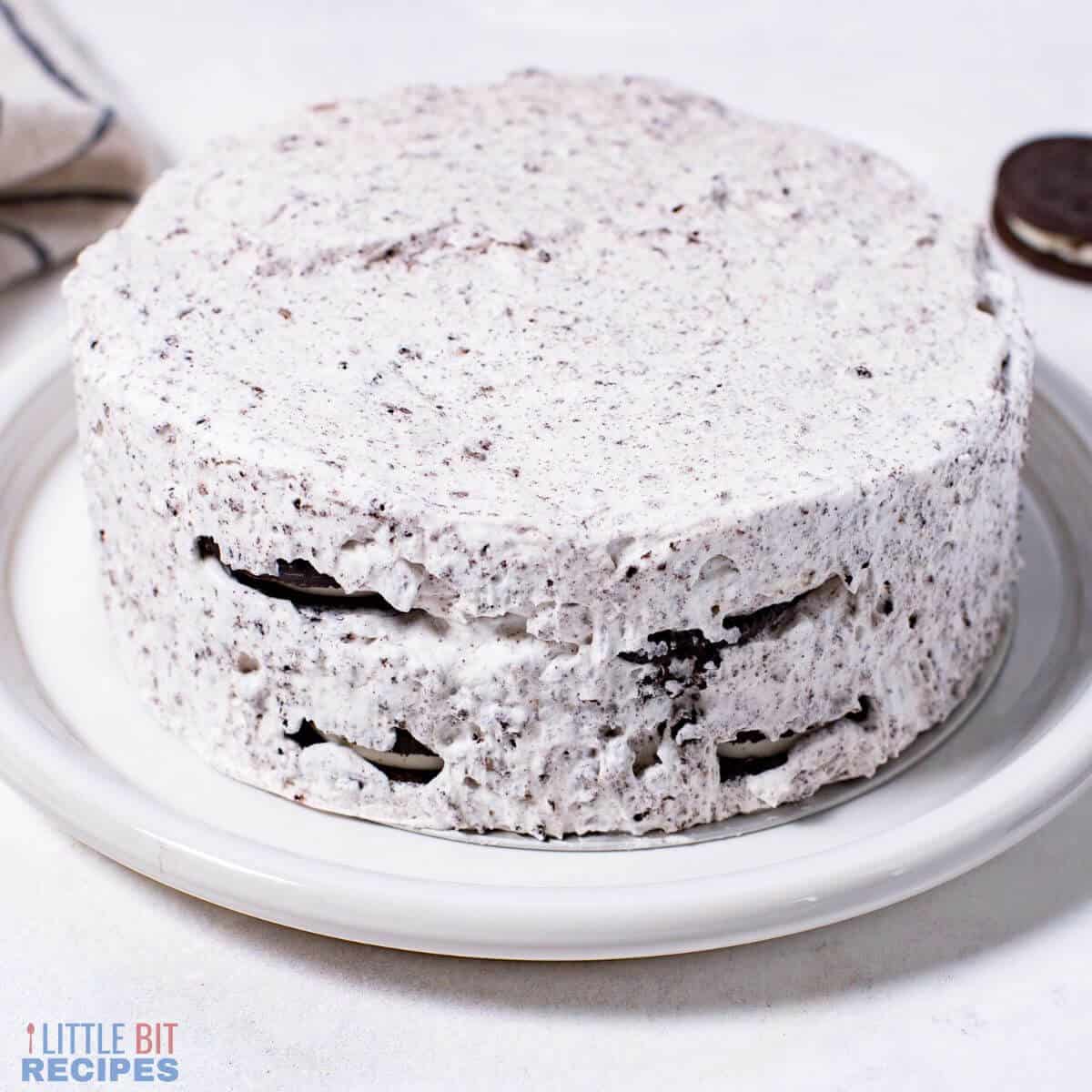 Remove the chilled cake from the pan and place it on a cake plate.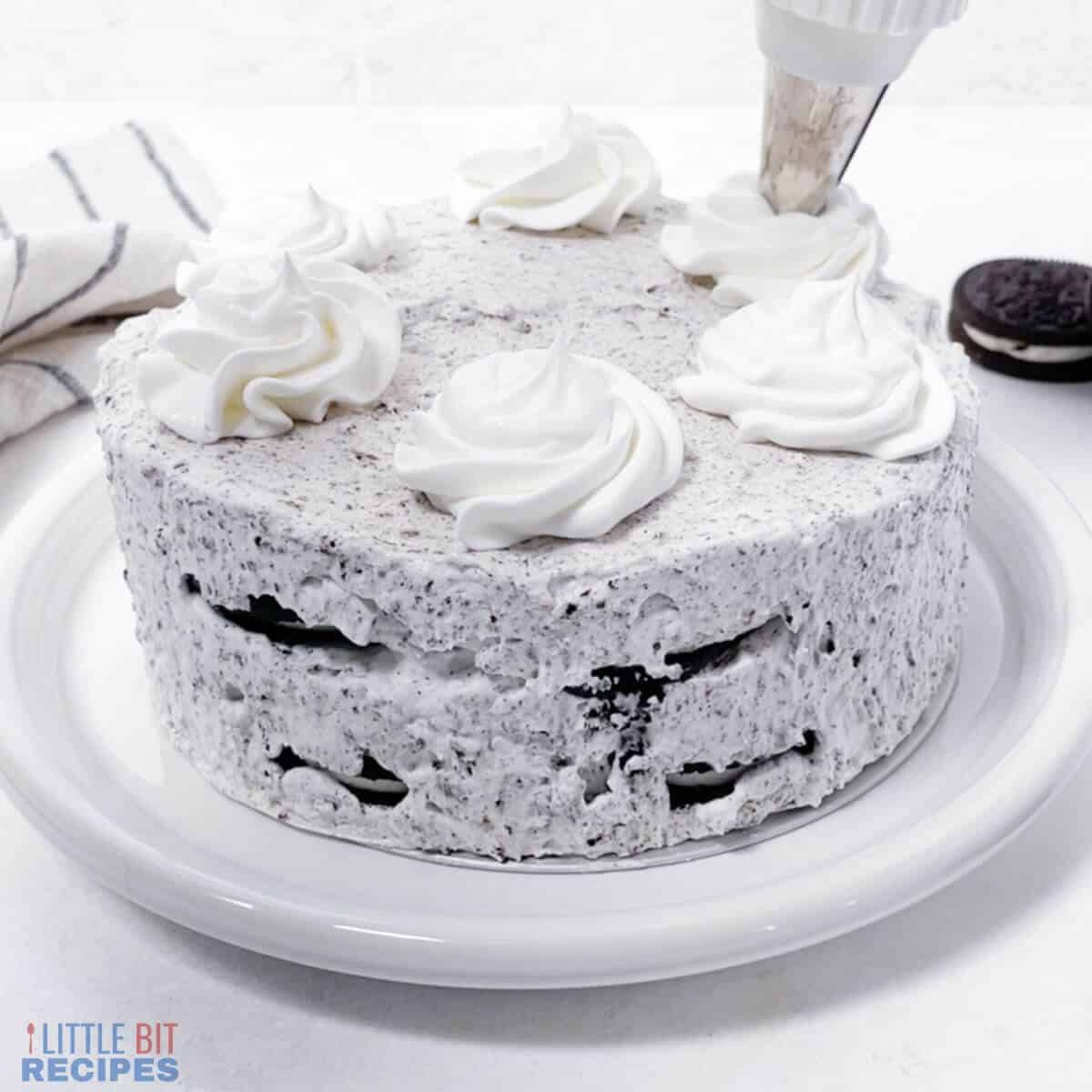 Garnish with whipped cream.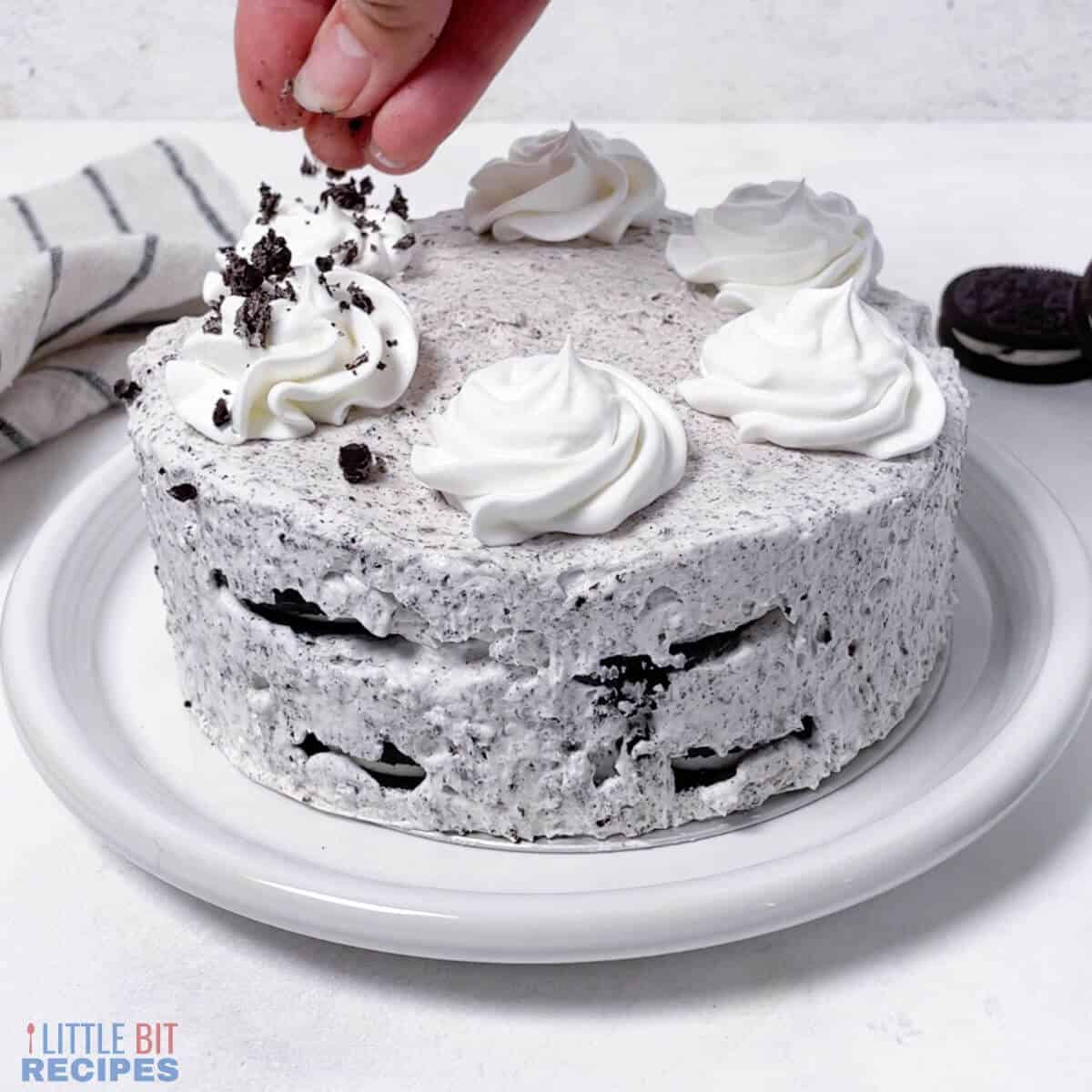 Sprinkle cookie crumbs on top.
Variations
There are a lot of ways to change up the mousse cake recipe!
Use different flavor combinations of mousse and cookies. Chocolate chip cookie mousse or a decadent Oreo mascarpone mousse are a couple of ideas.
Make a quick mousse with heavy whipping cream and cream cheese. Just beat 8 ounces of cream cheese until smooth with a cup of powdered sugar. Then, in a separate chilled bowl, beat 1 cup heavy cream until stiff peaks form. Fold the two mixtures together for an easy mousse.
Tips
Use a cake collar to prevent the sides of the cake from sticking to the sides of a springform pan. Cake collars aren't needed for push-up pans.
Add garnish. Top with piped whipped cream. Then process one or two extra cookies in a food processor to a fine crumb to sprinkle over the top. Or use black cocoa powder for garnishing.
Serving suggestions
For those looking for a delicious dessert that doesn't require a lot of effort to put together, an Oreo mousse cake is the perfect solution. This three-ingredient treat is sure to be a hit with family and friends!
While the cake itself may be relatively simple, there are many ways you can serve it up for maximum effect. Here are some serving suggestions on how to make your Oreo mousse cake look even better than it tastes:
First off, consider adding a drizzle of your favorite chocolate sauce or jam onto the top of the finished product. Not only will this look amazing when presented at the dinner table, but it will also bring out all the sweet flavors in your dessert.
Or, try layering some fresh fruit such as strawberries or blueberries between each layer of mousse for added texture and flavor.
Storage
Cover the cake with plastic wrap or foil and place it in the refrigerator for up to four days. This will help keep the cake fresh and prevent drying out.
If you plan on storing your cake for longer than four days, transfer it to an airtight container and freeze it for up to three months.
FAQ
What is cookies and cream mousse made of?
Cookies and cream mousse is usually made with whipped cream, cookie crumbs and cream cheese. But you can make a simpler recipe using frozen whipped topping.
What if I don't have a springform or push-up pan?
Just use a regular pan and serve the cake right from the pan.
Can I add a crust as the bottom layer?
You can add a crust bottom to the mousse cake. To do so, prepare your favorite crust recipe and press it into the bottom of a springform pan. If it requires baking, be sure to let it cool before adding the mousse filling.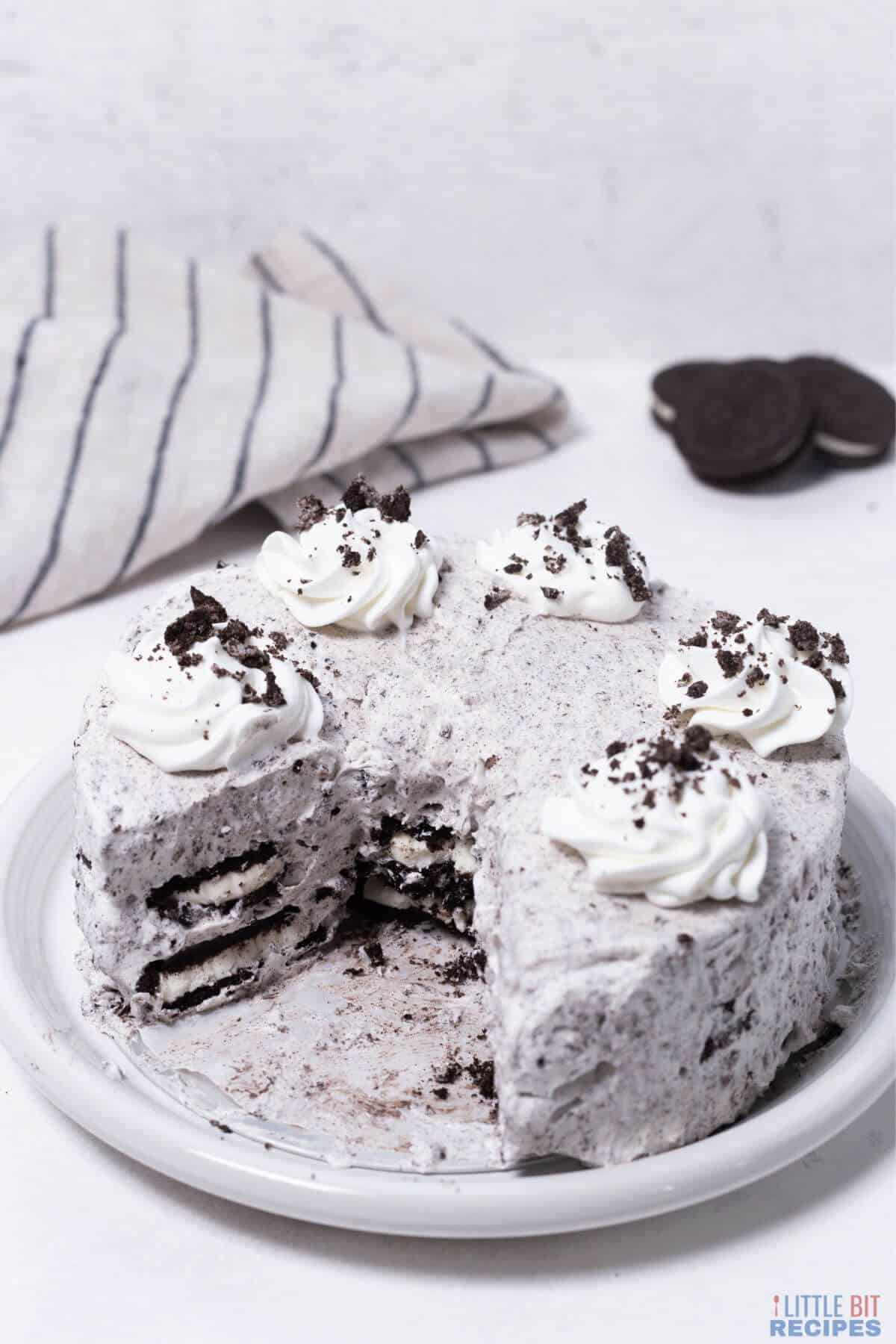 Related Recipes
Here's a few more easy desserts to satisfy your sweet tooth!
Follow us on Facebook, Instagram, and Pinterest to see more recipes.
Recipe
Oreo Mousse Cake
The flavor combination of an Oreo mousse cake is so delicious. It has everything that makes a perfect dessert: sweet, creamy, and chocolaty.
Ingredients
1

batch

cookies and cream mousse

16

Oreo cookies

or other sandwich cookies
Instructions
Line bottom of pan with parchment paper for easy release.

Spread thin layer of mousse on the bottom of pan. Cover with half the cookies in a single layer.

Spread half the mousse over the cookies. Repeat layers with remaining cookies and mousse.

Freeze until firm then push up the pan bottom and carefully place mousse cake onto serving plate. Garnish with additional whipped topping and cookie crumbs, if desired.
Notes
Use a cake collar to prevent the sides of the cake from sticking to the sides of a springform pan. Cake collars aren't needed for push-up pans.
Add garnish. Top with piped whipped cream. Then process one or two extra cookies in a food processor to a fine crumb to sprinkle over the top. Or use black cocoa powder for garnishing.
Nutrition
Calories:
279
kcal
|
Carbohydrates:
43
g
|
Protein:
4
g
|
Fat:
11
g
|
Saturated Fat:
4
g
|
Polyunsaturated Fat:
2
g
|
Monounsaturated Fat:
5
g
|
Trans Fat:
0.02
g
|
Cholesterol:
6
mg
|
Sodium:
213
mg
|
Potassium:
153
mg
|
Fiber:
2
g
|
Sugar:
26
g
|
Vitamin A:
67
IU
|
Calcium:
51
mg
|
Iron:
6
mg
© LittleBitRecipes.com - All content and photographs are copyright protected by us. We appreciate sharing our recipes; but copying, pasting, or duplicating full recipes to any social media, website, or electronic/printed media is strictly prohibited and a violation of our copyrights. Single photos may be used, provided that full credit is given to us along with a link back to the original content.