Try a tasty twist on a classic Indian dish. This aloo gobi masala recipe is a delicious combination of potatoes, cauliflower and spices cooked in a flavorful curry-style sauce.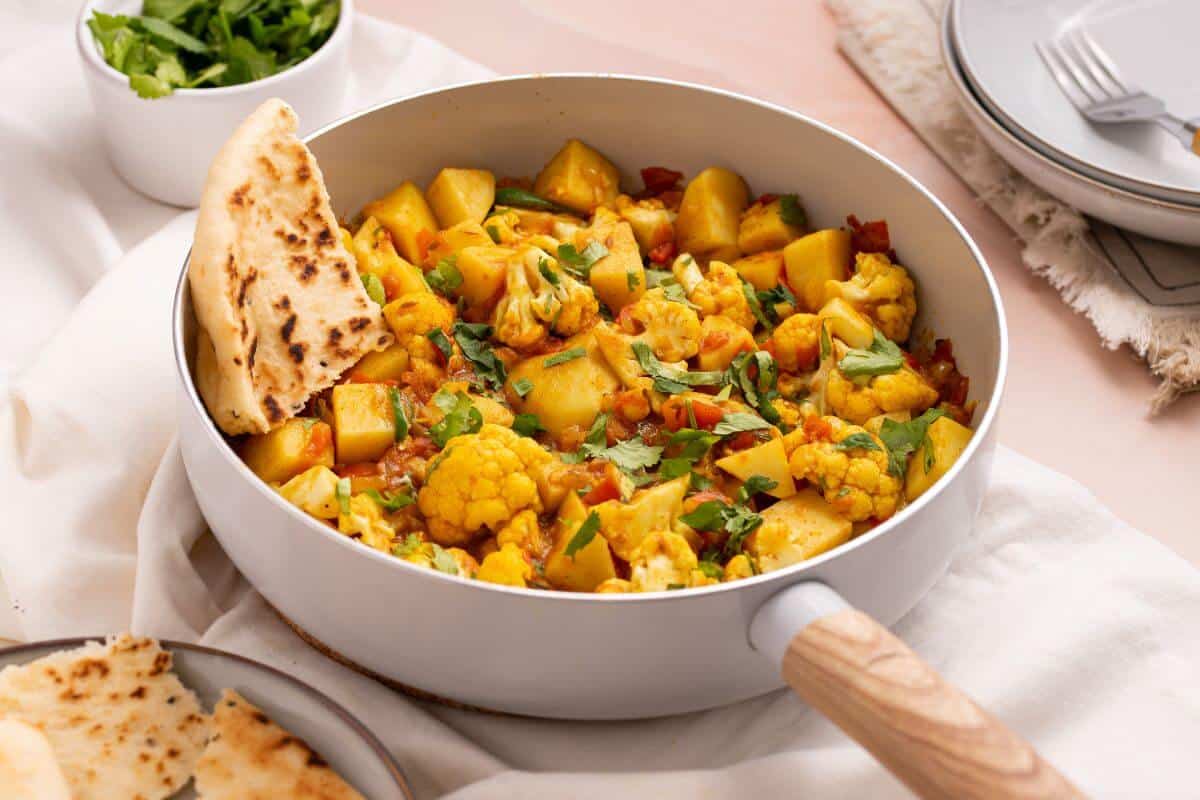 If you like Indian food, you will love the combination of potatoes and cauliflower cooked in a spicy tomato-based sauce. The spices used in the masala sauce give this dish its distinct flavor.
Combining cumin, coriander, turmeric, garam masala, and chili powder creates a rich blend of flavors that will leave your taste buds wanting more. The vegan dish can be enjoyed with rice or naan bread. It's perfect for lunch or dinner and makes great leftovers too.
Cooking up a small batch of aloo gobi masala is a great way to introduce yourself to Indian cuisine if you haven't tried it before. With its savory flavor profile, it's sure to become one of your go-to dishes for any occasion!
Jump to:
Ingredients
You only need a handful of simple ingredients to make this flavorful dish.
You'll need the following items to make the recipe.
Cooking oil or ghee
Cumin seeds
Onion
Garlic
Garam masala
Ginger powder
Turmeric powder
Curry powder
Chilli powder
Salt
Tomatoes
Cauliflower florets
Russet potatoes
Green chili pepper
Lemon juice
Cilantro
Scroll down to the recipe card for quantities used.
Instructions
The traditional method involves boiling the potatoes and cauliflower separately before mixing them together with the spices and other ingredients. However, this recipe cooks them in a pan to save time.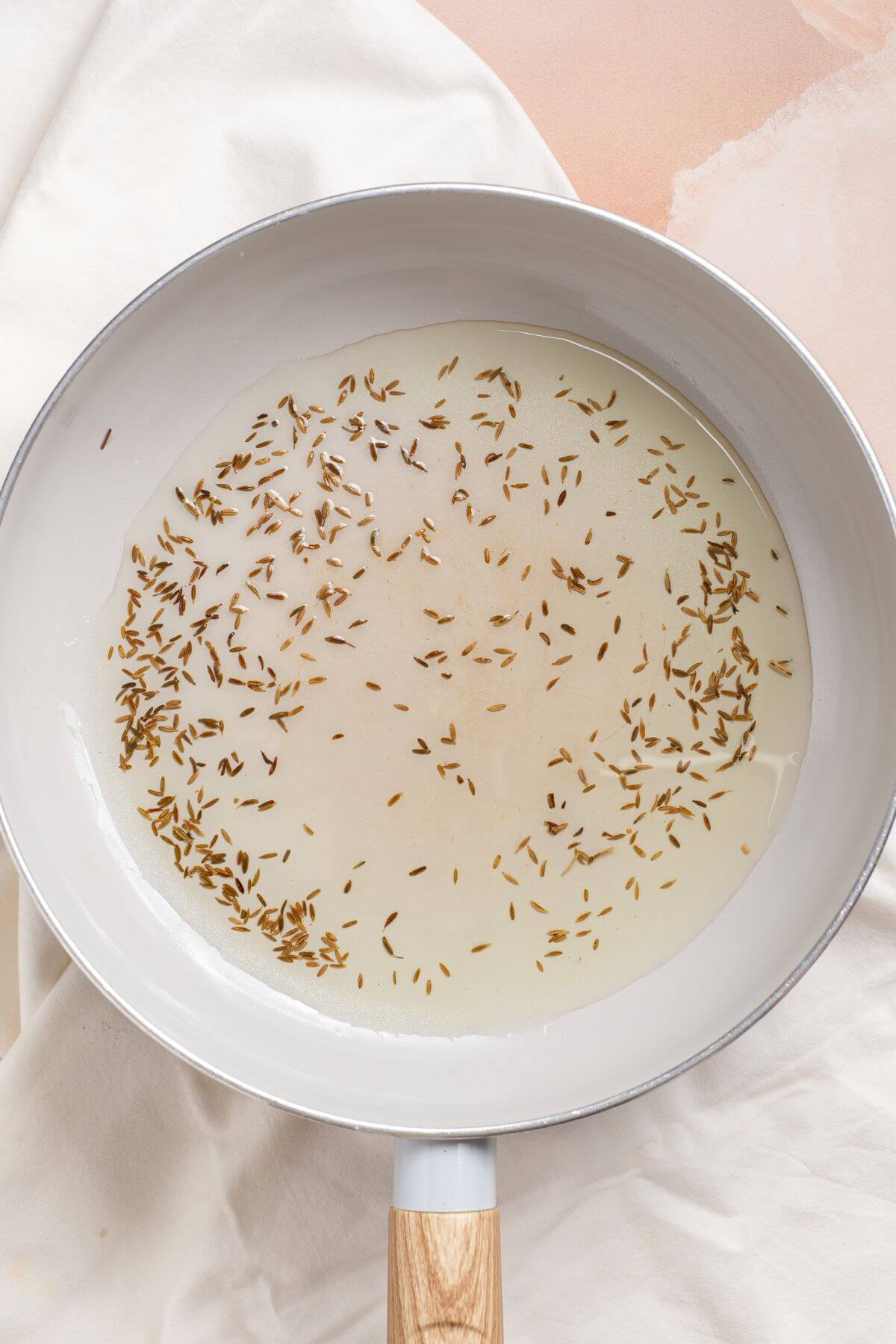 Add cumin seeds to hot oil in skillet and let them sizzle for a few seconds.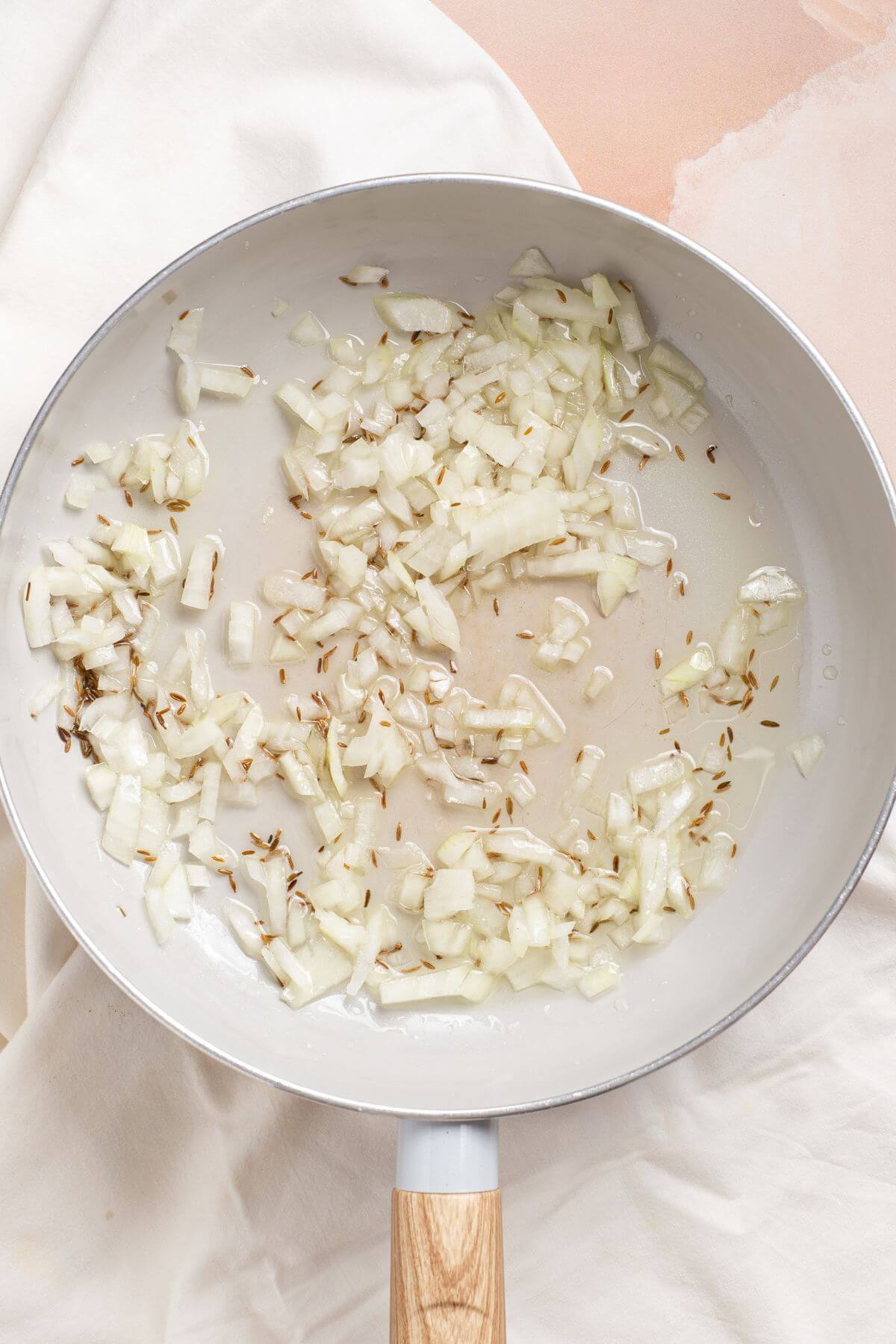 Stir in chopped onion and sauté until translucent.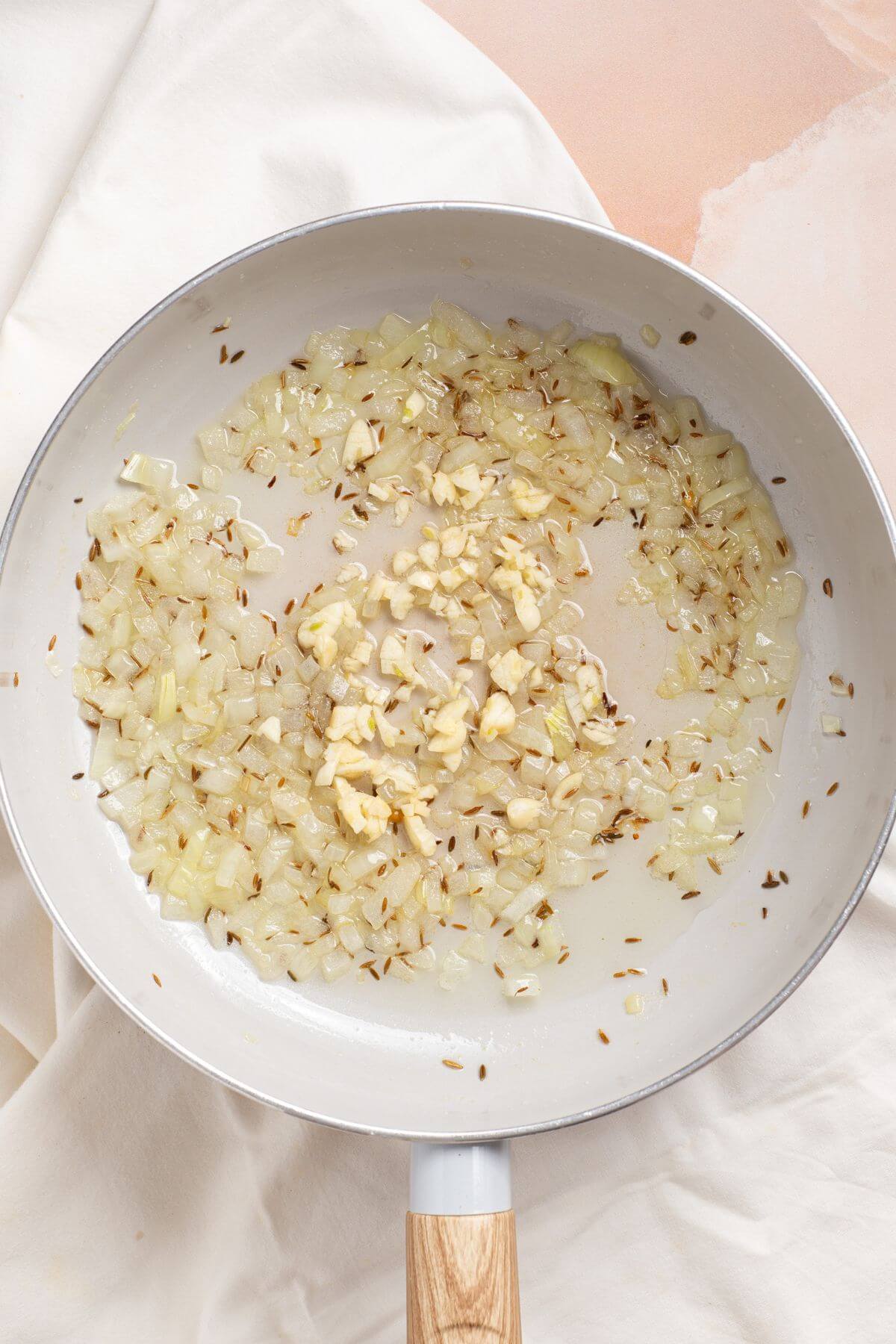 Add and sauté the garlic until fragrant.
Mix in the tomatoes, all spices and salt.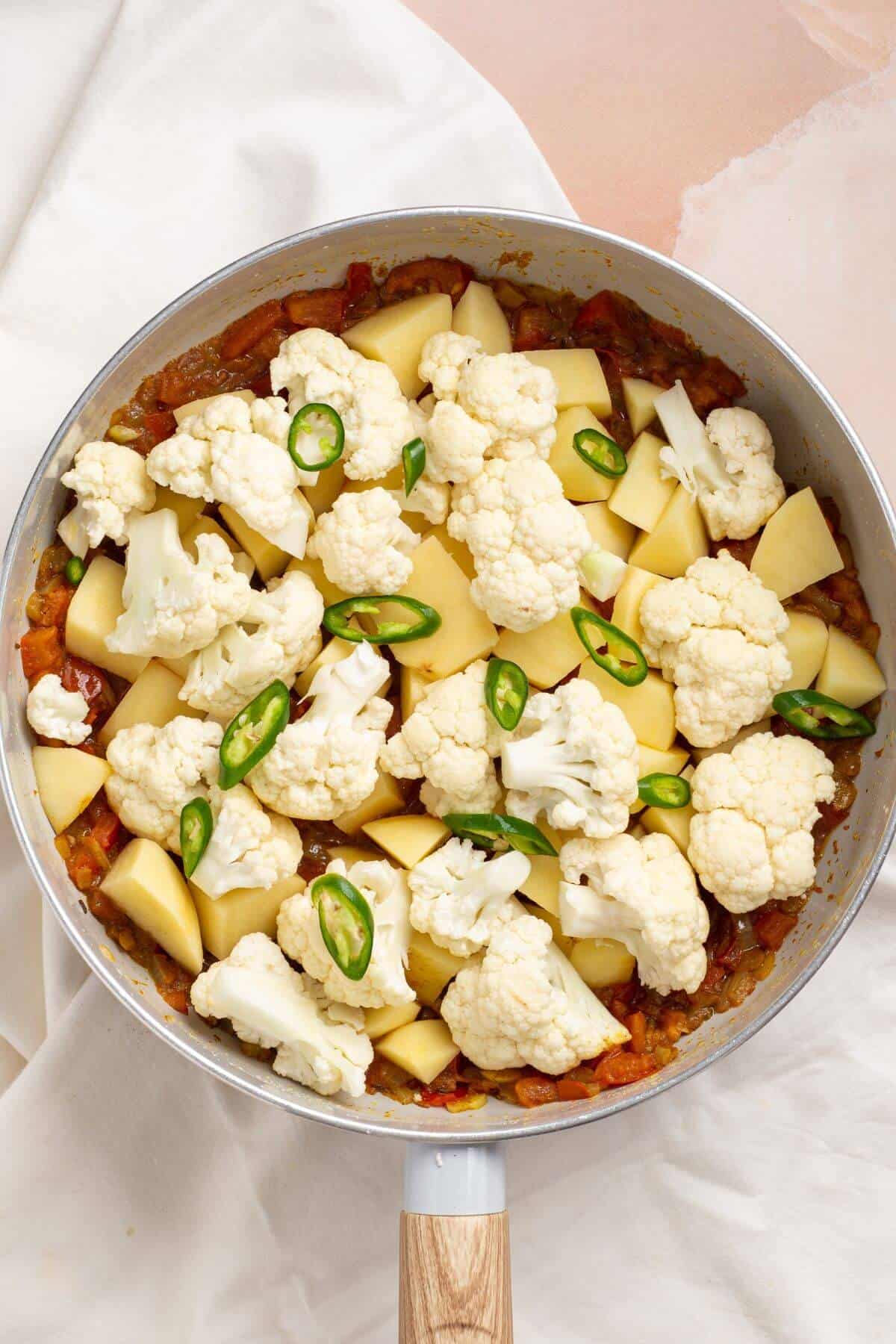 Once tomatoes are tender, add the potatoes, cauliflower, and green chili pepper into the mixture. Sauté until soft.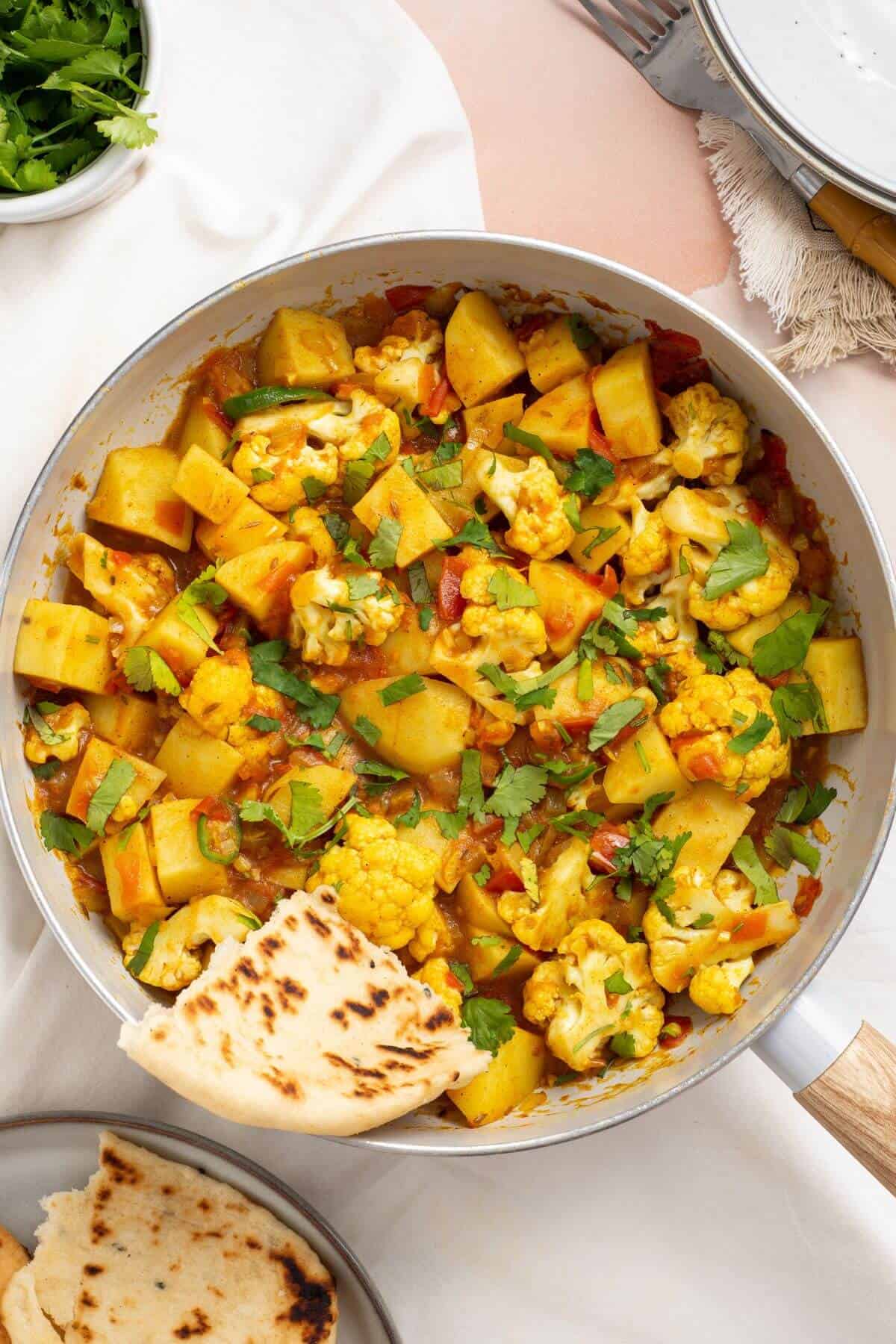 Reduce the heat to low-medium, then cover pan and allow mixture to cook until cauliflower and potatoes are fork-tender, stirring occasionally.
Variations
This dish can be customized to suit individual preferences and taste buds by adding or removing ingredients and adjusting the spice level.
Add additional vegetables. Some people like to add peas, carrots or green beans. But spinach or kale are great additions too.
Use sweet potatoes. For a change in flavor, use sweet potatoes instead of regular ones.
Add creaminess. For a creamier version of this dish, consider adding coconut cream or heavy cream towards the end of cooking.
Change the spice level. Adding green chilies or red pepper flakes can turn up the heat. Reducing the amount of spices used would be ideal if you want a milder version.
Tips
Use fresh ingredients. Fresh cauliflower, potatoes, and tomatoes can make all the difference in the flavor of this dish.
Roast the potatoes and cauliflower first. Roasting your vegetables before adding them to the masala can add an extra layer of flavor and texture to your dish. Simply toss your cauliflower and potatoes with oil, salt, and pepper and roast in the oven until lightly browned.
Spices are key. The spices used in an aloo gobi recipe give it its unique flavor profile. Cumin, coriander, turmeric, garam masala, and chili powder are all commonly used spices in this dish. You can also add some coriander powder or coriander leaves.
Don't overcook. Overcooking or leaving your vegetables on too high of heat can produce a mushy or soggy texture. Cook until just tender but still slightly firm.
Serving suggestions
Aloo gobi masala is traditionally served with basmati rice or naan bread on the side to soak up all the delicious flavors. These sides can help balance out the intense spice and creaminess of the curry while also providing a satisfying carb component.
If you're feeling adventurous, add some crispy fried onions or garnish with fresh cilantro leaves for an extra pop of flavor and color.
Storage
Leftovers can be stored in the refrigerator for up to five days. To store, place it in an airtight container or wrap it tightly in plastic wrap. This will help keep the flavors and moisture intact and prevent spoilage.
FAQ
What does aloo gobi mean in English?
The name of this dish is derived from two main ingredients: aloo (which means potato in Hindi) and gobi (which means cauliflower in Hindi). These two vegetables form the base of this highly flavorful and aromatic curry.
Why is aloo gobi popular?
Combining vegetables and spices creates a flavorful dish that has become popular in India and worldwide. The popularity of the dish can be attributed to its simplicity. It requires few ingredients and is relatively easy to make.
Where is aloo gobi from in India?
The dish originated in Northern India, but is now enjoyed all over the country.
Related Recipes
Here's a few more vegetarian dishes you may want to try.
Follow us on Facebook, Instagram, and Pinterest to see more recipes.
Recipe
Aloo Gobi Masala (Cauliflower Potato Curry)
Try this delicious aloo gabi masala recipe. It's a classic Indian vegetable dish that is easy to make and bursting with flavor.
Ingredients
¼

cup

cooking oil

or ghee

1

teaspoon

cumin seeds

1

medium onion

finely chopped

3

garlic cloves

crushed

1

teaspoon

garam masala

1

teaspoon

ginger powder

½

teaspoon

turmeric powder

½

teaspoon

curry powder

¼

teaspoon

chilli powder

1 ½

teaspoon

salt

3

medium

tomatoes

finely chopped

1

small

head of cauliflower

cut into small florets with stems

2

small

russet potatoes

peeled and cut into ½-inch cubes

1

small

green chili pepper

sliced

1

teaspoon

lemon

or lime juice (plus more for serving)

2

tablespoon

chopped cilantro leaves

2-3

Naan bread

(optional) for serving
Instructions
Begin by heating oil in a pot with a non-stick surface or a heavy bottom over medium-high heat. Once the oil is heated, add cumin seeds and let them sizzle for a few seconds. Next, add chopped onion and sauté, making sure to stir frequently, until the onion is translucent, for 5 minutes.

Add and sauté the garlic, for 30 seconds. Then, add the tomatoes, all spice powders (garam masala, ginger powder, curry powder, turmeric powder, chili powder) and salt. Cook until the tomatoes become tender, and the oil starts to separate from them,for 4 to 5 minutes. If necessary, add 2 tablespoons of water to the pan to deglaze and help the tomatoes.

Incorporate the potatoes, cauliflower, and green chili pepper into the mixture. Sauté for approximately 5 minutes or until they become soft.

Reduce the heat to low-medium, then cover the pan and allow the mixture to cook for approximately 20 minutes or until the cauliflower and potatoes are fork-tender, stirring occasionally. Add a splash of water once or twice if the sauce starts sticking to the bottom of the pan.

Finish with lemon or lime juice, chopped cilantro leaves and serve with naan bread.
Nutrition
Calories:
246
kcal
|
Carbohydrates:
28
g
|
Protein:
5
g
|
Fat:
14
g
|
Saturated Fat:
2
g
|
Polyunsaturated Fat:
8
g
|
Monounsaturated Fat:
3
g
|
Trans Fat:
0.1
g
|
Sodium:
943
mg
|
Potassium:
850
mg
|
Fiber:
5
g
|
Sugar:
6
g
|
Vitamin A:
816
IU
|
Vitamin C:
54
mg
|
Calcium:
53
mg
|
Iron:
2
mg
© LittleBitRecipes.com - All content and photographs are copyright protected by us. We appreciate sharing our recipes; but copying, pasting, or duplicating full recipes to any social media, website, or electronic/printed media is strictly prohibited and a violation of our copyrights. Single photos may be used, provided that full credit is given to us along with a link back to the original content.