With an air fryer, you can cook frozen chicken wings with minimal effort and no added fat or oil. There are only a few simple ingredients needed to whip up crispy and flavorful wings quickly.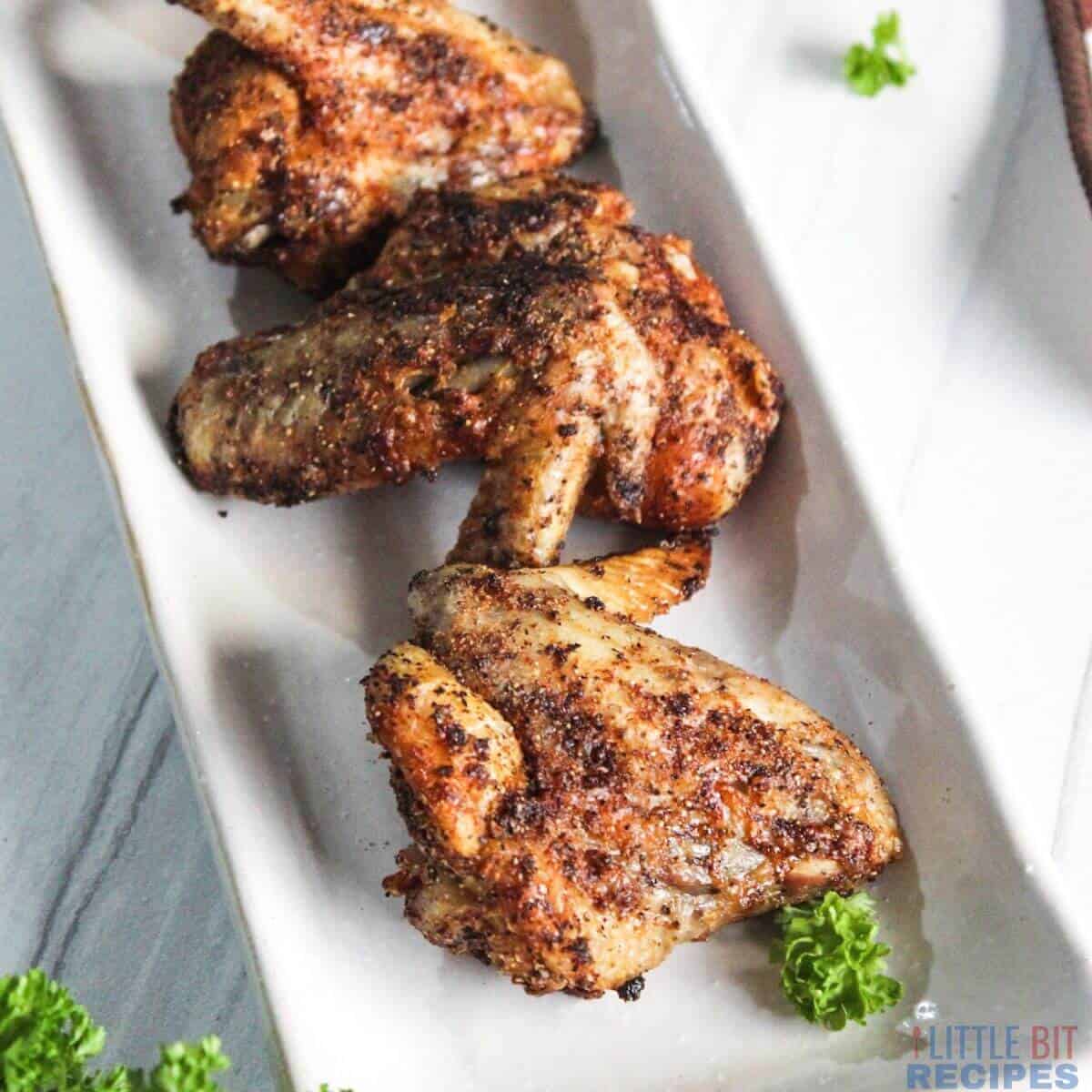 Air fryers are quickly becoming a popular kitchen appliance. With their simple operation and short cooking times, they can help you prepare delicious and healthy meals in no time. You can even make snacks like air-fried strawberries.
Just like sweet potato fries and frozen pot pies, frozen chicken wings can be cooked in an air fryer without having to thaw them first. This makes it an ideal choice for busy weeknights when you don't have time to wait for the food to defrost before cooking it.
The high-heat settings of the air fryer will result in crispy, golden-brown chicken wings that are juicy on the inside. Plus, using an air fryer helps minimize splatter messes from traditional frying methods.
Jump to:
Ingredients
You only need five simple ingredients to make this air fryer frozen chicken wings recipe. But you can add a little oil to help the seasonings stick to the wings.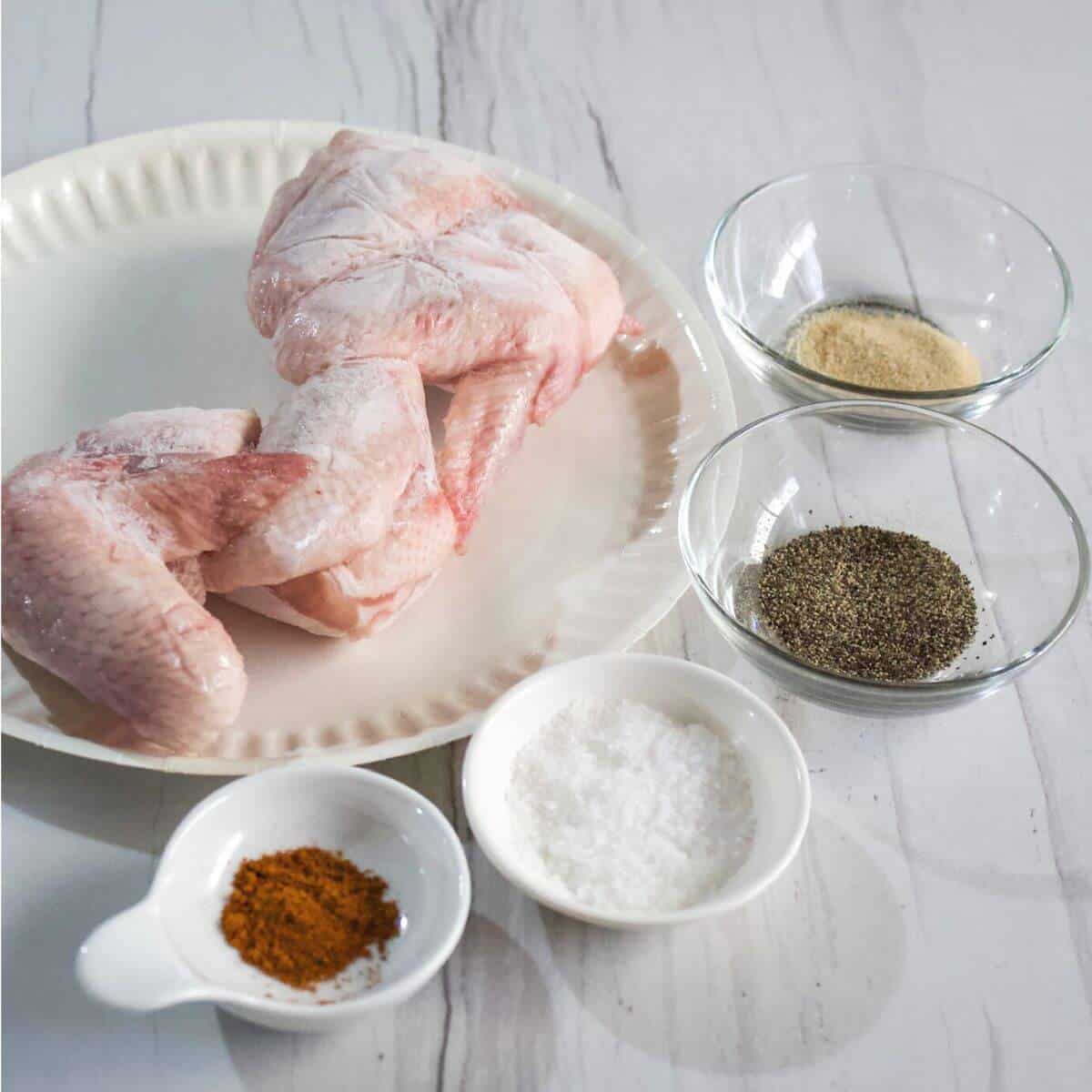 Here's what you'll need to have on hand:
frozen chicken wings
granulated garlic or garlic powder
cayenne pepper
salt and pepper
Scroll down to the recipe card to see the amounts used.
Instructions
The key to air frying frozen chicken wings is finding the right time and temperature settings. Cooking time will vary depending on the size of your wings and the air fryer temperature.
It's also important to remember that if you're making a large batch of wings, you may need to adjust the time and temperature accordingly. For example, larger batches may require higher temperatures or longer cook times for optimal results.
For this recipe, the initial cooking is done at 300°F, then the temperature is increased to 370°F. But you may want to experiment with times and temperature to determine what works best for your air fryer model.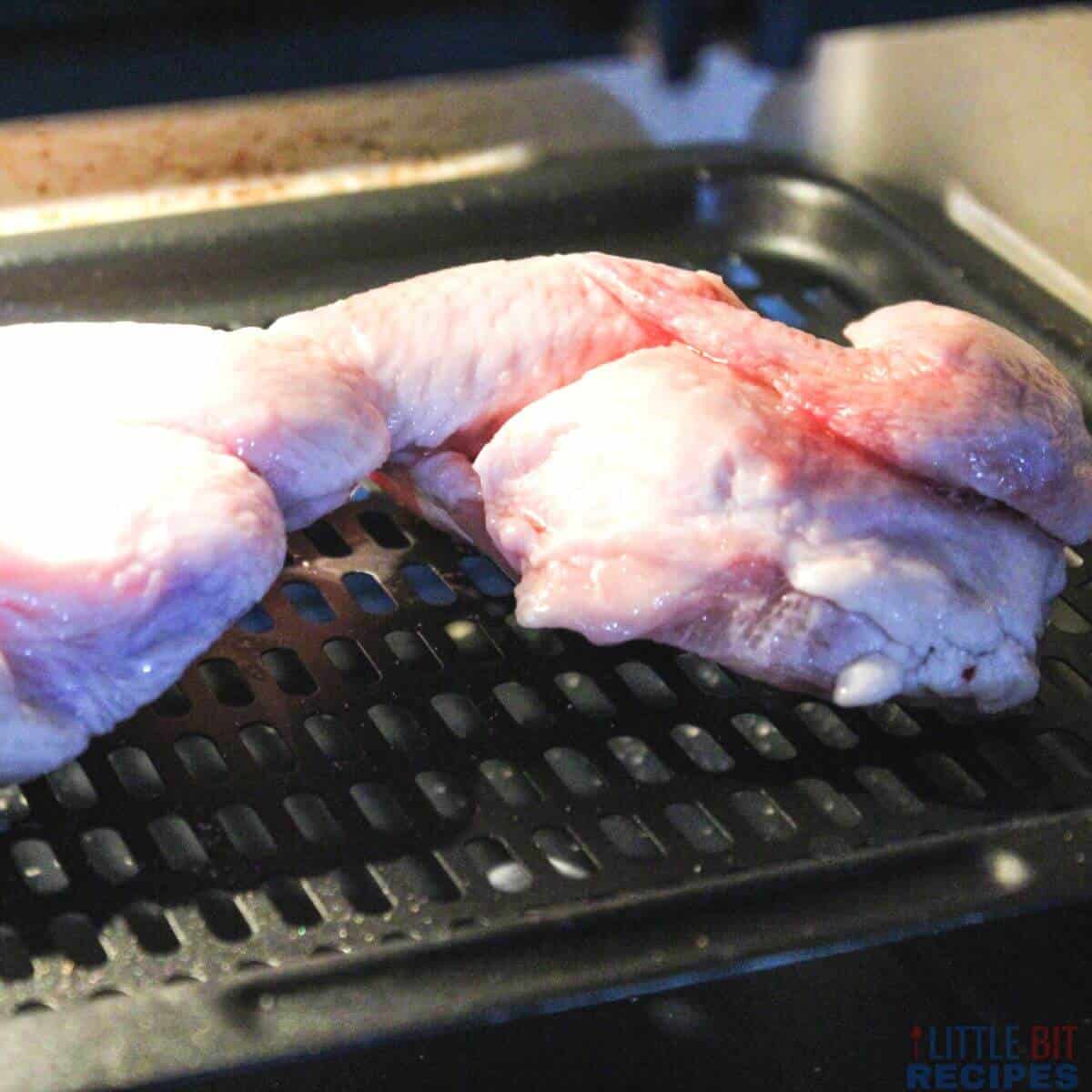 Place frozen chicken wings in air fryer at the lower temperature for 15 minutes, separating pieces after 10 minutes if needed.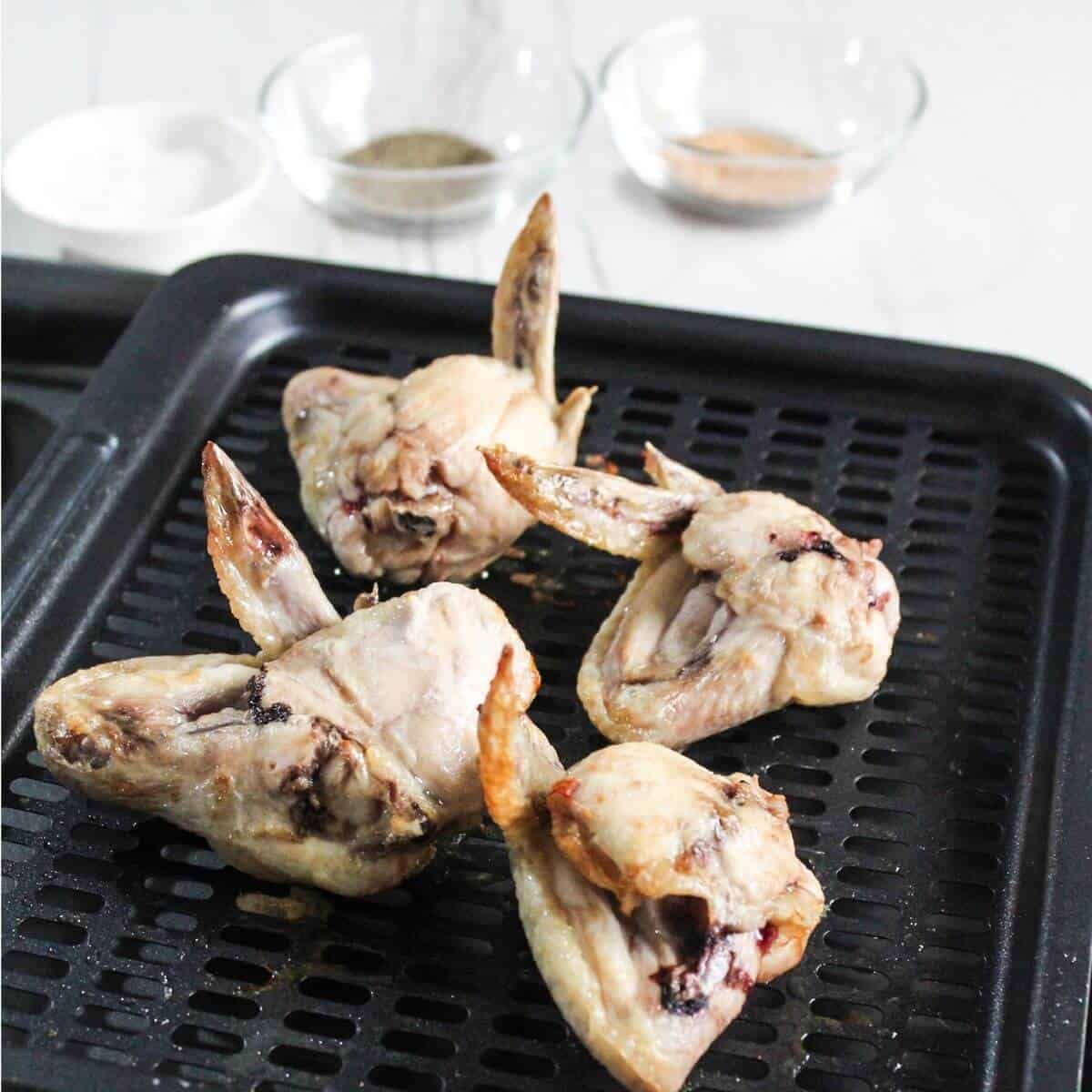 Carefully remove the tray or air fryer basket of wings. Increase the cooking temperature and transfer the wings to a plate.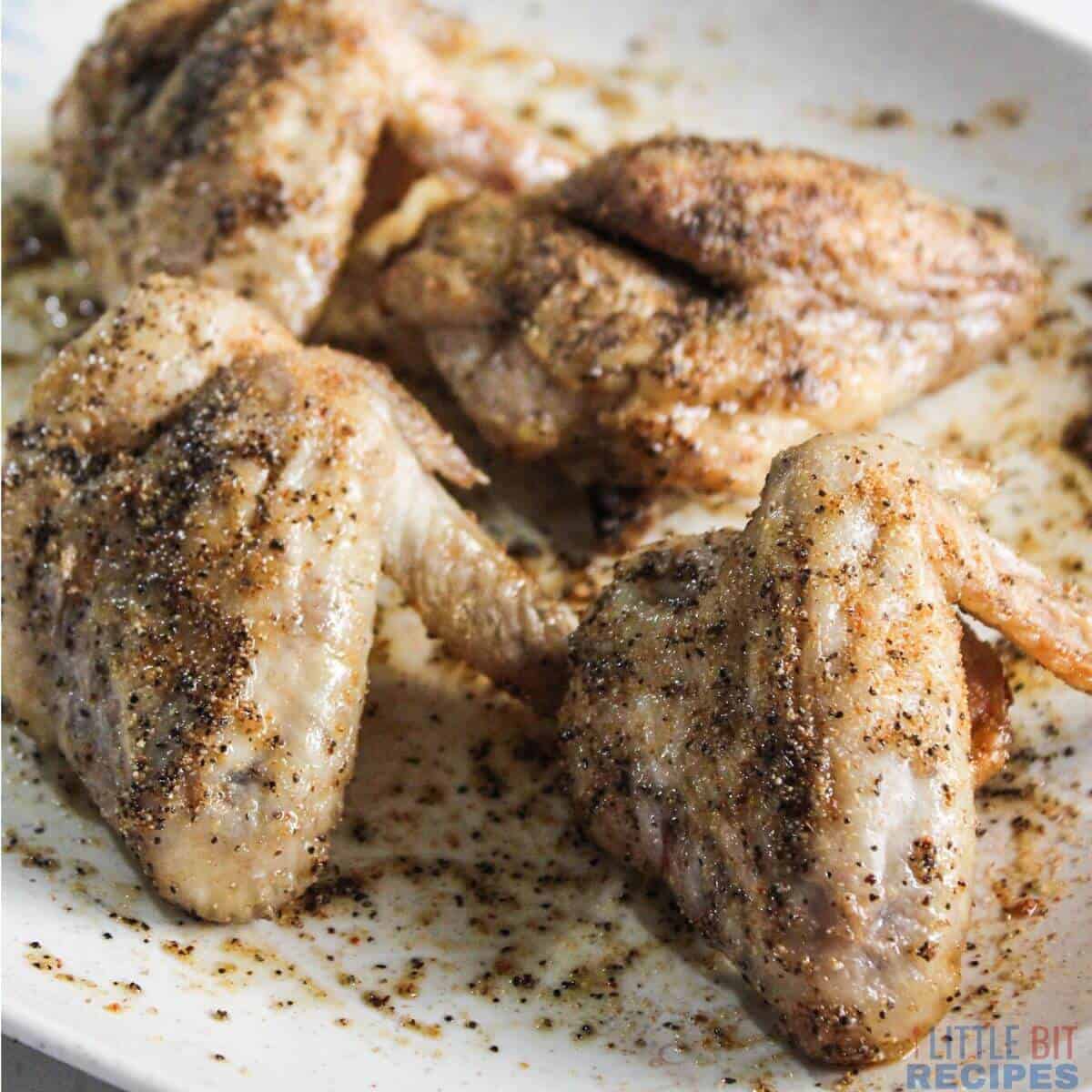 Season the wings with salt then sprinkle on the remaining seasonings. If using oil, drizzle it on after the salt.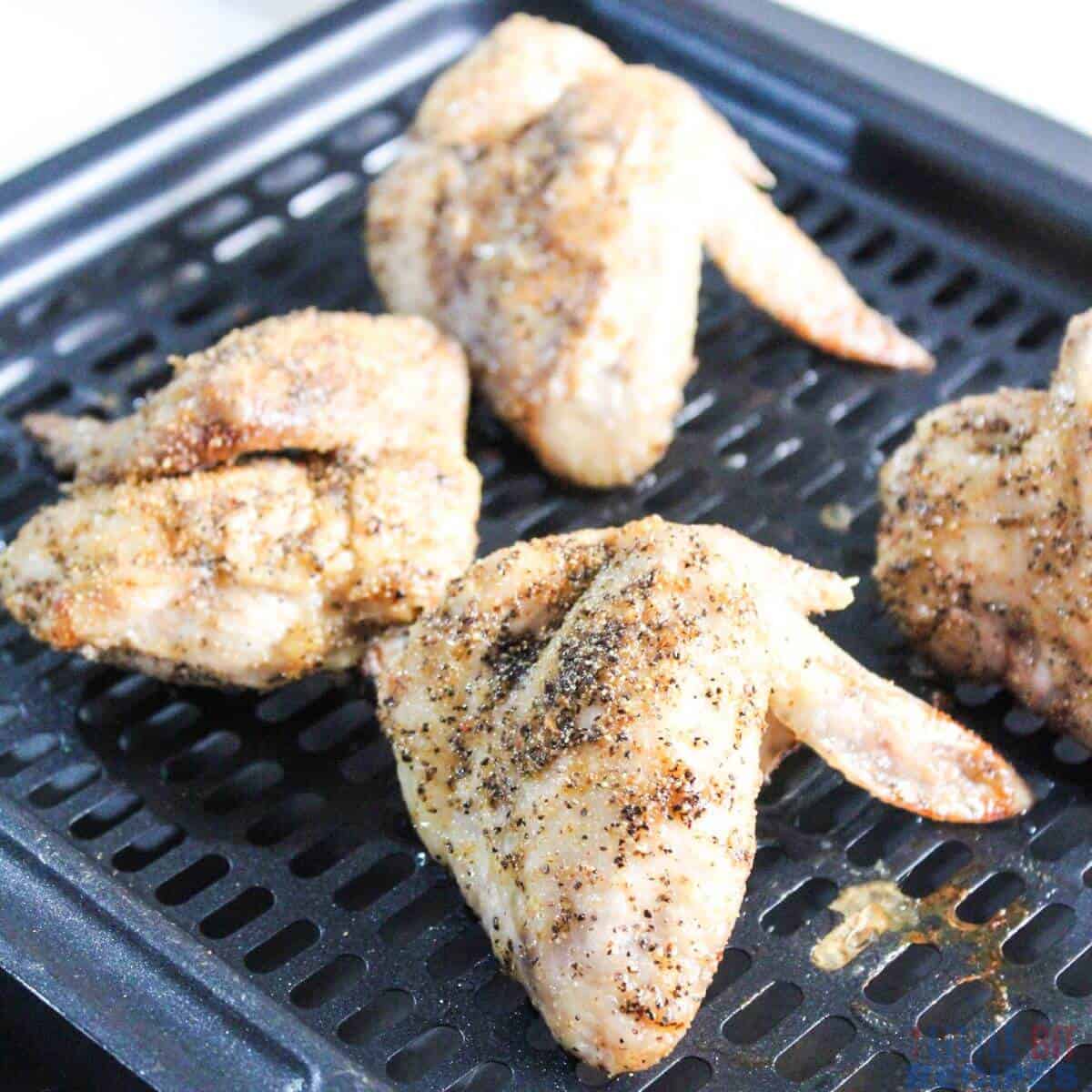 Place back into the air fryer and air fry for an additional 25 minutes or until crispy and golden, flipping after 10 minutes.
Hint: Air fryer frozen chicken wings should be cooked to an internal temperature of 165°F. Using a meat thermometer is the best way to check for doneness.
Variations
A batch of frozen chicken wings cooked in an air fryer can be a simple and convenient meal. But why not take it up a notch? There are several ways to vary the recipe to make it more interesting and flavorful.
The minimal amount of cayenne pepper gives just a little kick. If you love spicy dishes, you may opt to add more.
For something a bit more on the spicy side try adding your favorite BBQ sauce or buffalo sauce to the crispy chicken wings for an extra zesty taste.
Try adding herbs like oregano, rosemary, or thyme for an earthy flavor.
Mix in minced onions for an oniony twist.
Tips
Here are some tips for creating perfect crispy wings in your air fryer every time.
Make sure the wings are spread out evenly so each piece gets cooked properly.
Finish at a higher air fryer temperature. Choose a temperature setting between 370°F and 400°F for the final temperature, depending on how crispy you'd like them to be.
Flip halfway through cooking time to ensure even cooking throughout.
Allow the fully cooked frozen wings to rest for a few minutes before serving. Then, season with your favorite spices or hot sauce for added flavor!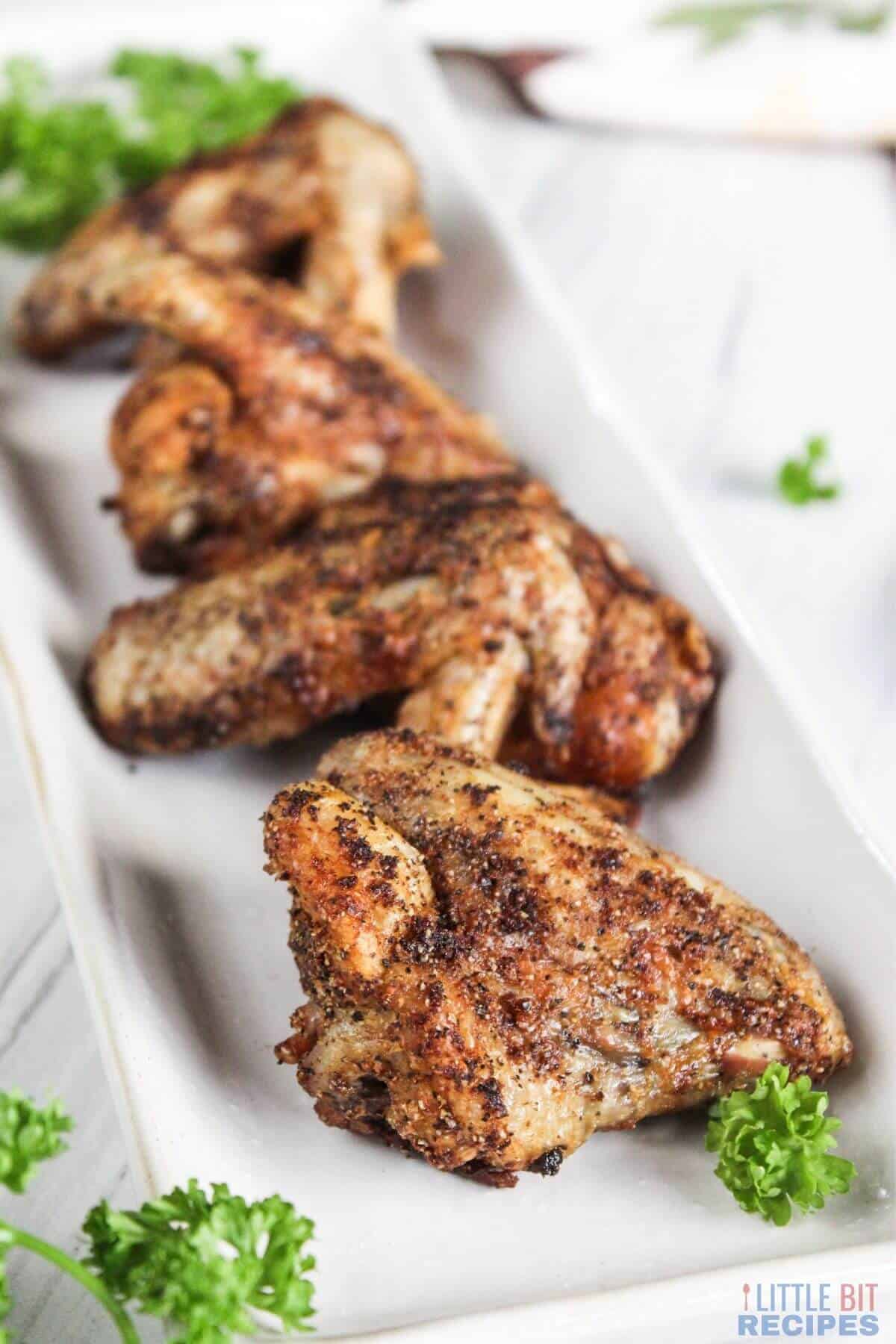 Serving suggestions
Air fryer chicken wings are a delicious and healthy snack or meal option. They can be served in a variety of ways to suit any taste.
One way to serve wings is with dipping sauces, such as barbecue, honey mustard, or teriyaki. Alternatively, you can brush the sauce over the wings while air frying for an even more flavorful result.
Another way to serve chicken wings is with a side dish of air fryer vegetables and dip. Candied Brussels sprouts or air fryer onion rings are a great pair too. You can also add some crunchy elements like nuts or seeds for added texture and flavor.
You can also serve wings as part of a larger dish, such as tacos or salads. The cooked wings can be cut up and added to the dish for extra protein and flavor.
Storage
Place the cooled chicken wings in an airtight container or wrap them in plastic wrap or aluminum foil. If you plan on storing them for more than a few days, it's best to place them in the freezer.
To reheat, bake the wings in a 350°F for about 10 minutes. For a crispier texture, you can also pan fry them in a bit of oil over medium heat.
FAQ
Can you air fry raw frozen chicken wings?
Yes, you can air-fry chicken wings when frozen. The process is simple and requires minimal preparation. We recommend starting at a low temperature and finishing at a higher heat.
How long do you cook frozen wings in an air fryer?
Frozen wings typically take about 15-20 minutes to cook in an air fryer. However, it is important to check the internal temperature of the wings to ensure they have been cooked through. The wings should reach an internal temperature of 165°F.
What is the best temperature to air fry frozen chicken wings?
The best temperature to air fry frozen chicken wings depends on the air fryer mode. But generally, it is anywhere from 370 to 400°F.
Related Recipes
Looking for more delicious finger food appetizers? Here are a few of our favorites.
Follow us on Facebook, Instagram, and Pinterest to see more recipes.
Recipe
Air Fryer Frozen Chicken Wings
Want a healthier way to enjoy wings? These air fryer chicken wings are a perfectly seasoned, flavorful treat with minimal fat and calories.
Ingredients
4

pieces

frozen chicken wings

full drumettes, wingettes, and tip

¾

teaspoon

granulated garlic

¼

teaspoon

cayenne pepper

kosher salt

to taste

ground black pepper to taste

1 to 2

tablespoons

olive oil

optional
Instructions
Pre-heat Air Fryer at 300°F (149°C). Set at 40 minutes.

Gently transfer frozen chicken wings onto Air Fryer tray and slowly insert tray into the middle cooking chamber, near the rotisserie catch.

In a small bowl, mix garlic and cayenne.

After 10 minutes, slowly separate chicken wings and turn each piece. No need to wait for the "turn food" reminder provided by the Air Fryer.

After 5 more minutes, carefully remove Air Fryer tray with chicken wings.

Increase the temperature of the Air Fryer to 370°F (188°C). See tips or notes when closing the door.

Transfer the chicken wings to a plate. If you see any red or pink liquid dripping from some drumettes, simply wipe off the myoglobin with kitchen towel.

Season chicken wings with salt. Opt to drizzle minimal oil. Season with black pepper and garlic-cayenne mixture on all sides.

Transfer seasoned chicken wings, skin side up, back onto the Air Fryer tray and return into the middle cooking chamber. Timer should read at 25 minutes remaining.

After 10 minutes, turn chicken wings on the other side, skin side down.

For crispier chicken skin, turn all chicken wings to the other side - skin side up, at the last 5 minutes.

When the timer stops, the chicken wings are crispy and golden or when the thickest part of the drumettes' internal temperature reads 165F, remove the Air Fryer tray.

Allow the chicken wings to rest for a few minutes. Then transfer to a plate and serve. Enjoy as is or with your favorite dipping sauce.
Notes
This Air Fryer recipe was tested with an Instant Vortex Plus Air Fryer Oven. Not all Air Fryers cook the same way, so your cooking time and temperature may need to be adjusted.
Don't forget to use small oven mitts, preferably silicone, or pot holders when handling the Air Fryer cooking tray.
These chicken wings with skin are oily enough to stay moist without adding oil as you season. The optional oil helps the spices to cling to the chicken.
The Air Fryer will continue cooking without food if you close the door while seasoning the chicken wings. Manually adjust the cooking time depending on the number of minutes consumed while seasoning the chicken wings.
The Air Fryer temperate might change if you do not close the door while seasoning the chicken wings. 10 to 20 seconds before returning the chicken wings to the Air Fryer, close the door to resume heating the cooking chamber.
Nutrition
Calories:
447
kcal
|
Carbohydrates:
2
g
|
Protein:
36
g
|
Fat:
32
g
|
Saturated Fat:
9
g
|
Polyunsaturated Fat:
7
g
|
Monounsaturated Fat:
13
g
|
Trans Fat:
0.4
g
|
Cholesterol:
148
mg
|
Sodium:
267
mg
|
Potassium:
340
mg
|
Fiber:
1
g
|
Sugar:
0.1
g
|
Vitamin A:
522
IU
|
Vitamin C:
2
mg
|
Calcium:
30
mg
|
Iron:
2
mg
© LittleBitRecipes.com - All content and photographs are copyright protected by us. We appreciate sharing our recipes; but copying, pasting, or duplicating full recipes to any social media, website, or electronic/printed media is strictly prohibited and a violation of our copyrights. Single photos may be used, provided that full credit is given to us along with a link back to the original content.