Satisfy your cravings with a delicious, classic dish of Southern fried cabbage with bacon. This easy recipe makes an incredibly flavorful side dish.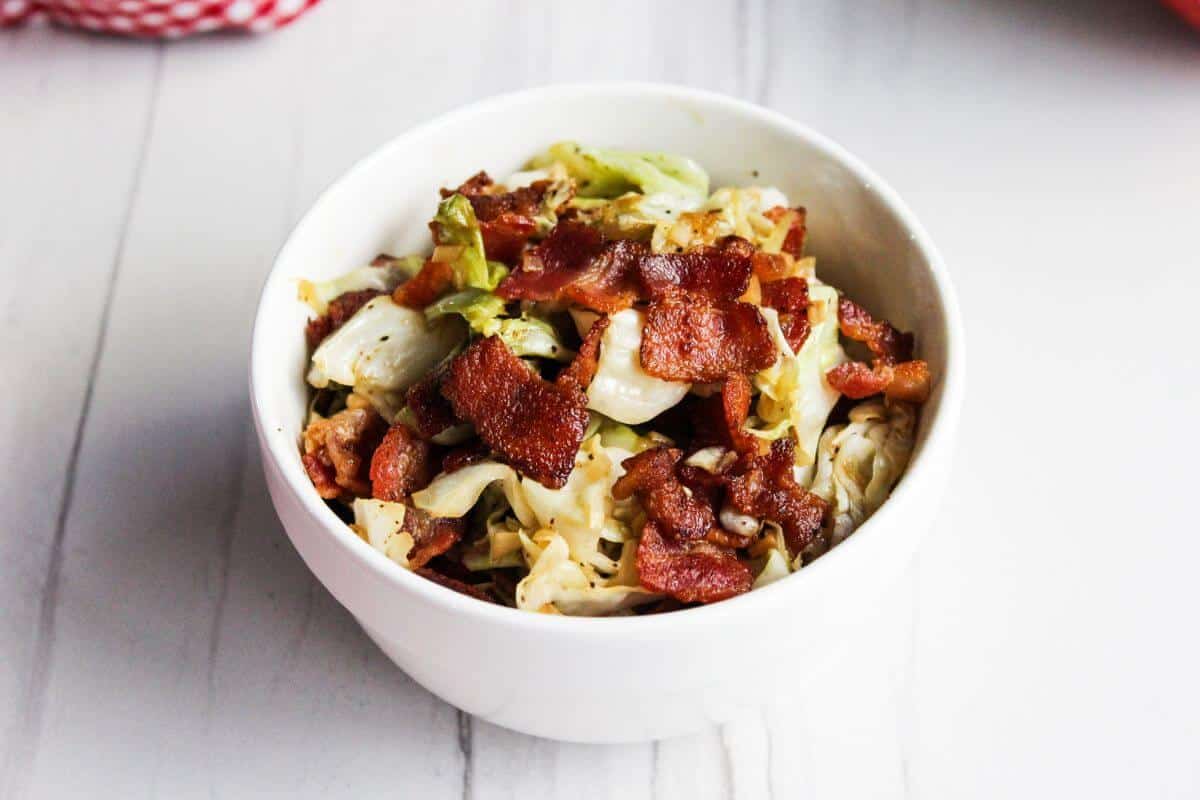 This classic Southern dish has been enjoyed for generations. It's made with simple ingredient that are both budget-friendly and delicious.
A sweet and salty flavor results from cooking the cabbage slowly in bacon grease until it becomes tender and caramelized. The dish pairs well with just about any main course.
Soft and tender but still with a bit of crunch, this Southern cabbage with Bacon is a classic recipe that spells comfort with every bite.
Jump to:
Ingredients
This dish requires only a few ingredients: cabbage, bacon, and onion. Combining these three ingredients creates a savory, salty flavor that will satisfy your taste buds.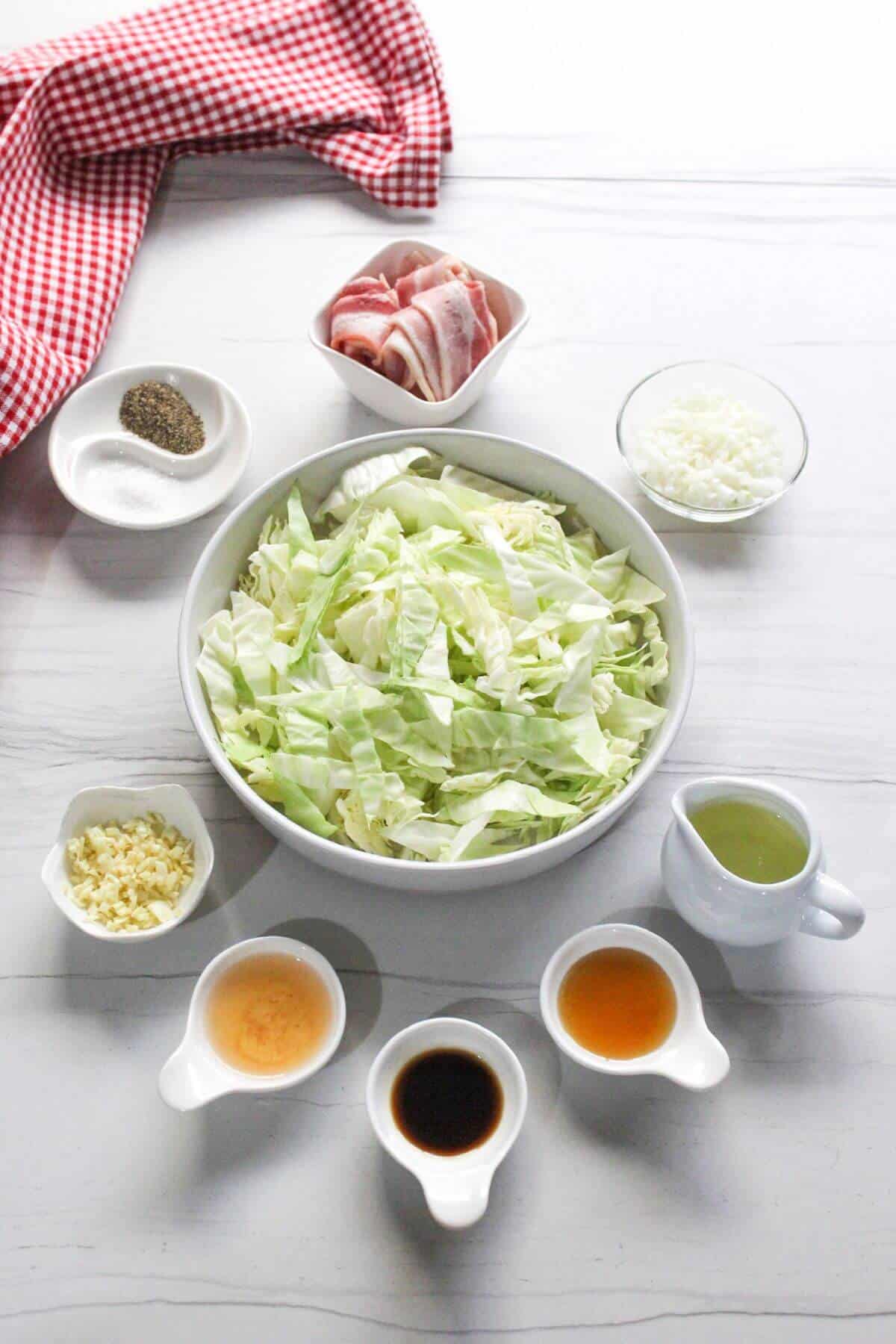 Here is the full list of ingredients used in the recipe:
cabbage
bacon
garlic
onion
apple cider vinegar
honey
salt and pepper
Worcestershire sauce
olive oil
Scroll down to the recipe card for quantities used.
Instructions
You'll want to chop the cabbage, bacon, and onions to start making this dish. Then gather the rest of the ingredients and equipment needed.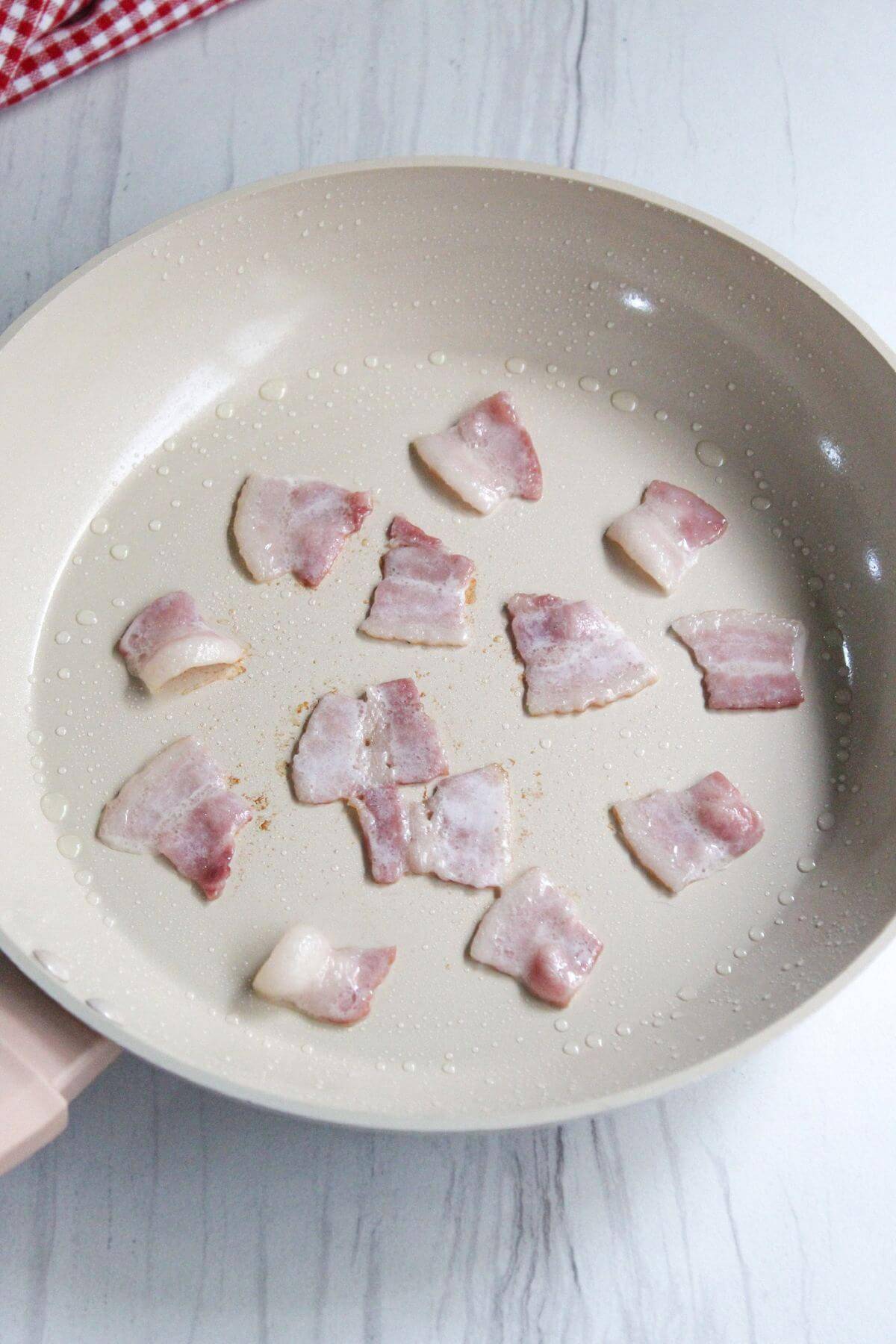 Fry bacon until crispy in a heated skillet.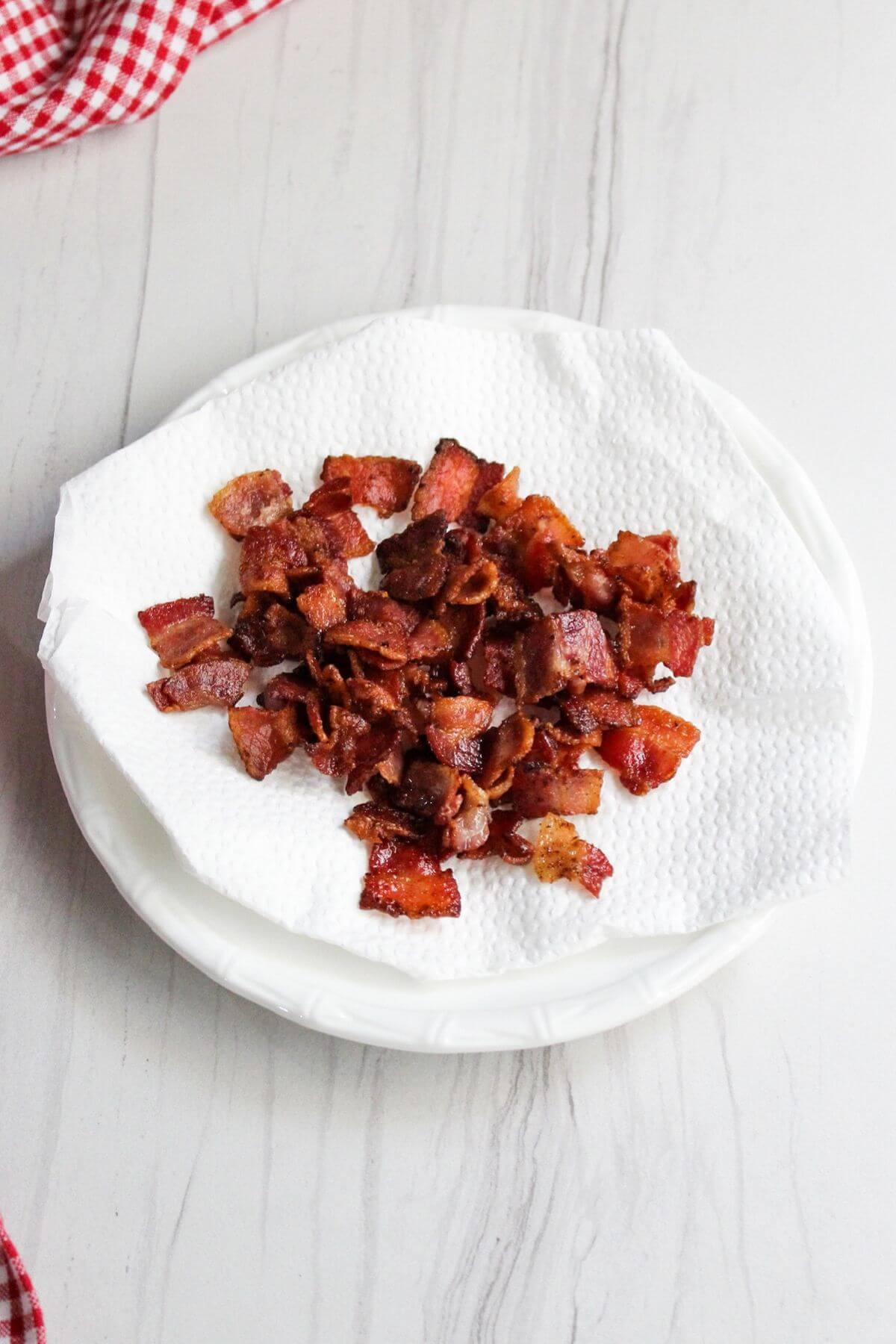 Transfer cooked bacon to a paper towel-lined plate.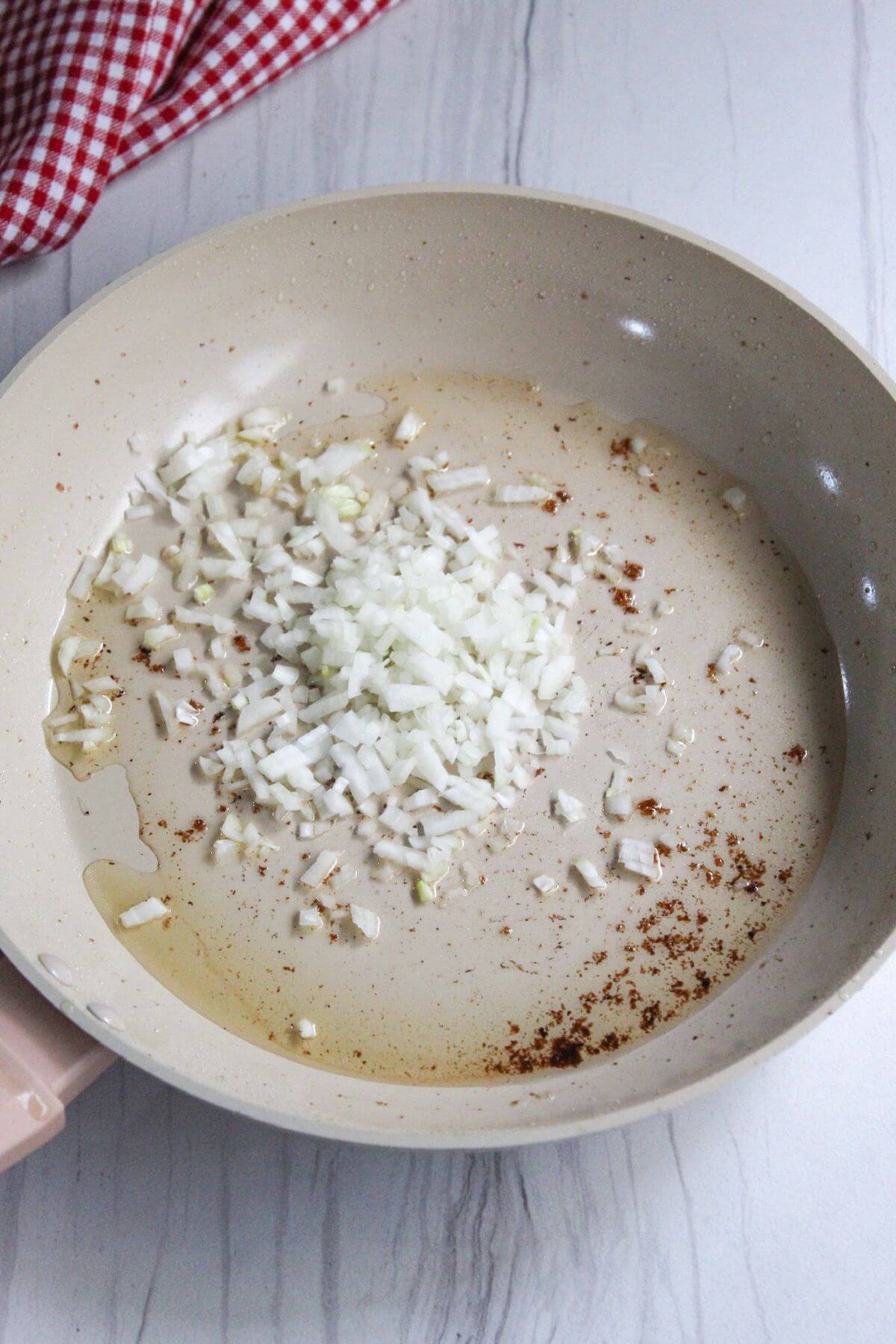 In the same pan, sauté onions until translucent.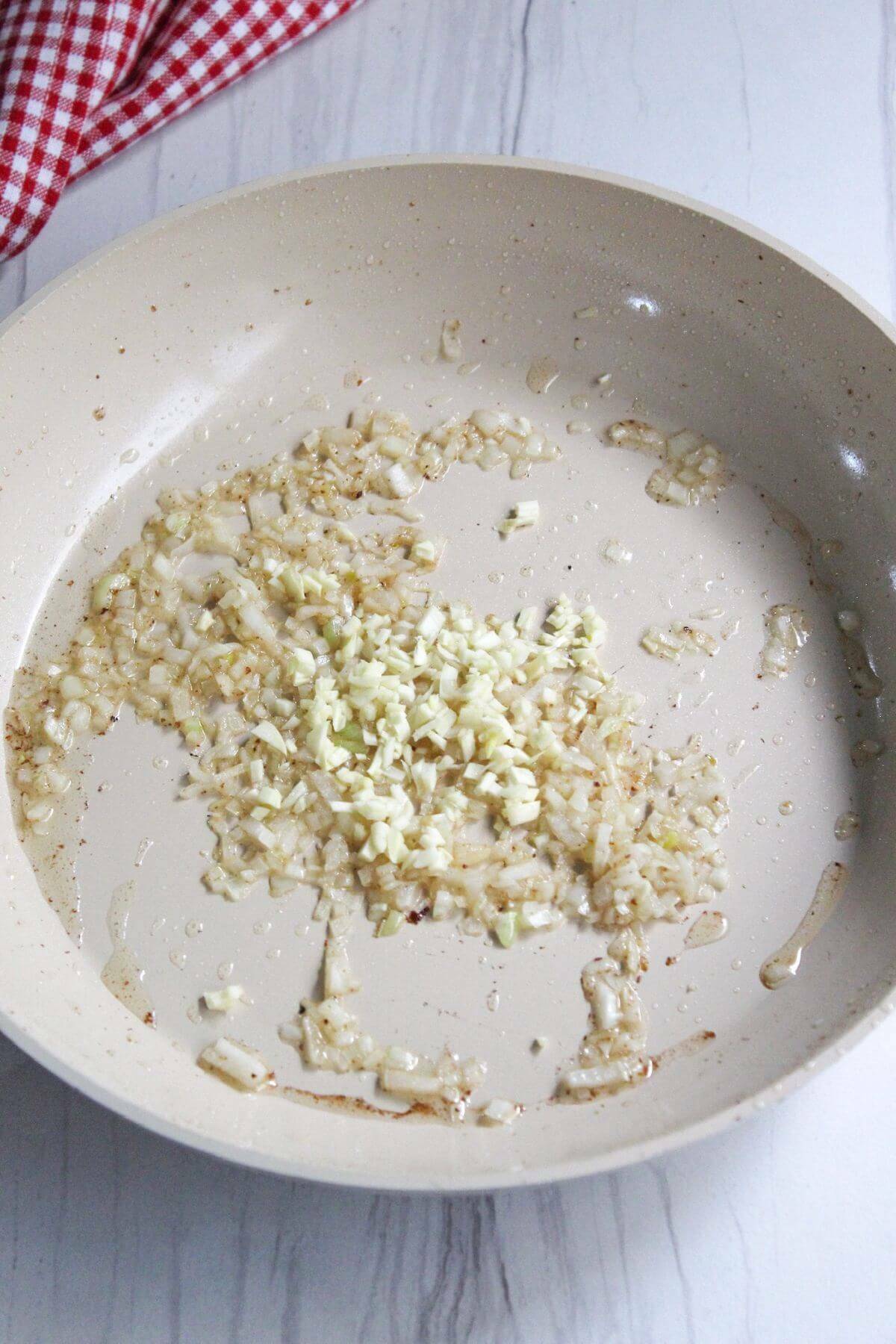 Add garlic and continue to sauté for 30 seconds until fragrant.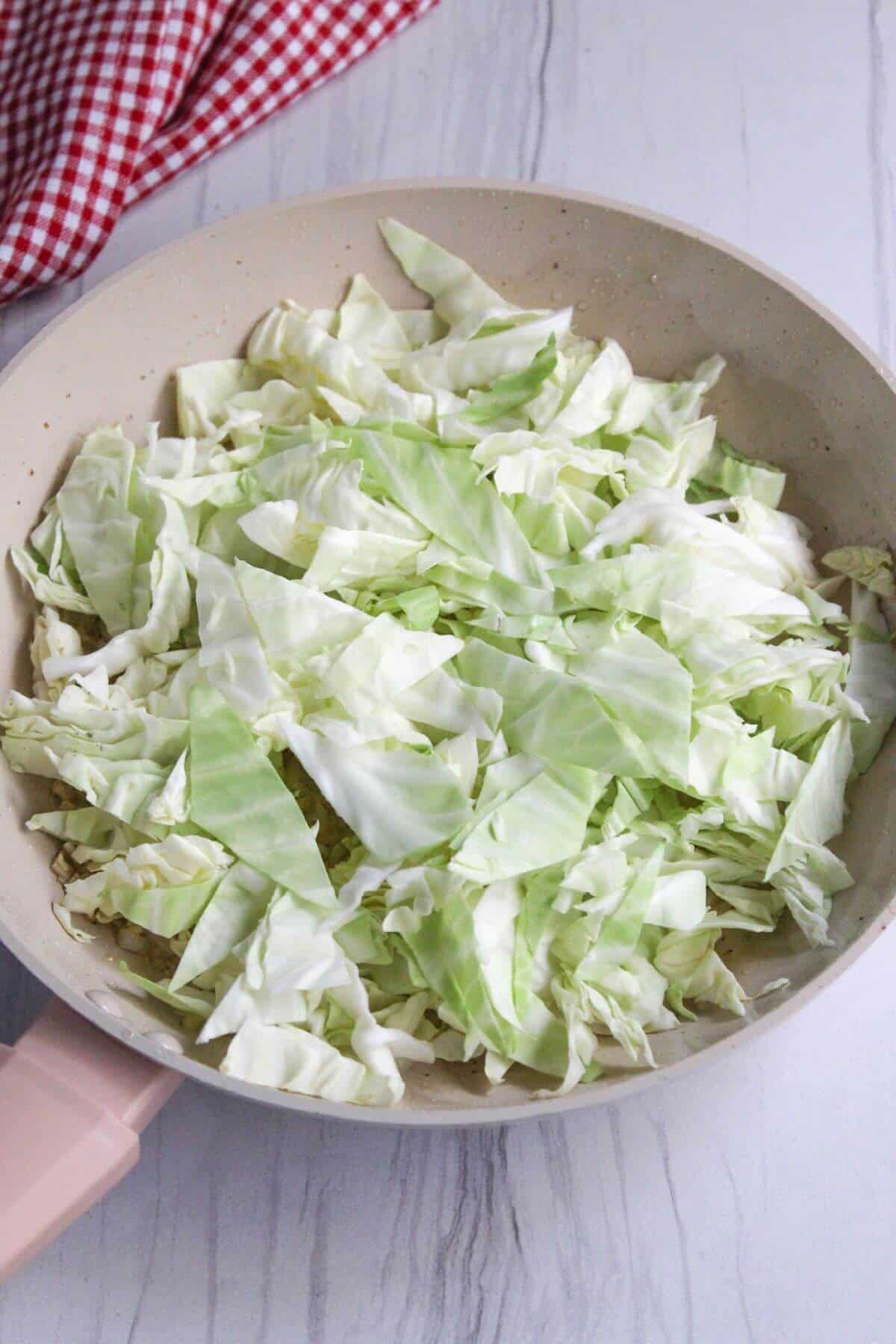 Add cabbage and sauté for 1 to 2 minutes.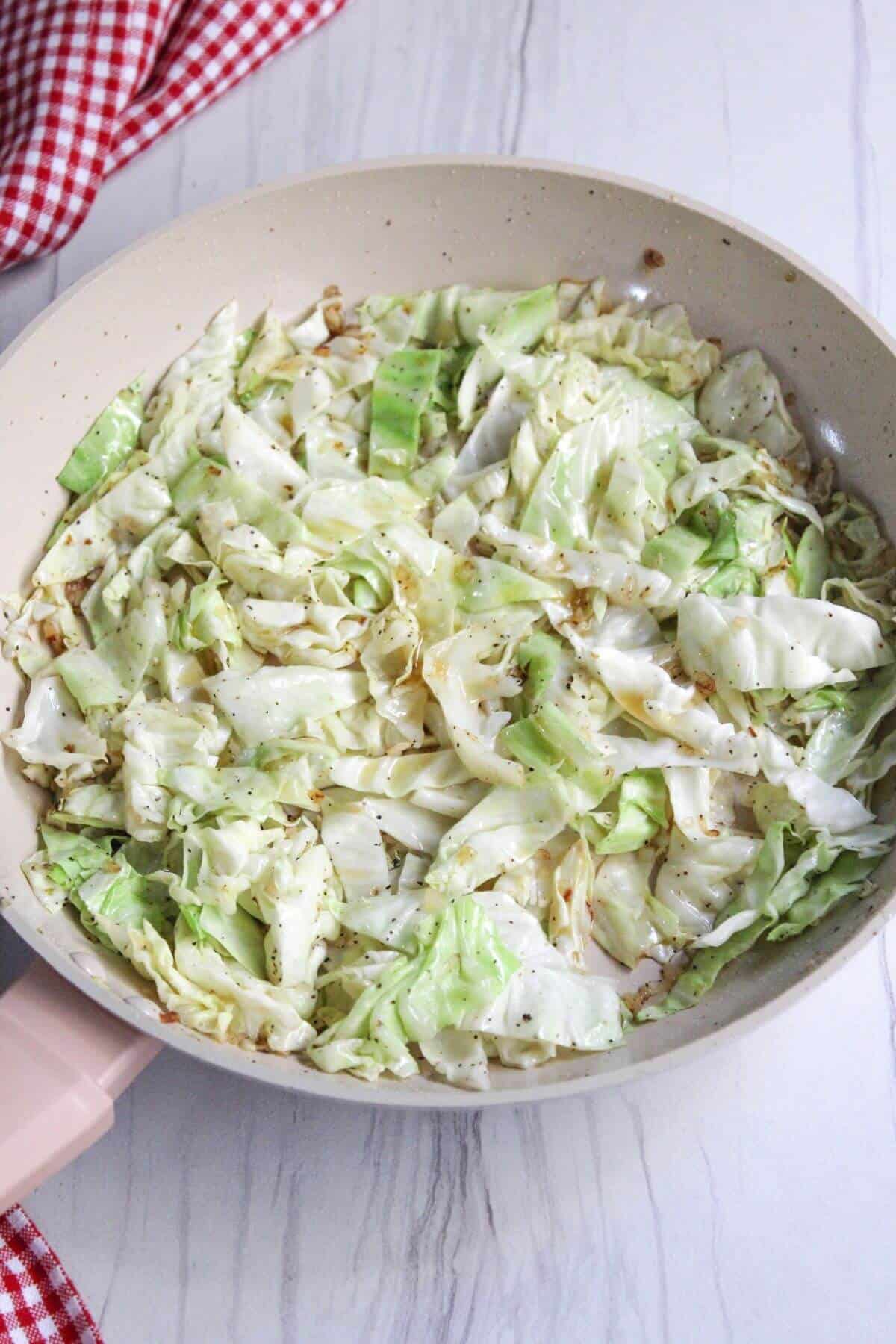 Drizzle apple cider vinegar and honey. Add in Worcestershire sauce, if using. Continue to sauté until cabbage is soft and tender.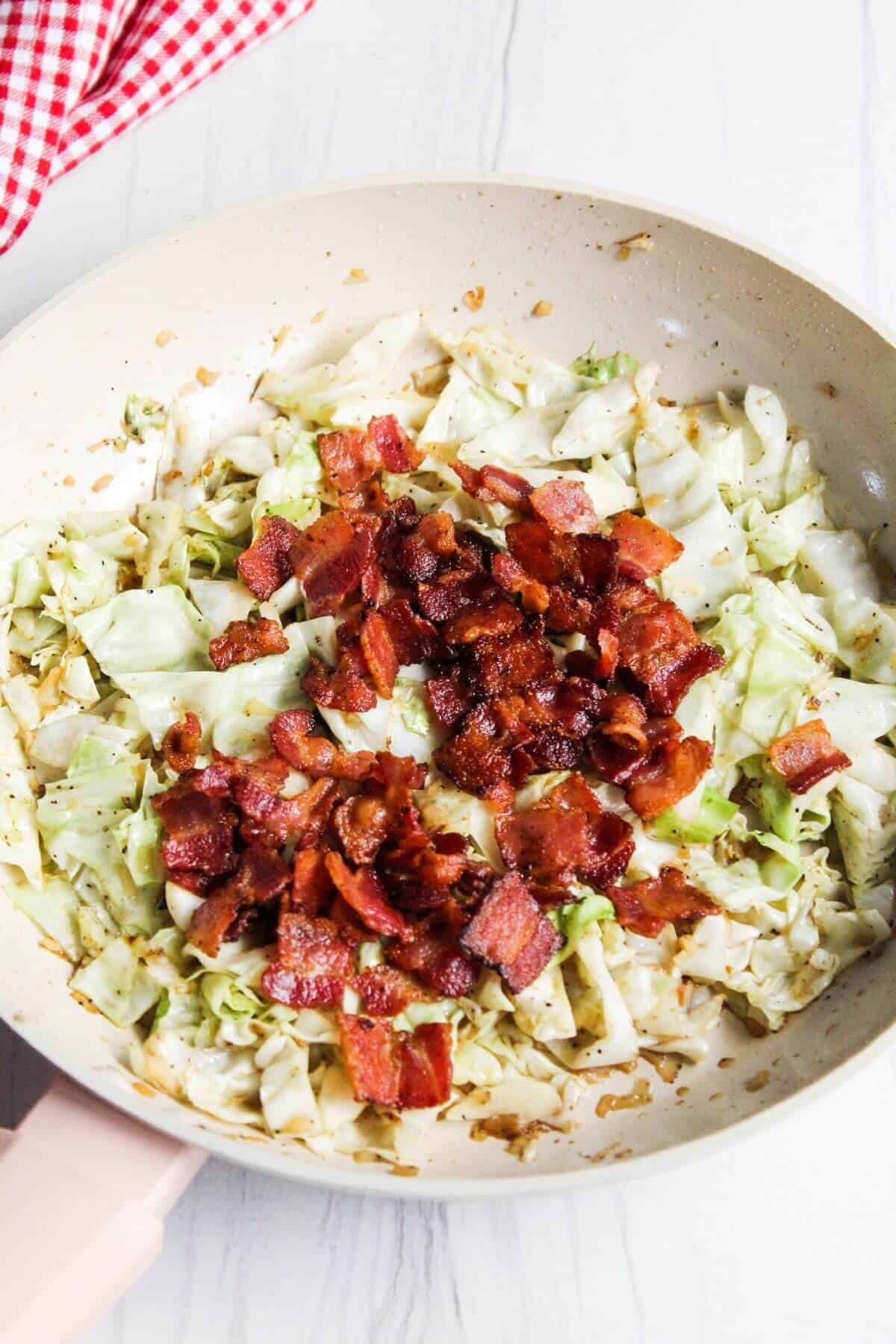 Just before closing the heat, add cooked bacon.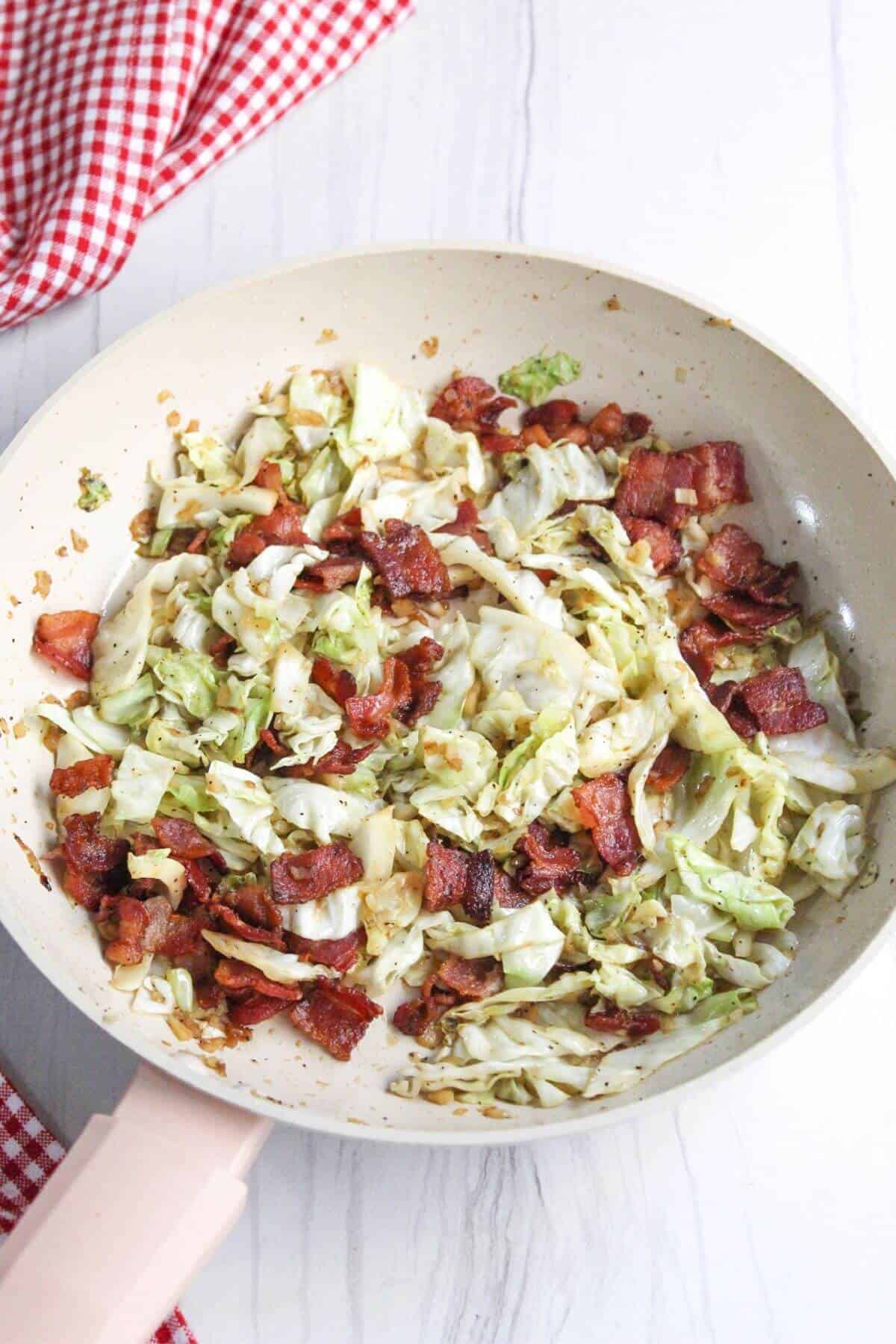 Mix bacon in well.
Variations
One way to enhance the dish's flavor is to include spices like paprika or cayenne pepper. These spices add a subtle kick that balances out the sweetness of the cabbage while complementing the savory bacon. Experimenting with different seasonings can also take this simple side dish to the next level of flavor complexity.
Southern fried cabbage with bacon can be customized to suit your taste buds. Top it off with grated cheese for added creaminess. Or sprinkle on some homemade panko for added texture.
To cut back on the calories and fat, you can reduce the amount of bacon from six slices to four. You can also use sliced sauce instead of bacon. Using turkey bacon or sausage will reduce the amount of fat.
Tips
It's important to choose the right cabbage. When making Southern fried cabbage, you want a head of green cabbage that is firm and dense. It should not have any visible holes or soft spots. Once you've selected your cabbage, remove the first few layers of leaves and cut them into quarters.
Use a slotted spoon to remove the bacon from the pan. Place it on a paper towel-lined plate to drain excess grease.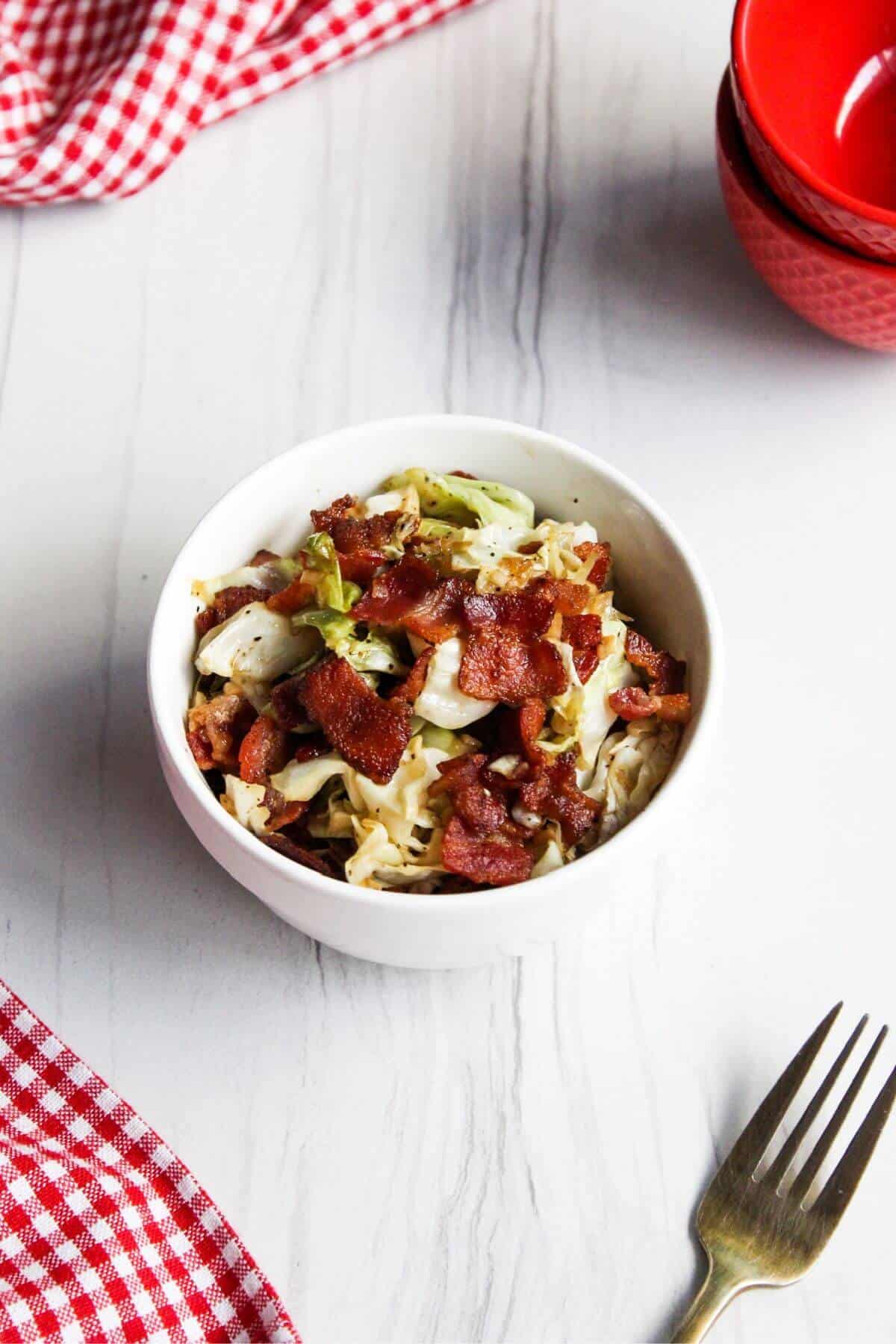 Serving suggestions
Serve Southern fried cabbage alongside fried chicken or barbecue ribs for an authentic southern meal that will satisfy your taste buds while keeping your wallet happy.
Pair it with your favorite protein, such as grilled chicken or braised short ribs, as a side dish. It also works well alongside Southern classics like cornbread, collard greens, and black-eyed peas. Consider turning this dish into an entrée by adding sliced smoked sausage or shrimp for a complete meal.
Storage
Let the cooked cabbage cool and then transfer it to an airtight container. Place the container in the refrigerator and store it for up to four days.
When you're ready to enjoy your leftovers, simply reheat them in a skillet over medium-high heat for about five minutes or until they reach your desired temperature.
If you want to freeze your leftovers, wrap them tightly in plastic wrap or place them in a freezer-safe bag before transferring them to the freezer. They should keep for up to three months when stored properly.
FAQ
How can I make a spicier dish?
Add some red pepper flakes for a little heat or add in a little bit of cajun seasoning.
Is southern fried cabbage healthy?
Southern fried cabbage is a delicious side dish but may not be the healthiest choice. Fried foods are usually high in fat and calories, so eating them regularly can lead to weight gain. Additionally, this recipe calls for bacon, which adds even more unhealthy fats and calories to the dish.
Can bagged shredded cabbage be used?
Absolutely! Bagged shredded cabbage is an excellent option for Southern fried cabbage. It's convenient and saves time, as the cabbage is already pre-shredded and ready to use. All you need to do is add your favorite seasonings and fry it up in a skillet with some bacon.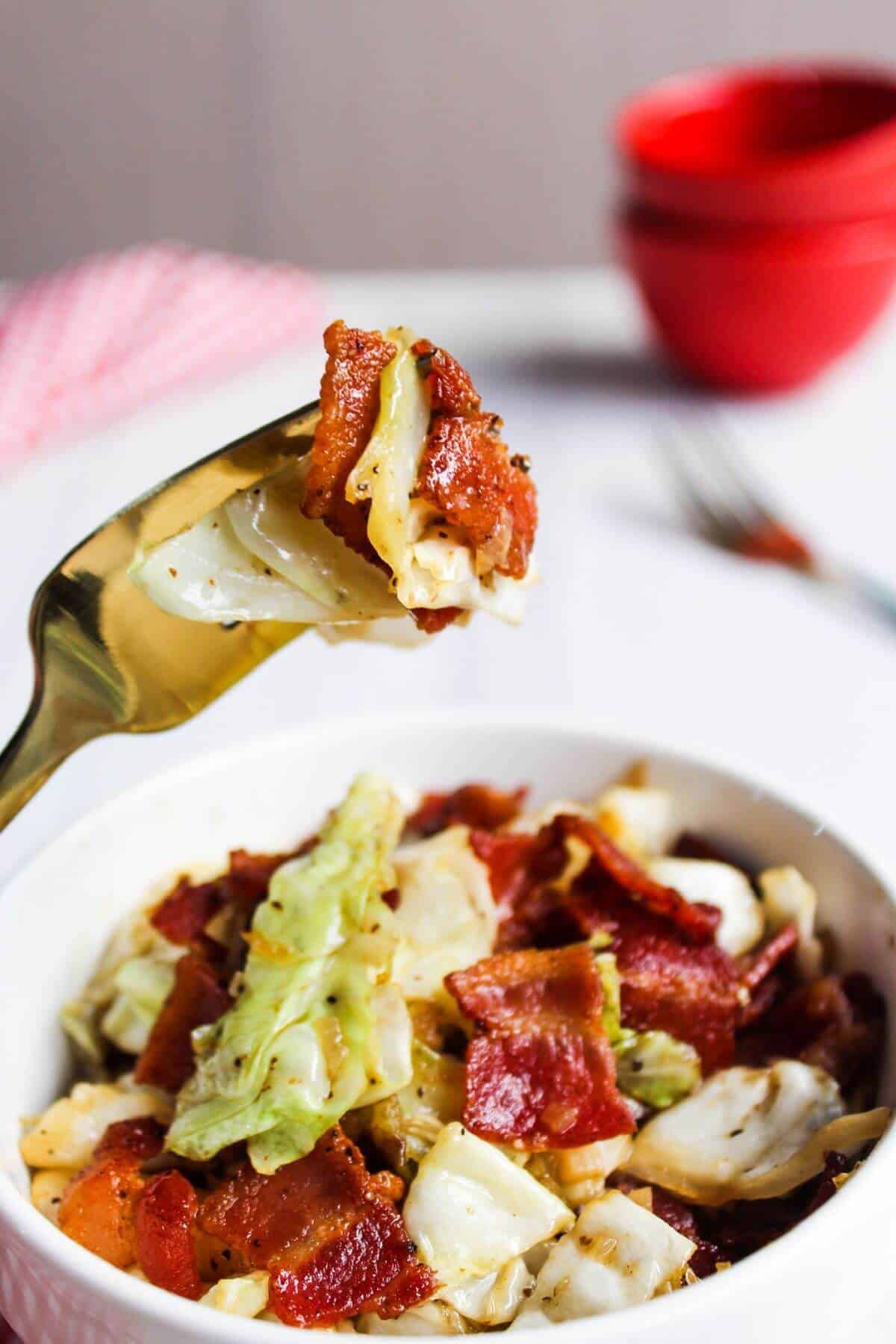 Related Recipes
If you love this easy side dish, here are a few more.
Follow us on Facebook, Instagram, and Pinterest to see more recipes.
Recipe
Southern Fried Cabbage with Bacon
Treat yourself to this easy recipe for Southern fried cabbage. It is perfectly spiced and cooked with bacon, making it hard to resist.
Ingredients
3

cups

cabbage

roughly chopped

6

slices

bacon

I used low sodium

2

cloves

minced garlic

1

small

small onion

finely chopped (about ⅓ cup)

1

tablespoon

apple cider vinegar

¾

tablespoon

honey

optional

Kosher salt

to taste

ground black pepper

to taste

1

teaspoon

Worcestershire sauce

optional

1

tablespoon

olive oil

optional
Instructions
Cut bacon into bite-sized pieces, preferably 1 inch per piece.

Lightly brush heated pan with oil, if using. Add bacon slices, allowing some space for each piece. Fry bacon to a crisp, in batches. Transfer to a paper lined plate. Set aside.

Remove excess oil with bacon drippings from the pan. Reserve for later use. Retain 1 to 2 tablespoons of bacon drippings and resume heat of the pan.

Sauté onions until translucent. Add garlic and continue to sauté for 30 seconds until fragrant.

Add cabbage and sauté for 1 to 2 minutes.

Drizzle apple cider vinegar and honey. Add in Worcestershire sauce, if using. Continue to sauté until cabbage is soft and tender.

Just before closing the heat, add cooked bacon. Mix well.

Serve immediately.
Notes
The optional Worcestershire sauce makes this cabbage recipe more flavorful, adding that umami flavor with just a teaspoon to the entire dish.
Nutrition
Calories:
236
kcal
|
Carbohydrates:
12
g
|
Protein:
7
g
|
Fat:
18
g
|
Saturated Fat:
6
g
|
Polyunsaturated Fat:
3
g
|
Monounsaturated Fat:
8
g
|
Trans Fat:
0.1
g
|
Cholesterol:
29
mg
|
Sodium:
373
mg
|
Potassium:
272
mg
|
Fiber:
2
g
|
Sugar:
8
g
|
Vitamin A:
98
IU
|
Vitamin C:
28
mg
|
Calcium:
43
mg
|
Iron:
1
mg
© LittleBitRecipes.com - All content and photographs are copyright protected by us. We appreciate sharing our recipes; but copying, pasting, or duplicating full recipes to any social media, website, or electronic/printed media is strictly prohibited and a violation of our copyrights. Single photos may be used, provided that full credit is given to us along with a link back to the original content.