Indulge in this delicious mini pavlova recipe. Learn how to create fluffy, light, and crunchy meringue nests filled with whipped cream and fresh berries.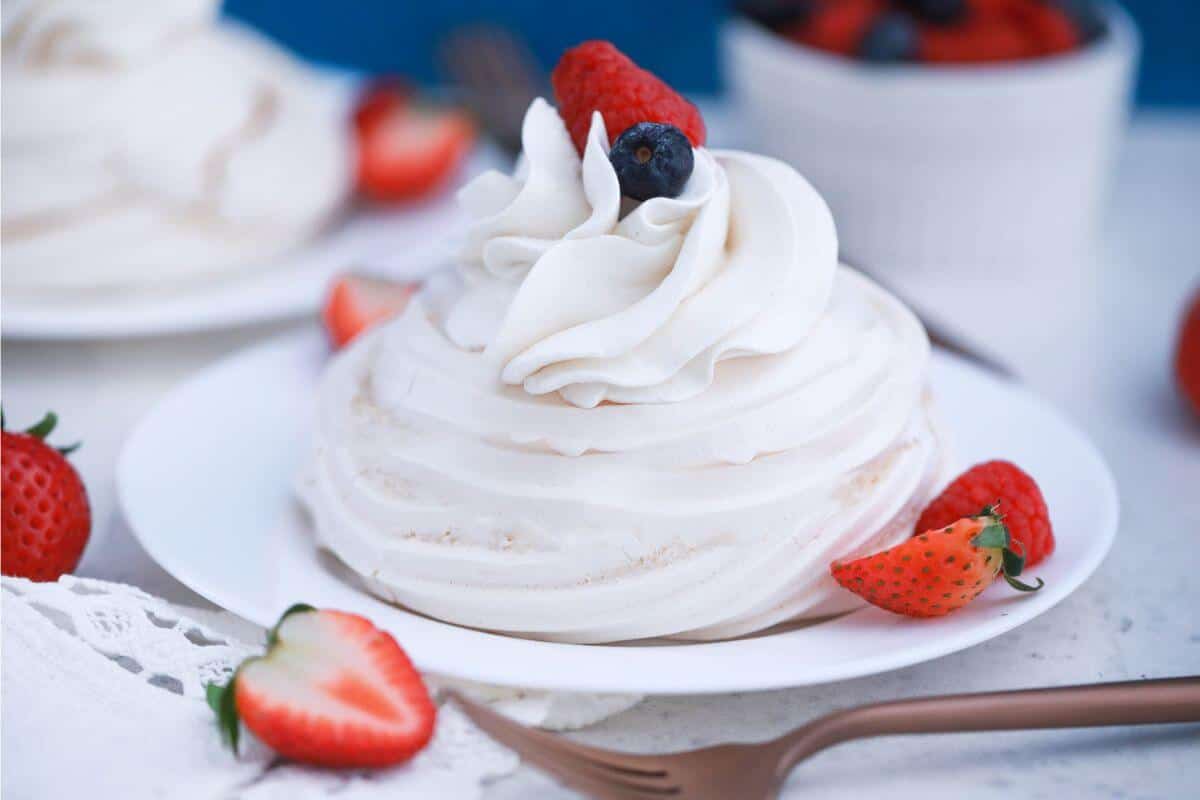 This classic dessert is made of sweet meringue baked to perfection, then topped with whipped cream and your favorite fruit. The treat is a tasty alternative to a cake in a mug for an intimate birthday celebration or to pair with afternoon tea.
These crispy meringue nests combine crunchy and creamy textures that satisfy any sweet tooth. They can also be customized with different flavors and toppings.
Give these individual mini pavlova nests filled with fluffy whipped cream a try. They create their container so you won't need a mini pie pan or another small baking dish.
Jump to:
Ingredients
Pavlova is a dessert made with a meringue base. This recipe fills meringue nests with whipped heavy cream and topped with mixed berries.
Here are the ingredients needed to make the recipe:
egg whites
cream of tartar
salt
sugar
vanilla extract
heavy cream
fresh berries
Scroll down to the recipe card to see the amounts of each.
Instructions
To make mini pavlova, start by preheating your oven and gathering all the ingredients.
In a small narrow mixing bowl, beat the egg whites, cream of tartar, and salt on high until soft peaks form.
Slowly add the sugar while beating on high until stiff peaks form to make meringue. Beat in the vanilla.
Pipe the meringue into two equal-size mounds on a parchment-lined baking sheet. The best way to do this is with a piping bag.
Use the back of a spoon to shape the mounds into 3.5-inch-diameter round bowls. Then bake until the individual pavlova is set and dry. Remove to cooling rack.
Once the pavlovas cool down completely, the fresh whipped cream is piped inside each nest using a pastry bag. The final touch is adding fresh berries such as strawberries, blueberries, or raspberries on top for a pop of color and flavor.
Variations
The sky is the limit when adding toppings to mini pavlova nests. The soft and delicate meringue shells are the perfect base for various flavors and textures.
For those looking for something more decadent, chocolate is always a crowd-pleaser. You can make a chocolate ganache by melting dark chocolate with heavy cream and drizzling it over your pavlovas. Adding toasted nuts like hazelnuts or almonds will give your pavlovas some crunchiness, adding another layer of texture.
If you want to get creative with your toppings, you can experiment with flavors like lemon curd or passionfruit curd. These tangy options add a refreshing contrast to the sweet meringues. A dairy-free whipped cream works as a filling too.
You can also fill the nests with creamy custard and a topping of chopped nuts or chocolate chips for some crunch. You can even get creative by using a white chocolate bark or a layer of jam for extra flavor.
Tips
Here are some tips for making the perfect pavlova:
Start with room-temperature egg whites. This will ensure that your meringue has the right texture and volume.
Use superfine sugar when making the meringue mixture, as it dissolves more quickly than regular granulated sugar, resulting in a smooth and glossy finish.
Bake your pavlova at a low temperature (around 250°F) for an extended time (about 1 hour). This slow baking process will help prevent cracking and ensure that the center of your pavlova is still slightly soft when you take it out of the oven.
Allow the meringue nests to cool in the oven before removing them.
Ensure the egg yolk is completely removed from the egg whites before using.
Use cornstarch if you don't have the cream of tartar. It will similarly stabilize the meringue. Lemon juice, as used in this no-fail Italian meringue, can make it even more stable.
A stand mixer is generally better than a hand mixer when beating egg whites to stiff peaks.
Serving suggestions
One of the best things about mini pavlova nests is that they are incredibly versatile and can be topped with various ingredients to suit different preferences.
For those with a sweet tooth, top the pavlovas with fresh fruit like berries, kiwi, mango. These fruits add a pop of color and provide a delicious fruity flavor that perfectly complements the crisp meringue.
For those who prefer something more indulgent, chocolate toppings can satisfy their cravings. You could drizzle melted dark chocolate over each nest or even grate some milk chocolate on top for an extra sweetness.
Another great idea is to layer creamy whipped cream over each nest and sprinkle them with grated coconuts, chocolate chips, or chopped nuts like almonds and hazelnuts.
For kids or anyone looking for a fun twist, consider adding colorful candy like M&Ms or Smarties on top of the mini nests. This provides an exciting burst of color and texture, making everyone smile!
Storage
The nests should be stored in an airtight container at room temperature. This will keep them from drying out and becoming stale. If the nests are filled with cream or other toppings, they should be refrigerated to prevent spoilage.
When transferring the mini pavlovas to the container, ensure they are not touching each other, as this can cause them to stick together. If you need to stack them, place a layer of parchment paper between each layer.
If you plan on making the meringue shells more than three days in advance, it's best to freeze them. This will prevent the meringue from becoming soggy or stale. Just make sure to thaw them completely before assembling the pavlovas.
FAQ
How long do you cook pavlova nests?
Pavlova nests typically take about an hour to cook. They should be golden brown when finished.
What can pavlova be filled with?
It is traditionally filled with whipped cream and topped with fresh fruit such as kiwi, strawberries, and passionfruit. However, you can get creative with the filling and use many different ingredients.
Can the pavlova dessert be assembled ahead of time?
Yes, mini pavlova nests can be assembled ahead of time. The meringue shells can be made in advance and stored in an airtight container for up to three days. When ready to assemble, fill the cooled meringue shells with whipped cream and top with fresh fruit or other desired toppings.
Related Recipes
Want a few more tasty desserts for one or two people? Check out these tasty treats.
Follow us on Facebook, Instagram, and Pinterest to see more recipes.
Recipe
Mini Pavlova Nests
Indulge in the sweet goodness of mini pavlova nests! These delicious individual desserts are light, fluffy, and perfect for any occasion.
Ingredients
2

large

egg whites

⅛

teaspoon

cream of tartar

⅛

teaspoon

salt

2-3

tablespoons

sugar

¼

teaspoon

vanilla extract

3

tablespoons

heavy cream

½

cup

strawberries

or other berries
Instructions
Preheat the oven to 225°F.

In a small narrow mixing bowl, using an electric mixer, beat the egg whites, cream of tartar, and salt on high until soft peaks form. Slowly add the sugar while beating on high until stiff peaks can be formed. Beat in the vanilla.

Divide the beaten egg whites into two equal-size mounds on a baking sheet lined with parchment paper or a silicone mat. Use the back of a spoon to shape the mounds into 3.5-inch-diameter round bowls.

Bake for 1 to 1 ¼ hours, or until the meringues are set and dry. Turn the oven off and leave the meringue bowls in the oven for 1 hour. Remove the meringues to cool completely on wire racks.

In a small bowl, using an electric mixer, whip the heavy cream and vanilla sweetener (if using) until soft peaks can be formed. When the meringue shells are cool, spread the whipped cream into each, then top with the berries.
Notes
Allowing egg whites to stand at room temperature for 30 minutes will result in a fuller volume after beating.
The meringue shells can be made in advance and stored in an airtight container for 3 to 5 days in a cool, dry spot.
Use a superfine sugar as it will dissolve more quickly than granular sugar.
Nutrition
Calories:
164
kcal
|
Carbohydrates:
19
g
|
Protein:
4
g
|
Fat:
8
g
|
Saturated Fat:
5
g
|
Polyunsaturated Fat:
0.4
g
|
Monounsaturated Fat:
2
g
|
Cholesterol:
25
mg
|
Sodium:
207
mg
|
Potassium:
162
mg
|
Fiber:
1
g
|
Sugar:
17
g
|
Vitamin A:
335
IU
|
Vitamin C:
21
mg
|
Calcium:
23
mg
|
Iron:
0.2
mg
© LittleBitRecipes.com - All content and photographs are copyright protected by us. We appreciate sharing our recipes; but copying, pasting, or duplicating full recipes to any social media, website, or electronic/printed media is strictly prohibited and a violation of our copyrights. Single photos may be used, provided that full credit is given to us along with a link back to the original content.