Do you ever crave cake but don't want to go through the hassle of making a full size one? Well, now there's a solution! You can make a delicious cake in a mug using cake mix in just a couple minutes.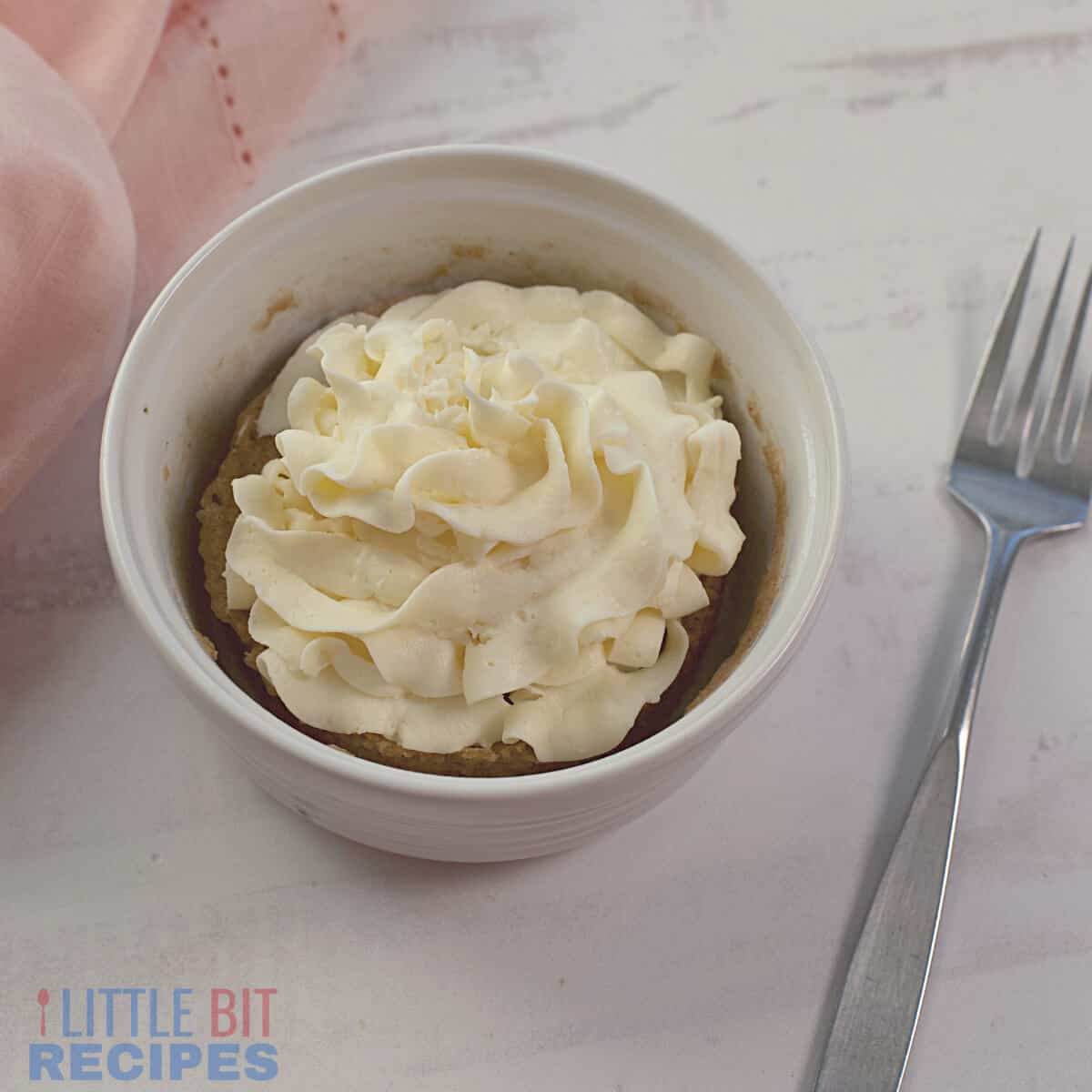 There's nothing better than a freshly baked cake. But sometimes, you don't want to make a whole cake just for yourself. That's where mug cakes come in!
Mug cakes are single-serving cakes that you can make in just a few minutes, in your microwave. The best part is, you can use any boxed cake mix to make them! In fact, you can even make a delicious mug cake with hot chocolate mix.
These mini cakes are simple, delicious, and perfect for when you're craving something sweet. Plus, you can customize your mug cake to your own personal taste.
Jump to:
Ingredients
All you need is a microwave and a few simple ingredients. You'll also need a small microwaveable dish like a coffee mug, ramekin, or mason jar.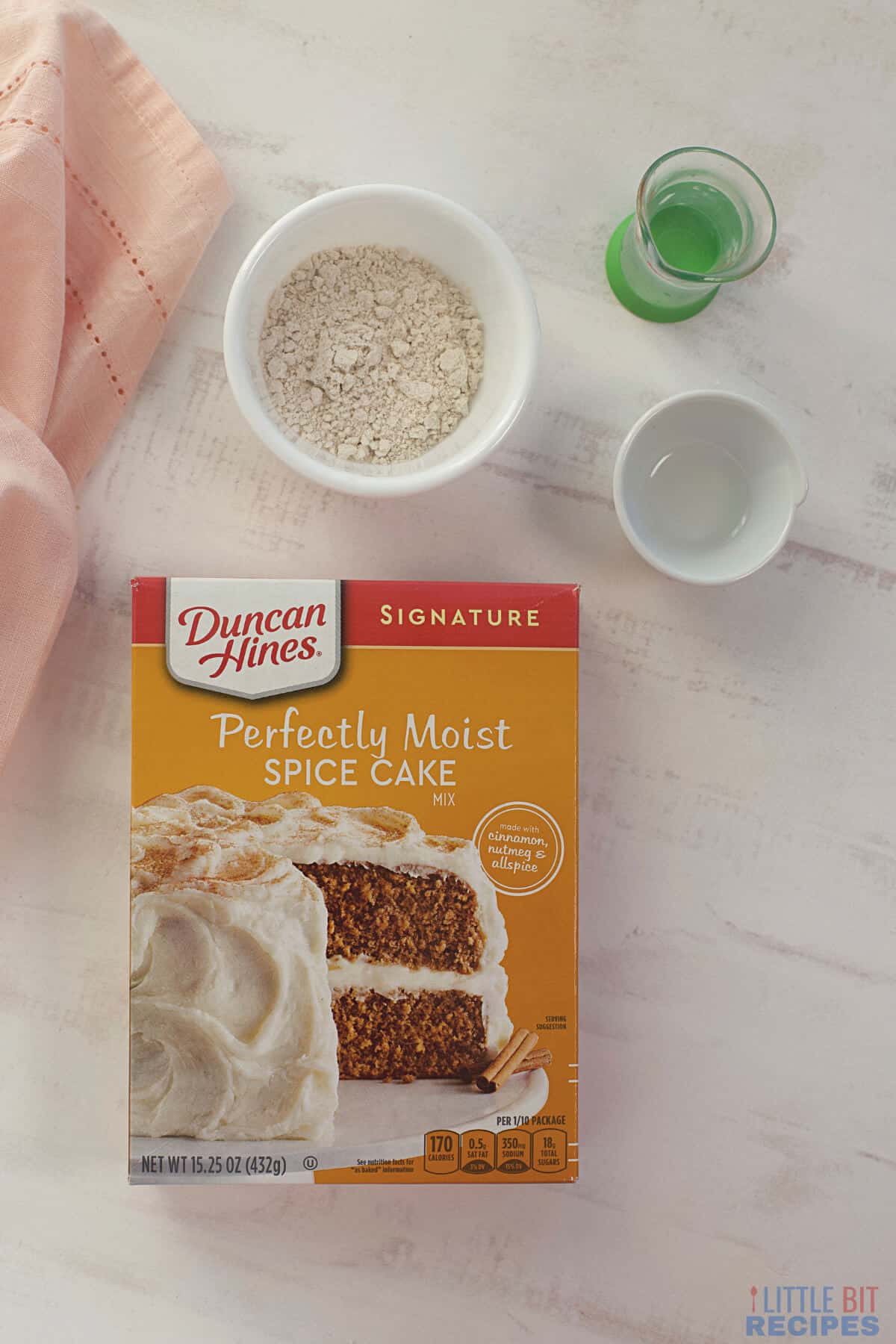 Once you have your microwave safe mug or other dish, you'll just need these three ingredients:
Dry cake mix: You can use any flavor cake mix. We like to use chocolate cake mix, angel food cake mix, yellow cake mix, spice cake mix, or a combination of mixes.
Oil: The type of fat you use in the cake is up to you. Coconut oil, canola oil, vegetable oil, and light olive oil are popular ones to use. Melted butter will work too.
Water: For moisture, you'll need to add a couple tablespoons of water. But if you want a richer cake, you can use whole milk instead to add more fat.
Scroll down to the recipe card for quantities.
Instructions
If you've never made a mug cake before, don't worry. Once everything is mixed together in the mug, just microwave for about 90 seconds or until the cake is done.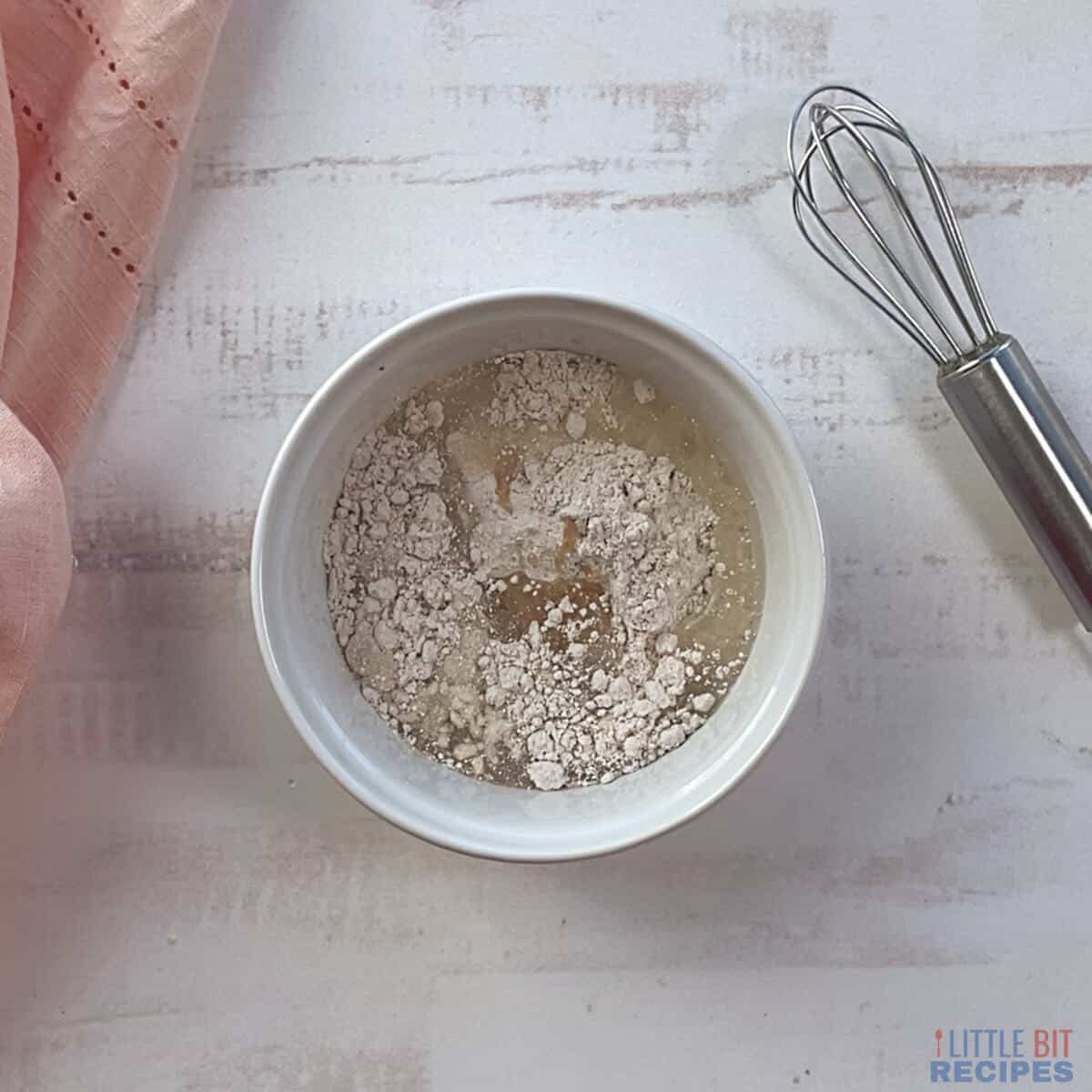 Add the cake mix, oil, and water to a lightly greased mug or ramekin.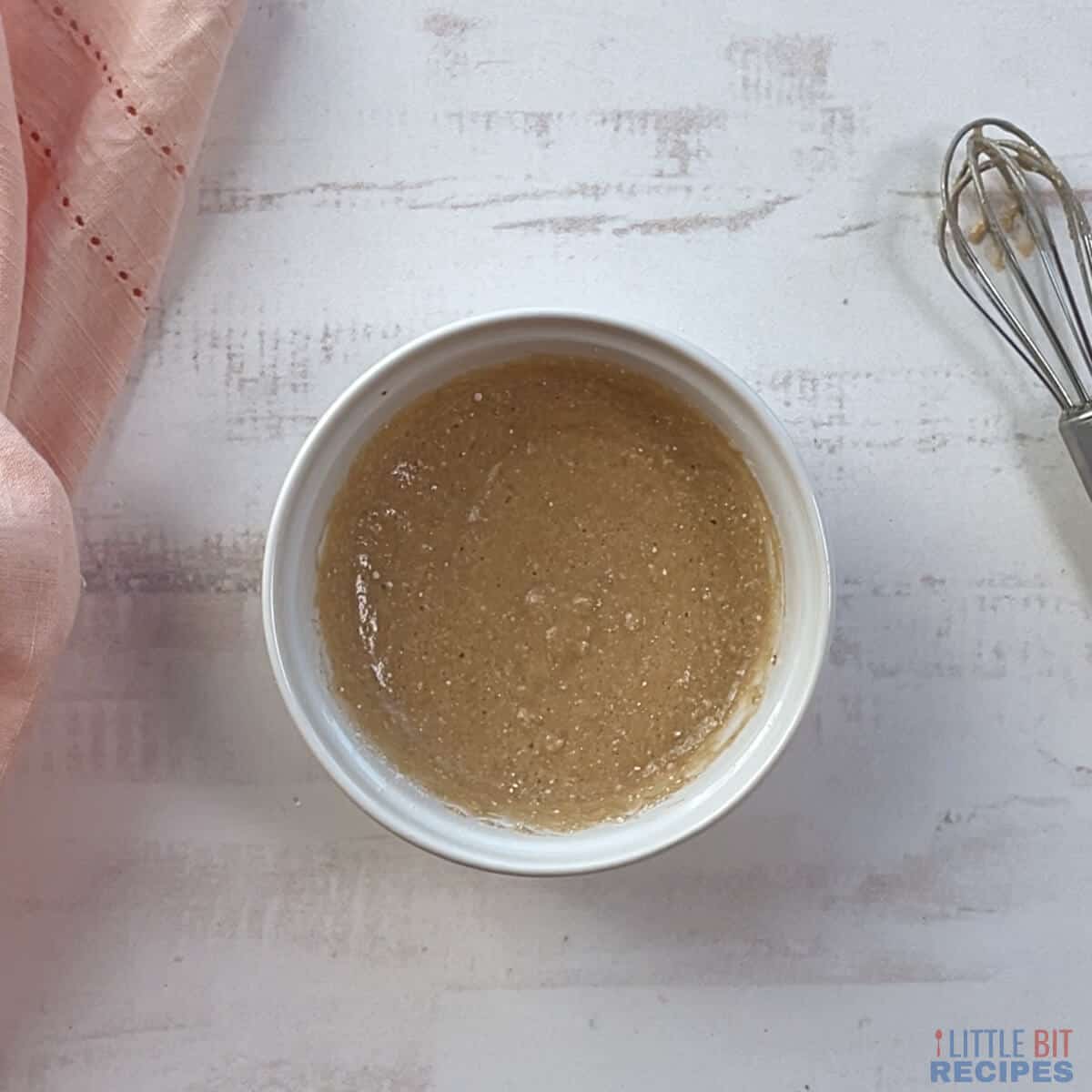 Stir with a fork or small whisk until combined into a cake batter.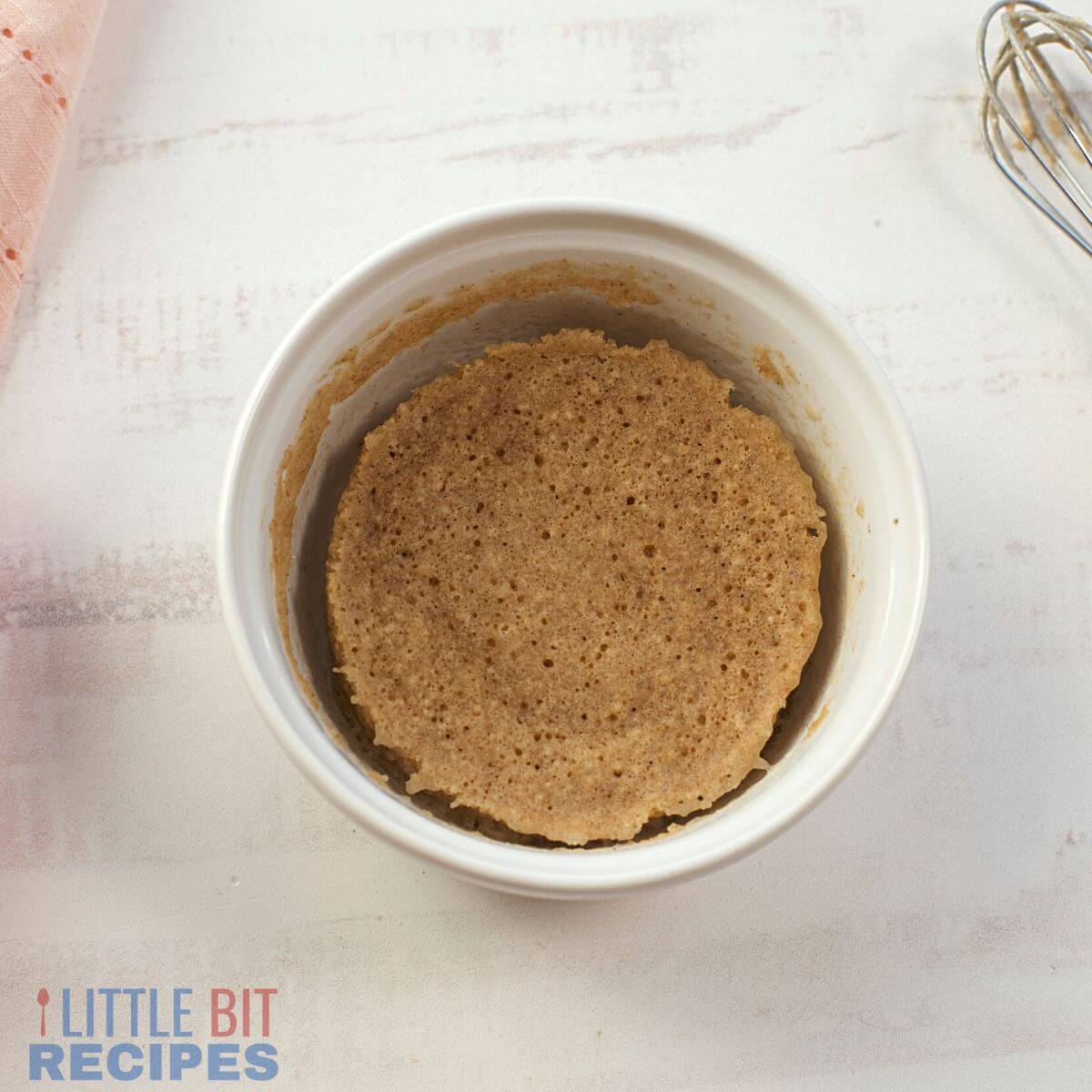 Microwave on high for 70 to 90 seconds or until the cake is done. Remove from the microwave and allow the cake to cool for a couple minutes.
Add small batch buttercream frosting or no butter cream cheese frosting. Top with sprinkles or chocolate chips for more decadence.
Variations
There are so many ways to make cake mix mug cakes that you'll have endless possibilities! Here's just a few suggestions.
Gluten free mug cake - Use a gluten free cake mix
Chocolate chip - Add a few chocolate chips to a vanilla mug cake or to a chocolate mug cake for a double chocolate cake.
Funfetti mug cake - Just use a funfetti cake mix or add sprinkles to a white cake mix.
Sugar free mug cake - All you need is a sugar free cake mix. You can even use low-carb ones to make it keto friendly.
Strawberry mug cake - Either use a strawberry cake mix or stir a couple chopped strawberries into a vanilla or angel food mix.
Chocolate peanut butter - Fold in peanut butter chips into a batter made with chocolate cake mix.
First birthday cake - Make a two-layer mini blue smash cake for a baby's first birthday by doubling the recipe and adding frosting.
You can even make 3 ingredient pumpkin cookies with a cake mix and a pancake mug cake using pancake mix!
Tips
Here are a few things you can do to increase the chances of making a perfect mug cake with cake mix.
Adjust water as needed. The cake can be dry and crumbly if there's not enough moisture. For a more moist cake, add a little bit more water.
Use a good quality cake mix. Mixes that make moist cakes tend to work the best.
Don't overcook the cake. Cook the mug cake in the microwave for one minute then add 10 sec increments as needed. Overcooking it will make it dry and crumbly.
Serving suggestions
There are many ways to serve a cake mix mug cakes. You can eat it plain, with frosting, or with ice cream. You can also top it with fruit, nuts, or sprinkles. If you want to get fancy, you can even make a cake mix mug cake sundae.
Storage
If you don't finish your mug cake, don't worry! You can easily store it for later. Just put it in the fridge and it will be good for up to a week. If you want to keep it longer, you can freeze it and it will be good for up to 3 months.
FAQ
How do you keep a cake from being rubbery in a mug?
Be careful not to overcook the cake by checking it often towards the end of the cook time. Letting the cake cool completely before eating will also help to prevent it from being rubbery.
Can I bake the mug cake in an oven instead of a microwave?
Yes, you can bake the cake in an oven instead. Just make sure you use an oven-safe dish like a ramekin.
Can I add other ingredients to this mug cake recipe?
There are a lot of different things that can be stirred into the batter before cooking your cake in a mug with cake mix! You can add things like chocolate chips, nuts, dried fruit, or even spices. Just don't overdo it, or the cake could be tough.
Related Recipes
Looking for more small batch desserts to satisfy sweet tooth cravings? Check out some of our other recipes.
Follow us on Facebook, Instagram, and Pinterest to see more recipes.
Recipe
Cake Mix Mug Cake
You can make a delicious cake in a mug using cake mix in just a couple minutes. It's perfect for a quick snack or dessert.
Instructions
Lightly grease an 8 to 10-ounce microwave-safe mug or ramekin. with cooking spray and then mix together cake mix, water and oil inside.

Add cake mix, oil, and water to the inside of the mug or ramekin and stir to combine.

Microwave on high for 1 minute then check for doneness. Continue cooking in 10 second increments until done.

Remove from microwave and allow to cool for a couple minutes. Add optional frosting and sprinkles, if desired.
Notes
A mix that makes a "moist" cake tends to work best.
To lower the fat and calories, the oil can be replaced with applesauce or mashed banana.
Adjust water as needed.
Nutrition
Calories:
117
kcal
|
Carbohydrates:
18
g
|
Protein:
1
g
|
Fat:
5
g
|
Saturated Fat:
4
g
|
Polyunsaturated Fat:
0.2
g
|
Monounsaturated Fat:
0.5
g
|
Trans Fat:
0.1
g
|
Sodium:
157
mg
|
Potassium:
14
mg
|
Fiber:
0.3
g
|
Sugar:
9
g
|
Calcium:
50
mg
|
Iron:
0.4
mg
© LittleBitRecipes.com - All content and photographs are copyright protected by us. We appreciate sharing our recipes; but copying, pasting, or duplicating full recipes to any social media, website, or electronic/printed media is strictly prohibited and a violation of our copyrights. Single photos may be used, provided that full credit is given to us along with a link back to the original content.