Deliciously sweet and savory bacon wrapped air fryer cabbage is a flavorful side dish. It makes a tasty side dish or appetizer.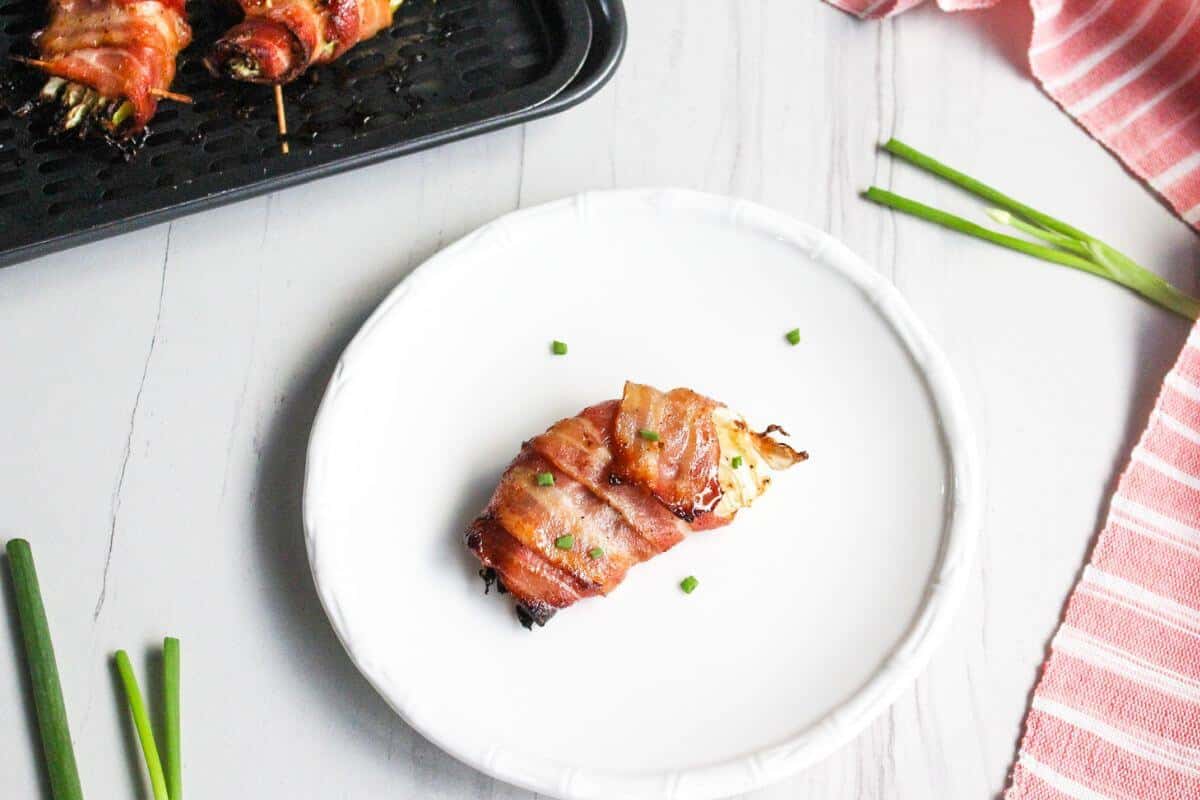 This recipe adds an interesting twist to a traditional vegetable. The cabbage is soft and tender while the bacon wrapping is mildly sweet and salty.
Air frying usually results in a crispy exterior but not with these tasty bites. Maple syrup is brushed on each piece before cooking which gives the bacon a chewy texture instead.
Bacon-wrapped air fryer cabbage is a delicious and easy-to-make appetizer or side dish for any meal. Combining the smoky, savory bacon and the slightly sweet, tender cabbage with a maple glaze creates a unique and irresistible flavor that will please even the pickiest eater.
Jump to:
Ingredients
The ingredients needed are simple and easy to find. You'll only need five simple items plus some salt and pepper.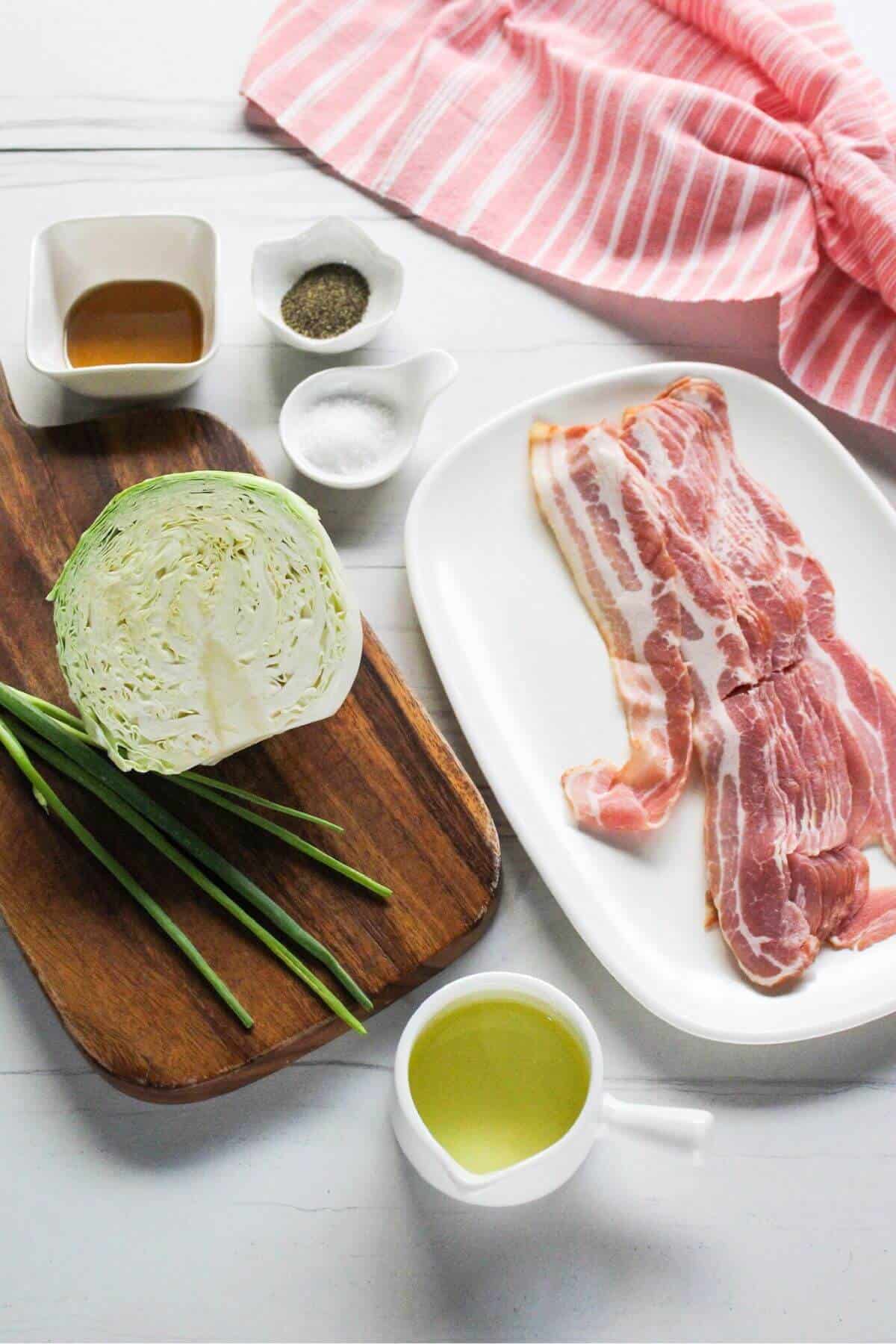 For this quick and easy recipe, you'll need the following on hand:
cabbage
bacon
maple syrup
salt and pepper
olive oil
fresh green onions
Scroll down to the recipe card for quantities used.
Instructions
To begin, you'll preheat your air fryer to 370°F and set the cooking time to 12 minutes.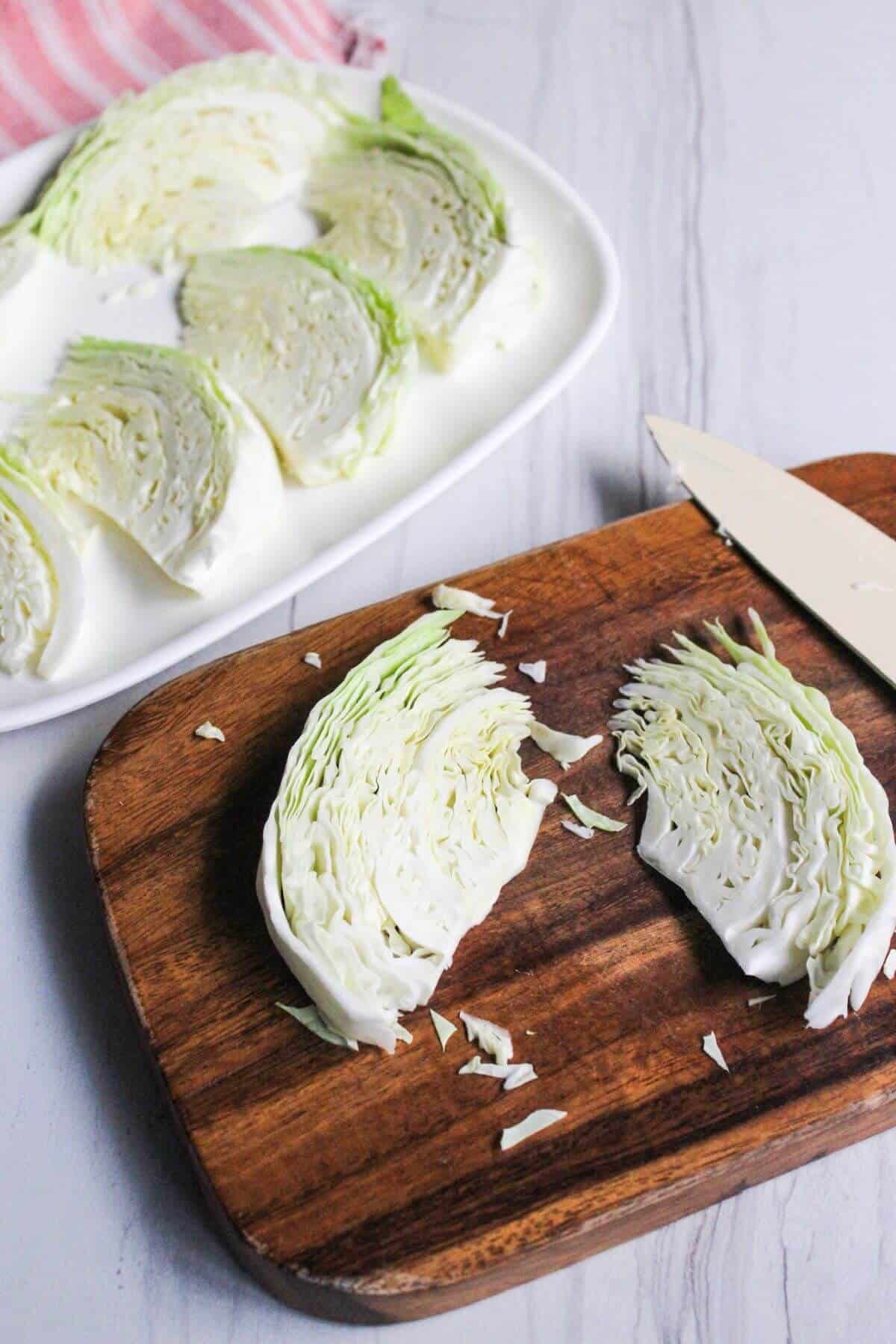 Remove the core and cut the cabbage into two pieces. Then slice cabbage pieces into two for a total of 8 thin pieces.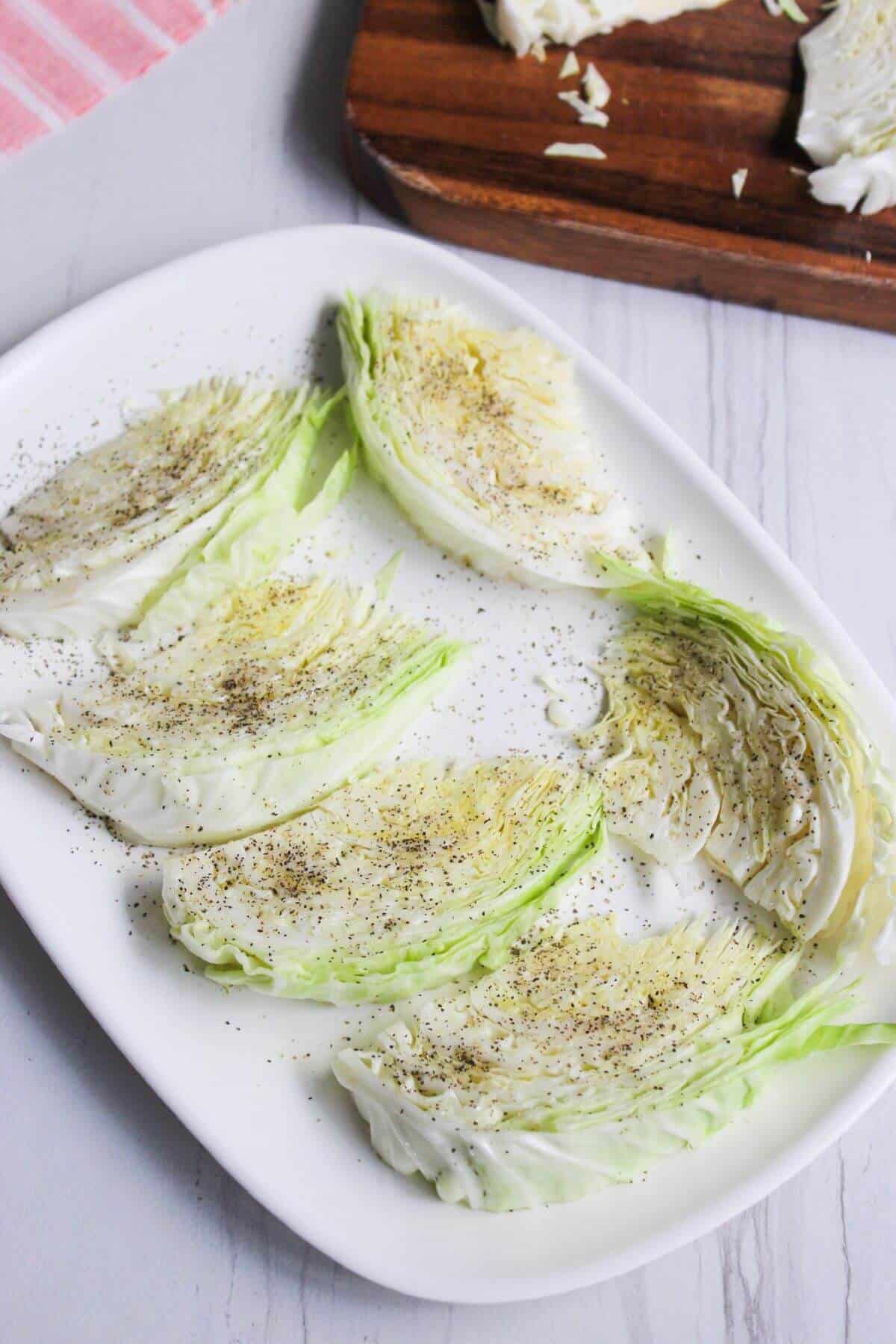 Lightly brush cabbage wedges with olive oil. Sprinkle salt and black pepper the oiled pieces.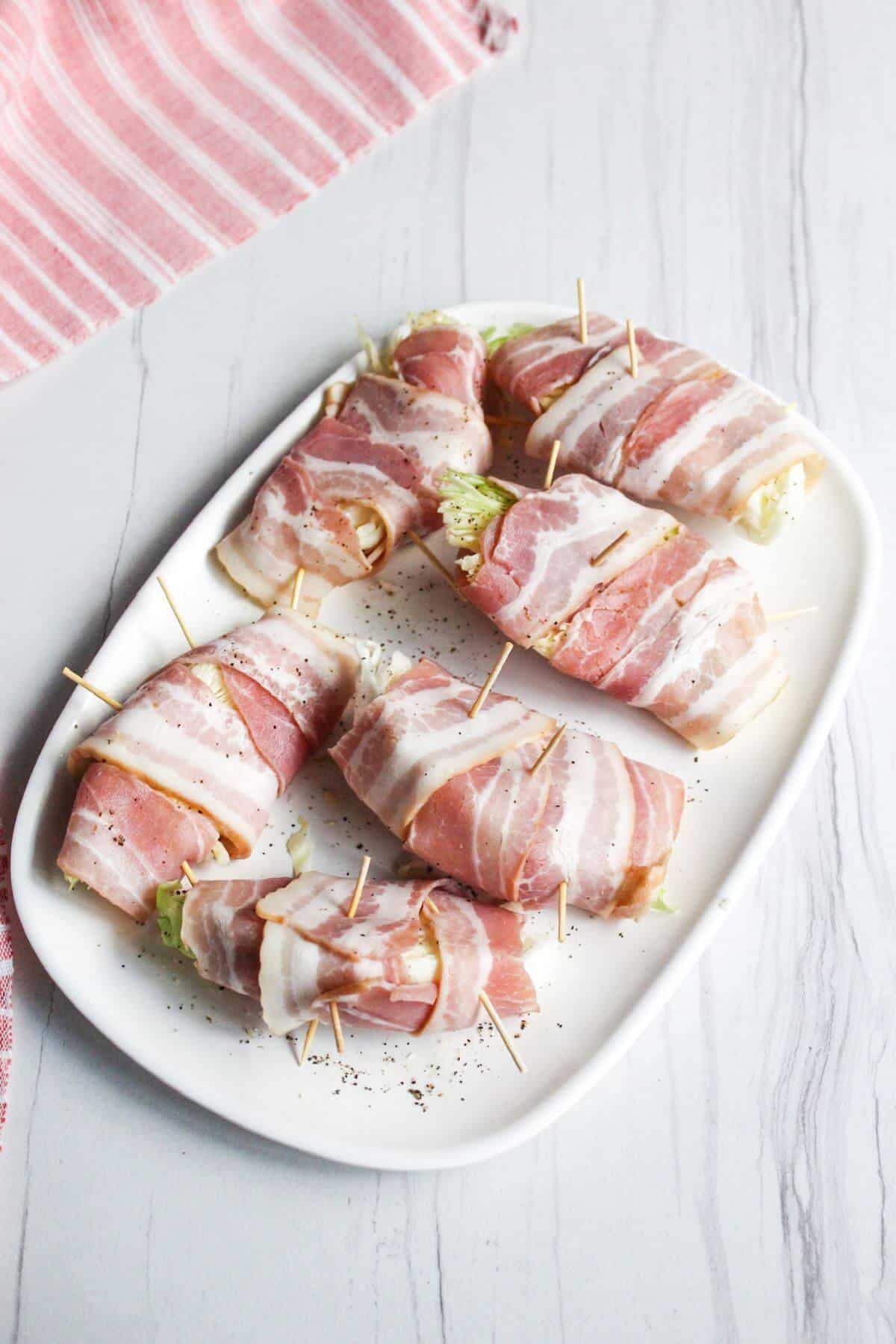 Tightly wrap cabbage pieces with bacon, preferably covering each tip. Secure with toothpicks.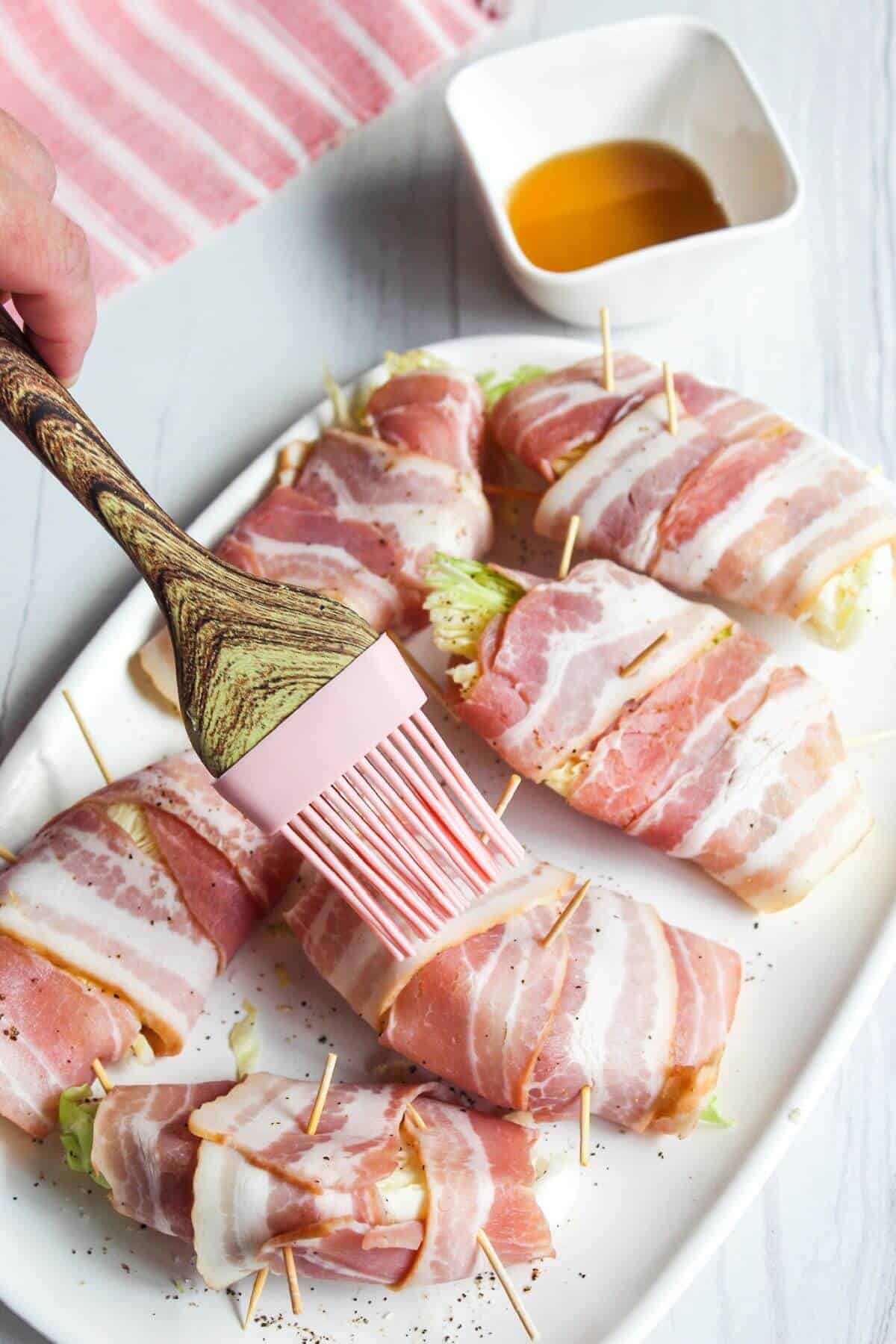 Lightly brush bacon-wrapped cabbage with maple syrup.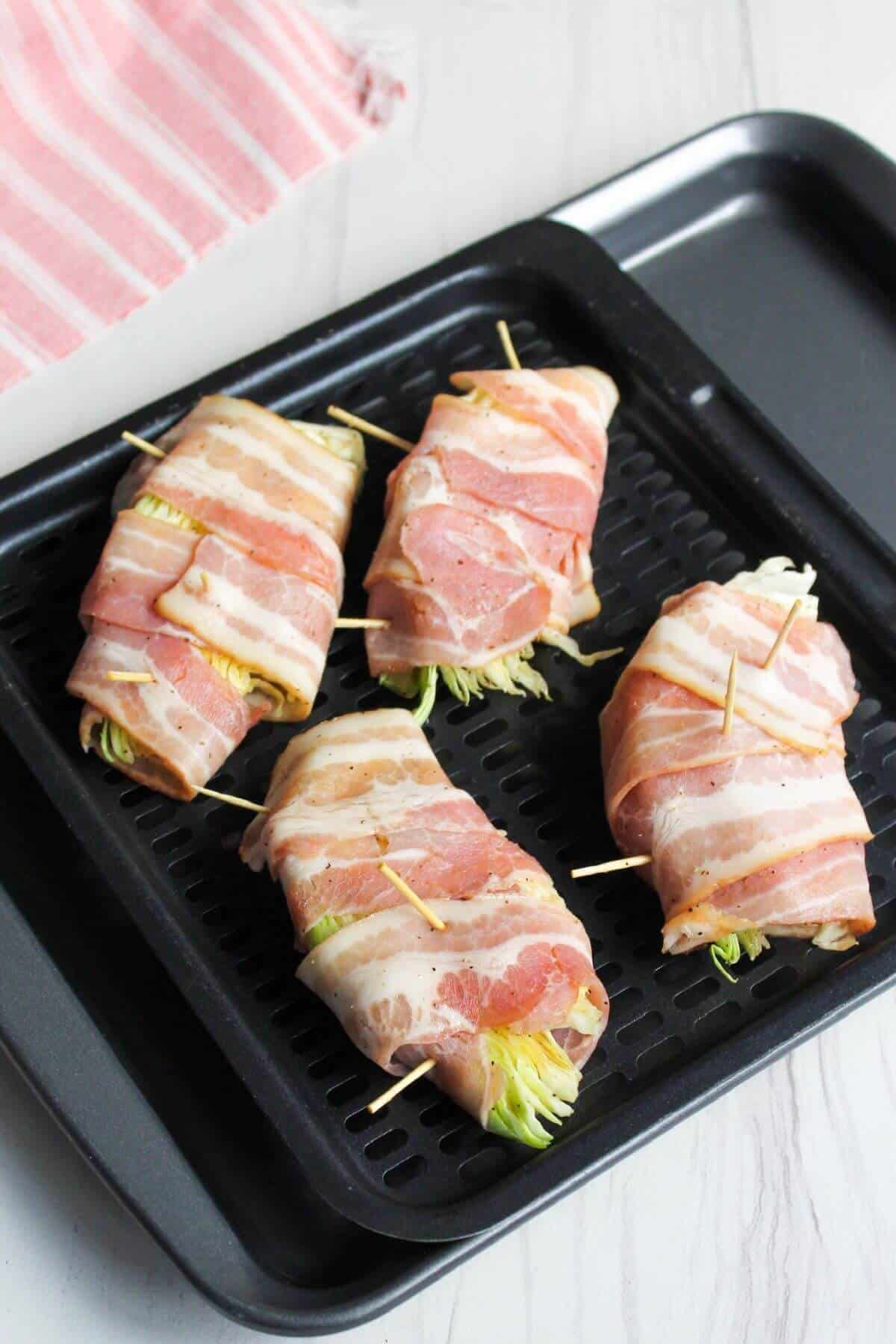 Place cabbage pieces onto preheated air fryer basket or tray and begin the air fryer cooking timer.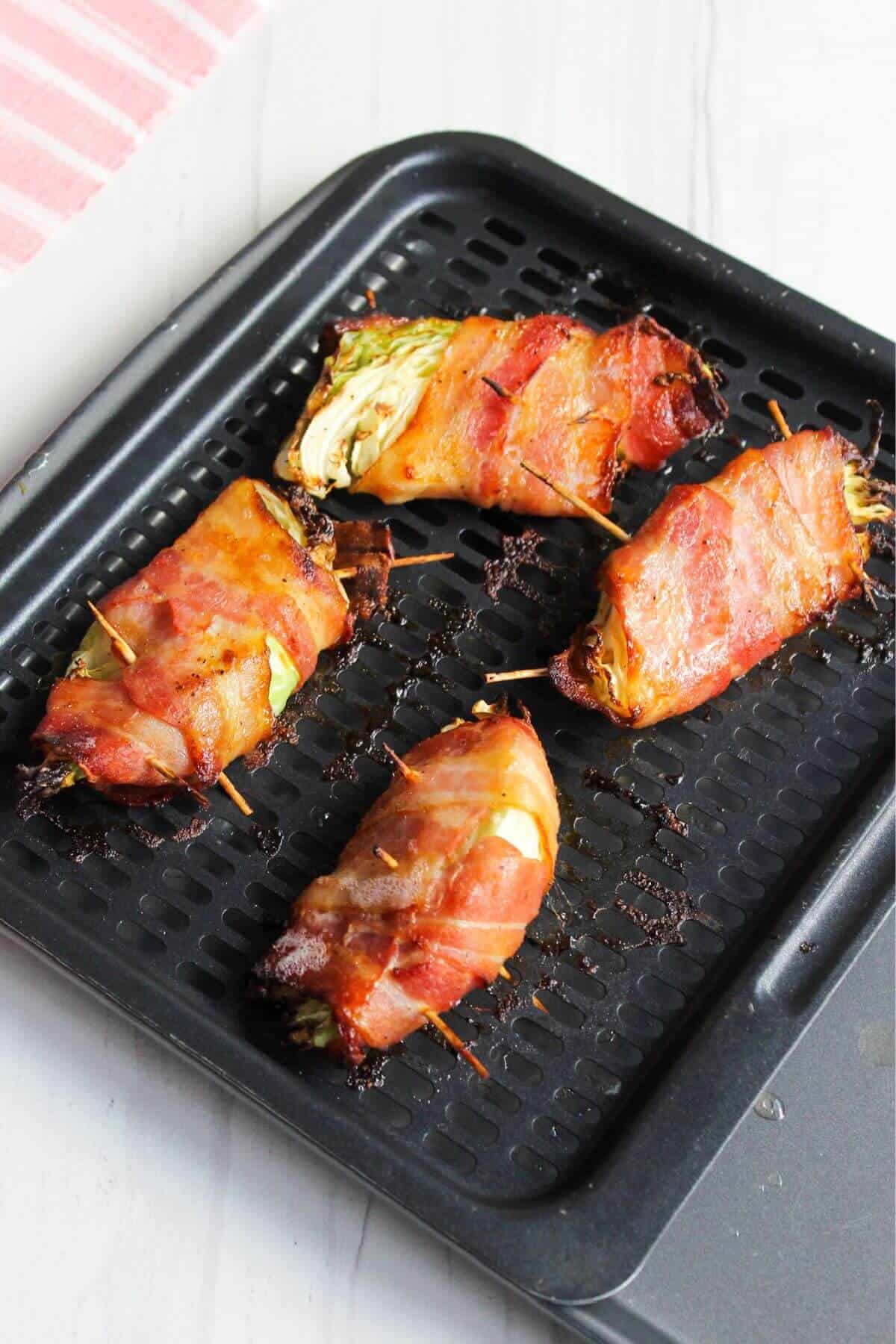 Turn each piece half-way through cooking time. Remove when bacon is fully cooked and golden in color.
Variations
If you're looking to switch up this air fried cabbage recipe, there are a few ways to make variations to the dish.
Switch out the type of cabbage used. Instead of traditional green cabbage, you could experiment with red cabbage or Napa cabbage for a different flavor and texture. Or, try making air fryer cabbage steaks instead.
Change up the seasonings. While salt and pepper are classic choices, consider adding garlic powder, onion powder, Old Bay seasoning, and or paprika for an extra kick of flavor. You could also incorporate herbs like thyme or rosemary for a more herbaceous taste.
Make it spicy. Add in some chili powder or chili flakes to your seasoning.
Swap out the bacon slices with prosciutto or pancetta. Both options will still provide that salty richness that pairs so well with cabbage but offers a slightly different taste and texture overall.
Try adding cheese. Wrap a slice of cheese around each piece before wrapping in bacon.
Make it keto. Omit the maple syrup or use a low carb alternative. Leaving out the syrup will also give you crispy edges.
Don't be afraid to experiment with different ingredients and flavors when making this easy air fryer cabbage recipe.
Tips
To make the most out of your air fryer, always preheat it before cooking. This ensures that your food cooks evenly and gets crispy on all sides.
For this recipe, using thick cut bacon is recommended as it holds up better when wrapping around the cabbage wedges.
To make sure the bacon stays secure around the cabbage, use toothpicks to hold them together while they cook.
When cutting cabbage, be sure to remove the tough core at the bottom for easier eating.
Keep an eye on the cabbage while air fryer to avoid overcooking or burning. Air frying cabbage does take less time than roasted cabbage.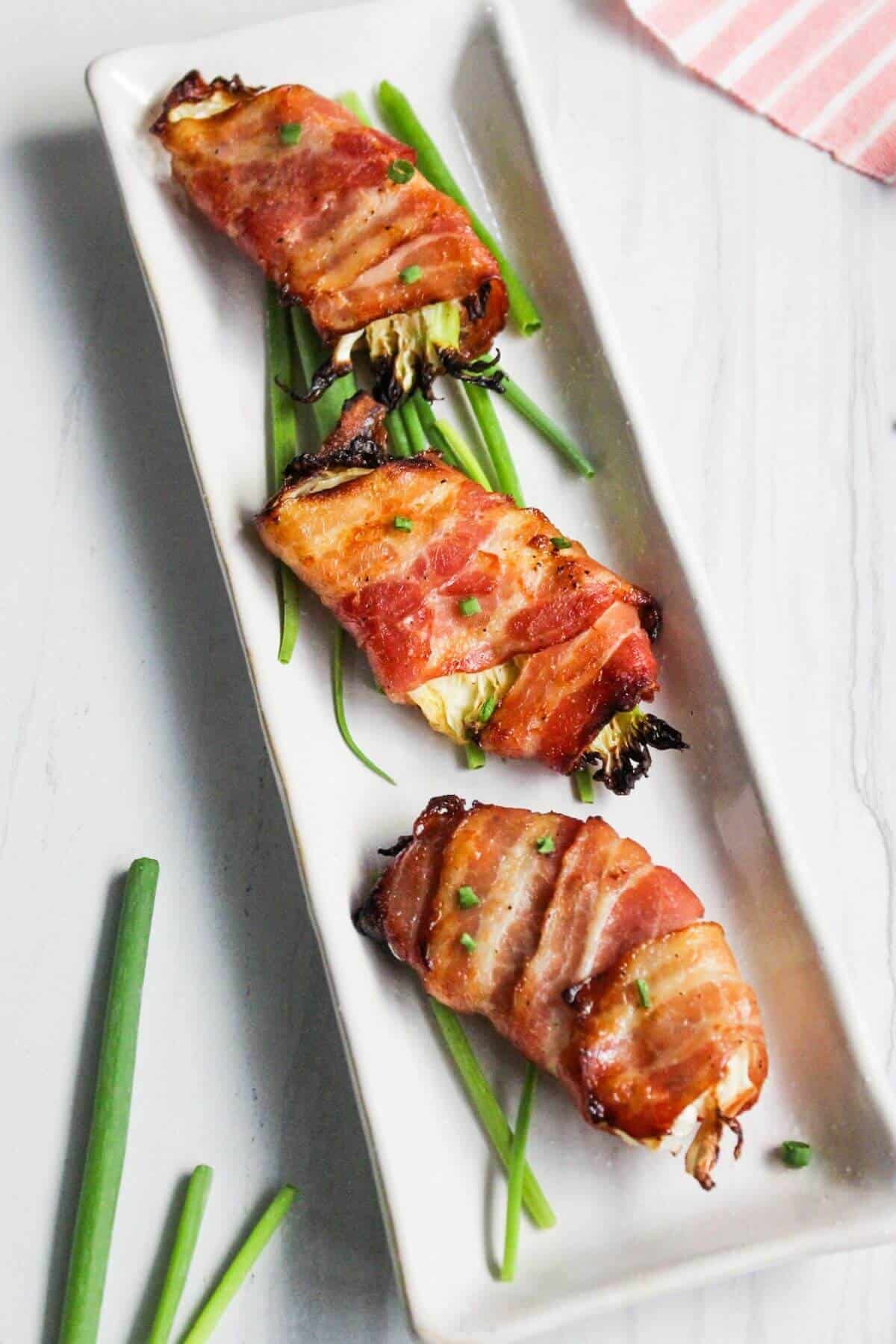 Serving suggestions
Pair these tasty bites with a main dish like grilled chicken or steak for a hearty and flavorful dinner. The mild taste of cabbage balances out the bold flavors of meat, creating a perfectly balanced meal.
You can also serve them with other appetizers like baked chicken wings. Add your favorite dipping sauces, such as ranch dressing or honey mustard sauce, for more flavor.
Storage
To store any leftover pieces, let them cool completely. Then wrap them individually in plastic wrap or place them in an airtight container lined with paper towels to absorb any excess moisture. Label the container with the date so you know when they were made.
When you are ready to reheat the wedges, place them on a baking sheet and bake at 350°F for about 10 minutes until heated through. Alternatively, you can also reheat them in an air fryer for about 5 minutes at 375°F until crispy and hot.
FAQ
How long does it take to cook cabbage in air fryer?
The amount of time it takes to cook cabbage in an air fryer varies depending on the size of the cabbage and the desired texture. Generally, a small head of cabbage will take around 15 minutes to cook at 375°F. For a larger head of cabbage, you may need to increase cooking time by 5-10 minutes. To achieve a crispy texture, you can add a few minutes to the cooking time.
What temperature do you cook cabbage in the air fryer?
Cabbage can be cooked in an air fryer at a temperature of 375-400 degrees Fahrenheit. The exact cooking time will depend on the size and thickness of your cabbage.
Can you cook air fryer cabbage without oil?
Yes, you can cook air fryer cabbage without oil. To do so, simply place your cabbage wedges in the air fryer basket and cook at 350°F for 8-10 minutes.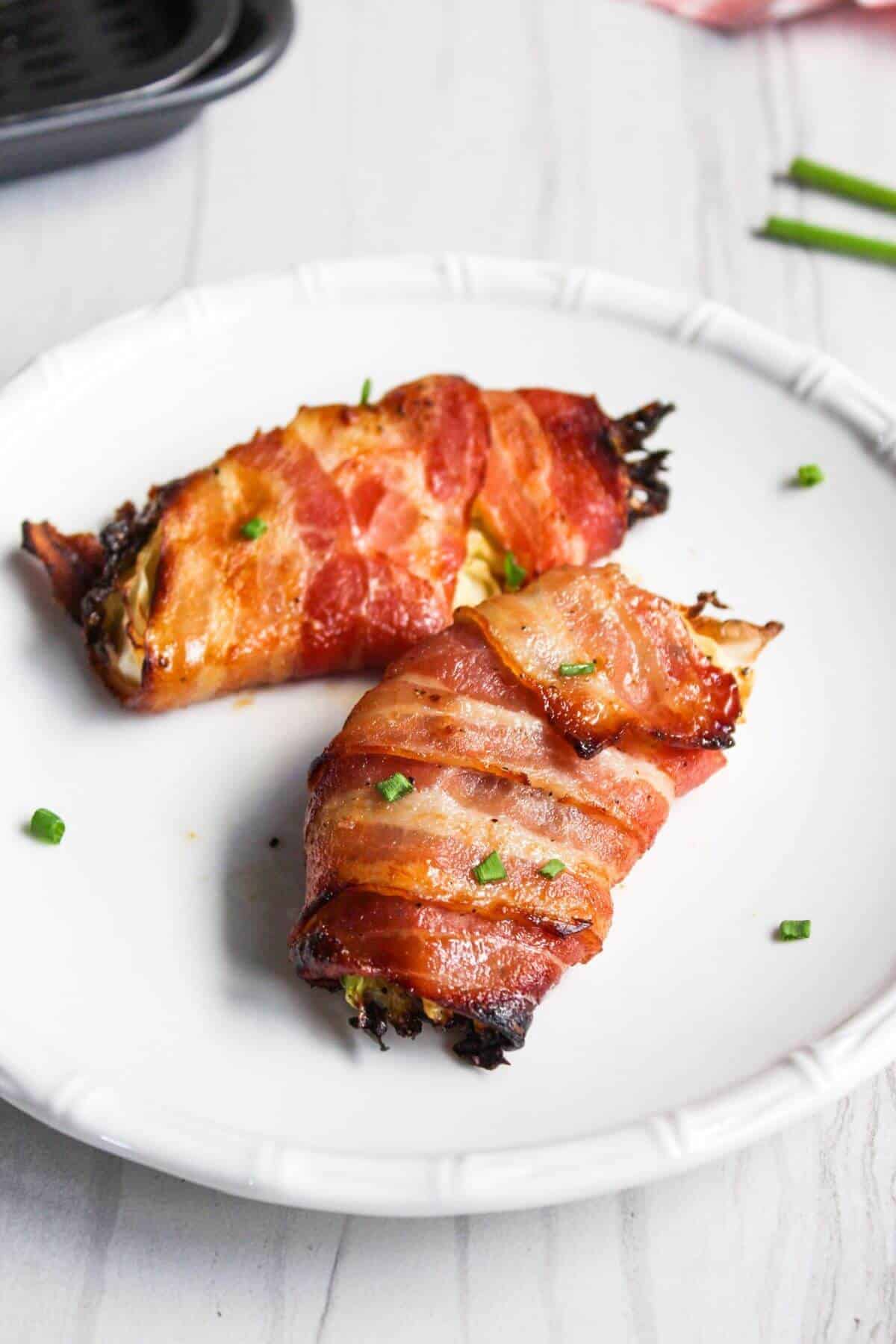 Related Recipes
Want a few more air fryer recipes? Check out these tasty bites too.
Follow us on Facebook, Instagram, and Pinterest to see more recipes.
Recipe
Bacon Wrapped Air Fryer Cabbage Wedges
Try these delicious bacon-wrapped air fryer cabbage cabbage wedges. You will love the combination of sweet and salty flavors.
Ingredients
½

head small cabbage

8

slices

bacon

1

tablespoon

maple syrup

kosher salt

to taste

ground black pepper

to taste

1

tablespoon

olive oil

avocado oil or oil spray works too

1

teaspoon

thinly sliced fresh green onions
Instructions
Pre-heat Air Fryer at 370F (188C). Set at 12 minutes.

Remove core of cabbage then slice half of cabbage into two wedges then cut into two. Total of 8 thin wedges.

Lightly brush cabbage wedges with olive oil.

Season cabbage wedges with salt and black pepper.

Tightly wrap cabbage wedges with bacon, preferably covering each tip. Secure with toothpicks.

Lightly brush bacon-wrapped cabbage wedges with maple syrup.

Gently transfer bacon-wrapped cabbage wedges onto Air Fryer tray and slowly insert tray into the middle cooking chamber, near the rotisserie catch.

Turn bacon-wrapped cabbage wedges half-way through. Opt to wait for the "turn food" reminder provided by the Air Fryer.

Wait for the timer to end and Air Fryer to stop before opening the oven door or once cabbage wedges are fully cooked and bacon are golden in color, press "cancel" at the control panel of the Air Fryer Oven.
Notes
This Air Fryer recipe was tested on an Instant Vortex Plus Air Fryer Oven. Not all Air Fryers cook the same way. It's best to keep an eye on the bacon wrapped cabbage during cooking as time and temperature may vary if you are using a different style air fryer.
If you use thick-cut bacon, the cooking time will be longer.
Nutrition
Calories:
345
kcal
|
Carbohydrates:
11
g
|
Protein:
11
g
|
Fat:
29
g
|
Saturated Fat:
10
g
|
Polyunsaturated Fat:
5
g
|
Monounsaturated Fat:
13
g
|
Trans Fat:
0.1
g
|
Cholesterol:
48
mg
|
Sodium:
538
mg
|
Potassium:
349
mg
|
Fiber:
3
g
|
Sugar:
7
g
|
Vitamin A:
151
IU
|
Vitamin C:
42
mg
|
Calcium:
56
mg
|
Iron:
1
mg
© LittleBitRecipes.com - All content and photographs are copyright protected by us. We appreciate sharing our recipes; but copying, pasting, or duplicating full recipes to any social media, website, or electronic/printed media is strictly prohibited and a violation of our copyrights. Single photos may be used, provided that full credit is given to us along with a link back to the original content.