This easy steak pasta recipe comes together quickly for a delicious weeknight meal. The savory flavor of the steak pairs well with the creamy, cheesy Alfredo sauce.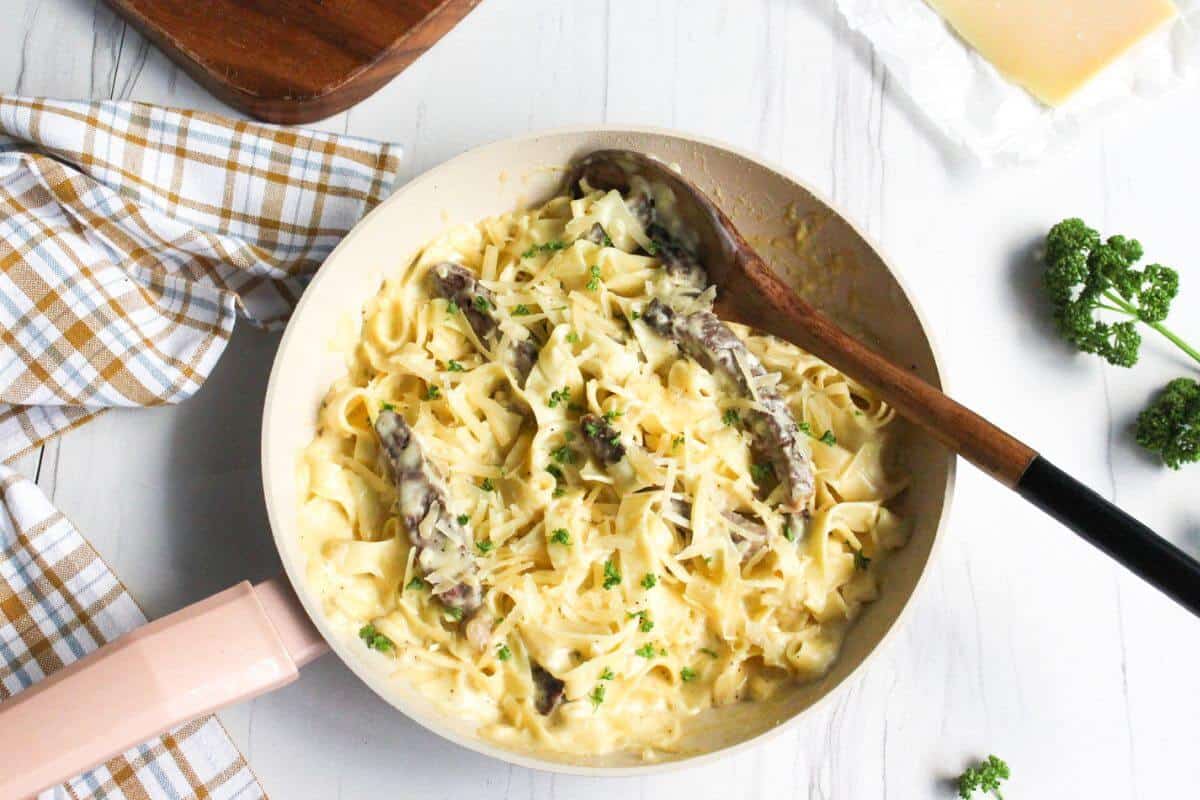 If you want a decadent pasta meal, check out this beefy recipe. It combines the richness of steak with a classic white sauce.
This creamy steak pasta dish will satisfy even the heartiest appetite. It is perfect for special occasions or to treat yourself to something delicious.
Jump to:
Ingredients
You will need some essential ingredients to make the perfect Alfredo steak pasta. The first is steak. You'll want to get about 8 ounces of ribeye steak or sirloin steak.
You will also need cooked pasta; any pasta can work fine, but linguine or fettuccine are recommended for this recipe. You will also require some butter to cook the steak and garlic to add flavor.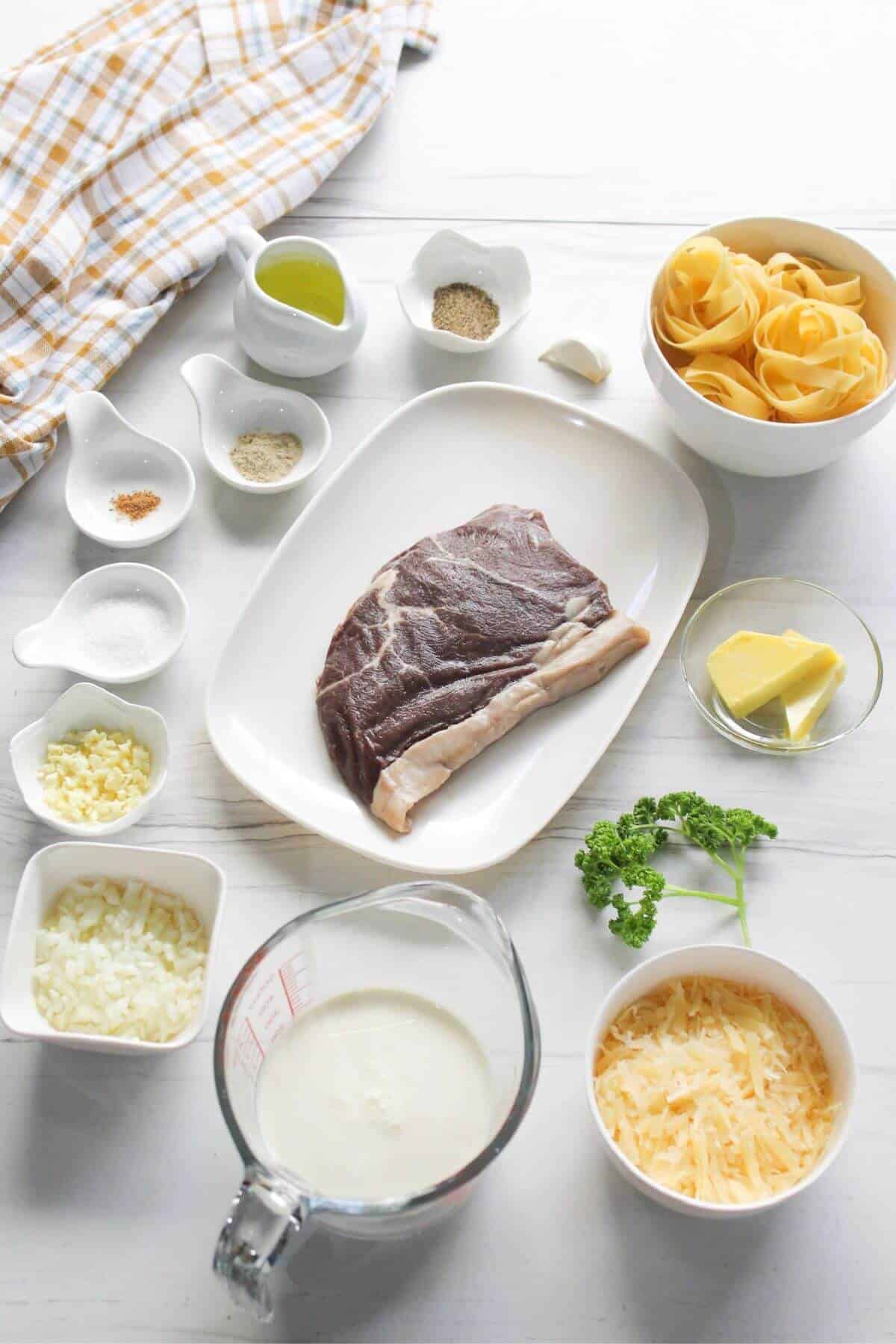 Here are the ingredients used in the recipe.
sirloin steak
garlic
salt and pepper
olive oil
cream
Parmesan cheese
butter
onion
nutmeg
fettuccine
Scroll down to the recipe card for amounts.
Instructions
It's easy to make steak pasta with a creamy garlic sauce. You'll start by cooking your steak and pasta to make this dish. Then, you prepare the sauce and toss in the cooked noodles. The cooked steak is added in last before serving.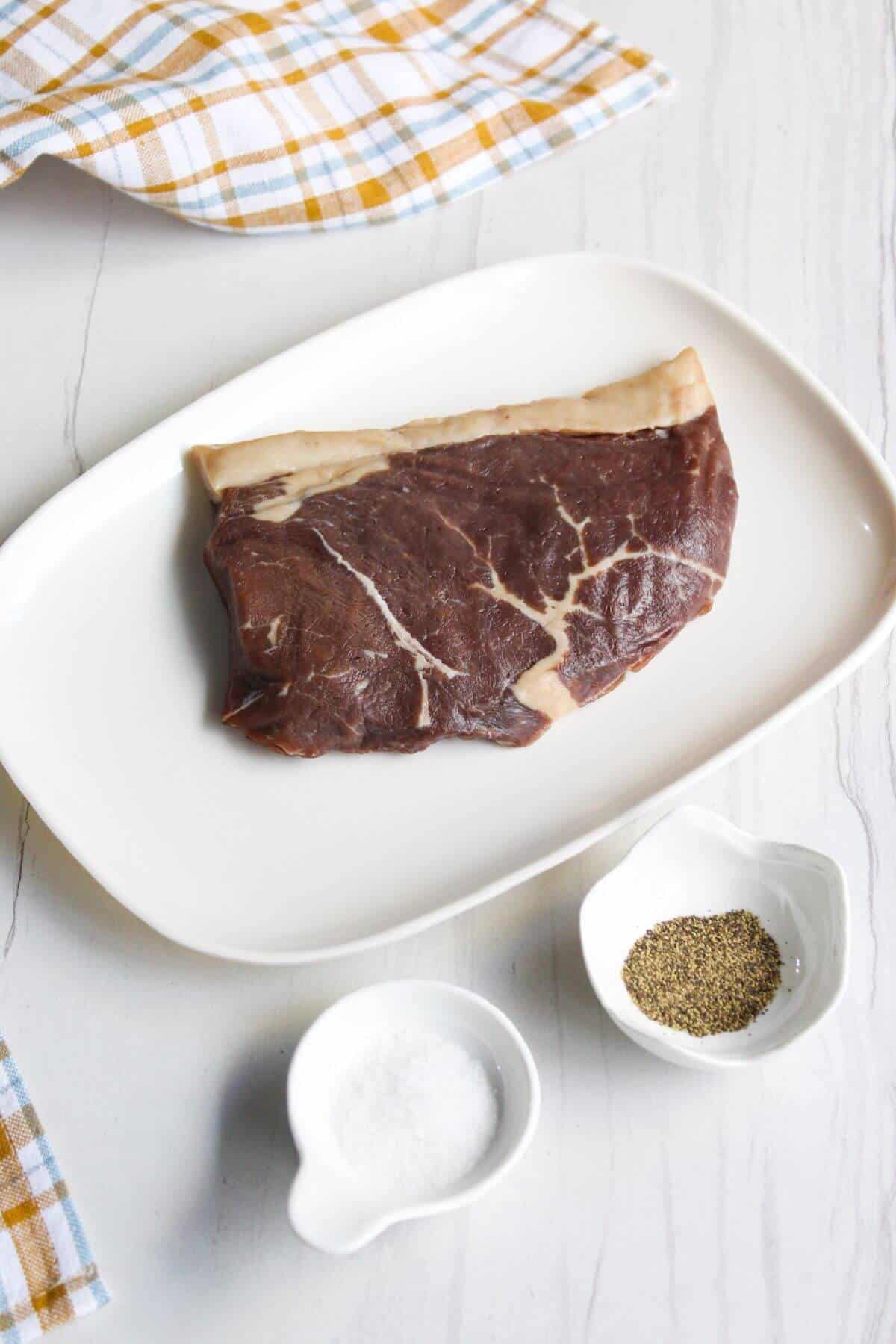 Season steak with salt and black pepper. Set aside.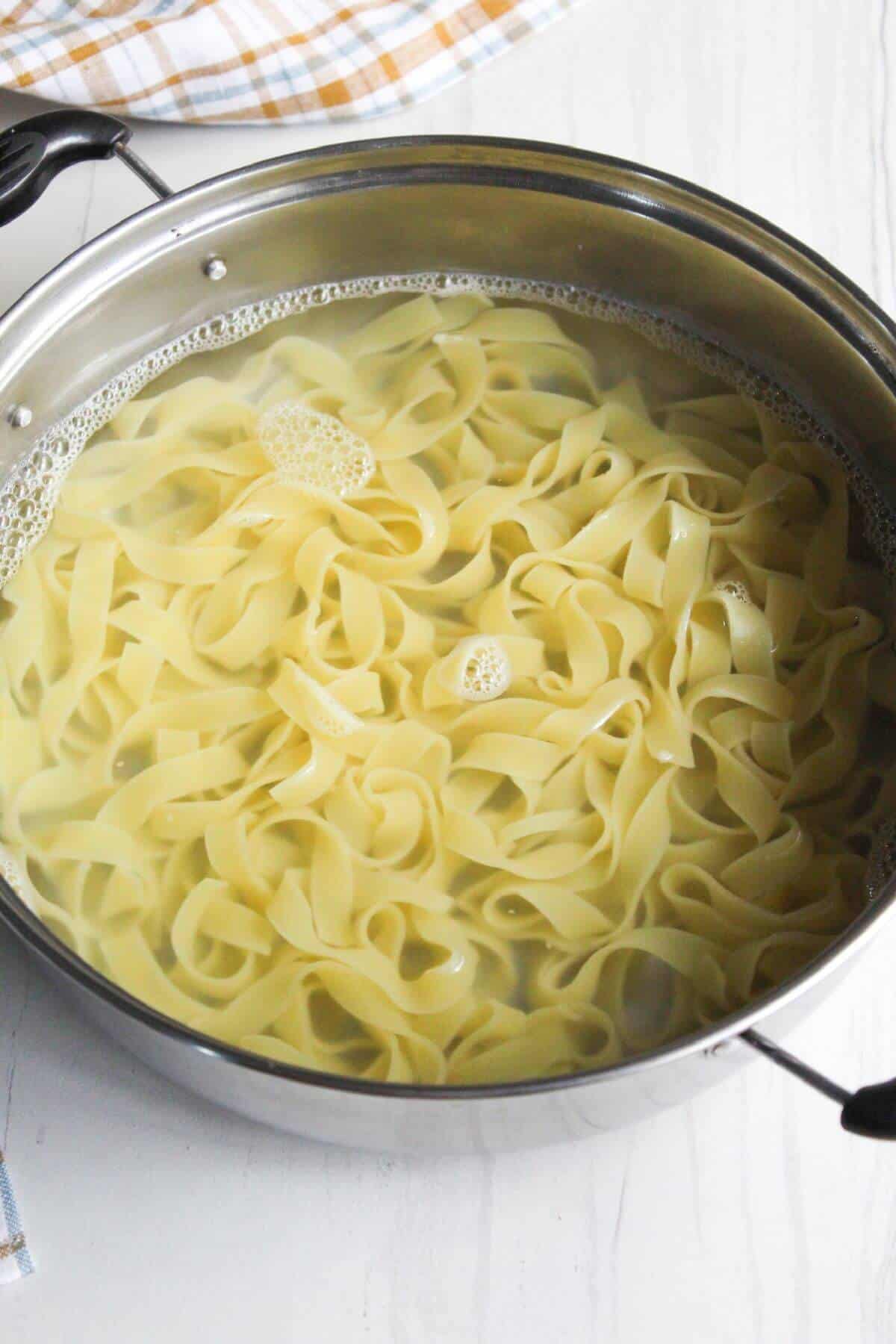 Cook the pasta according to package until it is cooked al dente. Drain and reserve about a cup of pasta water.
While the pasta cooks, sear the steak on each side in a skillet with oil over high heat until medium-rare.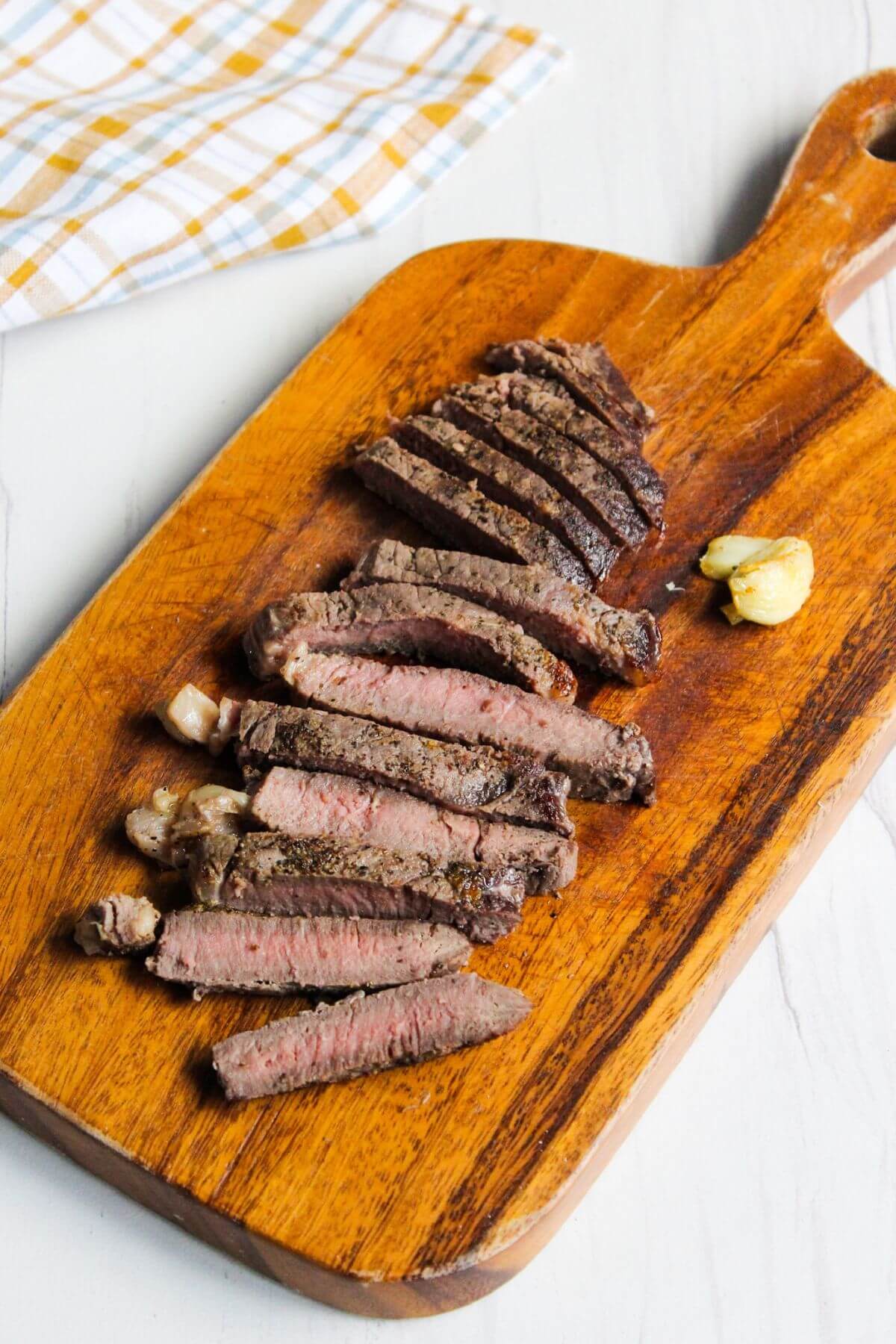 Remove the steak and transfer it to a plate. Let it rest for 5 to 10 minutes before slicing the steak.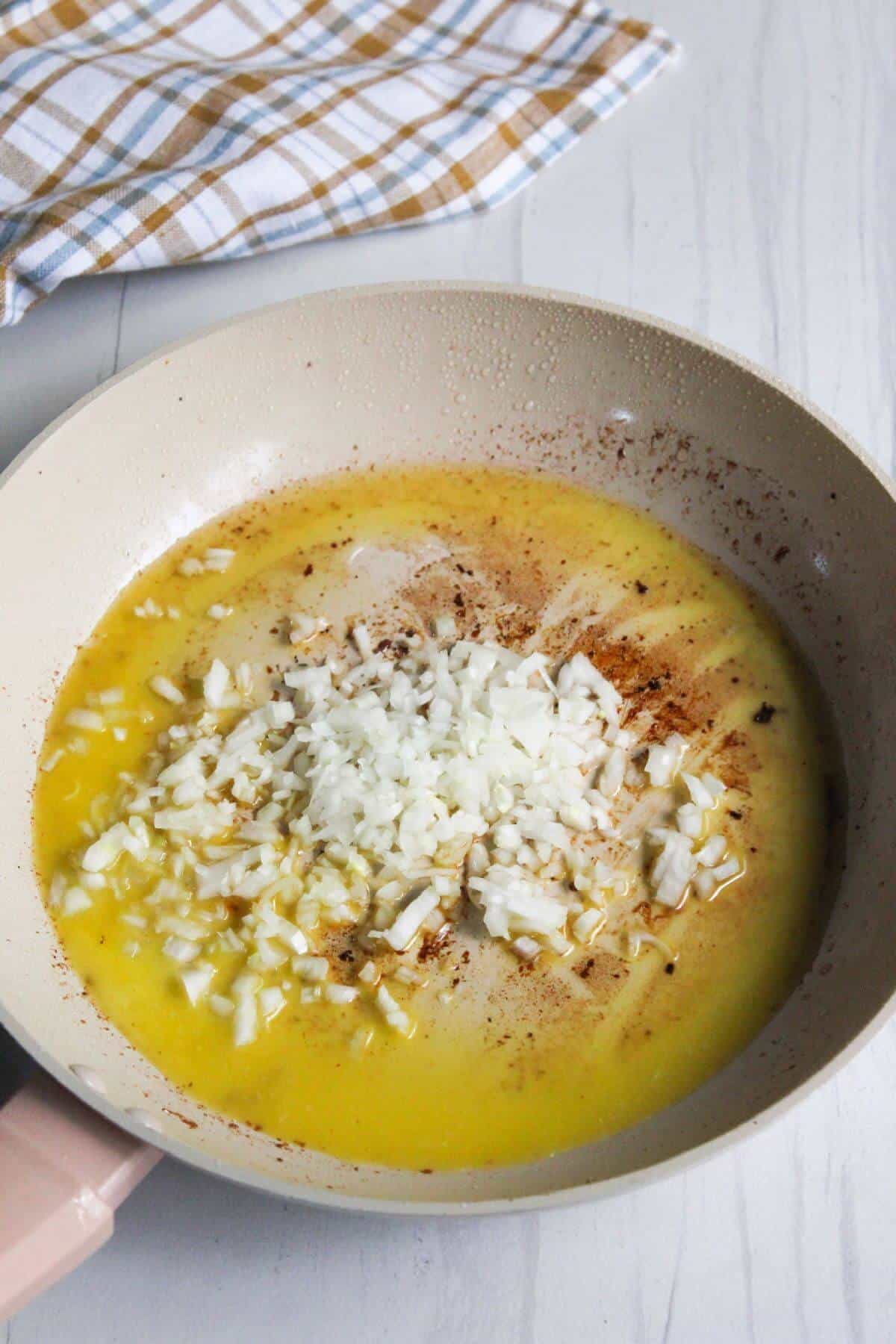 In the same skillet over low to medium heat, retain one tablespoon of oil. Add butter and onion.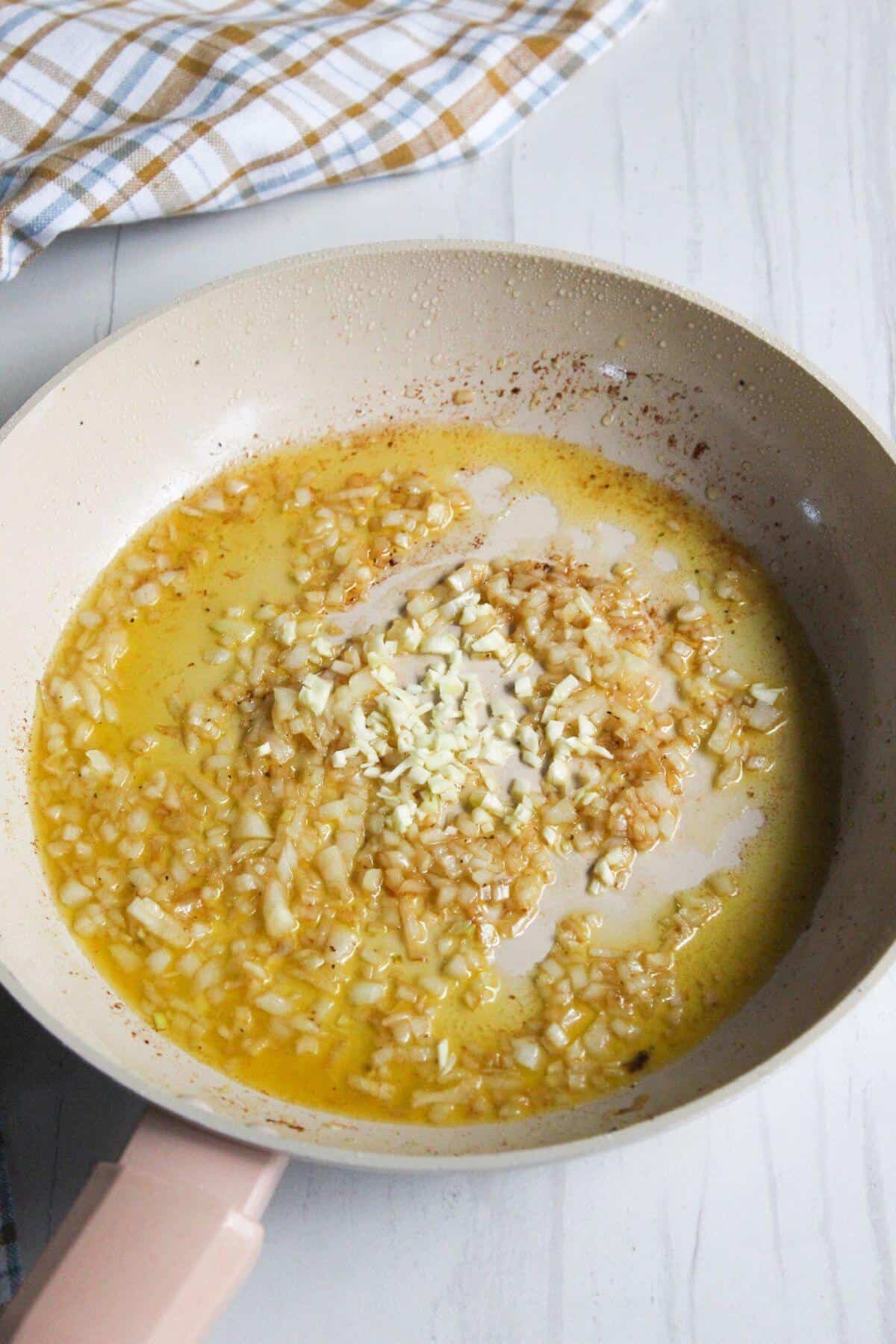 Sauté onions until translucent then add garlic. Continue to sauté for 30 seconds until garlic is fragrant.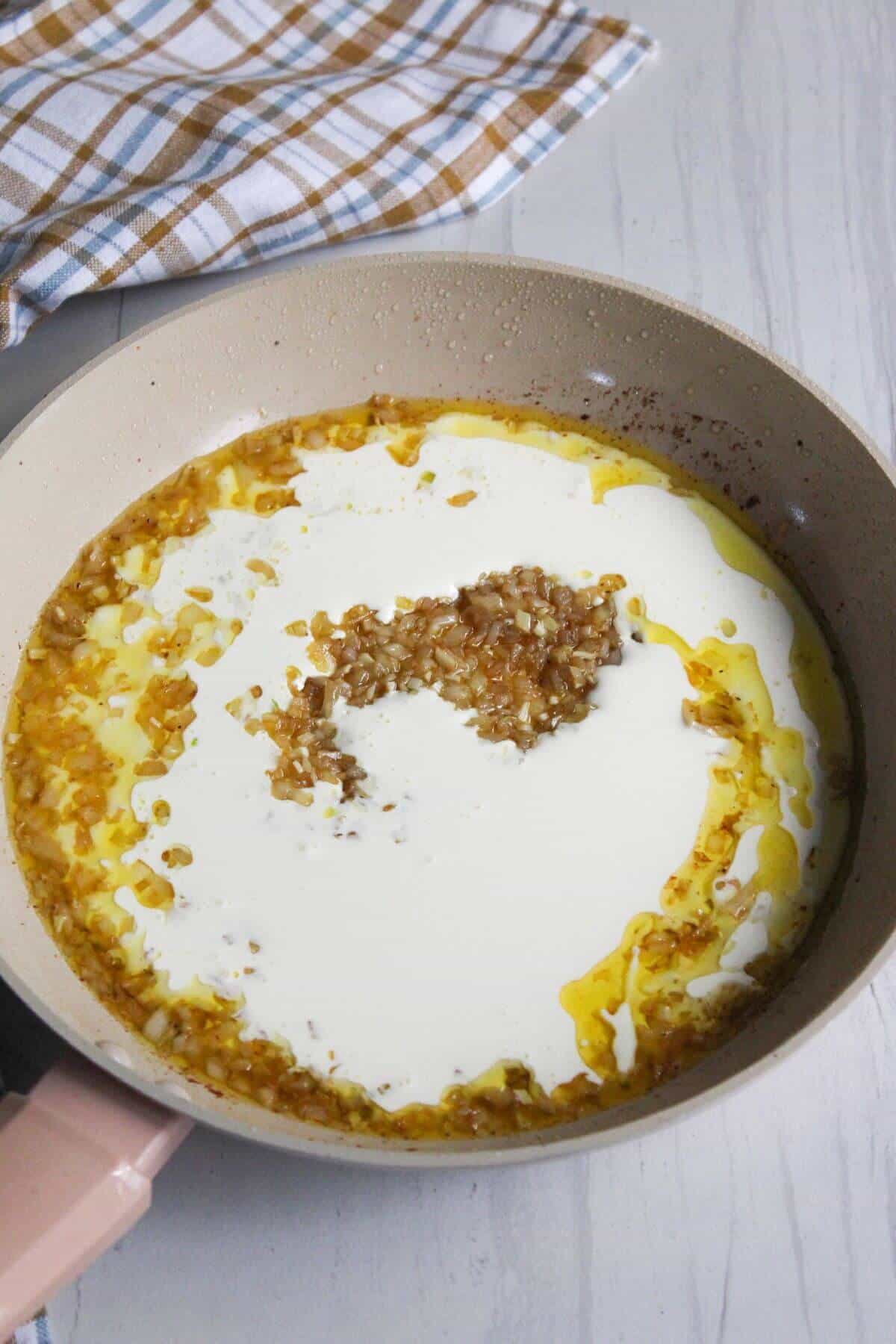 Pour in cream.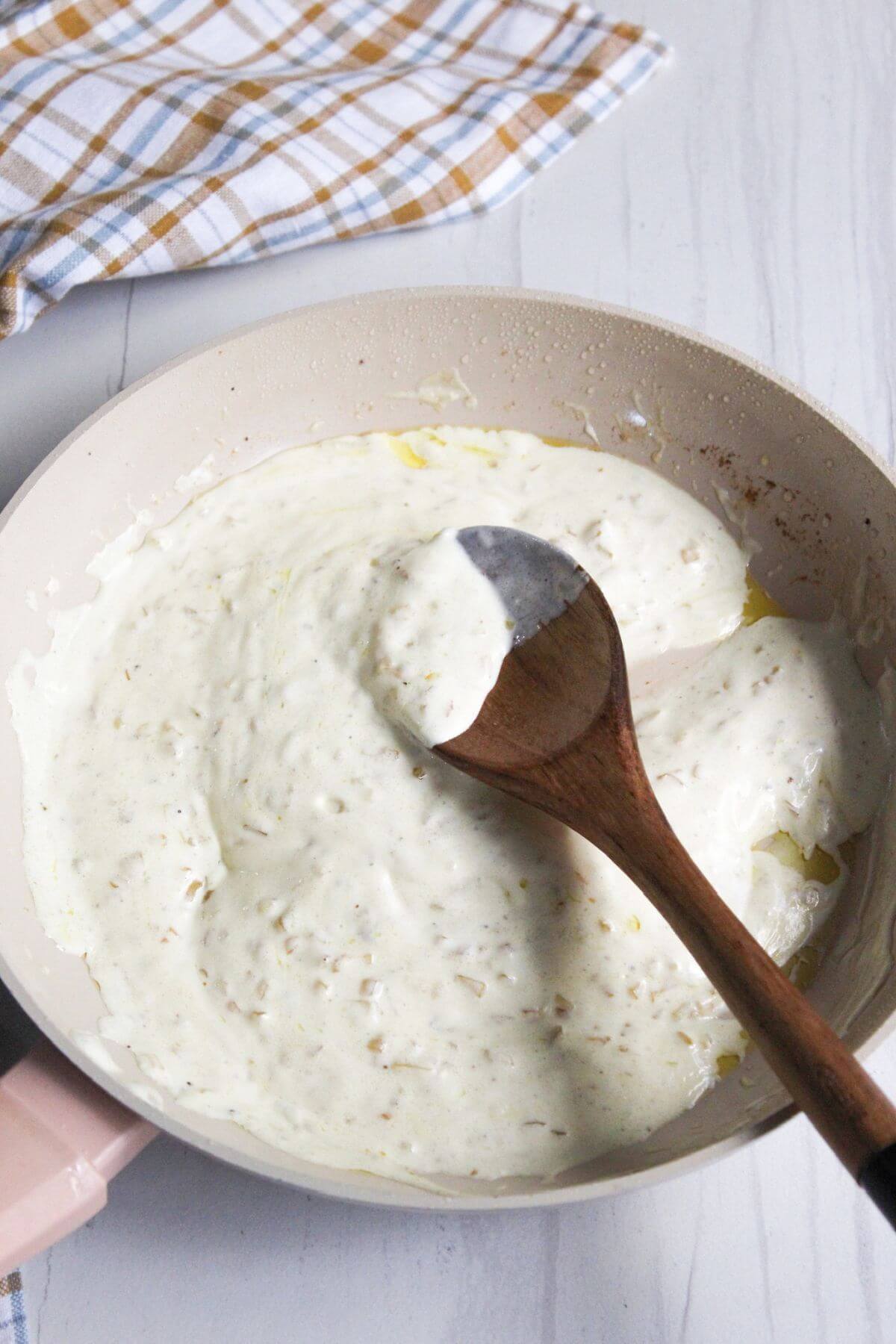 Season with white pepper and nutmeg. Stir continuously.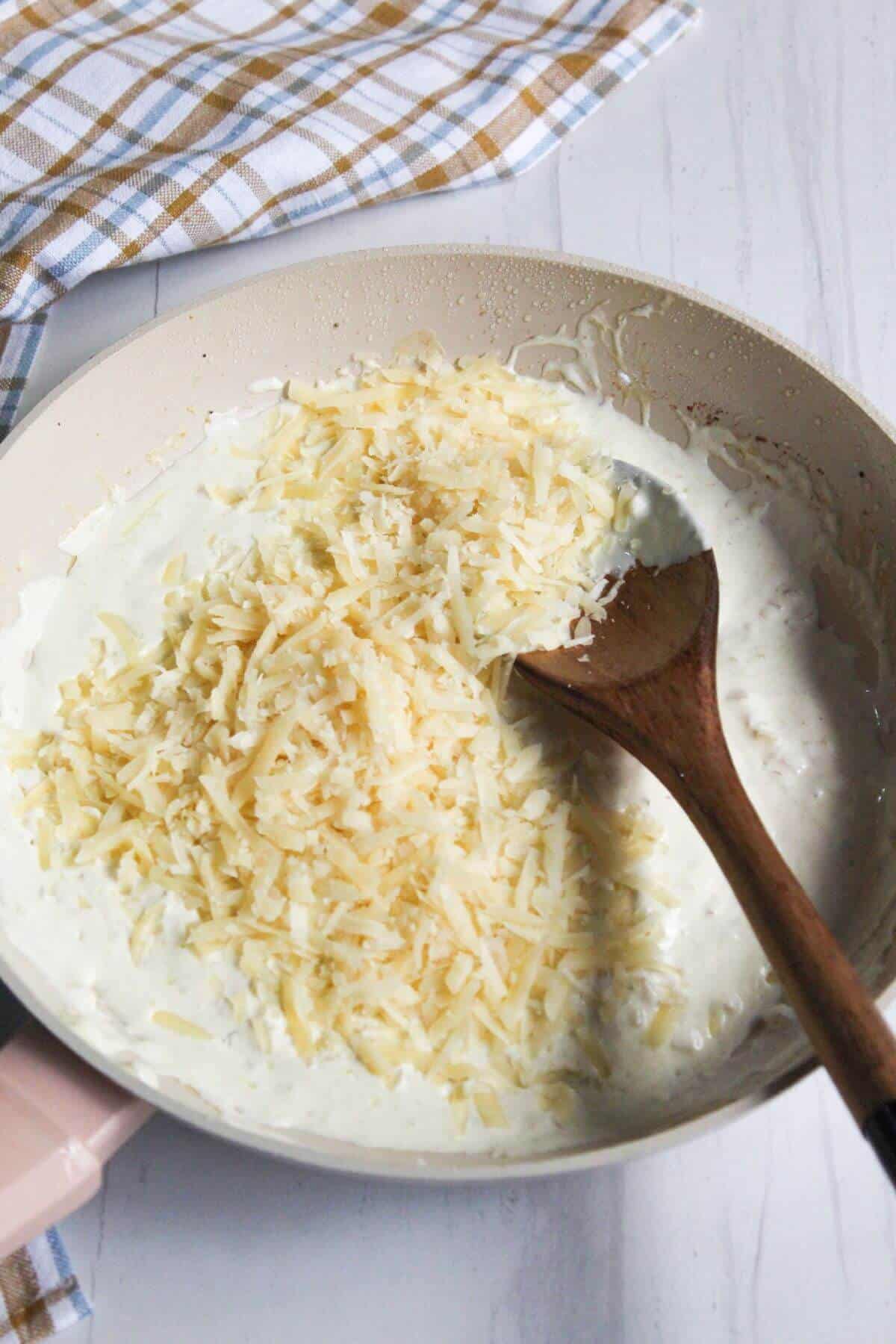 Stir in Parmesan cheese. Then slowly add the reserved pasta water.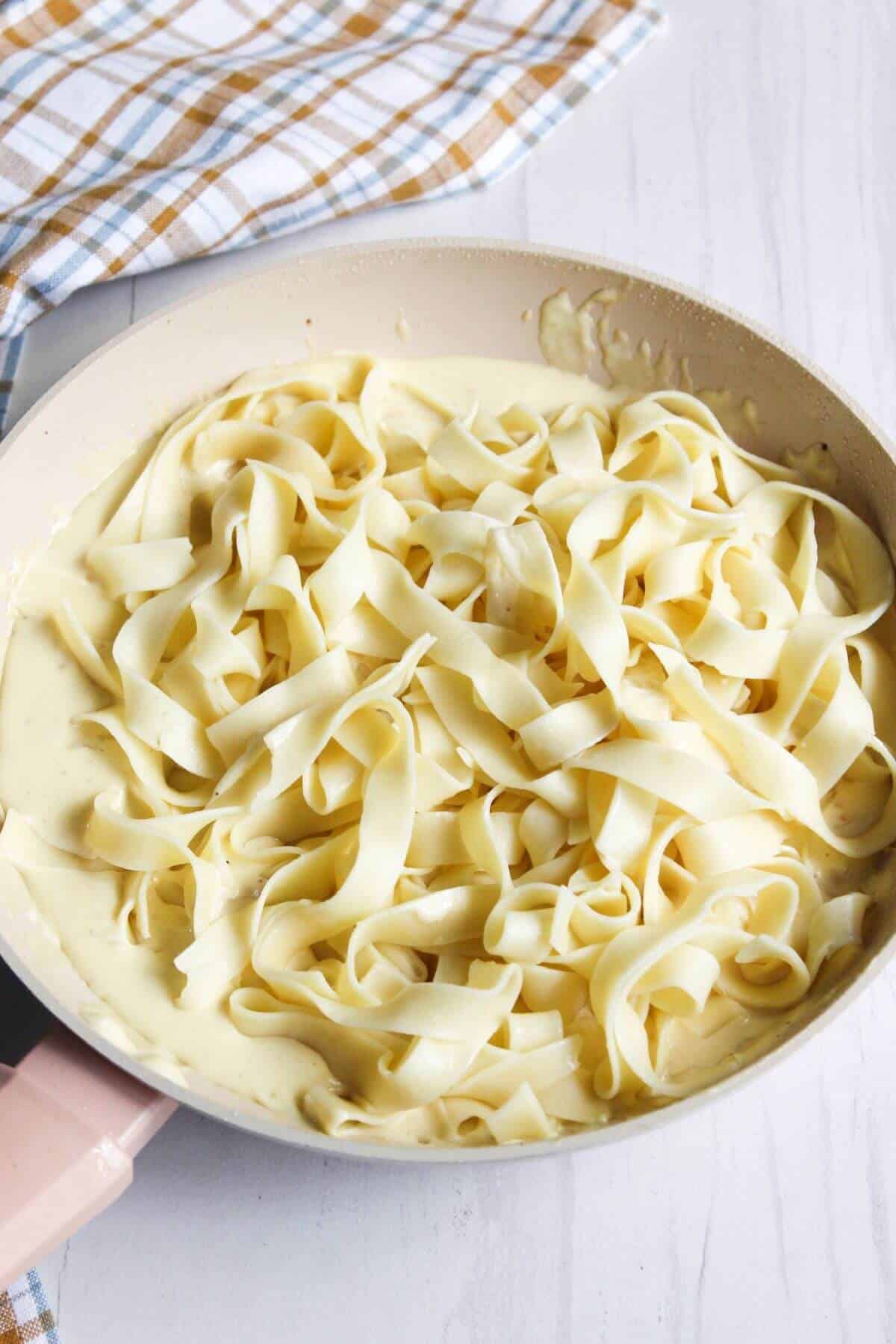 Once you have a smooth and creamy sauce, add the pasta.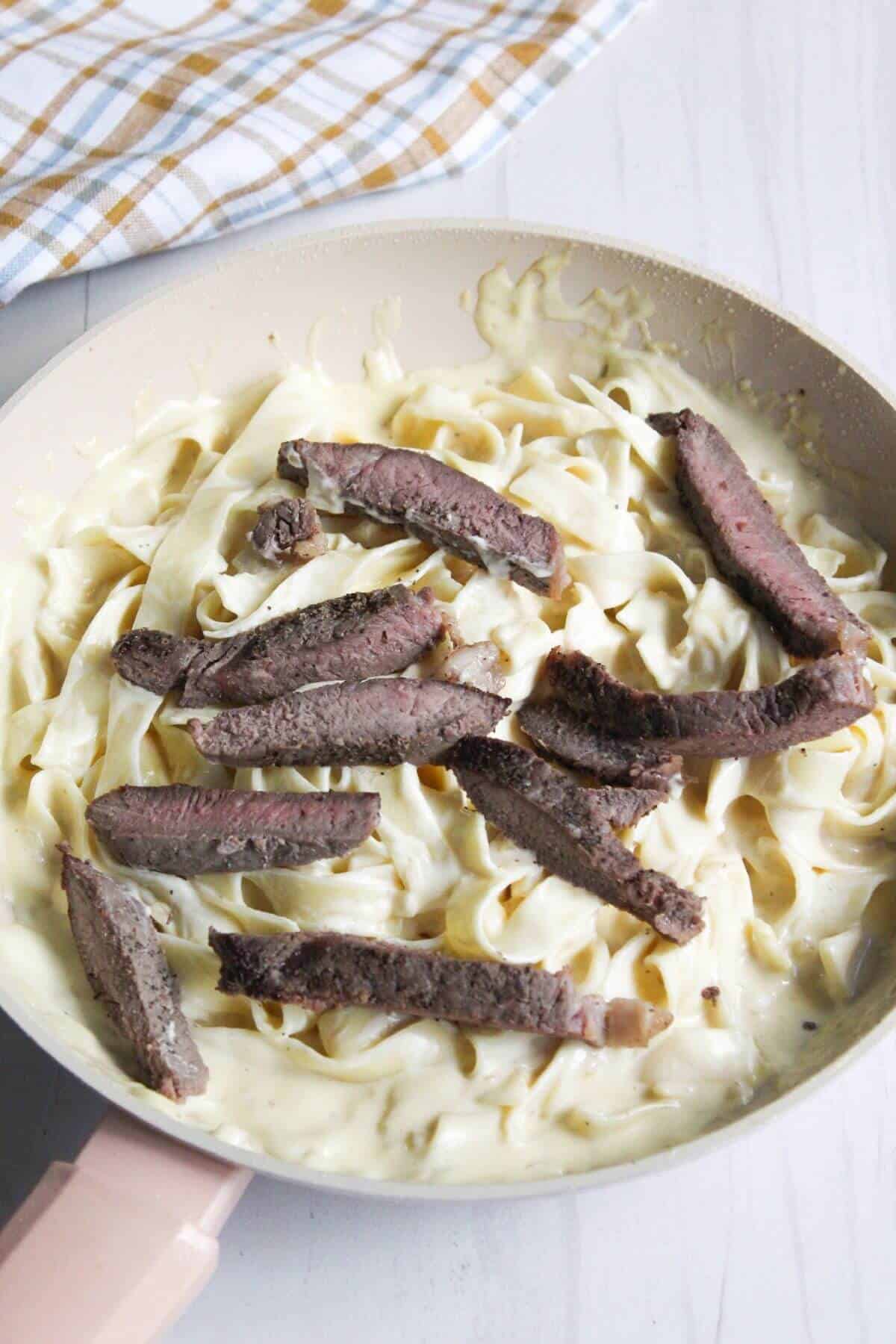 Coat pasta with sauce then add the steak slices.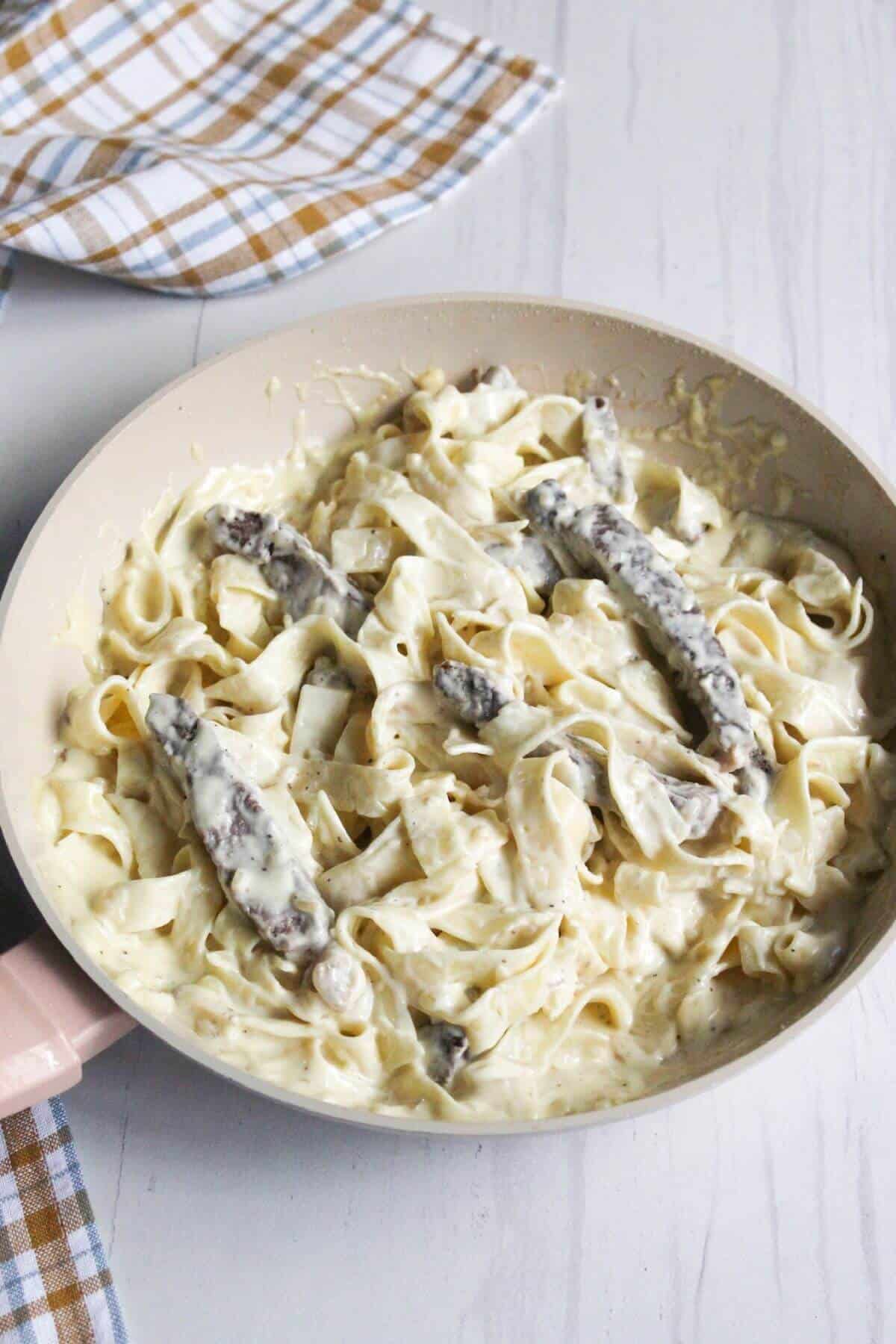 Toss pasta to completely coat each slice.
Transfer to a serving plate. Garnish the steak fettuccine with fresh parsley and enjoy!
Variations
One way to switch up your steak pasta recipe is by incorporating different types of pasta. Swap out the classic flat noodles with penne pasta or tortellini for a new twist on the dish. Another option is to add vegetables such as roasted red peppers, mushrooms, or sun-dried tomatoes.
Another variation you can try with this recipe is changing the protein component. Instead of steak, try using chicken or shrimp for a lighter option. For those who prefer a vegetarian dish, substitute the meat with tofu or chickpeas for added protein and texture.
You can also experiment with seasonings and spices to take your steak Alfredo to the next level. Add some heat with red pepper flakes, fresh herbs like basil or thyme for an earthy flavor profile, or even lemon zest for some brightness and acidity.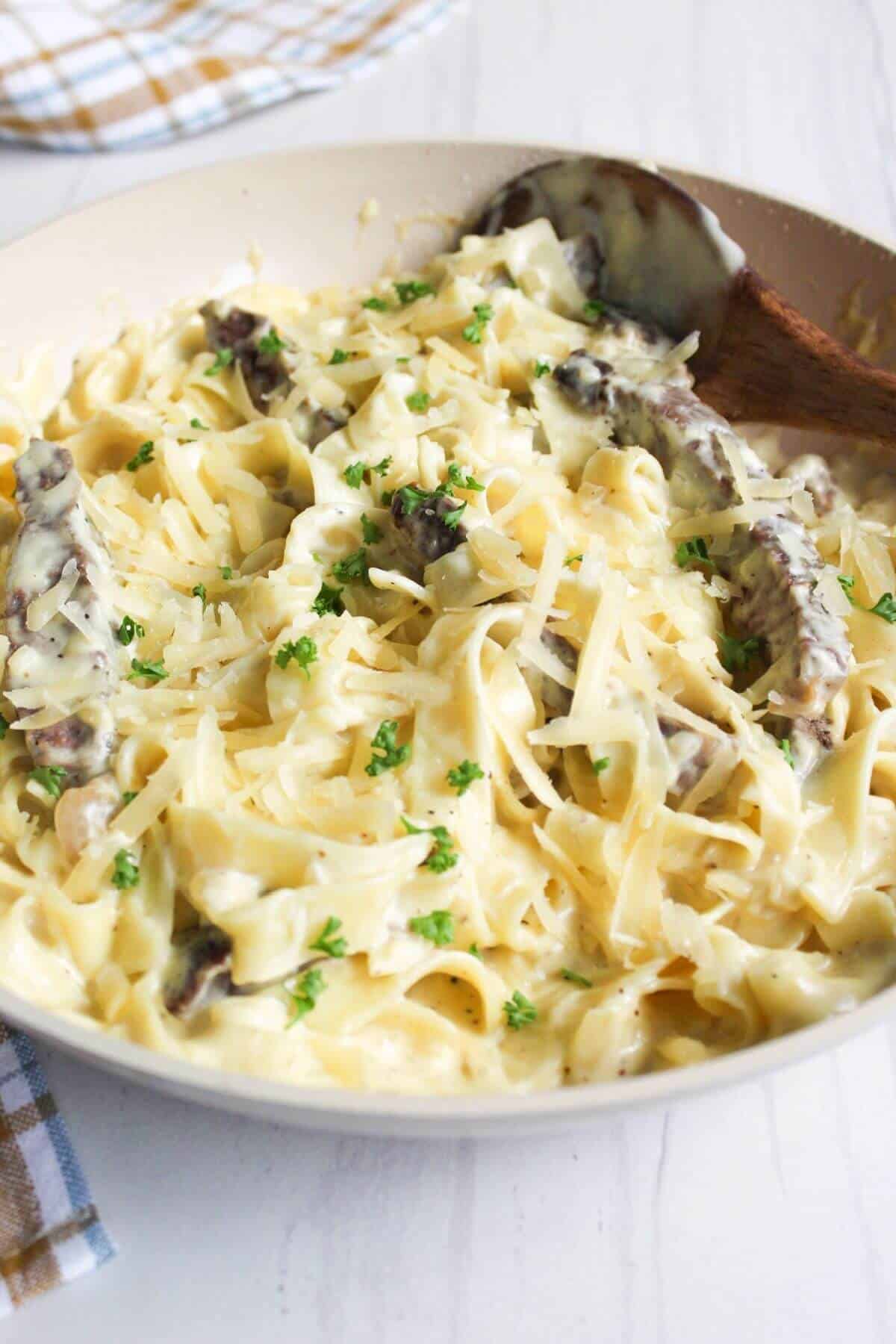 Tips
When it comes to cooking the perfect steak, you can do a few things to ensure that it turns out beautifully. Here are some basic tips.
Have your steak at room temperature before you cook it. This will help it cook evenly and prevent it from becoming tough.
Season your steak generously with salt and pepper on both sides before searing it in a hot pan with olive oil or butter. Don't flip the steak too often. Let it develop a nice crust on one side before turning it over.
Cook the pasta al dente. Start by bringing a large pot of water and salt to a boil. Once the water is boiling, add your pasta and occasionally stir so that it doesn't stick together. Cook according to package instructions but start checking for doneness about 2-3 minutes before the recommended time so it doesn't overcook.
When making the white pasta sauce, remember that patience is key! Letting the cream simmer will help thicken the sauce without curdling or separating. Additionally, use high-quality Parmesan cheese & freshly grated nutmeg for maximum flavor punch in every bite!
Serving suggestions
There are plenty of options for serving this easy dinner dish. One suggestion would be to pair the pasta with a side salad, like a chopped Greek salad. The acidity in the salad will help cut through the richness of the cheesy pasta cream sauce. Add some garlic bread or freshly baked Italian artisan bread on the side.
Another great suggestion is to top your dish with freshly grated parmesan cheese and chopped parsley for added flavor and texture. Adding red pepper flakes or hot sauce can add an extra kick to the dish for those who love a little heat.
Consider pairing this creamy pasta recipe with a glass of full-bodied red wine such as Cabernet Sauvignon or Merlot if you want to take things up a notch. The tannins in these wines perfectly complement the steak and sauce's richness.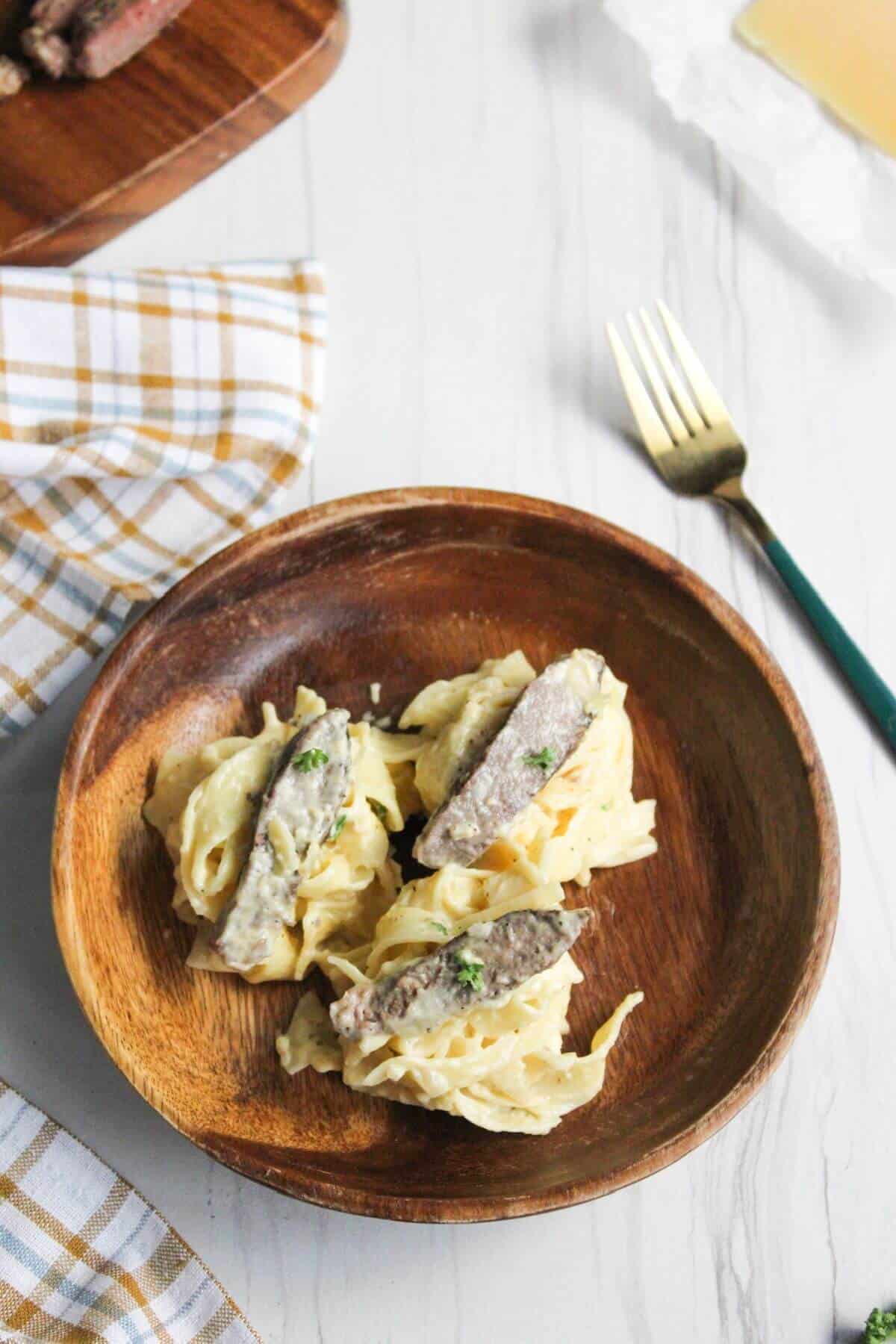 Storage
Once cooled, transfer the pasta into an airtight container or resealable bag and store it in the refrigerator for up to four days.
You can reheat it on the stove or in the microwave. Place the leftovers in a pot or saucepan over medium-low heat and stir occasionally until heated. You can also microwave individual servings of the pasta for 1-2 minutes at a time until hot.
FAQ
Does steak go well with pasta?
Pasta with steak can make a delicious meal. The two ingredients work well together because the steak adds a savory, protein-rich component to the dish while the pasta provides a starchy base for the flavors to build on.
What sides go well with steak and pasta?
A simple green salad is an excellent accompaniment. You can dress the salad with a light vinaigrette or lemon juice and olive oil dressing. To add some crunch, you could also top the salad with some croutons or roasted nuts.

Steamed vegetables like broccoli, cauliflower, carrots, or asparagus are great side dishes too. These vegetables can easily be cooked in the same pot as your pasta so they're ready at the same time. You can also add some herbs such as rosemary or thyme for extra flavor.

If you're looking for something heartier, consider making a vegetable-based casserole or scalloped potatoes.
What is the best way to cook steak?
The best way to cook steak for pasta is to pan-sear it. To start, season the steak with salt and pepper. Heat a heavy skillet over medium-high heat and add oil or butter. When the skillet is hot, add the steak and cook for about 1 to 2 minutes on each side until golden brown and medium rare. Once done, let the steak rest before slicing into thin strips.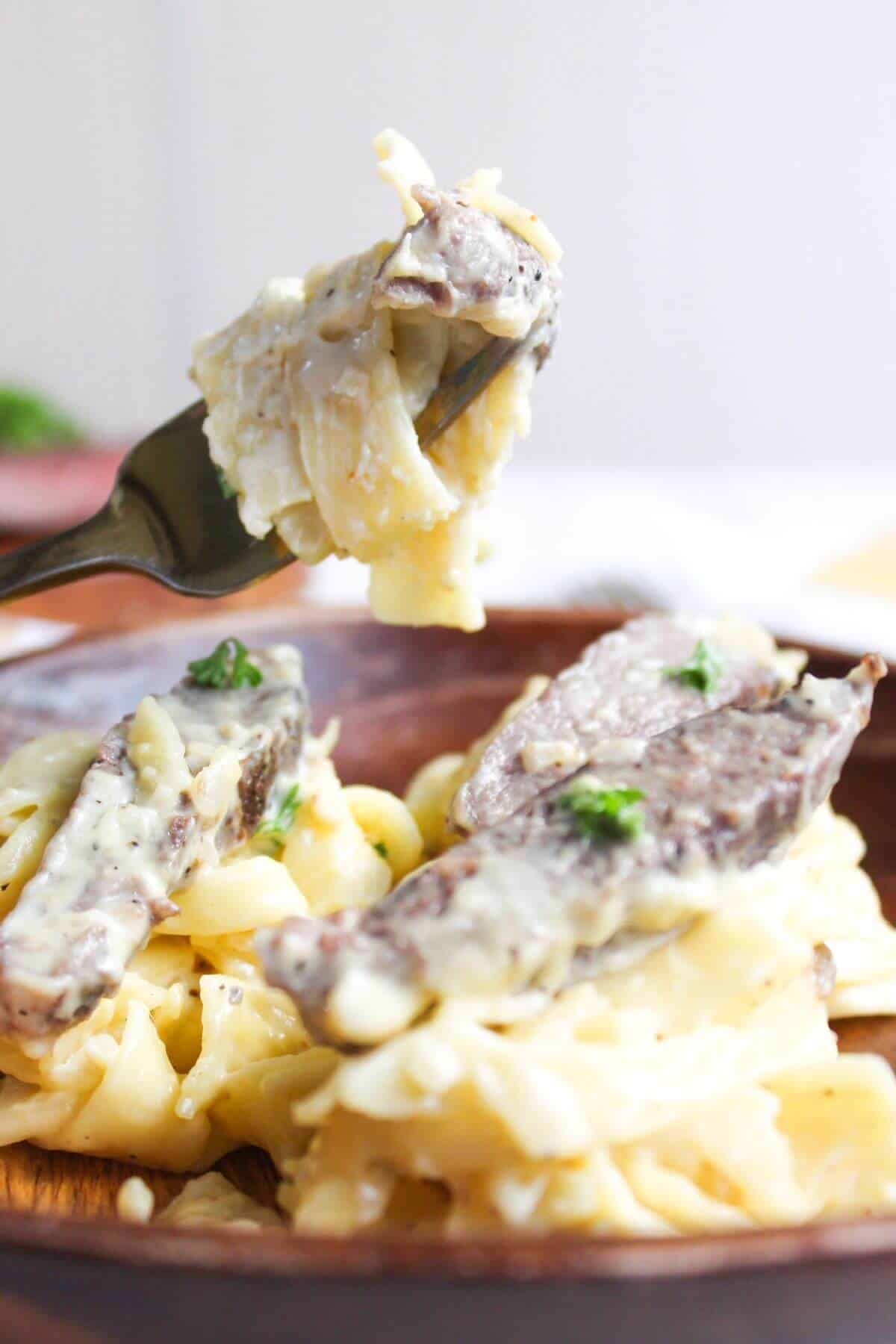 Related Recipes
Want a few more beefy recipes for only one or two people? Here are some of our favorites.
Follow us on Facebook, Instagram, and Pinterest to see more recipes.
Recipe
Alfredo Steak Pasta
This easy Alfredo steak pasta recipe is perfect for a quick meal. The savory flavor of the steak pairs well with the creamy, cheesy sauce.
Ingredients
FOR THE STEAK:
½

pound

sirloin steak

250 grams, ½ inch thick

1

clove

crushed garlic

kosher salt

to taste

ground black pepper

to taste

2 to 3

tablespoons

olive oil
FOR THE ALFREDO SAUCE:
1

cup

cream

1

cup

freshly grated Parmesan cheese

loosely packed

2

tablespoons

butter

1

small finely chopped onion

¼ cup

2

cloves

minced garlic

pinch

nutmeg

kosher salt

to taste

ground white pepper

to taste
FOR THE PASTA:
4

ounces

fettuccine

water

kosher salt

about 1 teaspoon

*reserve ½ cup to 1 cup of pasta water
Instructions
Season sirloin steak with salt and black pepper. Set aside.

In a saucepan (or stockpot) with lid on, boil water over high heat. Once the water is boiling, gently add pasta. Loosen pasta and cook al dente according to package directions.

Once the pasta is al dente, reserve ½ cup to 1 cup of pasta water and drain pasta.

While pasta is boiling, sear the steak on each side (about 30 seconds to 1 minute per side) in a skillet with oil. Transfer to a plate. Allow to rest for 5 to 10 minutes then slice according to the desired size.

While the steak is resting, start cooking the sauce. In the same skillet over low heat, retain 1 tablespoon of oil then add butter.

Sauté onions until translucent then add garlic. Continue to sauté for 30 seconds then pour in cream.

Season with white pepper and nutmeg. Stir continuously.

Stir in Parmesan cheese. Then blend well.

Slowly add pasta water if needed. Continue stirring. Once cream-cheese sauce is smooth and creamy, after 3 to 5 minutes, add cooked pasta. Coat pasta with the creamy sauce.

Mix in slices of steak. Toss pasta to completely coat each slice.

Transfer to a serving plate. Garnish with fresh parsley and enjoy!
Notes
I used ½ inch thick sirloin steaks for each but you can always use a thicker cut.
Allow the steak to rest before slicing. Don't skip this step.
For the classic Alfredo experience, I used fettuccine but you may use your favorite pasta.
I used a whip and cook cream. Alternatively, you can use heavy cream or all-purpose cream.
I used ground white pepper to complement the rich sauce. It's used not only to hide the black pepper flecks amidst the white sauce but it's subtle yet complex thus complementing the steak and the sauce.
Nutrition
Calories:
732
kcal
|
Carbohydrates:
33
g
|
Protein:
37
g
|
Fat:
51
g
|
Saturated Fat:
30
g
|
Polyunsaturated Fat:
2
g
|
Monounsaturated Fat:
14
g
|
Trans Fat:
0.3
g
|
Cholesterol:
210
mg
|
Sodium:
751
mg
|
Potassium:
493
mg
|
Fiber:
2
g
|
Sugar:
4
g
|
Vitamin A:
1705
IU
|
Vitamin C:
2
mg
|
Calcium:
495
mg
|
Iron:
2
mg
© LittleBitRecipes.com - All content and photographs are copyright protected by us. We appreciate sharing our recipes; but copying, pasting, or duplicating full recipes to any social media, website, or electronic/printed media is strictly prohibited and a violation of our copyrights. Single photos may be used, provided that full credit is given to us along with a link back to the original content.