Create the perfect candied almonds using your air fryer or oven. This foolproof recipe creates a delightful treat for snack time.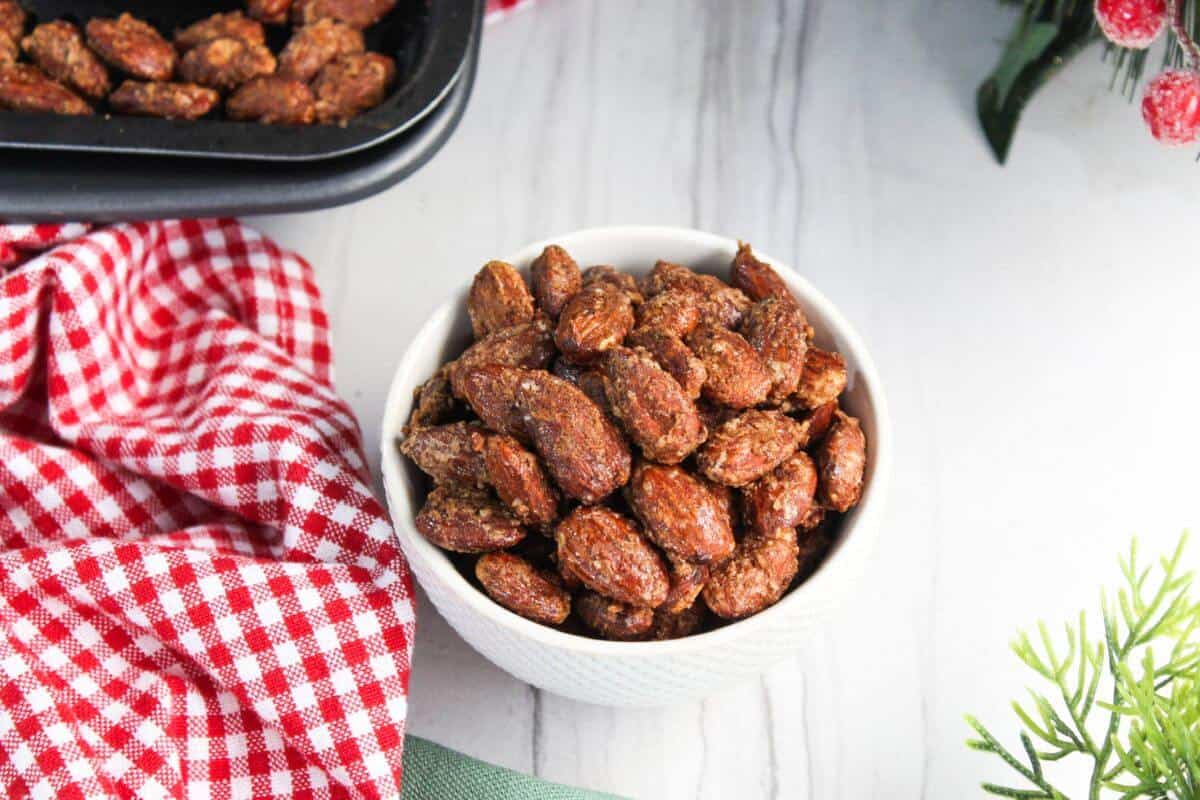 Jump to:
Craving a sweet treat that's easy to make? These irresistible goodies are the perfect combination of crunchy, nutty goodness and a sweet caramelized coating.
Whether you're looking for a quick party snack or a delightful homemade gift, this simple recipe has got you covered. Get ready to satisfy your sweet tooth as we dive into how to create homemade candied almonds.
Reasons to Love
Delightful combination of sweetness and crunchiness. With each bite, you'll experience the perfect balance between the crispy almond and the sugary coating.
Addictive taste that is hard to resist. Combining the sweet caramelized coating and the nutty almond creates a flavor profile that is simply irresistible. You may find yourself reaching for more handfuls as you savor each delectable bite.
Versatile treat for any occasion. Whether you're snacking on them during movie night, adding them to your favorite salad for some extra crunch, or using them as an ingredient in your baking endeavors, these treats never disappoint. They bring a touch of sweetness and texture to any dish or event.
Ingredients
Let's look at what's needed to make this easy candied almonds recipe. There are just a few simple items that you probably already have in the kitchen.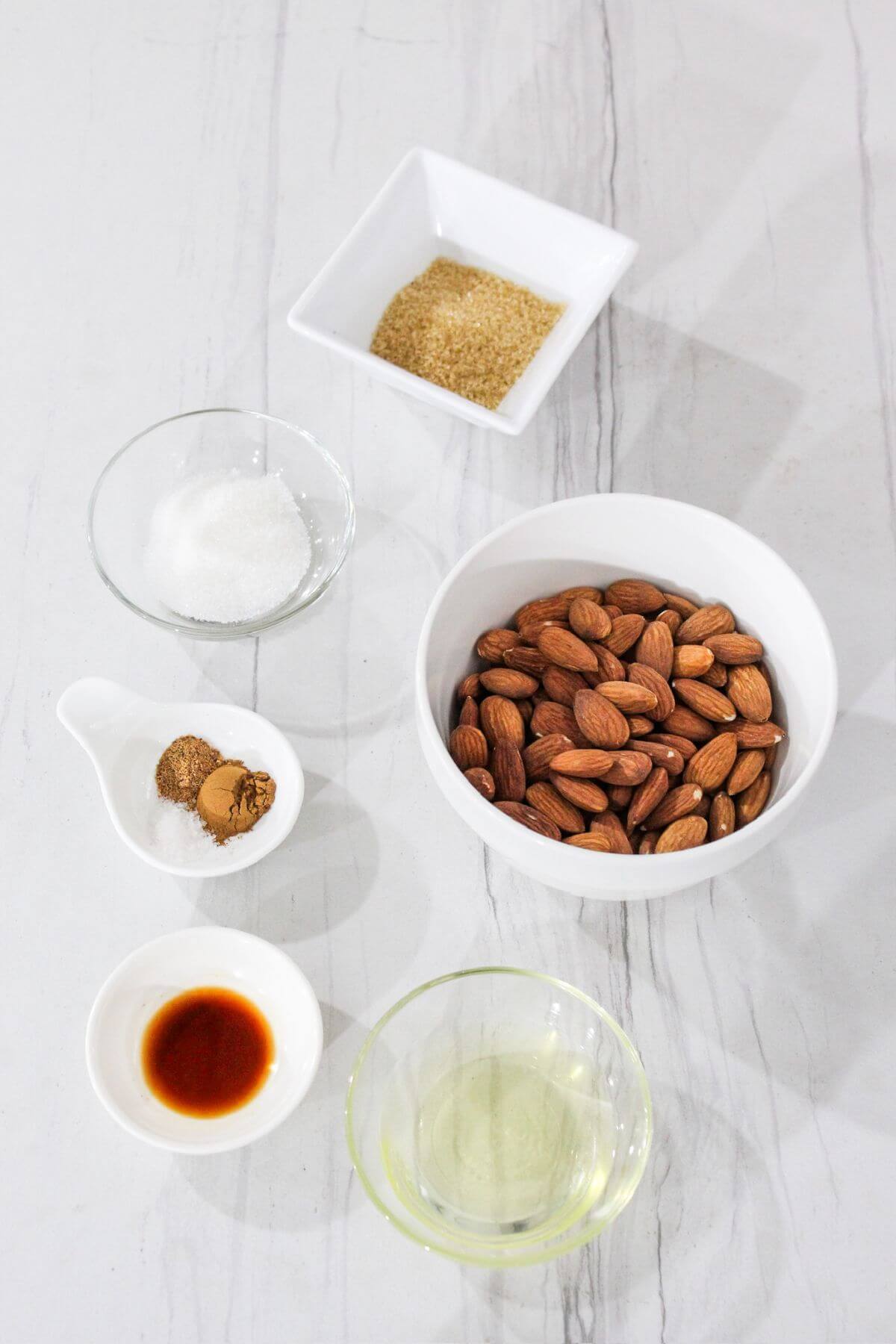 Here are the ingredients needed to make these sweetened nuts:
whole almonds
light brown sugar
granulated sugar
egg white
ground cinnamon
vanilla extract
ground nutmeg
salt
Scroll down to the recipe card for quantities used.
Instructions
To start, preheat your air fryer to 350°F (177°C) or oven to 375°F (190°C). If using the oven method, you'll need to grab a baking sheet but there's no need to line it with parchment paper.
In a large shallow bowl, whisk egg white. Pour vanilla and continue beating until well-combined.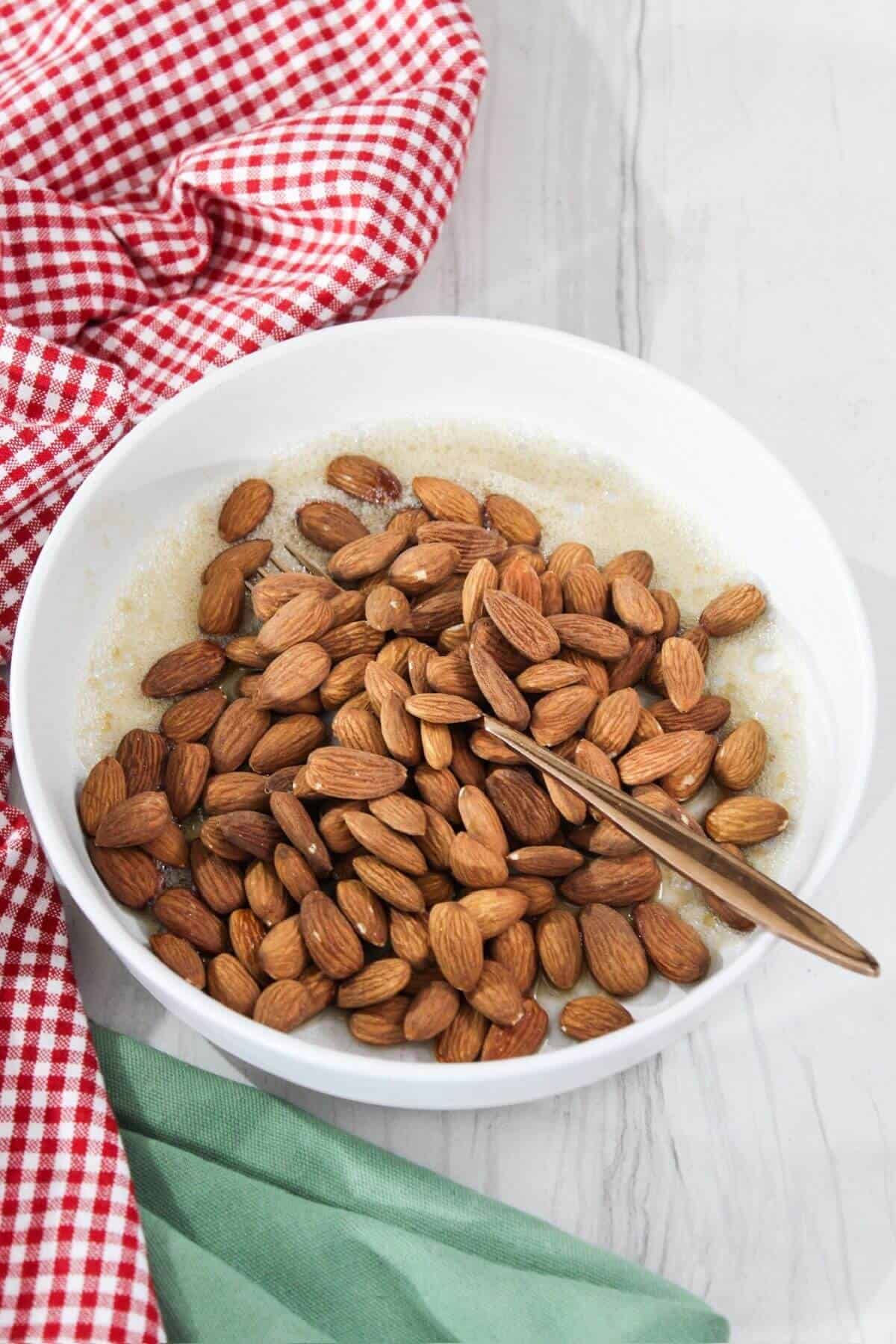 Add the whole almonds.
Mix until almonds are enveloped by the beaten egg white mixture.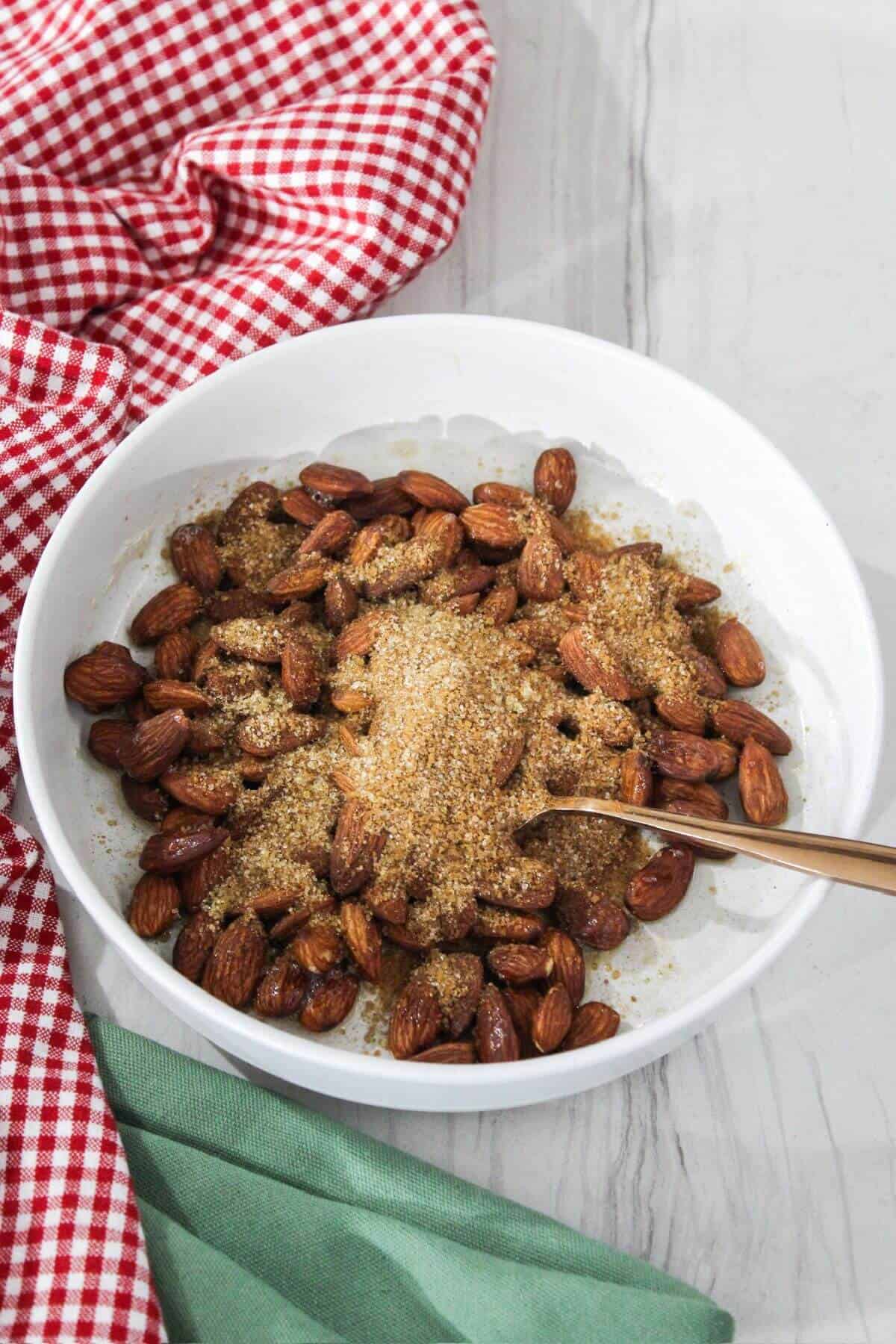 Combine light brown sugar, white sugar, cinnamon, nutmeg, and salt in a small bowl. Add to almonds and toss to coat.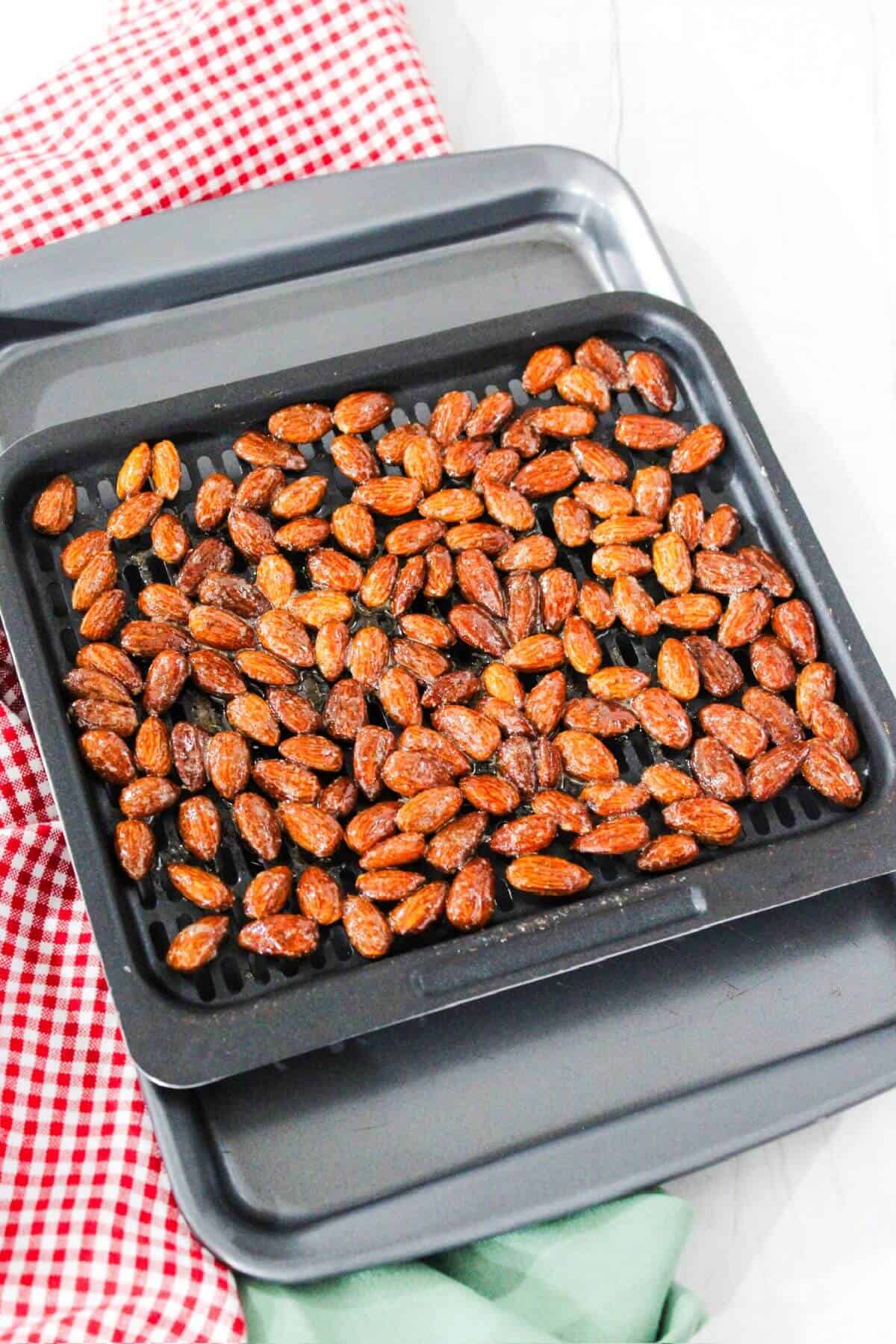 Transfer coated whole almonds onto an air fryer tray or baking sheet in a single layer.
Air fry for 6 minutes or roast 8 minutes in oven. Remove and let almonds cool.
Hint: Gently toss almonds half-way through cooking will prevent them from sticking together and help achieve an even caramelization.
Variations
Although these classic cinnamon roasted almonds use traditional flavors, you can easily change things up. Here some other flavorings you can try:
Spicy - experiment with cayenne pepper or smoked paprika for a spicy and savory snack for those who enjoy bold flavors.
Citrus - add orange, lemon, or lime zest to create a zesty twist.
Chili lime - mix in chili powder and lime juice for Southwest flavor.
You may also want to try air fryer pasta chips. They are another crunchy snack that went viral on TikTok.
Tips
Top tip: Ensure your almonds are evenly coated with the sugar mixture for a consistent crunch.
Add a pinch of salt to the sugar mixture to enhance the overall flavor profile and balance out the sweetness.
Closely monitor the cooking in your oven or air fryer to avoid over-browning or burning. Almonds can quickly go from perfectly golden to burnt if left unattended for too long.
Allow them to cool completely before breaking them apart after cooking. This ensures that they harden correctly and have that satisfying crisp texture.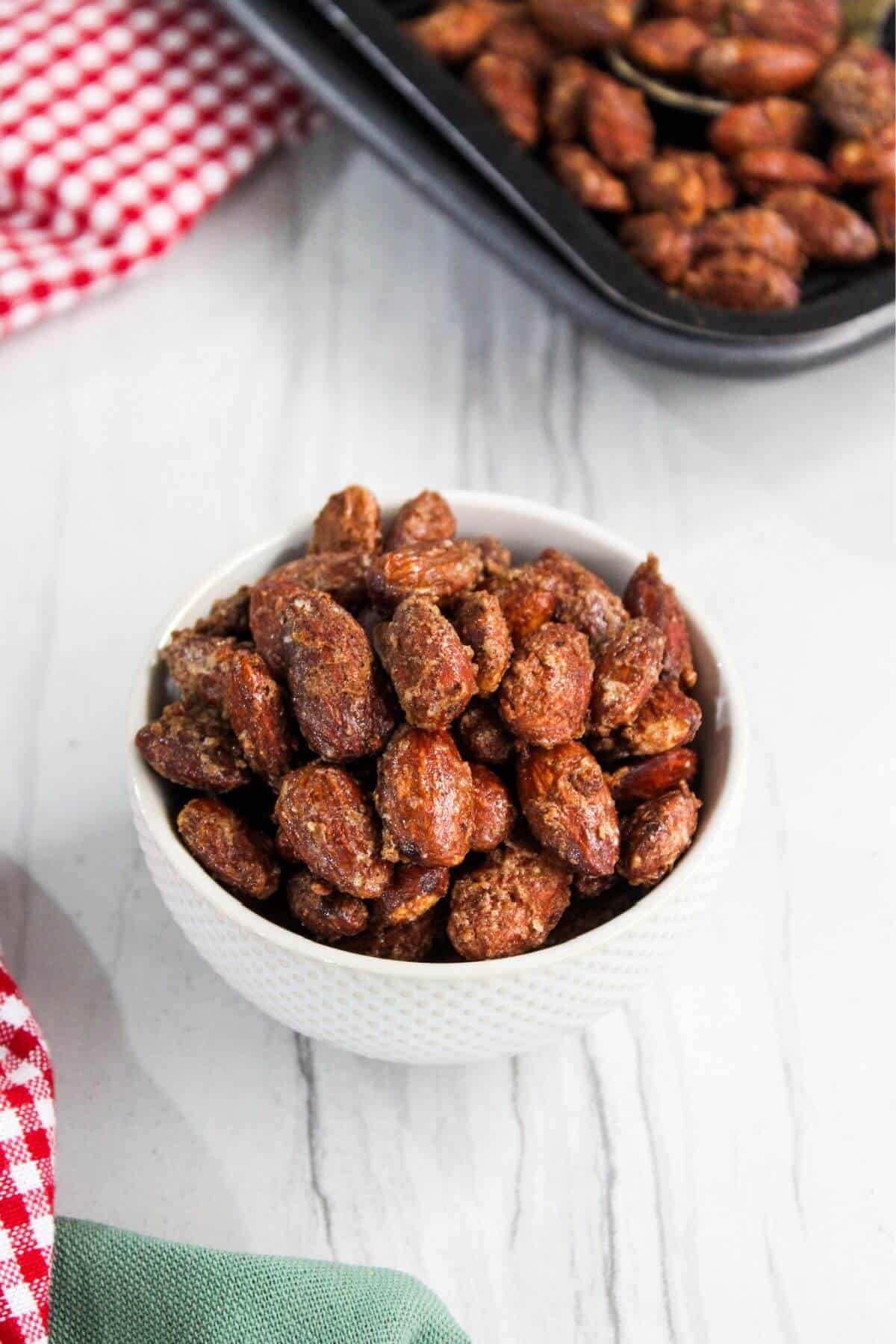 Serving suggestions
The most popular way to enjoy these sweet treats is simply alone, as a standalone snack. You can also use candied almonds as a topping for yogurt or oatmeal to add texture and flavor to your morning routine.
Another fantastic way to share your sweetened nuts is by incorporating them into baked goods such as breakfast cookies or pound cake. They also blend well with chocolate chips, dried fruits, and popcorn for tasty snack mixes.
Perhaps my favorite use for them is to package them up in decorative bags or jars to give as gifts to friends and family. This allows me to spread joy through deliciousness.
Storage
To ensure the freshness and crunchiness of your candied almonds, store them in an airtight container at room temperature. They can last up to three weeks if stored properly.
You can place them in the freezer if you'd like them to last longer. They can stay fresh for up to 6 months when frozen.
FAQs
Can I use different nuts?
While almonds are traditionally used for making candied nuts, you can experiment with other nuts like cashews, pecans, or walnuts for unique flavor combinations.
Are candied almonds gluten-free?
Yes! They are made with gluten-free ingredients are naturally gluten-free. However, always double-check the ingredient labels to ensure there are no hidden sources of gluten.
Can I make candied almonds without using refined sugar?
Certainly! If you prefer to avoid refined sugar, you can substitute it with healthier alternatives like coconut sugar or maple syrup for a more natural sweetness.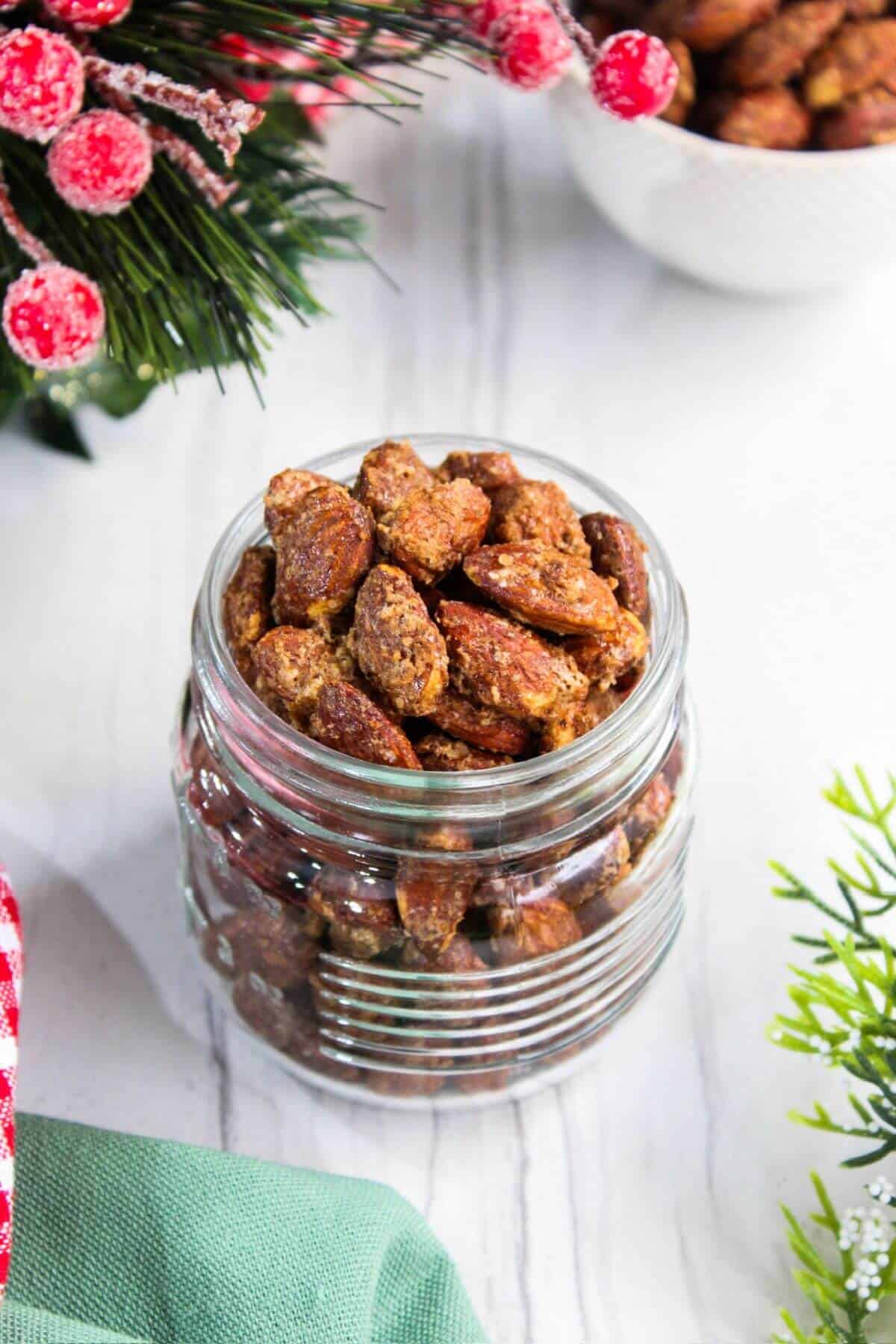 Related Recipes
Other homemade snacks you may enjoy:
Follow us on Facebook, Instagram, and Pinterest to see more recipes.
Recipe
Candied Almonds (Air Fryer or Oven)
Satisfy your sweet tooth with this easy candied almonds air fryer or oven recipe. It turns ordinary nuts into a delightful snack.
Ingredients
1

cup

whole almonds

2

tablespoons

light brown sugar

1

tablespoon

granulated sugar

1

piece

egg white

½

teaspoon

ground cinnamon

½

teaspoon

vanilla extract

¼

teaspoon

ground nutmeg

pinch

of kosher salt
Instructions
Pre-heat Air Fryer at 350°F (177°C) or oven to 375°F (190°C). Set at air fryer cook time to 6 minutes. Oven cook timer should be set at 8 minutes.

In a small container, combine light brown sugar, white sugar, cinnamon, nutmeg, and salt. Mix well.

In a large shallow bowl, beat egg white. Pour vanilla and continue beating until well-combined.

Add the whole almonds. Mix until almonds are enveloped by the beaten egg white mixture.

Add the light brown sugar mixture to whole almonds. Toss gently until almonds are well-coated.

Transfer coated whole almonds onto the Air Fryer tray in a single layer. Slowly insert tray into the middle cooking chamber, near the rotisserie catch. Or place on a greased baking sheet and place into the oven.

Gently toss almonds half-way through and keep watch for the last few minutes to avoid burning the coated almonds.

Remove Air Fryer tray and allow the candied almonds to cool.
Notes
This Air Fryer recipe was tested with an Instant Vortex Plus Air Fryer Oven. Not all Air Fryers cook the same way. It's best to keep watch during your initial tests after purchasing.
TIPS:
Once the almonds are cooled, separate them with a spoon.
They will be crunchier after a few minutes of air frying.
Once cooled, store them in an airtight jar if you prefer to snack on them later on.
You can use raw almonds, but steam-pasteurized whole almonds were used in this recipe.
You don't have to remove the air fryer tray when tossing the almonds half-way through, but it is recommended so you won't burn yourself as the cooking chamber is extremely hot.
If you remove the tray from the cooking chamber to toss the almonds, close the air fryer door and adjust the cooking time as needed.
Nutrition
Calories:
496
kcal
|
Carbohydrates:
34
g
|
Protein:
17
g
|
Fat:
36
g
|
Saturated Fat:
3
g
|
Polyunsaturated Fat:
9
g
|
Monounsaturated Fat:
23
g
|
Trans Fat:
0.01
g
|
Sodium:
29
mg
|
Potassium:
569
mg
|
Fiber:
9
g
|
Sugar:
21
g
|
Vitamin A:
2
IU
|
Vitamin C:
0.03
mg
|
Calcium:
209
mg
|
Iron:
3
mg
© LittleBitRecipes.com - All content and photographs are copyright protected by us. We appreciate sharing our recipes; but copying, pasting, or duplicating full recipes to any social media, website, or electronic/printed media is strictly prohibited and a violation of our copyrights. Single photos may be used, provided that full credit is given to us along with a link back to the original content.