Your breakfast will be a lot easier when you make sheet pan pancakes from a mix! This convenient alternative to traditional pancakes gives you all the flavor, without any of the hassles.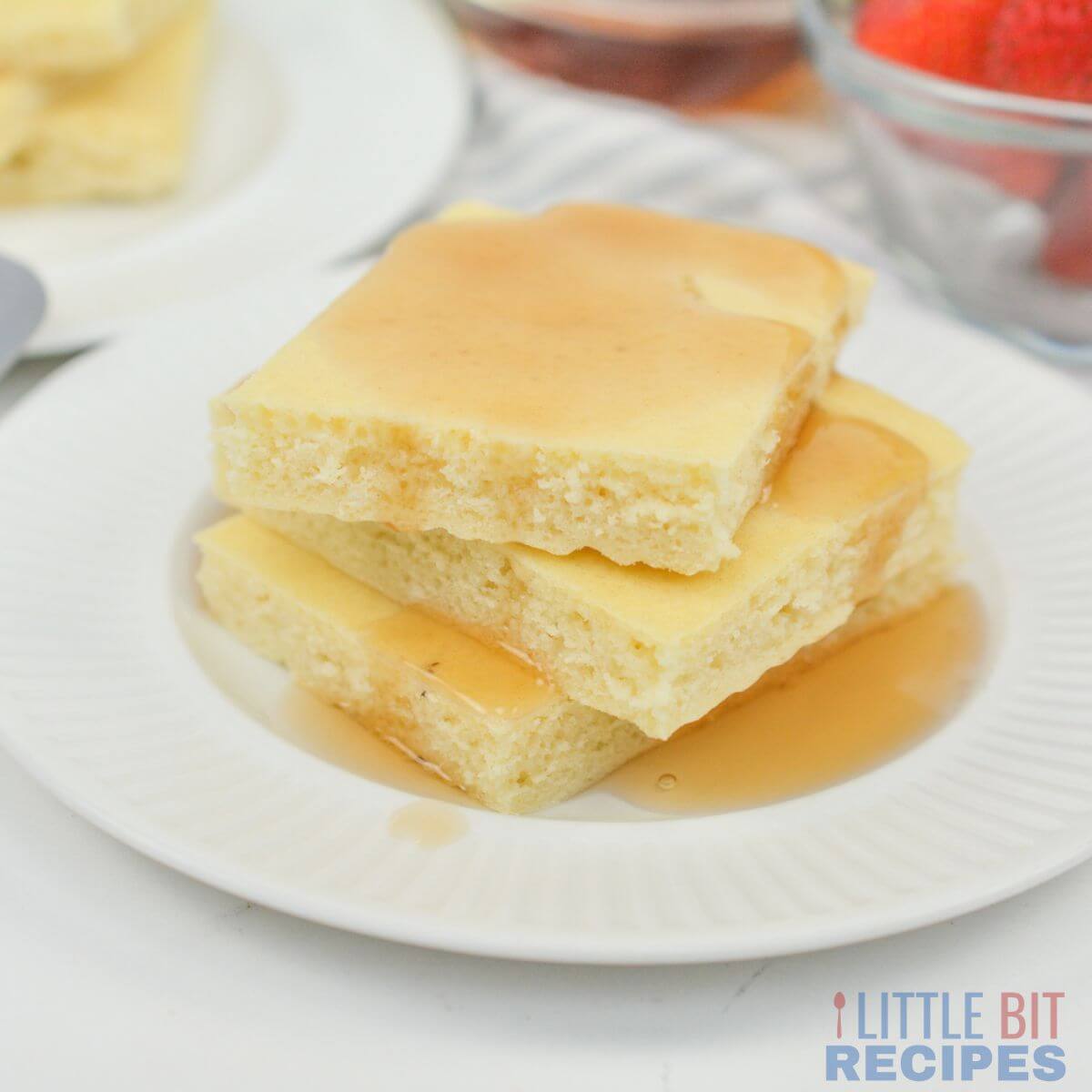 Baking your batter on a sheet pan eliminates the need for flipping pancakes, and you can make a big batch to have frozen pancakes for later. Plus, it's a great way to cut down on clean-up time - simply use one pan to prepare your meal!
Making pancakes from scratch can be time-consuming, but with this simple recipe, you can enjoy fluffy, flavorful pancakes in minutes. All it takes is your favorite pancake mix, eggs and milk, and one sheet pan! The result is perfect pancakes every time.
They're great for busy mornings when you need something quick yet still want to treat yourself to a special breakfast. You can even customize the flavor by adding fresh berries or chocolate chips right into the batter before baking - no need for syrup afterward!
Jump to:
Ingredients
All you need to make sheet pan pancakes is a few simple ingredients - mix, egg, milk, and vanilla extract. Once you have what you need, it takes little time to bring this mouthwatering breakfast treat to life.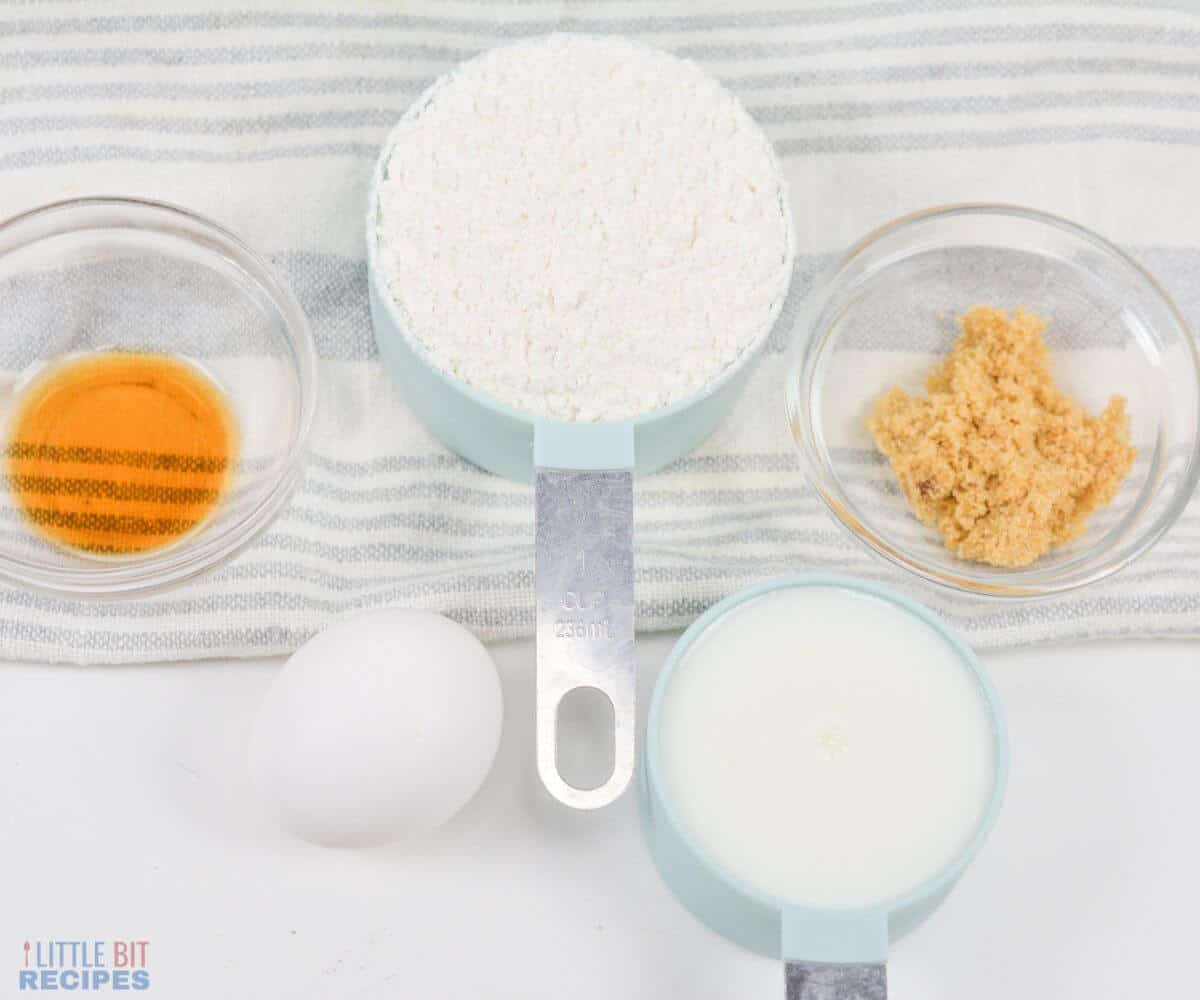 Scroll down to the recipe card for the amounts of each ingredient used.
Instructions
It's so easy to make a sheet pan pancake recipe! The best part is that it eliminates standing over a stove or griddle and flipping pancakes.
To get started, preheat your oven to 375° F (190° C).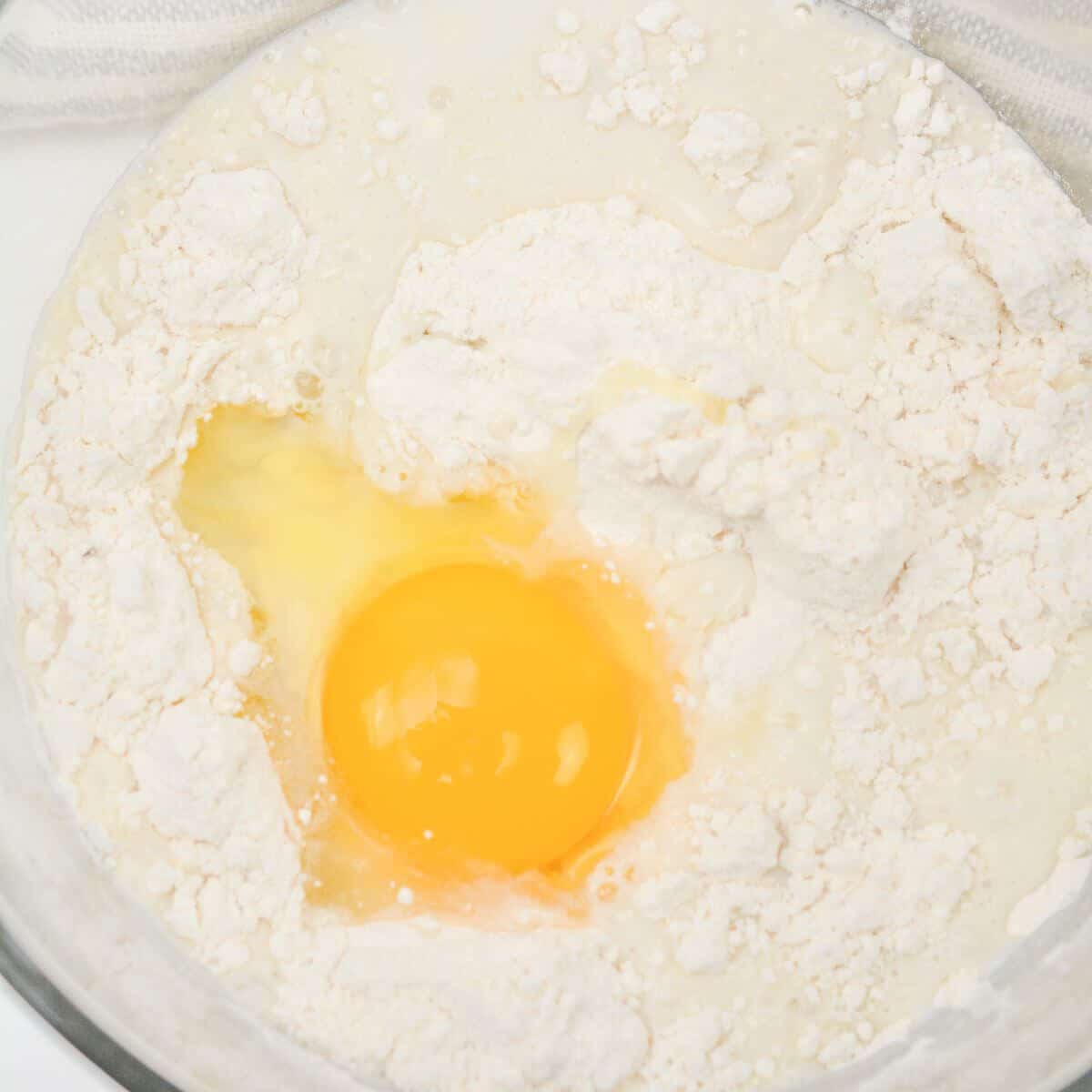 Dump the pancake mix, egg, and milk into a medium mixing bowl.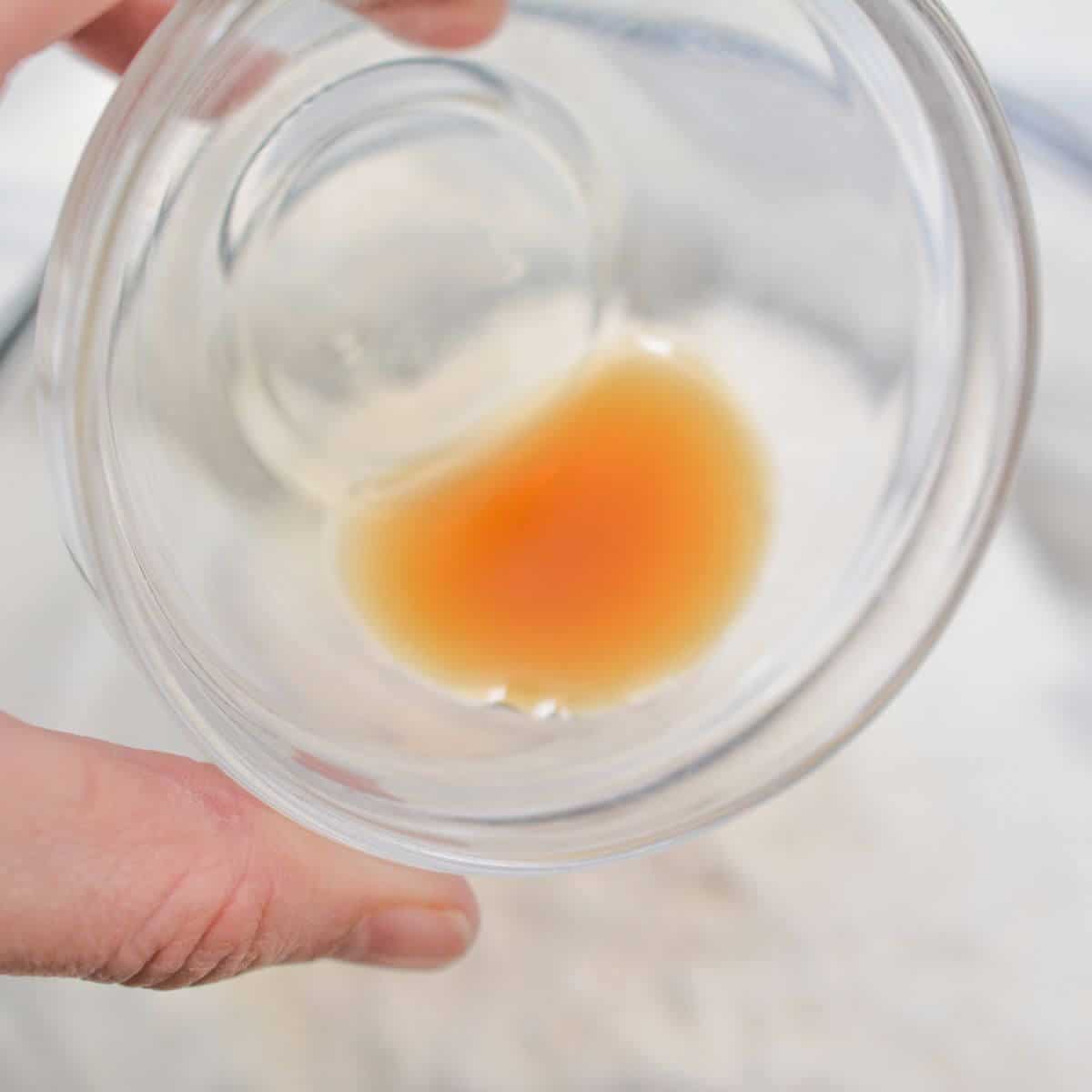 Add vanilla extract and whisk until ingredients are well combined.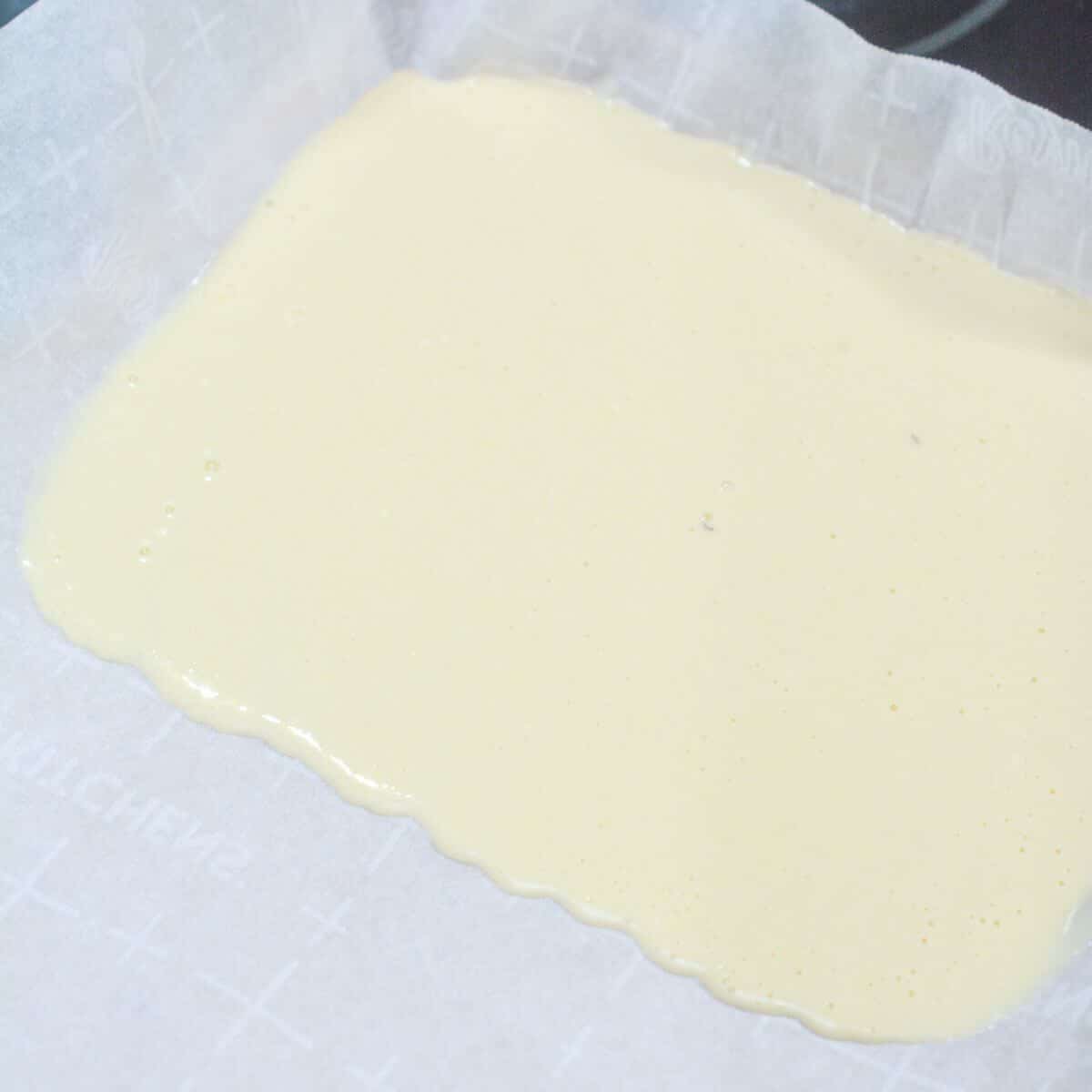 Spread batter into a thin rectangle on a small lined baking sheet.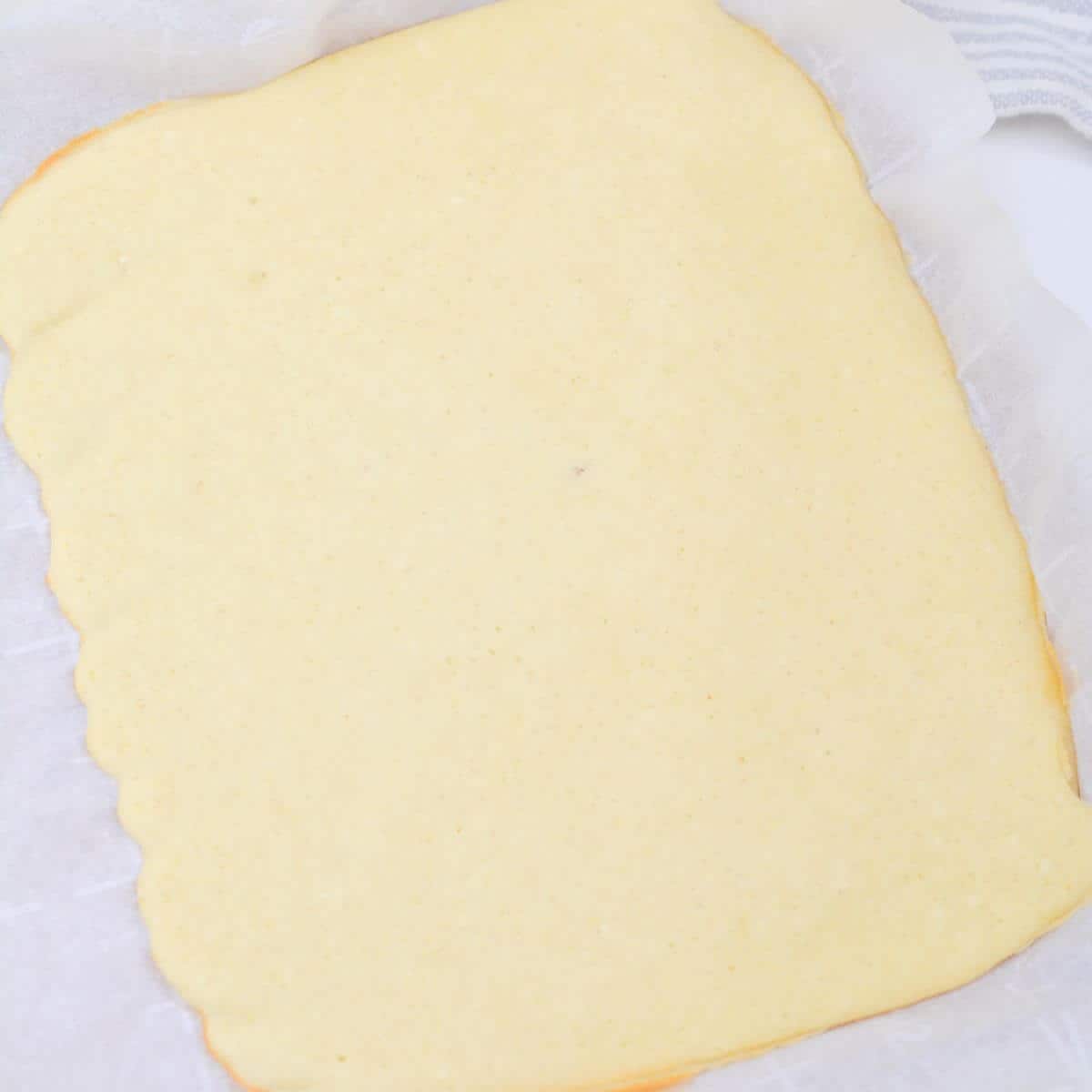 Bake in the preheated oven until set and gold brown on edges.
Then just cut the sheet pan pancake into smaller rectangular pieces.
Variations
If you're after something with a bit more flavor, try adding some variation to the basic pancake batter before baking. Here are some of our favorite ideas for easy ways to change up the classic recipe.
Boost nutrition! A few tablespoons of mashed banana or diced apples add natural sweetness and moisture while also boosting the nutritional value of your sheet pan pancakes.
Add a hint of citrus by stirring in some fresh orange zest or lemon juice.
Try adding berries. You can add blueberries, raspberries, and blackberries for an extra colorful presentation!
Make chocolate chip pancakes. Sprinkle chocolate chips over the batter before baking.
Add nuts. Stir chopped nuts into the batter for extra protein, vitamins, and minerals.
Tips
Make a double batch on a half-sheet pan to have frozen pancakes for later.
Spread the mix evenly in a greased or lined sheet pan before baking it in the oven. This creates perfectly cooked pancakes that are light and fluffy inside and slightly crispy outside.
Serving suggestions
Serve these easy sheet pan pancakes with melted butter, maple syrup, or any other toppings you desire for an irresistibly delicious meal. Adding jam, fresh fruit, nuts, chocolate chips, or vegan whipped cream can make it extra special.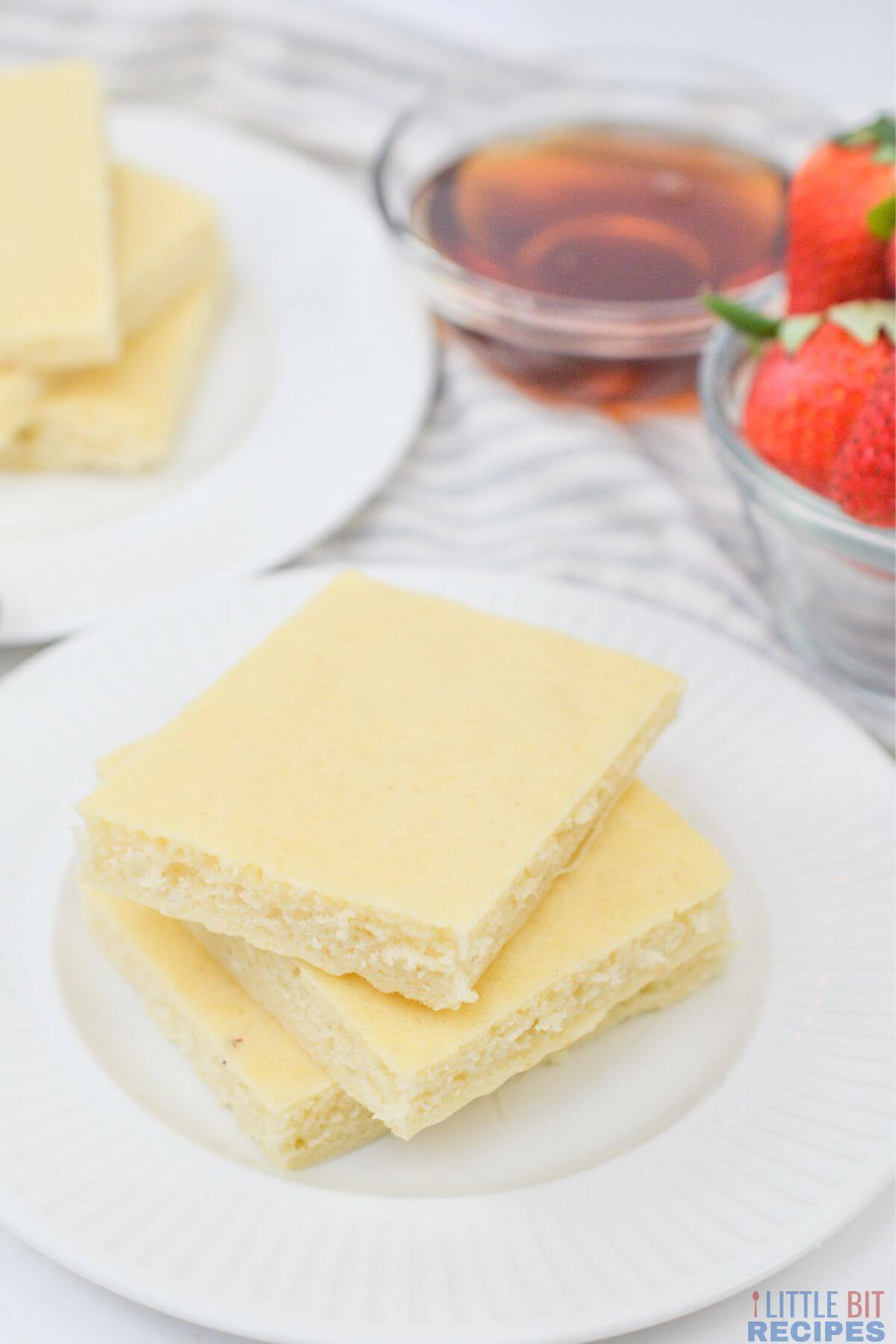 Storage
Leftover sheet pan pancakes can be stored in an airtight container in the refrigerator for up to 3-4 days. For longer storage, freeze them for up to 3 months.
To reheat, place them on a microwave-safe plate and heat for 30 seconds or until warm. Alternatively, you can also place them on a baking sheet and warm them in the oven at 350°F (175°C) for 8-10 minutes.
FAQ
What can I add to a box pancake mix?
You can add a variety of ingredients to make your box pancake mix more interesting. Try adding fresh fruit, chocolate chips, nuts, or spices like cinnamon or nutmeg. You can also use different types of milk such as almond milk or coconut milk instead of regular dairy milk. Finally, try adding some Greek yogurt for a protein boost and a creamier texture!
What does adding extra egg to pancake mix do?
Adding an extra egg to pancake mix can make the pancakes richer, fluffier, and more moist. It also helps the pancakes hold together better and gives them a more custard-like texture. The additional egg adds protein, which helps give the pancakes structure.
What temperature do you bake pancake batter?
Pancake batter should be baked at a moderate temperature of 350-375°F (175-190°C). Make sure to preheat the oven before baking. Additionally, you can adjust the temperature slightly depending on the type of pancakes you are making.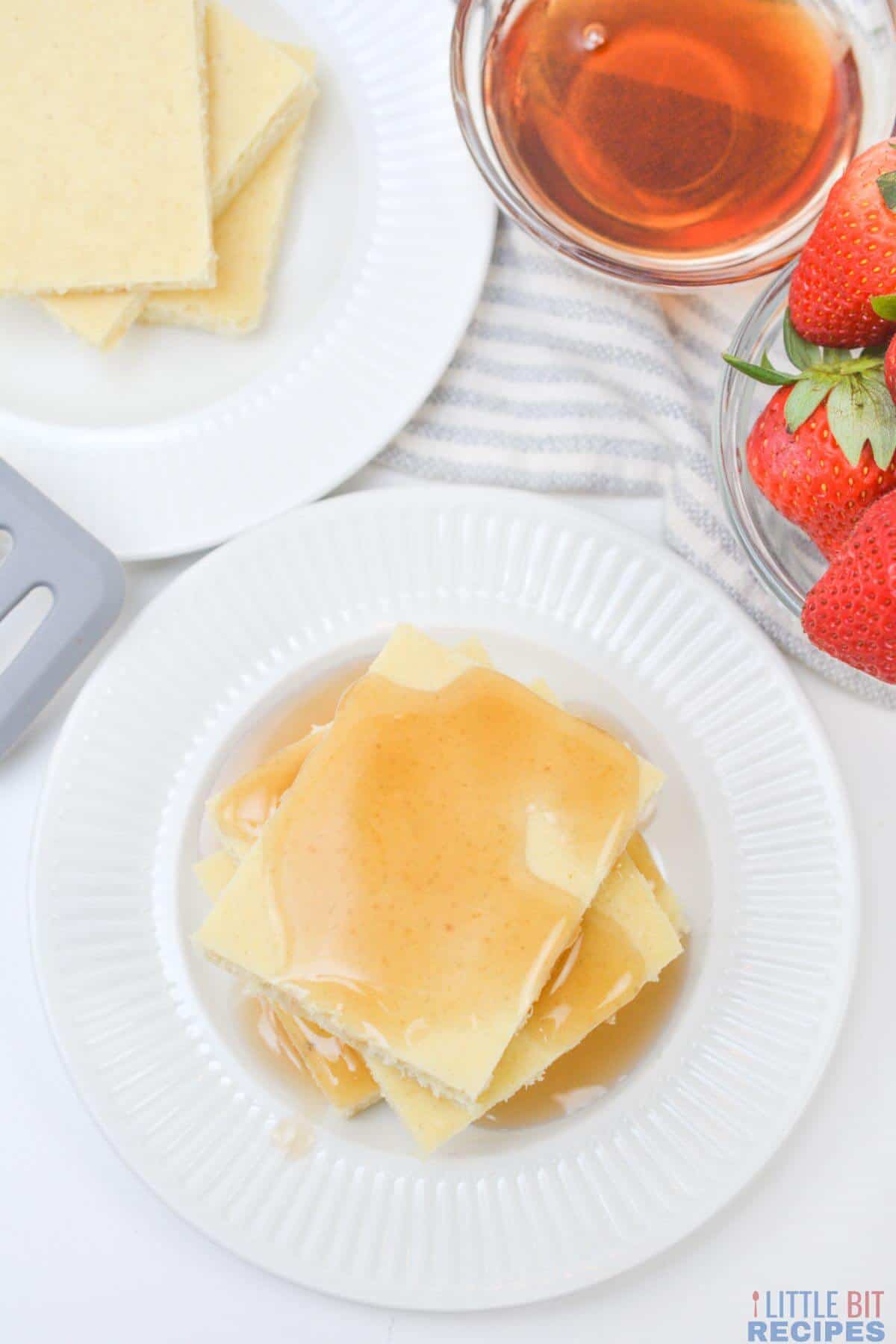 Related Recipes
Looking for more easy breakfast ideas? Here are a few of our favorites.
Follow us on Facebook, Instagram, and Pinterest to see more recipes.
Recipe
Sheet Pan Pancakes
Breakfast just got easier with these sheet pan pancakes from a mix! You get all the flavor without the hassle of flipping each pancake.
Instructions
Preheat the oven to 375°F.

Add the ingredients to a mixing bowl, and whisk until well combined.

Spread the mixture onto half of a small baking sheet lined with parchment paper.

Bake for 8-10 minutes until cooked through.

Slice and serve.
Notes
Spread the mix evenly in a greased or lined sheet pan before baking it in the oven. This creates perfectly cooked pancakes that are light and fluffy inside and slightly crispy outside.
Nutrition
Calories:
213
kcal
|
Carbohydrates:
22
g
|
Protein:
10
g
|
Fat:
9
g
|
Saturated Fat:
3
g
|
Polyunsaturated Fat:
2
g
|
Monounsaturated Fat:
3
g
|
Trans Fat:
0.01
g
|
Cholesterol:
135
mg
|
Sodium:
383
mg
|
Potassium:
253
mg
|
Fiber:
1
g
|
Sugar:
3
g
|
Vitamin A:
380
IU
|
Vitamin C:
0.4
mg
|
Calcium:
227
mg
|
Iron:
1
mg
© LittleBitRecipes.com - All content and photographs are copyright protected by us. We appreciate sharing our recipes; but copying, pasting, or duplicating full recipes to any social media, website, or electronic/printed media is strictly prohibited and a violation of our copyrights. Single photos may be used, provided that full credit is given to us along with a link back to the original content.