This recipe for quick and easy scalloped potatoes is perfect for a cozy dinner at home for two. Whether you are cooking for yourself or someone special, this simple and scrumptious side dish is sure to be a hit.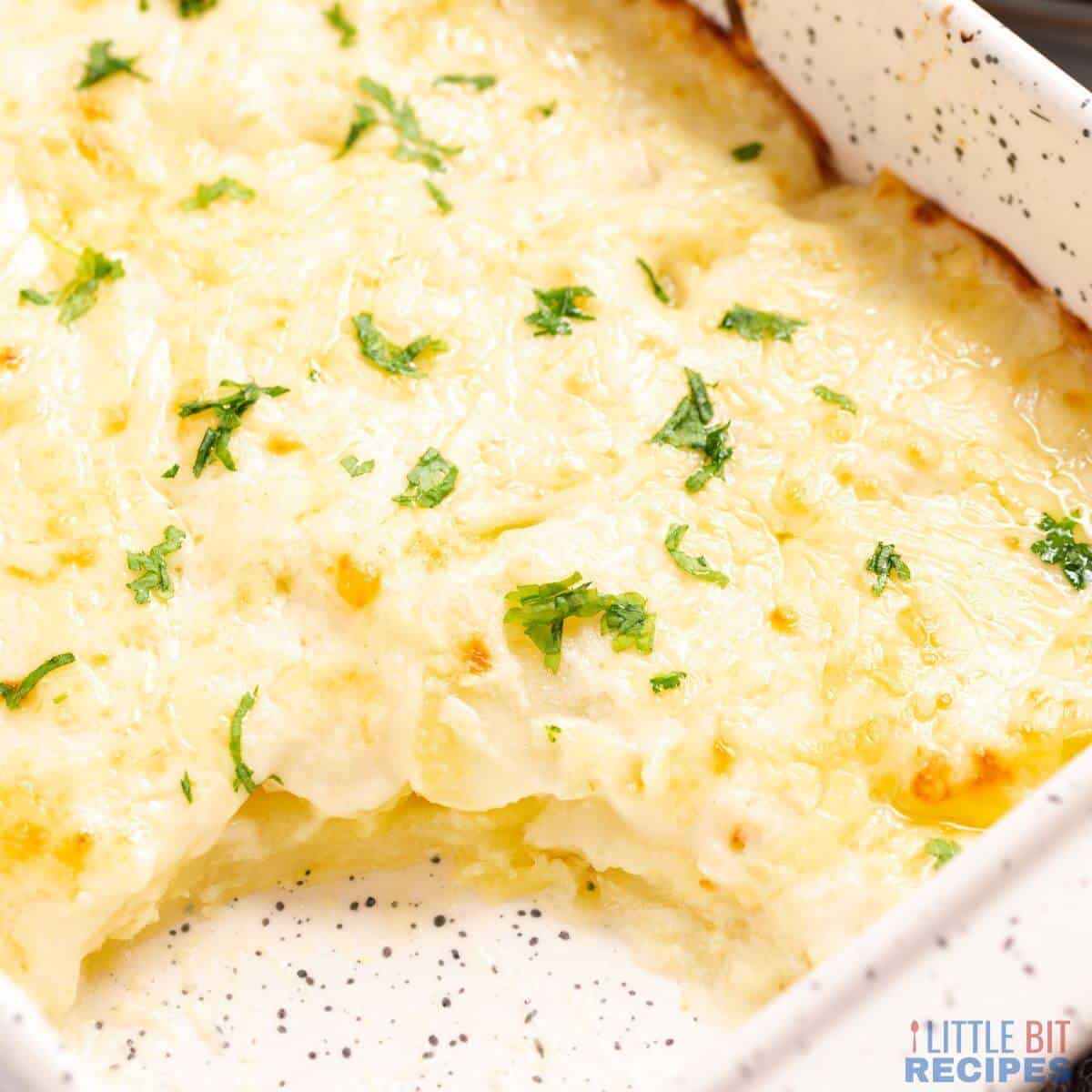 When it comes to a delicious side dish for two, scalloped potatoes are the way to go. This easy recipe only takes minutes to prepare and is sure to please even the pickiest of eaters.
The combination of creamy cheese, buttery potatoes, and savory spices creates an irresistible flavor that will have you coming back for more in no time.
You can also customize the flavors according to your preferences or dietary restrictions by changing up the type of cheese or using a dairy-free option if desired. As an added bonus, this dish reheats well so you can enjoy leftovers later on in the week!
Jump to:
Ingredients
Quick and easy scalloped potatoes make an excellent side dish for two. Not only is it effortless to prepare, but it also requires minimal ingredients that can be found in any kitchen pantry.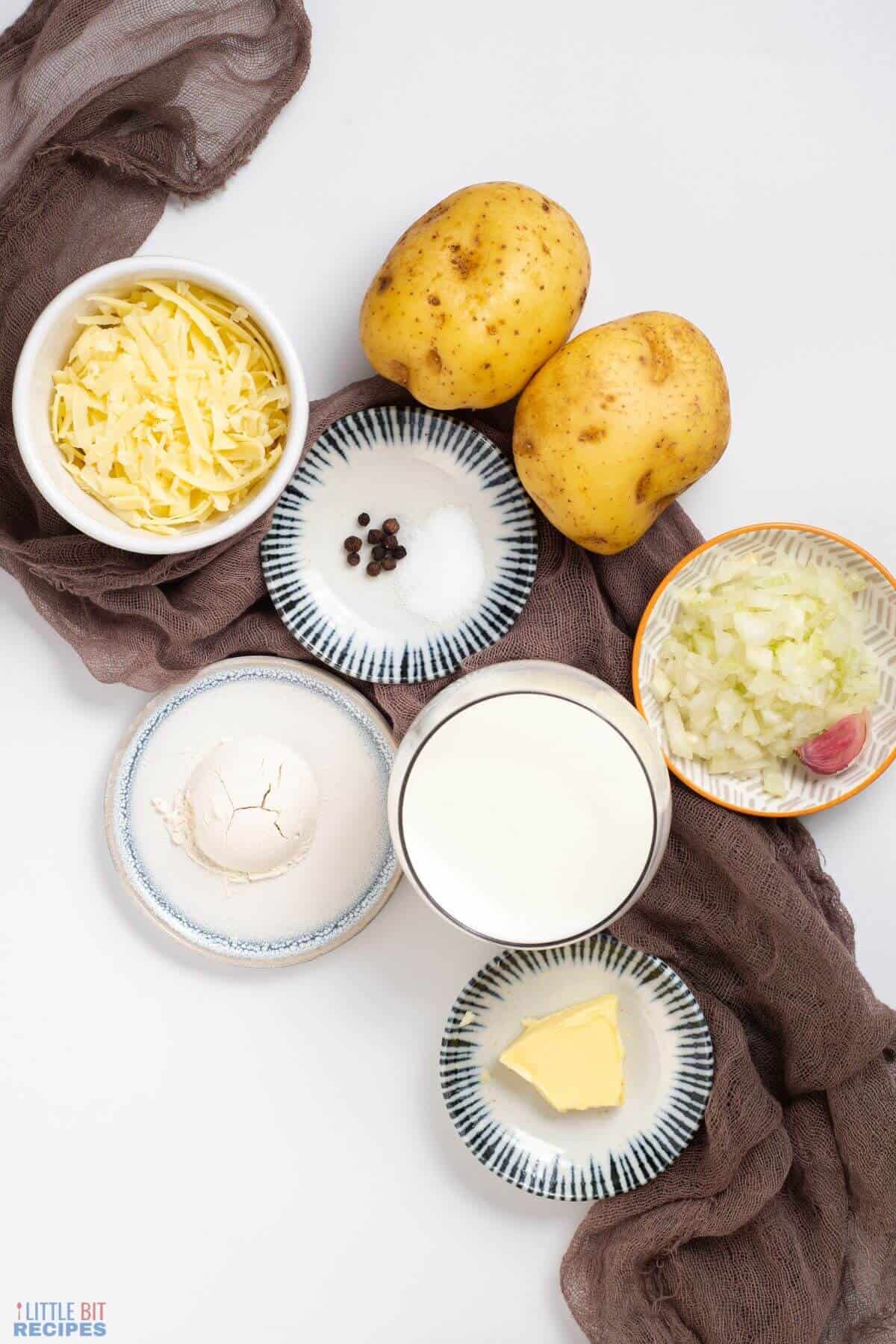 Here's what you'll need to make the recipe:
Potatoes
Milk
Onion
Garlic
Butter
Flour
Cheese
Salt and pepper
See recipe card for quantities.
Instructions
This easy scalloped potatoes recipe is just the thing for busy couples or small families. They are simple to make and packed with flavor, making them the ideal accompaniment for any meal.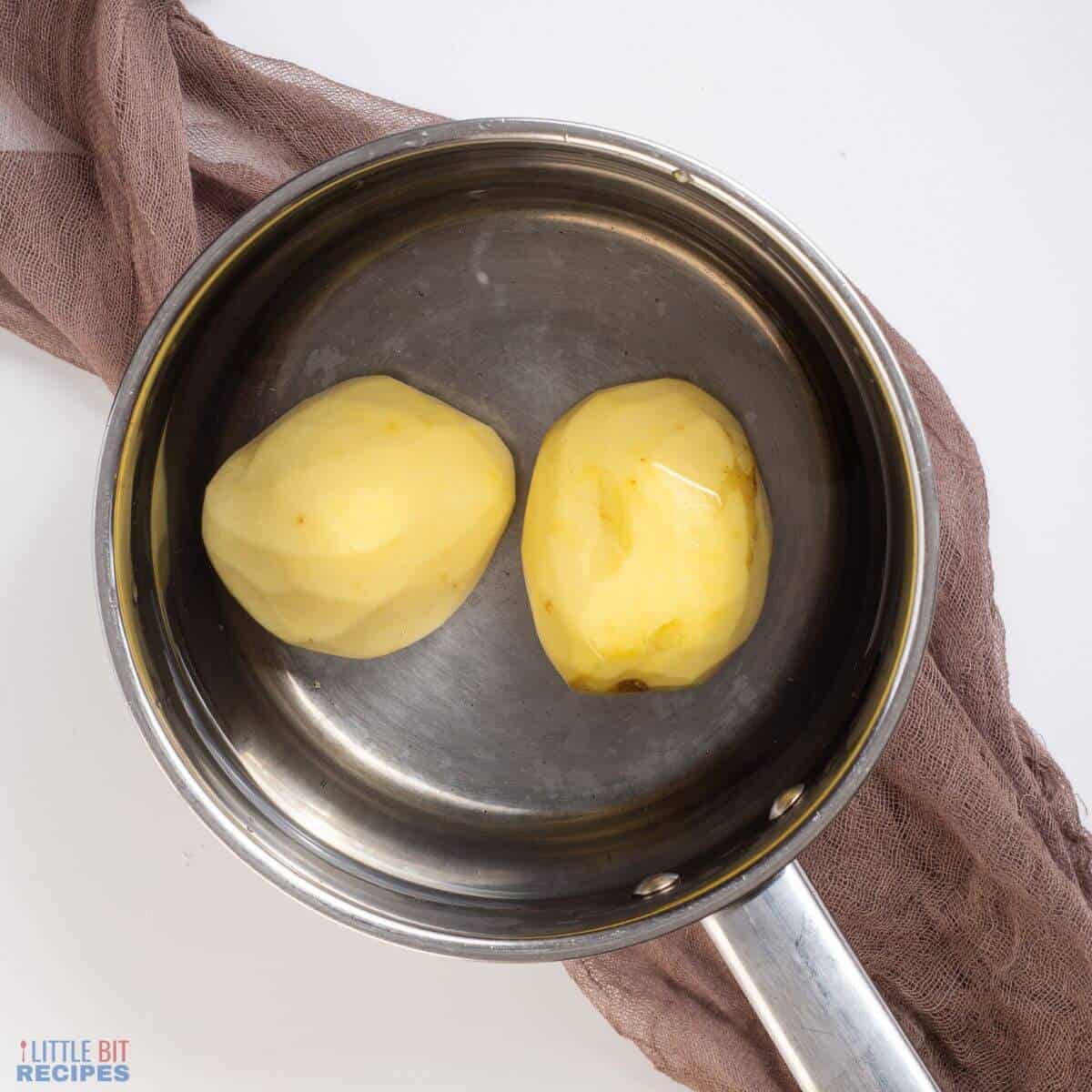 Boil peeled yellow potatoes or russet potatoes until fork tender.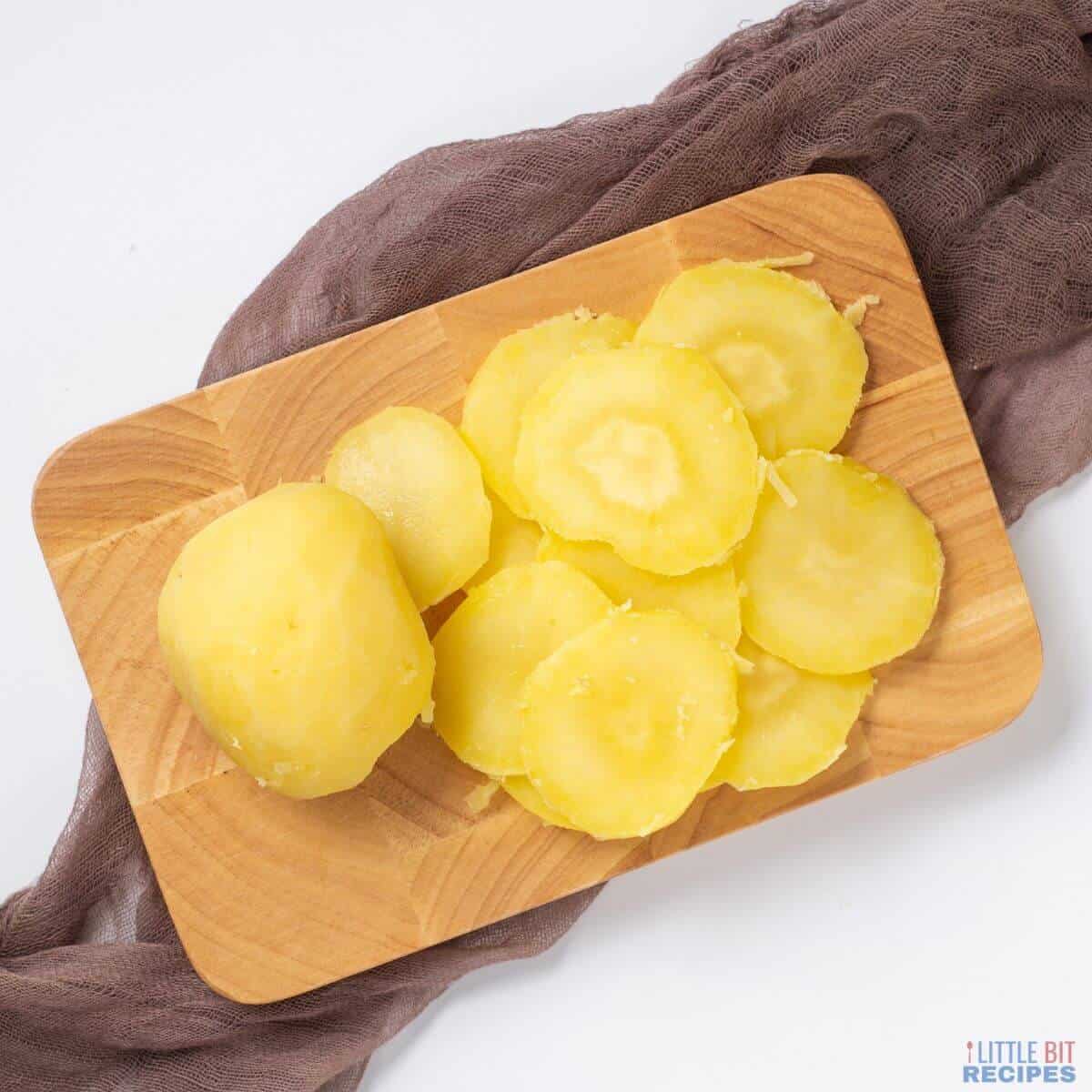 Cut cooled potatoes into thin slices then spread into a small casserole dish.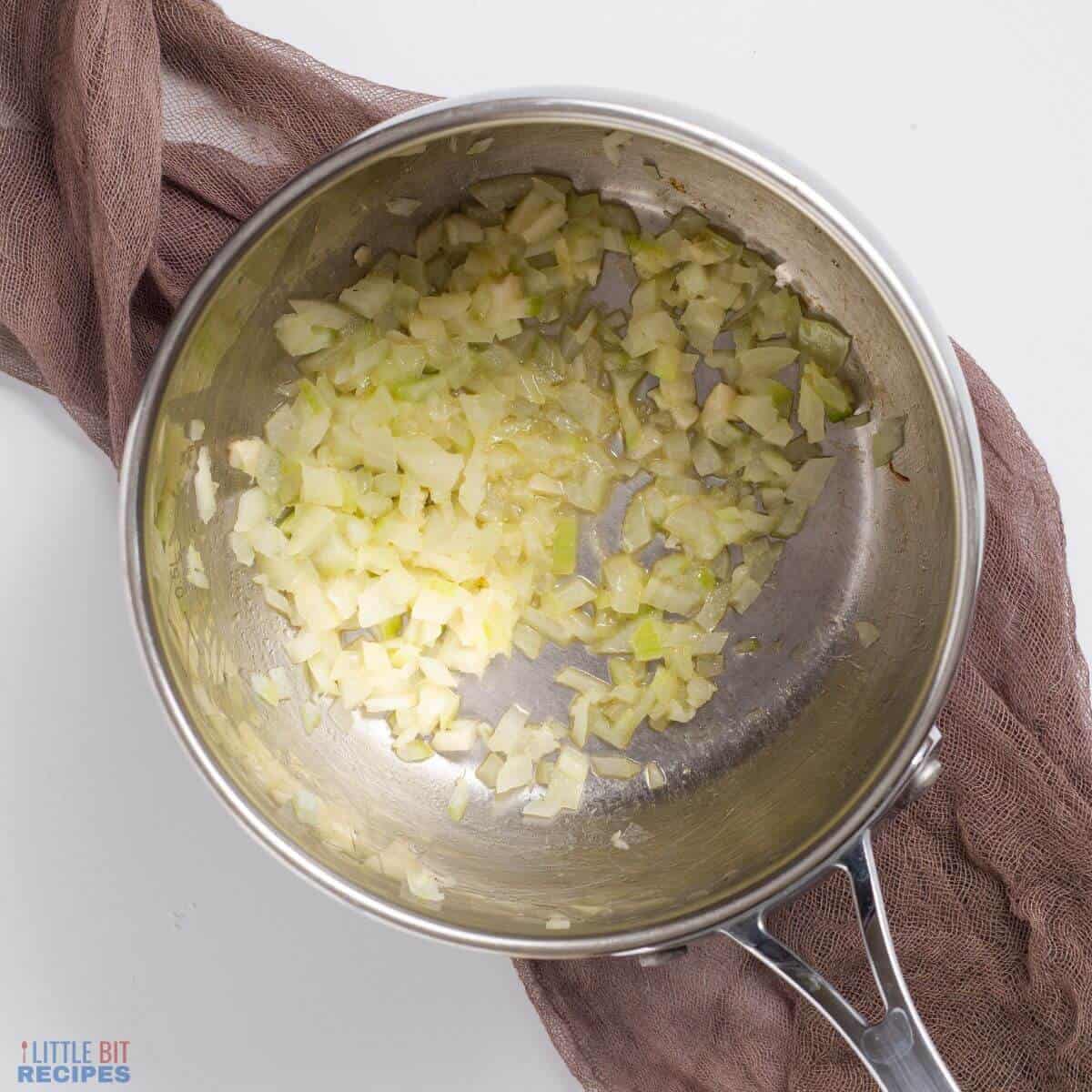 Sauté onions and garlic in butter until softened.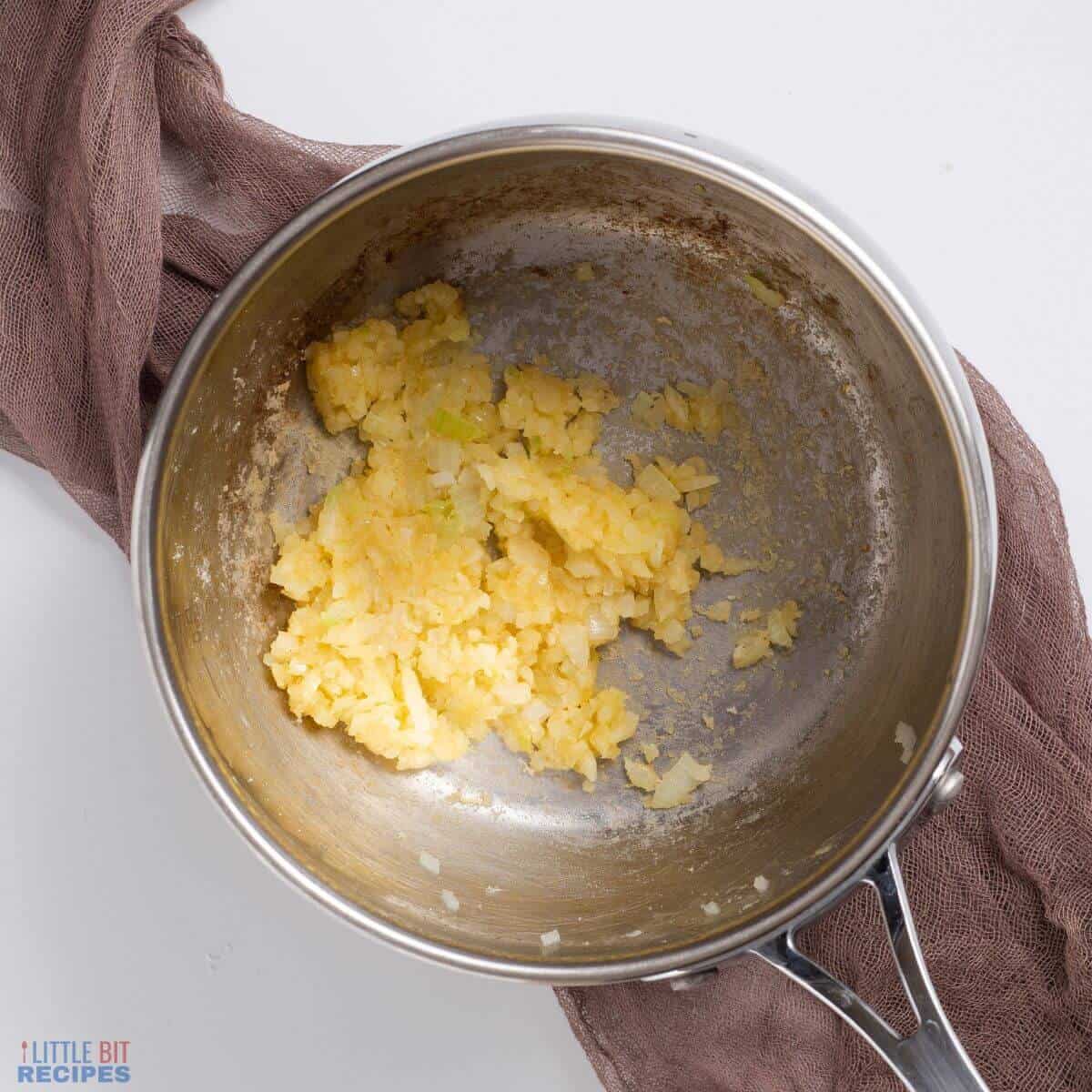 Add flour salt and pepper then cook until bubbly.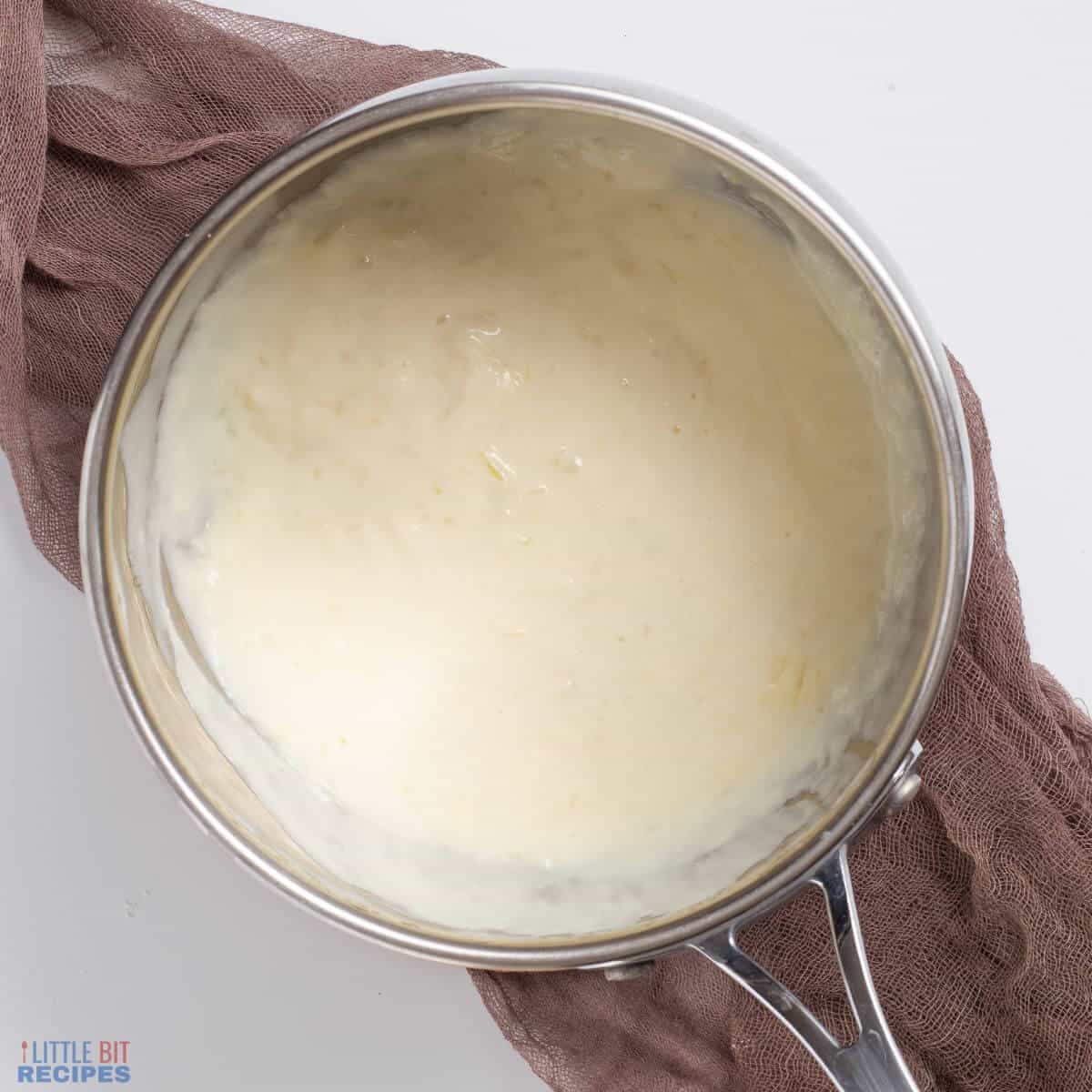 Slowly whisk in milk then cook for 1-2 minutes to thicken sauce.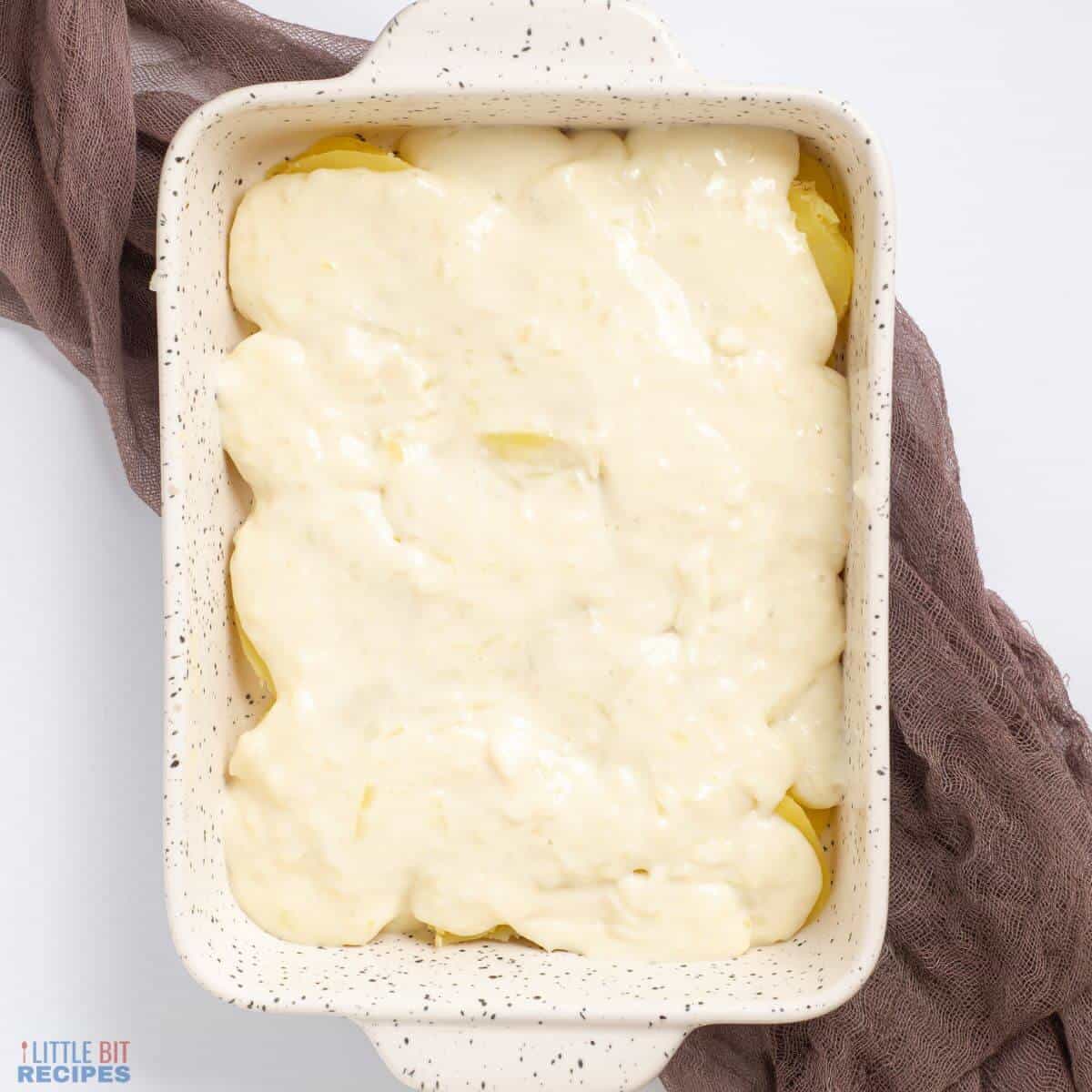 Pour sauce over sliced potatoes in the casserole dish.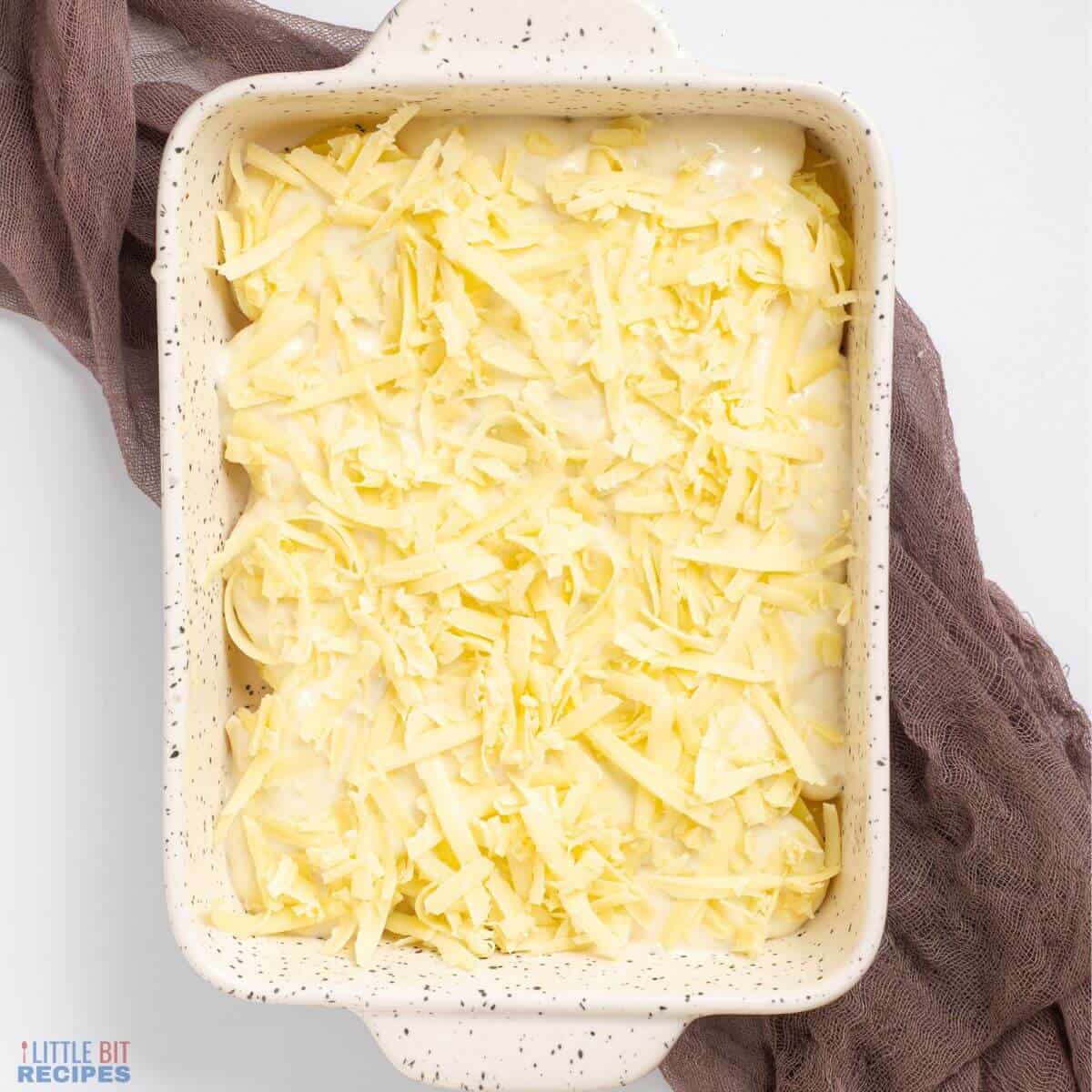 Top with shredded cheddar cheese or mozzarella.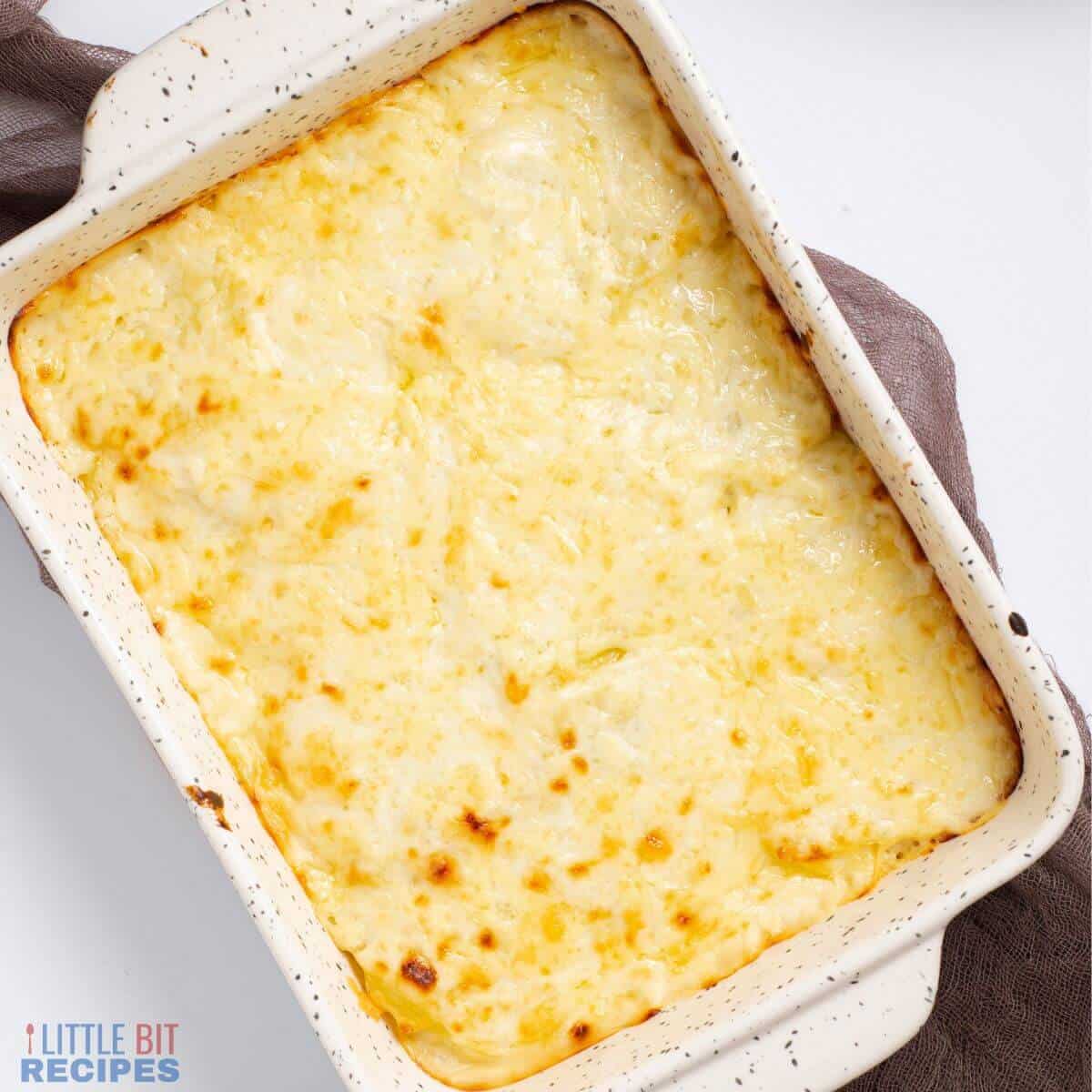 Bake until the cheese is melted and top is lightly browned.
Let the dish sit for about five minutes before serving.
Variations
Cheesy scalloped potatoes are a classic comfort food dish that is simple to make and delicious to eat. But did you know it has endless variations too?
From savory meat toppings like bacon or ham, to vegetarian options like onions and mushrooms, this classic dish can take on a variety of flavors. Whether you are looking for an easy weeknight meal or something to complement your small holiday dinner spread, the possibilities are seemingly limitless.
Cheese and toppings are two simple ingredients that can take this basic side dish for two from plain to delicious. From creamy gouda to crunchy fried onions, add-ins can turn the basic recipe into an irresistible dish. Pre-grated parmesan adds a salty kick while crumbled feta adds tanginess.
Tips
Whether you're making it for two or twenty, these tips will help you make the perfect scalloped potatoes every time.
The key to making great scalloped potatoes is in the preparation. To get evenly cooked, creamy potatoes, cut your potatoes into thin slices of similar thickness. Then add them to a greased baking dish before adding the sauce.
If you're short on time, go ahead and use pre-shredded cheese - this will save time without sacrificing flavor!
Serving suggestions
Quick and easy to make, this recipe is an excellent way to add some extra flavor to any meal. Plus, it only requires a few simple ingredients - so you can be sure that your dinner will be ready in no time.
If you're looking for something more than just potatoes, consider adding some bacon or sausage to the mix. The smoky flavor of these meats will complement the creamy texture of the potatoes perfectly.
For a lighter option, add some fresh vegetables like spinach or broccoli for additional flavor and nutrition. Sautéed mushroom are another great option.
No matter what you choose, these small-batch scalloped potatoes will surely be an instant hit with anyone who tries them! Serve them with oven-baked steak or smoked chicken thighs for a complete and tasty meal everyone will love.
Storage
Leftover scalloped potatoes should be stored in an airtight container in the refrigerator. They can last up to four days if kept cold and sealed properly.
To reheat, place in an oven-safe dish and bake for about 10 minutes at 350°F in a toaster oven or until heated through. Or microwave at 50% power for about a minute.
FAQ
What is the difference between scalloped and au gratin potatoes?
Scalloped potatoes are thinly sliced and layered in a casserole dish with a creamy sauce, while au gratin potatoes are thinly sliced and layered with a cheese sauce and breadcrumbs.
Why are my scalloped potatoes so watery?
Overcooking the potatoes can cause them to release too much liquid, as can cutting them too thin.
Do scalloped potatoes cook faster covered or uncovered?
Scalloped potatoes typically cook faster when covered. This is because the lid traps in moisture, which helps to steam the potatoes and speed up the cooking process. If you prefer a crispier texture, then you can remove the lid for the last 10-15 minutes of cooking.
Can you bake scalloped potatoes ahead of time and reheat?
Yes, you can bake scalloped potatoes ahead of time and reheat them. To do this, prepare the potatoes as normal and bake until they are almost done. Allow them to cool completely before transferring them to an airtight container and storing in the refrigerator for up to 3 days. When ready to serve, transfer the potatoes back to a baking dish, cover with foil and reheat in a 350°F oven until warmed through.
Related Recipes
Need a few more ideas for an intimate dinner for two? Here are some of our favorite recipes.
Follow us on Facebook, Instagram, and Pinterest to see more recipes.
Recipe
Easy Scalloped Potatoes for Two
This recipe for easy scalloped potatoes is perfect for a cozy dinner for two. It's a simple and delicious side dish that is always a hit.
Ingredients
2

large

potatoes

peeled (Yukon gold or Russet)

1

cup

milk

½

onion

finely chopped

1

garlic clove

minced

1

tablespoon

butter

1

tablespoon

all-purpose flour

Salt and black pepper

to taste

½

cup

grated cheddar

or mozzarella cheese

Chopped fresh parsley

to taste (optional)
Instructions
Bring a medium pot over medium heat filled with salted water.

Once the water starts boiling, add the potatoes and cook for 5-7 minutes until fork tender. Don't overcook or they may break apart. Transfer to a chopping board to cool.

Once potatoes are cooled, thinly slice them with a mandoline or sharp knife. Transfer to a greased small casserole dish or two single-serving oven-safe dishes and reserve.

Preheat the oven to 350°F.

Make the bechamel sauce by bringing a small pot over medium heat, add the butter, garlic and onions and cook for 2 minutes, until softened. Add the flour, salt and pepper. Cook, stirring until bubbly.

Pour the milk slowly while whisking frequently. Cook for another 1 or 2 minutes and continue stirring to thicken the sauce, give a stir and pour over the potatoes.

Spread the cheese over the potatoes and bechamel sauce evenly in the casserole dish and bake for 10 to 15 minutes until the cheese is melted, browned, and bubbling.

Sprinkle fresh parsley and let it sit for 5 minutes before serving.
Notes
Turn this into a main dish by adding bacon, ham, or sausage.
Vary the cheese to change up the flavor. Gouda and parmesan are great options.
Nutrition
Calories:
275
kcal
|
Carbohydrates:
38
g
|
Protein:
9
g
|
Fat:
10
g
|
Saturated Fat:
6
g
|
Polyunsaturated Fat:
0.4
g
|
Monounsaturated Fat:
2
g
|
Trans Fat:
0.1
g
|
Cholesterol:
29
mg
|
Sodium:
150
mg
|
Potassium:
905
mg
|
Fiber:
4
g
|
Sugar:
5
g
|
Vitamin A:
332
IU
|
Vitamin C:
38
mg
|
Calcium:
203
mg
|
Iron:
2
mg
© LittleBitRecipes.com - All content and photographs are copyright protected by us. We appreciate sharing our recipes; but copying, pasting, or duplicating full recipes to any social media, website, or electronic/printed media is strictly prohibited and a violation of our copyrights. Single photos may be used, provided that full credit is given to us along with a link back to the original content.