Discover the delightful flavor of easy air fryer apples. Learn how to make this easy buttery cinnamon-flavored baked apple snack in minutes.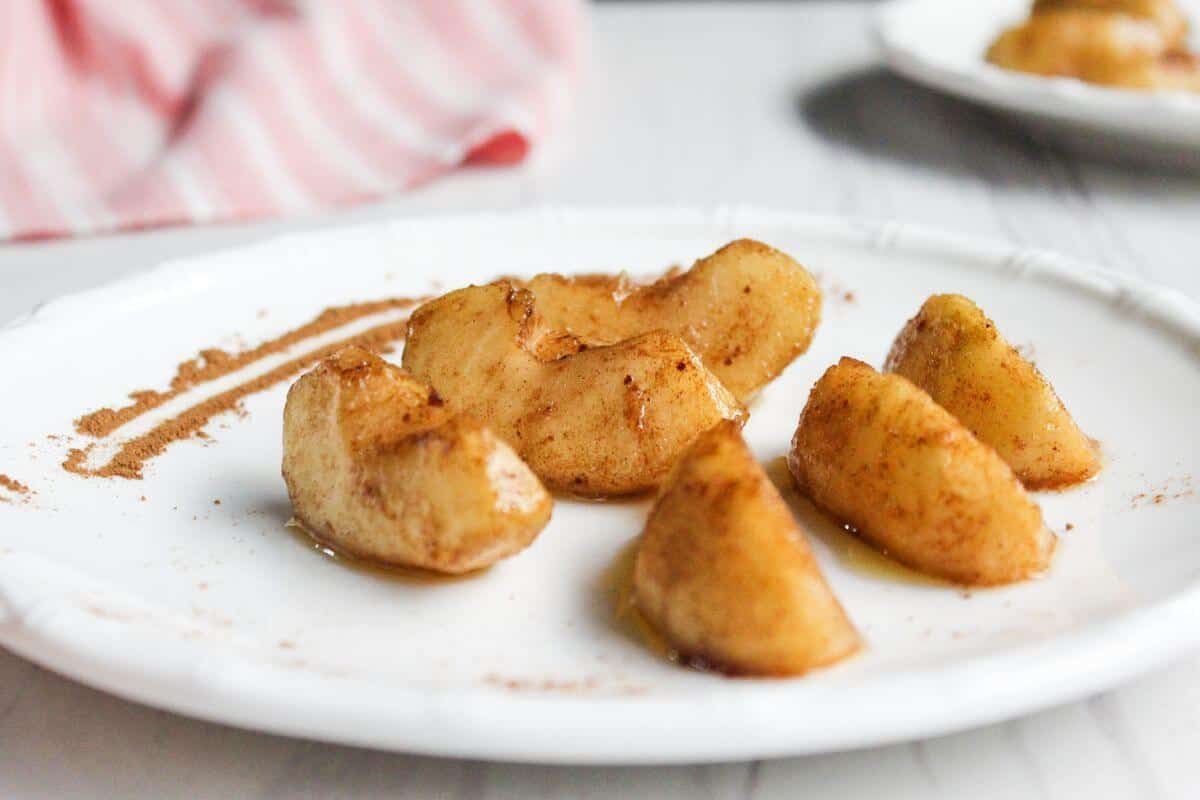 This tasty treat is perfect for satisfying your sweet tooth without the guilt of unhealthy snacks. It is delicious and nutritious, with plenty of room for customization to suit individual tastes.
Using an air fryer is a faster method than the oven. This means you can enjoy the treat sooner.
Jump to:
Ingredients
Choosing the right ingredients is key when making delicious air fryer cinnamon apples. The main ingredient, of course, is apples. But which type of apple is best for this recipe?
Firm, crisp apples like Gala, Fuji, Granny Smith, Honey Crisp, or Pink Lady are always a great choice because they hold up well during cooking. It also has a slightly tart flavor that pairs perfectly with cinnamon and sweetener.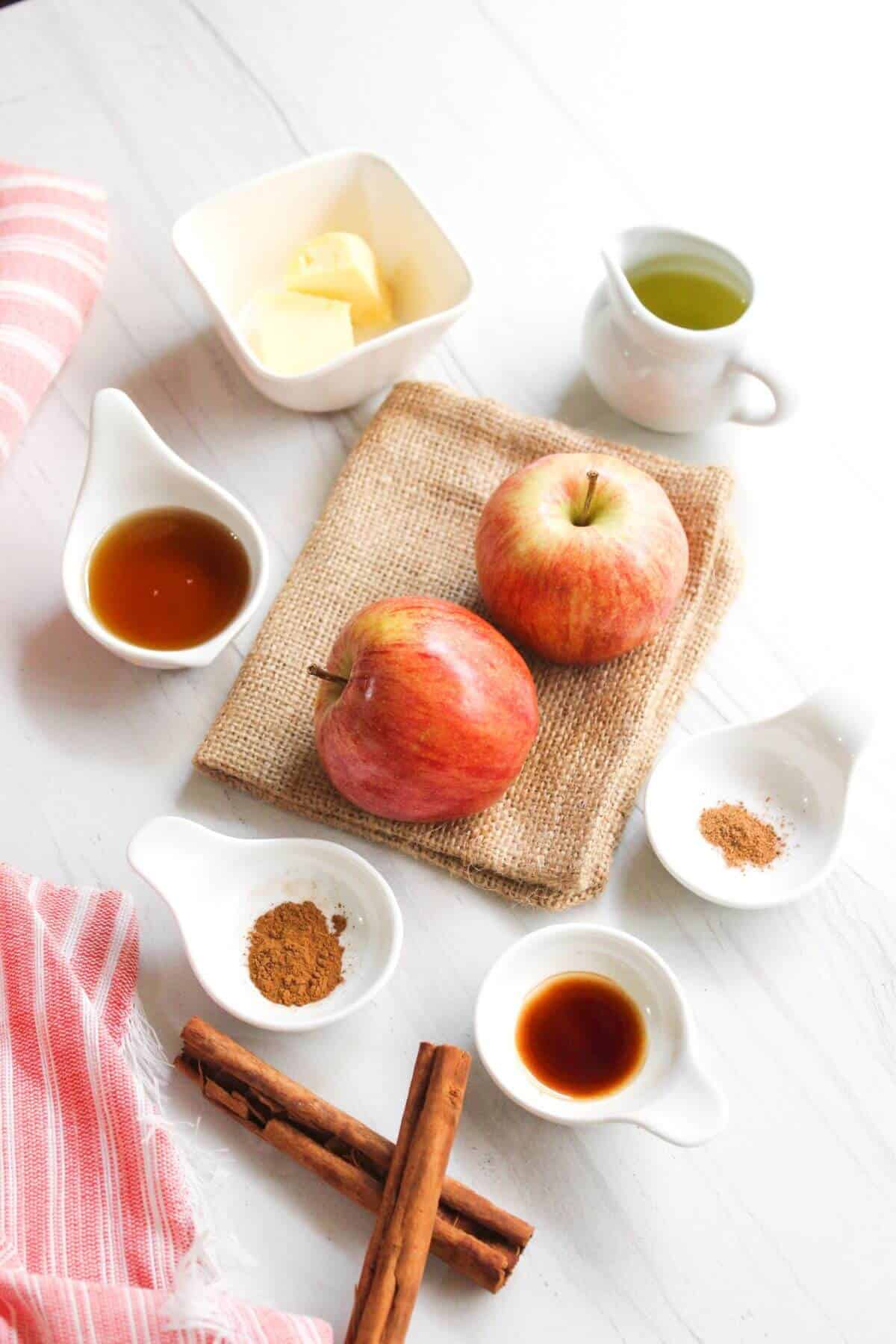 Here are the ingredients needed to make the recipe:
apples
maple syrup or brown sugar
butter
cinnamon powder
ground nutmet
vanilla extract
olive oil
See recipe card for quantities.
Instructions
The first thing you'll want to do is preheat the air fryer. Then begin preparing the ingredients.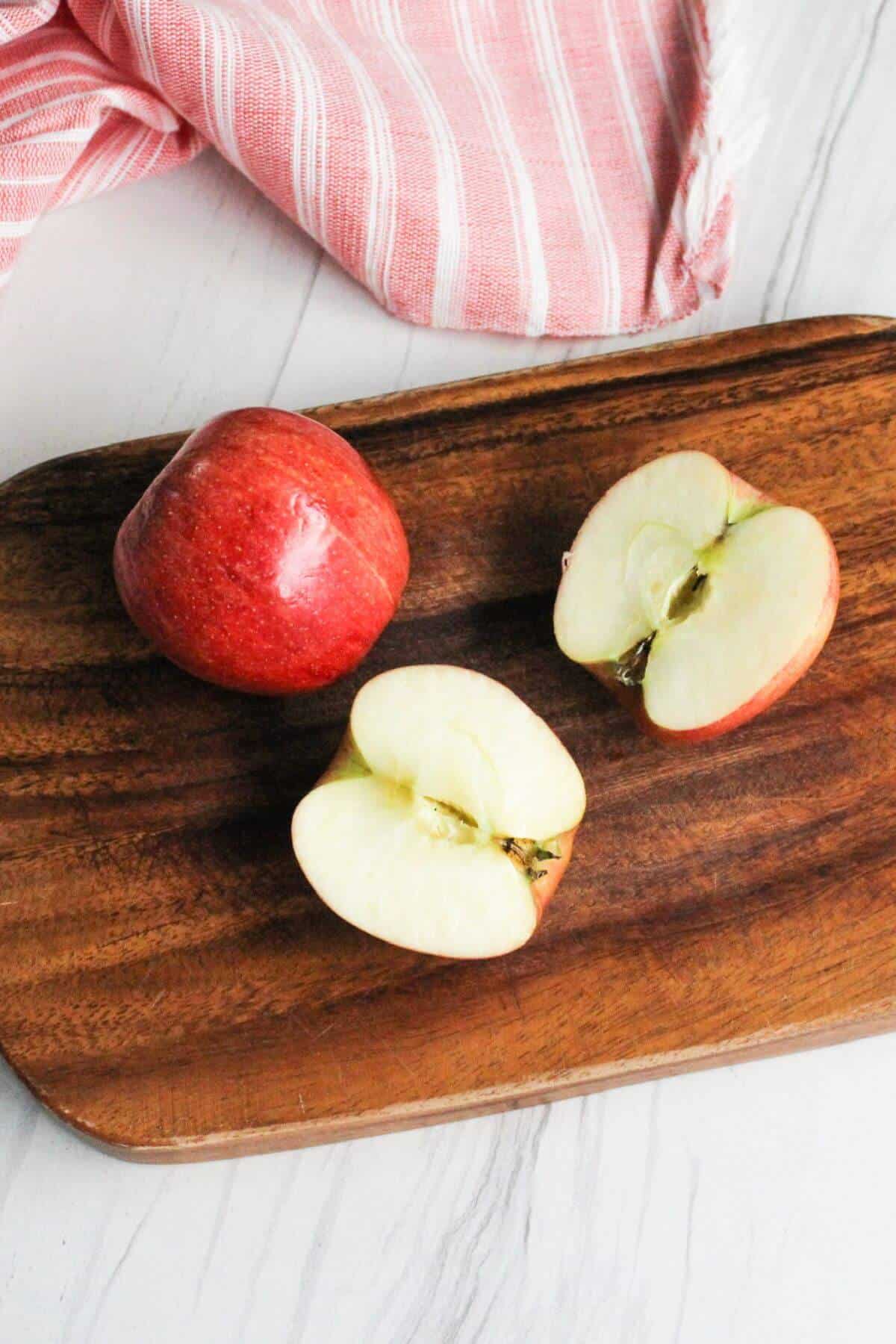 Prepare the apples by coring, peeling, and cutting into thick slices.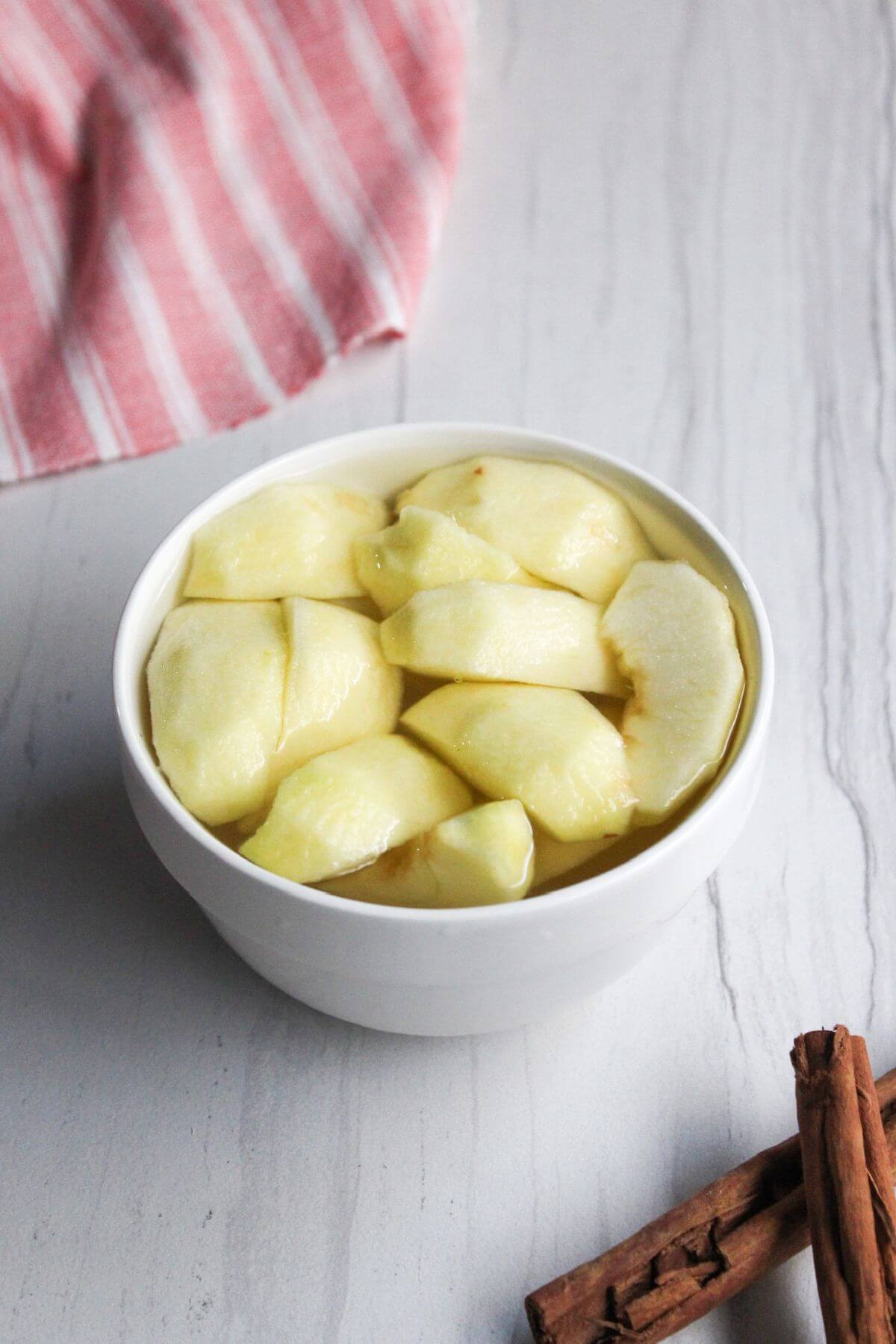 Soak peeled, cored, and sliced apples in water to avoid browning.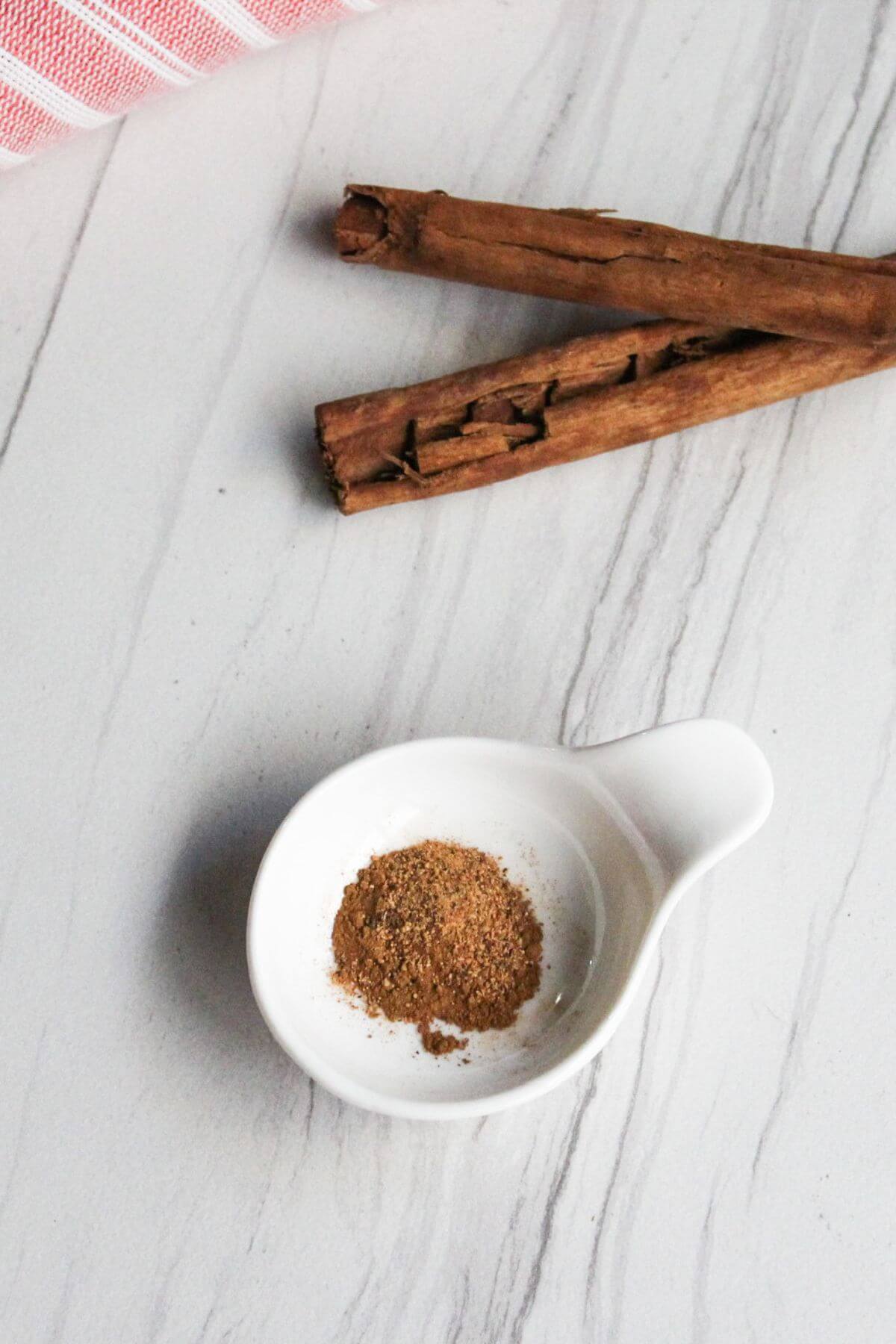 Combine the vanilla extract and maple syrup. Then, mix tother the nutmeg and cinnamon.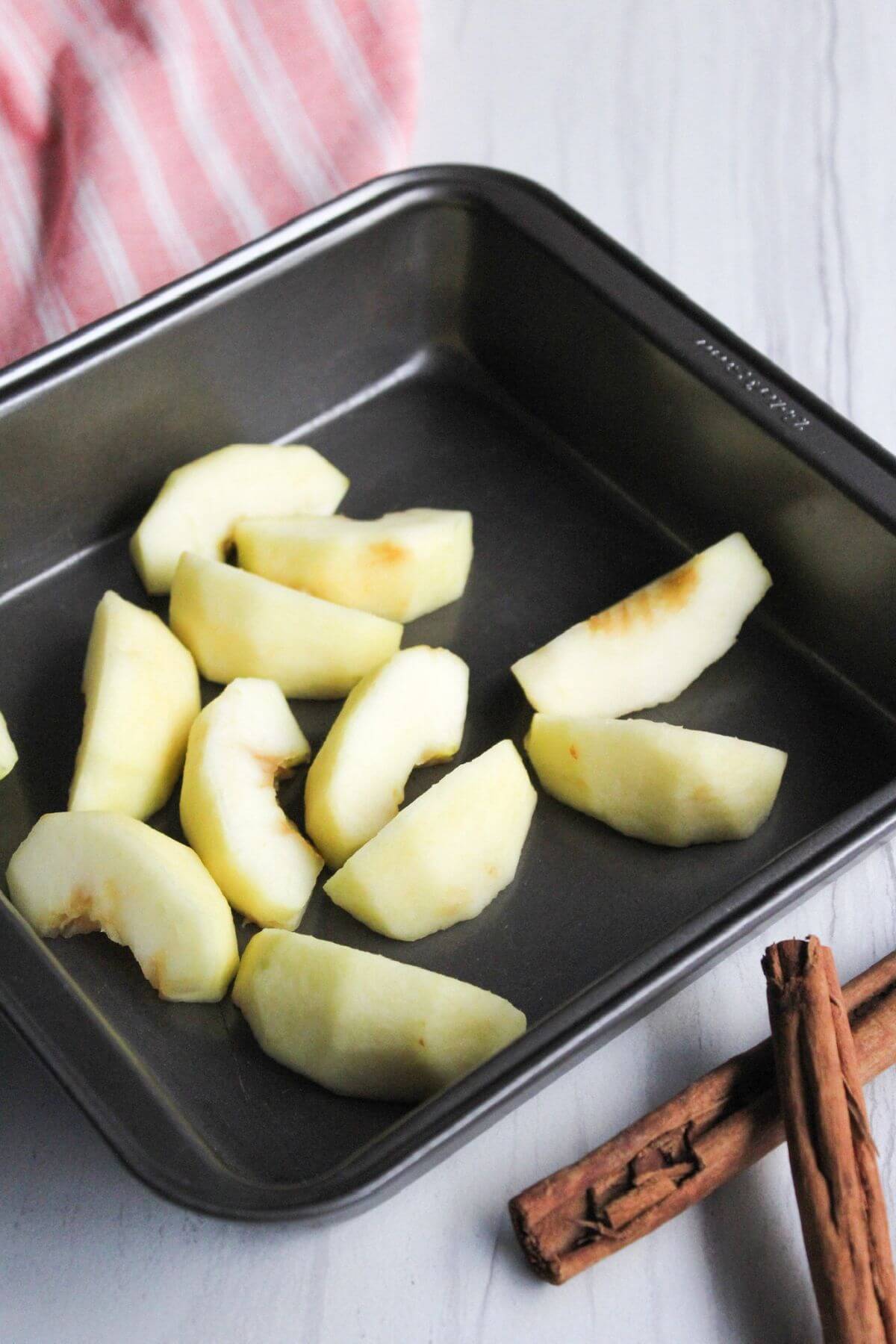 Arrange apple slices in a single layer in a baking pan that will fit inside the air fryer basket or on the tray.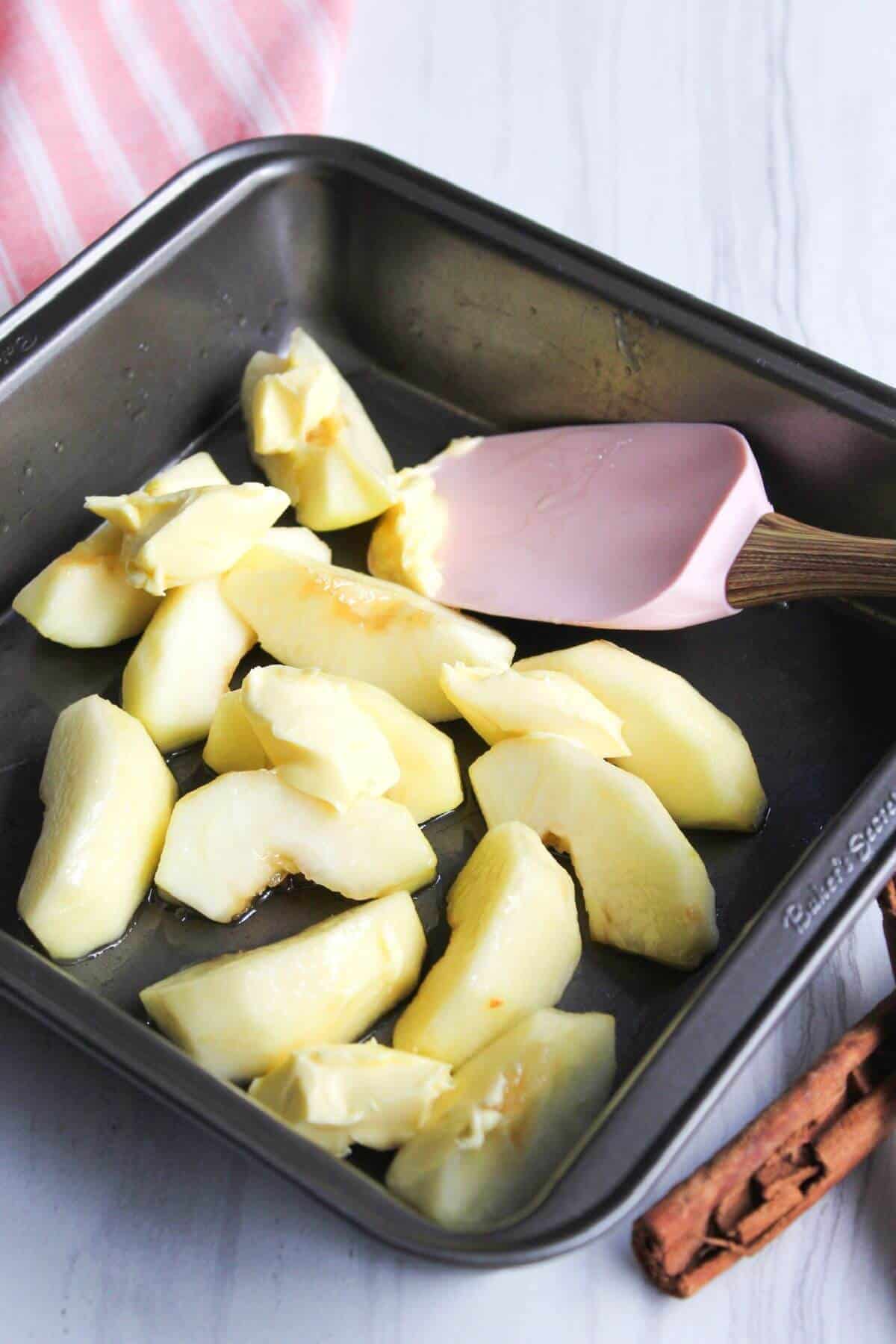 Drizzle olive oil. Slightly toss. Add softened butter.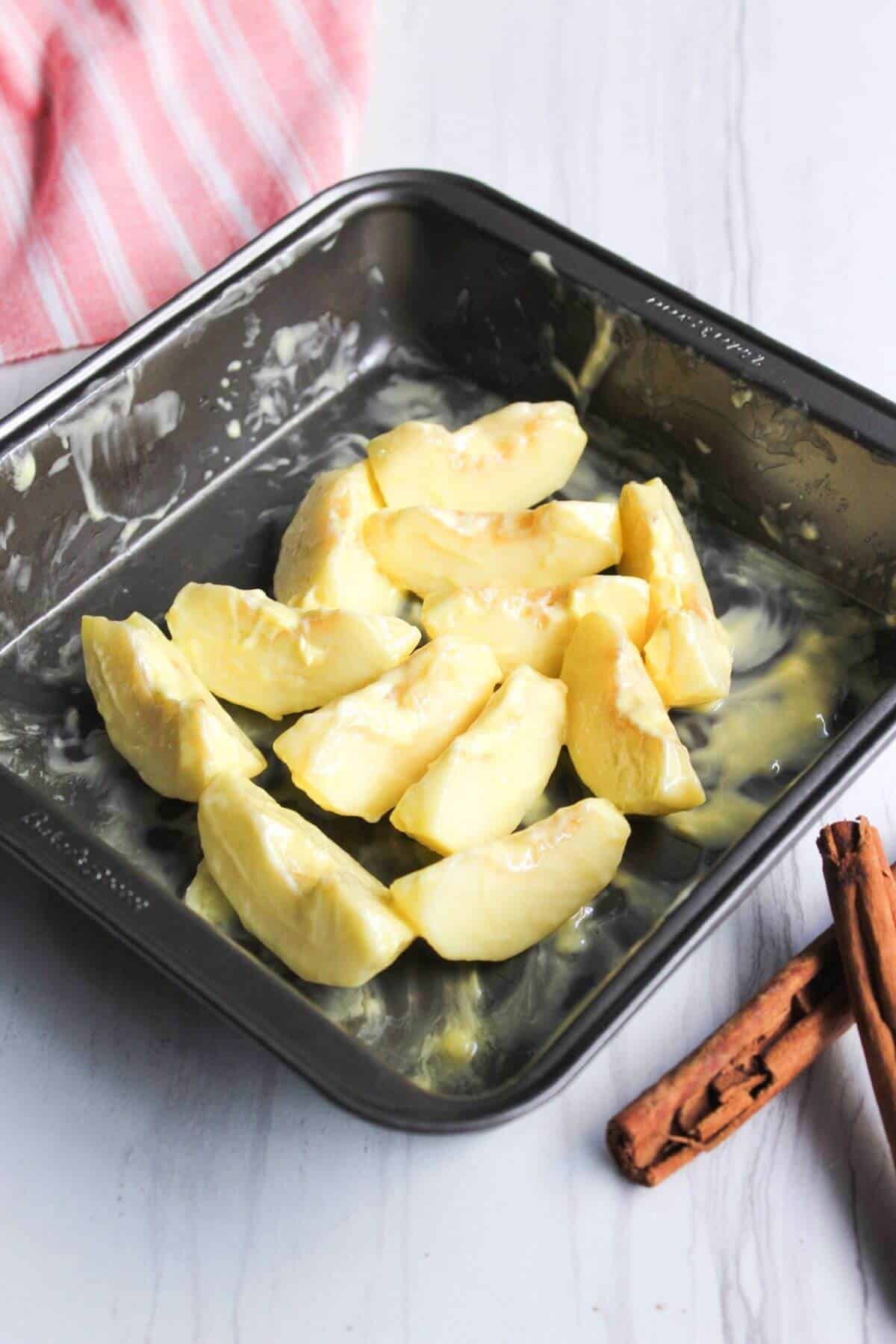 Stir to coat apple slices with the oil and softened or melted butter.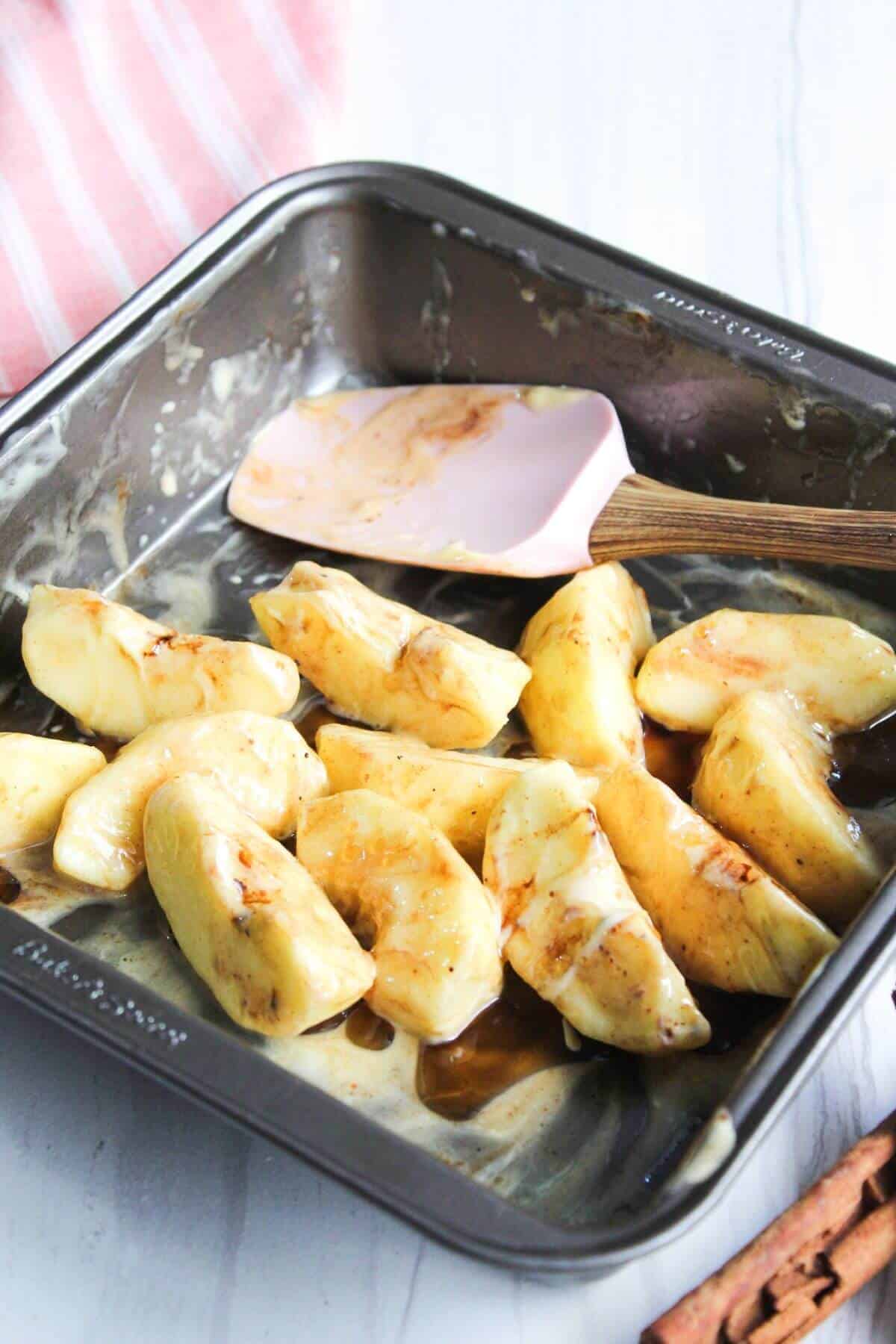 Sprinkle on cinnamon-nutmeg mixture and toss slightly.
Drizzle on maple syrup-vanilla extract mixture. Gently toss to coat each slice.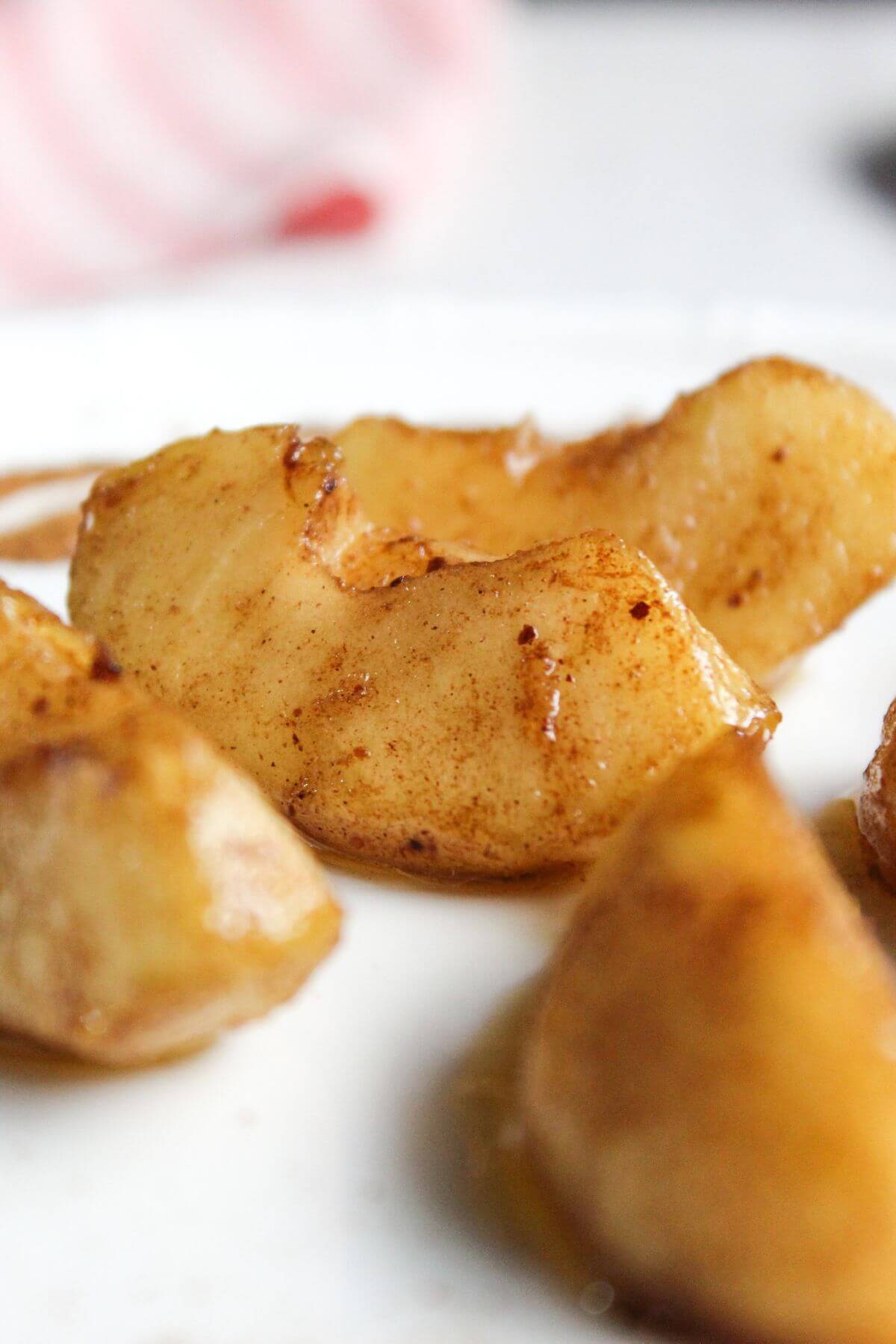 Sprinkle the remaining cinnamon-nutmeg mixture on top of apple slices. Air fry until the apples are soft and tender. Remove from air fryer and serve warm.
Variations
Air fryer cinnamon apples are a delicious and healthy snack that can be made quickly and easily. The best part is that you can experiment with different flavorings to make them even more enjoyable.
If you're feeling adventurous, add a pinch of cayenne pepper or chili powder for a spicy change from regular apple pie spice.
Add some lemon zest to your Air Fryer Cinnamon Apples. This will give them a tangy citrus flavor that pairs perfectly with the sweet cinnamon spice.
If you want to take things up another notch, add some chopped nuts like almonds or pecans to add texture and crunch.
For something truly decadent, try drizzling some caramel sauce over your air-fried apples before serving. This will create a sticky-sweet coating that will satisfy any sweet tooth cravings.
You can even use them for a mini apple pie filling.
Tips
Selecting the right type of apple is crucial for making perfect air fryer cinnamon apples. The best apples to use are firm and crisp such as Honey Crisp or Granny Smith. These apples hold their shape well during cooking and provide a nice balance of sweetness and tartness.
Slicing the apples evenly will ensure they cook uniformly. It is recommended to use an apple corer or slicer to remove the core and slice them into thin wedges. This will also help speed up the cooking time in the air fryer.
Adding the right amount of cinnamon and sweetener is key to achieving that delicious flavor. Be sure to give them a good toss so all slices are coated well before air frying.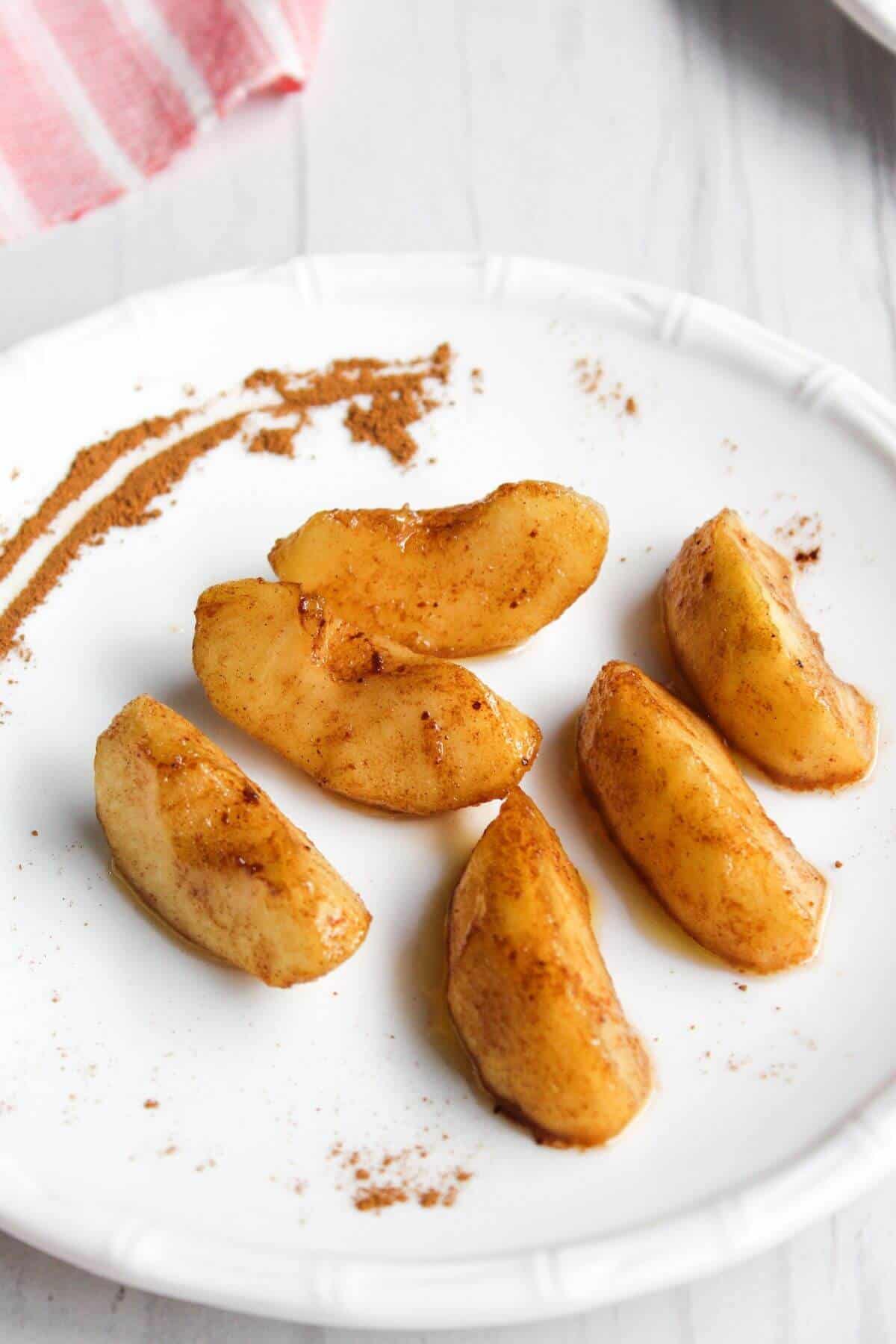 Serving suggestions
These sweet and crunchy treats can be served in various ways, depending on your preference. One classic way to serve these apples is with a scoop of vanilla ice cream on top for a delicious dessert or snack. The contrast between the warm cinnamon apples and the cool ice cream is unbeatable.
Another option for serving air fryer cinnamon apples is to use them as a topping for baked oatmeal or sheet pan pancakes. They taste great on a single-serve waffle and air fryer french toast too. Add some whipped cream, nuts, or honey for texture and flavor.
Finally, you could place these crispy apple slices in small bowls as an appetizer at your next party. They're sure to be a hit with guests looking for something sweet but not too heavy before the main course arrives. Plus, they're easy to make ahead of time and can be kept warm until ready to serve!
Storage
The best way to store them is in an airtight container or zip-top bag in the refrigerator. This will keep the apples fresh and prevent them from drying out. If you plan on eating them within a few days, you can also leave them out at room temperature.
When storing your cinnamon air fryer apples, make sure they are completely cooled before putting them away. If there is any residual moisture on the apples, it can cause them to spoil quickly. Additionally, it's important to separate the apples into individual servings so that they don't stick together when stored in a container or bag.
If stored properly, your cinnamon air fryer apples should stay fresh for up to one week.
FAQ
Are air-fried cinnamon apples healthy?
Air-fried apples can be a healthy snack. Cinnamon and apples both have essential nutrients.
Can you air-fry whole apples?
It's best to core the apple and remove the seeds before air-frying. Therefore, it's best to cut it first rather than cook it whole.
What's the best way to air fry apple slices?
It's best to air-fry sliced apples in a baking pan to hold in the juices. That way, the flavoring stays with the apples and doesn't make a mess in the air fryer.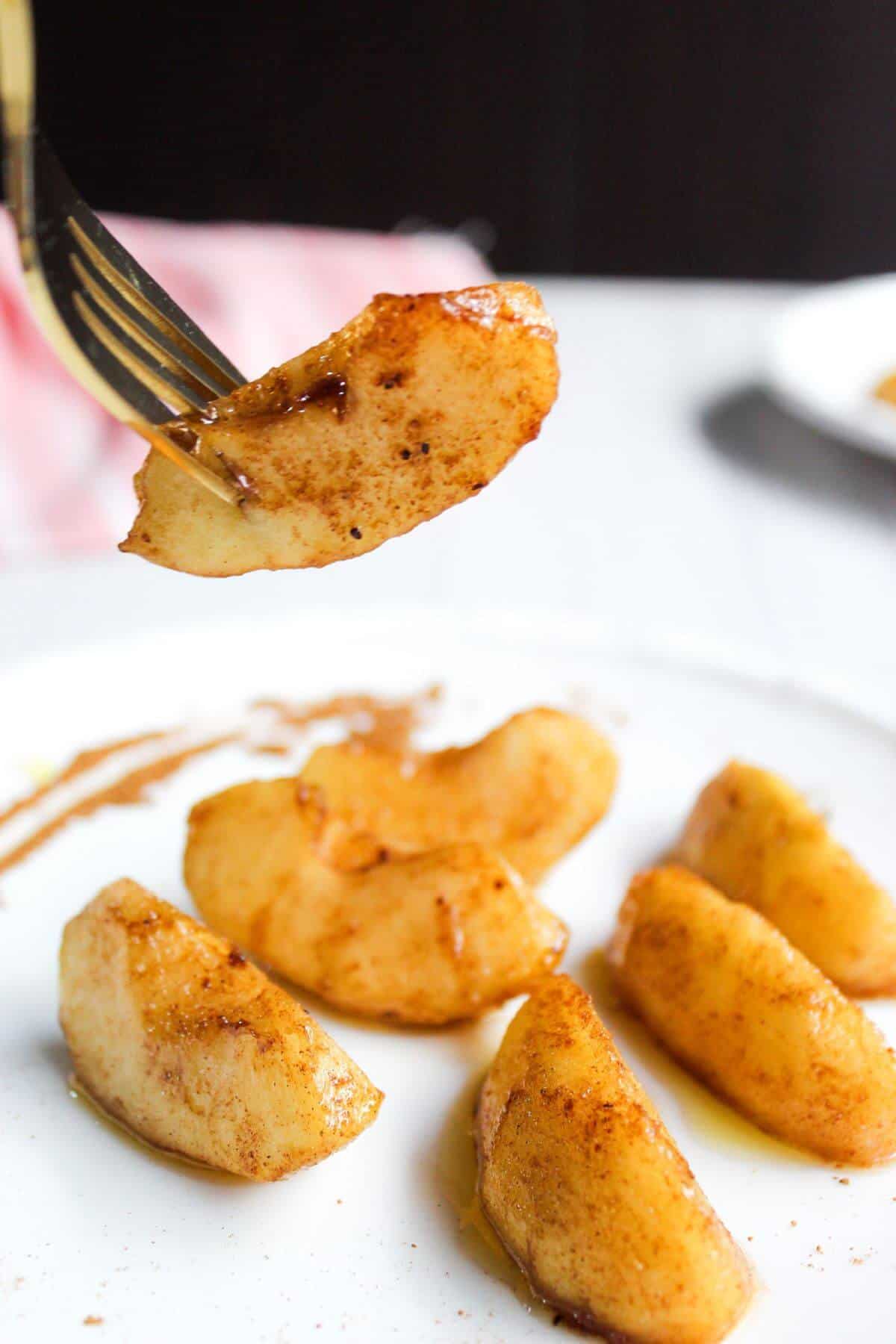 Related Recipes
Want a few more easy air fryer recipes for beginners? Here are a few more delicious ideas.
Follow us on Facebook, Instagram, and Pinterest to see more recipes.
Recipe
Air Fryer Apples
Discover the delightful flavor of air fryer apples. Learn how to make this easy and healthy baked cinnamon apple snack in minutes.
Ingredients
2

small

apples

peeled, cored

1

tablespoon

maple syrup

or brown sugar

2-3

tablespoons

butter

¼

teaspoon

cinnamon powder

⅛

teaspoon

ground nutmeg

½

teaspoon

vanilla extract

1

tablespoon

olive oil
Instructions
Pre-heat Air Fryer at 300F (149C). Set at 10 minutes. Before pre-heating, slowly insert Air Fryer tray into the middle cooking chamber, near the rotisserie catch.

Soak peeled, cored, and sliced apples in water to avoid browning.

Add ground nutmeg to cinnamon powder. Mix well.

Add vanilla extract onto maple syrup. Mix well.

Pat dry apples with kitchen towel. Arrange apple slices in a single layer using a baking pan. An 8x8 baking pan fits well in this particular Air Fryer Oven.

Drizzle olive oil. Slightly toss. Add softened butter and coat apple slices using a silicone spatula.

Sprinkle cinnamon-nutmeg mixture. Reserve ⅛ teaspoon of the mixture. Slightly toss.

Drizzle maple syrup-vanilla extract mixture all over coated apple slices. Gently toss to coat each slice. Arrange apple slices in a single layer. Sprinkle the remaining cinnamon-nutmeg mixture on top of apple slices.

Gently place baking pan onto the Air Fryer tray. No need to wait for the "turn food" reminder provided by the Air Fryer. You may do so after 5 minutes, if desired.

Watch closely during the remaining time and avoid overcooking.

Once apples are soft and tender, stop the Air Fryer by pressing "cancel" if you still have time. This recipe used the entire 10 minutes during the initial set time.

Remove baking pan. Transfer Air Fryer Apples to serving plates and enjoy.
Notes
This air fryer recipe uses an Instant Vortex Plus Air Fryer Oven. Not all air fryers cook the same way. It's best to make any adjustments to the cooking time needed.
Slice apples evenly, resulting in evenly cooked apple slices.
Each apple provided 6 slices with a total of 12 slices for 2 small gala apples.
Cooking time in the Air Fryer may vary depending on the kind of apples used, how ripe the apples are, and the brand of your Air Fryer, as not all Air Fryers cook the same.
Don't forget to use oven mitts or Air Fryer mitts when removing the baking pan. Other parts of the Air Fryer are hot too. Be careful.
Nutrition
Calories:
215
kcal
|
Carbohydrates:
28
g
|
Protein:
1
g
|
Fat:
12
g
|
Saturated Fat:
7
g
|
Polyunsaturated Fat:
1
g
|
Monounsaturated Fat:
3
g
|
Trans Fat:
0.5
g
|
Cholesterol:
30
mg
|
Sodium:
155
mg
|
Potassium:
190
mg
|
Fiber:
4
g
|
Sugar:
22
g
|
Vitamin A:
447
IU
|
Vitamin C:
7
mg
|
Calcium:
28
mg
|
Iron:
0.2
mg
© LittleBitRecipes.com - All content and photographs are copyright protected by us. We appreciate sharing our recipes; but copying, pasting, or duplicating full recipes to any social media, website, or electronic/printed media is strictly prohibited and a violation of our copyrights. Single photos may be used, provided that full credit is given to us along with a link back to the original content.